Online MBA Degree Programs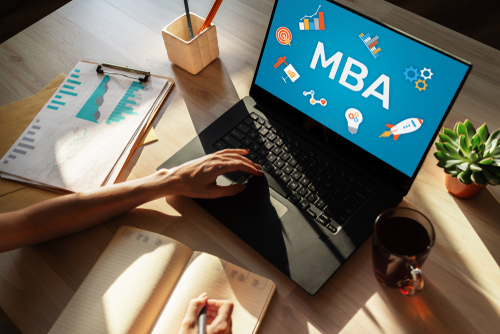 About Online MBA Degrees
An Online MBA is versatile, flexible, and lucrative. Choosing one can feel overwhelming, but we're here to help.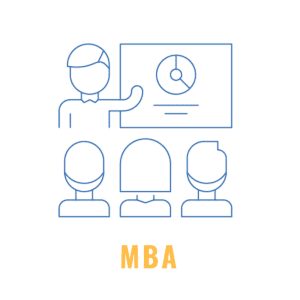 This guide will give you an extensive breakdown into this advanced business degree. This includes looking into what MBA holders do, what an MBA program entails, specializations you can take within an MBA program, what you can do and be paid after earning an MBA, and more. We'll also give you a head start towards finding the best schools to get an online MBA considering your needs and goals.
When perusing this guide, or any like it, make sure to ask:
What are your career goals, and how can an MBA program help you achieve them?
How much can you afford in MBA tuition, and how much are you willing to borrow in order to afford one?
How much time can you commit to an MBA program daily, weekly, and in total before graduating from an MBA program?
What's the best delivery format for you in an MBA program? Do you want to attend an MBA full-time, part-time, in-person, online, or in a hybrid of online and on-campus education?
If you want to earn your MBA online, consider that many MBA programs require some in-person participation, either on the campus from which the degree is offered, or by doing work that applies to the degree where you live.
What aspects of business would you like to specialize or focus in on?
What is your current career experience, and where have you felt limited in it?
MBA programs are often intended for people working in business who've found themselves bumping their heads against a ceiling trying to work their way up to upper-level, supervisory or management positions via their career as opposed to earning advanced educational credentials.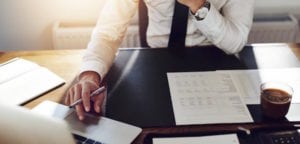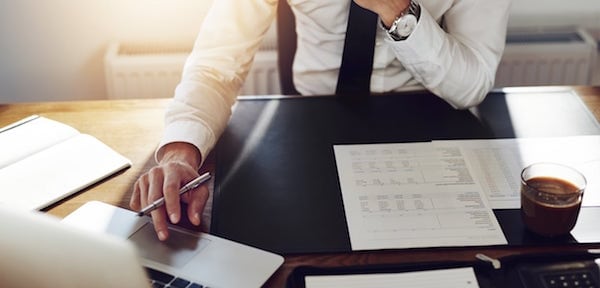 So where do you belong in business? It's OK not to know exactly. You're here because you know you'll need great training, delivered to you in a way that won't uproot your life.
Part of this guide is to help you discover more about how MBA's work, and in that process decide if they're right for you, and if so, which one would be best? When you earn an MBA online you'll learn advanced theories and build skills in management, finance, accounting, business, organization and much more. Often you'll have the opportunity to concentrate on a specific aspect of business, like project management (extremely hot right now), or entrepreneurship (if you want to start your own business), among many other options that can focus and harness your bucking business ambitions.
What is an MBA?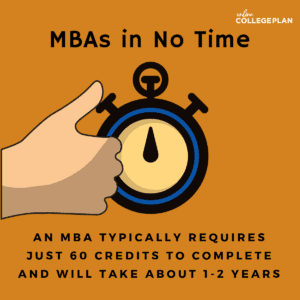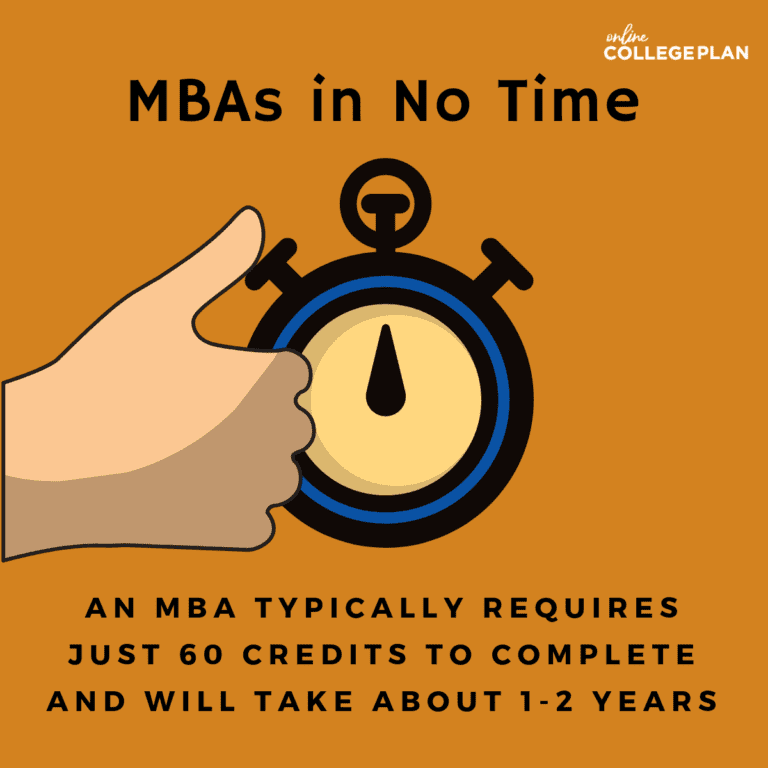 An MBA stands for a Master of Business Administration. It's a degree that was invented in the United States at the beginning of the 20th century. At the time corporations and other large organizations were looking for a methodical, scientific structure to management. The first American business school was The Wharton School, a subset of the University of Pennsylvania, and was founded in 1881. In 1900 the Master of Science in Commerce began at Dartmouth College. This degree later gave birth to the modern MBA. Since then the MBA has developed in myriad directions, incorporating and or specializing in areas like accounting, communication, statistics and their application, ethics, law, economics, management, entrepreneurship, marketing, computer science, operations and more.
MBA's generally take one to two years to complete, depending on where you go to school, your previous experience, and the structure of the program you're entering. They are considered professional and terminal degrees in the business field. Today MBA's are recognized globally, and their holders are highly demanded throughout the world.
Why Should You Take an Online MBA Instead of a Traditional MBA Program?
You'll save time and money by doing your coursework and attending classes from anywhere with a wifi connection.
You'll access elite, nationally ranked programs from wherever you live.
You can find programs that are conferred on a schedule that fits your needs, perhaps accelerated so you can earn your degree quicker, or one that lets you complete coursework and assignments when you're able to, among many other options.
Here are Online College Plan, we've compiled a litany of resources to help you find the right online MBA program for you. We've also done extensive work answering frequently asked questions (FAQs) about choosing an online degree, and what you can expect to do and be paid after you earn one. You can see all of these in our FAQ Section. Some of the most pertinent are right here:
What Can You Do With an MBA?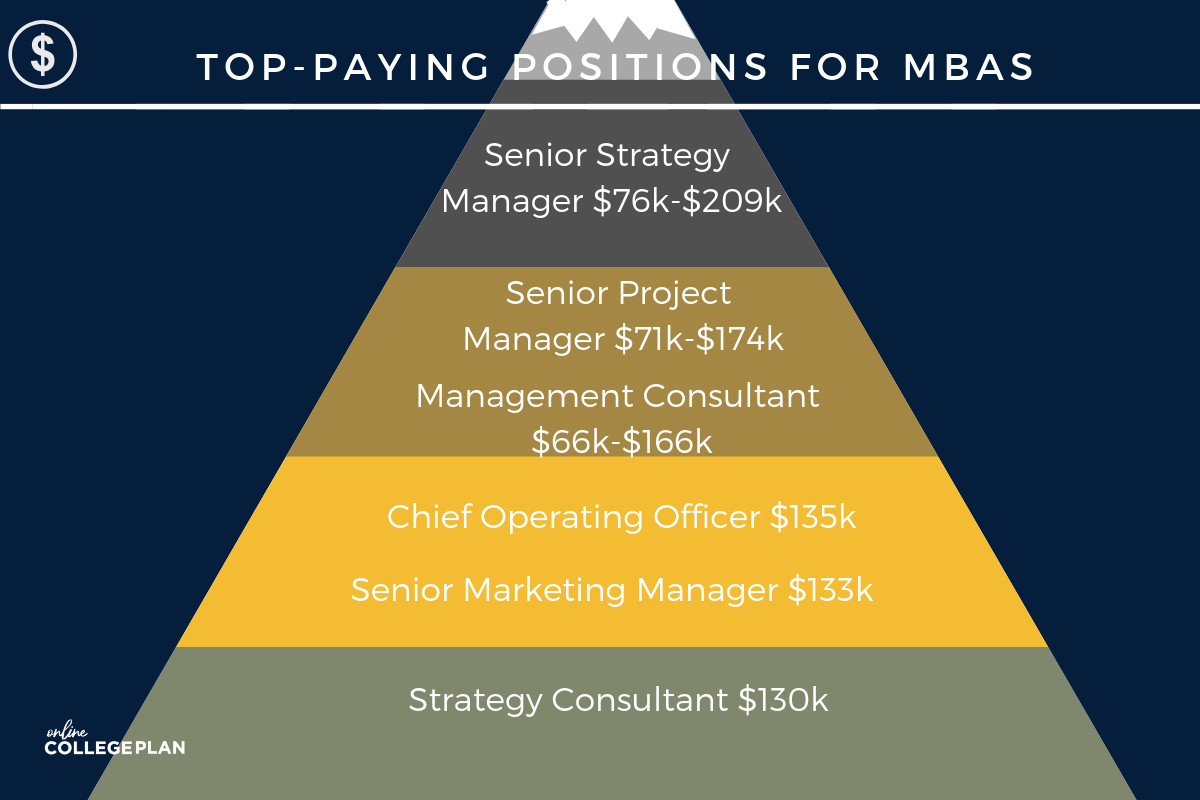 MBA's can be found working in a number of coveted positions in finance, the tech industry, small businesses, sales, consulting, and much more. They're often found dissecting markets, researching and analyzing everything from markets to management tactics, managing organizational operations and so much more.
MBA Holders often:
Run businesses they found, manage small businesses for others, or work in corporate governance at larger organizations.
Supervise employees to increase efficiency and accomplish organizational goals while taking and accounting for risk.
Take their previous experience in computer science, media, consulting, business, education and whatever else they've done and infused it with graduate theory and practical education in business.
Use their business education to manage employees, systems and organizations in rapidly expanding markets like cryptocurrency, health administration, sports management, among many other burgeoning or exponentially growing fields.
An Online MBA Will Help Your Career and Life By Building Your Skills in:
Leadership: You'll work in groups to solve complex problems, either taking charge and/or observing the effectiveness of those that do.
Communication: You'll learn how to get your point across in a way that promotes cooperation and motivates others whether you're communicating in person or remotely.
Managing Risk: You'll train to find the most cost-effective solutions to problems, analyze potential pitfalls and how to avoid them, and learn when taking risks is appropriate.
Technical and Business Knowledge: You'll learn how modern software, networks and more interact with best business practices, gaining a real understanding of how modern-day business works and relies on the latest technologies.
Project Management: There are specific degrees in this discipline that is gaining significant influence over organizational operations and procedures. Those that have been trained in project management are also strongly desired candidates for a wide variety of positions in organizations of all stripes.
How Much Money Can You Make After Earning an Online MBA?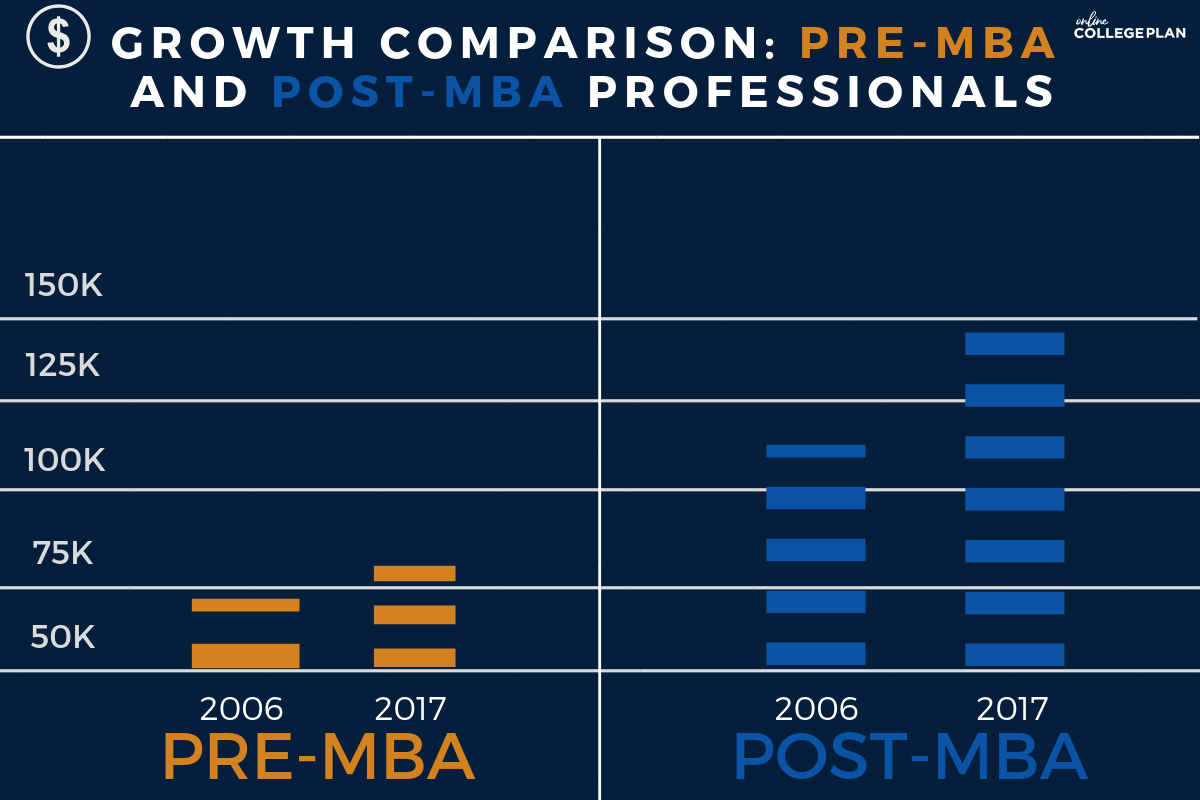 MBAs end up holding a number of different titles after graduating and entering the workforce. Many of them are management positions, and the Bureau of Labor Statistics has broken down those by the entry-level education required to fill them, average pay, and other details (like expected growth). Here are some of the wild and wondrous positions you can fill after earning an online MBA and what they each pay:
Administrative Services Managers: $94,020
Advertising, Promotions, and Marketing Managers: $129,380
Industrial Production Managers: $100,580
These job positions require a minimum entry-level education of a Bachelor's degree, but an MBA drastically increases your chances of being placed in one of them.
What Are the Different Business Degrees?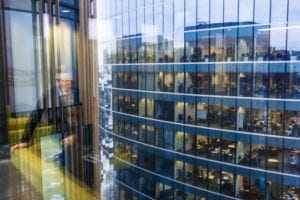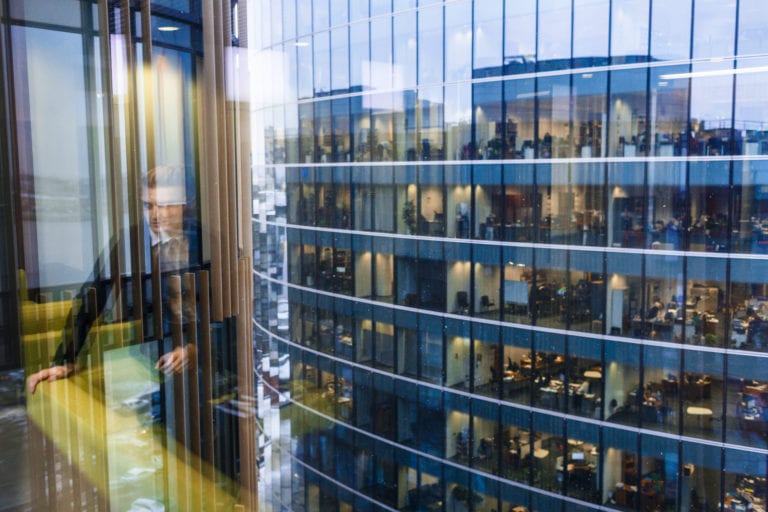 Your higher education in business begins where you need it to. If you've earned a high school diploma, GED or equivalent, you might want to start with an Associate's in Business. Usually, these programs require two years. While you're looking for an Associate's degree, you can save yourself time and money depending on which school you choose, and also choose a school that has an above average return on investment. Here are a couple of resources you can explore to that end:
Top 20 Online Community Colleges with the Best ROI
Top 50 Best Online Community Colleges for Financial Aid Assistance
Often, the Associate's degree you choose and the credits you earn in them can be applied and/or transferred into a Bachelor's in Business Administration, which is a four-year program that can be shortened depending on your previously earned credits. If you want to earn a great online Bachelor's in Business Administration, Finance, or Accounting without having to fork over more time and money than necessary, check out these rankings:
Top 10 Online Bachelors Degrees in Business Administration
50 Most Affordable Online Colleges for Bachelors Degrees
Top 10 Online Bachelor's Degrees in Finance
10 Best Online Bachelors Degrees in Accounting
Then there are MBA programs, that come in a number of specializations and focuses (more on that later). These degrees are considered the gold standard. While you can earn a Ph.D. in Management or a Doctorate in Business Administration, these are rarer degrees generally for those who want to go into academia or research. Some of the rankings we've done on MBA's and other Master's in Business related fields include:
The 20 Best Online Master's in Human Resources Programs
The 20 Best Online MBA Programs for International Business
The 30 Best MBA in Entrepreneurship Programs
Top 30 Online MBA – Marketing Degree Programs
The Best 30 Online MBA – Management Degree Programs
What are some of the Top Online MBA Programs Available?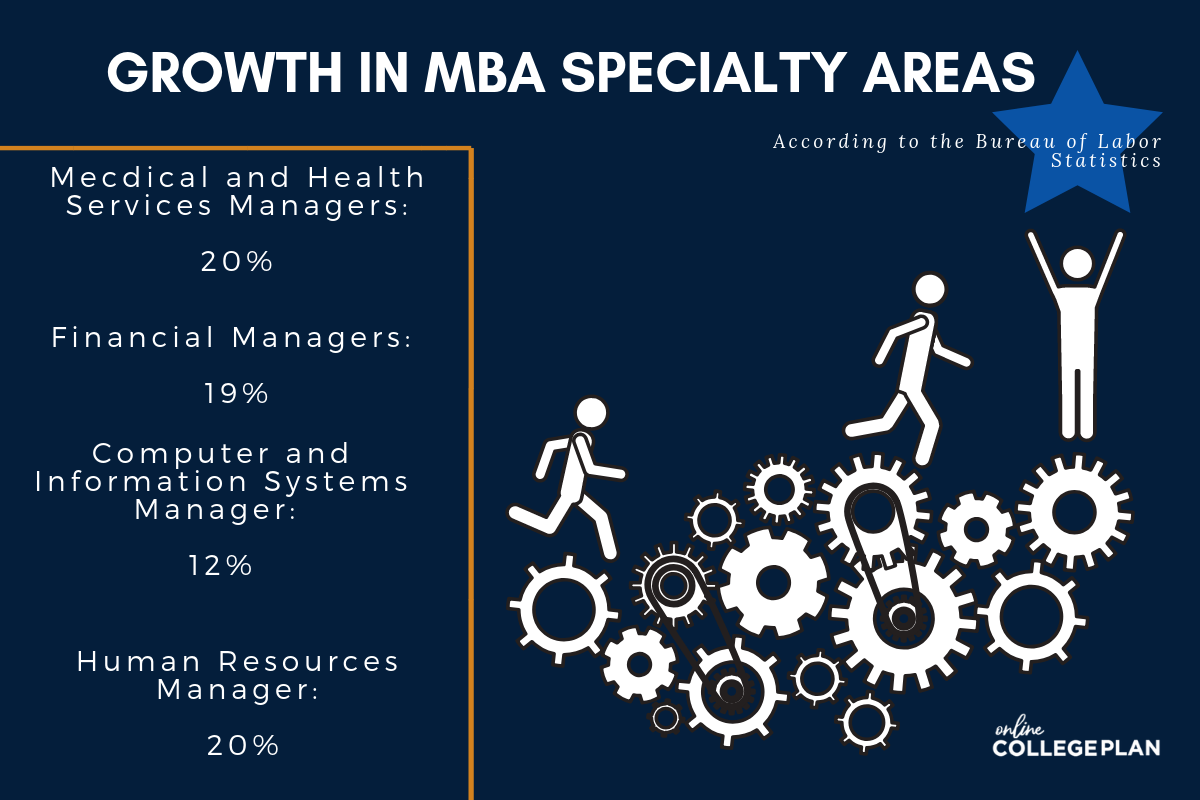 In our ranking of the 25 Top Online MBA Programs we've explored some of the greatest hits on the MBA scene today. Here are some of the top choices:
Indiana University-Bloomington: This program includes a week of intro classes at IU's renowned campus, and also offers students great study abroad opportunities in China, India, South Africa and more through its Accelerated Global Immersion Leadership Education option.
Arizona State University: ASU also offers one required session, and focuses on personalized curriculum aided by student advisors.
University of Florida: Students are required to attend the school for a weekend each term, and can choose from a 16-month or 27-month online track depending on their needs and background.
University of Texas at Dallas: Students can choose to earn their MBA online or in a hybrid format through 8-week accelerated terms or traditional semester-long schedules. Courses are conferred synchronously between 4 and 10 PM.
University of North Carolina at Chapel Hill: This program requires 18-36 months and comes in concentrations like Global Supply Chain Management, Investment Management, Sustainable Enterprise, and Entrepreneurship.
Now let's take a look at some of the courses you can expect to take in an MBA program:
What are the Common Courses in an MBA Curriculum?
Every MBA program is different, but there are some common courses you can expect to find in most MBA programs you'll encounter. Generally the core of an MBA comprises analytical, functional, and ethical courses. In the analytical students can expect to take:
Accounting
Economics
Organizational Behavior
Research (in operations and statistics)
And more.
All MBA students are expected to take courses that increase their functionality in business. These include courses in:
Financial and Resource Management
Marketing and Operations Management
Valuation Methods
Supply Chain Management
Lean Systems
Students also take courses that pertain to business leadership and ethics, like:
Ethics in Advertising
Corporate Social Responsibility
Leadership Theory
Organizational Change
Among many others.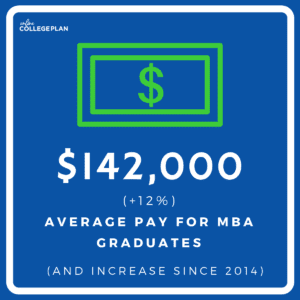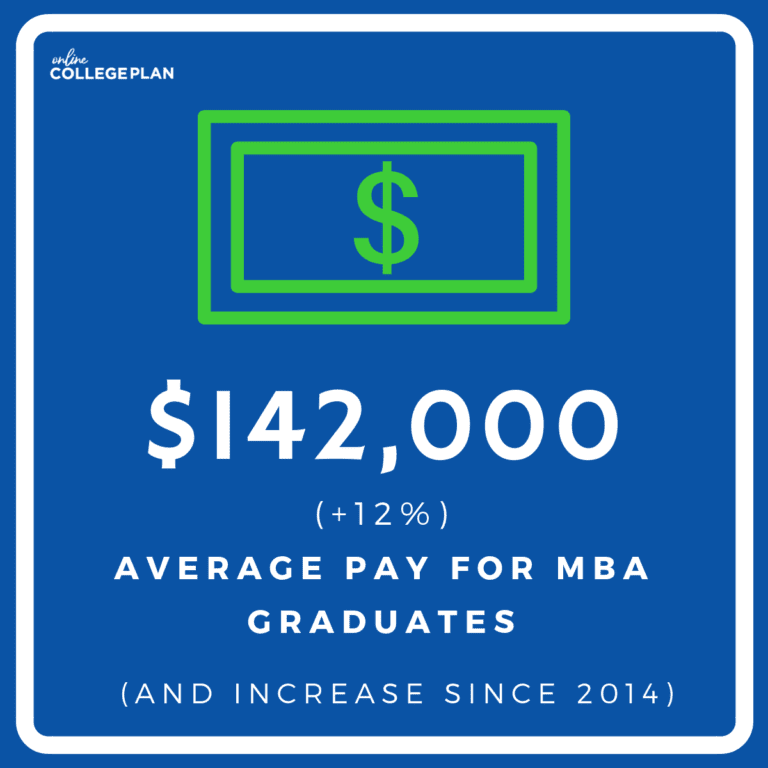 MBA programs are also known for their bevy of elective courses that students can use to enrich and enhance their business education, which either complements or takes the place of MBA specializations. Common elective courses include:
Business Law
Market Research
Organizational Design
Negotiations
International Finance
Quantitative Analysis
Principles of Supervision
Finally, MBA programs usually culminate in a Capstone project. These projects are either thesis or thesis-equivalent, and serve to prove what an MBA student has learned, demonstrate their abilities in business, and can often be used as a significant proverbial feather in your resume or CV's cap.
Capstone projects might include major research with a thesis, dissertation and defense of the above, or a strategic project in demonstrable management and business leadership, among other options depending on the program you choose.
MBA programs are often supplemented by incredibly focused specializations that let students swiftly move towards topics and discipline areas they hope to work in, already work in and/or want to build out their experience in. Let's dive into some of those:
What Specializations are Available in MBA Programs?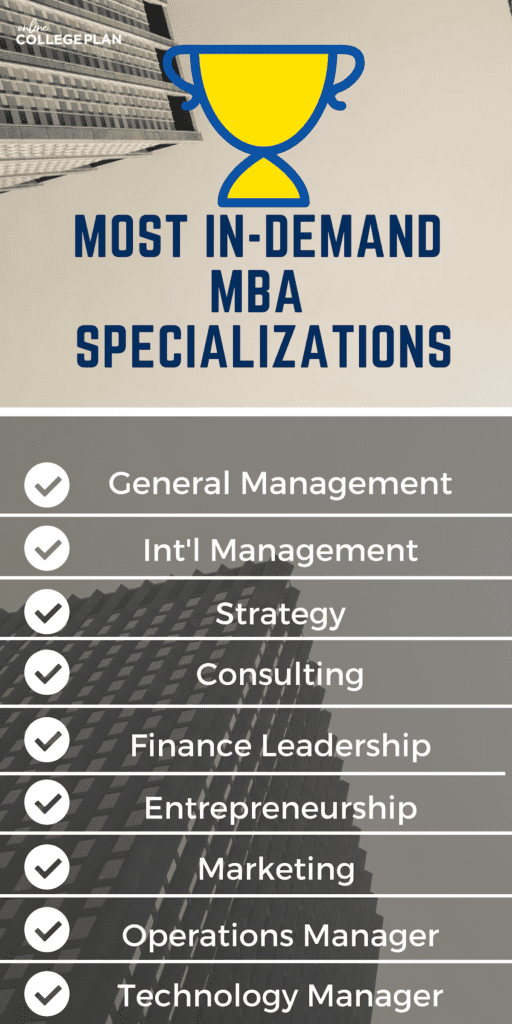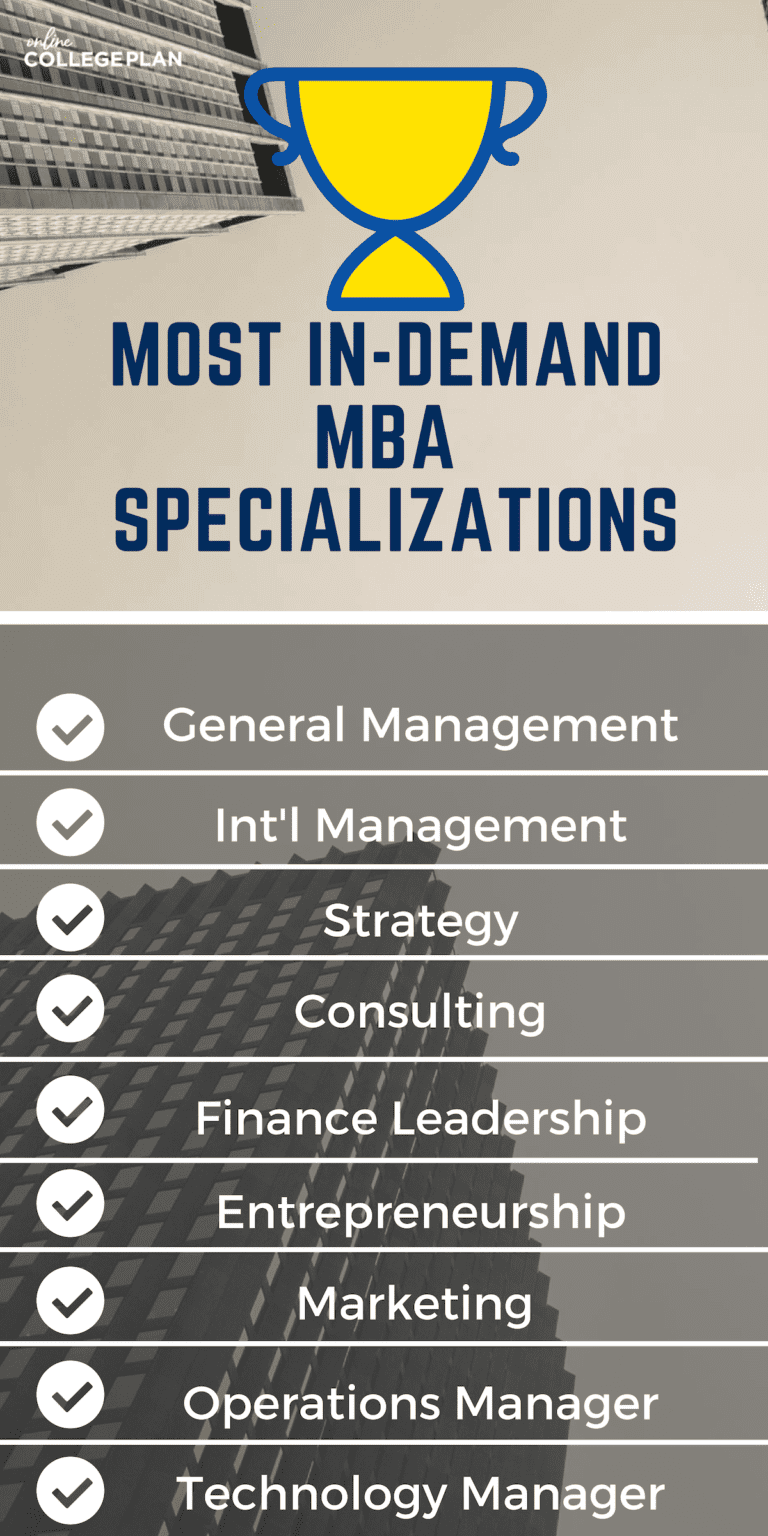 As we've previously mentioned, many MBA programs offer students extra utility by letting them choose specializations, concentrations or focuses that enhance their education and get them ready to do the kind of work they want to do. While the general, core education you'll find in an MBA curriculum will be indispensable to your career in business (or elsewhere), MBA specializations can give you practical training where you need it most, introduce you to like-minded peers, professors and an alumni network in the discipline you're looking to pursue professionally, and give you specific real-world learning opportunities that will help you get the job you want most. Some of the most common and desired specializations in MBA programs include:
Entrepreneurship: Also known as management innovation, this concentration will give you the tools you need to execute on the great ideas you've had, and perhaps make meaningful changes in our society with them.
Agri-Business: This specialization focuses on managing the ever-growing agricultural sector and businesses within it. Areas covered include distribution, machinery, marketing and sales in farming.
Energy: In order for our planet to survive, we need to seriously change the ways we consume and produce energy, and create clean, renewable energy sources and technology. These concentrations will prepare you to take a supervisory role in that process by prizing sustainability and successfully integrating it into the market.
Healthcare Management: This specialization will prepare you to become an executive at insurance companies, hospitals, government agencies, in health consulting, and other healthcare organizations. Healthcare is a rapidly expanding and changing sector of the economy that is in constant need of bold leadership that's familiar with cutting-edge practices, technology and governance.
Cybersecurity or Information Assurance: Attacks on information are costing organizations and individuals exponentially larger amounts of money, while qualified cybersecurity professionals and managers are vastly undersupplied. In this specialization you'll be a part of reversing that trend and will graduate into a market where the demand for your skills greatly exceeds the supply of properly trained candidates.
Media Management: While virtually all organizations have a social media presence, the ability to build and direct audiences through them, and the value that comes with that is still being determined. A properly managed media presence can make a huge difference in profit, and this concentration will make you a player in that realm.
Finance: This is one of the major areas MBA graduates go into, but also one that requires significant focused training. Students who earn MBA's in Finance are far more likely to end up in coveted positions at large organizations, or work as successful analysts, consultants or personal financial advisors.
Accounting: There will always be a demand for accountants, and graduates with an MBA in Accounting often fill hugely important positions in organizations, working as Chief Financial Officers (CFO's), Treasurers, Controllers and Purchasing Managers at agencies, investment organizations, corporations and businesses.
Marketing: This specialization will have some overlap with Media Management MBA's, but can also delve into product management, entertainment, technology, and luxury studying.
International Business: As our world becomes far more interconnected, there's a large need for people who specialize in the ways the global economy functions, and how to use it to accomplish organizational goals. If you have experience traveling and/or speak multiple languages, this might be a great fit for you.
A specialization in an MBA program is one way to differentiate the different programs you're considering. Another one is through the basic structure of MBA programs. To that end:
What Are the Different Kinds of MBA Programs Available?
MBA programs come in some major formats. These include:
Full-time MBA's: The standard MBA conferral type, completed in 1-2 years with a full-time course load. This is for students who don't necessarily need to work while attending an MBA program.
Part-time MBA's: These can be taken over 3 or more years, and allow students to work full-time while they earn the degree.
Online MBA's: Generally require 1-2 years and can often be taken on a schedule designed for your needs.
Executive MBA: For students with significant business experience that are looking to push themselves to the next level. These can be completed in 2 years.
Global MBA: These degrees are for those with serious management experience to further their credentials and gain international experience. They often include travel and take 1-2 years to complete.
The specialization you take in an MBA program can have a huge impact on your career and future earnings. Another major factor is where you work after earning an MBA.
Where Are the Best Places to Work After Earning an MBA?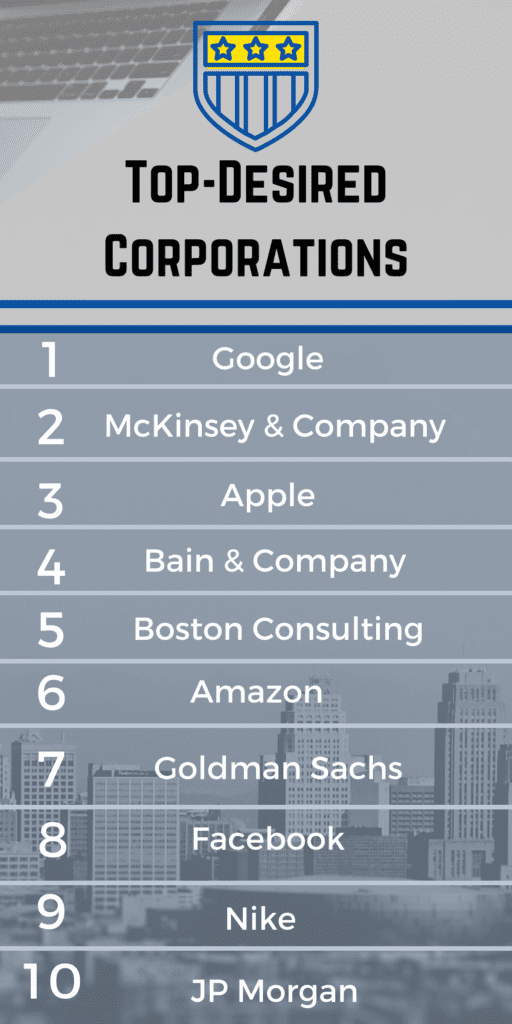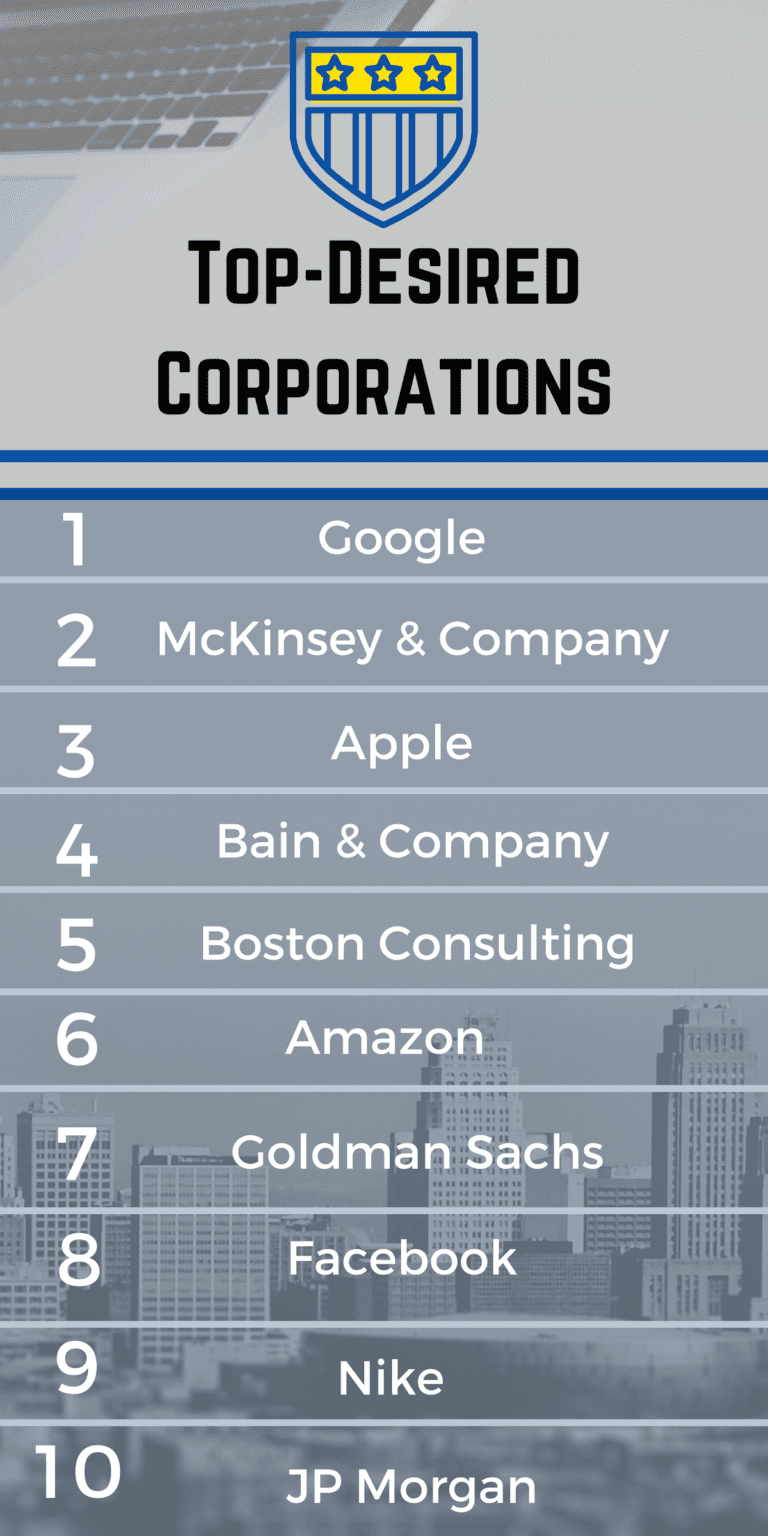 After you earn an MBA, the city you live in will play a large role in your earnings and cost of living. Optimally you can choose somewhere to live with a low cost of living that also has a high demand for the kind of work you want to do with your MBA. Earlier we talked about Energy MBA's, and a recent report from Edgy Labs found that top cities and towns for working in sustainable energy with your MBA include:
Burlington, Vermont
Greensburg, Kansas
Aspen, Colorado
Scituate, Massachusetts
Las Vegas, Nevada
Georgetown, Texas
Chicago, Illinois
Maybe you aren't considering a specialization as part of your MBA program, or want to find areas with a high rate of employing MBA graduates. Top cities and states for MBA employment include:
Illinois
Washington, D.C.
Ohio
New Jersey
Boston
Virginia
We've looked over what makes up an MBA, top programs in the discipline, different MBA specializations and so much more. Feel free to go through all of the resources we've linked to, and remember that contacting a school you're interested in is an excellent starting point that will help you get more information about their requirements and get assistance through the application process. The rest is up to you. Good luck!