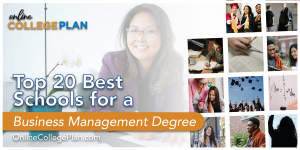 In this ranking, we're going to present the top 20 best schools to earn your business management degree online. Because we have already ranked plenty of online MBA programs, this article is going to focus on undergraduate business degrees in business management or business administration.
Featured Programs
Bachelors in Business Management
A bachelors in business management can serve as a great prerequisite for pursuing a graduate degree in business or prepare you for entry-level jobs in business management. There are several types of business degrees that fit into this category. The core curriculum of business management programs is not going to deviate that much but the specific courses or electives offered will be slightly different with each option. Any BS degrees are going to focus on more technical aspects, such as data management, accounting, and making sure that you have a lot of practical skills in this area. Any BA degree options are going to cover a lot of the theoretical concepts of managing a business. Each one can apply to the same jobs but will equip you with a unique skill set. If you choose a Bachelor of Science, you may be better prepared for immediate entry into the professional world; a Bachelor of Arts will teach you a lot of the same information but may be a better way to prepare for graduate-level study.
A Bachelor of Business Management is similar to a Bachelor of Business Administration but places a stronger emphasis on leadership skills; a Bachelor of Business Administration is more technical and focuses on how a business functions. Choosing which one is the best program of study for you depends on your goals and how you plan to apply the degree once you've earned it. Regardless of your choice, you will cover the core competencies of business and leadership. Many schools will offer these degrees with an optional major or area of focus, which you can further tailor to your needs by selecting the right electives or even by declaring a minor.
Earning an Online Business Management Degree
The biggest advantage to earning a business management degree online is the incomparable flexibility. Online classes are typically asynchronous, which means that you can get on the computer and study when it is convenient for you. You don't have to move or abandon your job or any other obligations in order to receive a high-quality education that will prepare you for the career you want. There are plenty of schools across the country that offer business management degrees at a distance; this will also allow you to select a program that offers the minor or electives you're most interested in. Online degrees tend to be more affordable, and there are still plenty of opportunities for financial aid and even scholarships.
Methodology
In order to create this ranking, we started by researching all of the schools that met our qualifying criteria. Schools must be based in the United States, hold proper accreditation, and must offer at least one distance education program in business management, whether the program is 100% online or presented in a blended format. We also have excluded for-profit schools from this ranking.
All of the schools that met the qualifying criteria were then scored based on their academic quality. We determined academic quality using the following:
Freshman Retention Rate (50% of final score)
Graduation Rate (50% of final score)
The percentages were added together as whole numbers to produce a final score out of a possible 200 points. The 20 schools with the highest final scores are presented in this ranking. All of the data was collected from the schools' websites whenever it was available. If not, additional ranking data and information presented here was collected from the following:
U.S. News and World Report
Niche.com
The National Center for Education Statistics
Collegedata.com
It is important to note that no school was given preferential treatment for any reason and the methodology presented would allow anyone to draw the same conclusion; however, some schools may not be represented here due to incomplete data.
Related Rankings: