A Brief History of Vocational Trades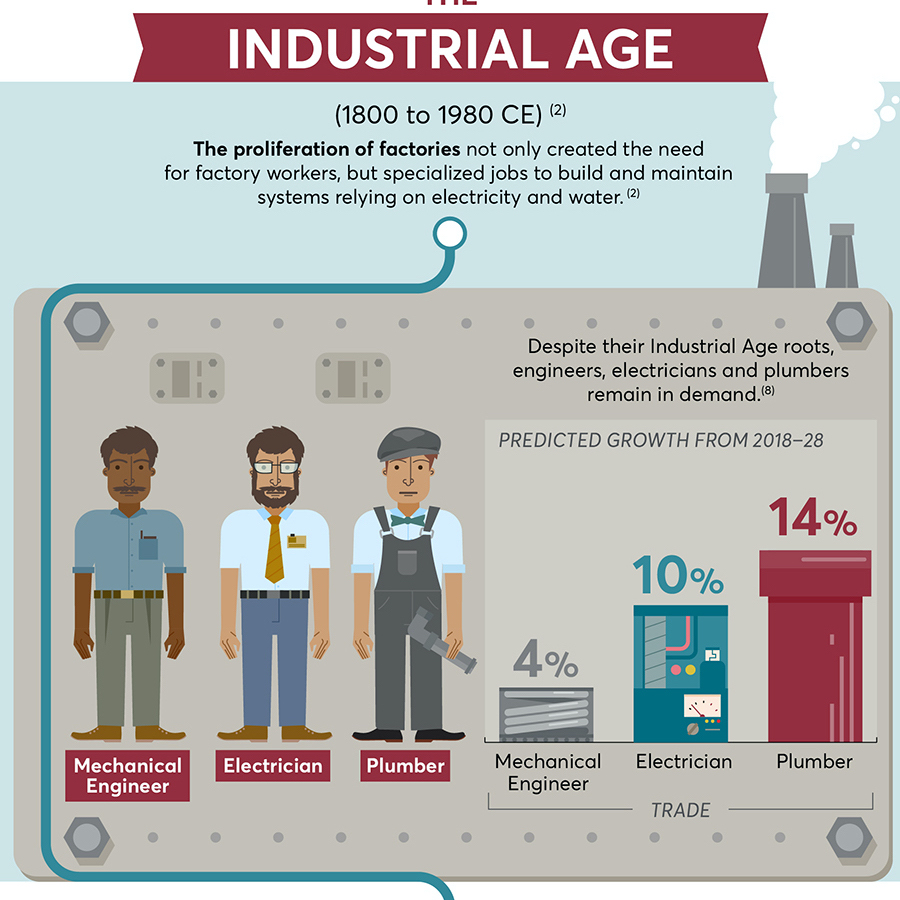 Find your degree
Online College Plan is an advertising-supported site. Featured or trusted partner programs and all school search, finder, or match results are for schools that compensate us. This compensation does not influence our school rankings, resource guides, or other editorially-independent information published on this site.
Share this graphic on your site!
A Brief History of Vocational Trades
How Have Vocational Trades Changed From the Stone Age to Today
From time immemorial, human beings have worked with their hands. But as we developed more and more advanced tools, the nature of that work evolved. Let's examine how each stage of history ushered in a new wave of vocational trades that redefined people's employment opportunities.
TIMELINE:
Prehistoric (before 3000 BCE) (1)
The earliest stages of human civilization demanded that people work to provide themselves with the basic necessities of life, but specialized trades also emerged. (2)
Hunter
Gatherer
Furrier
1. https://www.khanacademy.org/humanities/ap-art-history/cultures-religions-ap-arthistory/a/a-brief-history-of-western-culture
2. https://www.britannica.com/topic/history-of-work-organization-648000/Communal-organization
Over the past few hundred years, only 5 million of the world's 7 billion people support themselves as hunter-gatherers. (3) (4)
3. https://hraf.yale.edu/ehc/summaries/hunter-gatherers
4. https://www.census.gov/popclock/
The Ancient World (3000 BCE to 400 CE) (1)
As civilizations became entrenched around the world, people committed themselves to agriculture and crafts, like pottery and metal work. (2)
Farmer
Potter
Smelter

The earliest farms could be found in modern-day Turkey, Syria, Iraq, Jordan, and Israel. (5)
5. https://www.sciencemag.org/news/2016/07/worlds-first-farmers-were-surprisingly-diverse
The Middle Ages and The Renaissance (400 to 1600 CE) (1)
The development of feudalism tied nobles and serfs into rigid class roles, but also pushed the landless into commerce or craftwork. (2)
Merchant
Carpenter
Weaver
While merchants, carpenters, and weavers are still with us, many other trades from this era are not.
Medieval Trades That No Longer Exist (6)
6. https://westernreservepublicmedia.org/middleages/feud_tradesmen.htm
The Early Modern Era (1600 to 1800 CE) (1)
As colonization cemented the global trade of goods and ideas, new jobs emerged to support the newly interconnected world with financing and governance. (2)
Trader
Banker
Clerk
The global trade associated with colonization redefined economies around the planet, as can be seen from the "New World" crops being grown in the "Old World" and vice versa. (7)
7. https://scholar.harvard.edu/files/nunn/files/nunn_qian_jep_2010.pdf
The Industrial Age (1800 to 1980 CE) (2)
The proliferation of factories not only created the need for factory workers, but specialized jobs to build and maintain systems relying on electricity and water. (2)
Mechanical Engineer
Electrician
Plumber
2. https://www.britannica.com/event/Industrial-Revolution
2. https://www.britannica.com/topic/history-of-work-organization-648000/Communal-organization
Despite their Industrial Age roots, engineers, electricians and plumbers remain in demand.(8)
8. https://www.bls.gov/ooh/architecture-and-engineering/mechanical-engineers.htm
8. https://www.bls.gov/ooh/construction-and-extraction/electricians.htm
8. https://www.bls.gov/ooh/construction-and-extraction/plumbers-pipefitters-and-steamfitters.htm
The Information Age (1970 to Today) (9)
The development of computers and especially the Internet have ushered in a new age of work in which vocational trades focus more on manipulating the digital than the material. (2)
Computer Hardware Engineer
Software Developer
Network Administrator
2. https://www.britannica.com/topic/history-of-work-organization-648000/Communal-organization
9. https://www.sciencehistory.org/time-period/information-age-1970-present
The newest wave of vocational trades are also some of the most rewarding and in demand. (8)
8. https://www.bls.gov/ooh/architecture-and-engineering/computer-hardware-engineers.htm
8. https://www.bls.gov/ooh/computer-and-information-technology/software-developers.htm
8. https://www.bls.gov/ooh/computer-and-information-technology/network-and-computer-systems-administrators.htm
To learn more about vocational trades today, visit: https://www.onlinecollegeplan.com/vocational-school-highest-paying-careers
SOURCES:
khanacademy.org
britannica.com
yale.edu
census.gov
sciencemag.org
westernreservepublicmedia.org
harvard.edu
bls.gov
sciencehistory.org