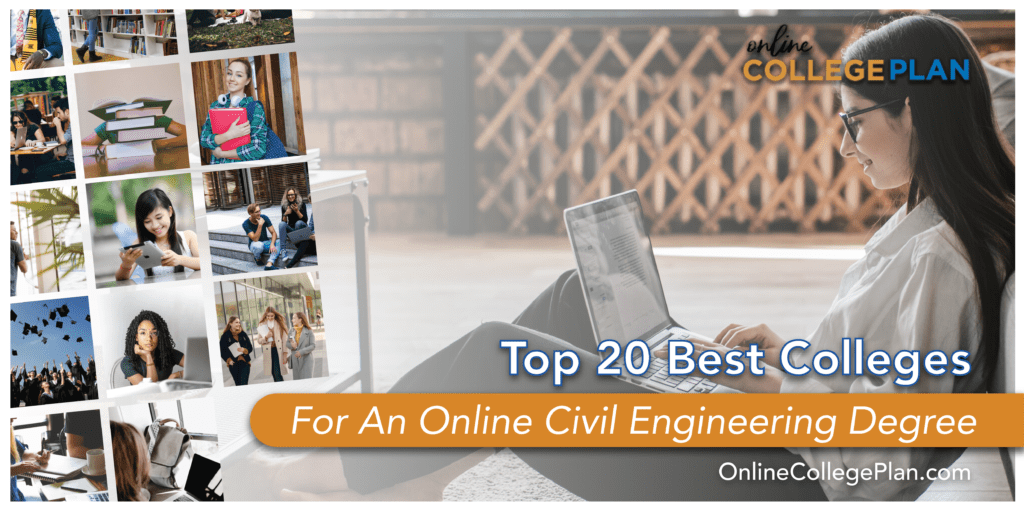 Civil engineering is considered the oldest engineering discipline, and is arguably one of the most important engineering disciplines, critical for society as a whole, for operations, for scaling for new growth and change.
The profession is always in demand, especially in a country the size of the United States, and thus getting a civil engineering degree can provide a great return on investment (ROI) post-graduation.
Featured Programs
As advanced education in the discipline and related areas is important for managing more complex project requirements, the best civil engineering schools provide breadth of experience as well as choices, including concentrations, minors, certificates, or alternate engineering courses. This allows students to supplement civil engineering courses with other engineering knowledge, should they desire.
Being able to earn a civil engineering degree online provides even more flexibility, allowing those who hold down a job or have other life obligations to have some flexibility of academic schedule. This is true whether a potential student is seeking a bachelor's or an advanced degree.
Methodology
This ranking/ review list covers colleges offering any level of online civil engineering degree program, from bachelor's to doctoral level, that meets the criteria we applied. The ranking is based on a combination of factors, including:
# of options for online civil engineering program, including concentrations as well as degree study levels (e.g., bachelor's, master's, doctorate).
The relative difference of in-state grad tuition (program total as most recently reported in NCES).
The relative % or # of grads taking some or all distance/ online courses at the institution, for any subject.
Whether online CivEng options are fully online or hybrid/ partial program
Institutional factor: undergrad graduation rate >= 50%
Total # of all engineering degree options offered, including concentrations and study levels.
Allows for schedule flexibility (asynchronous or asynchronous online courses)
These factors measure options for students, institutional commitment to online education, and student interest in such, amongst other measures. The result is a unique ranking that may leave out some well-known engineering schools due to not satisfying two or more factors, but consistently clusters and sub-ranks similar offerings.
A degree in civil engineering can lead to wide array of careers, partly depending on both experience and level of college studies. This includes careers as or work in:
Architecture
Civil Engineer
Construction
Contract Administration
Environmental Regulation
Environmental and Water Resources Engineering
Geotechnical Engineering
Infrastructure Engineering
Project Control Specialist
Project Management
Research
Site Development
Structural Engineering/ Structural Mechanics and Materials
Surveying
Transportation Engineering
Urban and Regional Planning
Wastewater Engineering
and more. Many of these are high-demand jobs or job niches in the USA, in both public and private sectors.
With that, here is OCP's list of the top civil engineering schools that offer online degrees in this and closely-related topics. Note that that all tuition rates are for in-state/ resident students unless explicitly stated.