How Does Financial Aid Work?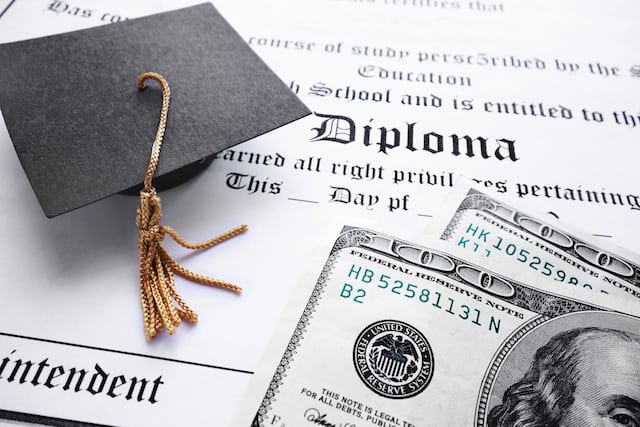 Find your degree
Online College Plan is an advertising-supported site. Featured or trusted partner programs and all school search, finder, or match results are for schools that compensate us. This compensation does not influence our school rankings, resource guides, or other editorially-independent information published on this site.
For this question, we will primarily focus on the largest source of financial aid for students, which is the FAFSA. FAFSA stands for Free Application for Federal Student Aid and it is often used as a general term referring to federal student aid. Federal student aid is calculated by subtracting your Expected Family Contribution from the Cost of Attendance of your chosen school. Cost of Attendance covers tuition, fees, room and board, a personal expense estimate, books, supplies, and a travel estimate. What the Expected Family Contribution entails can be a little bit more complicated. We'll also explain the other types of financial aid.
Financial aid is an essential part of going to college because tuition costs are at an all-time high and there are several other expenses that are involved with pursuing a college education. There are several different types of financial aid that students can obtain to offset the cost of college and each type has its own limits, process of obtaining it, and so on. Loans, of course, are the most common. They are paid out and will eventually need to be paid back. But because there are other options available, when you want to know the answer to your question of 'how does financial aid work?' the truth is that there is not a set answer, it all depends on what you need and what you're eligible to receive. We broke it down by type to make things a little more clear.
Grants and scholarships usually come from private organizations but can also be offered by schools; there are even federal grants. These are a type of gift aid which means that you won't have to pay them back. The way they work is very simple, you just have to find a scholarship and apply. The check is usually sent directly to the school on your behalf. If you're interested in seeing what private scholarships you could get, you can check out the 50 Best Scholarships for Online College Students.
Work-Study Programs are federal programs that provide students with a part-time job where they can earn money to pay for school. Not every school participates in this type of program which is a downside but it is available regardless of whether you attend on a full- or part-time basis. Undergraduate students are paid hourly while graduate students typically have a salary. Students are paid directly once a month.
The FAFSA is where all financial aid starts, though. Schools that provide financial aid require you to have your FAFSA completed first; it is what determines what state and federal assistance you can get whether that is in the form of a grant, scholarship, work-study, or loan. The formula used is very simple: Cost of attendance (COA) − Expected Family Contribution (EFC) = Need. The way that your EFC is calculated isn't as simple. The FAFSA will garner as much information as possible about your parent(s) available income and assets as well as yours but some more selective schools can look at supplemental data that throws off the numbers (home equity, for example). Sometimes, your EFC might be more than you can realistically afford at a certain school. While that might be a little disheartening, the COA is all inclusive (tuition, fees, room and board, a personal expense estimate, books, supplies, and a travel estimate). This is great because it ensures that all of your bases are covered even if the EFC comes out a little high. The government and the schools that made your list want to help you attend and your FAFSA is your first step to receiving that help. If you're ready to get started, here's a simple checklist of everything you need to complete the application.