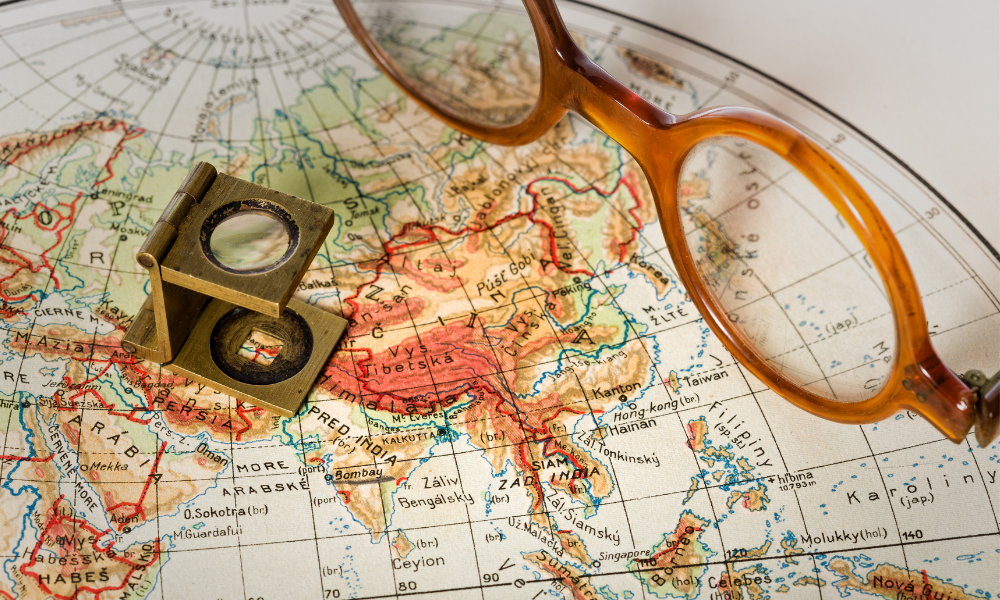 Find your degree
Online College Plan is an advertising-supported site. Featured or trusted partner programs and all school search, finder, or match results are for schools that compensate us. This compensation does not influence our school rankings, resource guides, or other editorially-independent information published on this site.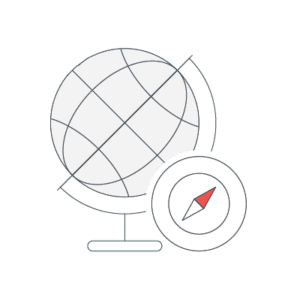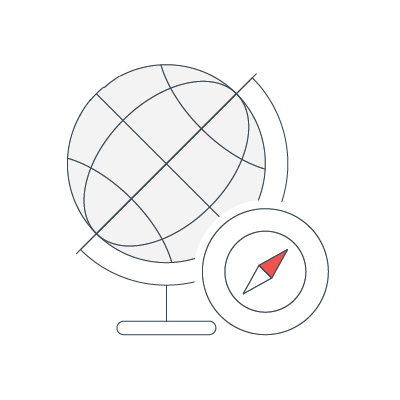 Perhaps you've always loved learning about other cultures, about times and places distant and wild. Perhaps there's one time in the past you find particularly enthralling: the time when Native Americans controlled the American West, the years when Norsemen roamed the seas all the way to central Iraq, or the time of the Samurai.
History has long been a hallmark of university study. All well-rounded learners are expected to have some grasp of history, of how to analyze facts from our collective past. And for some lucky learners, the study of history can become their main course of study (or even their job).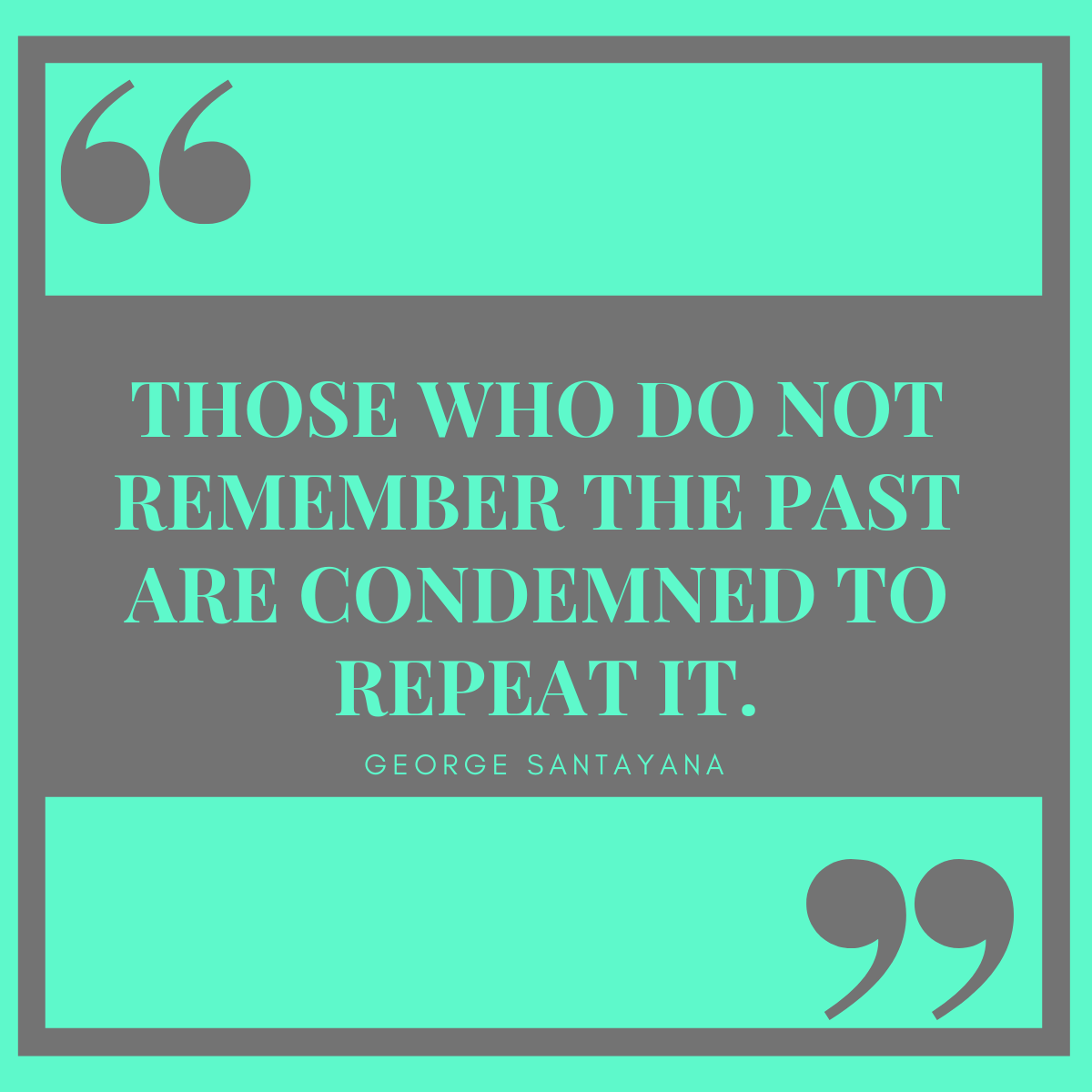 If you're already into history, you likely already know that history is an important social science. History tends to repeat itself in interesting and important ways. And in this rapidly changing world, a firm grasp of history may be one of our best tools for being leaders and thinkers in the coming decades and centuries.
Featured Programs
Here at OnlineCollegePlan, we cover a wide range of higher education topics for potential students. If you have a specific question about pursuing a history degree, make sure to check out our history-related FAQs below:
What is a history degree?
First off, let's jump into what exactly a history degree is. History degrees are offered at the associates through doctoral levels. They are social science degrees that are often offered as both arts and sciences degrees, for example: bachelor of arts or bachelor of science in history.
Additionally, some more applied degrees can help prepare you for specific roles including librarianship, being a curator or archivist in a museum, or being a teacher of history.
What you will depend on your degree level, what you are specializing in, and whether you are pursuing an applied or research track. But the general components of history as a social science remain the same at all degree levels.
By it's shortest definition, from the Greek Historia, history is "the study of the past as described in written documents." Typically events in a culture that occurred before written records are considered to be pre-history, though that does not mean historians don't study them. Activities within the field of history also include the gathering of evidence, analysis of historical documents, presentation of a historical narrative as well as the general promotion of knowledge about the past.
Those pursuing history degrees get a great deal of practice in critically reading, analyzing, writing, and articulating nuanced positions. These skills are translatable across many disciplines, though history majors are particularly well equipped to pursue the graduate study of history and pursue original research.
Can I get an online history degree?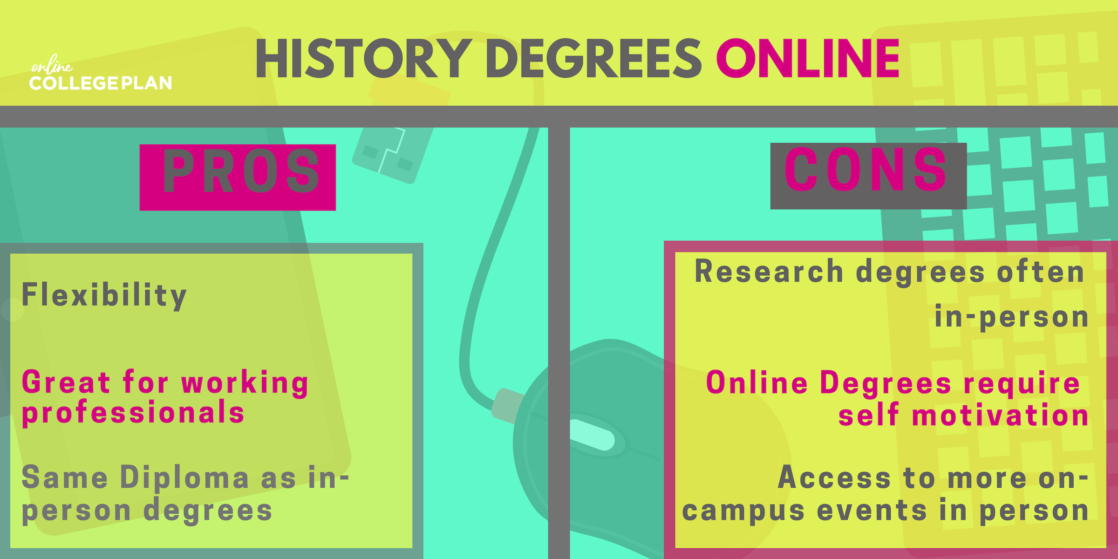 As with many disciplines, you can obtain a history degree online. There are many trade-offs, pros, and cons to obtaining an online degree. Below we'll list some of the most common pros and cons to pursuing a degree online as opposed to in-person.
Pros for Seeking a History Degree Online
No need to move to the location of your schooling.
Greater flexibility to speed up or slow down your degree.
Built for Non-traditional students.
Pursue degrees while working full time.
The same support services as in-person degrees.
The exact same diploma as in-person degrees.
Access to regionally accredited schools.
Often more affordable.
Cons for Seeking a History Degree Online
Many schools only offer Ph.D. degrees in person.
Must be more self motivated in online degree.
Greater socialization in in-person degree.
Access to more on-campus events in person.
Greater networking opportunities in person.
More schools offer in-person degrees than online.
Access to in-state tuition more common in person.
While there are definite tradeoffs to pursuing a degree online versus in person, online degrees are becoming increasingly common. A vast majority of employers do not view online degrees as any different from in-person degrees. And there's no reason they should. Here in our time researching online degrees at OnlineCollegePlan, we've never seen one university that notes a difference on diplomas received online versus in person. Additionally, just as many online-centered universities are regionally accredited (the highest form of accreditation) as those that are predominantly in person.
OnlineCollegePlan Rankings of Online Degrees
What jobs can I gain with an online history degree?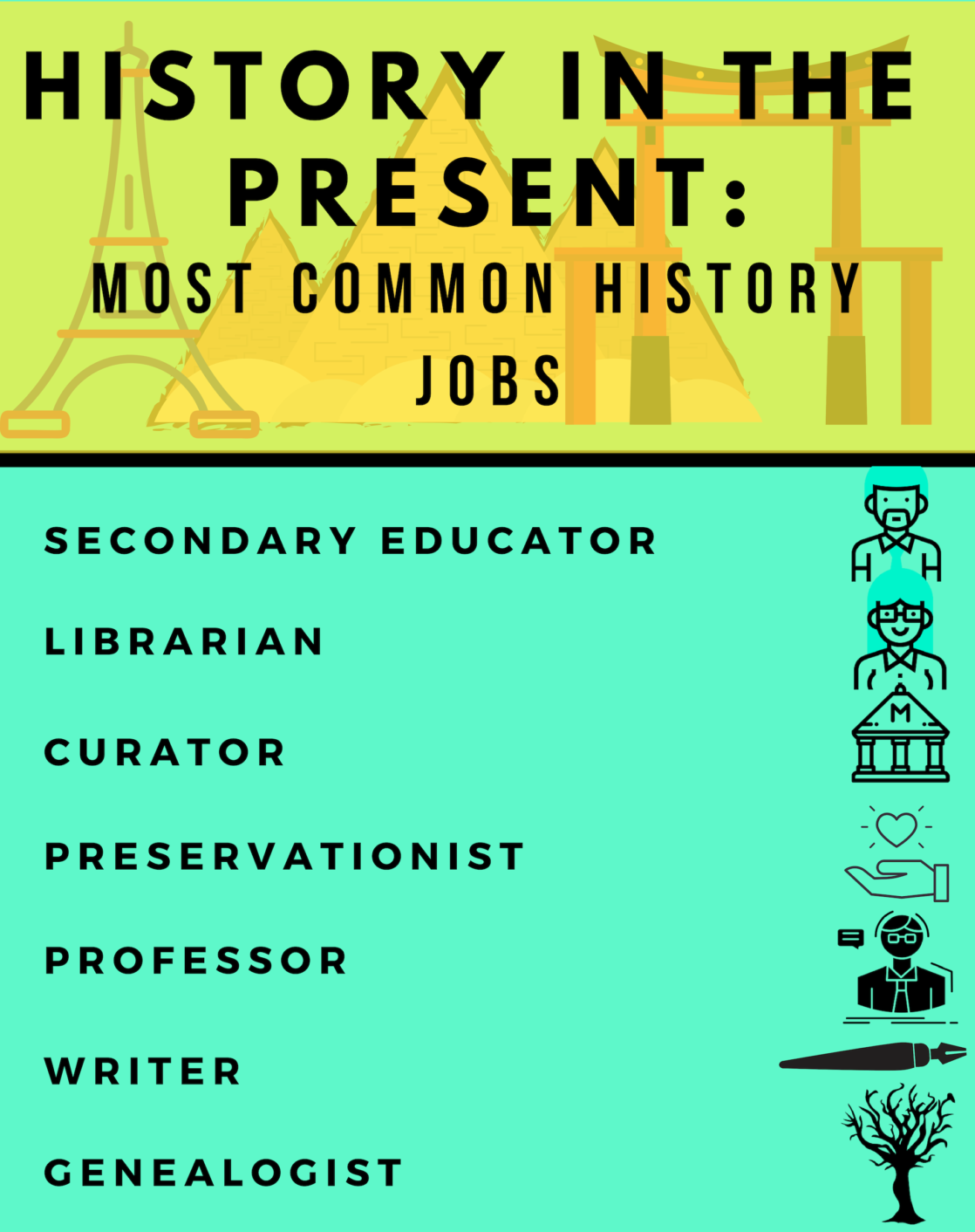 There are a wide variety of job titles in history-related fields. What's more, most states in the union are reporting a growing number of jobs in the following fields:
Curator
Museum Director
Archivist
Librarian
Research Librarian
Genealogist
Museum Technician
Conservator
Historian
There's more opportunity than ever for careers directly related to a history degree. Below are average salaries for the above jobs:
Average Salaries for History Jobs
Primary or Secondary School History Teacher: $55,000
Intermediate-Level Curator: $51,151
Museum Director: $68,559
Archivist: $46,600
Librarian: $55,883
Research Librarian: $59,850
Genealogist: $57,125
Museum Technician: $39,800
Conservator: $47,520
Historian: $58,100
Additionally, history degrees prepare students for a wider array of jobs through their focus on analytical thought, writing, and logical thinking. Graduate schools and jobs history degrees readily prepare recipients for include:
Business School
Careers in Writing
Management
Editing
Social Science
Average Salaries for Potential History Major Career Paths
Writer: $43,000
Editor: $53,500
Social Scientist: $72,328
Mid-Career Political Scientists: $114,929
Geographers: $75,820
What is the career outlook for online history majors?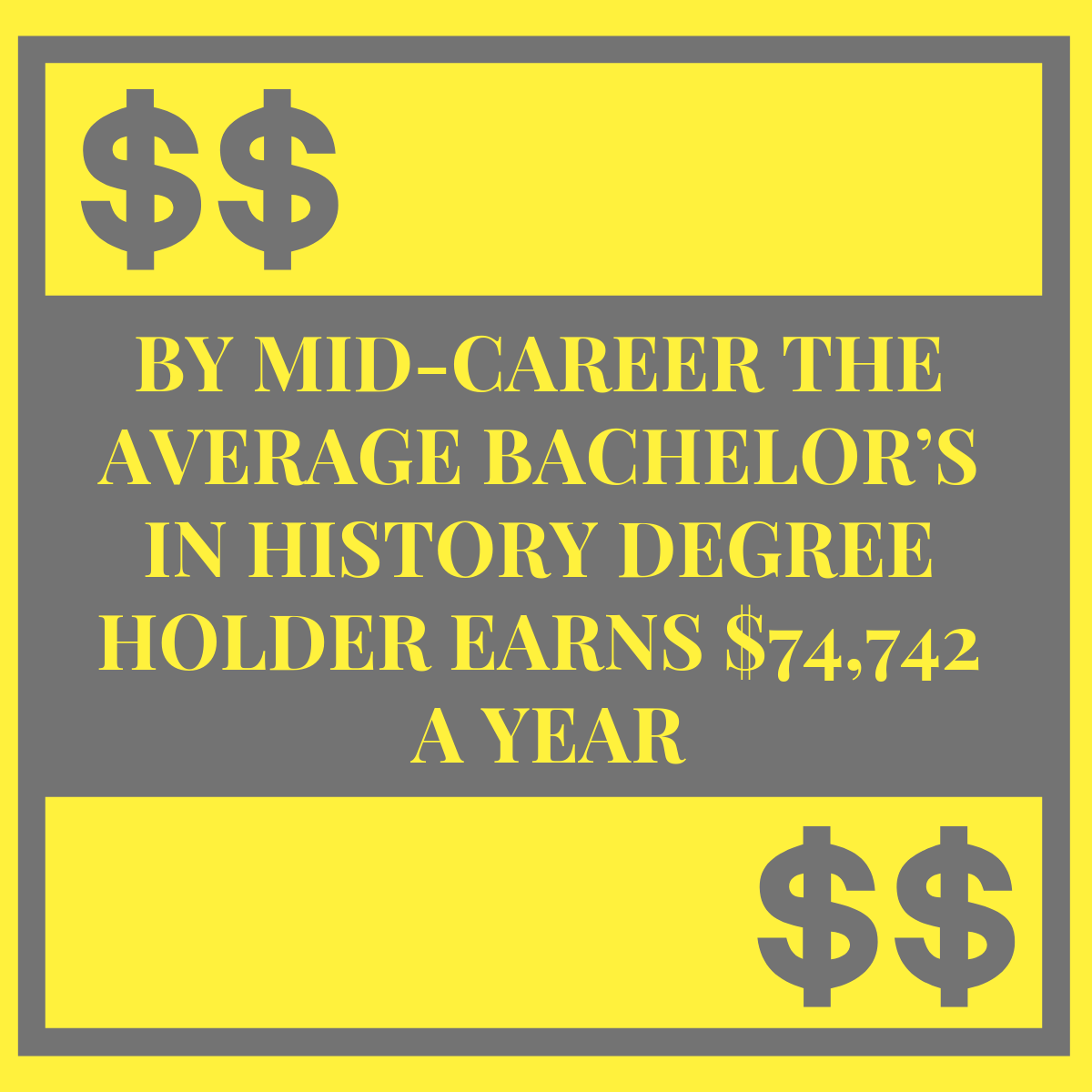 As one of the most versatile degrees, career outlooks for history majors depend on what job type they're pursuing. Of the wide range of career types listed above, many boast job openings expected to expand in future years.
Of history-related roles, job outlooks are good. Below we've listed the current number of jobs in each field as well as the number of new jobs expected to be available by 2026 (according to the Bureau of Labor Statistics).
Common History Jobs and Expected Change in Job Numbers by 2026
Historians: 3,300 (+6%)
Postsecondary History Teachers: 21,120 (+2.2%)
Archivists and Curators: 31,000 (+13.3%)
Librarians: 138,200 (+9%)
Archeologists: 7,600 (+3%)
For careers in other fields that history majors commonly enter, a much more full range of jobs are available. Many of these also boast impressive career outlooks.
Number of Common Jobs For History Majors and Increase in Jobs by 2026
Lawyers: 792,500 (+8%)
Marketing Managers: 249,600 (+10%)
Writers: 131,200 (+8%)
Editors: 127,400 (-1%)
Political Scientists (+3%)
Besides the career you choose, different specializations within history majors relate to career trajectory. Below are average early and mid-career earnings for those holding bachelor's degrees in history based on their specialty.
Average Earnings by Type of History Bachelor's Degree
(Early Career Earnings / Mid Career Earnings)
European History: $49,000 / $94,600
History & Politics: $45,900 /$84,500
History: $44,000 / $77,200
History & Political Science Science: $47,100 / $77,000
English & History: $43,200 / $71,700
Art History: $42,900 / $66,300
History Teacher Education: $44,100 / $51,900
Is a History Degree a Good Choice for Me?
Choosing a major or degree program is, of course, a personal choice. It depends on what you're currently good at, what skills you would like to gain, what your interests are, what career you're seeking, and a number of other factors.
With that said, there are a core group of skills you should be comfortable with (or want to improve) if you're pursuing a history degree. If some of the below sound like you, a history degree could be a good fit for you.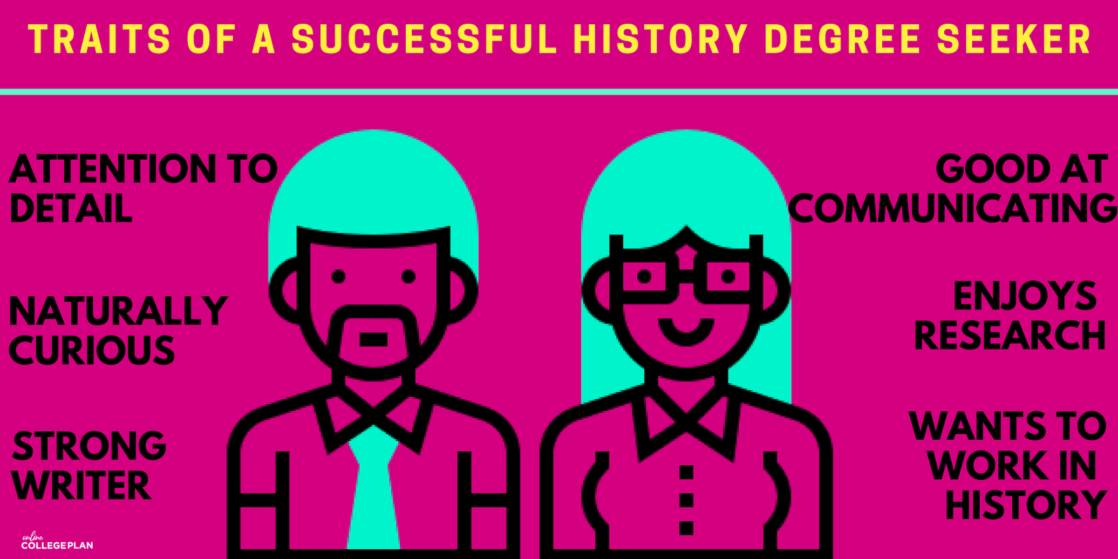 Traits of Successful History Degree Seekers

Attention to Detail: historians and students of history may read tomes and tomes of knowledge, but they can locate and hone in on crucial details that back up historical analysis. Imagine the dates in a biography being mistaken, this could render the whole work unusable for the purpose of historical research.
Naturally Curious: historians and students of history feel drawn towards learning more about other times and places. This natural curiosity is what pushes historians to educate others and seek unique historical discoveries.
Good at Communicating: the greatest knowledge of history is only as good as the holder's ability to share that knowledge. From teaching roles through curatorial positions, communication is a must in historical disciplines.
You Enjoy Research: a very large part of both historian and history student work is research. Those that thrive in history-related careers are not only good at research but enjoy the work.
You Would Like to Work in a Field Related to History: if you just know that you would like to work as a history teacher or in a museum, then a history degree is a definite path towards one of these places of work.
Strong Writer: whether read silently or out-loud, history is largely transmitted through writing. This writing could be for a label in a historical exhibit or a paper submitted to an academic journal. But one thing's for sure, historians and history students need to be able to write clearly and coherently.
You Have an Analytical Mind: a great number of new historical discoveries rely on the analyzing of historical data. You'll need to have a natural bent towards analysis of documents and data if you want to thrive in a historical setting.
Types of Online History Degrees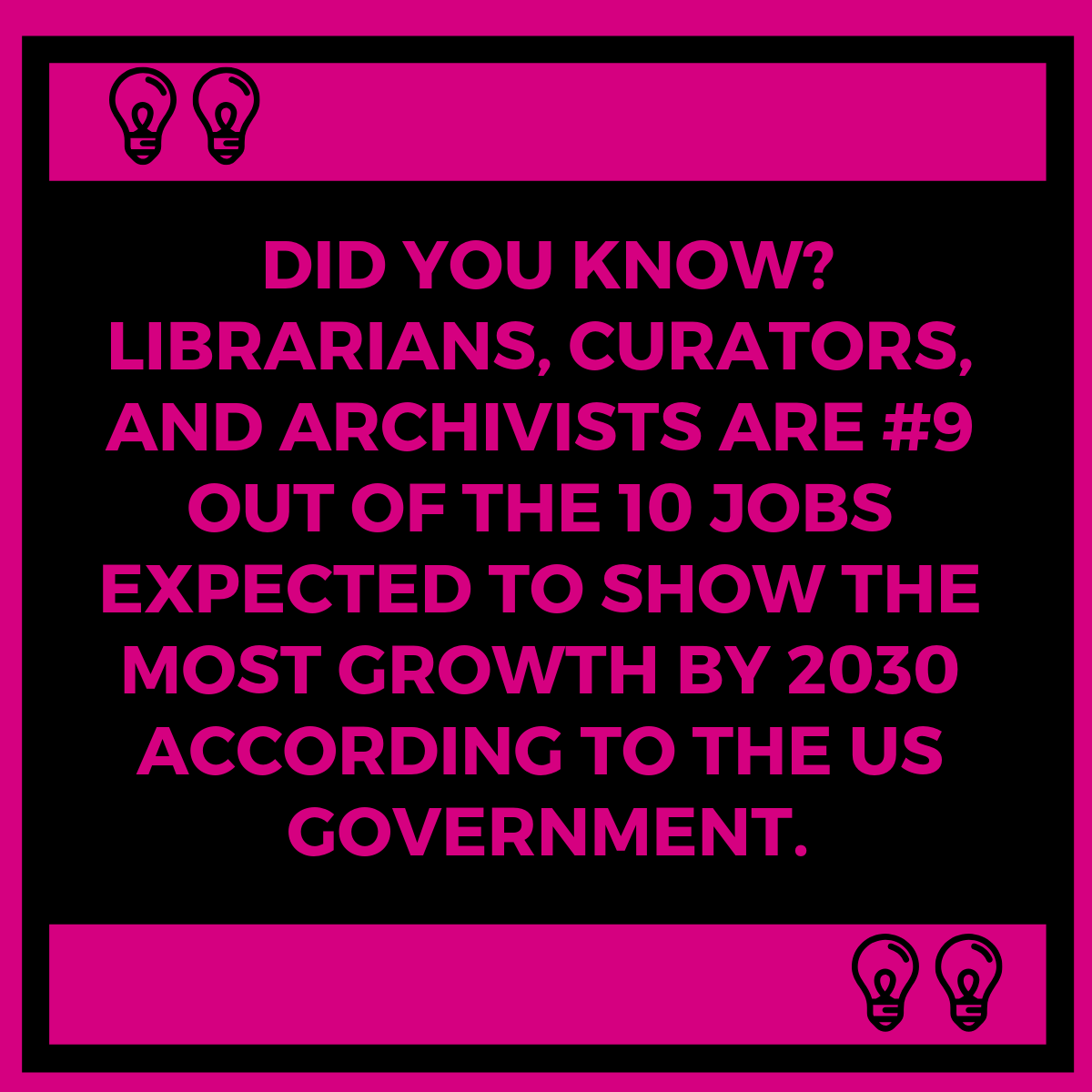 What you can do with an online history degree greatly depends on what degree you pursue. History degrees are typically available as arts-centered or science-centered degrees (example: bachelor of arts or bachelor of science). They're also available at the associates through doctoral levels. At graduate levels, history degrees may be research-centered degrees or applied degrees meant for specific jobs.
Below we'll work through the most common degrees related to history by degree level. Each section will focus on where this degree may be pursued, how long it will take the complete the degree, and common courses that may be taken in this degree type.
Associates Degrees in History
Associates degrees in history typically require 60 credit hours for completion, with many students completing their course of study in 1.5-2 years.
Associates degrees are commonly touted as one of the most cost-effective degree types. Several states, as well as large metropolitan community college districts, even offer free tuition. Many two-year colleges offer transfer agreements as well. In a transfer agreement, students that meet certain criteria are guaranteed entrance into a four-year college or university upon the completion of their two-year degree.
All associates degrees require general education requirements that may not be related to your major course of study. These courses are wide-ranging, and help to promote well-rounded learning and critical thinking in graduates. Common general education courses may include the following:
Entry-Level Mathematics
Social Sciences
Hard Sciences
Writing and Composition Courses
Courses in the Arts
Courses in the humanities
Once past general education requirements, those pursuing an associates degree in history often take survey courses providing a well-rounded basis for a history education. Courses in history in associates degrees in history may include the following:
World Civilization (before 1650)
World Civilization (after 1650)
History of Native Americans
History of Women in the United States
American History (before 1877)
American History (after 1877)
Western Civilization (Before the 19th century)
Western Civilization (After the 19th century)
African American History
And a choice of electives
Bachelor's Degrees in History
Bachelor's degrees in history are the most common history degree, and start to make recipients eligible for history-related jobs such as museum technicians, teaching positions, and librarianship.
History bachelor's programs are generally where students can start to specialize in one era or aspect of history. Some students will have the option to write a thesis at the undergraduate level. Some will have the opportunity to participate in research, and a good number will find internships in historical work settings.
Bachelor's degrees typically require 120 semester credit hours for completion. Obtaining a bachelor's usually requires 3-6 years of study, with four years being the "typical pace."
Much like associate's degrees, a bachelor's degree in history first requires the completion of general education credits. These courses ensure that the recipient of a given degree has a well-rounded education, can read and write well, and is an analytical thinker.
After general education courses, students pursuing a bachelor's-level history degree will often pursue the same survey courses offered at the associates level. Following these courses, students may take courses on research methods (in a bachelor of science program), and begin to specialize in one era in history. An example curriculum for a bachelor's in could include all courses offered in an associate in history degree as well as the following:
2 upper-level American History Courses
2 upper-level European History Courses
Historical Methodology
Upper-Level World History Course
Several electives focusing on a specialization area
Senior Capstone Project or Thesis
Common specializations for history degrees that occur at the undergraduate level may include the following:
American History
European History
History of Science
World History
Far East History
Middle Eastern Studies
African History
Meso-American History
Native American Studies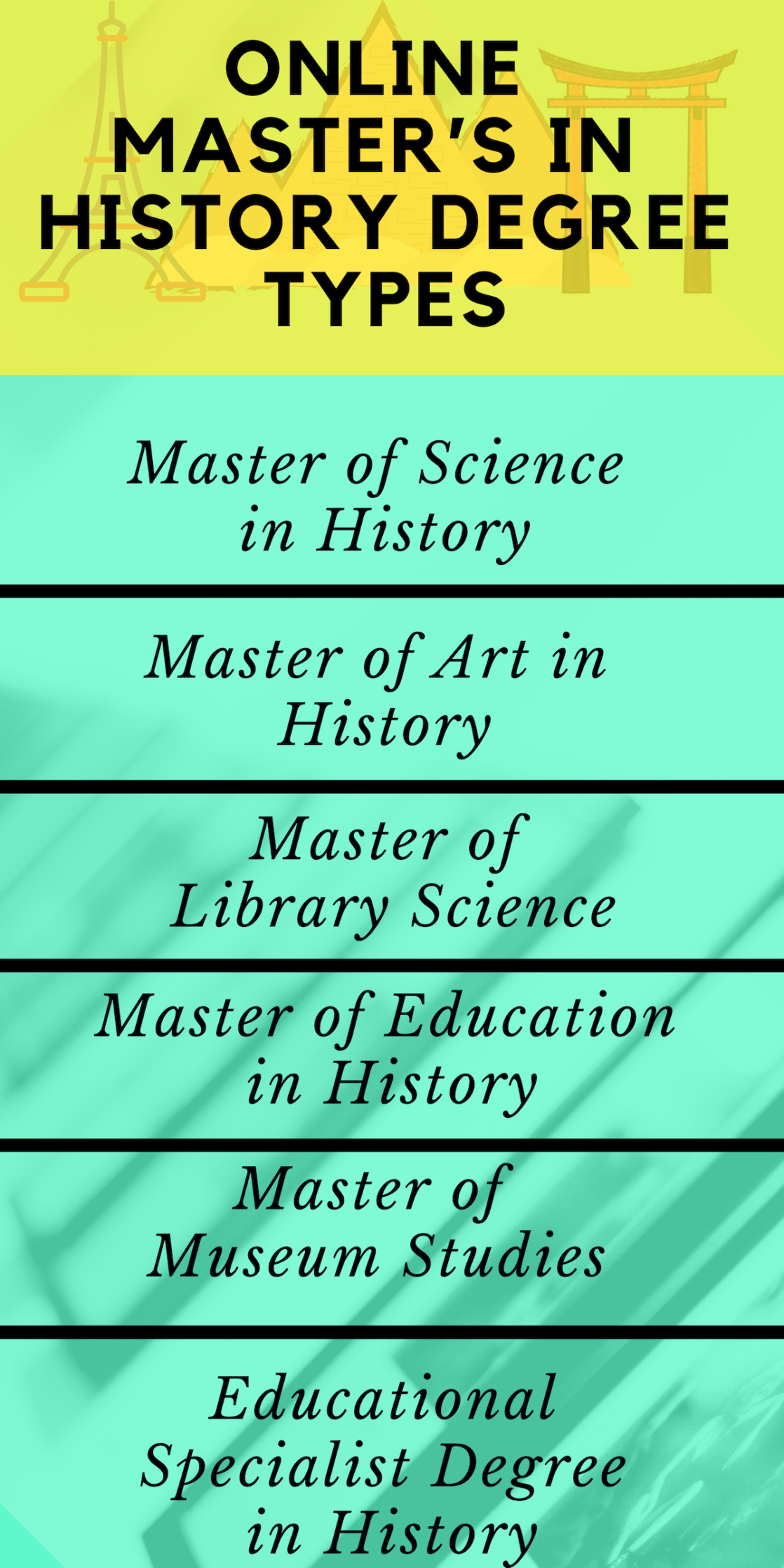 Master's in History Degrees

Master's degrees in history-related disciplines can help to prepare graduates for librarian, curator, and teaching roles. For students that wish to pursue research and teaching at the university level as a career, Ph.D. tracks are often pursued after bachelor's degrees. Ph.D. programs typically award master's degrees part way through the course of study and after students have completed a master's-level thesis.
For students wishing to pursue a stand-alone history-related degree, a number of options are available. These include:
Master of Science in History
Master of Arts in History
Master of Arts in Art History
Master of Library Science
Master of Education in History
History Educational Specialist Degree
Master of Museum Studies
Most history-related master's degrees are applied, and help to prepare students for a specific job. For students wishing to continue their studies after a master's in history, some Ph.D. programs allow for master's-degree holders in history to transfer in (or gain admittance), though many prefer students to enter the program out of their undergraduate course of study.
Below we'll take a look at some of the most common master's-level history degrees.
Master of Arts (M.A.) in History
A Master of Arts degree in history allows students to upgrade their general knowledge of history and perform some professional development. This degree type is often pursued by secondary teachers of history wishing to up their pay and mastery of subject matter as well as by students looking to work their way towards a doctorate incrementally.
For students looking to continue their studies past the master's level, they should make sure to pursue a master's requiring a substantial thesis (often close to 100 pages).
Master of Arts degrees in history typically requires around 30-33 semester credit hours for completion. If a master's thesis is needed, that is usually between 3-6 credit hours of the total.
Master's students typically begin to be able to specialize heavily. Besides taking a few standard courses in historical methodology, students will typically pursue two types of courses in their subject matter:
Graduate Seminars: involve the close reading and discussion of a text with a professor and a small group of students.
Advanced Topics: can involve one-on-one work with a professor as you work your way through more self-led research and discovery.
Some specializations that are common for master of arts in history degrees include the following:
African history
African American History
Ancient history
Asian history
European history
Latin American history
Military history
Native American History
Russian and Eastern European history
United States history
World history
Women's and Gender history
In addition to a general area of focus, most students at the master's level will add to their focus by looking at one aspect of one of the above categories. Some of these aspects of study may include the following:
History of Technology
Cultural History
Dominant Empires
Indigenous Histories
Political History
Religious History
Or many others
Master of Science in History
While most master's-level degrees in history are master of arts degrees, a handful of American and many European degree providers do offer the master of science degrees in history. Master of science programs generally covers the same subject matter that can be covered in master of arts degrees (mentioned above) with several additions.
Additional components of master of science degrees in history:
Course(s) in historical methodology
Course(s) in historical research
Substantial research towards thesis at the master's level
Science or math background courses for history of technical topics
Master of Library Science
Master of Library Science (MLS) and Master of Science in Library Science (MSLS) degrees are applied master's degrees related to librarian and information science positions. While not all librarianship positions will be directly tied to historical work, many specialty libraries are locations of historical research in which librarians play a crucial role.
Additionally, those holding Master of Library Science works in many settings and roles beyond traditional libraries. Common settings for those with MLS degrees to work include universities, museums, archives, hospitals, and businesses. Tasks of those with Master of Library Science degrees may include the building of websites, digitizing artifacts, restoration, and preservation of texts, researching historical subject matter, and instructing others.
A typical curriculum of an MLS degree may require some combination of the following courses:
Reference Work
Cataloging
Collection Development
School Libraries
Archiving
Information Architecture
Database Design
Education Degrees in History
There are two graduate-level degree types in history education short of the doctoral level: master's in education with a focus on history, and educational specialist degrees in history education.
These courses of study typically come in two forms: a format for those that already have their teaching license, and a format for those that need to obtain a teacher's license. Obtaining a teacher's license through an academic course of study typically involves supervised student teaching time and passing of state-specific exams for teachers.
Master's in history education courses typically include courses including the following:
Curriculum Development
History Courses
Research Seminar in History
Teaching Social Science Courses
Educational specialist degrees are technically post-master's-level courses of study, but they are slightly short of doctoral programs. These terminal degrees are applied in nature and geared towards educators that want to hone their craft to the highest degree short of a doctorate.
Educational specialist degree programs geared towards history will typically include courses including the following:
History Courses
General Social Science Courses
History education courses
Museum Studies Master's Degree Holders Learn how to
The field study project is typically a substitute for what would be a dissertation in a research-based doctoral program. As educational specialist programs are applied in nature, research projects involve practice in the field.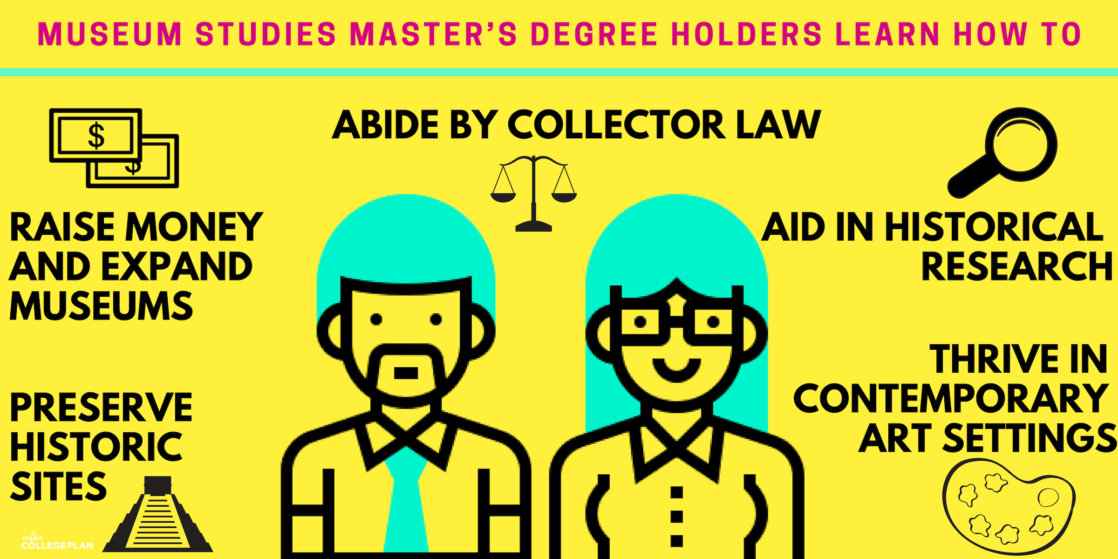 Raise Money and Expand Museums
Master of Museum Studies

Masters degrees in museum studies help to prepare students for a variety of research, preservationist, curatorial, archivist, and librarian roles within the setting of museums. Museum Studies master's degrees typically require 1-2 years for completion. These applied degrees are terminal and may require some of the below courses:
Theory and History of Museums
Fundraising and Grant Writing for Museums
Museum Education
Conservation and Collections Management
Historic Sites and Politics of Preservation
Interactive Technologies and Museums
Planning and Design of Exhibitions
Contemporary Art
Art Exhibition History
Museum Law
Research in Museums
A selection of electives
Doctoral Degrees in History
Doctoral programs in history typically begin after undergraduate study, though some accept students with master's in the field. The main doctoral degree in history is a Doctor of Philosophy (Ph.D.) in history. Ph.D.'s are research doctorates, meaning some of their central aims include preparing students to teach at the university level and promoting original research by doctoral candidates.
Ph.D. programs require doctoral candidates to complete dissertations, which are several hundred page documents of original research. Dissertations should be of the level of expertise to be presented in peer-reviewed academic journals. Many dissertations are later adapted to become books. In doctoral programs doctoral candidates must "defend" their dissertations in front of a panel of knowledgeable faculty to obtain their doctoral degree.
Doctoral degrees in history allow students to fully specialize, with students often choosing to attend universities that have experts in the specialization in which they would like to study.
Doctoral degrees prepare students to teach at the secondary, undergraduate, and graduate levels, and can prepare students for a variety of other careers. Other careers may include curatorial work, being museum directors, conservation jobs, writing, original research, genealogy, and more.