Many working professionals are going back to school online for an advanced degree. But is it worth your time? Let's take a look at some of the best online graduate degree programs and where you can start your journey toward a higher pay grade.


Share this graphic on your site!
Benefits of a Graduate Degree
Average annual salary by highest education level (1)
Master's: $68,000
Bachelor's: $56,000
2020
Year when many medical degrees (like nurse practitioner and physician assistant programs) will require graduate work, as opposed to simply a bachelor's (2)
Graduate premiums by industry (1,2)
Industry: Average salary with BA/BS: Average salary with MA/MS
Biology: $40,400: $50,200
Business administration: $45,800: $55,600
Computer science: $63,100: $81,200
Elementary education: $34,300: $39,700
Mathematics: $52,400: $63,100
Mechanical engineering: $62,500: $71,600
Nursing: $56,600: $82,000
Psychology: $37,600: $45,200
Popular Versus Profitable
Getting a master's in medieval literature might seem fun, but it isn't the most practical choice for graduate work. Here are some of the best, and some of the worst, graduate degrees in terms of financial returns. (3,4)
Master's degree: Mid-career salary: Growth projection: Low stress
Best
Computer science: $125,700: 12.7%: 49%
Software engineering: $118,900: 11.9%: 51%
Information sciences: $116,100: 11.2%: 48%
Statistics: $112,000: 14%: 58%
Occupational therapy: $81,300: 16%: 30%
Worst
Fine arts: $46,600: 3.5%: 43%
Early childhood education: $48,700: 5.4%: 36%
English literature: $69,500: 6.2%: 33%
Social work: $59,700: 10%: 27%
Criminal justice: $63,600: 7%: 36%
MBAs (5)
An MBA is one of the most popular online graduate degree programs in the U.S. However, there are several concentrations, and some are more lucrative than others. Almost all have the potential to put you in the six-figure range.
MBA concentration: Average mid-career salary
Strategy: $149,000
Entrepreneurship: $139,000
Corporate finance: $138,000
Finance: $130,000
Marketing: $123,000
Information technology (IT): $123,000
International business: $121,000
Top Online Graduate Degree Programs
Here are some of the best online schools for seeking your master's degree online:
1. North Carolina State University-Distance Education
Annual tuition: $7,623 in-state and $21,311 out-of-state
Number of graduate degree programs: 45
Most popular programs: statistics, aerospace engineering, animal science, civil engineering, computer science
2. University of Illinois Online
Annual tuition: $7,782 in-state and $27,435 out-of-state
Number of graduate degree programs: 45
Most popular programs: agricultural education, computer science, environmental studies
3. University of Missouri-Mizzou Online
Annual tuition: $8,335
Number of graduate degree programs: 44
Most popular programs: architectural studies, interactive media, nursing education, health communication
4. Liberty University Online
Annual tuition: $9,360
Number of graduate degree programs: 140
Most popular programs: MBA, communications, professional counseling, cyber security
5. University of Memphis-U of M Online
Annual tuition: online only programs are $100/credit hour
Number of graduate degree programs: 20
Most popular programs: MBA, journalism, history, public health, nursing, applied computer science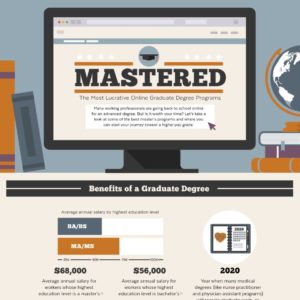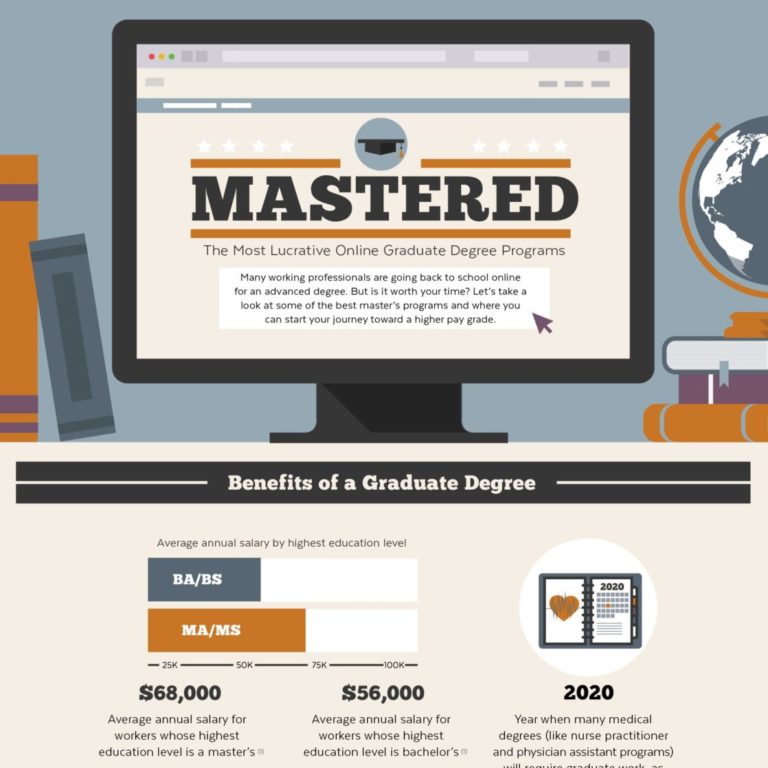 Sources:
1. https://study.com
2. https://www.bls.gov
3. https://fortune.com
4. https://www.forbes.com
5. https://www.payscale.com
6. https://www.bestmastersdegrees.com