How to Get Your Degree Online – For Senior Citizens
Find your degree
Online College Plan is an advertising-supported site. Featured or trusted partner programs and all school search, finder, or match results are for schools that compensate us. This compensation does not influence our school rankings, resource guides, or other editorially-independent information published on this site.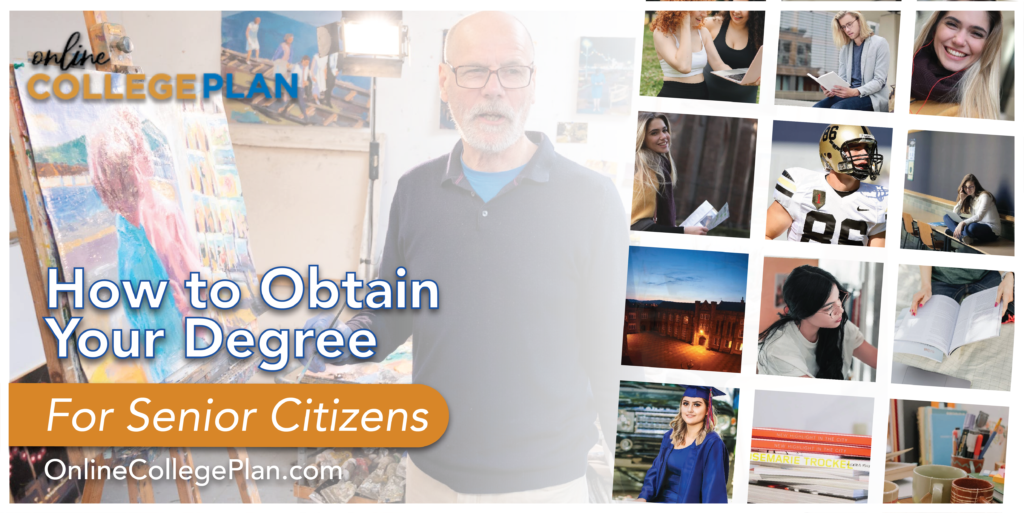 Going back to school as an adult is something that is universally regarded as difficult, but very few people consider that there are some of you who want to go back to school as seniors. Life doesn't stop after you reach any certain age; you still have many goals and aspirations, and if a college degree is one of them, this guide will help you to make that a reality. We've put together tips, resources, and other important information to make sure that you can put your best foot forward as you embark on this new chapter. You may even be able to take advantage of free online college courses for senior citizens.
What Are the Benefits of Returning to College as a Senior Citizen?
There are other benefits aside from the financial benefits of taking advantage of free online college courses for senior citizens. Earning your degree online can be rewarding in many ways. Of course, it can also be difficult to get a job as a senior citizen, and further education will help.
Learning is great for you at any age. When you're older, continuing to learn is a great way to keep your brain healthy. Every time you learn something, your brain grows new cells and builds connections. Scientifically, learning new things at an older age has been proven to strengthen memory and problem-solving skills. It can improve your memory, boost cognitive function, and can help ward off crippling conditions like dementia or Alzheimer's.
Learning can also keep you healthy in other ways, by boosting your happiness. You will have more opportunities to connect socially throughout earning your degree, and especially if you choose to enter a new career after you graduate. This social interaction helps provide a sense of community and combat against the isolation that many seniors feel.
"Learning never exhausts the mind." — Leonardo da Vinci
Why Choose to Get Your College Degree Online?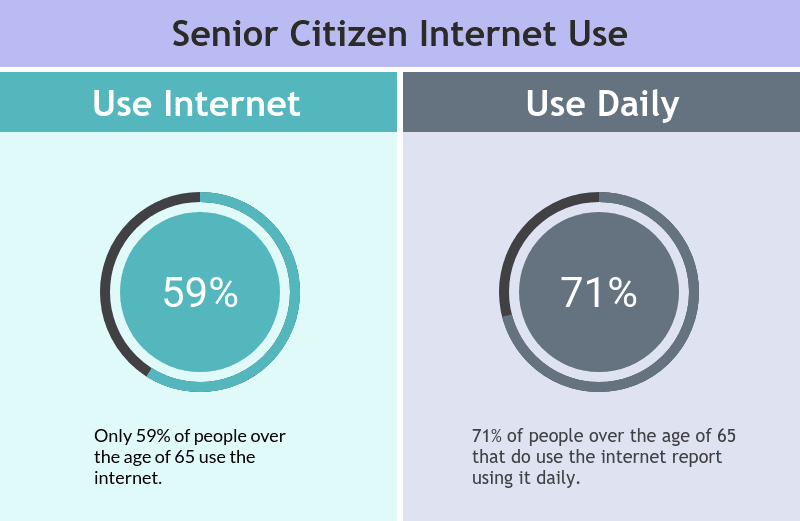 Over the last generation, the expansion of technology can be a little intimidating to those who are unfamiliar with it. With that in mind, why would you get your degree online? While seniors are somewhat less likely to adapt to and adopt new technology, the majority of them that do use it every day. The internet is a vast place, and the younger generation's concentration on social media can make it seem like that is all that it has to offer. It just isn't true! Regardless of why you're choosing to earn a college degree now, for the social benefits, to fulfill your lifelong dream of graduating, or to give a new career field a try – online college is an excellent choice.
You can earn a college degree from the comfort of your own home. Many seniors have trouble getting around, and being able to sit at a computer in your own home will alleviate a lot of the stress of traveling to campus and then sitting through lectures. You also won't have to worry about feeling out of place in a classroom, which is something that can happen to anyone who is going back to school. You also won't miss out on the social aspect whatsoever. Online courses also boast more social interaction. A lot of the time in a traditional lecture, students don't want to socialize, and many of them just can't wait to leave. In an online course, there will be mandatory discussions in which all students must contribute.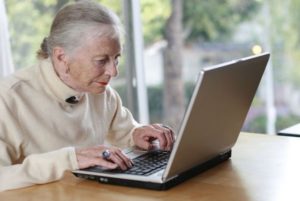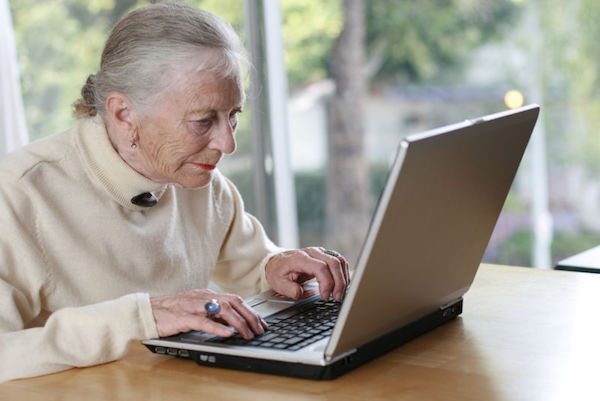 There are a lot of advantages at any age to learning online. There is a lot more flexibility which means that you can earn a degree in a self-paced way. These are called asynchronous programs, and they are offered at institutions of higher education all over the country. If you take a little longer to read or take notes, it won't get in your way when you're learning online. You will have access to all the lectures and course materials 24 hours a day. Even though you'll be at home, you will still have access to a dedicated professor for each course, just an email or phone call away to answer any questions that you may have. Additionally, online courses are usually presented on a platform like Blackboard, or Moodle. These platforms also offer robust tutorials and customer support if you are having trouble navigating the site itself.
When you choose to take college courses online to earn your degree, it's called distance learning. Many schools don't care how great that distance is! That means that you could stay close to your family and friends while attending the school of your dreams, even if it's across the country from you. The colleges and universities that offer this option generally charge a flat tuition rate for online students, so you won't necessarily incur the same expenses as a traditional out-of-state student. However, as a senior citizen, there are a lot of tuition benefits for you!
How Can You Enroll in Online College?
You will have to apply to the school of your choosing, but the process is going to be different for you than it would for a younger student. You don't need any test scores, like the SAT, ACT, GRE, PERT, etc. You also will not need to complete an entrance essay. Different states and institutions will have their own requirements, but these are some that generally apply across the board:
You must be at least 60 or older.
You must be a citizen of the United States.
You will need to have obtained a high school diploma or equivalent.
To qualify for certain waivers and discounts, you will need to meet income requirements.
Once you've selected a school, you can check their website to learn more. If you aren't sure where to start looking at schools, we've organized the best online colleges by location right here. If the school's website doesn't have the exact information you need, you can reach out to them by phone or email to ask them about their individual requirements. The staff will be able to help you find out exactly what documentation you will need to provide them with if any, and they will be able to answer any additional questions that you may have.
"Once you stop learning, you start dying." — Albert Einstein
Free Online College Courses for Senior Citizens – Scholarships, Discounts, and Waivers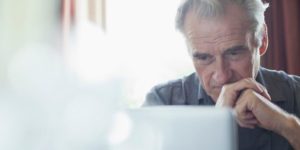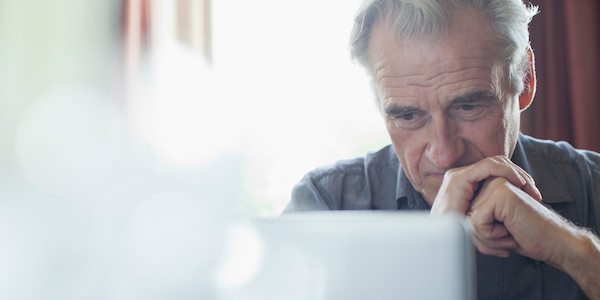 As a senior, you're likely on a fixed income, and even if you're not, the height that tuition costs have reached can be alarming. There are a variety of resources out there that can help you pay for your tuition, though. There are also several ways to avoid paying any money at all! Yes, there are free online college courses for senior citizens!
(Tip: Another benefit of online college degree programs is that they are often much cheaper. This is because of lower tuition, lower fees, and the highly customizable nature of these programs. You will also spend less on your required books and materials. Keep reading for more information about free college for seniors.)
Traditional College Resources
FAFSA: The Free Application for Federal Student Aid is always a great place to start. This will determine your eligibility for financial aid assistance from state and federal sources. We've put together a FAFSA Checklist to make sure you don't miss anything.
Applying for Scholarships: 57% of all student financial aid comes from scholarships. You may qualify for many of them, so browsing ones that are available can only help you in the long run. There are many scholarships for senior citizens returning to college; however, a majority of them are school specific. You can read that list here. For more general scholarship information, you can check out our Guide to Finding and Applying for College Scholarships, a list of the 50 Best Scholarships for Online College Students, and a list of Quick Scholarships to consider.
Tax Credits: There are two different tax credits related to education, the American Opportunity Tax Credit, and the one you'll more likely qualify for, the Lifetime Learning Credit.
(Tip: All schools have a financial aid office, and you can contact them to ask questions and get help applying for different types of aid.)
Aid Specifically for Seniors
There are a variety of different discounts and waivers that are offered to seniors from the state, and from specific universities. These initiatives are usually referred to as "Encore Programs, " and this type of financial aid is drastically underutilized because these opportunities aren't often publicized. At this site, you can look at each state, and each college or university organized by state, and see what kind of waiver they offer. More than half of them provide entirely free tuition for seniors returning to school at a public or state-supported university.
Important Things to Look Out For
Is this waiver for non-credit courses only? A few states like Minnesota, Washington, and Ohio only offer seniors the chance to audit courses for free which means you won't be earning credits. If you want to earn a degree, this option won't work for you. There are still discounts available in these cases, for example, in Minnesota seniors citizens will only pay $10 per credit.
Does this waiver or discount cover fees? In addition to paying tuition, there are fees associated with going to college as well. You'll want to make sure to find out if the fees are waived, or if you'll have to pay them. And of course, if you do have to pay them, could you receive a discount? For residents attending universities that are part of the California State University System, fees can be reduced to just $1.
Is this waiver or discount space-dependent? Even though online classes don't take up physical space, there are limits to how many students can be enrolled in a particular course. In many states that offer free tuition, students who aren't benefiting from the waivers take priority. Make sure that you'll be able to take the courses that you sign up for to ensure that you can complete your degree in an appropriate time frame.
What are the requirements or limitations associated with this waiver? You will want to be aware of any requirements related to your waiver for free tuition, or the discount you receive, so you can make sure you don't lose it. There may be a minimum GPA requirement or policies that don't allow you to turn in any late assignments. Limitations may include how many courses you can take per semester.
Can the discount be combined with other financial aid? In states that only offer discounts to seniors, you will want to look into this. Even though you're already receiving a lower tuition rate, you may be able to use other financial aid such as a scholarship to cover the rest.
Is the school I've selected covered by the waiver or discount? If you opt to go to a private university, or you simply choose a school that doesn't participate in the state's program, you may not be able to receive any discounts or waivers provided by the state. However, some individual schools will offer their own programs. Be sure to ask! Scholarships and traditional financial aid will still be an option as well.
"Anyone who keeps learning stays young." — Henry Ford
The Best Online Universities for Senior Citizens
Now that you have read more about the available resources and benefits for seniors going back to college, you are probably ready to get started. We're here to help. Plenty of colleges and universities offer free online classes for senior citizens, but those may not all be for credit. We did the research for you and found the best online colleges for seniors, so you can attend school from the comfort of your own home and earn a degree for what you're learning.
Methodology
In this article, we have ranked the top online colleges for seniors. In order to be eligible to be ranked, a school must meet the following criteria: hold proper accreditation, offer at least one online or hybrid degree program, be based in the United States, and offer some discount or program catered to the needs of senior citizens. In addition, we chose not to rank for-profit schools on this list.
The schools are ranked based on the following two factors, which each account for 50% of the final score out of a possible 200 points:
Freshman Retention Rate
Graduation Rate
Data used in the ranking of these schools came from the databases of the National Center for Education Statistics, U.S. News & World Report, and the schools' websites whenever possible.
1. University of Washington
The University of Washington offers 18 different online programs including bachelors and masters degrees. Many of the online programs can be completed in as little as one year. UW also offers hundreds of individual online courses that you can take to supplement a program or just explore your academic options. You may also find some free college classes for senior citizens in this catalog of free and low-cost classes at the school.
The majority of the classes are self-paced, or asynchronous. This means that you can login online and complete your classes at any time you want whether you get up early or are more of a night owl. You will learn from the same instructors that lead classes on campus, and have plenty of opportunities to interact with them and your fellow students.
Score: 178
UW Information for Seniors
2. New York University

New York University is a massive school that serves close to 60,000 students, and you may be one of them someday. Distance education is something that the school is committed to growing on a regular basis to make sure that students all over the globe have access to a high-quality education. There are over a hundred online courses to choose from! The majority of the 24 degree programs online at NYU are graduate degrees. For undergraduate students, there are the Bachelor of Arts in Social Science and Bachelor of Science in Leadership and Management Studies programs.
The experienced faculty teams that design traditional programs at New York University have put their heads together to create the online options as well. The university prides itself on giving students the flexibility to fit education into any lifestyle without compromising any academic rigor or quality. Classes can be synchronous or asynchronous, there are full- and part-time options, and student support from enrollment to commencement. NYU is known around the world for its excellence in professionally-focused and innovative online learning options.
Score: 177
NYU Information for Seniors
3. University of Minnesota

The University of Minnesota has an extensive list of online programs to choose from. This includes 21 certificate programs at the undergraduate and graduate levels; 17 fully-online bachelors degrees, eight fully-online masters degrees, and six more that are primarily online but require some residencies. There are even 12 doctorates and two licensing programs that are distance-based at UMN. Bachelors degrees are provided in several in-demand fields like psychology, manufacturing management, accounting, communication, finance, IT management, and more. You can study healthcare administration, business administration, computer science, family education, electrical engineering, nursing, and more at the graduate level.
The University of Minnesota Online assures that its distance-learning options are equivalent to those presented face-to-face. The transcripts and diploma you receive won't indicate that any of your classes were completed online. The university doesn't offer any free online courses for senior citizens residing outside of Minnesota; however, if you are a resident, you can audit classes for free and take classes for credit at an extreme discount of $10 per credit. You are still responsible for any and all lab fees, materials, and other course fees.
Score: 173
UMN Information for Seniors
4. Mississippi State University

Mississippi State University boasts over 40 different online programs. These include five certificate programs, six bachelors degrees, 25 masters degrees, and seven doctorates. Business, teaching, psychology, biology, information systems, and even Broadcast and Operational Meteorology are just a few of your options if you choose to earn one of these great online programs for seniors. Online students at Mississippi State will benefit from financial aid, student support services, online tutoring, and all of the other support and resources offered to traditional students.
MSU is one of the best options for you because it offers free online degrees for senior citizens! Many schools have chosen to exclude its distance learning programs from its scholarships for seniors but not this one. If you are over the age of 60, you can take up to 18 credits per academic year and pay absolutely nothing. This is one of the truly free universities for seniors out there. Online classes at the university follow the same academic calendar schedule as on-campus classes; some of the coursework is asynchronous, but some classes may require you to participate in live sessions and watch your instructor and engage with your classmates. The university offers a thorough orientation and constant access to technical support as well.
Score: 137
MSU Information for Seniors
5. Pace University

Pace University offers an associate degree program, eight bachelors programs, seven masters programs, and two doctorate programs that are fully-online or presented in a blended format that would require students to come to the campus in New York. There are also seven undergraduate certificate programs available. Several of the degrees at Pace were specially designed to meet the needs of nontraditional adult students. These programs allow you to earn as many as 36 credits from an Experiential Learning Assessment and have four start dates throughout the year. These special options are all perfect affordable online college degrees for seniors; you can choose from a Bachelor of Arts in Liberal Studies, a Bachelor of Science in Professional Studies, a Bachelor of Science in Professional Computer Studies, or a Bachelor of Business Administration in General Business.
For local students, you can even go to campus and use the computers at Pace if you don't have one! The university is very committed to ensuring your success. Online courses at Pace University run on a semester basis; new course materials are uploaded weekly, and you would be expected to complete them in a timely manner. However, choosing to study online lets you work when you want to. This is great for those of you who volunteer, babysit grandchildren, or have other things going on during the day that keeps you from being able to commit to a program at a brick and mortar campus. The Pace Encore Transition Executive Program is their primary offering specifically for seniors.
Score: 134
6. University of West Florida

The University of West Florida has 17 programs of study you can complete entirely online. There is a Doctor of Education in Curriculum & Instruction with two optional concentrations and an Education Specialist program in Curriculum & Instruction; the remainder of the distance education options are masters programs in fields like nursing, public health, English, computer science, and business. There are close to 30 additional focus areas you can add to your degree. UWF has six bachelors degrees you can complete via web. Their course catalog has over 200 options, meaning you can take electives that you're interested in whether you're looking to change careers or just deepen your knowledge.
The University of West Florida has a Tuition Fee Waiver for eligible Florida residents over the age of 60, which makes this a free online degree for seniors. In addition, online students living outside the state of Florida that are enrolled in one of 43 different distance degrees can obtain an Out-of-State Tuition Waiver. This particular waiver covers up to 90% of the non-resident portion of your tuition. All lectures, assignments, and supplementary course materials in your classes will be available online and generally when you are ready to study. Some classes will have live components that you will have to virtually attend at a set time.
Score: 121
UWF Information for Seniors
7. Methodist University

Methodist University e-Learning is the distance education initiative at MU. Unfortunately, this is solely a supplementary program so there are no degrees you can earn entirely online. However, you have the choice of enrolling as a Special Student and taking courses intermittently or just one time. You can register for up to 30 credit hours, and you will receive legitimate credit for your work, but you will not be eligible to earn a degree. You can take classes for personal enrichment, professional development, or with the intent of transferring them to another institution later on. The university does give you a path to continue if you want to go beyond 30 hours. The university is located in Fayetteville, North Carolina.
There are typically over a dozen courses available every semester. These classes are classified as asynchronous because you don't have to be at your computer to watch live streamed lectures; however, there is a lot of participation required. You will be expected to complete assignments and participate in class activities several times a week. There are attendance requirements. Undergraduate students at MU that are over the age of 65 can receive one of the school's scholarships for senior citizens returning to college, and it covers the entirety of your tuition. Contact an advisor to determine if Special Students are eligible for this opportunity.
Score: 88
Methodist University Information for Seniors
8. Grand Rapids Community College

Grand Rapids Community College offers close to 20 online programs. There are very few, if any, on-campus requirements associated with completing them. If you're looking to start fresh in the world of higher education, this is a great choice because their offerings are all undergraduate degrees. Most of your course interaction takes place asynchronously and any set meeting times included in a particular class will be clearly stated in your syllabus so you can plan ahead. You will do your actual coursework through BlackBoard. Before you start studying, you will take an orientation that walks you through how to use the system. You'll have access to IT Support as well as a host of other student support services.
GRCC is committed to catering to the needs of senior citizens in the community and offers caregiver resources, support groups, and health/exercise programs. For students that aren't local, the college still goes above and beyond to foster an engaging environment that keeps seniors actively learning and growing. The college offers academic advising, disability support services, financial aid, scholarships, online tutoring, occupational support, as well as boasting a strong alumni network. When it comes to ensuring you get the most out of your experience, GRCC is among the best colleges for senior citizens.
Score: 71
GRCC Information for Seniors
9. Austin Community College

Austin Community College has 14 online associate degree programs and eight online certificate programs that you can choose from. Areas of study include computer programming, criminal justice, journalism, philosophy, and even a real estate licensure program. Credits that you earn are easily transferable to a four-year university if you're interested in doing so. Online students at ACC will have online tools and support staff behind them to help foster their success. Tech support for the course management system, online tutoring, and library services are just a few of the resources you would have at your disposal. Austin Community College wants to make sure that you can earn the degree you wish to on your terms.
Classes are typically asynchronous in presentation, and the broad range of courses that are available make it easy to cater to your particular interests, needs, or goals. The college offers free online classes for senior citizens; Texas residents over the age of 65 can take up to six credits per semester completely free of charge as long as they maintain the required minimum GPA. For senior citizens outside of Texas, the college is still on your side. Tuition for two years at ACC is just a quarter of what it would cost at a public university! The college has special programs for veterans, interest-free tuition payment plans, and more than a dozen grants and scholarships available. Over 10,000 of its students are receiving financial aid! Advisors at the school are also available to help you explore any education tax credits you may be eligible for.
Score: 69
ACC Information for Seniors
10. Rio Salado College

Rio Salado College has one of the most extensive varieties of programs that you can choose from. There are nearly 60 different programs of study leading to undergraduate certificates and degrees. You can earn a degree in a traditional career field such as accounting, business, or retail management; you can also branch out into an entirely new career in the next chapter of your life thanks to programs in dental assisting, paralegal studies, insurance studies, addiction counseling, and even a small business start-up program. Almost all of the classes at Rio are provided via the web, which makes it so that you can choose what you want to study. The college first implemented online learning over 20 years ago.
Some more benefits of studying online at Rio Salado College are that you will have access to online support 24 hours a day, seven days a week. Asynchronous classes give you the choice to study when you want to, and the college makes sure that you can get in touch with someone in case you get stuck. Tutoring and library services can also be accessed around the clock. The 50+ Encore Program at Rio Salado College takes what you know and helps you to translate that into a career in education with three different online certification programs. Seniors that live locally pay less than $50 per credit hour! For the rest of you who are interested in this school, you pay an exceptionally low rate of $215 per credit hour.
Score: 48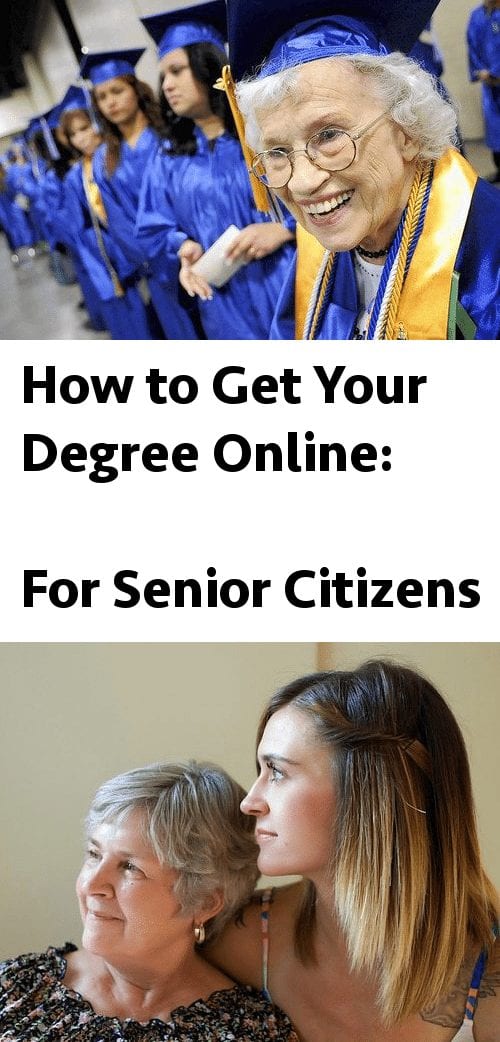 Sources:
Related Articles:
Fast Online Degrees for Seniors
Best Online Associate Degrees for Seniors
Best Online Bachelor of Arts Degrees for Seniors
Best Online Masters Degrees for Seniors