SCHOLARSHIPS FOR ONLINE STUDENTS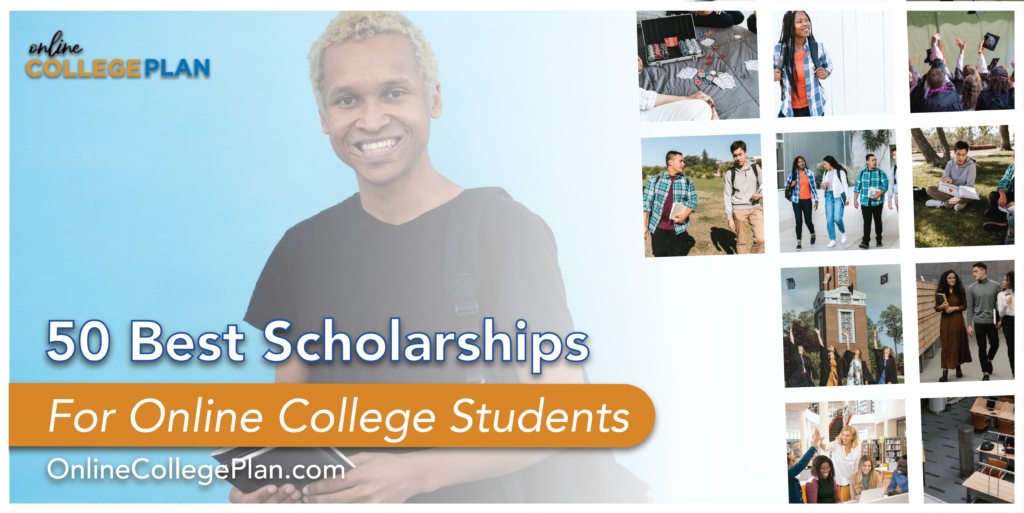 Can online college students get the same scholarships as those who attend on-campus programs? Absolutely! In fact, online students may even be eligible for even more scholarship opportunities! That's because there are more scholarships than ever specifically for online students. This article will cover all the details about scholarships for online students, including:
How to find the best scholarships for attending college online
The best way (and time) to apply for scholarships
The benefits of online degree programs
How to know if an online school is legit or not
Other financial assistance available to online students
We'll be giving you a wealth of resources about scholarships for online students. And that includes a list of over 50 scholarships to pursue right now! Plus, we'll give you a list of sites to visit to help you find hundreds more! If you're a student wondering how to pay for your online college education, bookmark this page for future reference.
What Are Scholarships?
Scholarships are financial gifts to help students pay for their education. These gifts do not need to be paid back. Thousands of companies and organizations offer scholarships. Some are presented once a year, while others may be awarded more often. Scholarships come from many sources:
Religious organizations
Employers
Social groups and clubs
Nonprofit charities and other organizations
Private corporations
Private individuals and family foundations
Universities and colleges
Community service groups
Scholarships can be awarded on factors like gender, age, grades, nationality, race, and more.
The Myth About Scholarships for Online Students
Many students think scholarships are only for students enrolled in on-campus programs. But this is not true at all. This myth was probably propagated many years ago when few credible online college programs were available. However, those days are well behind us. Scholarships for online colleges are plentiful.
More colleges than ever before are offering online undergraduate or graduate degree programs to prospective students. And more students are seeking flexible online degree programs too. So in most cases, you'll have the same opportunity for scholarships as any other student. Moreover, when you're attending an accredited online university, you're a real student, regardless of where you take classes. So as long as you meet the requirements, you have the same chance as anyone to be awarded scholarship money. The same goes for financial aid, which we will talk about later on.
When you think about it, students enrolled in online college may be the students who need scholarship money the most. Many students attend online undergraduate or graduate degree programs because they are typically cheaper than traditional programs. In addition, many are already working full time and taking care of families. For these nontraditional students, financial assistance for college is essential.
If money is a deciding factor for attending an online degree program, don't let that stand in your way. There are plenty of scholarships for students enrolled in online programs. And there are many other ways to help pay for college if you know where to look. We're going to show you some of those ways.
Check out our ranking of the top 100

best online colleges

to help with your school search.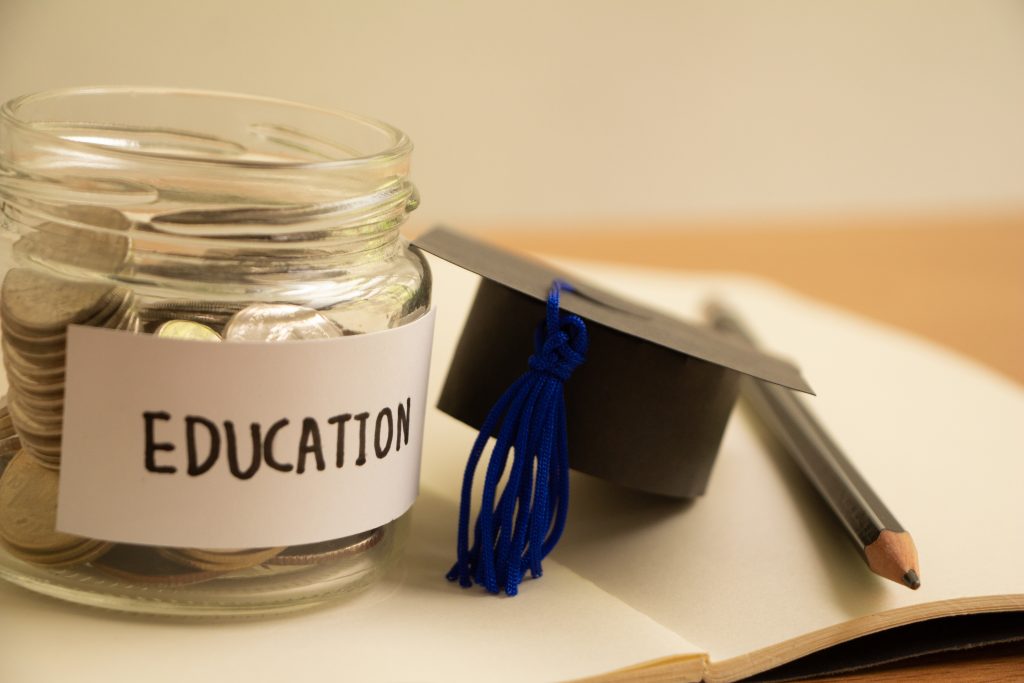 The Best Online Scholarships
Amount: $500
How Often: Once a year
Who It's For: This scholarship is awarded annually to any student pursuing an undergraduate degree online, regardless of their area of study.
Amount: $500
How Often: Once a year
Who It's For: This scholarship is awarded to students who are cancer survivors or have immediate family members who battled with cancer; special consideration is given to those entering a medical or law enforcement degree program.
Amount: $1,000
How Often: Once a year
Who It's For: Any student enrolled in an accredited online college is eligible for this scholarship provided that they can write a 500-word essay, as well as provide transcripts and tax information.
Amount: $2,500
How Often: Once a year
Who It's For: This scholarship is awarded to students who are enrolled or are enrolling in an accredited post-secondary institution of higher learning. Must be a resident of the United States, District of Columbia, or a U.S. Territory and at least 16 years old.
Amount: $1,000
How Often: Three times a year
Who It's For: All high school, college, graduate, or adult students and parents of high school and students enrolled in or planning to enroll in college. You have three opportunities per year to apply. Fill out the online form and answer the question, "What is the best or worst part about finding or applying to scholarships?"
Amount: $1,000
How Often: Twice a year
Who It's For: This scholarship is provided to recognize students who are committed to bettering their lives through education and is open to 10th-12th graders, college students and non-traditional students.
Amount: $1,800
How Often: Once a year
Who It's For: Arizona State University students with a demonstrated financial need. Must be pursuing your first undergraduate degree in civil engineering.
Amount: $1,000
How Often: Once a year
Who It's For: This scholarship is available to any resident or nonresident attending or planning to attend Arizona State University. Applications will need to submit an essay on "How do you convey the value of art and music education to those who wish to discontinue these subjects in school?"
Amount: $2,000
How Often: Once a year
Who It's For: This scholarship is intended to help women over the age of 23 who are returning to school to complete their education. It is awarded once a year to three female students.
Amount: $1,479
How Often: Once a year
Who It's For: This scholarship is for students who are pursuing a certificate at Berklee, and it is sponsored by several celebrities; you must have a GPA of 3.7, as well as have a recommendation from your instructor.
Amount: $2,000
How Often: Once a month
Who It's For: All students who register for an account on niche.com are entered and eligible to win this $2,000 scholarship with no other strings attached; this is awarded monthly, and you can enter each time.
Amount: $2,500
How Often: Once a year
Who It's For: This scholarship provided by Western Governors University is awarded to aspiring graduate students pursuing one of several degrees and programs offered through the school. It is awarded to 20 students each year.
Amount: $2,500
How Often: Once a year
Who It's For: This scholarship provided by Western Governors University is awarded to new students in any of the more than 60 undergraduate degree and master's degree programs offered at the school.
Amount: $4,000
How Often: Once a year
Who It's For: This scholarship is for students at the Western Governors University WGU Teachers College, College of Business, College of Information Technology, and the College of Health ProfessionsBusiness. Multiple grants are awarded based on the student's academic record and readiness for online study at WGU. Students also must demonstrate financial need.
Amount: $500 to $2,000
How Often: Once a year
Who It's For: Applicants must be currently enrolled or scheduled for future enrollment at Colorado Technical University to receive this scholarship. You must demonstrate financial need and you can apply at any time through the school's financial aid office.
Amount: $1,000
How Often: Once a year
Who It's For: This is a one-time scholarship awarded to a student who can write a short story or informational article (400-800 words) for children. A winner is then chosen by a team from HelpTeaching.com.
Amount: $1,000 to $2,500
How Often: Once a year
Who It's For: This scholarship is for women who are serving or have served honorably in the US Army, or the daughters of a woman who has served. They are based on merit, academic excellence, potential, a personal essay, letters of recommendation, and community service. Students must also demonstrate financial need.
Amount: $2,500
How Often: Once a year
Who It's For: First-time students enrolling in a Christian college can use this website to look for information about different schools and will be automatically entered to win this scholarship.
Amount: $2,500 to $5,000
How Often: Once a year
Who It's For: This scholarship is for undergraduate degree candidates. You must be at least a second-year college student enrolled as a sophomore or junior full-time in a four-year college or university at the time of application. It is specifically for those who are active duty or honorably discharged from the military and pursuing a degree in a STEM field.
Amount: $500 to $6,000
How Often: Once a year
Who It's For: Students must be residents of Contra Costa County, California to be eligible for these scholarships offered by the Assistance League Diablo Valley. They are for graduating high school seniors applying to four-year colleges, community college students transferring with junior-level status to four-year colleges, and to current and former foster youth applying to four-year colleges, community colleges or vocational training programs. There are several scholarships available.
Amount: Varies
How Often: Once a year
Who It's For: The Amish Descendant Scholarship Fund provides scholarships to students coming from Amish communities who want to pursue a higher education. Students need to have their GED or high school diploma provide proof of enrollment/acceptance into a community college or a university
22. Rainbow Business & Professional Association Scholarship
Amount: Varies
How Often: Once a year
Who It's For: This scholarship is provided to students who have shown exemplary effort in fostering diversity, ending bullying, and fighting against discrimination of LGBTQ+ students in their schools and communities. It is only available to students in New England.
Amount: Varies
How Often: Once a year
Who It's For: This scholarship is awarded to Florida residents striving for a horticultural degree or similar pursuit; it is aimed at those students who have a passion for the field who are without many financial resources. Similar scholarships for students in horticulture are also featured on the website.
Amount: $4,000
How Often: Once a year
Who It's For: This is awarded to students who show academic excellence and who have demonstrated strength and dedication to their future; applicants must have directly battled cancer, or have a family member who has battled cancer (not limited to Mesothelioma). Students must also demonstrate financial need.
Amount: $5,000
How Often: Once a year
Who It's For: This scholarship is for underrepresented minorities such as African Americans, Hispanics, and Native Americans that are pursuing a degree in a chemistry-related field.
Amount: $1.000 to $10,000
How Often: Once a year
Who It's For: This scholarship is awarded to students pursuing a degree in a field directly related to the plumbing-heating-cooling industry. There are dozens of scholarships available from various donors.
Amount: $5,000
How Often: Once a year
Who It's For: Nitro is a website that is dedicated to helping students learn as much as possible about loans and other means of financing their education; they award this scholarship to any US student that applies, and you can also participate in their referral program for additional opportunities.
Amount: $5,000
How Often: Once a year
Who It's For: This scholarship can be awarded to any citizen of the United States that will be enrolled before Fall of 2023; applicants must write an essay about why education is important to them.
Amount: $5,000
How Often: Once a year
Who It's For: This scholarship is for Indigenous students who are interested in an aerospace career and are pursuing a degree in the state of Washington. Associate, bacehlor's and graduate students can apply. Assistance is also available for students with dependent children.
Amount: $6,000
How Often: Once a year
Who It's For: This scholarship is awarded to California students that have demonstrated exemplary service to the LGBTQ+ community, students of any orientation and gender are eligible.
31. The JSSA Scholarships for Undergraduate Students
Amount: Varies
How Often: Once a year
Who It's For: JSSA offers need-based scholarships awarded to students who have completed their high school's community service requirements as well as participated in volunteer service within the Jewish community. Several scholarships are featured each year. To stay up-to-date, join the organization's mailing list.
32. CITe Incoming Student Tuition Scholarship
Amount: $1,000 – $2,000
How Often: Once a year
Who It's For: This scholarship is for outstanding students who want to enroll in the University of Akron's Information Systems program. It is an academic excellence scholarship. So students must have a GPA of at least 3.0 and an ACT score of at least 22 or SAT score of at least 1010, and be an Information Systems major.
Amount: Varies
How Often: Once a year
Who It's For: The Sacramento Press Club provides this scholarship once annually to several students who are from, or now reside or study in the Sacramento region of California; the recipient is selected based on academic achievement, and career promise.
Amount: $500 to $2,000
How Often: Once a year
Who It's For: This scholarship is provided to single mothers who are survivors of abusive relationships and who want to pursue higher education. Funds are provided for tuition, books and fees are are paid directly to an accredited educational institution
35. The Gladys Carol Scholarship Program, Inc.
Amount: up to $5,000
How Often: Once a year
Who It's For: High school seniors, high school graduates, and current undergraduate students who are United States citizens or permanent residents. You must be accepted to or enrolled in a full-time STEM program at an accredited, non-profit public or private four-year college or university in the US.
Amount: Varies
How Often: Once a year
Who It's For: LGBTQ+ students or allies that reside or plan to study in Alaska, Idaho, Montana, Oregon or Washington can complete one application to be considered for over 60 scholarships.
Amount: $10,000
How Often: Once a year
Who It's For: This scholarship is awarded yearly to the selected applicant; all you have to do is write a 250 word (or less!) essay and be a legal resident of the United States enrolling before Fall of 2023.
Amount: $10,000
How Often: Once a year
Who It's For: This scholarship is for female full-time undergraduate students studying in the field of computer science, computer engineering, or another related area of study.
Amount: $10,000
How Often: Once a year
Who It's For: This scholarship is intended to help students with a disability either visible or invisible pursue a degree in the field of computer science; the selected applicant also receives an invitation to the Google Scholars' Retreat.
Amount: $10,000
How Often: Once a year
Who It's For: This scholarship will be awarded to a veteran of the US Army or active-duty member that is in good standing with your branch; to be selected, you must demonstrate passion in your field, and be an example of leadership. There will be two recipients of the award.
Amount: Varies
How Often: Once a year
Who It's For: This scholarship is awarded to current or former cancer patients, on a one-time or recurring basis; these scholarships range from hundreds to thousands of dollars.
Amount: Varies
How Often: Once a year
Who It's For: Students preparing to enter your freshman year of college that live in Colorado, Georgia, Illinois or North Carolina can apply for this renewable need-based scholarship. Applicants must possess excellent leadership skills, an ability to persevere through difficult circumstances, and a strong interest in and commitment to their community.
Amount: up to $23,000
How Often: Once a year
Who It's For: This scholarship for online college is awarded to a vast array of students throughout Illinois that are aspiring teachers. The idea of the scholarship is to promote ethnic diversity among the teaching community.
Amount: $5,000
How Often: Once a year
Who It's For: This is a merit-based scholarship for students in the Charlotte Region who are pursuing a non-performing career in theater. Examples of eligible programs include set/lighting/sound/costume design, stage management, arts administration, arts education, etc.
Amount: Varies
How Often: Varies
Who It's For: The University of Maryland Global Campus offers several scholarship opportunities for students who want to pursue one of the school's many remote programs. Programs change frequently, so check back often.
Amount: Varies
How Often: Once a year
Who It's For: Formerly known as the Leopold Education Project Scholarship, this opportunity is for students who are pursuing a career in a natural resource field and live in a varied selection of counties throughout Illinois. It is available once a year.
Amount: Varies
How Often: Once a year
Who It's For: Colorado Garden Show Inc. awards a number of different scholarships to students attending a college or university that is based in Colorado to study fields relative to horticulture and agriculture each year; these scholarships are generally a full ride for one year, with one being a four-year award.
Amount: Varies
How Often: Once a year
Who It's For: These grants are intended to help students that are attending or planning to attend a Cal Grant qualifying post-secondary school; they can exceed $15,000 for some recipients.
Amount: Varies
How Often: Varies
Who It's For: Penn State has a wide selection of scholarships available to all students. For undergraduate and graduate students, help is available. Each scholarship has its own eligibility criteria.
50. K-State Global Campus Scholarships
Amount: Varies
How Often: Varies
Who It's For: Kansas State University offers a variety of need- and merit-based scholarships specifically to their distance-learning undergraduates.
The Benefits of Online Degree Programs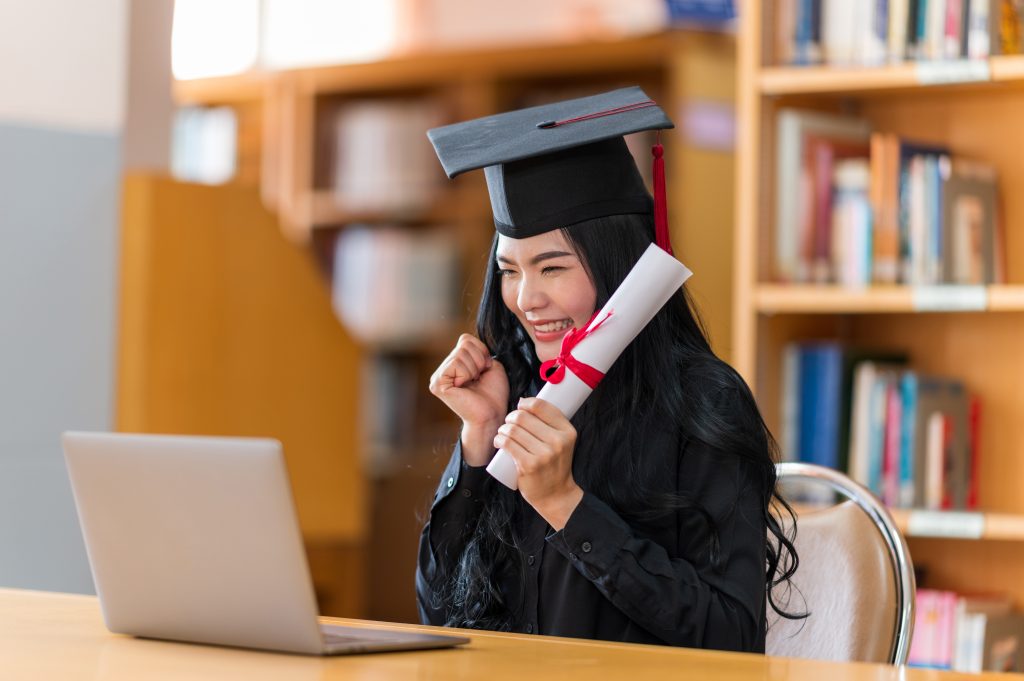 If you're wondering about the benefits of pursuing an online degree, we've got you covered.
Let's talk about the many perks of attending a university or college online. Yes, the global pandemic changed the face of higher education—perhaps forever. Millions of students had to switch from learning on campus to the digital classroom. But even before COVID-19, students were gravitating in great numbers to online learning. There are a couple of reasons for this.
Technology has progressed so that we now have state-of-the-art online learning platforms. As a result, a college education is more accessible than it has ever been. At one time, if you had a family and a career, it would be nearly impossible to go to college and attend to your responsibilities at the same time. But thanks to digital advances, it is possible for more people than ever to earn a college degree.
The benefits of online degree programs are numerous, but the main ones include:
1. Flexibility
Whether you're a young person just graduating from high school or an adult learner, you can find the ideal online degree program. Do you need to study on your own time and on your own schedule? A synchronous degree program can give you this flexibility. Are you someone that needs more structure and discipline? A synchronous degree program could meet your learning needs. Do you wish to attend campus periodically yet do most of your work online? Then a hybrid college degree program might be your best bet. So, what do these terms mean?
Asynchronous Online Programs
Asynchronous programs have the least amount of structure and the most flexibility. Assignments and lectures are prerecorded, and you can log on and listen when it is convenient for you. You do not need to show up at a specific time for class. And although you will have a few deadlines, most of your studies will take place on your own time. An asynchronous degree program is ideal for those with many other responsibilities and who need to fit classes around jobs and family.
Synchronous Online Programs
With synchronous programs, all the students access the course materials online simultaneously. It's a lot like being in the classroom, but the class is conducted online. There is a schedule to adhere to, and you must stick to it. A synchronous degree program is an excellent option for students who want to attend class online yet need to be held accountable.
Hybrid Programs
Hybrid programs are a mix of in-person and online learning. Sometimes, these programs are called "blended" programs. With a hybrid degree program, there are many possible learning combinations. Often, students can create the one that works best for their learning style.
For example, you may want to attend campus once a week and do the rest of your work online. Or you may wish to go to in-person classes four days a week and have one day of online studies. Since each school is different, you'll need to check to see if the college has a degree program that meets your needs. Hybrid programs are best for students who need an online schedule but would like to be involved on campus. They are also ideal for those who want occasional in-person interaction with their instructors and fellow online students.
2. Affordability
Is an online degree program cheaper than a traditional program? Sometimes. Some schools charge the same for each degree program, regardless of residency. Other schools have lower tuition prices specifically for online students. And some only charge online students the in-state tuition costs.
However, one thing is certain, attending online programs will save you money. First, there's the matter of transportation. You can save a bundle on a vehicle when accessing coursework right from home. That includes car payments, insurance, maintenance, and repairs.
Of course, not having to live on or near campus can save you thousands of dollars as well. And you won't need to pay for a meal plan or snacks if you eat at home. Additionally, sometimes online programs also offer digital books at no charge. So you can save on book fees, too.
You can also get financial assistance, scholarships, and grants with online programs. And this can reduce your education costs significantly.
3. Quality of the Programs
Today's online degree options are not some sort of afterthought. On the contrary, they are planned with care from start to finish. In almost all cases, classes are taught by the same esteemed faculty members that teach on campus.
The curriculum is identical and just as rigorous. It is adapted for online learning and, in many cases, improved upon during that process.
Finally, online students who graduate from a distance college program earn the same degree as those who graduate on campus.
4. Career Advancement
Another benefit of remote college is advancing or changing careers. If you've been considering switching your career path or have an eye on a promotion, online programs can help. These programs can automatically position you to advance at work. Sometimes, your employer may even reimburse your educational costs.
It can be hard to move through the ranks of any company if you don't learn new skills. But the flexibility of an online degree online students to return to college without sacrificing their current jobs or income.
There are many online undergraduate and graduate degrees that can help you learn more skills. And increasing your skillset can lead to increased earning potential. The more skills you learn, the more advantages you have over other candidates in your field.
5. Accessibility
While this might seem the same as flexibility, it even goes a step further. Making your own schedule is one of the main reasons people choose to be online students. But where you will live during your studies can be another factor.
Suppose you want to attend Harvard University, yet you live in Idaho. At one time, you would need to move to Massachusetts to make that dream come true. Now, you can get a Harvard education (or one from any other dream college) from anywhere on the planet.
As long as you have an internet connection, you can study from anywhere. Feel like going camping? You don't need to wait for a long weekend to hit the road. As long as you have Wifi, you can complete your studies and enjoy any adventure whenever and wherever you choose. Online students can even earn a degree from another part of the world!
Are Online Degree Programs Credible?
Now that we've talked about the benefits of online degrees let's discuss their credibility. Are these degree programs legit? The programs we feature on Online College Plan are legitimate, credible online degree programs. But if you can't find your preferred school on our list, how can you tell you'll be getting a quality education? There are several ways to know, and we'll run through them quickly:
Accreditation
When a school is accredited, it means that an external accrediting body has approved it. These organizations look at a school's programs and other factors to determine whether they offer quality programming or not. For example, they examine graduation rates, costs, faculty, curriculum, and more. So, if you want to find the best online degree program, make sure the school you are considering is accredited.
Non-Profit or For-Profit Status
Tuition varies considerably among colleges. But regardless of how much a school costs, find out if it operates as a non-profit or for-profit entity.
Nonprofit colleges do not make money off student tuition fees. Instead, they funnel each year's earnings back into high-quality programs for the school's students. So regardless of how much the tuition is, you can be assured that the revenue continues to support student programs.
On the other hand, for-profit schools exist to make money off tuition. Instead of developing newer and better programs, many line their own pockets and that of their shareholders. While there's nothing inherently wrong with that, it does not put the student before profits.
Additionally, students attending for-profit institutions have a financial disadvantage. While these programs may initially appear cheaper, the net price tells a different story. That's because students usually dont qualify for scholarships at for-profit schools. Nor are they eligible for federal financial aid.
And often, the degree you earn at a for-profit college will not be accepted by some employers. So before you determine whether a school is legit or not, look at its status.
Graduation Rates
Even the top colleges in the nation don't have 100 percent graduation rates. Typically averages are around 60 percent. When you see schools with extremely low graduation rates, it could indicate that they do not offer quality programming. They may not be supporting their on-campus or online students as well as they should. So looking at graduation rates can uncover some clues about the legitimacy of a school.
Physical Campus
While it is not always the case, you should be wary about schools with no physical campus. If a school is operating out of the back of a warehouse or office park, there's a good chance it's a for-profit school.
The best online programs come from established colleges that already have a physical campus. Suite numbers—or no physical address at all—should be a red flag that you might be dealing with a diploma mill and not a credible college.
What Are The Best Scholarships for Online Students
This article features 50 of the best scholarships for online students attending remote degree programs. But there are thousands (yes, thousands!) of other scholarships up for grabs. There are scholarships for everything you can think of, including:
Scholarships for women
Athletic scholarships
Financial need scholarships
Scholarships for men
Essay Scholarships
Scholarships for students who grew up in foster care
Scholarships for foreign students
Scholarships based on academic merit
Community service scholarships
Minority scholarships
Scholarships for both undergraduate and graduate students
Academic Excellence Scholarships
This list is but a fraction of the available scholarships. There are scholarships for average students, weird and unusual scholarships, and more. But how do you find them? And what do you do when you are ready to apply? We're going to go into more detail about this next.
How to Find the Best Scholarships for Online Programs
There is no single place to find the best scholarships. But there are several reliable sources. For starters, we have several informative articles here at Online College Plan, including:
There are several other reliable websites for seeking out scholarships for online programs. Here are some of our favorites:
Chegg
You can search a database of over 25,000 scholarships on Chegg. The mission of this site is to "Help students learn more in less time and at a lower cost." Chegg has a user-friendly platform where you can search for scholarships using several criteria.
Scholarships.com
Another great place to look for online school scholarships is Scholarships.com. All you need to do is type in your criteria, and the site will match you with the most relevant scholarships for you.
College Board
Most high school students aspiring to college are familiar with College Board. This site runs the national SAT program and features dozens of valuable resources. However, they also have a searchable list of over six billion dollars worth of scholarships and student aid.
Fastweb
Another reputable source for online scholarships is Fastweb. This site boasts over 1.5 million verified scholarship opportunities. They also have some great tools for keeping track of those you have already submitted applications for.
Another Way to Find Scholarships for Online Students: Ask!
Sometimes, the best way to find scholarships that would work for you is to ask around. Many community groups, organizations, and businesses have scholarship opportunities. But many of them are not well-publicized.
Sit down with a directory of your town or county, and start asking around. You can make direct phone calls or send out emails to the human resources director of each corporation. Introduce yourself and briefly state your goals. For example:
You can do this same thing with other places in your area. Some ideas include clubs, churches, charitable groups, and more.
Ask Your Guidance Counselor and Teachers
Another idea is to reach out to faculty members at your school. Your teachers, academic counselor, and other staff members may have scholarship information. These people want you to succeed and will almost always go out of their way to help you.
Ask the College Directly
Almost all colleges have their own scholarships to offer. Some schools even have several. Contact the financial aid department if you know the school you want to attend. Find out about any scholarships and financial aid the school offers. If you're having trouble deciding between two or more schools, this information can be helpful in making your decision.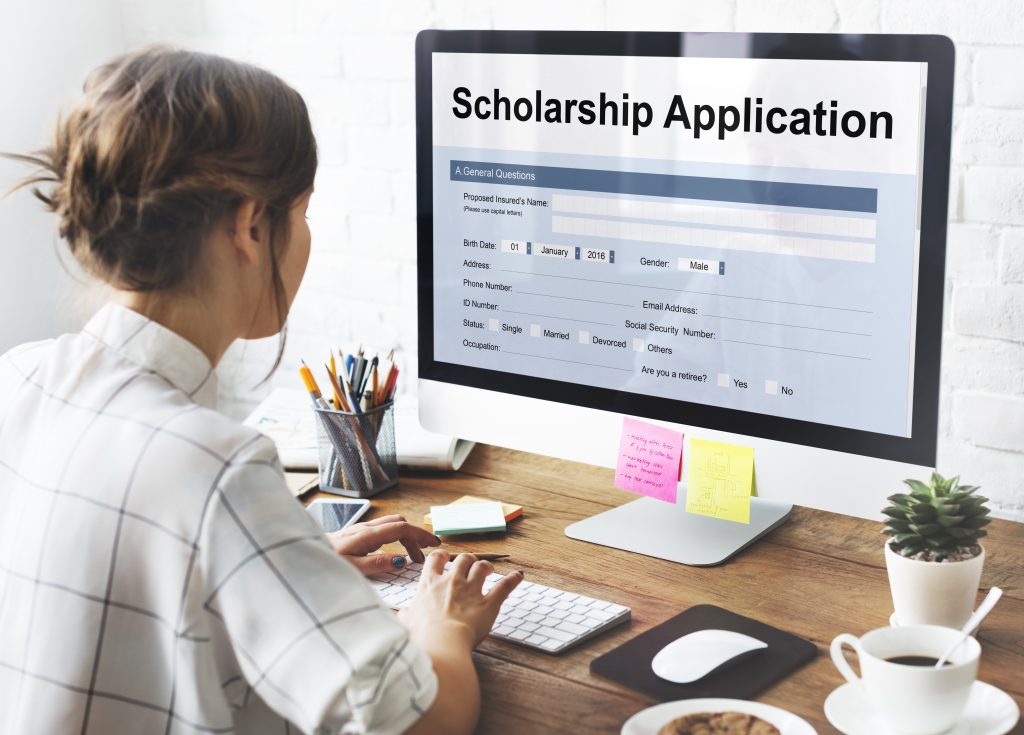 When to Apply for Scholarships
If you are applying for several scholarships, it can get overwhelming. The deadlines can vary from scholarship to scholarship, so you might want to create a spreadsheet or note to keep track of all the important dates.
Usually, students complete scholarship applications during their junior and senior years of high school. The sooner you get going on this project, the more chances you'll have to help fund your online education.
Be absolutely sure to get your application(s) in on time. It would be best if you tried to submit them well before the due date to ensure they are received before the deadline.
How to Apply for Scholarships
The biggest thing to remember when you apply online for college scholarships is to follow the directions exactly. Go to the scholarship website and read the instructions carefully. Be sure you meet the criteria needed to be eligible for the scholarship.
You may be asked to do one of several things. Often, all you need to do is fill out a simple online form. Other times, you will need to print and mail the form. In addition, you might need to write an essay, demonstrate a skill, or create a video. Whatever you are asked to do, do it to the best of your ability.
Other Financial Assistance Available to Online College Students
Throughout this article, we've mentioned other forms of financial aid. In this final section, we'll discuss those. In addition to the millions of dollars available in scholarship money, you may qualify for one or more of these sources.
Many students wrongly assume they won't qualify for financial aid because they make too much money. Or, they have the misconception that online students can't get federal aid. Both of these assumptions are false. So always fill out any applications, including the FAFSA form. You might be pleasantly surprised at what you are eligible for.
Paying For College
When you look at the tuition costs on an online school's website, you might get sticker shock. The published tuition prices are often beyond what the average student can afford. However, most students do not end up paying the published price. Instead, most qualify for some type of financial aid. Many even qualify for assistance from several sources. The amount due after all financial aid, grants, and scholarships are applied is known as the "net price.
If you're trying to be financially savvy about paying for college, you'll want to get your net price down as low as possible.
Financial Aid comes in many forms, but the most common include:
Financial aid from the federal government
Financial assistance from individual states
Student loans
Work-study programs
Grants
Special assistance from a university or college
Other types of financial aid
Financial Aid From the Federal Government
Financial help for college from the US government comes from the Department of Education. This can come in the form of loans, grants, and more. These programs are for undergraduate and graduate degree programs. To get federal financial aid, students need to fill out the FAFSA form.
Financial Aid From the State
Financial aid from your state is also an option. Most states have funding for grants and scholarships. Often, you'll discover what's available simply by filling out the FAFSA form. Other forms of assistance have separate application processes. You can see what's available in your state by visiting the National Association of Student Aid Administrators.
Work-Study Programs
Work-study programs allow students to work a job to help them pay for school. These jobs are often on campus and are related to the student's major.
Assistance From the University or College
Some colleges maintain financial aid programs separate from those offered by the government. These, too, may come in the form of grants and other sources. Contact your school's financial aid department for more information.
Grants
Grants for online college are a lot like scholarships. But they are usually awarded based on a student's financial need. Grants can come from state or federal governments, individuals, or private organizations. Online colleges with grants are now very common. to find out more about grants for online colleges, visit studentaid.gov.
Student Loans
The Department of Education maintains the federal student loan program. With student loans, the government acts as a bank, loaning money to students to help them pay for their education. Usually, these loans come with a lower interest rate. And students often dont need a specific credit score to qualify. There are several types of student loans. For more information, you can visit the Department of Education.
Miscellaneous Financial Aid
There are many other miscellaneous programs to help students pursue a college degree.
Special aid for military members and their families
Special aid for veterans
Special assistance for international students
AmeriCorps community service grants
Tax benefits for families and students
For more information about these programs, visit the Federal Student Aid website.
This Concludes Our Article on the Best Scholarships for Online Degree Programs