Share this graphic on your site!
How Gen Z Is Reshaping The College Years
Nearly 9 in 10 Gen Z college grads considered job availability before selecting a major
With unemployment at the lowest since 1969, why is the youngest generation so concerned about employability?
The Future Of Work: Looking Beyond Unemployment
In December 2019, 145,000 new jobs were created*
In January 2020, unemployment in the US fell to 3.5% Down from 3.9% a year earlier
For those 20 and older, unemployment is even lower:
Men: 3.1%
Women: 3.2%
Just 0.7% of Americans have been jobless for more than 6 months*
Unemployment numbers don't tell the whole story
The fastest-growing employers are service industries:
Retail
Healthcare
Hospitality
In 1990 service jobs made up 74% of all private-sector jobs
By 2018, they had grown to 83%
Historically, low unemployment and sustained job formation meant:
Wage growth
Higher GDP
Lower inflation*
But that's no longer true
Since 1990, most new jobs* offer low wages and limited hours
Existing Jobs, January 1990
Low-wage/Low-hours*: 52.7%
High-wage/High-hours: 47.3%
Jobs Created, 1990-2018
Low-wage/Low-hours: 63.0%
High-wage/High-hours: 37%
Over the same time, low wage workers have seen more than double the loss of hours as high wage workers
From 1990-2018, reduced hours across the job market* is equal to the loss of 3.1 million jobs From 1990-2018, the wage gap increased by 5.3X*
Average Weekly Wages*
High Wage Workers
1990: $200
2018: $900
Low Wage Workers
1990: $125
2018: $500
Nearly half of American workers are living on less than $18,000 a year
As Gen Z reaches adulthood, they're looking for a better future, and 82% think college is the way to get there
Scholarship Before Work: Doing College Differently
By 2028, Gen Z will make up nearly a quarter of the workforce
But today, 12.6% are unemployed
And fewer teens are looking for work than ever before

Labor Force Participation Rate, Ages 16-19
1985: 54.5%
2015: 34.3% 2024 (projected): 24.6%
Gen Z Doesn't Bother With Summer Gigs
Most teens aren't looking for summer jobs or after school employment

As a bachelor's degree becomes almost essential to a good career, more teens are spending their summers in school

School Enrollment In July, Ages 16-19
1985: 58.7%
2015: 74.8%
Nearly half of Gen Z high school students have already earned college credits
For teens who could use the extra cash, finding a job can be difficult一 As many traditionally "teen" jobs are filled by underemployed adults and recent grads
How do Gen Z students spend their time?
Gen Z devotes more time to learning and less to working
Fewer college students are working while in school
1985-89: 74%
2010-16: 57%
Those who do work are working less
1985-89: 11.26 hrs/wk
2010-16: 6.66 hrs/wk
Gen Z spends their extra free time on homework and volunteering
Homework: 6.48 hrs/wk
Almost 1 hour per week more than in 2005-09
Volunteering: 2.66 hrs/wk
Doubled since 1985-89
Rising student debt has made Gen Z wary — Most want to know they're getting their money's worth before they enroll
Gen Z: It's All About Employment
Gen Z is on course to become the most educated and most entrepreneurial generation
92% expect to work for less than 6 employers in their lifetime
60% plan to start a business one day
38% plan to pursue an advanced degree
Yet, nearly all consider employability before selecting a major
Many ask about graduates' starting salaries when selecting a school
44% start their job search before their senior year
2 in 3 Gen Z students are confident they'll receive a job offer soon after graduation — For some majors, it's even higher
Will Gen Z's bet on education pay off?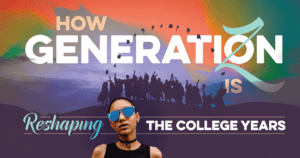 Sources:
https://www.bls.gov/opub/ted/2019/unemployment-rate-3-point-6-percent-in-april-2019-lowest-since-december-1969.htm
https://www.accenture.com/_acnmedia/pdf-50/accenture-strategy-workforce-gen-z-rising-pov.pdf
https://www.bls.gov/news.release/pdf/empsit.pdf
https://www.jobqualityindex.com/
https://www.brookings.edu/blog/the-avenue/2019/11/21/low-wage-work-is-more-pervasive-than-you-think-and-there-arent-enough-good-jobs-to-go-around/
https://next.bncollege.com/wp-content/uploads/2017/06/15-BNCB-GenZ-Research-Report_v4.pdf
https://content-static.upwork.com/blog/uploads/sites/3/2019/10/09173644/futureworkforce2019-upwork-youngergen-190301085641.pdf
https://www.businessinsider.com/generation-z-teen-jobs-2018-5
https://www.bls.gov/opub/mlr/2017/article/teen-labor-force-participation-before-and-after-the-great-recession.htm
https://rdcu.be/b1mfg
https://www.nacacnet.org/news–publications/journal-of-college-admission/instant-generation/
https://yello.co/blog/introducing-the-first-graduating-class-of-generation-z/
https://cdn2.hubspot.net/hubfs/5505466/2020%20National%20Labor%20Market%20Outlook.pdf?__hstc=234290177.99993a3928a45b3e835e94221b147b8a.1569449331339.1575492805192.1576856925109.31&__hssc=234290177.3.1576856925109
https://thinkwhy.com/news-detail/a-blowout-u-s-jobs-report
https://news.gallup.com/poll/150077/Students-Entrepreneurial-Energy-Waiting-Tapped.aspx
https://www.goldmansachs.com/careers/blog/posts/2019-intern-survey/index.html
https://thinkwhy.com/news-detail/a-blowout-u-s-jobs-report