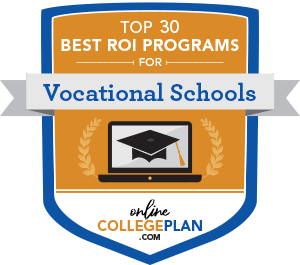 Trade school graduates are in high demand. For the past couple of years, there has been a drastic labor shortage across all skilled trades. For example, over eight million skilled workers were lost from the labor force due to the pandemic. The economy has started to recover. But we still need at least four million skilled laborers to replace the ones that are gone.

The construction industry has been hit exceptionally hard. There is a severe shortage of carpenters, plumbers, electricians, welders, HVAC technicians, and more. Trade schools are crucial right now. They can provide vocational education to bridge the gap.

Skilled workers also have more power now than ever before. There has never been a better employment climate in which to learn a new trade. It's also the perfect opportunity for those already in these fields to increase their earning potential. Trade school degrees can prepare students to fill the scores of open positions in high-paying trade jobs.
Featured Programs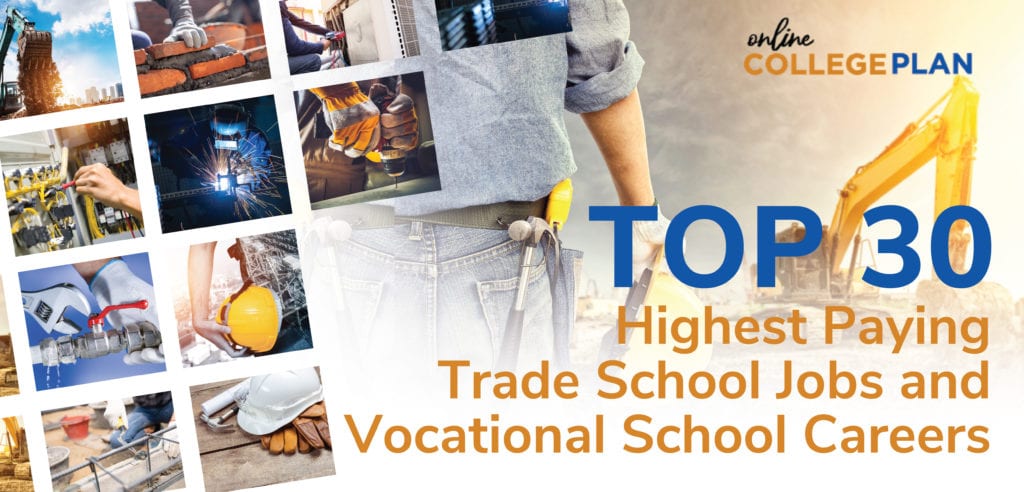 High Paying Jobs From Trade Schools
Currently, there are over a million job openings in the United States.
And some of the largest portions of job openings are for skilled trades. While some trade school careers require an associate degree or bachelor's degree, others do not. Many people can bypass the two or four-year bachelor's degree for relevant certifications and training.
Some positions that are in particularly high demand are listed below. Students can prepare for many of these trade school careers with hands-on training and a certificate or diploma.
Some of the best trade school careers include:
Construction Careers
Manufacturing Careers
Welding Careers
HVAC Careers
Plumbing Careers
Electrician Careers
Practical Nursing Careers
Radiation Therapy Careers
Dental Hygienist Careers
Web Development Careers
This is only a partial list of the careers trade schools can prepare workers for.
The Highest-Paying Trade Jobs
These vocational careers usually only require you to attend a diploma, certificate, or degree program at a trade or vocational school. Additionally, many of the positions on our trade school jobs list have salaries far above the average for all careers.
Students also don't need to pay the higher fees and tuition of a four-year bachelor's degree program at a university or college. This makes trade schools and vocational programs some of the best "bang for your buck" higher education options.
In this guide, updated for 2022, we'll take a look at the highest-paying skilled trade school jobs and the best vocational careers. We'll also answer some of the most common questions students have about trade schools. Plus, we'll list and rank some of the best trade and vocational schools in the nation.
Students seeking a vocational education will learn how to evaluate trade schools and find one near enough to attend in person if they wish. However, there are also many trade school programs offered online. We will discuss those as well.
In this article:
What is Vocational School?
Vocational schools — also known as trade schools — provide degrees and certifications that help to prepare you for a trade or line of work. Also, these schools offer usually offer hands-on training. As a result, you don't always have to go to a four-year college or graduate school to get a great job.
Many online schools provide trade school degree programs. To gain acceptance, students typically only need a high school diploma.

Some vocational schools are "stand-alone" entities. They don't offer any "traditional" college degree programs. Other vocational schools may be part of larger community colleges. Or they may be affiliated with two-year colleges or universities. Additionally, some trade school programs are offered in partnership with high schools. This includes programs that begin after the 12th grade.

In America, trade schools and vocational schools are typically government-sponsored schools. They provide transferable credits to two or four-year non-trade-focused programs.
In recent years, many vocational schools have also expanded their academic Curricula. They may offer courses on critical thinking, mathematics, management, and more. This blurs the line between traditional two-year degrees and vocational degrees to some extent. But most vocational programs focus on teaching a skilled trade.
Is a Vocational School Different Than a Career College?
In America, career colleges and vocational schools are pretty different. Career colleges are private, for-profit entities. As a result, they tend to have lower graduation rates and higher student debt. And there are not as many safeguards in place for students. Typically, career colleges offer programs less than two years in length.

Students are sometimes successful with these programs. But there is less oversight over the quality and accreditation of these programs.

Vocational schools are almost always state or federally sponsored institutions. They may also be tied to magnet high schools or community colleges. They can even be their own free-standing entities. Some students receive their high school diploma directly from a vocational school.

You want to be looking for an accredited and nationally recognized vocational or trade school. So be sure to look for accreditation. This can come from the Association of Career and Technical Education and other accrediting bodies.

Additionally, some full-fledged colleges offer trade or vocational diplomas, certificates, or degree programs. Potential students should also check that these colleges and universities are regionally accredited. Regional accreditation is the highest form of accreditation for academic organizations in the US.
The Benefits of Attending a Vocational School
Some of the many benefits of attending vocational school include:
Vocational schools are typically more affordable than traditional degrees
Vocational schools tend to educate and train students directly for a specific trade career, with little coursework that doesn't apply to a students chosen career path
Vocational schools often have good relations with hiring organizations within their region
Vocational school programs can be taken online or in-person depending on the trade
Vocational schools are held to a high standard for instruction by the Association of Career and Technical Education
Vocational schools often provide transferable credits in the event a student wants to transfer to a two or four year degree
Skilled trades offer some of the highest salaries for two year or less educational programs
Skilled trades comprise a majority of skilled jobs available today
Skilled trades offer you the ability to find employment across the nation or start your own business
The average tuition for an entire vocational program is $18,000
The average earning potential of a skilled trade graduate are close to $80,000
The 30 Highest-Paying Skilled Trade Careers For 2020
Boilermakers are skilled tradespeople who make, install, and maintain commercial boilers. These are not regular household boilers. They are large ones that heat water to generate power. The power is then used to provide heat in a building, ship, or factory.
They also work on vats or tanks that tanks, and closed vats.
A boilermaker may also work on closed vats or tanks that hold oil, liquids, or other chemicals.
Becoming a boilermaker usually involves a four-year apprenticeship through an employer or boilermakers union. That's how you can get on-the-job training and instruction.

Part of the training to be a boilermaker may involve pursuing a program through a trade or vocational school. Usually, you will begin by getting a welding certificate program. You may also take classes in plumbing, electrical work, metalwork, and more.

The work of boilermakers can be physically demanding. It requires strong knowledge of proper construction, installation, and safety techniques. Additionally, boilermakers should know a lot about the gases and liquids in the containers they work on. Other aspects of being a boilermaker include:

Learning robotic construction methods
Reading blueprints to determine boiler locations
Diagnosing issues with boilers and large containers
The 10 Most Affordable Online Trade and Vocational Schools

There are affordable trade schools, vocational schools, and community colleges in all 50 states of America. Depending on where you live, many community college districts offer free tuition for residents. And several states now have free community college for all in-state students. Of course, not all community colleges offer trade certificates or vocational degrees, and that's where we come in.

Why Trade Schools?

Trade careers can be finished quickly with two years or less of coursework. Some trade school and vocation programs are even available for entrance through magnet or charter high schools. Additionally, most trade school jobs are in high demand and boast well above average salaries.

Trade schools and community colleges have affordable college costs. Those seeking to learn a skilled trade through a trade school or vocational school can get The best ROI at these institutions.

How We Ranked Trade Schools and Vocational Schools

At OnlineCollegePlan, we have years of experience researching what truly makes college affordable. Trade and vocational schools are no different. To construct this ranking we aggregated a large list. It included all colleges, universities, and trade schools offering vocational programs. We then narrowed down our selections by pulling data from the U.S. Department of Education's College Scorecard.

We looked at the average cost of attendance after financial aid for every school. We also looked at the percentage of students who received financial aid, and the average earnings of graduates. Schools that excelled in all three of these metrics were included in this year's ranking.
Highest Paying Trade School Jobs and Vocational School Careers – Conclusion
Trade schools offer vocational education and professional development. With the establishment of online schools, the benefits for students have become tremendous. Distance learning with a vocational school can provide valuable career training. And that training is for a wide range of high-paying trade jobs. We hope this ranking of vocational and trade schools helps you with your school search.
You may also want to check out our career profiles, which may also help in your school search for career training programs.
Trade School FAQs
What Kind of Trade Schools Are There?
There are as many different trade schools are there are skilled trades. Trade schools may offer on-the-job training programs for careers like:

Construction manager
Equipment operator
HVAC technician
Plumber
Electrician
Carpenter
Mechanic
Truck driver
Legal assistant

This is only a partial list, of course. There are countless other programs available through hundreds of trade schools across the country.

How Much Does Trade School Cost?
The cost of trade school can vary greatly depending on the skilled trade you are learning and the institution. However, trade school tuition is generally less expensive than a traditional college. Plus, vocational school programs can be completed in a fraction of the time of obtaining a bachelor's degree.

What Are the Differences Between Trade Schools and Colleges?
A trade school program focuses on learning the technical skills required for a specific type of job. But a traditional college usually provides a much broader education.
Didn't See What You Were Looking For?
Check out the following: