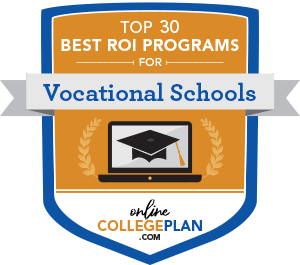 Trade school graduates are in high demand. There is a drastic labor shortage in the construction industry right now, as well as many other skilled trades and vocational careers. High-paying positions like electricians and welders are right at the edge of experiencing the same high demand and shortage of skilled labor.
As of the start of 2020, the United States has had a historically low unemployment rate for well over a year. This means that most Americans who are seeking jobs, have them. Simultaneously, unfilled jobs have steadily risen for the last few years. This means that more power is in the hands of individual workers who are willing to transition to high-demand careers.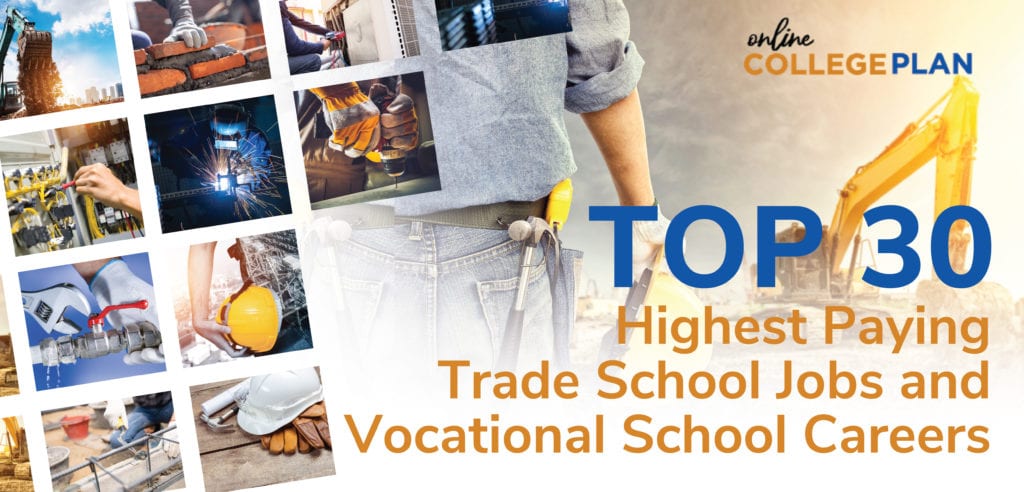 In short, there aren't nearly enough skilled workers to fill the 7.3 million job openings in America today.
So what does this have to do with trade school?
First off, some of the largest portions of job openings are for skilled trades. These trades often don't require a two or four-year degree. But still require some education and hands-on experience. Fields that are particularly in demand and can be prepared for with a Trade School diploma include:
Construction Careers
Manufacturing Careers
Welding Careers
HVAC Careers
Plumbing Careers
Electrician Careers
And a range of others
These career types can often be prepared for by attending a diploma, certificate, or degree program at a trade or vocational school. Many of these careers offer salaries much above the average for all careers, and don't require paying the much higher fees and tuition of a four-year degree. This makes trade and vocational programs some of the best "bang for your buck" higher education options.
In this guide, updated for 2020, we'll take a look at the highest-paying skilled trades and vocational careers. We'll also answer some of the most common questions individuals have about trade school, and rank some of the best trade and vocational schools in the nation.
In this article:
What is Vocational School?
Vocational schools — also known as trade schools — provide degrees and certifications that help to prepare you for a given trade or line of work. These schools typically cater to preparing individuals for careers that require training or hands-on experience, yet don't require a full two or four-year college degree.
Some vocational schools are "stand-alone" entities that do not offer any "traditional" college degree programs. While other vocational schools may be part of larger community colleges, two-year colleges, and universities. Additionally, some trade school programs are offered in partnership with high schools or as programs that begin directly after the 12th grade.
In America, vocational schools are typically government-sponsored schools that provide transferable credits to two or four-year non-trade-focused programs. In recent years, many vocational schools have also expanded their curriculum to offer some courses on critical thinking, mathematics, management, and so forth, blending the line between traditional two-year degrees and vocational degrees to some extent. With this said, vocational programs do tend to primarily focus on learning skills for a skilled trade.
Is a Vocational School Different Than a Career College?
In America, career colleges and vocational schools are quite different. Career colleges are typically private, for-profit entities that tend to have lower graduation rates, higher student debt, and not as many safeguards in place for students. Typically career colleges offer programs that are less than 2 years in length. While students do often land in careers they are seeking after obtaining a certificate from a career college, there is a great deal less oversight as to the quality and accreditation of these programs.
Vocational schools, on the other hand, are almost always state or federally sponsored institutions, and may be tied to magnet high schools, community colleges, or may be their own free-standing entities.
When looking for a truly accredited and nationally recognized vocational or trade school, be sure to look for accreditation from the Association of Career and Technical Education.
Additionally, some schools that offer trade or vocational diploma, certificate, or degree programs may be full-fledged universities or colleges. To ensure you gain the highest quality education, potential students should check that these colleges and universities are regionally accredited, the highest form of accreditation for academic organizations in the United States.
The Benefits of Attending a Vocational School
Some of the many benefits of attending vocational school include:
Vocational schools are typically more affordable than traditional degrees
Vocational schools tend to prepare students directly for a specific trade career, with little coursework that doesn't apply to a students chosen career path
Vocational schools often have good relations with hiring organizations within their region
Vocational school programs can be taken online or in-person depending on the trade
Vocational schools are held to a high standard for instruction by the Association of Career and Technical Education
Vocational schools often provide transferable credits in the event a student wants to transfer to a two or four year degree
Skilled trades offer some of the highest salaries for two year or less educational programs
Skilled trades comprise a majority of skilled jobs available today
Skilled trades offer you the ability to find employment across the nation or start your own business
The average tuition for an entire vocational program is $18,000
The average earnings of a skilled trade are close to $80,000
The 30 Highest-Paying Skilled Trade Careers For 2020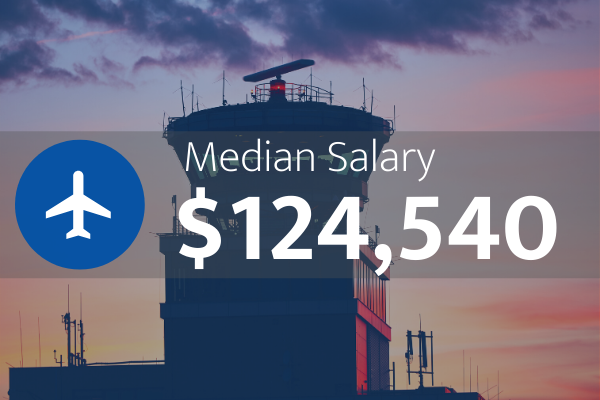 Believe it or not, air traffic controller positions typically only require an associate's degree or commensurate military experience. While there are many more hoops to jump through that don't have to do with schooling for this high responsibility job, it can be achieved by pursuing a two-year vocational program like many other jobs on our list.
So what do air traffic controllers do? Air traffic controllers focus on the safety of air operations, additionally, they guide air traffic into and out of airports with an eye towards maximizing efficiency. In emergency situations, air traffic controllers may be called on to make tough calls and play critical roles in getting planes and passangers back on the ground safely.
As one may expect, there are a range of mental health, physical health, and understanding tests that one must pass to enter into an air traffic controller role (at least for the FAA). Many air traffic controllers also get their start in the Armed Forces.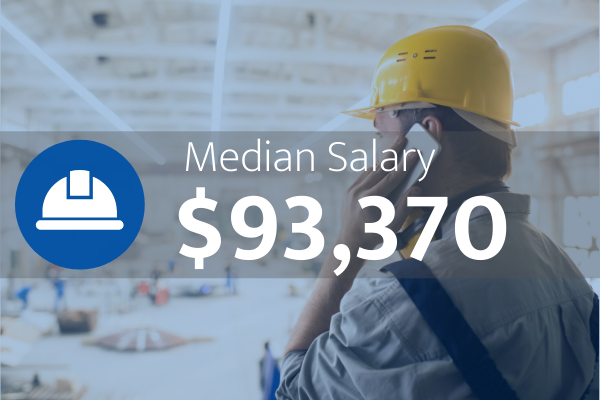 More than other types of managers, construction managers are responsible for nearly every aspect of a given building project being completed on time, to specifications, and on schedule. A vast majority of construction managers are independent contractors, meaning they may need to seek out their own work. But also meaning that they can choose which projects to take on and which may not be worth their time.
One of the unique things about construction management is that it encompasses so many different fields. Construction managers are often responsible for overseeing the negotiation of a quality contract for a construction project, for ensuring they are properly staffed to complete a building project, that the proper materials have been ordered, that safety concerns are properly addressed, and that the building ultimately gets built correctly and under budget.
While it may seem like a great deal of education would be required to manage all of these tasks, many settings in which construction managers are employed mostly care about one thing: that the job gets done. As such, construction managers often learn on the job as they're working their way up to a managerial position. Many work in construction technology, or as other skilled trades while learning about how to manage the entirety of a construction project.
Construction management is also a common certificate and associate degree program at schools offering trade and vocational degrees, of which there are a good number below.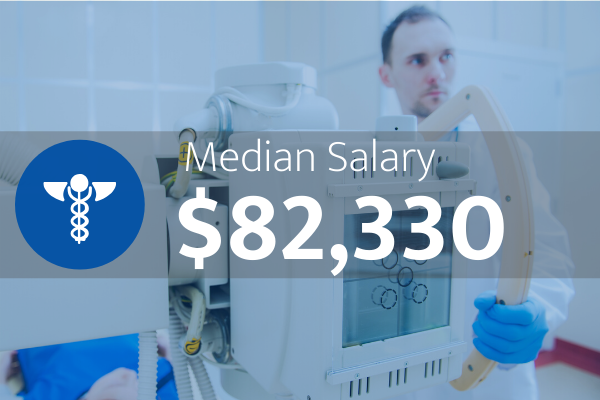 Radiation therapists are one of the most quickly growing career types on this year's list, with more than 9% more jobs expected in the next few years. These skilled individuals work in oncology departments at hospitals, in private practice, or other medical settings to administer radiation related diagnostics and treatment.
If you've ever broken a bone or sprained an ankle, you've likely spent time with a radiation therapist. Some of the most common diagnostic tasks these roles perform include the administration of X-rays, the administration of Cat scans, and cone beam computer tomography (CBCT) for 3D images of hard tissue.
If you've known someone who has undergone treatment for cancer, they've likely been in much more contact with radiation therapists, who are some of the primary roles who help to administer radiation-based treatment for cancer.
While these roles may seem high-tech, an entry into the field can be achieved with a vocational associate's degree. Individuals who excel in radiation therapy roles tend to be comfortable both dealing with technology and reassuring patients, as well as detail oriented as they monitor health readings throughout a treatment.
4
Elevator Installers and Repairers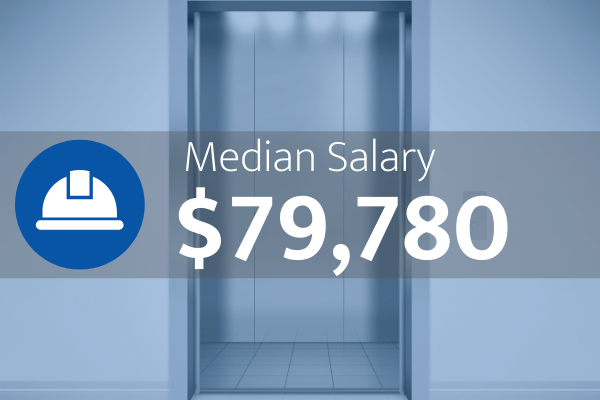 Have you ever wondered who it is who makes sure that elevators are actually safe? Among many of the technologies employed in large buildings, elevators seem like some of the most complex, and one of the most important to keep functioning properly. They are human transportation capsules that can rapidly pull riders hundreds (or thousands) of feet in the air. Well, luckily for you there are specialized roles whose sole purpose of their job is to install and make sure that elevators are in good repair.
Elevator installers and repairers don't have an easy job. And be required to be on call 24 hours a day if crucial elevators in important buildings become damaged. Work conditions can also be tough, needing to crawl into cramped spaces, or deal with great heights. With that said, elevator work is one of the most lucrative trades you can find. And while there are courses and certificate programs through trade and vocational schools, a large number of elevator installers and repairers actually learn through apprenticeships.
If you are interested in learning elevator installation and repair and don't know anyone in the field, a local trade or vocational school may help you take the proper prerequisite courses, and then may be able to link you up with a location elevator installer to apprentice under through their career services department.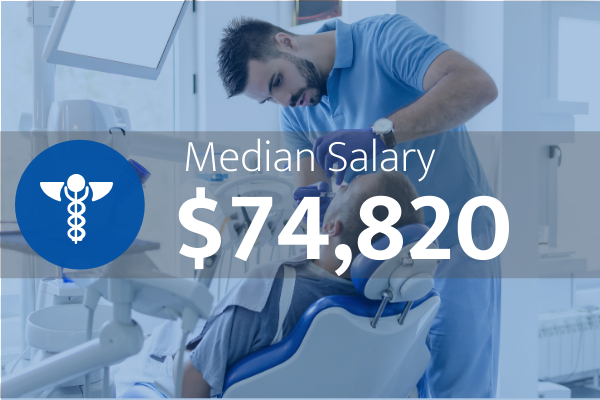 Nearly all of us have dealt with dental hygienists at least a few times in our life. And you likely don't need to be told the vast difference between the experience of getting your teeth cleaned from a good and a bad hygienist. This is to say that there are many different components of dental hygiene. And good hygienists excel not only at bedside manner and dealing with patients, but with the technical skills needed to deftly maneuver medical and cleaning equipment around a patient's mouth, and with educational matters.
While not a career for everyone, there is a ton of demand for dental hygiene workers. According to the Bureau of Labor Statistics, 19% more jobs in the space are expected to open within the next few years. And there are already hundreds of thousands of dental hygiene jobs out there.
Dental hygiene can also be entered with — oftentimes accelerated — two-year programs at community colleges, trade and vocational schools. The coursework is a blend of basic medical terminology, anatomy, and physiology with more dental specific courses related to educating patients, cleaning teeth, and assisting dentists with other dental operations.
For a career with so many upcoming job openings, so many educational programs that can prepare you to enter the field, and such strong earnings, we must say that dental hygiene is a great choice for many students.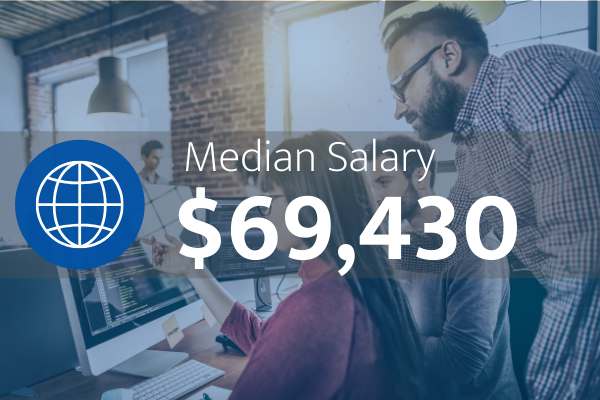 Web developers are one of those unique trades where clients care more about results than about what education or certification a worker has. Similar to tradesmen who work on the construction of houses, or other objects, web developers are given specifications to create or alter some property online. While there are a variety of ways to enter into the field of web development, including certifications, courses, self-teaching, bootcamps, and full-fledged degrees, the single most important step in preparing to be a web developer is that you're working on some sort of portfolio of projects, and you're learning new technologies.
While the term web developer can mean an individual with many different skill sets, web developer is most commonly employed to describe an individual who is a "front end developer." These individuals are primarily responsible for the visual and interactive parts of a web page. If you've ever heard of HTML, CSS, Javascript, or PHP, these are the languages that most web developers gain experience in. This is in contrast to "back end" developers who primarily work on the logic behind the scenes and on the servers of websites. Web developers who gain experience and continue to educate themselves can definitely move into back end development, but this is typically a more advanced skill set.
Web developer careers can go by many different names, with web developers and webmasters being some of the most common for small organizations and for freelancers. One should note that as one enhances their skill set within web development that they may be able to bill themselves as a number of related role types and charge more.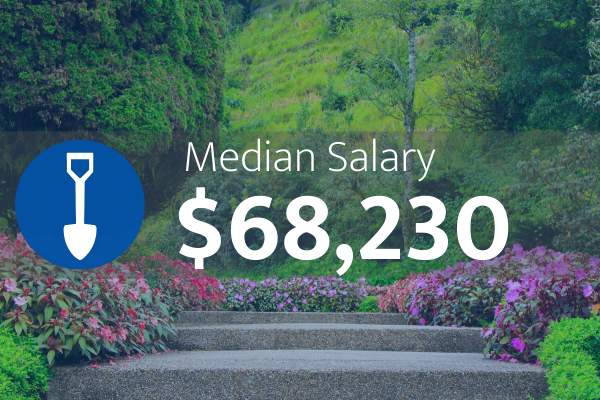 Landscape architects, designers, and permaculturists work to create and maintain attractive and functional outdoor spaces. Jobs may be as small as the yards of individual homes, or as large as college campuses or large city parks. Landscape architects may also be employed by governmental organizations, large organizations, private architecture firms, or work for their own businesses.
One of the things many landscape architects enjoy about their work is that they get to work outside a great deal of the time. While this may lead to "lulls" in business in some climates, landscape architecture can be lucrative enough for a busy few seasons to support an individual or business through the rest of the year.
While there are more advanced degrees that one can pursue in landscape architecture (including master's level work) there aren't many true "prerequisites" for joining the field. With this said, even self taught individuals or individuals who have gained experience working for another are likely to at least take some courses in topics such as botany, design of public places, permaculture, or various construction methods.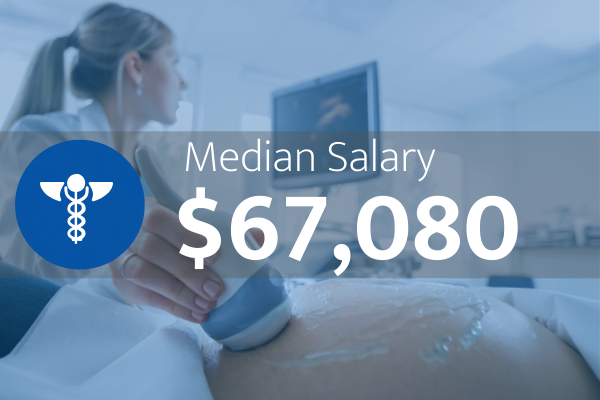 Medical Sonographers and Cardiovascular Technicians are two clusters of related jobs that have to do with providing medical imaging services of internal organs. Typically individuals with the title medical sonographer will specialize in one area and one type of diagnostic test. This may include breast sonographers, abdominal sonographers, gynecologic sonographers, musculoskeletal sonographers, and cardiovascular sonographers.
Regardless of a sonographer's specialiazation, most sonographers work in large clinics or hospitals and are employed full time. Typical job duties include preparing patients for a diagnostic technique, educating patients about why and how the test will be performed, performing the test, maintaining the equipment used to complete said tests, and providing summaries of imaging results for physicians.
Cardiovascular technicians are pulled out as one distinct type of sonography work because these are more likely to be invasive imagining techniques, making cardiovascular technicians often slightly more specialized. Regardless of specialization, however, the entry level degree for any of these roles is a vocational degree at the associates level. Demand for all sonography roles is quite high nationwide.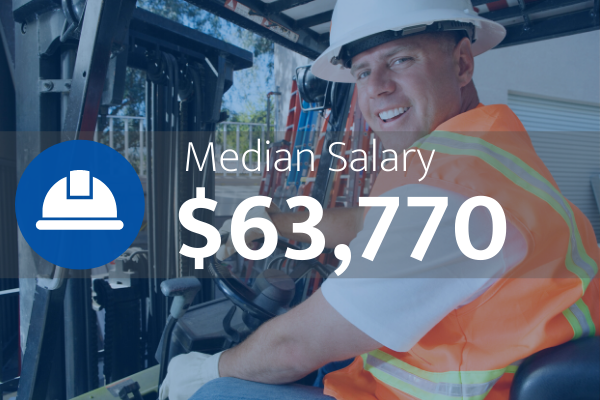 Pile-driver operators perform one very specific role required for a massive range of construction projects: operating large machines that drive piles (large pillars) into the earth to serve as reinforcement or part of the foundation of buildings, bridges, piers, and a wide variety of other types of construction. While pile drivers just operate a single machine type, performing the job well is incredibly important for the safety of those working on the construction project and the stability of the structure.
Pile-Driver operators are typically members of the United Brotherhood of Carpenters, and typically gain their education in the trade primarily through a multi-year apprenticeship after a high school or GED program. Many states and cities also require pile driver operators to obtain specific levels of coursework in related topics, which can often be found at a local or online trade or vocational school. In some locations pile driver operators are also classified as crane operators, requiring additional coursework from local trade, vocational or community colleges.
One final note about pile-drive operators is that even though there isn't a high high academic barrier to entry, this is quite a specialized role. Even in large states there aren't a huge number of pile driver operators, placing them in high demand. For example, California has just over 500 pile driver operators. This means the top 10% of earners within this role make over $100,000 a year as of the latest surveys.
10
Aircraft Mechanics and Technicians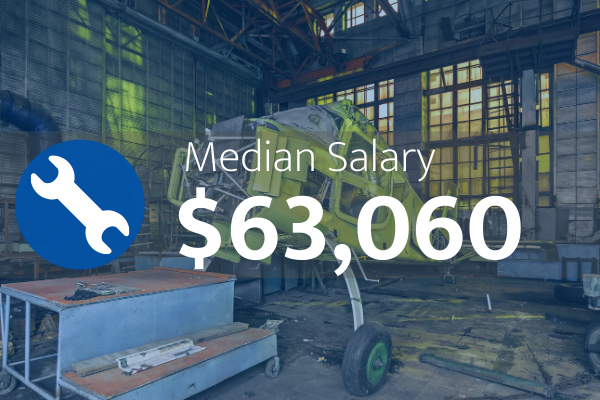 Avionics and aircraft mechanics and technicians come in a variety of stripes and are in high-demand across the nation. Mechanics and technicians can enter the workforce with associates level vocational degrees, or with certificates depending on what area of the aircraft they're working on. Additionally, many of these jobs can provide valuable opportunities jumping into manufacturing settings which may provide additional room for advancement over a career.
Typically individuals who begin work as an aircraft mechanic or technician by learning on the job or at a FAA-approved trade school mean to teach individuals the best practices of evaluating, fixing, and maintaining avionic and aircraft-related equipment. Over time individuals will likely specialize with major roles including airframe and powerplant mechanics, avionic technicians, inspection technicians, or repairment roles.
Airframe and powerplant mechanics are typically viewed as some of the most qualified of mechanics and can often work on a vast majority of aircraft parts. Avionic technicians tend to specialize on electrical equipment in an aircraft, inspection technicians primarily provide the "go-ahead" that a craft is worthy of taking to the skies, and repairmen are often private contractors called in for specific work.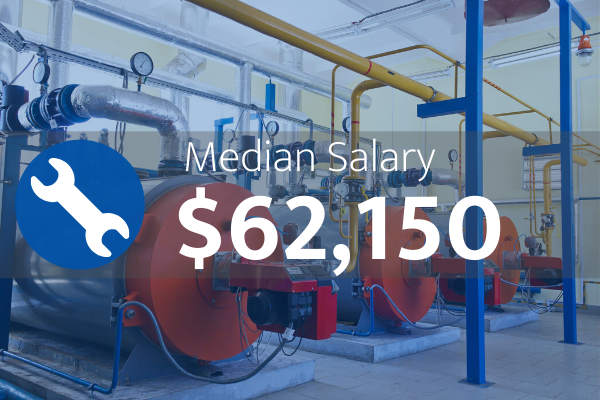 Boilermakers are a skilled trade that is often entered after an apprenticeship after one achieves a high school diploma or GED. Future or current boilermakers may also find it necessary or prudent to pursue some for-credit coursework including welding, metalworking, plumbing, and electrical work from a trade or vocational program.
So what do boilermakers do? They help to make, repair, maintain, and install containers for — often volatile — gases and liquids. The work of boilermakers is often demanding in a physical sense, and requires knowledge of proper construction, installation, and safety techniques. Additionally, boilermakers may need to know about the physical properties of the gases and liquids that the containers they are creating are holding.

Some of the particularly skilled components of being a boilermaker include learning to utilize robotic construction methods, the reading of blueprints to determine boiler locations, and learning to diagnose issues with boilers and large containers.
12
Radiologic and MRI Technologists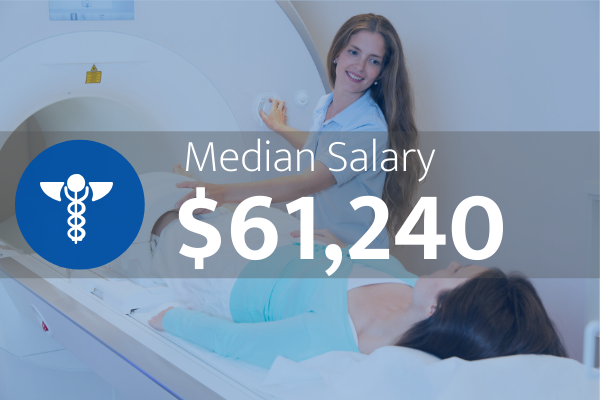 Similar to sonographers (above), radiologic and MRI technologists are skilled workers who know how to utilize specific imaging technologies for medical diagnosis. Typically radiologic and MRI technologists are slightly likelier to work in a small or medium-sized clinic than sonographers, though a majority of these positions do still work full-time in hospital settings. The typical entry-level degree for radiologic or MRI technologists is that of a vocational degree at the associates level. In this degree program students learn basic medical terminology, anatomy and physiology, take natural sciences that provide additional understanding of imaging technologies, and get hands-on experience imaging.
Typical job responsibilities of radiologic and MRI technologists include the maintenance of imaging technologies, preparing patients for imaging procedures, providing professional bedside manner during procedures, explaining results and the rationale for tests to patients, and providing summaries of imaging results to physicians.
One of the major perks of pursuing a vocational degree related to radiologic or MRI technology is that positions related to this degree are available in most towns and cities with a hospital or large clinic, nationwide. Additionally, the number of jobs expected to be open within these fields is expected to grow by 9% over the coming several years.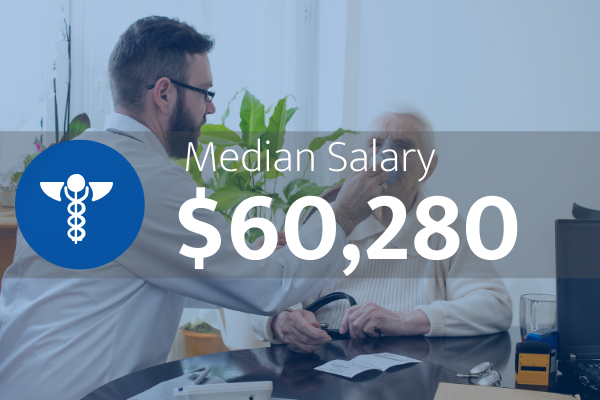 Respiratory therapists are skilled workers with a knowledge of the primary techniques for aiding patients who are having trouble breathing or with their respiratory systems. Typically a vocational degree at the associate's degree level is required to enter the field. Individuals who obtain a respiratory therapy degree are likely to find high demand for their skills, with respiratory therapists needed in any large clinic or hospital setting, as well as additional settings including specialists offices, athletic complexes, and retirement homes. Due to the 24 nature of breathing problems, respiratory therapists are needed around the clock in many large care settings, creating even greater demand and the opportunity to work night or weekend shifts if desired.
While associates degrees in respiratory therapy are the entry point into the field of respiratory therapy, individuals who would like to advance their career or earnings later on may continue their education at the bachelor's level. Typically degree programs in respiratory therapy provide training in medical terminology, anatomy and physiology, patient education, underlying natural sciences for health care, and the use of respiratory-specific machinery. Respiratory therapists are required to obtain licensure in every state except for Alaska.
Aside from top pay for an associates-degree requiring job and the ability to help individuals with breathing issues, a major perk of respiratory therapy jobs is demand nationwide. The number of open positions in the field is expected to explode with 21% more jobs in the coming few years.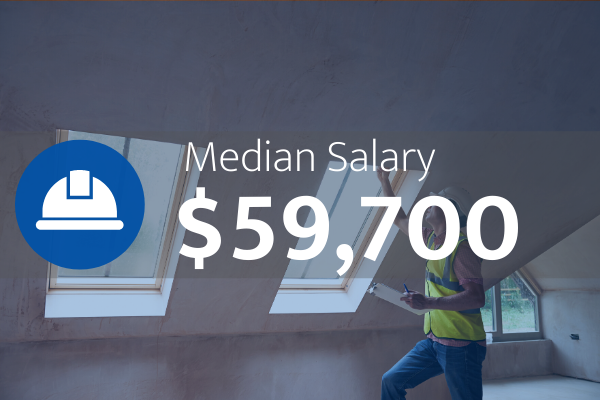 Though two very different — if related — roles, film editors and camera operators are two careers that can be aided by vocational school training. With that said, there are typically no "entry level" requirements for either one of these roles, short of being able to show that you can do the job. With this said, production film settings are increasingly high tech and coursework related to film production and camera work helps many individuals to get into the field.
Whether you're closing on a new house, building a new deck, adding to a restaurant kitchen, or designing a skyscraper, building inspectors play a critical role in ascertaining whether or not new or existing constructions are "up to code" and safe for potential inhabitants. Additionally, building inspectors represent individuals who are not professionals in construction methods and technology including property owners, financial entities, insurance companies, and government organizations to ascertain whether zoning ordinances and contract details are being met.
Typically building inspectors learn on the job, and many have held previous careers in some aspect of construction or another skilled trade. With this said, there are many supplemental courses that can be– and often are — taken from vocational and trade schools. Many states require licensure or the passing of certification exams that may be studied for in-tandem with study at a trade or vocational school.
15
Film Editors and Camera Operators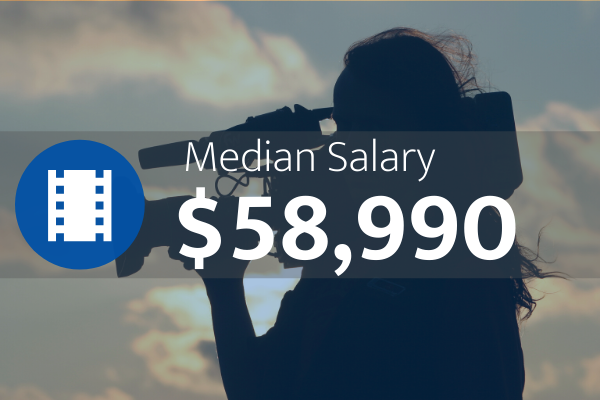 Though two very different — if related — roles, film editors and camera operators are two careers that can be aided by vocational school training. With that said, there are typically no "entry level" requirements for either one of these roles, short of being able to show that you can do the job. With this said, production film settings are increasingly high tech and coursework related to film production and camera work helps many individuals to get into the field.
Work conditions for film editors and camera operators vary, as do employment arrangements. Some editors and camera operators work in freelance settings while others hold down steady employment in ongoing shows. With that said, a majority of film editors and camera operators do work on a project-by-project basis, including those who work on the production of major motion pictures.
Earnings for individuals who freelance or produce commercial videos are typically higher than for those who work for news programming or on films. Demand for film editors and camera operators is expected to grow for both categories of workers over the coming years, however. An estimated 11% more jobs in these fields are expected over the coming years.
16
Electro-Mechanical Technicians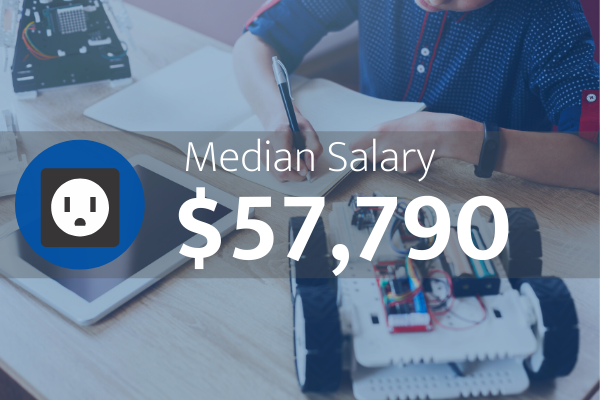 Electro-mechanical technicians work on projects and in fields that employ both electrical and mechanical engineering. These technicians typically specialize in one area of technology, and gain hands-on skills regarding how to deploy, maintain, repair, and even build electro-mechanical systems. A great deal of the educational process that goes into becoming an established electro-mechanical technician occurs on the job. Though successful electro-mechanical technicians often have a great deal of experience or at least some formal education in engineering and technology topics.
The most common fields that employ electro-mechanical technicians include manufacturing, aerospace, energy, plastics, among others. As one may imagine, work settings can vary widely from oil platforms or underwater devices through production lines within manufacturing settings. Regardless of setting, individuals are often expected to keep up-to-date with some certifications related to the role as well as to have an understanding of engineering basics that support the products they are working on.
Demand is strong for electro-mechanical technicians across many fields. Additionally, future electro-mechanical technicians should note that this is a great career to try and ascertain if you would like to pursue further schooling to become a full-fledged electrical or mechanical engineer.
17
Morticians, Undertakers, and Funeral Directors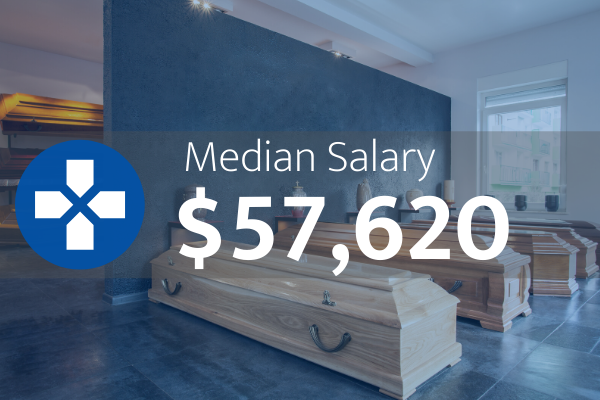 This group of careers, commonly called "funeral services workers" typically requires an associates-level vocational degree in funeral science or funeral services. Once students have taken the appropriate coursework and — in many states — passed a licensure exam, they endeavor upon overseen experience for a period of up to two years. You may wonder why the barrier to entry is so high for these trades. It's because for many professionalism and ability to undertake one's job duties correctly is at its most important around the serious and important ceremony of someone's funeral. Additionally, in recent decades funeral homes have added greater and greater ranges to their services. Funeral services workers may employ elements of grief counseling, event planning, proper processing of bodily remains, and more.
Typically work conditions for funeral services workers occur during the daytime or early evening. Though funeral services and visitations routinely occur on the weekend and at short notice. This means that funeral workers may be on-call or may have to work somewhat odd or on-demand hours to get everything in order for a funeral quickly. Additionally, funeral services workers typically work within normal business hours to deal with clients who are planning their burial arrangements or funerals in advance.
While working in funeral services is certainly not for everyone, one definite upside to this career choice is that at some point everyone will need the services offered by those in funeral services. This means that funeral services positions are typically available in even the smallest of towns throughout the nation. Growth in jobs within funeral services is expected to holdat 4% for the next several years.
18
Occupational Therapy Assistant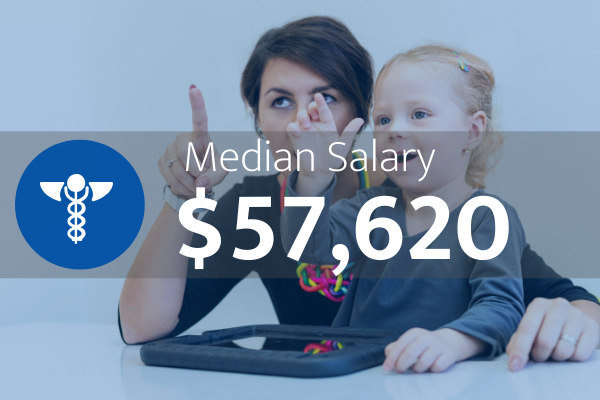 Occupational therapy is a set of therapeutic techniques meant to help build skills needed for everyday life and work in individuals. Occupational therapists work with individuals of every age, and with a wide range of developmental, mental, and emotional disabilities. Particular focus is typically on individuals who are young (children in schools) and individuals beyond retirement age. Though there is also plenty of occupational therapy work related to individuals who have been injured in their prime including veterans and athletes.
Occupational therapy often uses repeated exercises and specialized equipment to train or retain an individual to perform routine tasks. This process commonly requires more than one individual, and that's where an occupational therapy assistant comes into play. These individuals are skilled in dealing with those gaining therapy as well as the technical skills needed to understand and implement the treatment plan created by an occupational therapist.
Typical work settings for occupational therapy assistants include hospitals, nursing homes, schools, and rehabilitation centers. As on may expect, this means there is a ton of opportunity for skilled workers in occupational therapy. And job openings within the field are expected to grow by 31% over the coming few years.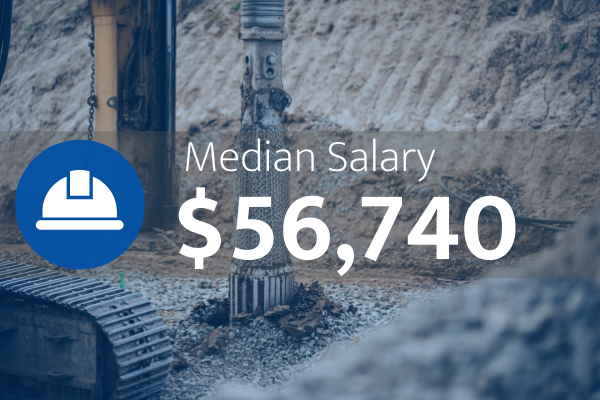 You may have heard that oil fields and drilling operations can provide great salaries for skilled trades. And the job of rotary drill operator does nothing to buck this trend. Rotary drill operators are responsible for controlling large drilling rigs that actually access oil and gas in the Earth. Responsibilities of this job include the ability to read and implement plans put in place by petroleum engineers, the ability to maintain equipment used for drilling, the ability to implement ad-hoc solutions when drilling circumstances change, and general critical thinking and judgement skills that come into play when operating such large equipment.
You may be wondering whether a position operating large machinery is going by the wayside with automation taking control of many industrial-scale resource extraction sites. The fact of the matter is that rotary drill operators are only expected to have more opportunities for the coming years. According to the Bureau of Labor Statistics, opportunities within rotary drill operator jobs are expected to expand by 24% in the coming years.
As with many specialized operators of equipment, there aren't a ton of rotary drill operators. This means that it's a workers market when it comes to gaining employment. Even oil-rich states such as Texas only have a few thousand qualified rotary drill operators. And with the current oil processing boom in the United States, this makes it a great time to jump into the trade.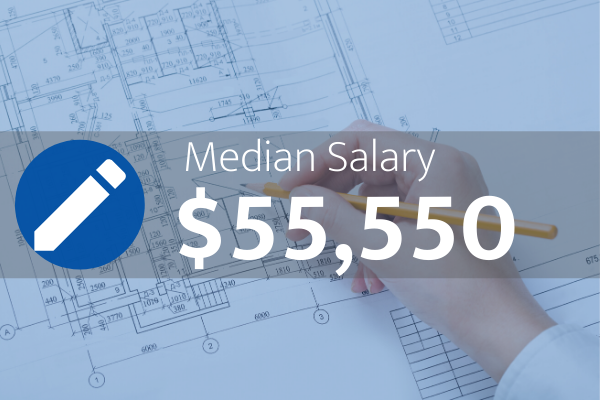 Drafters are members of the skilled vocation that turns design specifications handed down by architects and engineers into technical drawings that can be implemented by construction teams. This vocation are perpetually in high demand, with draft work present in nearly every construction project, from individual houses through large complexes and skyscrapers. Drafter careers are also a great way to discern if you may be interested in furthering your career down the road as an architect of engineer.
The most common route to becoming a drafter is to attend an associates-level vocational program that helps to provide you with foundational knowledge about architecture, engineering, physics, and design-specific tools like CAD.
On job responsibilities include the creation of final building documents using computer assisted design, the documentation and choice of building materials and some techniques to be utilized by construction professionals, the specification of dimensions, and the improvement of rough sketches made by engineers or architects.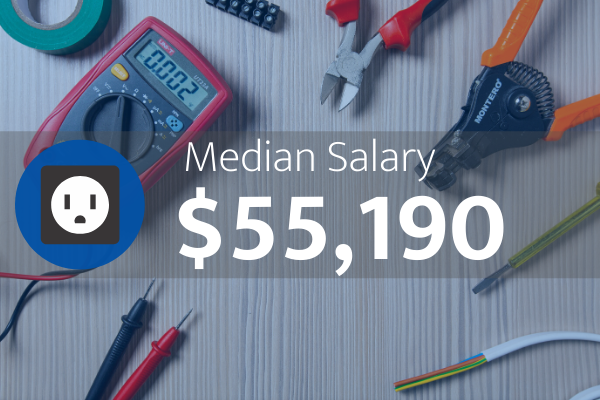 Electricians have been in perpetual demand for close to 100 years. Even with upgrades to many of the appliances and devices in the locations in which we live, the underlying electrical work in creating, rehabbing, or repairing a home or place of work has remained just as crucial. Electricians are also have some of the most robust educational tracks for newcomers looking to get into the trade. Many states require individuals to become licensed to practice electrical work. And many states offer both apprenticeship and trade school routes towards sitting for an electrician exam.
There are many locations in which electricians may find employment. But typically they are called in on a per-project basis as freelancers or small business owners. They may also be kept on retainer or on call for large venues or buildings. Work conditions for electrical work tend to be inside, though can involve navigating cramped spaces or climbing ladders. With that said, work conditions are typically easier than many other forms of construction work.
According to the Bureau of Labor Statistics, electricians are expected to gain job openings by 10% over the coming years. This means to relative to all other jobs, electrical work will be in greater demand than average.
22
Wind Turbine Technicians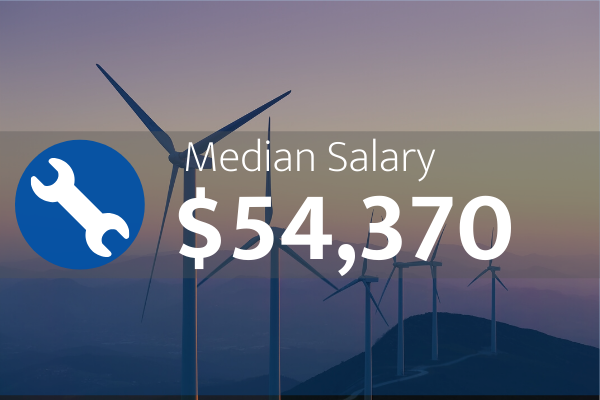 As the potential for a "green new deal" increases and states adopt alternative sources f energy on a grand scale, niche trade jobs like wind turbine technician are only set to gain more demand. As is, there are many more openings for wind turbine technicians than there are qualified individuals to fill them. To this need vocational and trade programs in regions known for wind energy are creating academic programs in droves.
The primary route to becoming a wind turbine technician is that of a certificate within a vocational or trade school. These programs often range between six months and one year in length and have some of the quickest and best "return on investment" of any non-degree jobs.
Job requirements of wind turbine technicians including knowing how to diagnose, fix, maintain, and set up wind turbines. Most individuals in this role are full-time employees who work typical work hours. Though emergency situations may call for extended hours as well as night or weekend repair work. This job requires individuals who are good at dealing with heights and can maneuver in small spaces.
Much like electricians — and potentially more so — plumbing jobs aren't going anywhere soon. Plumbers are needed for practically every construction project, and are one of the most commonly called up tradesmen in America when dealing with issues with living places. Plumbers also have robust professional networks for continuing education and ensuring your skills are "up to snuff." A majority of plumbers learn the trade through apprenticeships, though today many also attend trade schools to star their careers. Licensure is required for plumbers in many states.
Work conditions for plumbers often involves a great deal of emergency visits including nights and weekends. These visits are often billed out at a premium rate, however, earning plumbers willing to take the emergency visits more.
Related careers that often require similar licensure and skill sets include pipefitters and steamfitters. These professionals work often centers around civil engineering projects including laying of pipe too and from properties, the laying of pipe in larger construction projects including city works, manufacturing, and farm settings. Additionally, many steamfitters work in power plant-specific settings.
24
Geological and Petroleum Technicians
Geological and petroleum technicians work primarily in natural resource extraction related to earth minerals and gases. Additionally, these individuals may also help in scientific endeavors to do with geological study. Typically the primary degree needed for this work is that of an associates degree which may be available at vocational or trade schools. Individuals should learn some about the natural sciences, particularly petroleum-related industries, and in some specialized programs will learn about special equipment used to look for natural resources as well as perform geological research. Most individuals will be given moderate on-the-job training as well.
Work conditions for geological and petroleum technicians are varied. Individuals may spend periods of time "in the field" which may include time on ships, time in remote locations, and time on oil platforms. Additionally, geological and petroleum engineers may spend prolonged periods of time in the lab helping to perform and measure the results of experiments.
With the range of natural science experiments as well as the current oil boom taking place in North America, there's no shortage of geological and petroleum technician jobs. The Bureau of Labor Statistics predicts that there will be 7% more of these roles available within the next few years.
25
Civil Engineering Technicians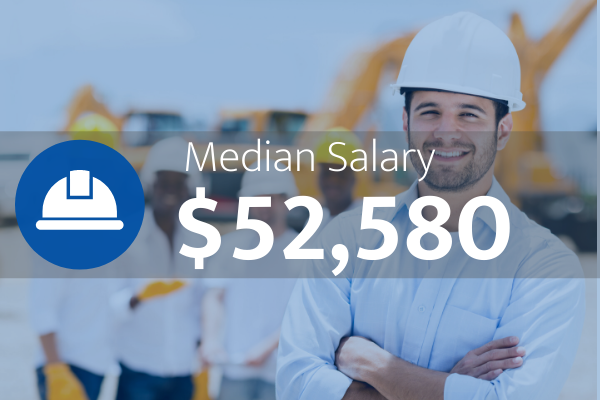 Civil engineering technicians perform supporting roles to civil engineers in the building of bridges, roads, tunnels, and other large public infrastructure construction projects. These individuals perform some roles also performed by drafters (above) including the preparation of computer assisted design (CAD) drawings. Additionally, civil engineering technicians may help to act as a liason between civil engineers and construction crews, may work to interpret designs made by civil engineers, may evaluate conditions in the field where construction projects are being completed, may perform experiments on the soil or to determine if a project is being completed correctly, and may monitor progress on construction.
Work conditions for civil engineering technicians is varied, with some time spent in the office of civil engineering teams, and other time spent at the site of current or future construction. Typically the work of civil engineering technicians follows typical business hours, with nights and weekends off.
Common vocational degrees that civil engineering technicians may pursue may include vocational degrees in drafting, engineering support, civil engineering, construction technology, or another applied science degree. According to the Bureau of Labor Statistics, future job outlooks for civil engineering technicians are expected to increase by 5% over the next few years.
26
Heating, Air Conditioning, and Refrigeration (HVACR) Mechanics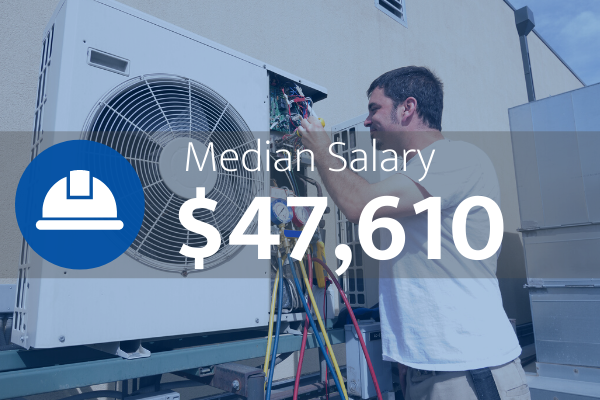 Have you ever stopped to consider just how the massive set of coolers within a grocery store are assembled? Or what about in a warehouse that ships your food? How about how manufacturing plants that create a ton of excess heat are kept at a reasonable condition? This isn't to mention nearly every new home created today, or every home gaining the addition of a new heating and cooling unit. Well it's just these temperature technology-related projects that employ heating, air conditioning, and refrigeration mechanics.
Heating, Air Conditioning, and Refrigeration Mechanics — more commonly known as HVAC or HVACR mechanics — are in perpetual need throughout our economy. And their ranks can be joined through gaining a non-degree certificate available at many trade and vocational schools. Additional education is often required but is often gained on the job as developments in the industry occur.
Work conditions for HVACR professionals can involve getting into tight spaces, and working in temperature extremes (that they're trying to fix). Emergency night and weekend visits are normal, though often pay a premium. Job openings are expected to rise as much as 13% in coming years. And earnings are strong in many markets.
27
Construction Equipment Operator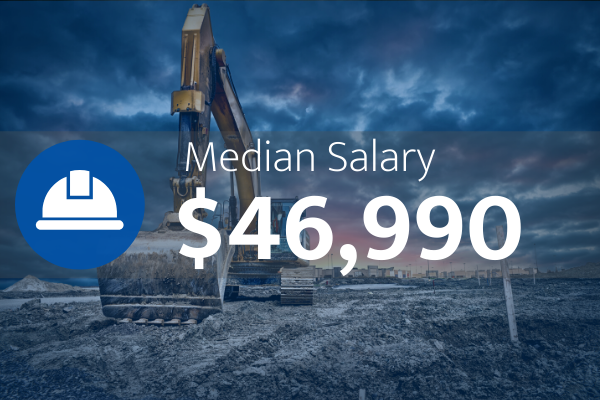 In many of America's cities cranes have dotted the skyline for close to a decade. Long gone are the last days of the 2000's when construction nearly ground to a stand still. And in the decade that followed construction has made many changes. One of those changes are the range of technological enhancements that have entered the construction work site. Many of these technical enhancements involve new construction equipment, which requires well trained operators of this equipment.
Depending on the type of construction equipment operated, individuals may need special licenses, such as in the case of pile driving, crane operation, or rotary drills. Learning to operate particular equipment can also boost your earnings even further, as with some of the jobs higher up on our list.
Typically individuals get into construction equipment operation either through working their way into the role on a worksite, through taking courses at a local trade or vocational school, or pursuing a construction technology degree. All three routes are viable, with the main trade off being that it often takes longer to work your way into a job than if you go directly to school for it. Either way, employment prospects are looking good for construction equipment operators with the BLS reporting 10% gains in the number of jobs over the next few years.
28
Licensed Practical and Licensed Vocational Nurses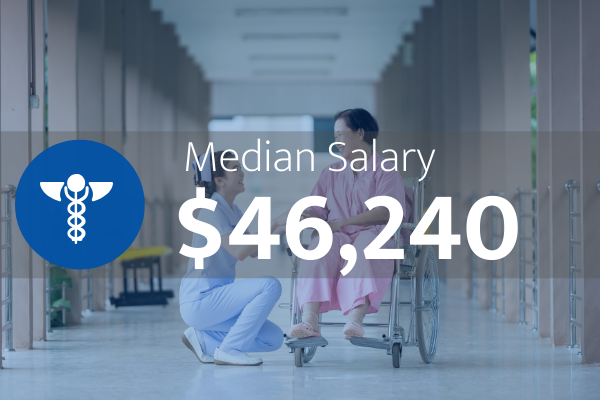 Licensed Practical and Licensed Vocational Nurses are the quickest entry point into a nursing career. As you may have heard, nurses are in high demand at every level of training. And LPN's are no exception. Both of these roles — which are actually the same except for California and Texas using the term LVN — require some work in a vocational or trade school, but do not require a complete associates degree. This makes these roles some of the lowest barrier-to-entry health care jobs out there.
So what does a LPN (or LVN) do? LPN's are expected to understanding medical terminology, take care of patients by monitoring vitals or dispensing medicine, communicating with patients and their families, keeping records of patients help, and notifying more senior nurses or doctors if there are status changes with a patient.
While some states are trying to move the entry level of nursing careers to registered nurse status, LPN jobs are still a fantastic way to get into a nursing career. And once you've taken the coursework to become an LPN, there are many programs online and in-person that can let you upgrade your level of academic experience while holding down a career.
Welders, commonly lumped in with cutters, solderers, and brazers, are skilled trades that all deal with the cutting, joining, molding, and repairing of metal products. These individuals work to attach parts of your car together, and elements of the frame of a skyscraper, or a large ship. Welding and related tasks are in-demand in a huge number of sectors including aerospace, construction, manufacturing, scientific endeavors, and more.
As welding is in such high demand, courses in welding are some of the most common trade or vocational courses offered in both trade-related high school programs as well as trade and vocational schools. There's no degree requirement to become a welder. And one can become a welder just from their own experience. For many, however, access to the tools and some instruction is a good idea to get into the field.
Work conditions for welders can take place in indoor and outdoor settings. Sometimes work occurs in confined spaces, while other times welders may work outside in bad weather. Welding can be physically intensive, and overtime may be required in many work settings. This work is often paid a better rate, however.
30
Automotive Technicians and Mechanics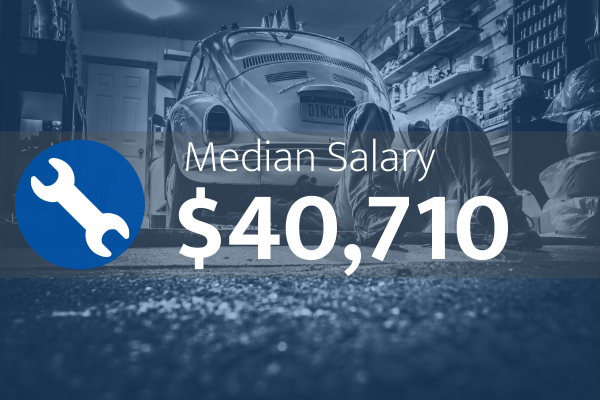 We've all likely had to work with auto technicians or mechanics. And if not, we've seen them in every small town or larger location in America. Mechanics are the quintessential trades men and women of America. Oftentimes running small (or large) businesses that keep our possessions in good repair. With very little barrier to entry, but a huge difference in outcomes based on the skill of the individual doing the job.
So what do automotive mechanics do? They diagnose issues and perform routine maintenance on automotive vehicles. Work settings for automotive mechanics can range from sole proprietorships through large corporations. Automotive mechanics help keep the top Nascar or Formula 1 teams in the race. Though these aren't particularly common jobs.
The quickest way to gain experience in automotive mechanic work is to start working for another mechanic and form a sort of apprenticeship. Additionally, many individuals learn the basics of the trade in a trade or vocational school setting, or even in high school "shop" programs. Regardless of how you get into the mechanic trade, earnings are strong, and there is no hint that job openings for mechanics is set to drop in the near future.
The 10 Most Affordable Online Trade and Vocational Schools
There are affordable trade, vocational, and community colleges in all 50 states of America. Depending on where you live, many community college districts offer free tuition for those who live in-district. And several states now have free community college for all in-state students. Of course, not all community colleges offer trade certificates or degrees, and that's where we come in.
Why Trade Schools?
Trade careers can be entered quickly with two or less years of course work. Some trade and vocation programs are even available for entrance through magnet or charter high schools. Additionally, most trade careers are in high-demand and boast well above average salaries. Coupled with affordable college costs, seeking a skilled trade through a trade or vocational school can be THE best "bang for your buck" among degree options.
How we ranked trade and vocational schools
Here at OnlineCollegePlan, we have years of experience researching what truly makes college affordable, and trade and vocational schools are no different. To construct this ranking we aggregated a list of all colleges, universities, and trade schools offering trade and vocational programs in the U.S. We then narrowed down our selections by pulling data from the U.S. Department of Education's College Scorecard. For each fully accredited trade and vocational school that qualified for our ranking, we looked at the average cost of annual attendance after financial aid, the percentage of students who received financial aid, and the average earnings of graduates. Schools that excelled in all three of these metrics were included in this years ranking.
1
Albany Technical College
Average Cost After Aid:
$1,033

Albany Technical College comes in first in our ranking with by far the lowest average cost for a school offering trade and vocational programs online and in-person. According to the U.S. Department of Education's College Scorecard, Albany Technical College graduates end up with an average cost per year of just $1,033. This number factors in the average amount of financial aid that students receive, and includes total costs for books, cost of living and so forth for in-state students.

Wondering what trade and vocational subjects you can study at Albany Technical College? A selection of their online trade and vocational degrees includes:

Multiple fire officer certificates
An associate of applied science degree in Fire Science
A fire science technology diploma
Degrees, diplomas, and certificates in technology topics
Hospitality and tourism management degrees and certificates
And many more
Albany Technical College also provides an additional support for adult students looking to return to school or finish their GED and then enter into a technical or trade program. For applicable local students, this set of services extends to truly cost-free education!

2
Eastern Gateway Community College
Average Cost After Aid:
$2,758

Eastern Gateway Community College comes in as the second most affordable community college offering trade and vocational programs online in this year's OnlineCollegePlan trade school ranking. According to the Department of Education's College Scorecard data, the average cost per year for students at Eastern Gateway is just $2,758 after all eligible aid and grants are factored in. Keep in mind, this number is for in-state students, and some online students in other states may pay more. This metric is a good measure, however, of the overall affordability of the community college.

So what online trade and vocational programs can you pursue at Eastern Gateway?
Courses are available in manufacturing applications
Courses are available in manufacturing fundamentals
Courses are available in catering and hospitality
Certificates are available in medical coding and scribing
A certificate is available in machining
A certificate is available in police work
An associates degree is available in fire science
A certificate and associates is available in welding
Note that individual courses are offered through Ed2Go for the university, and are exceedingly affordable compared to typical higher education tuition. Many of these standalone courses cost just $95. For certificate and associates programs, more typical (albeit low) costs apply.
3
Florence-Darlington Technical College
Average Cost After Aid:
$3,185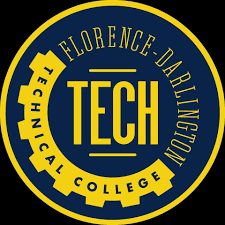 Florence-Darlington Technical College comes in as the third most affordable college offering trade and vocational programs online in the nation based off of Department of Education College Scorecard data. Also of note, Florence-Darlington Technical College is the first predominantly black college in this year's ranking. After financial aid and grants, the average cost per year for an in-state student comes to $3,185. For trade and vocational programs that often require two years or less of study — and provide higher than average paying jobs — this makes Florence-Darlington Technical College a great "bang for your buck" school.

Wondering what trade and vocational programs you can take online at Florence-Darlington Technical College?

A certificate program for future robotics assembly technicians
An associates degree in robotics production
A range of other associates degrees in applied disciplines
These unique offerings are particularly valuable within today's technologically-enhanced manufacturing settings as well as within construction and CNC shops.

4
Roanoke-Chowan Community College
Average Cost After Aid:
$4,304

Roanoke-Chowan Community College lands at the fourth most affordable college in OnlineCollegePlan's 2020 ranking of the best colleges offering trade and vocational courses online. This ranking is based off of Department of Education College Scorecard data which states an average per year cost of schooling at Roanoke-Chowan to be $4,304 after applicable aid and scholarships are offered to in-state students. This small community college is home to slightly over 400 students and offers certificates, individual courses, and associates degree programs in traditional arts and sciences, applied disciplines, and trade disciplines.

Let's take a look at what trade and vocational programs can be pursued at Roanoke-Chowan Community College:
Individual courses in medical coding
Individual courses in medical transcription
Individual courses in administrative medical assisting
Technology certificate prep courses
Individual courses in starting your own business
Individual courses in popular software suites
Note that individual courses are offered through Ed2Go for the university, and are exceedingly affordable compared to typical higher education tuition. Many of these standalone courses costbelow $200. For certificate and associates programs, more typical (albeit low) costs apply.

Additional offerings by Roanoke-Chowan Community College include courses of study tailored to the needs of local business and industry.

Average Cost After Aid:
$4,408

Western Texas College is the fifth most affordable college to offer trade and vocational courses, certificates, diplomas, or degrees in the nation. At least according to the U.S. Department of Eduction's College Scorecard. The average cost for in-state students per year is around $4,408 once aid and scholarships have been factored in. And this number includes cost of living, tuition, books, and fees. As many trade and vocational programs require two or less years of study, this means that you could become educated in a skilled trade for less than $9,000 in total education costs. When compared to the average earnings for many skilled trades, this is a great "trade" off.

Also of note, this is the first designated hispanic-serving college in this year's ranking.

So what trade and vocational programs can you pursue online at Western Texas College?
An electrical lineman program is available
A petroleum technology program is available
A turfgrass and landscape management program is available
A welding program is available
These programs typically provide the option to take individual courses or an entire "track" to gain more advanced knowledge through a few courses. Many trade courses are only available on campus. Though many related courses and certificates are available online.

6
Phillips Community College of the University of Arkansas
Average Cost After Aid:
$4,894

Phillips Community College of the University of Arkansas provides one of the most affordable ways to gain an online trade or vocational course or degree in the nation coupled with unique offerings through the college's partnership with the University of Arkansas. These offerings include a range of online courses offered throughout the University of Arkansas system, as well as transfer agreements for students who wish to continue their study at a four-year institution upon completing a two year degree. The average cost per year of attendance for in-state students is presently under $5,000 after taking into account the average aid and scholarships received by students.

So what online trade and vocational programs are available through Phillips Community College?

An associates in construction technology
An associates in office technology
An associates in medical laboratory technology
An associates in behavioral health technology
Certificates in cosmetology
Certificates in phlebotomy
Certificates in welding technology
Certificates in medical coding
Certificates in CDL/truck driving
Certificates in agricultural mechanics
Certificates in manufacturing
We should note that not all courses for all of the above are offered online. Though the college — through their partnership with the University of Arkansas system — is able to provide a wide range of courses online. Additionally, due to the hands-on nature of some trade and vocational programs, some work will likely need to be completed on campus for some programs.
7
Trident Technical College
Average Cost After Aid:
$4,943

Trident Technical College is a mid-sized community college with a main campus located in Charleston, South Carolina. WIth an average in-state cost per year of less than $5,000 (after accounting for average aid and scholarships), and several vocational degree programs offered 100% online, Trident can be a great route to entering an in-demand field with minimal time and debt. While Trident Technical College's degree offerings do primarily center around more traditional arts, sciences, and applied degree types, there are vocational degrees as well as a wide range of individual courses in trades and vocations available online.

So what are some of the subjects related to trades and vocations you can study at Trident Technical?

An associate of arts in business technology
An associate of arts in hospitality and tourism management
An associate of arts in homeland security
Courses in construction management
Courses in construction technology
Courses in medical coding
Courses in policing
Courses in hospitality
Courses in information technology
With a wide range of courses and three degree types available fully online and nationwide, Trident Technical College's highly affordable status makes it a great option for pursuing a trade or vocation of your choice from wherever you are!

Average Cost After Aid:
$5,302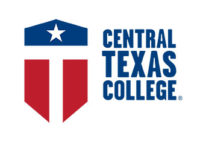 Central Texas College combines the seventh most affordable online trade certificate and degree offering college on our list with one of the largest range of offerings in trade and vocational fields. According to the U.S. Department of Education's financial scorecard on colleges, Central Texas College costs an average of $5,032 per calendar year (multiple semesters) after aid and scholarships are factored in for in-state students. Additionally, Central Texas College alums earn a great deal more than average when compared to other community colleges (and even four-year colleges) with average graduate earnings ranging between $37,800 and $60,800.

As we mentioned, Central Texas College has a massive range of online trade and vocational programs including:
Certificates in criminal justice
Certificates in medical technology
Certificates in office technology
A certificate in administrative activities
A degree in medical coding and billing
A degree in office technology
A degree in medical office technology
A paralegal degree program
Among many others
Students should note that as with many other top-notch community colleges around the nation, Central Texas College also provides evening and weekend courses, as well as unique support programs for those returning to school or adult learners.

9
Columbus State Community College
Average Cost After Aid:
$5,384

Columbus State Community College is one of the larger community colleges on our list with over 20,000 students as of the writing of this article. It's also one of the most affordable colleges in the nation that offers trade or vocational courses, certificates, diplomas, or degrees online. According to the Education Department's scorecard on college costs Columbus State costs an average of $5,384 per year for in-state students after aid is applied. Coupling the range of resources that come with a school the size of Columbus State with affordable trade education makes Columbus State a great choice for many, many students.

While Columbus State primarily focuses on more traditional arts, sciences, and applied degrees, a range of trade and vocation-centered academic programs are offered online. These online trade and vocation-centered programs include:


A certificate in 3D visualization for architecture
A certificate in entrepreneurship
A certificate in real estate management
A bookkeeping certificate
An office specialist certificate
A computer literacy certificate
Certificates in common software suites
A certificate in sustainable construction
A medical coding certificate
A geographic information systems certificate
A casino management certificate
And a supply chain management certificate
Besides these certificate programs, the school offers over a dozen fully online degrees, as well as in-person night and weekend courses for those who live in the region of Columbus, Ohio.
Average Cost After Aid:
$5,384

San Juan College comes in as the 10th most affordable college in the United States to offer online trade and vocational degree and certificate programs. WIth an average cost of $5,450 a year for in-state students after aid, San Juan can lead to a in-demand and lucrative trade career for a much lower cost than average when looking at all institution types. Additionally, San Juan College is the first college in this year's ranking to be designated a Native American Non-Tribal Institution, meaning part of the college's mission is to serve this underrepresented demographic in higher education. 

So what are some of the trade and vocational options available at San Juan College online?

An associate of applied science degree in occupational safety
An associate of applied science in health information technology
An associate of applied science in physical therapy assistant studies
An associate of applied science in veterinary technology
A certificate in medical coding and billing
A certificate in surgical first assistant studies
With unique vocational offerings available entirely online, San Juan College can be a great way to jump directly into the work force in two years or less from wherever you live.
Highest Paying Trade School Jobs and Vocational School Careers – Conclusion
Trade schools offer vocational education and professional development. With the development of online schools, the benefits for students has become tremendous. Distance learning with a vocational school can provide valuable career training for a wide range of high paying trade jobs. We hope this ranking of vocational and trade schools helps you with your school search.
You may also want to check out our career profiles, which may also help in your school search for career training programs.
Trade School FAQs
What kind of trade schools are there?
Trade schools may offer job training programs such as construction management or equipment operator, HVAC technician, plumbing, electrician, CNC machining, carpentry, mechanic, truck driving and legal assistant.
How much does trade school cost?
The cost of trade school can vary greatly depending on the skilled trade you are learning and the school. However, trade school tuition is generally less expensive than college and vocational school programs are completed in a fraction of the time of obtaining a bachelors degree.
What is the difference between a trade school and a college?
A trade school program focuses on learning the skills required for a specific type of job, while a traditional college education is more broad.
Didn't See What You Were Looking For?
Check out the following: