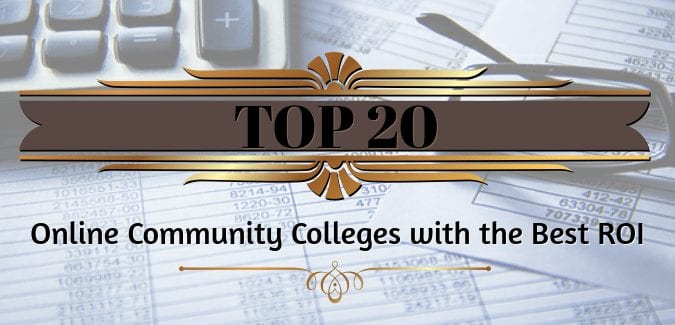 Top 20 Online Community Colleges with the Best ROI
It's always important to get the most for your money, and college should certainly be no exception. Nobody wants to sacrifice quality in order to save money, particularly when it comes to higher education. These public, 2-year community colleges offering online courses are recognized as having the best ROI. Their students pay less for their education and make more money after graduation or certification. When you are investing in yourself, shouldn't you get the best return on that investment?
Methodology and Notes
We starting by creating a ranking of community colleges listed by best ROI within the first five years with data from CollegeMeasures, a database which compiles information about 2 and 4 year online colleges. Among the highest ROI colleges listed, it was researched as to which offered online courses and programs. Colleges listed which had expanded into 4 year colleges were eliminated. Data from the National Center for Education Statistics was utilized to determine this as well as to provide average annual tuition from the 2015 to 2016 college year. Costs can vary year to year as well as with the number of classes. The best ROI measure is based on data from all students attending the college, online and in-person. All community colleges ranked are 2-year Public colleges with distance education offerings through at least one branch of the same college.
Some courses or programs may require visits to the school for exams or proctored testing at an approved facility. Be certain to read online course information completely and always ask questions if you are unclear.
You may also find the ranking of the top 100 best online colleges to be a helpful resource.
Top 20 Online Community Colleges with the Best ROI
20. Rowan College at Burlington County
Burlington County College was founded in 1966 and later became known as Rowan College at Burlington County. The college now boasts two campuses, one in Pemberton and another in Mount Laurel, New Jersey. RCBC also has two centers in Mount Holly and Willingboro in order to serve students. While their main job is to educate students, Rowan College tries to create courses that make students think critically and be capable of examining the world around them and be able to navigate it successfully, no matter which educational path they have chosen.
In addition to transfer programs, Rowan College at Burlington County has four degrees programs which are Associate of Arts, Fine Arts, Associate of Science, and the Associate of Applied Science. For students who are more work focused, the community college does offer several certificate programs. The distance education program at RCBC offers more than 100 courses for students to take advantage of as well as degree and certificate programs. Students who wish to participate in distance education are urged to be self motivated, organized, independent, and able to learn from written directions.
ROI: 14.8%
Annual in-state tuition: $4,065 in-district
Annual in-state tuition: $4,545 out-of-district
Annual out-of-state tuition: $6,495
Where you can find Rowan College:
19. Germanna Community College
Germanna Community College was established in 1970 and currently has six locations to serve students. The college serves the counties of Madison, Orange, Culpeper, Caroline, King George, Stafford, and Spotsylvania as well as the city of Fredericksburg. The college strives to stay current on technologies and advances taking place both in the educational field as well as careers. Whether students are looking for education to join the workforce or continue on to a 4-year college, their experience at GCC will prepare them for what comes next.
Germanna Community College offers a number of transfer programs, degrees, and certificates. GCC also offers dual enrollment, joint-enrollment, and scholars programs which allow high school level students to get a head start on their college educations. Students who wish to participate in an online program must have a GPA of 2.0 or higher unless it is a new student.
ROI: 15.1%
Annual in-state tuition: $4,560
Annual out-of-state tuition: $12,398
Where you can find Germanna Community College:
18. Trinity Valley Community College
Trinity Valley Community College is based in Athens, Texas and was founded in 1946 under the name Henderson County Junior College. TVCC has expanded over the years and now has three other campuses in Kaufman, Palestine, and Terrell. Across the four campuses their dedication to lifelong-learning is evident as they excel in education and student services.
Trinity Valley Community College offers a variety of both degree and certificate programs to its students. Online courses are available to residents of Texas only. Students who are interested in distance education programs are welcome to contact TVCC for more information.
ROI: 16.4%
Annual in-state tuition: $2,340 in-district
Annual in-state tuition: $4,110 out-of-district
Annual out-of-state tuition: $4,680
Where you can find Trinity Valley Community College:
17. Hillsborough Community College
Founded in 1968, Hillsborough Community College was one of the last community colleges established in Florida. HCC now has five primary campuses; SouthShore, Plant City, Dale Mabry, Brandon, and Ybor which serve the Tampa Bay and surrounding areas. There are also three satellite locations including MacDill AFB. Hillsborough Community College strives to never stop improving and evolving when it comes to both their facilities or courses. As technology and workforces change, HCC intends to be state-of-the-art when it comes to their college and what their students experience.
When it comes to academics, there is plenty to choose from at Hillsborough Community College. They offer transfer programs, Associate in Science degrees, and multiple certificate programs. The distance education program at HCC also has a wide variety for students to select from. HCC uses Canvas for delivery of their online courses. Students who are interested in taking courses online are urged to sign up early due to a large demand, and please note that some courses may not be available each semester.
ROI: 16.5%
Annual in-state tuition: $2,506
Annual out-of-state tuition: $9,111
Where you can find Hillsborough Community College:
16. Tallahassee Community College
Tallahassee, Florida became home to Tallahassee Community College in 1966 and has since strived for excellence in education and student services. Now celebrating their 50th Anniversary, TCC not only has its main campus, but it has expanded to include Capitol Center, Wakulla Center, Ghazvini Center for Healthcare Education, Florida Public Safety Institute, and Quincy House. Thousands of students choose TCC to suit their higher education needs, whether it be for certification, associate's degree, or a transfer program. Whichever they choose, students are well prepared for what comes next when they leave.
Tallahassee Community College combines low tuition with a high student success rate, making it an excellent choice for students committed to their future and education. TCC boasts over 600 courses for students delivered in a variety of ways, from traditional face-to-face, hybrid, online, and Friday-only. It can be overwhelming for some students to decide which of the more than 80 programs is right for them, so it's terrific to know that TCC offers help in the form of its Career Center.
TCC Online delivers high quality courses designed to prepare students for the work industry. With a flexible orientation and over 500 online courses offered each year by Tallahassee Community College, the dedication to excellence and accessibility is obvious. There are also three degrees which can be earned entirely online through TCC. For students who may be concerned about getting the help they might need while taking an online course, TCC now has a Virtual Learning Commons which offers online students an equal version of the school's Learning Commons. There is an additional $10 charge per credit hour for online courses. Additional fees for assessment and proctored testing may be required.
ROI: 16.8%
Annual in-state tuition: $2,026
Annual out-of-state tuition: $8,062
Where you can find Tallahassee Community College:
15. Mohave Community College
In October of 1970 Mohave Community College was established. While originally created as a county college, by 1974 the college had expanded and became part of the Arizona's state educational system. Today, MCC has campuses in North Mohave, Kingman, Bullhead City, and Lake Havasu City. The school strives for excellence in its educational efforts in order to promote growth for both students and the college itself.
With more than 13,000 students served each year, the academic offerings at Mohave Community College are vast. They offer academic transfer, career and technical education, as well as non-credit courses to improve skills. Their distance education program offers a variety of AA & AAS degree programs as well as certificate programs which include popular disciplines like Business and Liberal Arts & Sciences.
ROI: 18.5%
Annual in-state tuition: $2,112
Annual out-of-state tuition: $6,972
Where you can find Mohave Community College:
14. Moberly Area Community College
Moberly Area Community College was founded in 1927 as part of the public education system of Missouri and was originally known as Moberly Junior College until 1990. Since their start MACC has always strived to stay up to date with innovations in education as well as staying current with changes in the careers for which they prepare their students. Not only does the school offer academic and career/technical programs and college transfer, but they also have continuing education courses, developmental education, and other services that transform students into capable and contributing members of the workforce. MACC also offers open enrollment paired with six locations, making their services convenient and accessible.
The distance education program at Moberly Area Community College uses Canvas to deliver their online courses. The courses are interactive and students are expected to participate not only by watching videos or listening to lectures, but also posting in threaded forums, submitting assignments, and reading. While the courses are flexible to an extent, weekly participation is expected from students as well as meeting instructor specified deadlines for the course. There are a variety of courses offered in 20 disciplines as well as a program for Associate of Arts – Transfer Degree.
ROI: 18.9%
Annual in-state tuition: $3,060 in-district
Annual in-state tuition: $4,590 out-of-district
Annual out-of-state tuition: $6,120
Where you can find Moberly Area Community College:
13. Weatherford College
In 1869, Weatherford College became a part of the town history in Weatherford, Texas.Throughout the years it has grown and changed and has serviced tens of thousands of students. Officially the college serves Parker, Pinto, Hood, Jack, Wise, and Palo counties and has three other education centers located in Mineral Wells, Granbury, and Wise County. Whether it is state-of-the-art technical training or working toward a degree, WC strives for excellence in education.
Students who plan to take online courses at Weatherford College need to be prepared to put forth just as much effort into their studies as students who take courses in the physical classrooms. WC uses the Virtual College of Texas which allows the college to purchase of online courses from other community colleges in Texas so that students can have placement in courses that they need or desire. Enrollment and transcripts will be from Weatherford College, but the online course instruction will be from a different community college in Texas.
ROI: 20.8%
Annual in-state tuition: $2,400 in-district
Annual in-state tuition: $3,720 out-of-district
Annual out-of-state tuition: $5,280
Where you can find Weatherford College:
12. Pratt Community College
Pratt, Kansas is home to Pratt Community College, which serves more than 3,000 students each year. PCC has a strong commitment to its students as well as to higher education and has been recognized by the Aspen Institute for the school years of 2013, 2015, and 2017 as being in the top 150 community colleges. Pratt CC is also number 13 out of 100 on the best community college list provided by SmartAsset.com, a financial technology company which offers unbiased help making large financial decisions based on data. Students who graduated from PCC with an associate's degree between 2008 and 2013 have been found to be making higher annual wages than their peers with associate's and bachelor's from other Kansas institutions according to recent data from the Kansas Board of Regents.
There are more than 52 academic and technical degrees offered by Pratt Community College including disciplines such as agriculture, nursing, business and accounting, information network technology, performing arts and more. Distance learning at PCC can be done two ways, either by taking courses offered directly through the college, or can apply and enroll in eduKan consortium. Combined there are nearly 200 courses available for online education. Pratt has also just launched Career Coach, an online service for students seeking local jobs. The Career Coach also has a built in resume building feature to offer students help creating a resume that highlights their strengths and skills.
ROI: 22.8%
Annual in-state tuition: $3,169 in-district
Annual in-state tuition: $3,269 out-of-district
Annual out-of-state tuition: $3,624
Where you can find Pratt Community College:
11. Whatcom Community College
In 1967, Whatcom Community College was founded in Bellingham, Washington. It's 72 acre campus serves more than 11,000 students annually offering a variety of different courses, from basic education, continuing education, to professional-technical training and transfer degrees. Whatcom's goal isn't just to educate students and prepare them for the workforce, but also contribute to, strengthen, and grow with the community. WCC has been recognized by the Aspen Institute as the ninth in the state and is considered one of the top leading community college in the nation.
There are professional-technical degrees and certificates offered in 15 disciplines at Whatcom Community Colllege. They also offer students a choice of five transfer degree programs, and a non-transfer Associate in Liberal Studies. Bachelor of Applied Science (BAS) – IT Networking is a four year degree that is also offered through WCC. There are more than 60 courses in a variety of subjects offered online through their eLearning program.
ROI: 23.2%
Annual in-state tuition: $4,311
Annual out-of-state tuition: $9,727
Where you can find Whatcom Community College:
10. Wenatchee Valley College
When it was founded in 1939, Wenatchee Valley College served as a private school for its first two years before becoming part of Washington state's public education system. The Wells House, once a part of the college and even served as a dormitory, is a historical mansion and resides on the college property and is currently owned by the Wells House Committee. Today it serves students of North Central Washington, an area of more than 10,000 square miles, from two campuses, one in Wenatchee and the other is in Omak.
The distance education program of Wenatchee Valley College currently offers 44 different courses in a number of disciplines to suit the needs of its students. Online course credits are no different than face-to-face course credits, so that either way a class is successfully completed, the credit hours will count toward a degree or transfer.
ROI: 24.8%
Annual in-state tuition: $3,800
Annual out-of-state tuition: $4,234
Where you can find Wenatchee Valley College:
Wells House Photo Source

9. Quincy College
Quincy College was founded in 1958 and currently has two campuses. The original campus is in Quincy, Massachusetts, and the other is in the town of Plymouth, founded in 1991. Since its founding, QC has been dedicated to academic achievement and lifelong learning. It offers 34 associate degree programs in a variety of disciplines. It also offers students 22 certificate programs. While Quincy College does have a large number of students from the surrounding community and Boston area, it is not uncommon to find students from all over the world. Quincy does not only want to teach its students, but it also strives to inspire them.
Quincy's distance education program begins with a questionnaire to find out if the student is ready and prepared for online education. The online courses are expected to be taken as seriously as on-campus courses and come complete with meeting times, and specific course deadlines which are to be followed. There are currently 25 classes offered fully online through Quincy College.
ROI: 26.4%
Annual in-state tuition: $5,524
Annual out-of-state tuition: n/a
Where you can find Quincy College:
8. Rend Lake College
Rend Lake College in Ina, Illinois was founded in 1955 as Mt. Vernon Community College, but changed to its current name officially in December of 1966. It will soon be celebrating 50 years of education and preparing students for the workforce. The school has been a large part of the community and has continued to innovate and grow over the years while keeping tuition affordable. RLC tries to make each student experience a personal experience that makes a difference.
The online courses at Rend Lake College utilize blackboard as their method of delivery. There is currently an Associate of Science Degree in Business Option listed as available online, however for a full list of online opportunities, please contact RLC. There are several online support articles available for students enrolled in distance education courses.
ROI: 33.4%
Annual in-state tuition: $3,000 in-district
Annual in-state tuition: $4,605 out-of-district
Annual out-of-state tuition: $4,650
Where you can find Rend Lake College:
7. Southeast Tech
Southeast Tech in Sioux Falls, South Dakota has its focus set upon the students and how to best serve and prepare them for what comes next. The quality and practicality of the education at Southeast certainly helps when it comes to a return on investment. Preparing students adequately for the workforce is something that will make future employment opportunities turn into jobs.
The distance education at Southeast Tech offers 14 different degree programs for students who are unable to attend traditional classes. They include popular choices such as accounting, business administration, marketing, and computer programming. The courses are interactive and designed to keep students motivated. Southeast Tech also provides a checklist for students to see if online college is right for them before they sign up.
ROI: 36.4%
Annual in-state tuition: $5,280
Annual out-of-state tuition: n/a
Where you can find Southeast Tech:
6. Central Texas College
Located in Killeen, Texas, Central Texas College started out in 1965 and has since grown to several locations in Texas and around the world. It's their goal to provide affordable education to those who seek to better themselves, their jobs, and their community. Central Texas College also has many resources available for those in the military and their spouses.
Distance education at Central Texas College uses blackboard and there are a large number of courses to choose from. Currently, they offer 36 certificate programs online and there are 30 programs for Central Texas College online degrees. There are of course typical courses, like English, but they also offer courses in popular disciplines such as business, communications, and nursing.
ROI: 39.9%
Annual in-state tuition: $2,280 in-district
Annual in-state tuition: $2,940 out-of-district
Annual out-of-state tuition: $6,420
Where you can find Central Texas College:
5. Moorpark College
Moorpark College first opened its doors to students in 1967. It's in the Ventura County Community College District, and is joined by Oxnard College and Ventura College. The Moorpark campus has grown to 150 acres and is considered one of the most beautiful community colleges in California. MC strives to provide affordable education for those who have made college one of their life goals.
The campus offers 1,500 different classes each semester in 70 different disciplines, providing something for everyone. Moorpark's distance education program is accessed through MyVCCCD and offers a number of different courses for online learning. With a philosophy of "students first", Moorpark College combines excellent student services with high quality education, creating graduates who are well prepared for work as well as life outside of college.
ROI: 41.3%
Annual in-state tuition: $1,388
Annual out-of-state tuition: $7,050
Where you can find Moorpark College:
4. North Central Missouri College
North Central Missouri College has been a part of the community in Trenton, Missouri since 1925. It has always strived for excellence in higher education, implementing technological advances as well as practical learning. The faculty and staff of NCMC work hard to keep students engaged in their courses to stay on target with their goals. The main campus is in Trenton, but there is also a Barton Farm Campus. Classes are also offered in Maryville, Chillicothe, Bethany, and of course, online. NCMC is always striving to keep up with technology not only in education, but also in the workforce, in order to keep their programs on the cutting edge.
There are many different distance learning programs offered by North Central Missouri College. They offer a program in accounting, Associate in Arts, business & technology with emphasis in either management or technology programs. They also offer online programs in criminal justice, early childhood development, and nursing. There is a certificate in business management program as well. Students use the blackboard system to engage in distance learning at NCMC.
ROI: 45.1%
Annual in-state tuition: $3,180 in-district
Annual in-state tuition: $4,170 out-of-district
Annual out-of-state tuition: $5,340
Where you can find North Central Missouri College:
3. Cochise College
Cochise College was one of Arizona's first community colleges when it opened in 1964. Today it is going strong with campuses in Douglas and Sierra Vista, and centers in Benson and Wilcox. There is also a new Downtown Center to be opening soon in Sierra Vista which will become home to their Virtual Campus, as well as nursing and health sciences, culinary arts and electronics training programs to name a few. It's clear that Cochise College's commitment to students, learning, and community is responsible for its success and growth.
Cochise College's Virtual Campus, which began in 1998, aims to build personal relationships between students and faculty which can often be missing in the online format. CC is always striving for student success and has a reputation for excellence when it comes to customer service. Since the college is located nearby Fort Huachuca, it has had the pleasure of helping soldiers who take courses from duty stations worldwide to progress or reach their educational goals. There are a number of online degree programs available and more than 200 online courses for students to choose from.
Photo is courtesy Cochise College (via Facebook).
ROI: 63.5%
Annual in-state tuition: $1,848
Annual out-of-state tuition: $6,000
Where you can find Cochise College:
2. Coastline Community College
Founded in 1976, Coastline Community College currently has campuses in Newport Beach, Garden Grove, and Westminster, California. One of the large appeals of CCC is that it offers the same high quality education that larger colleges or universities may have, but has a small college feel. The price is also one that makes college so much more affordable for many students. The college goals are to be able to provide accessible, quality education for students while being innovative and growing with the available technology.
Coastline is home to an impressive Military Distance Education Program that serves active military, spouses, and veterans. There are more than 15,000 enrollments in the military program, made possible in part by the extreme versatility since the courses can be accessed online, on mobile devices, and onboard ships as well as the high quality of the education. CCC has 18 Military Site Advisors on or near military installations around the country and is proud to serve students at more than 52 installations.
Distance Learning at Coastline has many different options. There are a vast array of courses offered, including college credit-bearing degrees, certificates, and workforce training. CCC offers programs for a variety of AA majors, such as Art, Health and Fitness, Business Administration, and Psychology to name a handful. There are also several AA programs with emphasis in Communications, American Studies, and others. It is no surprise that with so much to offer students, that Coastline has an international reputation for being one of the most innovative institutions.
ROI: 74.8%
Annual in-state tuition: $1,136
Annual out-of-state tuition: $5,576
Where you can find Coastline Community College:
1. Northern Oklahoma College
Northern Oklahoma College, located in Tonkawa, has been educating students since it was founded in the spring of 1901. It is the oldest community college in Oklahoma and has since grown to have two other campuses in Enid and Stillwater. Since its start as a leader in community college level education, NOC states in their vision that they want to continue being a leader in academic quality and it seems they have the results to prove they are on task with achieving this. NOC's slogan is "Life Changing" and for the graduates who have found gainful employment, no doubt this high ROI college certainly is life changing.
Those hard at work in the military and their families are welcome at Northern Oklahoma College. There are a number of links and downloadable documents available on their website as well as information to help understand the G.I.Bill and its benefits. Military personnel based in Oklahoma may also be adjusted to the in-state tuition rate.
The distance education available through NOC utilizes blackboard and offers a wide variety of courses. Students are able to choose from standard subjects, such as history, math, and algebra as well as more specialized courses like childhood education, criminal justice, or accounting.
ROI: 87.8%
Annual in-state tuition: $3,454
Annual out-of-state tuition: $8,614
Where you can find NOC:
Save
Save
Save