Find your degree
Online College Plan is an advertising-supported site. Featured or trusted partner programs and all school search, finder, or match results are for schools that compensate us. This compensation does not influence our school rankings, resource guides, or other editorially-independent information published on this site.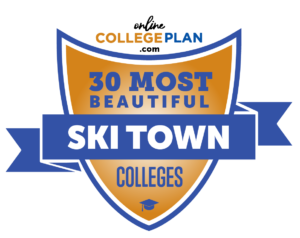 Our nation is covered with beautiful ski town colleges from coast to coast. Here at OnlineCollegePlan, we are dedicated to providing you with accurate lists of the best and most beautiful colleges around. We hope this list of the Most Beautiful Ski Town Colleges will help the student-skier find the best schools with the best price, location, amenities, and of course, beauty.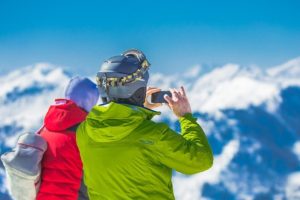 The wonder of winter goes back to childhood. Most of us cherish the memories of the folded piece of kindergarten construction paper cut out of one of nature's most astounding works of art—the snowflake. There is something about that mirror image when the teacher unfolds it, perhaps the perfect symmetry that inspires awe. Or, maybe it's the thought of hot cocoa your grandma makes after sledding for the day. 
It's true that spring flowers can dominate Instagram feeds, and summer can suck up the vacation attention, but winter wonderlands will not be forgotten, for they have a power all their own. The purity and majesty of snow-capped peaks surrounding glistening mountain lakes are breathtaking. A panoramic vision of a mountain valley can be transformed when graced with a delicate blanket of snow. It can also be an occasion of celebration because the ski season can open!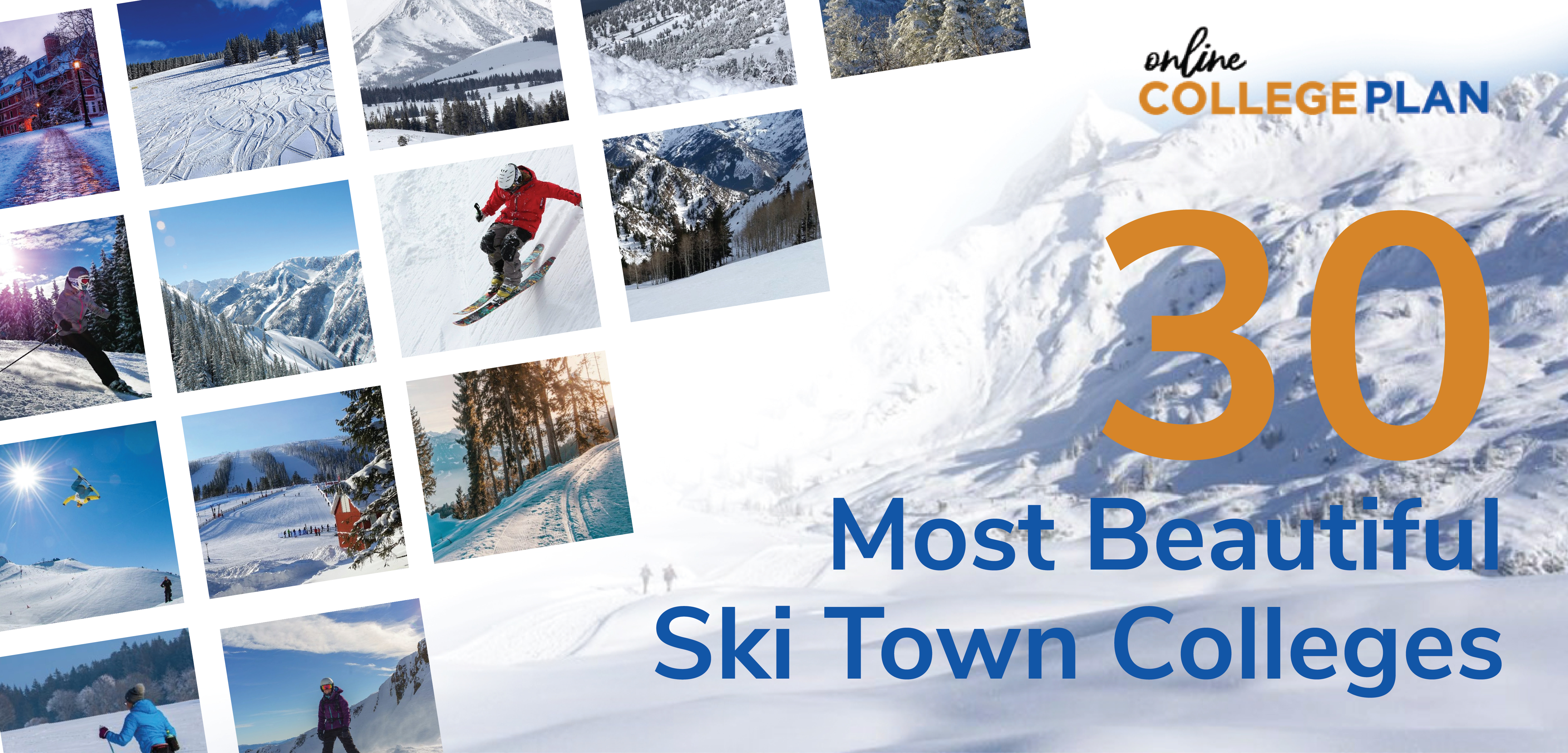 What is a college ski town?
If you're a ski-bum or boarder looking to shred down gnarly runs covering thousands of vertical feet in seconds, this list is for you. We've combed through college towns and universities to find the nearest mountains with the best runs, lodges, amenities, and more. Important data such as the number of lifts, percentage of expert runs, and annual snowfall we dug up and present to you. If you're a winter athlete looking for a school with a nordic or alpine ski team, you'll find ample options here. On the other hand, if you're not a powder-hound, but simply want to recreate with college friends in the winter this list is for you. We've noted the school's student life clubs and activities for winter fun, especially skiing and snowboarding. This includes proximity to ski resorts, discounts available for students, and ski swaps. Since we know college can be a difficult choice, and your search is not simply a one-time winter excursion, we've included relevant information about each university. 
What is your methodology?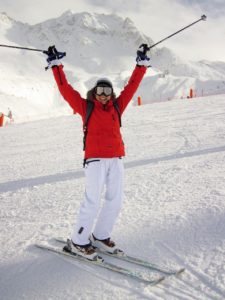 We started by making a list of the top ski resorts and locations in the United States as ranked by outside sources including, skimag.com, snowpak.com, freeskier.com, and snowbrain.com. Next, we looked at colleges and universities within driving distance of these primo locations. Because costs counts, we factored price into the ranking. Annual tuition was listed based on out of state undergraduate costs. Once we had a long list of locations, we gathered statistics on each school, town, and reputation to compile the ranking based on the following percentages:
Distance to top-ranked ski resorts – 30%
Annual snowfall – 20%
Annual tuition – 20%
Surrounding areas ski reputation – 20%
College amenities for the skier – 10%