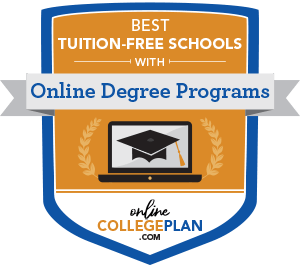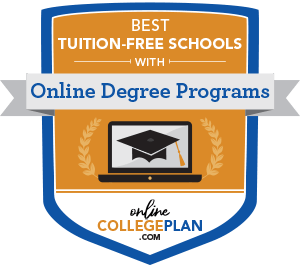 We can help you find a tuition-free online college or university and free online courses!
While researching bachelor programs, online certificate programs, accelerated online masters degree or doctorate programs offered by online schools, most prospective students place importance on the average net price of each college or university degree program. High quality degree programs can be expensive and many students are forced to get student loans to cover costs, but free online courses can help reduce or eliminate student loan debt.
Most people assume tuition-free colleges and free online degree programs don't really exist. Sadly, 68% of college graduates in 2015 completed their education with over $30,000 in student loan debt, and that amount has increased by almost 10% in the past two years. More and more students are starting their lives with the weight of their education bearing down on their shoulders, which shouldn't be the case — especially while there are free options for college education through online programs at accredited online colleges.
The American government has fought back against student loan debt by providing something called a Pell Grant to low-income families, which is a grant that is free and clear of any strings and that will not have to be paid back. However, 88% of students who receive a Pell Grant in 2012 still had loans with a balance of over $30,000.
Tuition-Free Colleges and Free Online Courses Can Help Students Avoid Debt
College tuition is getting more expensive, which puts a lot of stress on prospective students, but these free online colleges and degree programs are eliminating the stress for some students. There are many reputable — and even prestigious — schools that offer a tuition-free college education to students, but the schools we've listed below have free tuition that doesn't require a work program so they are truly free colleges and online degree programs.
Free College Courses Online
Free college courses are growing in popularity and they are a great way to learn about a topic that you are interested in. The thing to note about free online college courses is that there are no options to earn credit for any course you take this way. These are a good option for those of you who want to learn about a particular topic or want to test out a few courses to see if college is right for you.
If you do wish to earn credit for these free online courses, some of the schools and platforms offer you the choice of paying a small fee in order to receive a diploma or certificate of completion.
Columbia University
Columbia uses the popular edX platform, so you can find their online classes at ColumbiaX. The university offers more than 20 standalone courses that you can take for free online. Topics include Corporate Finance, Machine Learning, Marketing, Python, and more. Some of them are self-paced and some are actually instructor-led, so you can get the full college experience. All of these courses can be audited for free or you can choose to pay a small fee to earn a certificate of completion. These classes are available internationally, with the exception of Cuba and Iran due to some sanctions that the United States has in place.
The University of Cambridge
The University of Cambridge offers online courses for free through iTunesU. Apple offers downloadable course materials from a broad selection of universities around the world for free, giving you the chance to learn what you want on your own time. The university boasts that more than 300 audio and video files are now available for free download through the software, which you can access on a Mac or Windows computer as well as on Apple and Android mobile devices. Cambridge's entire catalog of free educational material has been put in this one convenient place so that students like yourself can take advantage of all they have to offer.
Massachusetts Information of Technology
MIT is among the top universities in America and they have something called OpenCourseWare, which is a web-based publication created by the school. There are materials from over 2,000 of their courses accessible entirely online and at no cost to you. MIT wanted to provide this resource to educators in order to help them teach more effectively and to independent learners to enrich their lives. There are scholar courses, audio/video courses, online textbooks, and plenty of supplemental resources curated into this one place coming from some of the top educators in the world. MIT continuously updates the database so that all of those who use it have access to the most relevant and in-depth information. No diploma or certificate is offered for free or otherwise; however, this is an incredible way to educate yourself on things you're curious about. The majority of the material is presented in a self-paced format and also gives you the opportunity to choose what modules to take or skip according to your needs.
edX
edX offers a total of 2,270 courses online in about 30 different subject areas. All of the courses are eligible to be audited for free and they come from schools such as Harvard, the Rochester Institute of Technology, MIT, the University of California, and many other universities around the globe. Over a thousand of them are self-paced but there are plenty of instructor-led options for those of you who would be interested in that instead. You can sort classes by what level they are (introductory, intermediate, or advanced), browse by subject, and choose from 16 different languages.
Some of the courses are credit-eligible. Prices for credit-eligible courses range from $49 to $600, with the majority of them coming in at the minimum price. edX also features MicroMasters, Professional Certificate, and XSeries programs. These will all cost you money; however, every for-credit program offered through edX has a lower cost-per-course than traditional education.
Financial Aid & Scholarships
Obtaining financial aid or a scholarship is a huge part of cutting costs in pursuit of your education. There are a ton of minority scholarships, scholarships for women, and general scholarship programs offered from thousands of schools and organizations. We have a great list of resources on this topic, which can be found below.
While financial aid, scholarships, and even grants are a great money-saving tool when it comes to furthering your education, we want to assure you that free college is possible. There are tuition-free universities and even opportunities at other schools to earn a free online degree.
Additional resources you may be interested in include our ranking of the top 100 best online colleges in America and our investigation into free laptops for college students. For those of you who are older and considering diving back into your education, we have explored free online college courses for senior citizens.
Tuition-Free Online Colleges and Free Online Degree Programs Methodology
The primary criteria that qualified schools to appear in this article are that they offer truly free tuition and online degree programs. However, we took care to ensure that each institution holds proper accreditation as well.
The schools in this list are not traditionally ranked. This is due to two factors; firstly, a handful of the schools do not currently provide the necessary data and secondly, because we wanted to present all of your options to you, we didn't want to exclude any institution.
Instead, we've included information about what degrees are available at each school as well as the requirements you'll need to meet in order to qualify for free tuition.
Tuition-Free Online Colleges and Free Online Degree Programs
Brown University
Brown University is a private Ivy League Research University located in Providence, Rhode Island. It is often considered one of the most liberal of the Ivy League schools; this is largely part of the fact that undergraduate students at the school have the opportunity to create their own course of study as opposed to selecting a predetermined major. Brown is recognized in many areas, including its research, outreach, and cultural events.
Brown University currently offers online masters programs, undergraduate courses, and pre-college courses that help to prepare aspiring students of the university. Programs include an MBA, a Master in Cybersecurity, a Master of Healthcare Leadership, and a Master in Science and Technology Leadership. Online classes for undergraduate students and incoming students take place throughout the academic year as well as during special summer and winter sessions. Throughout the year, online classes are the traditional length of 15 weeks. Summer session courses are seven weeks and winter session courses are only four weeks.
Brown University offers free tuition through its commitment to meet 100% of the demonstrated financial need of all students. Beginning in 2018, the university has replaced all its financial aid with free scholarships that do not have to be repaid. Going back even farther, though, the university has been offering free tuition for a decade. If a family has total earnings of less than $60,000 per year, the university does not require any financial contribution from the student, meaning the tuition is free. Additionally, if a family makes over that limit but does not exceed $100,000 each year, the university offers generous grants to help cover the cost of attendance.
School's Website: https://www.brown.edu/
Columbia University
Columbia University is a private Ivy League Research University, which is officially known as Columbia University in the City of New York. It is one of the most exclusive and prestigious universities in the country, and in the Ivy League, with a very rich history. It was the first school in America to grant a Doctor of Medicine degree; was the birthplace of inventions such as the laser and the FM radio; and is also where the first uranium atom was split on North American territory.
Online degree programs at Columbia University are currently available through just one of its schools, the School of Engineering & Applied Science. Classes in the programs are taught by the same expert faculty that conducts the courses on campus, so students can get the full Ivy League experience from the comfort of their own homes. The university boasts a range of masters programs, certificate programs, and non-degree learning opportunities in the following fields: Operations Research, Methods in Finance, Industrial & Systems Engineering, Biomedical Engineering, Chemical Engineering, Applied Mathematics, Applied Physics, Computer Science, Electrical Engineering, Mechanical and Civil Engineering, Construction Engineering & Management Systems, and Materials Science. All of the programs are provided on a part-time basis and will require no on-campus meetings.
Columbia University has no upper limit for financial aid eligibility for any of its students and the financial aid packages present students with grants as opposed to loans, so they will not have to be paid back at any point. In addition to that, Columbia will not charge students any tuition or fees if their family has a calculated annual income under $60,000. Families bringing in under $100,000 see significant reductions in their tuition and fees as well.
School's Website: https://www.columbia.edu/
Cornell University
Cornell University is a private Ivy League, sea-grant, space-grant, and private land-grant doctoral research university. It is the only private land-grant university in the state of New York, one of only three in the country. The school has consistently been a non-sectarian and co-educational institute since it was established, never discriminating on the basis of race or religion. This is incredibly unique for its time, as was the original mission of the school to provide all students with an education in any field.
Cornell University offers two fully-online degree programs at present. These are a Master of Engineering in Systems Engineering and a Master of Human Resource Management. The Master of Engineering is offered year-round in a self-paced format and the Master of Human Resource Management is an executive program that is only available over the summer. Both programs can be completed in a relatively short timeframe and are designed to meet the needs of a working adult. There are more than 70 certificate programs you can complete online at Cornell, spanning 16 different fields. In addition to this, the university also operates eCornell, their online counterpart that provides students with various certificates and professional development courses entirely online but not directly through the university.
Cornell is another institution among the Ivy League schools that is a tuition-free university for many of its students. If a family brings in under the amount of $60,000 per year, they can expect to pay absolutely nothing for their child's higher education. The university is also unique in that there is no standard income bracket for grant-aid recipients. Instead, eligibility is considered on a case-by-case basis by looking at factors such as family size, assets held, the number of children the family has in college, and so on. If students don't meet the requirement for free tuition, generous grant aid from Cornell could take their estimated contribution pretty close to zero.
Schools' Website: https://www.cornell.edu/
Duke University

School Profile
Duke University is a private research university that is based in Durham North Carolina. Though Duke now has a campus including 254 buildings spanning 8,691 acres, it began in one building in the year 1838, a private subscription school called Brown's Schoolhouse. It has also grown to serve more than 16,000 students from every corner of the world. The university has ranked among the top 10 in America in publications such as Forbes and U.S. News & World Report.
Duke is one of the more extensive online universities in this article, offering a pretty substantial variety of degrees. These include a Master of Science in Nursing; a Doctor of Nursing Practice; a Master of Engineering Management; a Master of Environmental Management; a Master of Business Administration; a Master of Quantitative Management in Health Analytics; a Master of Arts in Christian Practice; a Doctor of Ministry and; more than ten professional certificate programs. Some of the programs feature on-campus residencies but they are all distance-based, with many of them available entirely online. Distance learning programs at Duke are flexible but still held to the same top-ranked standards as all of the university's programs of study.
Duke is committed to educating all students, and they accept students based on a "need-blind" policy, allowing students in based on merit alone, regardless of their ability to afford the tuition. As part of this, Duke has promised to meet 100% of the demonstrated need for their students. To receive a full-tuition scholarship, the student's family must make less than $60,000 annually. However, there are additional aid programs to help students bridge the gap even if they're ineligible for the free online school full-tuition coverage.
School's Website: https://www.duke.edu/
Harvard University
Harvard University is arguably the most prestigious university in the world. It is a private Ivy League research university in Cambridge, Massachusetts, and was originally established in 1636. Harvard University was the first institution of higher education in the country, and has many impressive accolades because of its rich and extensive history. It is home to the largest university library system in the United States, the largest university endowment, and has educated eight former U.S. Presidents, more than 60 living billionaires, and hundreds of varying types of scholars.
Harvard is far from an online university and it is highly residential. Which is why you may find it surprising that you can earn your degree through this esteemed institution online. At the undergraduate level, the only choice the university currently gives you is a Bachelor of Liberal Arts degree. Only four courses must be taken on campus and the school has three-week and weekend intensive options to help make that easier. There are more than 20 masters degrees online that you can earn this way and just under 40 professional certificates. This blended format helps you to earn the degree you want from this top university with the flexibility you need while providing you with some awesome traditional instruction along the way.
Harvard offers hundreds of free online school courses for- and non-credit for all of their students. To be eligible for the free tuition at Harvard University, a student's family has to have an annual income of less than $65,000. Additionally, students whose families earn between $65,000 and $150,000 will pay between 0% and 10% of their full tuition costs.
School's Website: https://www.harvard.edu/
School Profile
University of North Carolina at Chapel Hill
UNC Chapel Hill is one of the few tuition free online universities that is not part of the Ivy League; however, it is one of the original Public Ivies declared by Richard Moll in 1985. It is a public research university located in Chapel Hill, North Carolina. It was chartered in 1789 and began enrolling students a while later in 1795; it is one of three institutions in the nation that can claim the title of being the oldest.
The UNC Core curriculum is available online and there is a wide range of courses provided at a distance for undergraduate students. Full programs are not offered at the bachelors level. Degrees you can earn online at UNC include a Master of Business Administration, Master of Accounting, Master of Public Administration, Master of Arts in Technology and Communication, Master's in Health Administration in Public Health Policy and Management, Master's in Public Health in Public Health Leadership, Master's in Public Health in Public Health Policy and Management, Master of Clinical Laboratory Science, and Master's in Radiologic Science. You can also earn a Doctor of Public Health in Health Leadership, a Doctor of Physical Therapy, and eight different certificates. The majority of classes and programs are entirely online and asynchronous and any face-to-face requirements are designed to be convenient.
The university has a free tuition program called the Carolina Covenant. Students from any state are considered but there are potentially some on-campus requirements depending on the courses you select. The Carolina Covenant guarantees students the opportunity for undergraduate-level students to graduate debt-free as long as they meet the following requirements: Parents income must be no more than 200% of the federal poverty guidelines, students must meet citizenship and federal aid eligibility requirements, and students must be enrolled full-time. This free tuition program is specifically for low-income families.
School's Websitehttps://unc.edu/
School Profile
Texas A&M University
Texas A&M University is a public, coeducational land-grant, sea-grant, and space-grant research university based in College Station, Texas. It is the only university in Texas to have all three (land, sea, and space) designations, reflecting a range of research projects funded by NASA, the National Institutes of Health, the Office of Naval Research, and the National Science Foundation. The university is the largest by enrollment in the state of Texas with a student body of over 60,000.
Texas A&M offers 1 undergraduate and 47 graduate degrees and 24 certificates in total. The undergraduate program is a Bachelor of Science in Nursing. Graduate degrees are offered through all ten of the schools that comprise the university. You can earn your masters degree in fields like Forensic Nursing, Public Service Administration, Analytics, and so much more including ten different areas in education, nine areas in engineering, and even law. Certificates are available in in-demand areas like Homeland Security, Nonprofit Management, Hospitality Management, and STEM Education. Online students at TAMU have full access to their course materials any time as well as the same student services and resources as traditional students.
Only about 1/5th of all students live on campus at the University, the rest live elsewhere in the area, are distance-learners, or are in the military. To be eligible for the free tuition program at the University–which covers everything except for fees– students' families must have an income of less than $60,000 annually. Students that are covered by this program typically receive additional scholarships and grants to bridge that gap and cover the entirety of their higher education costs.
School's Website: https://www.tamu.edu/
University of the People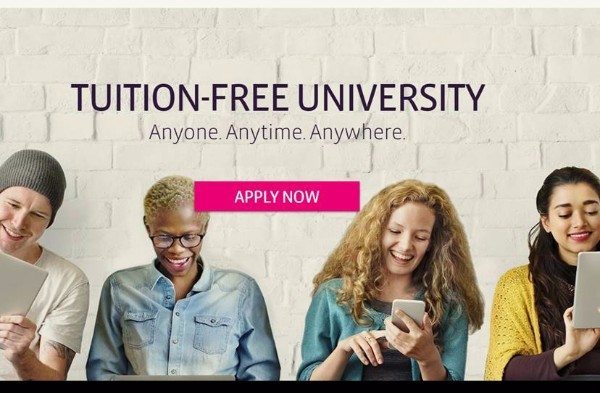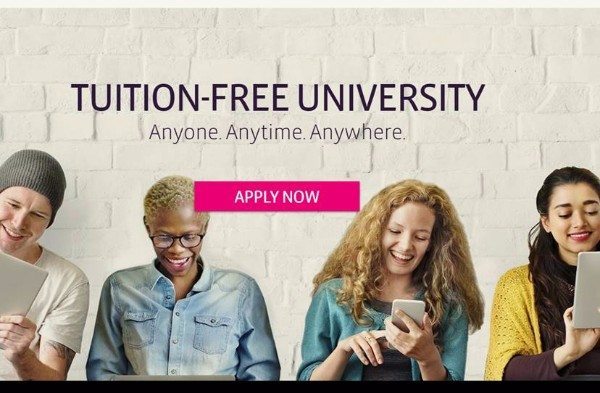 The University of the People is an exclusively online university headquartered in Pasadena, California. It is the only non-profit, tuition-free online accredited American university. Since it was founded in 2009, the free online school has enrolled more than 9,000 students from more than 194 countries across the globe.
The president and founder of University of the People, Shai Reshef, is an educational entrepreneur who established the university with the vision "to open the gates to higher education and to give an opportunity to all qualified students who don't have it, regardless of financial, geographical, political, cultural or personal constraints."
University of the People has been widely successful, garnering partnerships with NYU, Yale, UC Berkeley, Hewlett-Packard, Microsoft, and more. The university is approved by the California Bureau of Private Postsecondary Education and is fully accredited by the United States Department of Education, the Council for Higher Education Accreditation, and the Distance Education Accrediting Commission.
University of the People offers undergraduate degrees in business administration, computer science, and health science, as well as one graduate degree program which confers students with a Master of Business Administration upon completion.
The tuition is entirely free for all students that meet only three requirements, which are: a high school diploma or equivalent, proficiency in the English language, and 18 years of age or older. There is a registration fee of $60 per student, as well as a $100 fee for each end-of-course exam a student is required to take in the undergraduate programs, and a $200 fee for each exam in the MBA program. The total cost of an Associate's degree is $2000 (20 exams), a Bachelor's degree $4000 (40 exams), and for the MBA the total cost is $2460 (12 exams). There are also scholarships and grants available for eligible students who cannot afford the nominal processing fees of the university.
School's Website: https://www.uopeople.edu/
Vanderbilt University
Vanderbilt University is a private research university in Nashville Tennessee. It is most widely recognized for its research, continually coming in among the top 20 universities in the nation. It has the largest academic facility dedicated to studying the effect of radiation. Vanderbilt also has more unique research initiatives; their chemical biology department is on track to breeding a blue rose, they have extensive research departments on coffee, and the card game of Bridge. Interestingly, the modern form of the game was developed by Harold Stirling Vanderbilt, great-grandson to Cornelius Vanderbilt.
The university is home to the Peabody College of Education and Human Development, which is where its distance education options are housed. The two degrees you can earn 100% online at Vanderbilt are a Doctor of Education in Leadership and Learning in Organizations and a Master of Education in Human Development Counseling. Classes feature interactive coursework that is accessible 24/7 where you can read case studies and view recorded lectures. Students will also take place in weekly discussions, collaborative projects, and have opportunities for on-campus immersions, internships, and more. Studying online at Vanderbilt will give you a world-class education and foster strong peer relationships without interrupting your lifestyle and responsibilities.
Vanderbilt University also has a partnership with Coursera and Class Central, which allows students to take free MOOCs and take individual courses online. Certificates of completion are available for a small fee. Committed to providing all students with a high quality and rigorous education regardless of their financial status, Vanderbilt University does meet 100% of the demonstrated financial needs of their students. To qualify for entirely free tuition, the family of the student must have an annual income of less than $60,000.
School's Website: https://www.vanderbilt.edu/
Yale University
Yale University is a private Ivy League research university that was founded in 1701, making it the third oldest institution of its kind and also one of the nine Colonial Colleges. It is located in New Haven, Connecticut. Yale University is the alma mater of 5 former U.S. Presidents, and 19 Supreme Court Justices. More interesting trivia about Yale is that their mascot Handsome Dan is believed to be the first in the United States.
Currently, the only fully-online program offered at Yale University is a Master of Medical Science designed for aspiring Physician Assistants. However, online courses from Yale are available in more than 15 different fields and across a range of diverse platforms. Free courses can be found on Youtube and iTunesU; for-credit courses can be found on Coursera. These online classes can be taken along with your degree program you're completing on campus in Connecticut, giving you the chance to study on a more hybrid basis at one of the best institutions of higher education in the world.
Yale University is committed to meeting 100% of the demonstrated financial need for all students. In light of this, a family making less than $65,000 per year will not be expected to pay anything for the child's tuition. In addition to this, although the annual expected parent contribution is $10,000 or more, over 10% of all students pay nothing for the education they are receiving.
School's Website: https://www.yale.edu/
There you have it — ten free online colleges and free online degree programs that are truly free.
Related Resources:
Related Rankings:
If you are interested in obtaining a doctoral degree online, please check out our ranking of the best online phD programs.
For questions about getting a ba degree or any other type of degree online, we have included more information for you in our large collection of online college FAQs.
Tuition-Free Online Colleges and Online Degree Programs, Find Free Online Courses edited by Gerri Elder
Free Online College Courses FAQ
Do free online college courses exist?
Yes! There are many online colleges courses you can take for free. However, you won't earn credit for the courses without paying a fee.
How can I get a free online degree?
Applying for financial aid and scholarships will help lower or offset the cost of tuition. Additionally, several colleges and universities waive tuition if the family earnings are less than $60,000 per year.