Find your degree
Online College Plan is an advertising-supported site. Featured or trusted partner programs and all school search, finder, or match results are for schools that compensate us. This compensation does not influence our school rankings, resource guides, or other editorially-independent information published on this site.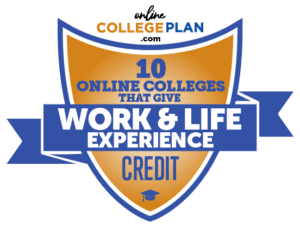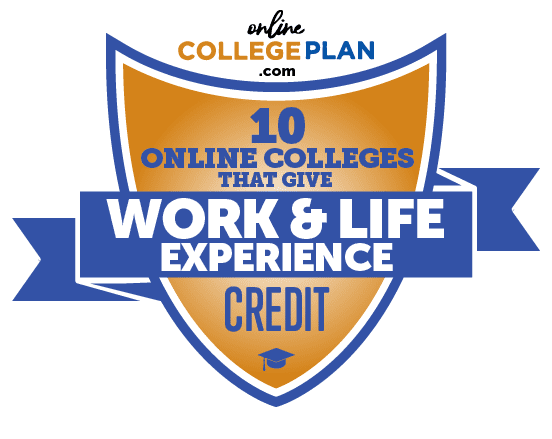 You know that you have a lot to gain and a lot to learn when you decide to pursue a college degree, that's why you've decided to take this incredible step into your future. But, what about everything you already know in your chosen field? There is a multitude of colleges and universities across America that have the answer. Many institutions of higher learning have made the commitment to give credit where credit is due, allowing you to receive literal credits for your relevant experience whether that is from professional experience, life experience, prior training or credentials related to your field, or training you received in the military.
Since 1974, the American Council on Education's College Credit Recommendation Service has existed to help students earn credits for formal training that happened outside of a traditional degree program. They have partnered with a broad range of organizations and reviewed over 30,000 different programs in order to provide colleges and universities with course equivalency information. They evaluate standardized tests, work training programs, and more. Colleges and universities across the country trust the council to determine if credits should be bestowed upon students. There are plenty of helpful resources and more information about the service on the ACE website.
There are a variety of ways that you can earn credit for what you already know by demonstrating competency in specific areas. So, if you have all of the knowledge and skills that a course seeks to teach you, you may be able to receive credit by showing your proficiency instead of completing the course. One way that schools do this is by offering different standardized tests. These tests usually have an associated fee, but some students may be able to get those fees waived based on financial need. These exams include:
Featured Programs
Challenge Exams: You would take the equivalence of an end of course exam, and receive credit if you pass. You will have to contact individual schools to determine if this is an option for you.
CLEPs: The College-Level Examination Program allows students to take a set of exams in specific content areas to test out of some classes. You can search the CLEP website to see if your school accepts these exams.
DSSTs: DANTES Subject Standardized Tests are the option for students who have learned outside of an academic setting prove that they are proficient in a particular subject. There are more than 30 of these exams currently available, which are all recommended by ACE. Close to 2,000 schools accept these credits.
Apart from sitting for an exam, you can potentially earn college credit for professional licenses or certificates, workforce training, and military training. How this is done is through the creation of a Prior Learning Assessment (PLA) Portfolio. This portfolio should contain information regarding all of your workplace or military training; any licensure, certifications, or diplomas you may have received and; any civic activities, volunteer service, or similar ventures. You should include supporting documents, any competency-based exam results, as well as plenty of writing that details what you know, how you learned it, and how you can demonstrate that knowledge.
Earning credit for your life or work experience doesn't have to be difficult. The resources published by the ACE and the academic advisors at the schools you're considering can help you make sure you earn your credits. Additionally, many schools have a PLA Portfolio course that you are required to take, which will walk you through this process in great detail.
The benefits of going through this seemingly daunting process should not be overlooked. First of all, you deserve to have your skills recognized. Beyond that, this will help you to earn your degree more quickly. While there are a variety of fees that you may encounter by submitting a PLA or taking the aforementioned exams, they are saving you money in the long run. The average cost per credit hour in the United States is just a few dollars short of $600. Every course that you get credit for this way is a significant savings.
If this is something that you're interested in doing, the ten schools on this list are a great place to start. We have ranked the top ten online colleges that award credit for work and life experience. All schools were ranked according to the following.
Methodology
This article explores the top ten online colleges that give credit for work or life experience. In order to create this ranking, we began by curating a list of schools that met the following criteria:
features at least one distance education degree program;
allows students to earn credit for past experience;
is based in the United States;
is properly accredited;
is not a for-profit institution;
Once we had a complete list, we used our standard ranking factors of the Freshman Retention and Graduation Rate. These two percentages were added together to obtain a final score (out of a possible 200) for each school. The schools that received the highest score are presented here, with the highest-scoring school coming in first place. In the event that any two institutions received the same final score, they are presented in alphabetical order.
The data presented to you in this ranking came directly from the schools' websites whenever it was available. Additional information was gathered from the following sources:
As a disclaimer, OnlineCollegePlan doesn't grant any institutions more favorable treatment. All of the schools are held to the same rigorous standards, and we openly provide our methodology so that you can understand how we came to these conclusions. Due to incomplete information, there may be a number of schools that are not represented here that otherwise may have ranked.
If none of the schools in this ranking seem like a good fit for you, you may want to check out our article featuring the Top 100 Best Online Colleges.
Array
Array