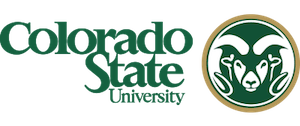 Colorado State University is a public land-grant research university which is located in Fort Collins, Colorado and which is commonly referred to simply as CSU. The school was originally established in 1870 as the Colorado Agricultural College and would later change its name to Colorado State College of Agriculture and Mechanic Arts in 1935 before going through a final name change to its current name of Colorado State University in 1957.
We Ranked Colorado State University:

#3 in Top 10 Online Bachelors Degrees in Business Administration,
#1 in 10 Best Online Bachelors Degrees in Accounting,
#3 in Top 10 Online Bachelors Degrees in Criminal Justice,
#4 in Top 10 Online Bachelor's in Marketing Degrees,
#2 in 10 Best Online Bachelor's in Social Work,
#6 in Top 10 Online Bachelors Degrees in Computer Science,
#10 in Top 10 Best Online Bachelor's Degrees in Communications,
#48 in Top 50 Online Schools with the Best Websites,
#15 in Top 20 Online Colleges with the Best Career Services,
#13 in Top 20 Best 4-Year Colleges for Veterans,
#1 in Top 20 Greenest Colleges,
#58 in 60 Blue Ribbon College Farms,
#19 in Top 100 Best Online Colleges,
#2 in The 20 Best Online Marketing Bachelors Programs,
#6 in The 20 Best Online Master's in Human Resources Programs,
#7 in Top 20 Bachelors for Online Information Technology Degree Programs,
#6 in Top 25 Online Accounting Degree Programs for Earning Your Bachelors,
#9 in The 20 Best Online MBA Programs for International Business,
#7 in The Top 30 Online Psychology Programs,
#6 in The Top 25 Online Master's In Healthcare Administration Programs; and
#19 in Top 35 Fastest Online College Programs.
Featured Programs
Today the university maintains a number of research institutes, with the most notable research being conducted by the university being into the areas of radiation treatment for cancer, environmental and animal ethics, pest management and in weather forecasting. Out of all of CSU's research institutions, one of the most prominent is the Cooperative Institute for Research in the Atmosphere (CIRA) which operates under a cooperative agreement with the National Oceanic and Atmospheric Administration's Office of Oceanic and Atmospheric Research and the National Environmental Satellite, Data, and Information Service. CIRA's research focuses mainly on augmenting operational meteorology utilizing various cutting-edge research techniques.
CSU offers enrolled students a selection of Bachelor's degrees in 65 areas-of-study, Master's degrees in 55 areas and Doctoral degrees in 40 fields through its eight colleges and 55 academic departments. CSU also offers a professional degree in veterinary science and numerous professional certification programs. Each of the university's academic programs is high-quality and rigorous, ensuring that students–upon program completion–are well equipped to achieve their career-oriented goals. U.S. News and World Report has ranked CSU's graduate Chemistry program as the 45th best in the nation (2010), their graduate Civil Engineering program as the 39th best (2010) and their Master's program for Occupational Therapy as the 8th best (2008), among numerous other programs being ranked within the top 100 for various years.
Colorado State University competes in 17 different sponsored intercollegiate sports, including 11 women's sports (which includes softball, soccer, and water polo) and six for men (which includes football, basketball, and golf). The university's athletics teams compete against eight other institutions in the Mountain West Conference, which is a NCAA Division I conference. The school's mascot is CAM the Ram, a breed of sheep known as a Rambouillet. The first CAM the Ram died in 2015 and was replaced by his half-brother. CAM the Ram is taken care of by twelve Ram Handlers. There is also a costumed CAM the Ram mascot, with the newest version being unveiled in 2010.
The area of Fort Collins has a variety of things for attending CSU students to enjoy, such as:
The Fort Collins Lincoln Center:The Fort Collins Lincoln Center is a multi-venue performing and visual arts center which hosts many shows throughout the year. The center is one of Colorado's largest and diverse presenters of professional theater, dance, music, visual arts and children's programs and is the biggest presenter of nationally touring Broadway musicals and mainstream acts in northern Colorado. The center features a ballroom, a performance hall, a theater, an outdoor terrace and an art gallery. Past shows and performances at the center have included I Love Lucy Live on Stage, Mama Mia! And Rosanne Cash's performance of The River & The Thread among others.
The Center for Fine Art Photography:The Center for Fine Art Photography is a not-for-profit exhibition and education space which features rotating exhibitions of fine art photography taken by artists from around the world. The center was founded in 2004 and features three galleries, classrooms, and digital and traditional darkrooms. The center maintains an online gallery which provides photographers and photography enthusiasts worldwide an opportunity to engage with the center and with other photographers. The center also offers various workshops which cover the various facets of photography and which are taught by highly experienced instructors.
Colorado State University Online Degrees and Programs:
Colorado State University has a wide variety of online programs available for distance learning students to choose from, including the following:
Certificates:
Power and Energy Graduate Certificate and;
Undergraduate Degrees:
What Makes Colorado State University Unique: The Peace Corps
Maurice L. Albertson (1918 – 2009), the former head of the Colorado State University Research Foundation, was a celebrated civil engineer and was the co-founder of the Peace Corps, a government-ran volunteer program with the mission of providing technical assistance to foreign nations and helping people in other countries to understand American culture, among other humanitarian and cultural efforts. A 1961 feasibility study which was conducted at CSU was critical for the establishment of the Peace Corps.
Other Colorado State University Facts:
Some notable Colorado State University alumni include:
John Amos – actor;
Al "Bubba" Baker – professional football player;
Keith Carradine – Academy Award-winning actor;
Mary L. Cleave – astronaut and;
James Van Hoften – astronaut
In addition to the notable CSU alumni, CSU has some current and past faculty who are also notable, including:
Maurice Albertson – Peace Corps co-founder;
Louis George Carpenter – renown Irrigation Engineer;
Robert E. Glover – groundwater engineer;
Holmes Rolston III – the father of environmental ethics and;
Jamuna Sharan Singh – ecologist and Shanti Swarup Bhatnagar Prize recipient
Colorado State University's Website: https://www.colostate.edu/
Colorado State University's Accreditation: The Higher Learning Commission (HLC)
Colorado State University's Values and Mission Statement: https://catalog.colostate.edu/general-catalog/welcome/mission-values/
Colorado State University's Motto: "Fight On, You Stalwart RAM Team"
Colorado State University's Mascot: CAM the Ram
Colorado State University's Colors: Green and Gold