Career Profile: Web Developer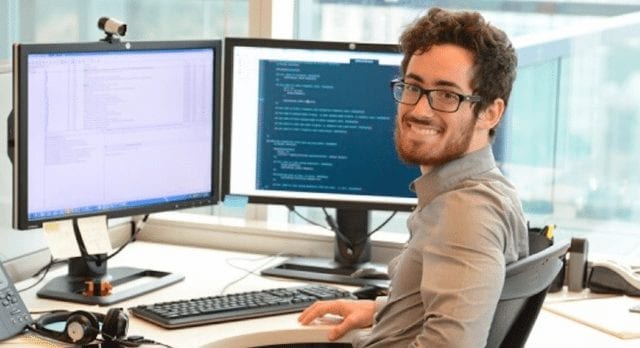 Find your degree
Online College Plan is an advertising-supported site. Featured or trusted partner programs and all school search, finder, or match results are for schools that compensate us. This compensation does not influence our school rankings, resource guides, or other editorially-independent information published on this site.
What is a Web Developer?
Web developers are also often called web designers, or webmasters. Web Master is a very fitting title because you would be entirely responsible for designing, creating, and maintaining sites for your client or employer. There is a lot of opportunity in this career because almost every brand, product, and service all have an online presence to maintain. There are also a lot of freelancing opportunities associated with this job, but you would most likely be working in an office setting and probably as part of a team. This is an ever-expanding field so you would always be learning, and hopefully striving to grow your skills and hone your craft. This is a great job for anyone who likes to be creative but still technical about things, is a strong leader, and takes deadlines seriously.
Web Developer Responsibilities
As a web developer, you would most simply be responsible for creating websites and maintaining them for your clients, or your employer; it is deceptively simple to do so, there are a lot of smaller tasks involved that keeps things running smoothly. You would be responsible for writing code for web applications or websites. You would be responsible for designing the websites, building them, and then maintaining them using different authoring or scripting languages. You would work with a variety of content creation and management tools and digital media. You would need to stay proficient in the different coding languages associated with your line of work and keep informed about they way operating systems and web browsers were evolving to keep your websites functional. You would need to manage a backup of the site data so that it could quickly be recovered if something crashed. You would be responsible for determining what program language, design tools, and applications to use. You would need to design, write, or edit content throughout the site, or direct others who were doing so. You would also need to address updates of the website over time. You would need to review the code to make sure it had been structured properly, was cross compatible with different browsers, devices, and operating systems. You would be responsible for maintaining industry standards among your websites. You would also need to design and implement the necessary security measures required based on the type of site you were working on for your client. You would need strong communication skills to make sure that you were able to read and discuss your client's needs, and customer feedback. You would also be responsible for responding to that customer feedback, or implementing some other system to do so. You would need to make sure domain names were renewed on time, and that your website was registered with search engines. You would need to maintain the links going in and out of the site to ensure they were properly functioning. There are several other things that tie into these tasks; you are entirely responsible for the ongoing maintenance for the sites you develop and implementing strategies to improve them continually, and keeping all the records associated with maintenance, and so on.
Web Developer Salary
The lowest amount of money a web developer could earn in a year is $38,224, and the most is $85,051. The average pay for a web developer as reported by PayScale is $58,106 a year. Commissions, bonuses, and profit sharing are all things that have potential to drive those numbers higher, depending on the policies of the company you're working for at the time. Experience in the largest contributing factor higher income but there are many skills that also tip the scales in your favor. Skills such as proficiency with Angular.js and ASP .NET Framework can boost pay by more than 10%. C#, SQL, and JavaScript knowledge are all also linked with higher pay for web developers. Certain companies also pay way above the national average, including Kaiser Permanente, Wells Fargo, Amazon, and Microsoft. Developers typically move into roles as Senior Web Developers or Software Engineers before exceeding 20 years in this position, and those positions pay $23K more and $22K more, respectively. Web developers, in a recent poll, reported that they were extremely satisfied with their jobs.
Featured Programs
Web Developer Qualifications
To qualify to do this job you will need a Bachelors in Computer Science.