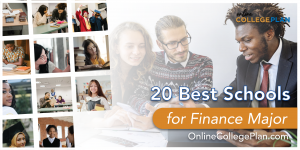 Finance is a truly exciting major that opens people up to a diverse range of careers. Just a small selection of those careers includes bond brokering, corporate finance, financial analysis, financial planning, underwriting, and investment banking, among others. In this article, we've ranked the 20 best online schools for finance majors. If you know you want to earn a degree in finance but you're unsure where to start, this list of schools will hopefully inspire your search for the best fit for your needs. If you know you'd like to earn a degree online, but finance isn't your calling, you may enjoy our Top 100 Best Online Colleges ranking instead.
Featured Programs
A Bachelor's Degree in Finance
A finance bachelors degree is a great undergraduate option for those who want to go on to pursue a career in business, go on to study at the graduate level, or directly enter the workforce in the finance field. Because it is such a broad field, there are a few different bachelors degrees that you can consider. These include the following:
Bachelor of Science in Finance
Bachelor of Business Administration in Finance
Bachelor of Business Studies in Finance
Bachelor of Arts in Finance
Degrees in banking and accounting are also related and can offer the same preparation, but we have chosen not to rank them. The core curriculum of any finance program will equip graduates with a broad understanding of economics, accounting, and more. Regardless of what professional goals that you have, a bachelors degree in finance is going to prepare you to think critically and creatively and it will give you a practical skill set in mathematics and analytical thinking. The degree path that you choose may feature different courses as part of the core curriculum that bolster your skills in certain aspects of the field; this is something to consider as you search. How will the program you choose advance you in a professional sense?
The primary areas of employment for those who hold a finance degree are corporate finance, banking, real estate, financial planning, and asset management. Within those areas, there are hundreds of specific positions that you could pursue according to your goals. Finance is also one of the fields that rank for having the highest starting salaries; it is the only non-technical type of degree that is among the top ten.
Earning an Online Finance Degree
A major in finance will expose you to courses that let you learn about how businesses function, how to predict patterns in business, analyze economic trends, and how to communicate effectively to set strategic changes in motion, along with a lot more. You will gain everything you need to understand complex data sets then interpret and apply them in a professional setting. The best part is that this is something that you can do from the comfort of your own home. Studying online will allow you to find a school that offers the perfect curriculum for you and will enable you to work on your classes when you want to. Many online finance programs will prepare you for credentialing exams in the field as well. Studying finance online opens you up to a lot of opportunities.
Methodology
To create our ranking of the top 20 best online schools for a finance major, we started by curating a list of schools that were based in the United States, duly accredited, and offered at least one fully-online or hybrid bachelors program in finance. We ranked those schools based on two factors* that we trust to indicate academic quality:
Freshman Retention Rate and
Graduation Rate.
*Each of these factors represents 50% of the final score.
Those two rates were added together to get a possible score of 200 points, and the schools with the highest scores are presented here. Due to incomplete data, there may be some schools that are not represented here that otherwise would have ranked. It is important to note that no institutions are ever awarded preferential treatment, and we do not feature for-profit institutions in our traditional rankings. We're confident that our methodology would allow anyone to draw the same conclusions.
All of the data we collected and present in this ranking was gathered from the schools' websites whenever it was available. Additional information was also collected from the following sources:
The average cost represents the average residential cost of attendance at each university and was accurate at the time of writing. Due to the fluid nature of tuition rates, you should always check with your chosen schools to obtain a more precise picture of what you'll pay to attend. You should also always consider the vast amount of scholarship opportunities for online students that you may be eligible for.
Related Rankings: