Pennsylvania State University
Find your degree
Online College Plan is an advertising-supported site. Featured or trusted partner programs and all school search, finder, or match results are for schools that compensate us. This compensation does not influence our school rankings, resource guides, or other editorially-independent information published on this site.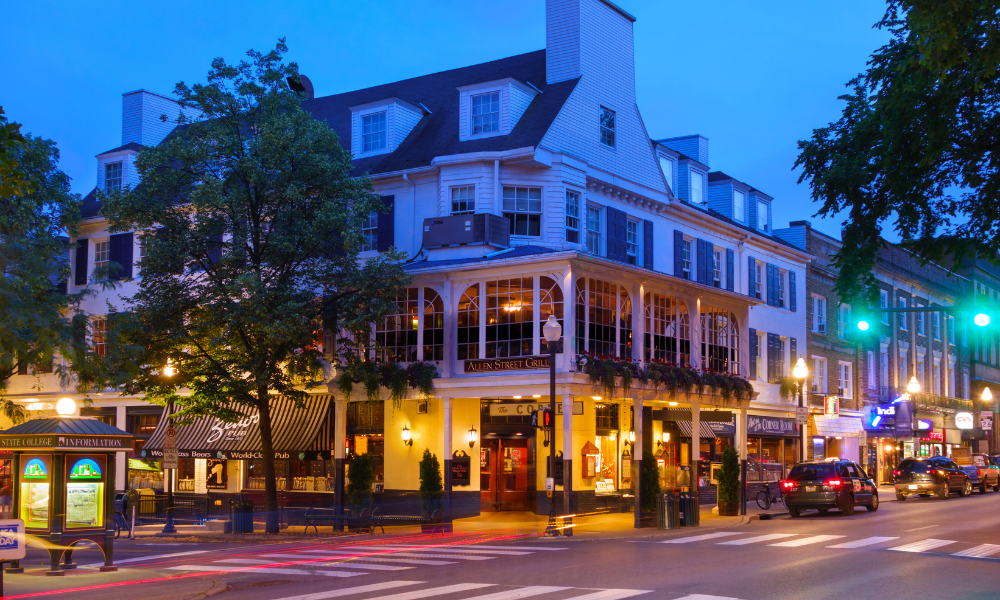 Also known as Penn State or PSU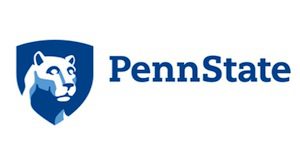 Pennsylvania State University, which is commonly referred to as Penn State or PSU, is located in State College, Pennsylvania.
PSU is a public, land-grant, sea-grant, space-grant, and sun-grant research university that has been classified by the Carnegie Foundation as being a Research University with a Very High Research Activity rating (RU/VHRU). In addition to being a highly research-intensive university, PSU is what is known as a "Public Ivy" (which is a public university that is capable of providing students with a comparably high-caliber education as the Ivy League schools do). It is also one of the largest universities in the United States based on student enrollment size, with more than 46,000 students enrolling at the school each year. From its humble beginnings in 1855, when what is now Pennsylvania State University was originally established as the Farmers' High School of Pennsylvania, Penn State has flourished and become a highly-reputable and renowned provider of a higher education.
In addition to Pennsylvania State University's main campus in State College, the University also maintains 19 additional campus locations located throughout the Commonwealth of Pennsylvania, including campuses in Abington; Logan Township; Monaca; Erie; Spring Township; Media; DuBois; Uniontown and York among others. The 19 Commonwealth campuses make up 38.9% of the university's total undergraduate student population. Through these additional campuses, Penn State caton serve a significant portion of the communities of the state, and many of the online divisions of these campuses have majors that differ from the rest of the campuses, allowing for an even greater amount of academic flexibility for students enrolled in the university.
Featured Programs
Pennsylvania State University Local Attractions
The area surrounding Penn State's main campus have a lot to offer to attend students–including sights, cuisine, shops, events and more–which assist in making PSU a very desirable university to attend. Some of the things that the community offers to on-campus students include:
Central Pennsylvania Festival of the Arts:
The Central Pennsylvania Festival of the Arts (CPFA) is a five-day long Sidewalk Sale and Exhibition of locally and nationally produced art pieces. More than three hundred exhibitors yearly offer a wide variety of objects for sale, including woven art, ceramics, paintings, photography and jewelry.
Lincoln Caverns and Whisper Rocks:
The Lincoln Caverns and Whisper Rocks offer a one-hour interpretive tour of two different crystal caverns, Lincoln Caverns and Whisper Rocks. A variety of rock and mineral formations are present in these two caves, such as crystals, stalactites, and flowstones, are present. Visitors to the caverns can also pan for real gems in a sluice, or can enjoy hiking along the existing nature trails and stop for a picnic at one of the many available picnic pavilions.
DelGrosso's Park & Laguna Splash Water Park:
DelGrosso's Park & Laguna Splash Water Park is a large water park located in nearby Tipton, Pennsylvania, which features numerous attractions and events, such as lazy river rides, a large wave pool, waterslides, a kid's park and more. DelGrosso's Park and Laguna Splash Water Park is a cool place to spend a summer vacation, or just to splash around in your free-time.
Online Degrees and Programs:
Pennsylvania State University offers a myriad of online undergraduate degree programs, graduate degree programs and professional certification programs for distance learning students to choose from, including:
Certificates:
Undergraduate Certificate in Adult Development and Aging Services
Undergraduate Certificate in Digital Arts
Undergraduate Certificate in ERP Certificate with SAP
Undergraduate Certificate in Earth Sustainability
Undergraduate Certificate in Financial Planning
Undergraduate Certificate in Information Sciences and Technology
Undergraduate Certificate in Labor Studies and Employment Relations
Undergraduate Certificate in Nanotechnology
Undergraduate Certificate in Nursing Forensics
Undergraduate Certificate in Children, Youth, and Family Services
Undergraduate Degrees:
Associate in Science in Business Administration
Associate in Science in Human Development and Family Studies
Associate in Science in Information Sciences and Technology
Associate in Science in Labor and Employment Relations
Associate in Arts in Letters, Arts, and Sciences
Bachelor of Science in Accounting
Bachelor of Arts in Advertising/Public Relations – Strategic Communications Option
Bachelor of Science in Agribusiness Management
Bachelor of Science in Biobehavioral Health
Bachelor of Science in Business
Master of Professional Accounting
Master of Professional Studies in Applied Demography
Master of Applied Statistics
Master of Professional Studies in Art Education
Master of Business Administration
Master of Professional Studies in Community and Economic Development
Master of Education in Curriculum and Instruction
Master of Professional Studies in Data Analytics
Master of Education in Earth Sciences
Doctor of Nursing Practice
What Makes the School Unique: Penn State IFC/Panhellenic Dance Marathon (THON)
The Penn State IFC/Panhellenic Dance Marathon (THON) is a 46-hour dance marathon that takes place every year in February at the Pennsylvania State University campus in University Park, Pennsylvania with the sole purposes of raising money for and providing emotional support to the children and families who are affected by pediatric cancer. The dance marathon was originally started in 1973 and raised a total of $2,000. Today, THON is the largest student-run philanthropy event in the world by both involvement and revenue. More than 15,000 students get involved with the dance marathon each year, and the participating students use a rallying cry of "For the kids!" to help encourage donations. The money that is raised through this charity event is donated to The Four Diamonds Fund, which is a charity that is devoted to defeating pediatric cancer through extensive and cutting-edge research and through providing care for patients at the Penn State Hershey Children's Hospital. The Four Diamonds Fund uses 74% of funds raised by Penn State's dance marathon for an experimental therapeutics fund, and 12% of funds raised are used to provide support to patients and their families.
Other School Facts:
Notable Pennsylvania State University alumni include:
Agha Shahid Ali: poet, namesake of the University of Utah's coveted Agha Shahid Ali Poetry Prize;
Jean Craighead George: a Newbery Medal-winning children's author;
Herman Fisher: co-founder of Fisher-Price toy company;
Richard T. James: inventor of the Slinky novelty toy and;
Keegan-Michael Key: actor, comedian, and the host of The Planet's Funniest Animals on the Animal Planet channel.
Penn State's Website: https://www.psu.edu/
PSU's Accreditation: Middle States Commission on Higher Education (MSCHE)
School's Values and Mission Statement: https://www.psu.edu/this-is-penn-state/leadership-and-mission/mission-and-character
Penn State's Motto: "Making Life Better"
PSU's Mascot: Nittany Lion
PSU's Colors: Blue and White