UNC – University of North Carolina at Chapel Hill – Ranking, Basketball and Notable Alumni
Find your degree
Online College Plan is an advertising-supported site. Featured or trusted partner programs and all school search, finder, or match results are for schools that compensate us. This compensation does not influence our school rankings, resource guides, or other editorially-independent information published on this site.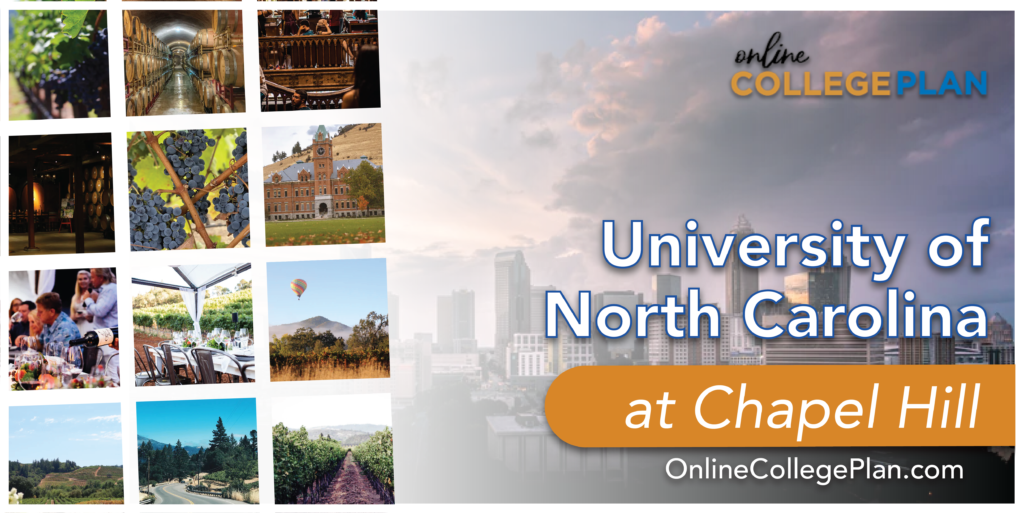 The University of North Carolina at Chapel Hill, which is commonly referred to as UNC at Chapel Hill, UNC Chapel Hill, UNCCH or simply as UNC, is a public research university which is located in Chapel Hill, North Carolina. UNC at Chapel Hill was originally chartered in 1789 by the North Carolina General Assembly, making it the first public institution of higher learning within the state. UNC Chapel Hill cornerstone was laid on October 12, 1793, near the ruins of a chapel, and the area was chosen because of its central location within the state. After a couple of years of construction, UNC opened its doors to its first students in 1795. Due to the university's charter date, it is one of three schools in the United States that can technically claim to be the oldest postsecondary education institute within the nation.
UNC Chapel Hill is the flagship campus of the 17 institutions that make up the University of North Carolina system. UNC Chapel Hill offers through its fifteen schools and colleges a selection of degree-granting and professional certification programs–which cover more than 70 different areas of study–that students can enroll in. In addition to the program offerings which are available through these fifteen schools and colleges, enrolled students can freely take classes from the other 16 institutions within the school system, substantially increasing how flexible and dynamic the education provided by UNC is.
Chapel Hill, North Carolina is a small town, but that does not mean there isn't anything to do. Attending students will have access to a variety of sights, activities, events, unique shopping, excellent food, and music. The area is home to a lot of cultural and culinary experiences and has given numerous musicians their first starts, such as eclectic-fusion rock band Squirrel Nut Zippers and alternative rock band Ben Folds Five. Some experiences which are available to both students and visitors are:
Featured Programs
Morehead Planetarium and Science Center: The Morehead Planetarium and Science Center first opened in 1949, and today is one of the oldest and largest planetariums located within the nation. The planetarium was used to train Gemini and Apollo program astronauts in the area of celestial navigation. Astronauts aboard Apollo 12 called upon the training that they received from the Morehead Planetarium and Science Center after their Saturn V rocket was struck twice by lightning during their ascent towards being the second manned craft to land on the moon. The planetarium is also home to numerous exhibits, including the ever-popular Science LIVE! act which is an educator-led live act program that demonstrates the foundations of science through various experiments and practical explanations.
Mama Dip's: Bon Appétit magazine has named Chapel Hill as America's "Foodiest Small Town" in the nation, and for a good reason. There is a wide variety of culinary offerings in and around the area, with Mama Dip's being one of the most popular choices. The eatery serves breakfast, lunch, and dinner seven days a week, and also has an excellent take-home menu available. In addition to the food, Mama Dip's has a selection of gift items available for purchase, such as whole pecan pies, poppy seed salad dressing, barbecue sauces, clothing, Mama Dip's two published cookbooks (Mama Dip's Kitchen and Mama Dip's Family Cookbook) and other novelties. The restaurant has been featured on Rachael Ray's $40 a Day and Mama Dip herself has made appearances on Good Morning America and the Food Network's show Cooking Live.
UNC Chapel Hill Online Degrees and Programs:
UNC at Chapel Hill offers distance learning for students with online and asynchronous programs from which to choose. These programs allow students to obtain an undergraduate degree, a graduate degree, a professional certificate, standalone course credits or to enroll in a life-enriching non-credit course, all from the comfort of their home. Some of the available programs offered by UNC-Chapel Hill include:
Certificates:
Community Preparedness and Disaster Management
Occupational Health Nursing
UNC Business Essentials
Technology and Communication Certificate
Public Health Leadership
Master's in Accounting (MAC)
Executive Master of Public Health
Master's in Molecular Diagnostic Science
Master's in Technology and Communication
Executive Master of Healthcare Administration
Master's in Business Administration (MBA@UNC)
There are also many other programs offered by other UNC Campuses available through UNC Online.
What Makes UNC Chapel Hill Unique: Sustainability
UNC Chapel Hill is committed to striving to be as green as possible. The university requires that all new buildings and projects meet the requirements to obtain a Silver certification from Leadership in Energy and Environmental Design (LEED). In addition to this requirement which is in place for a decrease in the university's environmental impact, UNC Chapel Hill has an award-winning co-generation facility in operation which produces a quarter of the school's electricity and which provides all of the steam which is used on campus. Also, in 2006, the university and the Town of Chapel Hill jointly agreed to reduce their respective greenhouse gas emissions by at least 60% by 2050, becoming the first town-gown (the "town" referring to the local non-academic community and the "gown" metonymically referring to the university community) partnership in the nation to do so. Through these efforts and others, UNC Chapel Hill is consistently named as one of the greenest universities in the nation.
Other UNC Chapel Hill Facts:
The Old Well is a small neoclassical-style rotunda which is based on the Temple of Love in the Gardens of Versailles and which is located in the same spot as the original well that provided the school with water. The Old Well is commonly regarded as the most enduring symbol of the university and is regarded highly by both the school's students and its faculty. The well is situated between the campus' two oldest buildings, Old East and Old West.
Basketball is huge at UNC Chapel Hill. Among many notable alumni are Michael Jordan, Rasheed Wallace, Rashad McCants and Brandan Wright.
UNC Chapel Hill's Website: https://www.unc.edu/
UNC Chapel Hill's Accreditation: Southern Association of Colleges and Schools' Commission on Colleges (SACS)
UNC Chapel Hill's Values and Mission Statement: https://www.unc.edu/about/mission/
UNC Chapel Hill's Motto: Lux Libertas – "Light and Liberty"
UNC Chapel Hill's Mascot: Rameses
UNC Chapel Hill's Colors: Carolina Blue and White
Related Articles:
Top 20 Best Online Colleges in North Carolina