Find your degree
Online College Plan is an advertising-supported site. Featured or trusted partner programs and all school search, finder, or match results are for schools that compensate us. This compensation does not influence our school rankings, resource guides, or other editorially-independent information published on this site.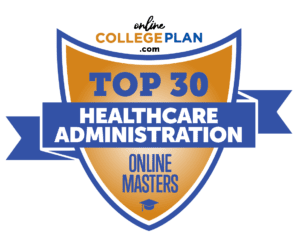 The editors here at Online College Plan have scoured our nation's universities to help you find the best Online Masters Degrees in Healthcare Administration.
The Father of Medicine, Hippocrates, remarked about the purpose of medicine in the 4th century: "Declare the past, diagnose the present, foretell the future." This bold claim is both accurate and prophetic, giving birth and voice to the incredible power and achievement of modern medicine over the last two centuries.
Today, the entire healthcare system is being challenged by changes in our society: an aging population, ironically due to the success of medicine, rapid digitization of data and medical records, growing demand, and lastly, rising costs. According to the National Health Expenditure Accounts (NHEA), "Health care spending grew 4.6 percent in 2018, reaching $3.6 trillion or $11,172 per person. As a share of the nation's Gross Domestic Product, health spending accounted for 17.7 percent." All of these challenges are certainly daunting yet simultaneously exciting as they open up new opportunities for innovation. One thing that is sure is that all these challenges mean the time for more highly-skilled administrators in the healthcare system is right now.
What do healthcare administrators do?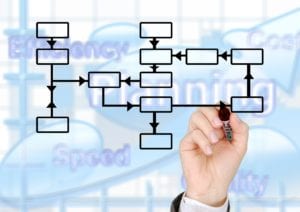 Healthcare administrators manage our nation's state, local, or private hospitals, nursing homes, and nonprofit or for-profit healthcare centers. Healthcare administrators help improve the delivery of actual care, from the management of human capital and facilities to the organization's investments. Health managers can be responsible for a specific unit such as human resources or nurse management or, what is in high demand, data analysis and management. The training required for these leadership positions involves knowledge of both healthcare and business. The Master of Healthcare Administration (MHA) prepares graduates with all the advanced skills required for the job: healthcare law, ethics, operational management, finances, marketing, data management, human resource management, and more.
What is an online masters in healthcare administration?
The online masters in healthcare administration is a flexible and affordable graduate degree that generally takes two years to complete. Programs vary considerably in philosophy and delivery, but all cover the essentials of healthcare management. Since all the schools on this list are online, you can count on the fact that they're designed for the working professional. This fact alone makes earning your degree possible while continuing to work. In general, online programs require about 20 hours of work a week. Concentrations are also offered such as Informatics, Health Policy, Leadership, and more.
What is your methodology?
It is difficult to choose the best degree program to fit your needs. Each student has a different set of values as to what is important to them, whether it be cost, flexibility, reputation, or other factors. We have taken these variables into consideration to compile a list of the top online masters degrees in healthcare administration. Data points were taken from the National Center for Education Statistics, U.S. News and World Report, and school websites. The average net price listed below is a per credit hour cost. The following percentages were used to compile the ranking:
Reputation – 40%
Cost per Credit Hour – 30%
Percentage of Graduate Students – 20%
Student to Faculty Ratio – 10%