Top Bachelors for Online Information Technology Degree Programs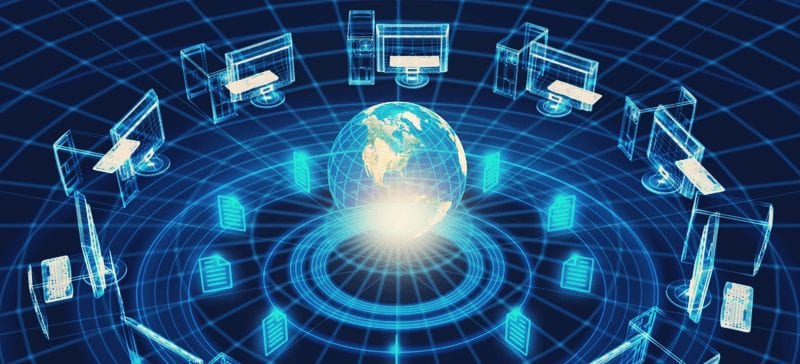 Find your degree
Online College Plan is an advertising-supported site. Featured or trusted partner programs and all school search, finder, or match results are for schools that compensate us. This compensation does not influence our school rankings, resource guides, or other editorially-independent information published on this site.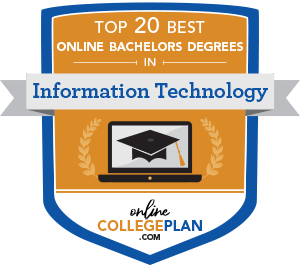 An information technology degree can help you secure a job in a rapidly growing industry that is desperate to find and keep highly-skilled IT workers.
A bachelor's degree in information technology will typically take four years to complete, and once you graduate, the sky's the limit in one of the fastest-growing industries in the world.
According to the US Bureau of Labor Statistics, output in computer systems design and related services is expected to grow at an average annual rate of 35% through 2031!
Featured Programs
The Bureau of Labor Statistics also notes that the median annual wage for information security analysts was $102,600 per year.
Potential career opportunities in Information Technology include systems administrator, network administrator, Linux administrator, database administrator, and computer security specialist, among many other fields.
Methodology
OnlineCollegePlan understands that when pursuing an online education there are several needs that should be met. When researching for the top online Information Technology degree programs, we took a hard look at the following criteria:
Flexible class schedule
Easy access to instructors
Access to student resources and online libraries
Job placement after graduation
Many students pursuing an online program are doing so because they are trying to balance work, school, as well as a healthy family or social life. This is what makes having a flexible class schedule so important. It's not uncommon for it to be later in the evenings when adult students find time to settle into study-time. Meanwhile, others might find waking up an hour or two earlier can give them a great start to their day by getting their classwork done while they're freshly rested. For nearly all the online students studying when they feel is best for them is a huge incentive for choosing an online program.
It's not uncommon for students to have a question about the curriculum or the content, which is why easy access to instructors is such an important deciding factor. If a student is struggling with understanding a specific point or would like to know more information on a topic within their studies, it's valuable to be able to ask a question and get a reply in a reasonable time frame. It's not often that students will halt their studies awaiting a reply, so getting back in touch with a student late could cause more confusion than clarification if they've progressed on to different content.
Online students require access to student resources and online libraries as a general rule. The quality and quantity of materials available online can make a huge difference in the student's ability to study and complete coursework or even study more on related topics if they choose.
Career services, as well as job placement after graduation, are also very important to consider when getting an online degree. Employers may not only care about the degree but also where it's from, so finding out the viability of the prospective degree in the workforce is definitely a must. The programs chosen offer a high employment rate in their fields after graduation.
It should be noted that some schools may be excluded due to inadequate information pertaining to our ranking criteria. OnlineCollegePlan cannot be responsible for changes in data which occur after the ranking has been created.
Here are our top 20 online information technology degree programs for student's seeking a bachelor's degree.
1. Purdue University Global
The Bachelor of Science in Information Technology degree program at Purdue University Global is designed for students who want to learn the technical knowledge, communication, critical thinking, and creative skills relevant to the modern workplace.
Purdue Global helps students understand the IT concepts, tools, and methods, as well as the leading-edge technologies needed to design information systems.
Here are Purdue Global's educational objectives for its information technology degree:
Technology Skills: Apply current technical tools and methodologies to solve problems.
Client Specifications: Analyze users' technical issues.
System Specifications: Design information systems.
Technology Analysis: Evaluate IT trends, practices, and products.
Business Analysis: Evaluate the potential impact of information systems and technology on business processes.
Project Management: Apply project management practices, tools, and methods.
The program is completed, and a Bachelor of Science in Information Technology is achieved, after students complete 180 quarterly credits, which is equal to 120-semester credits earned over a four-year period. Purdue Global University operates on a quarterly basis.
2. Arizona State University Online
The online Information Technology degree program at Arizona State University focuses on core IT technologies including web applications, developing skills to use the tools, languages, and frameworks for designing and realizing complex websites.
Students involved in this program will create a project solution every semester alongside a team of other IT students.
ASU places an emphasis not only on computer skills but also presentation skills which it helps students achieve.
By the end of this program, students will create network architectures, configure and administer complex web-based database systems, create effective websites, and design process interactive media solutions. Students also get to choose their area of focus: Computer and Network Systems, Video Game Design and Construction, or Web Applications.
117 credit hours are required to fully complete this program.
3. Capella University
The information technology degree program at Capella University prepares students for working in the IT field while helping them develop the business skills needed to succeed.
Students are presented with various electives which allow them to map out a program in one of several IT disciplines.
Among Capella's available information technology degree paths are networking, web development, project management, and information security.
With a bachelor's degree in IT from Capella University, students leave with the ability to design IT solutions to solve organizational problems, plan strategically for global and domestic environments, and design and model effective IT solutions for an organization.
180 quarterly credits, equal to 120-semester credits, are earned over a four-year period. Capella operates on a quarterly basis.
4. Penn State World Campus
This information technology degree program is touted for helping both IT professionals and beginners expand their horizons and their skillsets.
Penn State says its bachelor degree in IT is great for the following people:
Currently employed in IT, have an associate degree, and want to continue your education to advance your career
Currently employed in other professional or preprofessional positions and wish to expand your employment opportunities you are already employed in IT and want to enter a bachelor's degree program, but you have no previous credits toward an IT degree
For people who want to change their current career and do not have an IT background
This is a fully customizable degree program that allows students to determine their path in the Information technology field. Penn State World campus encourages students to explore the role of information technology within and between businesses and to create software and applications to drive technology forward.
5. UMass Online
The UMassOnline Bachelor of Science in Information Technology degree program helps students develop a "solid foundation in the discipline and the broad expertise" that they need to succeed in IT.
Students can choose between four different concentrations for their IT Bachelor's degree, which include Computer Science, Computing, Information Technology, and Operation & Information Technology.
UMass includes a general curriculum, information technology electives, and a minimum of six concentration electives. Students are also encouraged to take seven additional business-related electives to earn a Business Minor.
Students can choose to complete the Bachelor in Information Technology program entirely online or as a hybrid of online and on-campus courses.
The program requires a total of 120 credits.
6. Drexel University Online
This bachelor of science program in Information Technology is based around individuals who have at least five years experience working in the IT industry and have an associate's degree in any subject.
Major focuses of the program are based on IT infrastructure and services, networking technology, server technology, and systems analysis.
The program requires the completion of 188 credit hours based on a quarterly basis. However, because an associate's degree is required, the number of credits required will vary.
Along with general information technology classes, students need to take classes in database management, server and network technology, behavioral science, and mathematics.
7. Colorado State University-Global Campus
The online Bachelor IT degree program at Colorado State University is based around building a solid foundation for both hardware and software with the knowledge of business and innovation.
Students participate in a 120-credit hour curriculum that includes a set of core courses that ensure students build a foundational understanding of information technology.
After completing required courses, students will have learned how to choose and service software/hardware systems which meet a company's unique information technology requirements.
Students can enhance their information technology online degree with a specialization in a career-relevant field.
8. Northeastern University
School Profile
This intensive 160 credit hour program includes a rigorous online BS in Information Technology.
The university prepares students for work in a number of tech careers including web and multimedia design, system and network administration, networking, and security.
Students start their education with classes based on quantitative methods, computer programming, and technology, before exploring database management, operating systems, networks, and the Internet.
Students will complete 33 credits of core curriculum, nine credits of foundational courses, and 72 credits of major-specific courses.
160 credit hours might seem high, but keep in mind that the university operates on a quarterly system. Full-time students can complete their degree in four years. Part-time students can finish in seven years.
The entire degree program can be completed online.
9. University of Minnesota, Crookston
The University of Minnesota, Crookston's online information technology degree program requires the completion of 120 credit hours.
All Bachelor of Science students must complete a minimum 40 liberal arts credits, 21 to 22 elective credits, and at least 54 credits within information technology management.
Among the university's available elective classes are Messaging Systems, Principles of Marketing, Database Management Systems, and Legal Environment in Business, among others.
All students must complete a three-credit class on Web Site Development.
The program requires students to take classes during the summer term, and students can complete the IT degree entirely online.
10. Western Governors University
The B.S. in Information Technology degree program from WGU will give you a foundation of IT skills and knowledge as well as seven recognized industry certifications that will boost your career's long-term health.
The university says that its program was developed with insight from experts and business leaders who serve on the school's Information Technology Program Council.
The program requires a total of 120 competency units (CUs), the school's equivalency to the traditional credit hour.
Many students who begin their program have some IT experience, and students who have taken college courses or received a degree from another university may be able to transfer credits,
Key subject areas for the program include:
Information Technology Fundamentals
Web Development
Network and Security
Leadership and Management
Scripting and Programming
Business of IT
Data Management
Operating Systems
Technical Writing
11. Excelsior College
If you are seeking an online degree in information technology from a national leader in distance learning, you should most certainly consider Excelsior College.
The university has built a career-building online IT program specifically designed for working adults. Students work around their own schedule so they can keep up with life's responsibilities.
Among the universities classes are:
Computer security
Object-oriented programming
Databases
Networking and communications
Software analysis and design
Project management
You can choose the general information technology degree option, or explore concentrations in Cybersecurity, Information Security, and Network Management.
12. Capella University
The Capella University online Bachelor of Science in Information Technology degree program prepares students for a career in IT by focusing on a broad range of technical and business-based classes.
Students will complete 180 credits to earn their BS from Capella University.
Capella University's online IT degree guides students through a choice of electives. You can either map out a broad program that touches on several IT disciplines or focus on deepening your knowledge in niches that include networking, web development, project management, and information security.
By the time you graduate, among the many skills you will have mastered, you'll be able to: design IT solutions to solve organizational problems, plan strategically for global and domestic environments, and design and model effective IT solutions for an organization.
13. Colorado Technical University
The Online Bachelor of Science in Information Technology degree program at CTU helps prepare tech experts for a specialization in their field of choice.
CTU's core curriculum includes introductory, industry-relevant courses such as Spreadsheet Applications, Unix Fundamentals, Query Language, and others.
Students help guide their own future by choosing between seven concentrations including Data Management, Security, Web Development, and Network Management, among others.
Students can complete the four-year degree program 100% online, or they can complete the degree as a hybrid between online and on-site campuses. 184-credit hours on a quarterly basis are required.
14. Regent University
The online information systems technology degree program at Regent University focuses on a blend of IS and IT programs.
Students have the option to elect to pursue a concentration in information security.
Career Opportunities following the completion of the school's degree program include:
Network or Systems Administration
Computer Programming
Information Technology and Assurance
Software Engineering
Students complete 120 credit hours, which includes 49 general education, 33 information systems technology, 15 general or Information Security concentration, and 23 additional electives.
15. South University
The bachelor in Information Technology online degree program at South University offers students the knowledge and skills needed to succeed in IT and possess a solid understanding of business practices.
Students can choose to complete the program while focusing on one of five specializations: General Information Technology, Network Administration, Multimedia and Web Development, Database Administration, and Information & System Security.
Students complete 180 credits that include: (1) General Education requirements, consisting of 64 credits; (2) Foundation Requirements, consisting of 24 credits; and (3) Major Requirements, consisting of 92 credits.
This program is flexible, which means online IT students can log into their classes day and night based on their own schedule.
16. Southern New Hampshire University
The information technology degree online program at SNHU begins with the fundamentals of information technology and culminates in advanced courses in system design and implementation.
This program is offered as a 100% online option, which gives students the option to complete their classes at times that are convenient for them.
This program is based on students using innovative online tools:
Virtual desktops: Utilize state-of-the-art software and productivity tools on your computer, laptop or smartphone
Web-based simulations: Gain virtual "hands-on" experience you wouldn't otherwise get with a wide variety of systems and equipment
Personal digital portfolio: Build a digital portfolio as you progress through the program to demonstrate your skills to prospective employers
If you've earned IT certifications through CompTIA, Oracle, or TestOut, you may be eligible to receive credit toward your degree program.
Here are the available bachelors degree focuses you can work toward: Cyber Security, Data Analytics, Database Administration, Database Management, Game Design & Development, Geographic Information Systems, Information Technology Management, Network & Telecommunications, Robotics & Artificial Intelligence, Software Development, and Web Design & Development.
17. Stratford University
Stratford University offers quality training through its Bachelor of Science in Information Technology degree program both on-site and online.
Students can pursue degrees as a web designer, business analyst, or software engineer.
Stratford understands that some students want to accelerate their school schedule, so a bachelor's degree can be achieved in as little as 30 months.
The IT program promotes career-building skills, and after graduation, students are guided into the workforce.
In 2011, 100% of graduates from this Online Information Technology and Systems Degree program were employed in IT and related sectors.
Specializations include:
Cyber Security
Network Administration
Software Engineering
18. Oregon Institute of Technology
The B.S. in Information Technology degree program at OIT offers a challenging environment.
Graduating students are prepared to bridge the technology and management disciplines in their organizations. Core business disciplines taught include analytical skills and problem solving; business organization and management; project management; leadership, teams, and communications.
This highly technical program works well for both first-time college students and working adults who already have some existing college credit.
Oregon Tech graduates in Information Technologies find jobs in a variety of roles, including job titles like Program Analyst, Network Technician, Database Administrator, Technical Support, System Designers, Researchers and Application Development
Students gain theoretical and practical experience with systems analysis and design, project management, personal computers, operating systems, applications, networks, web page design and development, and databases.
19. Tiffin University
The Online Bachelor of Science in Information Technology program prepares students for their future careers with hands-on applications for administration, design, and implementation of secure computer networks. C
This school's program focuses on studies for best practice administration across Microsoft, Open Source and CISCO products that will guide students in administering computer environments that are scalable, secure and available.
Tiffin students will find that a hands-on application of classes will enable them to embrace the concepts studied in lecture format and apply those concepts in a laboratory setting.
The program is designed for students who are pursuing employment in the technology field in careers such as: Systems Administration, Network Administration, Database Administration, Security Management, and Director of IT.
Tiffin University's courses are centered on industry certification exams. This means that each IT course that you take within this degree is focused on the information needed to prepare students for completion of specific industry certifications such as: CompTIA Security+, Microsoft MCSE, and Cisco CCNA to name a few.
An online Information Technology degree program can be your ticket to a high-paying job in an exciting field that you will hopefully truly enjoy. A recent study found that computer programmers and other IT workers are among the happiest workers in America.
Related Rankings: