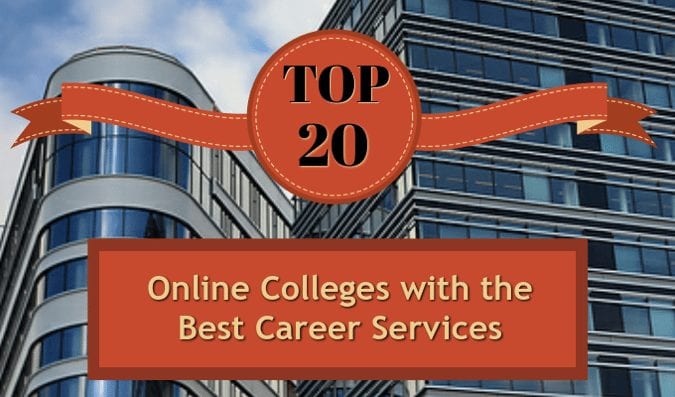 Top 20 Online Colleges with the Best Career Services
Why Having the Best Career Services Matter
Where to go to college is a very important decision in your life. There are so many different options available for students, it can be overwhelming. While most people probably have certain criteria in mind when they begin browsing online colleges, they may not always be considering what comes after graduation.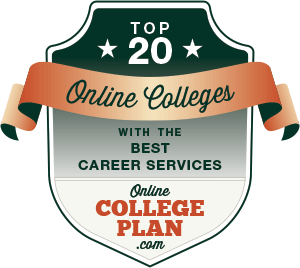 The following colleges are not only terrific at educating and preparing students, but also offer excellent career services to help them land the job of their dreams.
Methodology and Sources
This ranking was created using data from US News and World Report to find schools which offer the best online bachelor's programs based on factors such as graduation rates, accumulation of student debt among new graduates, and student access to support and career services.
We then cross-referenced this data with early career salary data acquired from Payscale. Salaries earned by graduates within the first five years was used as a way to measure the effectiveness of career services offered by colleges. Additional considerations were given for the admission percentage and graduation percentage, both obtained from the National Center for Education Statistics as well as student opinions of academics from Niche. We also referenced our own list of the 100 Best Online Colleges.
It should be noted that in some cases major relevant data was not available and unfortunately those schools were not able to be ranked. Also, salaries reflect all students of the college, not exclusively online students. Certain career services may require students to visit the campus.
Top 20 Online Colleges with the Best Career Services
20. University of Wisconsin – Whitewater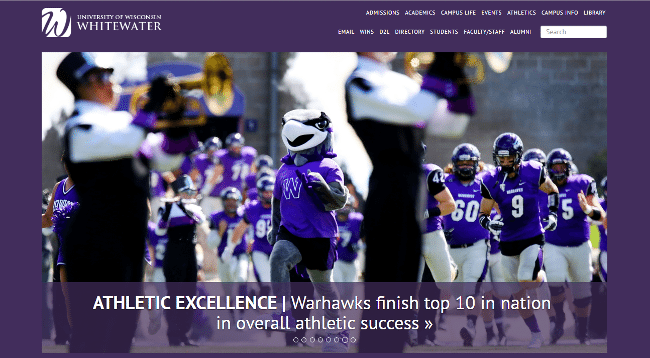 At the University of Wisconsin – Whitewater, students who take online courses are shown the same care as those who attend the school campus. They offer both undergraduate and graduate programs, such as MBA and MS in Environmental Safety and Health online. Being an online student at UW-Whitewater doesn't mean that you are left to figure things out for yourself, they offer help every step of the way.
Students who take courses online have career services available to them, such as career planning, help with creating resumes, online job postings, and grad school information for those who may not quite be done yet. There are certainly career center benefits well worth taking advantage of on-campus, too. Through the course of the last academic year, more than 100 different companies conducted on-campus interviews with students for jobs and internships, providing 2,182 opportunities. For students who are hired before graduation, UW-Whitewater celebrates with them. Check out the smiling faces in the latest Facebook photo campaign, results you can see.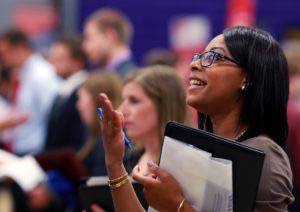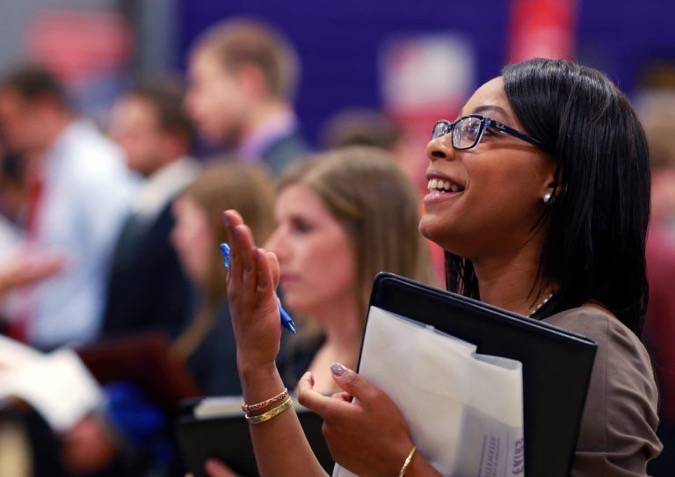 Photo (right): UW-Whitewater senior Reshell Hampton radiates enthusiasm as she talks with one of the company representatives at the Hawk Career Fair on Wednesday, October 7, 2015. Around 120 employers visited campus to present information about jobs, internships and careers.
Connect to UWW: Homepage   Facebook   Twitter
Salary: $42,500
Acceptance Rate: 80%
Graduation Rate: 60%
19. Western Kentucky University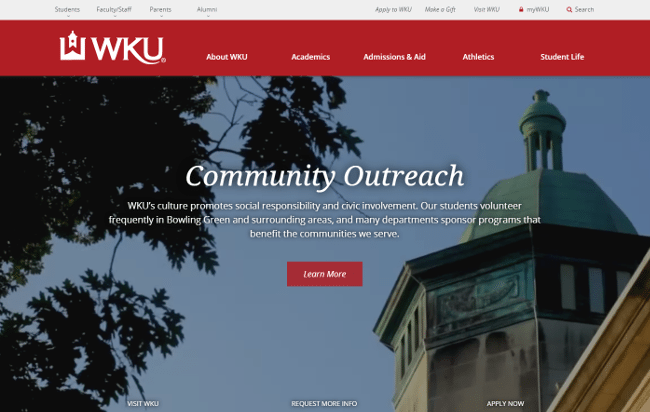 Located in Bowling Green, Kentucky, Western Kentucky University has a lot to offer its students. Serving both graduate and undergraduate students, the number of programs available can be overwhelming. WKU online also offers over 80 online degree and certificate programs for students to choose from.
The Center for Career and Professional Development at the university doesn't just help students navigate their way through finding courses, but also it helps them beyond graduation and into the workforce. Through the CCPD, students have access to career counseling and resume help services. The Center also helps students find internships and alerts them of upcoming job fairs.
Connect to WKU: Homepage Facebook Twitter
Salary: $42,700
Acceptance Rate: 93%
Graduation Rate: 43%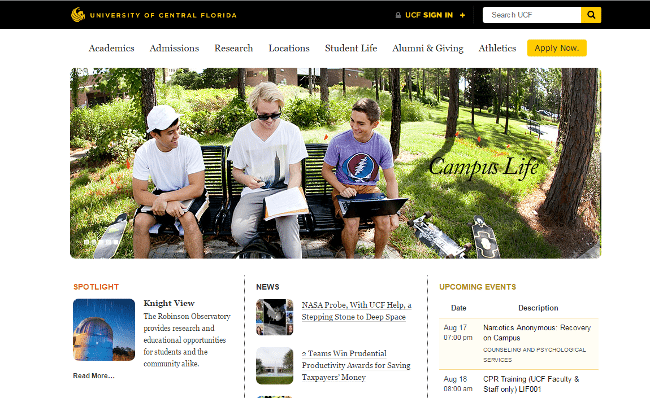 The University of Central Florida in Orlando has more than 200 majors for its students to choose from, so there is something for everyone. The distance education program at UCF is not disappointing at all. They offer 60 top online degrees for those who are unable to attend traditional classes.
Alongside the University of Central Florida's physical career services, they also offer a virtual career center for online students that not only help them discover what is possible with their degree, but also how to go about finding a job and offers links where students can fill out job applications. In the fall of 2015, UCF was requested as one of three universities to take part in testing out "LinkedIn Students", an app specifically designed for students seeking to enter the workforce. The app was released for UCF students in February of 2016 to try it out.  Meanwhile students who were not in the colleges taking part in the trial had to wait until the app was officially released in April 2016.
Career services also helps with conducting the First Destination survey each  year with upcoming graduates to find out more about what students are planning after graduation. Overall 45% of UCF graduates are employed upon graduation, while another 8% have had at least one job offer. In fact, the University of Central Florida was named the University with the highest percentage of employed graduates one year after graduation at the 2016 Florida Governor Scott's Degrees to Jobs Summit. It's not uncommon for some students to seek employment outside of their field of study, however, over 82% of graduates have reported to be working in their field.
Connect to UCF: Homepage Facebook Twitter
Salary: $42,700
Acceptance Rate: 49%
Graduation Rate: 70%
17. West Texas A&M University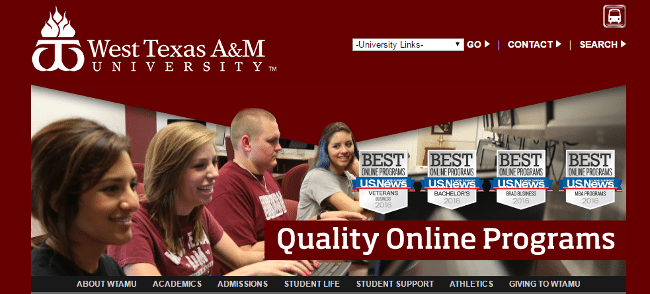 West Texas A&M University in Canyon, Texas is a school with great academic appeal. Within the campus you can find colleges of business, nursing and health science, agriculture and natural sciences as well as the Sylvia B. Harrington College of Fine Arts and Humanities which also has the School of Music. You will also find the School of Engineering, Computer Science, and Mathematics and graduate school. Together there are more than 80 degree options for both undergraduates and graduate students. Online course offerings are excellent and affordable, as expected. There are programs which are 100% online as well as hybrid programs for both undergraduate and graduate degrees.
Career Services at West Texas A&M University are plentiful. From counseling to job shadowing, internships, career fairs, to helping you get your resume to employers seeking educated and motivated workers to hire. Online career services at WTAMU are designed to be an equivalent to what is offered to students in-person. Skill development workshops are offered 24-7 for online students, helping with resume creation, interviewing skills,  and job search strategies among other resources. BuffJobs service offered by Career Services is a convenient online compilation of available jobs including local, state, national, and even international. West Texas A&M University also does a great job of keeping track of over 98% of its recent graduates with nearly 83% reaching their first destination goals, nearly three percent higher than the average rate reported by the National Association of Colleges and Employers. The most recent average starting salary for undergraduates of WTAMU is reported to be $50,267, which is well above the national average, and is higher than payscale.com, the source of salary as seen below.
Connect to WTAMU: Homepage Facebook Twitter
Salary: $44,000
Acceptance Rate: 67%
Graduation Rate: 40%
16. University of Nebraska – Omaha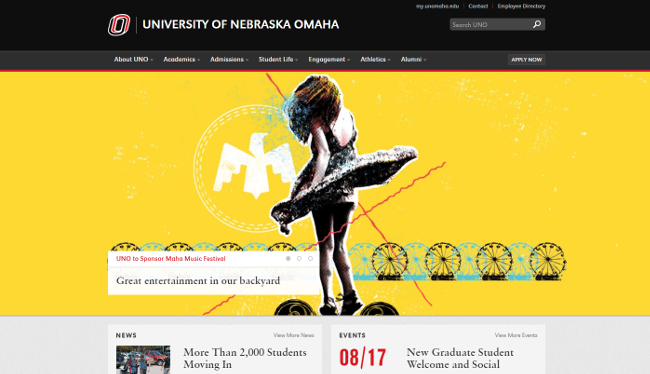 For more than 100 years the University of Nebraska in Omaha has been bestowing its excellence in academics and student services upon those who enroll here. There are over two hundred of majors and programs available to students at UNOmaha. The school hosts six colleges all of which house instructors who are experts in their field. The university's distance education has more than 20 fully online bachelor's degree programs and also offers master's degree courses as well as graduate certificates.
Part of student services features available at University of Nebraska in Omaha is the Academic and Career Development Center which is designed to help students find and stay on the right track to the career of their choice. UNOmaha Career Connect is another service offered which is designed for both students with employers.
Connect to UNOmaha: Homepage Facebook Twitter
Salary: $44,000
Acceptance Rate: 76%
Graduation Rate: 47%
15. Colorado State University – Global Campus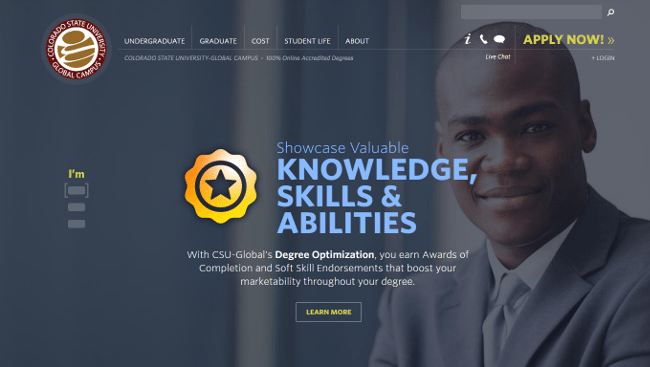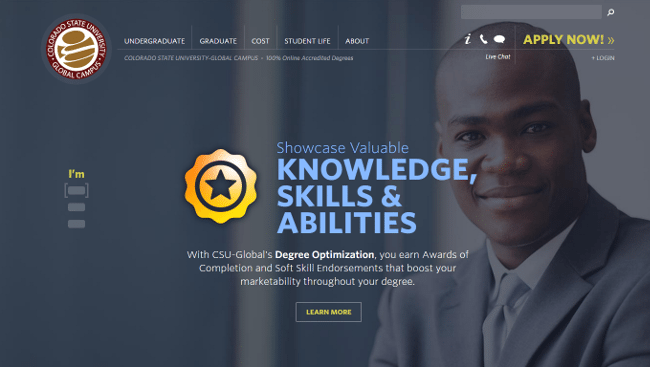 Colorado State University Global Campus is completely online. They offer bachelor's degree programs in 13 popular disciplines and 14 master's programs. In addition they also offer programs for certificates of completion. The instructors at CSU's Global Campus are are trained for distance education so that they are able to better connect with their students.
Students also have access to the Career Center so that they are equipped with tools they need for success outside of college. CSU also provides students with resume help and opportunities to speak with a career coach trained to help students find jobs in their field.
Connect to CSU: Homepage Facebook Twitter
Salary: $45,800
Acceptance Rate: n/a
Graduation Rate: n/a
14. Temple University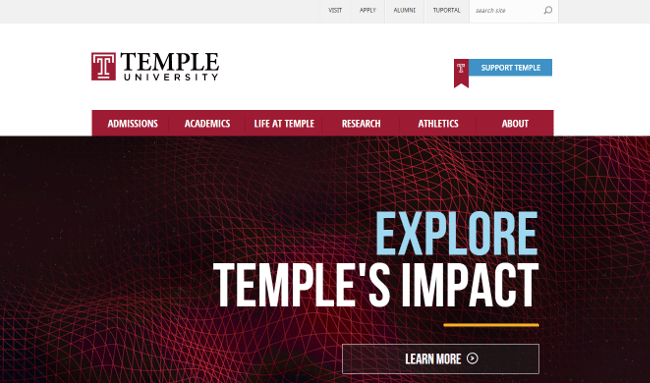 Since 1884, Temple University in Philadelphia, Pennsylvania, has been dedicated to excellence in higher education. There are more than 140 undergraduate degree programs for students to take advantage of. In addition, Temple University has a large selection of graduate and professional degrees. Their online learning program offers students a dozen programs to choose from, the majority being graduate programs. They also have certificate programs available to students.
TU online also has a Career Center for students to access which offers help every step of the way, from choosing a degree program, to creating a resume, and connecting with employers in their field.
Connect to TU: Homepage Facebook Twitter
Salary: $45,400
Acceptance Rate: 56%
Graduation Rate: 71%
13. Creighton University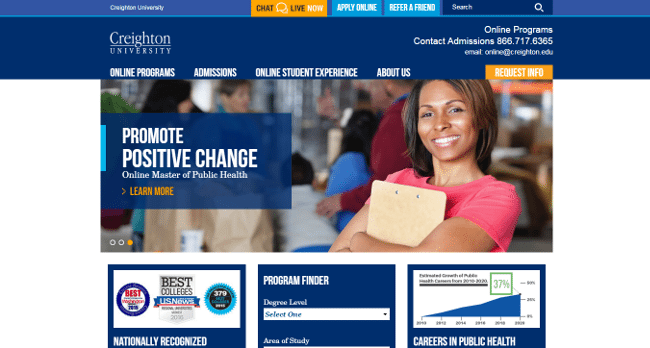 Omaha, Nebraska makes the Top 20 again, this time with Creighton University. CU is recognized for excellence and makes efforts to continue providing high quality education at affordable prices. Whether students are taking traditional courses or opting for online education, there is plenty to select from at Creighton University. There are even doctorate programs available through their online college system.
The John P. Fahey Career Center is part of Creighton University's student services that offers students a large number of resources, including interviewing and negotiation. They also provide Internship and help graduates find employment.
Connect to CU: Homepage Facebook Twitter
Salary: $45,200
Acceptance Rate: 70%
Graduation Rate: 79%
12. University of Georgia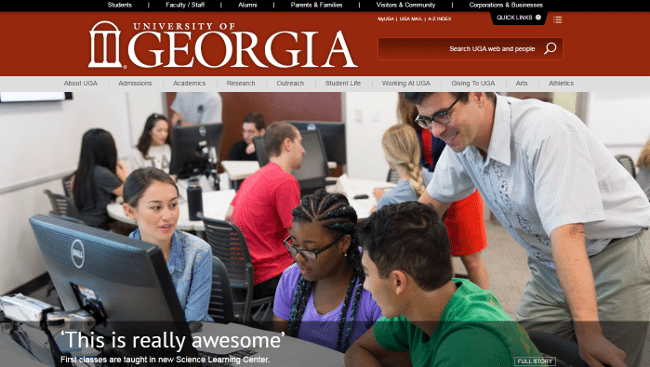 School Profile
University of Georgia in Athens has a commitment to high standards in both their educational programs, but in all of the services offered to their students. Established in 1801, the school is Georgia's oldest higher learning institution, but it is in no way behind the times. WIth a large number of schools and colleges to choose from, UGA provides a wide array of degree programs and certificates for students working on all levels. The distance education program offered by the University of Georgia features an ever growing number of graduate degrees, two popular bachelor degree programs as well as certificate programs.
While degrees from UGA are highly regarded, they also offer students access to the Career Center which is focused on helping students each step of the process, from finding a degree and choosing a career path to following that path ultimately to employment.
Connect to UGA: Homepage Facebook Twitter
Salary: $46,600
Acceptance Rate: 53%
Graduation Rate: 85%
11. Utah State University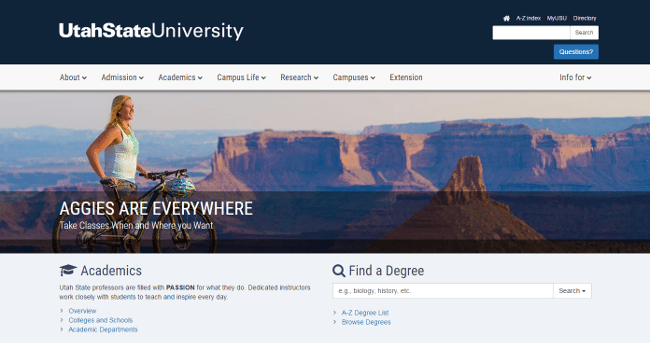 Founded in 1888, Utah State University in Logan has been serving students since its humble beginning as a local small college. Their reputation for excellence in higher education makes Utah State a highly respected research university around the world. It may be home to the largest residential campus in the state, but the online program at Utah State is diverse and offers some of the most popular undergraduate and graduate programs for students to choose from.
Utah State University makes sure that students have support throughout their educational journey with their career services. From connecting students with prospective employers, to offering career coaching. In addition to CareerAggie, Utah State's online career helper, an app has been developed to keep students aware of upcoming career fairs.
Connect to Utah State: Homepage Facebook Twitter
Salary: $47,700
Acceptance Rate: 97%
Graduation Rate: 49%
10. University of Denver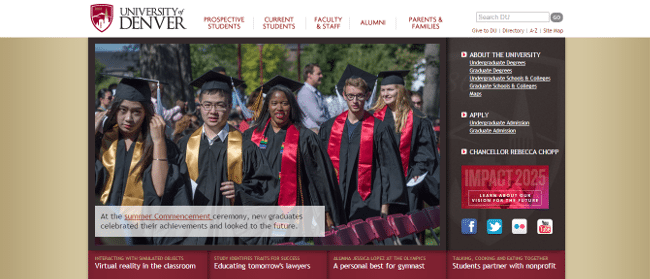 Nearly as old as Denver itself, University of Denver dates back to 1864. The university features a 126 acre campus located just south of Denver. DU has a long standing reputation for helping students reach their higher education goals, whether it be getting an undergraduate or graduate degree through their numerous schools and colleges. The distance education program at the University of Denver offers a variety of courses and programs for undergraduates and graduates alike through University College. Courses are designed to be convenient, interactive, and as enriching and challenging as traditional courses.
DU has a variety of career services available for students to utilize in order to step into the workforce in their chosen field. Services include, but are far from limited to, the DU Career Blog, Hot Leads Newsletter which students may sign up to receive, and six different career units across the campus designed to provide students with preparing for interviews as well as finding internships and job opportunities,
Connect to DU: Homepage Facebook Twitter
Salary: $47,800
Acceptance Rate: 73%
Graduation Rate: 77%
9. George Washington University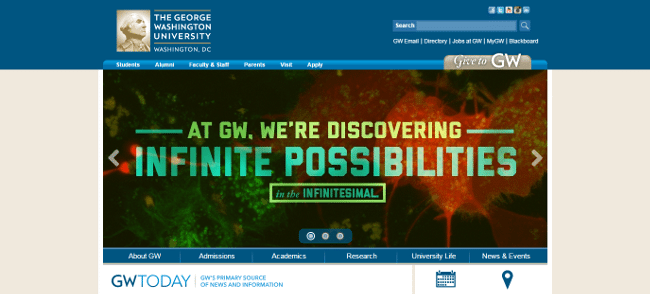 George Washington University was founded in 1821 and is now the largest institution in the District of Columbia for higher learning. GWU's goal is to provide a place to create and share knowledge, enriching the lives of students as they prepare them for careers. The school offers a large number of undergraduate as well as graduate and professional programs. Their graduate programs in Law, Health Policy, and Political Science have been awarded high rankings in their respective categories by US News and World Report.
The online learning courses offered by George Washington University are designed so that students can get the most out of their studies and the student to instructor ratio is even lower than courses taken face-to-face. GWU online programs range from certificates, associate's degrees, bachelor's degrees, Master's degrees to even Doctorates.
The Center for Career Services at George Washington University offers students valuable information about internships, work study programs, and co-ops. The center also keeps students informed of upcoming job fairs, expos, and on campus job recruiting events. They are committed to helping students become successful and contributing members of the workforce in their chosen field.
Connect to GWU:  Facebook Twitter
Salary: $48,100
Acceptance Rate: 46%
Graduation Rate: 83%
8. Arizona State University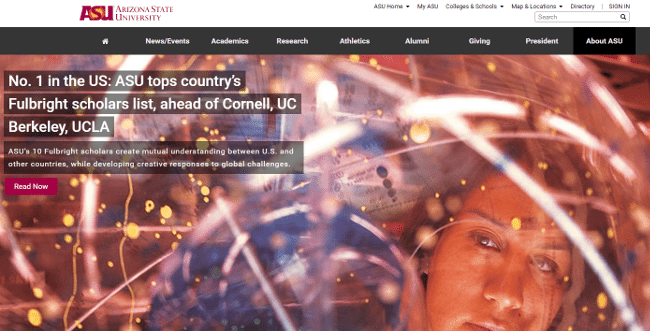 Since it was established in 1885 under the name Territorial Normal School, Arizona State University in Tempe, has grown and evolved with the educational needs of its students. In 2008, ASU celebrated the 50 year anniversary of officially becoming a university. Arizona State has been recognized by US News and World Report for being number one in innovation.
There are hundreds of program offerings available at ASU. Students are sure to find a course to suit them no matter if they are looking for a certificate, or graduate and undergraduate degrees. ASU online also offers a wide variety of certificate programs along with both bachelor's and master's degree programs.
Student success is important to ASU, and their Career Services work hard to be certain that there are many opportunities available for their graduates. Those attending Arizona State University will be sure to have the help and support they need to follow their career paths through school and into the workforce.
Connect to ASU:  Facebook Twitter
Salary: $48,400
Acceptance Rate: 83%
Graduation Rate: 66%
7. Oregon State University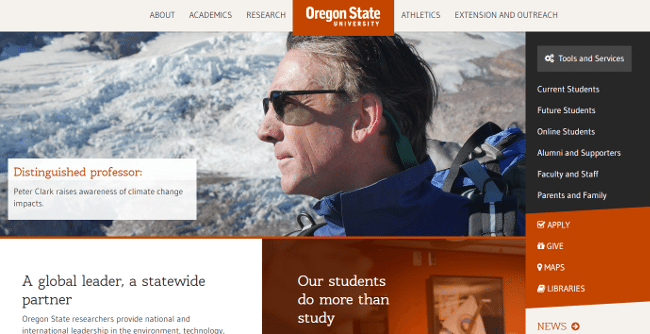 The city of Corvallis is home to Oregon State University, established in 1856 and throughout its evolution has changed names eleven times. Oregon State has adapted to the higher educational needs of its students and will continue to keep up with future innovations in learning. Currently there are a wide variety of offerings to students seeking degrees, both graduate and undergraduate.
The eCampus at Oregon State has been recognized by US News and World Report for its online bachelor's programs, ranking in the top 10 two consecutive years. Oregon State University also offers graduate programs online as well as certificate programs.
Career Services at Oregon State expand to include a large number of online resources available for eCampus students. From career and major exploration, to volunteer services, internship opportunities, career guides, to even offering videos on topics such as how to create a superior resume, interviewing tips, and how to apply for government jobs, the online resources at Oregon State University Career Services certainly cover all the bases to help students get the job they want.
Connect to Oregon State: Homepage Facebook Twitter
Salary: $48,600
Acceptance Rate: 78%
Graduation Rate: 64%
6. University of Oklahoma
Founded in 1890, the University of Oklahoma in Norman is actually older that the state itself, which was a U.S.territory at the time. OU offers students more than 170 programs taught at their state-of-the-art facilities. Classes are designed to educate and keep their students engage and utilize modern technology and techniques. OU now offers online courses two different ways. OU Outreach offers students access to bachelor's degree programs and graduate degrees. Janux is a new system of course delivery in which participants are part of an online social learning environment and already has it's first courses available.
Career Services at University of Oklahoma cover all the bases, helping students participate in mock interviews, help with creating resumes, finding internships or job opportunities, and more. At OU, their goal is to help students find a career, not just a degree.
Connect to OU: Homepage Facebook Twitter
Salary: $49,000
Acceptance Rate: 78%
Graduation Rate: 66%
5. Ohio State University – Columbus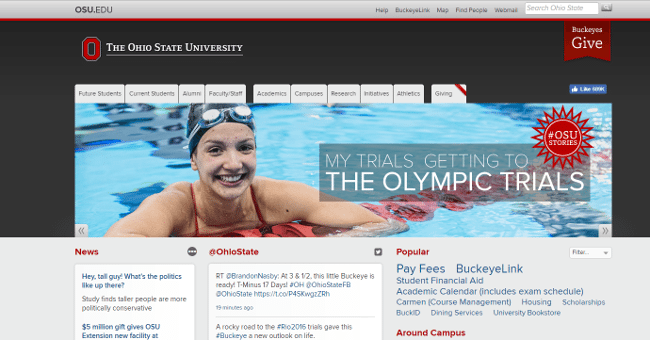 Ohio State University in Columbus is the main campus and has been serving students since it was established in 1874. While offering students courses in a wide array of disciplines, OSU strives to be innovative and evolve with technology and updates in education and the world around it. Ohio State Online currently has 15 of the most popular degree programs available for students to choose from.
Many student services are available to online students in order to help ensure their success. Career Services are also included, so whether online or face-to-face, there is help available to all students. Some of the services available include career counseling, resume building, internship placement, and career fairs.
Connect to OSU: Homepage Facebook Twitter
Salary: $49,300
Acceptance Rate: 49%
Graduation Rate: 83%
4. University of Florida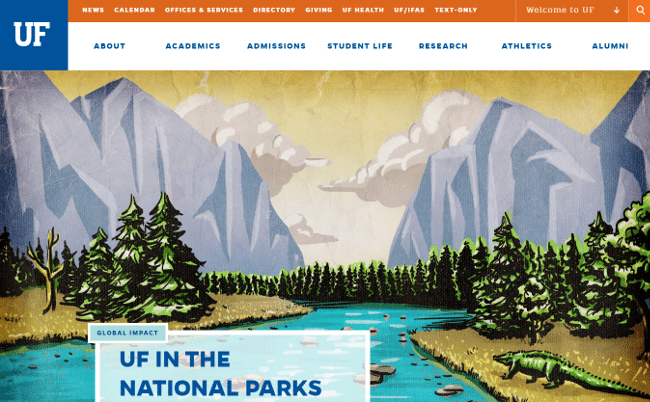 Located in Gainesville, the University of Florida has been serving students for 160 years. UF has a history of innovation and research and has grown and changed in order to better serve those who enroll there. With 16 colleges and over 100 undergraduate and 200 graduate programs to choose from, it's little wonder that the university is so appealing. Online learning at University of Florida offers a dozen of the most sought after bachelor's programs and a much larger number of master's and even some doctorate degrees.
Among the many student services offered by UF is the Career Resource Center. Helping students prepare for and connect with employers is an important part of college success, and at University of Florida's CRC, this is their goal.
Connect to UF: Homepage Facebook Twitter
Salary: $49,500
Acceptance Rate: 48%
Graduation Rate: 87%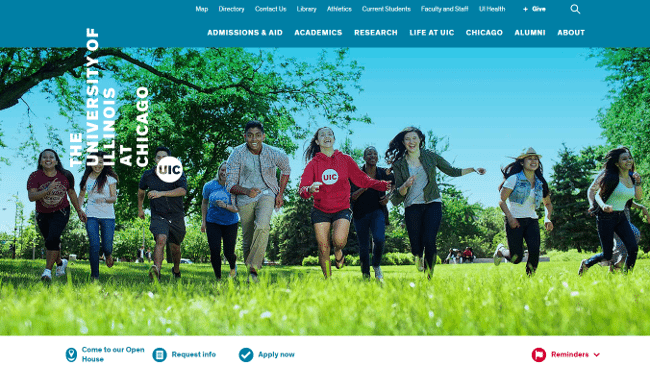 The history of University of Illinois is interesting. Origins of the university can be traced back to multiple private health colleges in the 1800s. New campuses were built in the 1900s and since then the college has underwent many positive changes. Today, UIC is in the top 60 research universities in the US.
University of Illinois offers 83 undergraduate programs, 93 master's degree programs and 64 doctorate. 3 of the most popular bachelor's degree programs are offered through the online education program at UIC. They also offer online 8 popular master's programs and 1 doctorate level degree program.
At the Office of Career Services at UIC plenty of help is offered to allow students to explore their career path and find the major that makes them feel the most comfortable. Students are also able to take advantage of other career advising services, such as resume creation, networking, interviewing and potential job internships. UIC also offers assistance in jobs through career fairs and UICcareers, an online job board. Their goal is to see that graduates are able to immediately enter the workforce and begin their careers.
Connect to UIC: Homepage UICCareers Facebook Twitter
Salary: $50,600
Acceptance Rate: 77%
Graduation Rate: 60%
2. Pace University
<
New York city has been home to Pace University since it first began enrolling students in 1906. Since then, Pace has strived to promote critical thinking in students and keep classes small in order to maintain their goals of educational excellence.
With six different schools of study, there is no lack of variety when it comes to programs and courses for students at Pace. Online education opportunities at iPace offer undergraduates program options of a BBA in Business Studies, BS in Nursing, BS in Professional Communication Studies, BS in Professional Technology Studies, or an AA in Arts & Sciences.
iPace students have access to Pace University's Career Services department, home to one of the largest intern placement programs in the NYC and surrounding areas.  Some of their other services include programs for career exploration and access to resources to obtain employment.
Connect to Pace: Homepage Facebook Twitter
Salary: $51,200
Acceptance Rate: 84%
Graduation Rate: 53%
1. Embry-Riddle Aeronautical University – Worldwide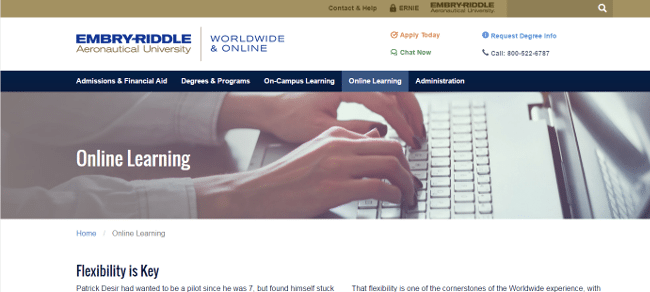 Embry-Riddle Aeronautical University – Worldwide is a virtual campus with its home office and main campus in Daytona, Florida. For undergraduates, the school offers 6 associate's degree programs and 14 bachelor's degree programs. There are 18 master's degree programs and a Ph.D in Aviation program for graduate level students. There are also two certificate programs offered through ERAU – Worldwide.
Career services offered by Embry-Riddle Aeronautical University – Worldwide include Eagle Hire – a free career management system, a downloadable resume checklist, job fairs, a Co-op/internship program, and services to connect students with employers.
Connect to ERAU: Homepage Facebook Twitter
Salary: $57,300
Acceptance Rate: 74%
Graduation Rate: 55%
Related Rankings: