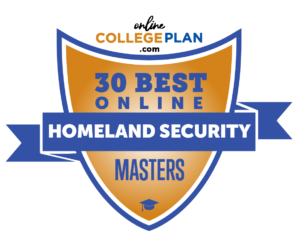 OnlineCollegePlan is proud to present the Best 30 Online Masters Programs in Homeland Security to help students find the right degree to suit their educational needs.
Since the Department of Homeland Security was established in 2002, there have been more than 250,000 people employed in the department alone. There are also a lot of peripheral industries that have been established over the years that amounts to plenty of other jobs as well. Currently, the Bureau of Labor Statistics has projected that homeland security jobs will grow at a rate that is comparable to the national average but several other sources predict it will grow even faster as America's political landscape continues to evolve.
Homeland security as a whole refers to America's efforts to decrease the threat of not only terroristic attacks, but also natural disasters and any other threats to civilization. This means that there are a lot of different areas of the field that you could choose to pursue a career in and all of them play an important role in the big picture, which is protecting our country.
Featured Programs
Homeland security degrees could offer concentrations in emergency management, criminal justice, information technology, or cybersecurity. On the opposite side of that, homeland security degrees are still fairly new. Schools are working to expand their academic offerings to accommodate the needs of students and adapt to the changes in the job market, though. In light of that, there are a number of criminal justice programs (among others) that offer homeland security concentration options.
Masters in Homeland Security Degrees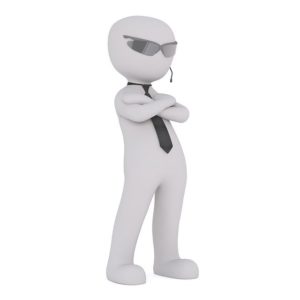 The first official homeland security degree program ever created was the Master of Arts in Homeland Security offered at the Naval Postgraduate School's Center for Homeland Defense and Security. Sixteen years have passed since that program's inception and now there are hundreds of degree options for those who would like to have a career in homeland security.
These programs usually cover the same core subjects. Some of the things you could see yourself studying in a homeland security degree program include disaster management, security policy, social justice, crisis leadership, public policy, terrorism, and much more. At the master's level, there is a lot more opportunity to tailor your degree program to your needs so you will have the opportunity to specialize in a certain area or build upon your core curriculum with electives in various areas that interest you.
Electives in public health, disaster relief, border security, public policy, cybersecurity, and many other topics are offered depending on the school and program that you select. You do have the opportunity to take electives when you study at the undergraduate level but the curriculum of those programs tends to focus more on establishing the foundation you will need to build on either with professional training or further study.
A lot of masters in homeland security also will not require you to have a background in the area because it is still an evolving degree program. If you have earned your undergraduate degree in legal studies, networks, criminology, information assurance, or even criminal justice, you may have already completed a lot of the prerequisites. This will depend on the school you choose.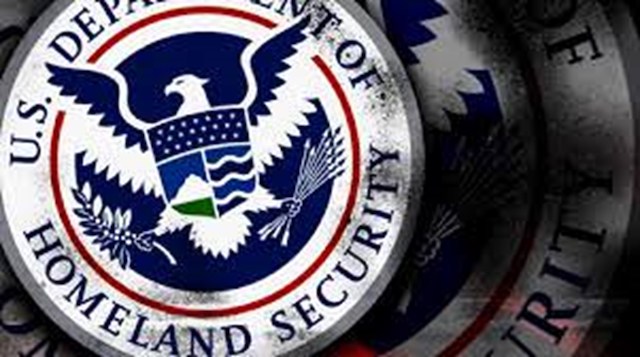 Online Masters Degrees in Homeland Security
The first degree in homeland security to be established was a masters degree. Masters-level degrees are the most prevalent type of program in homeland security and that tends to be what employers prefer when it comes to higher-level positions. The more advanced your education is in the field, the better your career prospects are going to be. We're sure you already understand the benefits of earning your masters in homeland security but, what comes next?
When you decide to continue your education, it can feel like a huge investment. Of course, that's because it is. With that said, it doesn't need to become a huge sacrifice. There are a range of colleges and universities across the country that have started offering online masters in homeland security degrees.
Going to school online is a great option for those of you who have responsibilities and obligations that you are dedicated to, whether that is work, family, or something entirely different. If you choose to earn a masters in homeland security online, you may not ever have to visit a college campus and you will not have to move to one. Instead, you can take your classes from anywhere that you have internet access. You can also log in any time of day and work on your courses, so your work schedule or responsibilities at home won't be compromised for you to do your schoolwork.
The most important benefit of earning a degree online is that you are not limited to what the schools in your area have to offer. You have the ability to earn the degree that you want to get the career you want, without having to leave your current job or home. All that's left is finding the degree program that works best for you. In this ranking, we explore the top 30 best online masters degrees in homeland security. All of the schools were ranked according to the following.
Methodology
In order to rank the Top 30 Best Online Masters Degrees in Homeland Security, we started by curating a list of schools that offered such programs. We omitted any schools that were not based in the United States, didn't have the proper accreditation or were operating using a for-profit model. Any degree program that was related to the field of homeland security was eligible for consideration.
Once we had created a list of schools, we then assigned them a score based on three factors, which are:
Freshman Retention Rate (⅓ of final score)
Graduation Rate (⅓ of final score)
Affordability (⅓ of final score)
Each institution could have scored a maximum of 300 points. All of the information used to rank the schools came from their own individual websites whenever it was available. We also used the National Center for Education Statistics and U.S. News & World Report to collect additional information presented in this ranking. The affordability and the cost displayed in this ranking is representative of the average cost of attendance provided by Niche.com.
All of the schools are presented in ascending order based on the score that they received. If there was an incident of a tie, the alphabetical ordering of the institutions' names was used to determine their placement in the article.
We'd like to note that we pride ourselves in transparency. We are confident that this methodology is clear and the results are easily repeatable if it were followed. Some colleges and universities that may have otherwise ranked may not be present in this article based on incomplete information available or per their own request. No institution is ever awarded any preferential treatment of any kind, for any reason.
Array
Array