Find your degree
Online College Plan is an advertising-supported site. Featured or trusted partner programs and all school search, finder, or match results are for schools that compensate us. This compensation does not influence our school rankings, resource guides, or other editorially-independent information published on this site.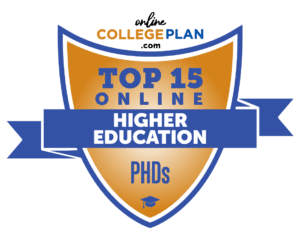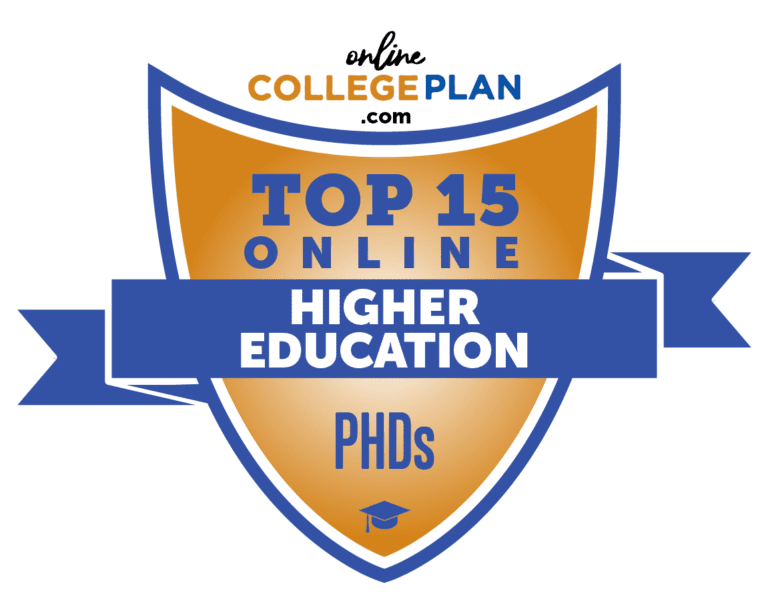 The Bureau of Labor Statistics reports that careers in postsecondary education administration are projected to grow faster than average, at a rate of 10% through 2026. Having skilled educational administrators and researchers is incredibly important to the continuing success of students in college. You can rise to fill those crucial roles if you have a PhD in Higher Education. It is the highest degree you can get in the field of higher education, along with the highest academic honor awarded in the United States.
A PhD in Higher Education could lead to a variety of different careers in schools, including academic support, education administration, enrollment services, student services, and more. These types of jobs would put you working directly with students on a daily basis. However, there are also opportunities in government agencies and advanced academic research. One of those types of careers would allow you to be part of the innovation that is constantly needed in education. You would be working every day to create and implement new strategies so the diverse educational needs of students in higher education could be met.
Featured Programs
Doctorate in Higher Education Programs
Every school is going to have a unique curriculum, of course. However, doctorate programs in higher education will cover a lot of important topics no matter where you choose to study. You will gain a deeper understanding of the foundations of education research. These principles are important because they help you to understand the ethical, philosophical, practical, and theoretical aspects of conducting research. Research is a massive part of earning your PhD, and it is likely to play a key role in your career for the rest of your life because, especially as an educator, you never stop learning.
You'll also learn about the ins and outs of higher education that you'll need to excel in your professional life. Higher education law is a mandatory part of your education if you want to work in an administrative position. It will cover non-discrimination, privacy, transparency, contractual obligations, tenure, academic freedom, and program implementation and discontinuance. Another very important thing you'll learn about is enrollment management and marketing. Alumni relations, branding, forecasting, and several other topics are all part of strategic enrollment, which is something higher education administrators will need to navigate at least once a year when they work at an institution.
Adults have a different learning process. Teaching adults and serving them as students is a very different experience than students at any other stage of life. On top of the fact that a lot of jobs require continuing education, the age demographics in higher education populations are shifting as well. Many college students today are older than the average student was several years ago. Students today are more likely to have full-time jobs and even families. Classes that cover adult learners will explore their needs as a student demographic and how you can facilitate their success while making appropriate accommodations for their lifestyles. A lot of these programs also include some kind of professional practicum, which can typically be completed at your current place of employment.
A PhD in Higher Education Online
It is possible to earn a PhD in Higher Education online. In fact, it may be the more preferable option for many students because you won't have to relocate, and you can typically maintain your full-time work schedule at the same time. This is possible because online programs are designed to be very flexible. At such a high level of education, online programs are sure to cater to the working professional as much as possible.
Most of the programs available in higher education online will feature asynchronous courses so you can access your classes 24 hours a day, seven days a week. It is true that many of them do require at least some time spent on campus; however, the majority of the on-campus meetings are held over summer, when you're likely to be off work anyway. Even when they're not ideally-scheduled for you, you have the dates well in advance, and they last for just a few days each time.
Studying online is also going to give you more access to the things you look for in a PhD program. You're not limited to what the schools near you have to offer. You can take the time to find a university with great student services, or with career placement, or with a specific specialization or set of electives that suit your professional goals. Of course, the best part of all of that is you don't have to interrupt to get where you want to go.
Online programs are also typically associated with lower costs. This is because they require no relocation, no commute, often fewer materials, and can have fewer fees you're responsible for since you're not using any campus facilities. Many people are unaware of the fact that online students are also eligible for the same financial aid, grants, and scholarships that traditional students are too!
Choosing the best program includes a lot of research and determining the specifics of each school and what the program structure is like. We know that selecting a school is a big task, so we've gone ahead and done some of the research for you to present you with the top 15 online PhDs in Higher Education. Due to the overlap between doctorates in higher education, we've chosen to feature Doctor of Education degrees as well. All of the schools were ranked according to the following.
Methodology
In order to create this ranking of the best online PhDs in Higher Education, we began by curating a list of schools that offered online doctorates in higher education. In order to be considered for our ranking, each school must meet the following criteria: it is based in the United States; it holds current, proper accreditation; it offers at least one doctorate program in higher education for distance students, whether that is fully- or partially-online; and, it does not operate as a for-profit institution. Once we had established a list of eligible schools, we gave them a score based on three factors.
Freshman Retention Rate (⅓ of final score)
Graduation Rate (⅓ of final score)
Affordability (⅓ of final score)
The maximum possible score a school could receive is 300 points. To collect the information we needed to give each school their score, we used their own websites whenever possible. Additional information was collected from the National Center for Education Statistics, U.S. News & World Report, and Collegedata.com. Once each school was scored, we put them in order so we could present you with the best degree programs for a PhD in Higher Education.
We would like to note that some schools may not be featured here due to incomplete information available online or per their own request. Online College Plan refuses to give any institution preferential treatment for any reason, at any time.