Best Music Colleges with Online Programs
Find your degree
Online College Plan is an advertising-supported site. Featured or trusted partner programs and all school search, finder, or match results are for schools that compensate us. This compensation does not influence our school rankings, resource guides, or other editorially-independent information published on this site.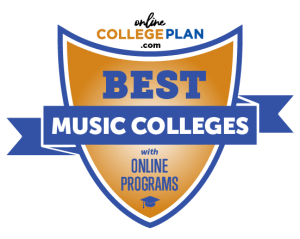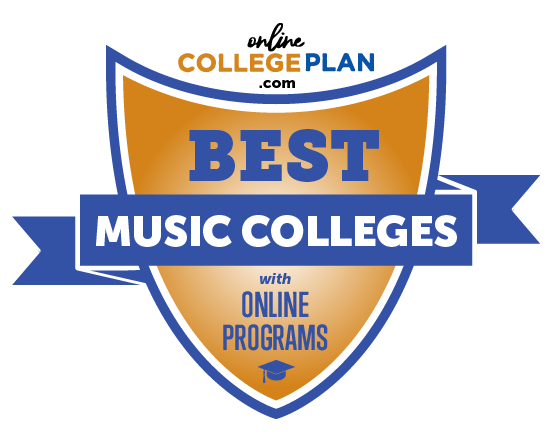 The mission of the New England Conservatory states, "We believe that the study of music builds human capacity, elevates the soul, and prepares our students for lives that enhance the public good." Music is where time touches the eternal – great philosophers have often speculated that there will be music in the afterlife, but regardless of one's belief about the afterlife, music is a universal language that touches the soul. Aspiring artists and musicians are in a category all on their own, and earning a music degree is unlike any other college degree as it requires technique, practice, and artistry coupled with knowledge.
When researching this article, we found that it is essential to understand that there is a difference when it comes to earning a music degree at a state school versus a conservatory or a university that has its own conservatory. Larger public universities have excellent music programs through their music departments, and their students have the opportunity to have the full college experience, as well as the ability to expand their academic careers beyond performing arts. The experience is often very different for those students at conservatories. They don't offer the lifestyle choices of a large college but are more likely to get individualized attention from high profile faculty members. The education received through a conservatory is expected to carry more weight and prestige in the musical world. It is imperative to know what you, the student, are looking for.
Now, with the explosion of online programs, music departments and schools are being forced to rise to the challenge. Music degrees, however, are some of the most difficult for schools to offer online. There is little doubt that to earn a music degree, one-on-one, personal attention is best. We have scoured the nation and looked at the top music colleges to find out who offers an online music program. The schools we found provide innovative ways to meet the challenges of our digital world and bring their world-class musical training to the comforts of your home. It should be noted that many of the programs are limited to only one or two degrees or even just a few classes. But every program has something unique to offer the musically inclined.
Featured Programs
The schools were selected based on their online offerings – schools with online programs were chosen. Once the schools were listed, they were ranked based on the number of classes or programs offered, annual tuition, return on investment, student to faculty ratio, and graduation and retention rates. All statistics were gathered from the National Center for Education Statistics, payscale.com, and school websites. The following is the amount of weight each statistic carried while creating the ranking:
Student to faculty ratio – 15%
Retention rate – 25%
Graduation rate – 25%
Annual tuition – 15%
Return on investment – 20%
20. University of Maine at Augusta
Established in 1965, the University of Maine at Augusta is the third largest public university in Maine. There are campuses in both Bangor and Augusta as well as an extensive online school. The online school has earned national recognition for its online baccalaureate degree in information and library science and offers 13 baccalaureate degrees. In addition to the two main campuses, there are eight University College centers and 56 receiving sites that are part of the UMA system. The University is divided into two academic colleges, the College of Arts and Sciences, and the College of Professional Studies. There are over 6,200 students who attend UMA.
The University of Maine at Augusta offers an innovative Contemporary and Popular Music degree that is flexible, affordable, and progressive. Most of the courses are offered online or low-residency, meaning very few campus visits are required. Boasting highly personalized instruction with a low student-to-faculty ratio, this program is one of a kind for those who are looking for a music college. There are three degrees available. Students may earn an Associate of Science in Music, which is available both live and online. The Bachelor of Music degree is available live and online, and students may focus on performance, audio, composition, sonic arts, or a combination uniquely suited to the student. Lastly, the Bachelor of Music with a concentration in Music Education has low residency requirements and includes a minor that prepares students to meet Maine State Teacher Certification requirements.
Students who choose to earn a Contemporary and Popular Music degree at UMA will benefit from the renowned faculty, outstanding technical facilities, highly personalized instruction, and multi-stylistic approaches. These factors, combined with the low annual tuition of 17,498 make UMA one of the best music colleges with online degree options.
If you wish to learn more or would like to connect, please use the following links:
University of Maine at Augusta's Website – https://www.uma.edu/academics/programs/music/
Facebook – https://www.facebook.com/UMAugusta/
Twitter – https://twitter.com/umaugusta?lang=en
19. University of West Georgia
The University of West Georgia is the state's sixth-largest public university and is home to over 13,000 students. Founded in 1906, UWG grew from a district agricultural and mechanical school to a two-year institution and then a four-year college in 1957. University status was granted in 1996. There are 88 fields of study offered through six colleges and one school: Arts and Humanities, Honors College, Social Sciences, Education, Science and Mathematics, Tanner Health System School of Nursing, Richards College of Business. The mission of the University of West Georgia is to "enable students, faculty, and staff to realize their full potential through academic engagement, supportive services, professional development, and a caring, student-centered community."
One of the many ways the UWG lives up to their mission is through their excellent music program. The UWG Department of Music offers professional undergraduate and graduate degree programs in music. These programs are designed to prepare students for careers in music education, performance, or composition. In addition to the specific degree programs, students are offered enrichment through concerts, recitals, workshops, and master classes by visiting performers and scholars and the department's faculty. Exposure to this top-quality enrichment makes the UWG one of the best music schools in the nation.
The UWG offers a Bachelor of Music with a Major in Composition, and an online Master of Music with a Major in Music Education. The Department of Music at UWG is an accredited institutional member of the National Association of Schools of Music. A distinguished artist-teacher faculty delivers all instruction with extensive credentials and professional experience. With a low annual tuition of just over $17,000, the UWG is one of the best music schools at an affordable price.
University of West Georgia's Website – https://www.westga.edu/
Facebook – https://www.facebook.com/UniversityOfWestGa/
Twitter – https://twitter.com/univwestga?lang=en
18. Liberty University
Founded as Lynchburg Baptist College in 1971 by Pastor Jerry Falwell, Liberty University is the most extensive Christian University in the world and largest private, non-profit university in the United States. The name was changed in 1976 to Liberty Baptist College and obtained university status in 1984. Today Liberty University is home to more than 15,000 on-campus students, and 110,000 online students. The University offers over 290 bachelors degrees, 315 masters degrees, and 32 doctoral areas of study through 17 colleges. There is no doubt that the numbers are impressive Liberty University.
Known as one of the top music schools in the nation for those who are looking to study contemporary worship music, the residential undergraduate music programs at Liberty are outstanding. The School of Music provides the opportunity for students to explore a variety of music interests, both in and outside of the classroom, with multiple degree options, career preparation, performance opportunities, and student-led organizations. The School is comprised of two distinct centers: The Center for Music & the Performing Arts and the Center for Music & Worship. The University offers a plethora of degree options from Choral Music to Commercial Music, Guitar, Piano, String, and Vocal Performance to Music and Worship, with many options in between. Residential students can take advantage of the state-of-the-art recording studios, advanced technology to publish and produce music, and a unique architecture that encourages soundproof environments.
For those who are looking for an online music school, Liberty offers online master's degrees in Music and Worship, Worship Studies, and Music Education. Several different specialties accompany these degrees; the options are broad. Additionally, Liberty offers an online Doctor of Worship Studies. Tuition is low at $21,310 annually, and the annual return on investment is 2.9%.
School Profile
Liberty University's Website – https://www.liberty.edu/
Facebook – https://www.facebook.com/LibertyUniversity/
Twitter – https://twitter.com/libertyu?lang=en
17. Judson College
The fifth-oldest women's college in the United States, Judson College is located in Marion, Alabama. Judson was named after Ann Hasseltine Judson, the first female missionary from the United States to Burma. It was founded in 1838 by members of Siloam Baptist Church and is affiliated with the Alabama Baptist Convention. Today, Judson offers 20 majors, 22 minors, ten pre-professional degree programs, and the Associate Degree in Nursing. As the only women's college in Alabama and the most affordable women's college in the nation, Judson is committed to being a place devoted to young women. "We believe that this environment helps our students develop the knowledge, confidence, and leadership skills they need to achieve their goals in a more profound way than they could in a coeducational setting."
Judson College offers a Bachelor of Arts in Music through their Distance Learning center. It is catered to students who wish to earn a concentration in music within the context of a Liberal Arts education. All classes are taught by faculty who have doctoral degrees and are experts in their fields, ensuring that students receive top-notch training. Students develop skills in musicianship, capabilities in the use of principles and procedures that lead to an intellectual grasp of the art, and the ability to perform. Additionally, Judson College offers a Music Minor and a Church Music Minor. The online Bachelor of Arts in Music is 47-51 credit hours and is regionally accredited by the Southern Association of Colleges and Schools Commission on Colleges.
Students will take classes including Music Theory, Sight Singing/Ear Training, Music History, Form and Analysis, and Applied Lessons. Lessons are not conducted online; students must work with a local teacher who is required to be in contact with the college. Additionally, the students are required to take electives and participate in both ensembles and recitals.
Judson College's Website – https://www.judson.edu/
Facebook – https://www.facebook.com/Judson.College/
Twitter – https://twitter.com/judsoncollege?lang=en
16. Stephen F. Austin State University
Founded in 1923 on a beautiful 417-acre campus, Stephen F. Austin State University is home to over 13,000 students. Named after one of Texas's founding fathers, Stephen F. Austin, the University is one of four independent public universities in Texas. Located in Nacogdoches, Texas, the University was initially a teachers' college and has grown to offer more than 120 areas of study today. There are more than 80 bachelor's degrees, 50 masters degrees, and three doctoral programs available at SFA.
Stephen F. Austin State University offers an online Master of Music in Theory and Composition which is designed to provide "advanced analytical and creative opportunities for promising composers and music theorists." Applicants are required to have an undergraduate degree in music from a National Association of Schools of Music institution. The degree requires a thesis and is comprised of 30-credits of specialization. The goal is to prepare students for further academic work or careers as college/university teachers or freelance composers. There are concentrations, in theory, composition, or theory-composition (dual) available.
The School of Music at Stephen F. Austin State University offers a variety of degrees, courses, ensembles, and musical experiences for all SFA students. There over 60 accomplished faculty who work directly with the students. The School of Music offers a wide array of ensemble experiences including four concert bands, three choirs, the Orchestra of the Pines, the Lumberjack Marching Band, two jazz ensembles, and multiple chamber music groups. Additionally, the school offers over 200 recitals and concerts each year for students, faculty/staff, parents, and the local community. Tuition is just over $17,000 annually, and the annual return on investment is 5.7%.
Stephen F. Austin State University's Website – https://www.sfasu.edu/
Facebook – https://www.facebook.com/sfasu/
Twitter – https://twitter.com/sfasu
15. University of Michigan—Flint
The first students began classes at University of Michigan-Flint on September 23, 1956. The school was accredited in 1970, moved to downtown Flint later in that decade, and has been providing award-winning services and education ever since. As a comprehensive urban university, UM-Flint offers over 100 undergraduate degrees and 18 master's degrees and a number of online programs. These include a Bachelor of Applied Science degree for students looking to transfer an associate's degree toward a 4-year program, with 11 disciplines to choose from with major coursework that can be earned entirely online including Art History, English, Health Care, and Music.
UM-Flint's music department offers degrees accredited by the National Association of Schools of Music. The department prides itself on providing students with smaller classes and more direct faculty interaction alongside rigorous coursework. Students can look forward to performing, teaching, and create music both during enrollment and after graduation. Concerts, recitals, clinics, and workshops throughout the year provide opportunities for participation and enjoyment to music majors and non-majors alike. Admission to UM-Flint's music program requires an audition, which can be conducted long-distance or in person. Specific degrees include Music Performance, Music Honors, Music General, and Music Education. There are many opportunities for performance, including solo performance, the Wind Symphony, University Chorale, Chamber Singers, University Orchestra, Jazz Ensemble, Jazz Combo, Opera Workshop, and other ensembles. In addition to financial aid options through UM-Flint itself, there are a variety of music-specific scholarships available to eligible students.
Students pursuing a Music degree through the Bachelor of Applied Science online program must complete at least 124 credits, with 30 of the required 33 upper division major credits being earned at UM-Flint. Annual tuition is just over $21,000, with an expected 6.2% return on investment payscale for graduates.
University of Michigan-Flint's website— https://www.umflint.edu/
Facebook—https://www.facebook.com/umflint/
Twitter—https://twitter.com/UMFlint
14. Valley City State University
Nestled between the Sheyenne River and a hillside forest, Valley City State University's 55-acre campus is home to 1,422 students. Initially begun in 1890 as a college for teachers, VCSU now provides over 80 undergraduate degrees and two master's degrees in education. U.S. News & World Report has recognized VCSU, which is fully accredited by the Higher Learning Commission, as the No. 1 Public Regional College in the Midwest. Full-time students have access to a personal laptop and state-of-the-art technology, which combined with a low student-to-faculty ratio of 11:1 means students get far more attention and support than they would in many larger institutions. A high rate of financial aid further balances an already low tuition rate of $16,579—almost 80% of students receive scholarships or other forms of financial assistance.
VCSU features a robust and innovative music program with bachelor's degrees in performance and education. Students can also earn a minor or certificate in Music Composition, Music Production & Recording, and Piano Pedagogy. Scholarships may be obtained by students who perform in the university's many groups and ensembles including Athletic Band, Concert Band, Concert Choir, Jazz Ensemble, Percussion Ensemble, University Singers, solo performance, and more. Graduates are expected to be able to compose or create original music, perform existing works, and think critically about music and music theory.
An online bachelor's degree in music can be earned from VCSU by students who pass an initial audition on their instrument of choice. All academic coursework for the degree is entirely online, while lessons and ensemble participation must be taken at a music college or university and transferred to VCSU. Students will learn music theory, aural skills, conducting, scoring and arranging, music history, piano, and more. Additionally, students must prepare and perform a capstone project, such as a recital, thesis, or original composition. This program helps make VCSU a pioneer and leader in online music education.
Valley City State University's website—https://www.vcsu.edu/
Facebook—https://www.facebook.com/valleycitystate/
Twitter—https://twitter.com/VCSU
13. Southern Utah University
Many students may be attracted to Southern Utah University for its red-rock desert surroundings and the fact that Outdoor Nation has named it "Most Outdoorsy University." Others are drawn to the 140+ undergraduate degrees and 19 graduate programs across the spectrum of academic and professional disciplines. Established in 1898 as a teacher's college for the state of Utah, SUU has become nationally recognized for the quality of its educational programs, community involvement, and hands-on learning opportunities. Over 9,000 students call the Cedar City, Utah campus home.
For graduate students looking to join the music profession, SUU offers a Master of Music in Music Technology. The program is 100% online and provides the choice between a studio track and a performance track. Students will earn 30 credits through coursework, regular student-to-student and student-to-faculty interactions, and hands-on learning. Emphasis on projects and a multi-disciplinary approach are aimed at making graduates from the program as marketable as possible. Courses are led by music-technology professionals with unique insight into the industry. Applicants need not have a previous degree in music, though they may be required to take remedial courses if they do not.
Because the SUU Master of Music Technology degree is intended to result in employment within the music technology field, coursework is practical rather than theoretical. Students will conclude their learning period with a capstone project that is professionally relevant. Annual tuition is just over $20,000. The average return on investment payscale for graduates of SUU is relatively high at 7.4%.
Southern Utah University's website—https://www.suu.edu/
Facebook—https://www.facebook.com/SUUTBirds/
Twitter—https://twitter.com/SUUtbirds
12. Georgia College & State University
Georgia College began in 1889 as a women's educational center, and today is Georgia's designated public liberal arts college featuring over 40 majors in the arts and sciences, business, education, and pre-professional focus. Georgia College has been awarded a number of honors and recognition both nationally and regionally for its athletics, nursing and teaching degrees, and online program, among others. Located in Milledgeville, Georgia, the school currently serves more than 6,600 undergraduate and graduate students. One of the school's most notable alumni is the great Southern writer Flannery O'Connor, who graduated with a Bachelor of Arts in Social Science in 1945.
Rated the Second Best Music Therapy School in Georgia, Georgia College offers the state's only Master of Music Therapy degree. Those in the low-residency program learn online, and via two, 2-day campus visits each semester as well as a single intensive summer seminar. Students are required to have completed a bachelor's degree in music therapy along with an internship, or the equivalent (students with a non-therapy music degree may be required to take equivalency classes on Georgia College's campus). After a rigorous application process students take 38 credits, including a Graduate Clinical Project or Music Therapy Thesis, which will prepare them for careers as practitioners and researchers of music therapy. An application does not guarantee entry—many students compete for positions in the Master of Music Therapy program, and not all are admitted.
Students in Georgia College's music programs study their chosen field in the context of the liberal arts, such as history, mathematics, philosophy, English, and languages. In addition to solo presentations, a number of opportunities exist for public performance: Chamber Ensembles, Jazz Band, Max Noah Singers, Orchestra, University Chorus, Wind Symphony, and Women's Ensemble. Annual tuition is just over $28,000 per year.
Georgia College website—https://www.gcsu.edu/
Facebook—https://www.facebook.com/GaCollege/
Twitter—https://twitter.com/GeorgiaCollege
11. Saint Mary of the Woods College
Tracing its origins to the missionary work of six French nuns who came to Indiana in 1840, Saint Mary-of-the-Woods College is a Catholic institution that switched from a women-only college to coeducational in 2015. A faculty of 55 teaches 25 majors with a student-to-faculty ratio of 7:1 meaning students experience a highly personalized learning environment. Nearly 1,600 undergraduates and 126 graduate students enjoy a beautiful garden-like campus and historic buildings outside of Terre Haute, Indiana. The college is fully accredited, and several programs within the school are recognized and accredited by various professional organizations. U.S. News and World Report has also named the college among the nation's Best Online Undergraduate Programs.
The same quality apparent in SMWC's online undergraduate program is also present in their unique Master of Arts in Music Therapy degree, one of only two such degrees available at Indiana colleges. Each semester in the 43-credit program starts with a four to five-day residency followed by online coursework, and there are two required summer residencies of five to six days each. Students study Medical Music Therapy, Music Psychotherapy, Psychiatric Music Therapy, Music Therapy Research, and more. Graduates will be equipped to pursue private practice in music therapy and conduct rigorous research in the field. Entry into the program is dependant on an earned bachelor's degree in music therapy or equivalent program with at least nine psychology credits and cumulative GPA of 3.0-4.0, certification, complete application, and an instrument audition. Graduate assistantships are available to eligible students.
Students who earn a music degree from SMWC are prepared for a number of careers, including professional music performance, church music directorships, music library curation, and music advocacy. Ambitious students can enroll in a program that allows them to earn a bachelor's degree and a master's degree in music in an intensive 5-year plan.
Saint Mary-of-the-Woods College's website—https://www.smwc.edu/
Facebook—https://www.facebook.com/smwcollege/
Twitter—https://twitter.com/smwc
10. Manhattan School of Music
Housed in historic buildings on West 122nd Street in the heart of Manhattan, the Manhattan School of Music is home to over 960 students in undergraduate and graduate programs. MSM offers concentrations in Composition, Instrumental Performance, Jazz, Musical Theater, and Voice. Students must complete coursework related to their major as well as other music-related subjects, ensemble performance, and the humanities. As a leader in music education, MSM also offers a variety of programs for children aged 5-18, including Precollege instruction, MSM Summer, a city-wide outreach to 2,000 students, and a distance learning option. Graduate programs leading to Master of Music and Doctor of Musical Arts are available.
MSM's distance learning program dates back to 1996, making it the first of its kind at a major conservatory. While MSM does not currently offer an online degree, it provides a number of options for students around the world to learn from some of the best music educators and performers available. Master classes, ensemble coaching, and personal lessons are webcast via Polycom, a state-of-the-art collaborative platform with special adaptivity for increased sonic integrity. MSM also livestreams its student concerts and maintains an archive of all previously recorded and released concerts, lessons, and classes.
There is no doubt that MSM is one of the best music schools in the country, and with its distance learning programs that reputation is extending to the rest of the world. Featuring collaborations with such world-renowned performers as the violinist Pinchas Zukerman, MSM's master classes are available far beyond the borders of the New York City borough it calls home. Annual tuition for the traditional degree program is $44,600 per year, with a projected 5% ROI payscale.
Manhattan School of Music's website—https://www.msmnyc.edu/
Facebook—https://www.facebook.com/msmnyc/
Twitter—https://twitter.com/MSMnyc
9. University of Rochester – Eastman School of Music
The Eastman School of Music was the first professional school within the University of Rochester in Rochester, New York. George Eastman of Kodak Eastman fame founded it in 1921, and its focus then and now is educating the whole person for a life in music through intensive musical training, academic music study, and courses in the humanities. Enrollment is split almost in half between about 500 undergraduate and around 400 graduate students. ESM's unofficial motto: "Eat. Sleep. Music." is exemplified by the rigor of its programs, which include bachelor's degrees in Performance, Composition, Theory, Music Education, and Jazz Studies, as well as graduate degrees, focused on music education.
The "Eastman Career and Leadership Certificate: Online" is a career-facing program designed to give students not only the musical skills but the entrepreneurial knowledge, marketing savvy, and professional understanding needed to succeed in a music career. There are four courses totaling six credits: Career Skills for the 21st Century, Digital Marketing, Leadership Issues in Music, and Entrepreneurial Thinking. Cohorts of 20 students per section take classes over the course of a traditional Fall-Spring semester schedule. This certificate is offered by the Institute for Music Leadership, a division of the Eastman School of Music dedicated to preparing students for careers in music and providing over 25 courses in everything from grant writing to art media and promotion.
Students in the Eastman Career and Leadership Certificate: Online program gets the same class content taught by the same faculty as on-campus ESM students. Traditional students pay $52,020 in annual tuition, while online certificate students spend half the regular rate per credit hour. Total cost for the certificate is $4,182. Current and future college students are admitted.
Eastman School of Music's website—https://www.esm.rochester.edu
Facebook—https://www.facebook.com/EastmanSchool/
Twitter—https://twitter.com/UofR
8. Boston University
Located in Boston, Massachusetts, Boston University is one of the city's largest employers and is home to more than 33,000 undergraduate and graduate students pursuing degrees in 250 programs shared among 17 schools. One of those schools is the Boston University College of Fine Arts, which encompasses Music, Theatre, and Visual Arts. BU was founded in 1839, while the College of Fine Arts began over 100 years later in 1954. Students are well situated to take advantage of the rich arts and cultural traditions of Boston, meaning that education in the College of Fine Arts is more than just an academic exercise—it's also a way to develop real-world knowledge and skills.
Three online graduate degrees are available at BU, all related to music education. Students can earn a professional advancement Certificate of Advanced Graduate Study in Music Education, a Master of Music in Music Education, and a Doctor of Musical Arts in Music Education. The Certificate of Advanced Graduate study is for students with master's degrees who are already working professionally in music education. Those in the Master of Music program will design a music education curriculum, and those pursuing the Doctor of Musical Arts degree will plan and write a dissertation. The certificate and master's degree programs both require a minimum of 32 credits for completion, while the doctorate is a 48-credit program. All courses are entirely online, though students can elect to do on-campus work during the summer semesters. The emphasis is on academic and pedagogical work rather than performance.
The School of Music has been ranked among the 20 best music schools in the United States. With over 400 student performances per year, free admission for students to the majority of Boston Symphony Orchestra performances, an intimate 3:1 student-to-faculty ratio, and a reputation as an academically rigorous research university (Boston University), it's easy to see why. For those looking to advance the state of music education as well as their careers, the online graduate degrees offered by the BU School of Music are an essential option.
Boston University College of Fine Arts website—https://www.bu.edu/cfa/
Facebook—https://www.facebook.com/BU.SchoolofMusic/
Twitter—https://twitter.com/BU_Tweets
7. West Virginia University
A notable feature of West Virginia University is the sheer number of respected scholarships awarded to its students, including Rhodes Scholars, Truman Scholars, and Fulbright Scholars among many others. Academics are drawn to the school for its R1: Doctoral Universities status for "highest research activity" according to the Carnegie Classification of Institutions of Higher Education. The WVU system is based in Morgantown, West Virginia; it is ranked #16 by Business Insider on their list of 20 Best College Towns in the U.S. Student enrollment is 31,442, spread among 14 colleges and schools offering more than 340 majors across the academic and professional spectrum.
Among the many outstanding programs offered by WVU, the online Master of Arts in Music Industry is a focused degree designed to train students for careers in the music business. The 33-credit, 2-year program with courses like Music Industry Regulations, Advanced Music Publishing, Development of Music Technology, and Live Music Production. At the end of the program, students will complete a capstone project which serves as a practical application of the previous coursework. Graduates are prepared to enter a variety of music professions, including sound engineering technician, music producer, program director, music composer and arranger, and many more. Most of these have a projected growth of 5-9%, with some (particularly those related to film and television) having as much as 10-14% expected growth.
The WVU School of Music, serving 500 students, provides an impressive array of bands, choir and vocal ensembles, jazz, and world music groups, chamber ensembles, and the WVU Symphony Orchestra for students to hone their performance skills. With WVU's reputation as a top-notch academic institution and the rigorous performance training available in the School of Music, graduates will be well prepared to enter the challenging world of the music industry.
West Virginia University's Homepage—https://www.wvu.edu/
Facebook—https://www.facebook.com/wvumountaineers/
West Virginia University Press Twitter—https://twitter.com/WVUPRESS
6. Colorado State University – Fort Collins
Sitting at the foot of the majestic Rocky Mountains, Fort Collins, Colorado is home to Colorado State University-Fort Collins, a comprehensive public university founded in 1870. CSU-Fort Collins emphasizes its location, and it should—Fort Collins is near Denver, surrounded by beautiful wilderness, and enjoys 300 days of sunshine every year. More than 33,000 students have over 250 programs and 50 minors to choose from. These range from Agricultural Business to Global Philosophies and Religions. As a top research university, students in all disciplines can expect a rigorous academic experience that prepares them for real-world careers.
Students of music have many focus areas to choose from at CSU-Fort Collins. Majors include Brass, Composition, Conducting, Music History and Music Theory, Organ and Liturgical Studies, and more. Along with a range of ensembles and opportunities for solo performance, the Ralph Opera Program provides scholarships, support, and professional development for students, as well as stagings of two full operas and several scenes each year.
CSU-Fort Collins also features a robust online program. For graduate music students unable to attend full-time in person, the Master of Music Education with Conducting Specialization offers a 30-credit program designed primarily for those currently working as music instructors. Content is customizable, so you can immediately put into effect what you learn. Coursework is completed online, though there are required summer sessions focused on methodology and technique. These summer sessions also provide direct student-to-student and faculty-to-student feedback and practice time. Students who earn the MM – Conducting Specialization will be well equipped for competitive, diversified teaching positions. CSU-Fort Collins also offers online master's degrees in Music Education and Music Therapy.
Colorado State University-Fort Collins website—https://www.colostate.edu/
School Profile
Conducting degree—https://www.online.colostate.edu/degrees/conducting/
Facebook—https://www.facebook.com/coloradostateuniversity/
Twitter—https://twitter.com/ColoradoStateU
5. Rutgers University
Rutgers is a Big Ten research university whose flagship campus is in New Brunswick, New Jersey. Originally chartered in 1766, the history of Rutgers is older than the United States itself. Over 69,000 undergraduate and graduate students are enrolled at the university, hailing from every U.S. state and 125 countries worldwide. Thirty schools and colleges oversee more than 150 undergraduate majors and over 200 graduate degrees. Rutgers is officially the State University of New Jersey, and the largest university in the state. With an annual tuition rate of $30,579, Rutgers is among the more affordable large universities.
In 1976, 210 years after the founding of Rutgers, the Mason Gross School of the Arts was established to bring together a number of different art programs. This merger included the music department, which today aims to train students for careers as music professionals with a thorough grounding in music history and theory. A variety of historical and state of the art facilities provide students with ample performance and training space. Rutgers' music department has been ranked #9 out of 393 among colleges and universities, making it one of the best music colleges in the country.
A number of undergraduate music courses are available to students online. These include basic music theory courses, special topics in music genres and history, and Making Music with Computers. Students can study asynchronously and at their own pace. Each course is fully accredited, lasts 15 weeks, and has start dates in Fall, Spring, and Summer. These courses do not add up to a complete degree, but they can be used toward a bachelor's degree. For graduate students, there is also a Master of Music in Music Education Online. This degree is a 30-credit program with a 3-credit capstone project involving Applied Research in Music Education. Those who complete this program will be equipped as K-12 music teachers. Students do not need to complete an audition before entry, nor do they have to write a dissertation.
Rutgers University website—https://www.rutgers.edu/
Mason Gross School of the Arts—https://www.masongross.rutgers.edu/
Facebook—https://www.facebook.com/MasonGrossSchool/
Twitter—https://twitter.com/MasonGross
4. Rowan University
Located in Glassboro, New Jersey, Rowan University is home to over 18,000 students. Founded in 1923 as Glassboro Normal School, the School was renamed Rowan College of New Jersey after industrialist Henry Rowan and his wife gave the school $100 million, the largest gift that was ever given to a public college (at that time). Rowan was granted university status in 1997. Today, the University is an academic powerhouse divided into 13 academic schools. The main campus is pleasantly situated on 25-acres in Glassboro, and there is a satellite campus in Camden, New Jersey.
Rowan University's online program is referred to as "Rowan Global." Rowan Global was established to help adult students reach their academic goals while balancing their busy schedules. They offer both undergraduate and graduate degree completion programs both online and on their various campuses. Through Rowan Global, students may earn a Master of Music, which is a program that provides intensive experiences in performance, conducting, jazz studies, or composition. Additionally, there are courses geared to enhance the student's knowledge and understanding of the literature of their area of specialization, and a greater understanding of music in general. Graduates of Rowan's Master of Music program have gone on to major doctoral programs, performing careers, arts leadership positions, and careers as college professors and public school teachers. Geared towards the working student, the Master of Music: Jazz Studies Online is a part-time program offered in an accelerated format. Students are required to complete 32 graduate semester hours or 11 courses.
One of the best music colleges in the United States, Rowan University alumni are performing in top ensembles around the world, serving as music teachers for over 100,000 children, working in all areas of the music industry, and are leaders in the music field and music education. With an average annual tuition of $21,890, you can be ensured of top-quality music education at an affordable price.
Rowan University's website—https://www.rowan.edu/home/
Facebook—https://www.facebook.com/RowanUniversity/
Twitter—https://twitter.com/RowanUniversity
3. Indiana University
Comprised of eight campuses across the state of Indiana, Indiana University is a public university with more than 110,000 students. Bloomington and Indianapolis are considered "core campuses." The Indiana University Research and Technology Corporation (IURTC) is a not-for-profit agency that assists IU faculty and researchers in realizing the commercial potential of their discoveries. Since 1997, university clients have been responsible for more than 1,800 inventions, nearly 500 patents, and 38 start-up companies. In one year alone the IURTC has issued 53 U.S. patents and 112 global patents.
While it is apparent that the research stemming from IU is astounding, the Jacobs School of Music at the University is one of the top music schools in the U.S. There are more than 1,600 students who attend Jacobs, and they study under more than 180 full-time faculty. Faculty members are highly qualified and include performers, scholars, and teachers of international renown. Additionally, many top musicians and scholars come each year to give master classes and guest lectures or serve as visiting directors, conductors, and faculty. Their website states, "The breadth and number of performance opportunities are unparalleled in college music study, with the school offering more than 1,100 performances a year, including up to seven fully staged operas. The grandest facility is the Musical Arts Center, which features technical capabilities that are among the best in the nation."
Indiana University offers an online Master of Science in Music Therapy program which provides professional board-certified music therapists with advanced research skills and clinical practice in music therapy. Students in the program will learn advanced research skills as well as how to use the vast array of tools available in music technology. Completion of the program requires 30 hours of coursework: 18 credit hours in core courses at the 500 level or above, six credit hours in cognate courses at the 400 level, and six hour of approved electives at the 400 level or above from the cognate field or other fields with approval from the head of the graduate studies.
Indiana University's website—https://www.iu.edu/
Jacobs School of Music—https://www.music.indiana.edu/index.shtml
Facebook—https://www.facebook.com/IUJSoM/?ref=br_rs
Twitter—https://twitter.com/iujsom?lang=en
2. The New England Conservatory of Music
The oldest independent school of music and one of the top music schools in the nation, the New England Conservatory of Music is located in the Boston, Massachusetts. The school is primarily known for its prestigious chamber music program as well as its strings, piano, woodwinds, and brass departments. Located near Boston Symphony Hall, the conservatory is home to 750 students, along with 1400 more students who attend the Preparatory School and the School of Continuing Education. It is the only music school in the United States designated as a National Historic Landmark. Its primary concert hall, Jordan Hall, hosts approximately 1,000 concerts each year.
Jordan Hall was opened in 1903 as a gift from musician Eben D. Jordan II, who was a member of the family that founded Jordan Marsh retail stores. He donated the land for the main building and funded the concert hall with a gift of $120,000. Newspapers deemed the hall "unequaled the world over," and The Boston Globe reported that it was "a place of entertainment that European musicians who were present that evening say excels in beauty anything of the kind they ever saw."
The mission of the School states, "New England Conservatory educates and trains musicians of all ages from around the world, drawing on the talent and deep reservoir of experience of our distinguished faculty. We are dedicated to inculcating the highest standards of excellence and nurturing individual artistic sensibility and creative growth. Understanding that music is one of the transcendent expressions of human civilization, NEC aspires to ensure it a central place in contemporary society." While the New England Conservatory does not currently offer entire online degrees, they have begun to offer online courses. Students from all over the world will benefit from classes from one of the best music colleges in the U.S. Classes include music history, music technology, masterclasses, private lessons, and more.The goal of NEC's School of Continuing Education is to increase the number of online classes offered each semester.
New England Conservatory's website—https://necmusic.edu/
Facebook—https://www.facebook.com/necmusic/
Twitter—https://twitter.com/necmusic?lang=en
1. Berklee College of Music
Arguably the best contemporary music school in the nation, Berklee College of Music is located in Boston, Massachusetts. It is the largest independent college of contemporary music in the world. The College's origin dates back to 1945 when pianist, composer, arranger, and MIT graduate Lawrence Berk founded the Schillinger House, which was the precursor to Berklee. At the time of its founding, most music schools focused on classical music, but the purpose of the Schillinger House was to offer training in jazz and commercial music. Over time, the School expanded to provide a greater variety of classes and training as the number of students increased. Berk eventually changed the name to Berklee School of Music, named after his 12-year-old son, Lee Eliot Berk, to reflect the broadening scope of education. In December 2015, Berklee College of Music and the Boston Conservatory merged, and the conservatory is now known as the Boston Conservatory at Berklee.
Berkley's online music program belongs in the number one spot on the list. They offer a world-class music education only available at Berkley through an online platform. Their options are also one of the most extensive on the list; undergraduate degrees include Music Production, Guitar, Music Business, Songwriting, Music Composition for TV, Movies, and Games, and several others. Online graduate degrees include Music Production and Music Business. Benefits of studying online include lower tuition and fees, flexible learning formats, fully accredited programs, access to the same world-renowned faculty who teach on Berklee's campus, and an online community that includes musicians, executives, and industry leaders from over 140 countries. The School boasts, "Berklee Online is the world's biggest online music school—more than 30,000 musicians from more than 140 countries—but classes will never have more than 20 students per section."
Personal attention, a prestigious education, and an affordable price leave little doubt that Berklee belongs at the top of the list as the best music college with online programs.
Berklee College of Music's website—https://online.berklee.edu/
Facebook—https://www.facebook.com/BerkleeCollege/
Twitter—https://twitter.com/berkleecollege?lang=en
Related Rankings: