What Are Some Career Paths for a Degree in Economics?
Find your degree
Online College Plan is an advertising-supported site. Featured or trusted partner programs and all school search, finder, or match results are for schools that compensate us. This compensation does not influence our school rankings, resource guides, or other editorially-independent information published on this site.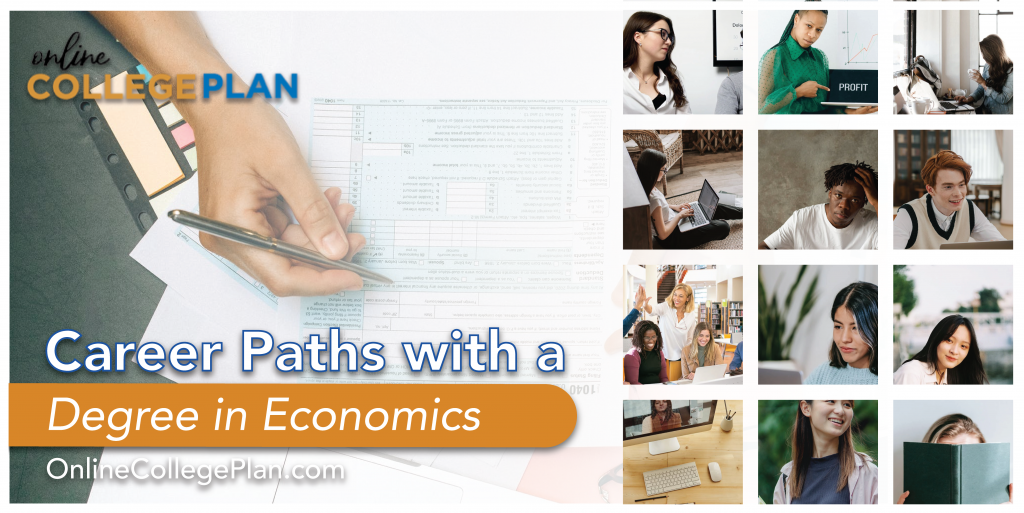 Economics degrees are some of the most popular degree programs in the country. Colleges and universities award tens of thousands of economics degrees during the year, and nearly 1,000 schools in the United States offer degree programs in economics.
Despite its popularity, students pursuing an online economics degree may not feel as though their professional path is as cut-out as other majors. Economics students can struggle after graduation to find a job that suits both their skills and interests. In this article, we will be discussing the logistics of getting an economics degree in America as well as a dozen different career paths that economics students can pursue upon the completion of their degree. 
Featured Programs
Potential Careers With an Economics Degree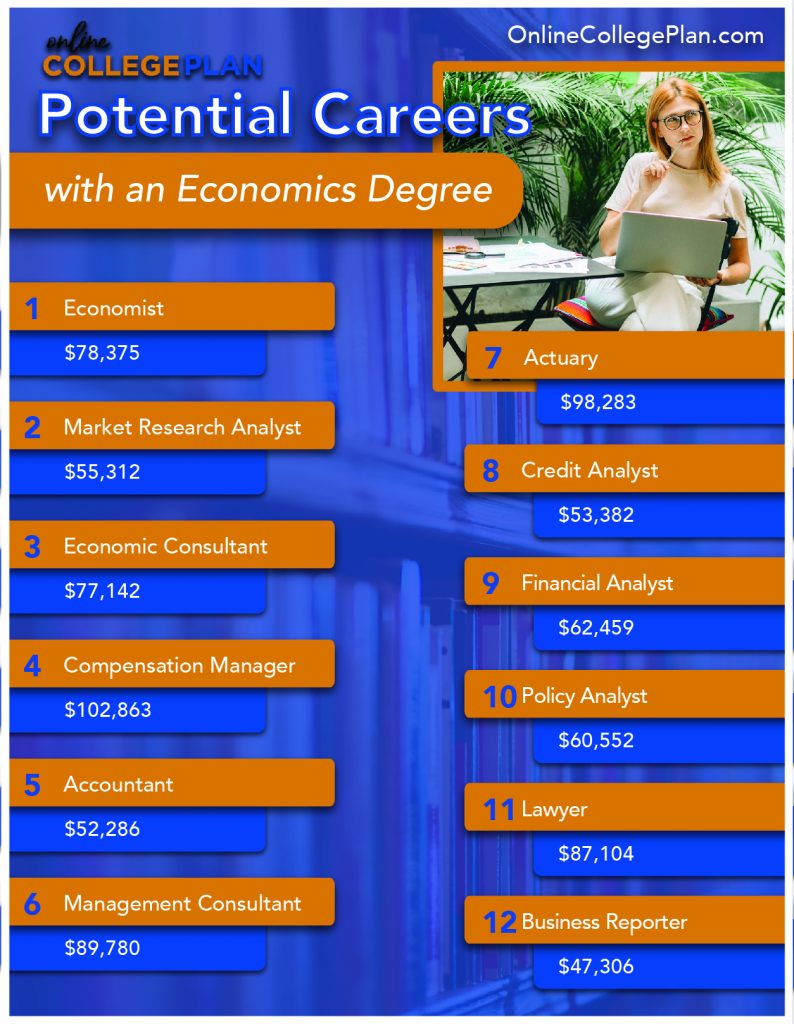 What is an Economics Degree?
Many students find that economics is a great degree to build off of if they want to pursue further study, as it encompasses knowledge relevant to law, finance, business management, and more.
During an economics degree, students will explore questions related to real-world applications of the economy, including resource management and allocation, incentives, wealth, and more. Additionally, students will study foundational topics like macro and microeconomics and calculus throughout an economics degree, later moving to different policy or real-world applicable research.
See Also: Top 20 Best Online Colleges for a Bachelor's Degree in Economics
Where Can You Get an Economics Degree?
Since economics degrees are so popular, there are many different types of secondary institutions in the United States that offer an economics program of study. As mentioned earlier, there are nearly 1,000 colleges and universities you can attend in the US that offer an economics major.
Of course, the most popular (and often considered the "best" schools to get an economics degree) are also the most difficult to get into. However, since many prestigious and Ivy League universities have economics programs, these are often considered the best schools to attend for this subject. Some of the most prestigious economics schools include Harvard University, Massachusetts Institute of Technology, Princeton University, and Stanford University.
How Much Does an Economics Degree Cost?
Most people would agree that the cost of higher education in the United States is generally considered to be relatively high. However, there is significant variation in the cost of getting an undergraduate economics degree depending on the kind of school you attend. For example, you will likely pay much less per year for an economics degree at a public university or community college than you would at a private college or university.
At some community colleges or public universities, you might only pay $8,000 a year for an undergraduate degree, perhaps even less if you have financial aid or scholarships. However, at more prestigious or private universities, you could pay up to $60,000 a year to get your degree. The cost of a degree really depends on the kind of school you choose, so decide carefully!
How Long Does an Economics Degree Take?
A bachelor's degree in economics is considered the starting point for those looking to enter the economics field. When performing your academic work on a standard track, Bachelor's degrees usually take four years of full-time school to complete. However, there are a few variables.
For example, you can sometimes accelerate these programs by taking more credits at a time or pursuing AP courses during high school. On the other hand, if you fail to complete specific coursework the first time or on time, a bachelor's degree could take you up to six years. Generally, however, a bachelor's degree in economics will take you four years to complete.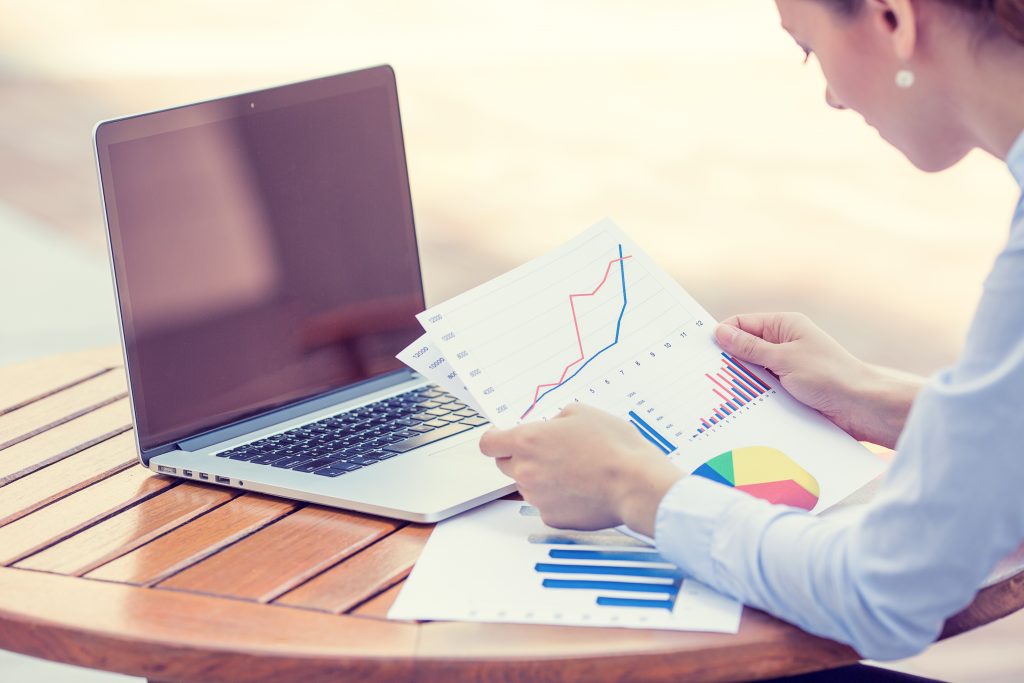 Best Career Paths for an Economics Degree
In the next section of this article, we will be discussing twelve different popular career paths for those who have graduated with a degree in economics. Some of these careers might require further schooling than just a bachelor's degree, while others might have you entering your position immediately after graduation.
In each description, we focus on what the daily roles and responsibilities look like for those in these roles and what their average yearly salary is in the United States. These are all essential parts of choosing a future career, so if you are looking to explore more options for careers in economics, this list is a great place to start.
Economist
There are many different sectors of the economy that an economist might focus on. Economists are experts in the social science of the economy, often looking at things like the cost of different products, different aspects of healthcare, or energy resources.
Some other types of economists might look at inflation, taxes, interest rates, or employment levels, which are real-world statistics that impact our economy daily.
Many economist jobs will require that you obtain a master's degree, but this investment could be worth it as the field is projected to experience six percent growth over the next ten years.
The average annual salary for an economist falls between $49,000 and $138,000, so pay is highly variable and depends on many other factors.
Market Research Analyst
Market research analysts do precisely what their position describes: they research markets to determine how the sale of specific products or services will work against different economic conditions.
Market research analysts often help companies determine the kind of market they should be advertising to, who would want to buy their product, as well as the types of products that people want in general. Over the next decade, this field is projected to grow more than 22-percent, which is much faster than other similar career paths.
The average yearly salary for a market research analyst is around $55,318 but can go as high as $75,000.
Economic Consultant
Economic consultants are similar to economists in the sense that they evaluate how different things work against the conditions of the economy.
A firm would typically hire an economic consultant to look at the financial status of a business or organization to see how shareholders could best manage their plans and projections to fit a changing economy.
An economic consultant essentially helps a business run itself more smoothly and create an effective plan to increase its profits. Generally, you'll need a graduate degree to move up the corporate ladder as a consultant, but entry-level salaries can be anywhere between $60,000 and $125,000.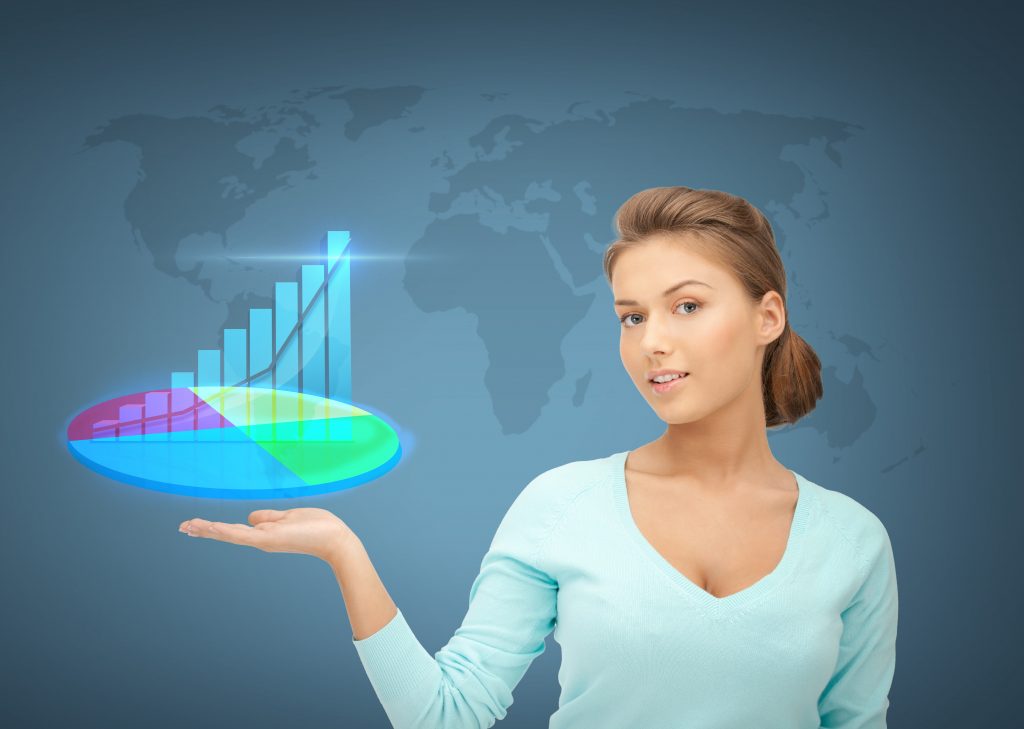 Compensation Manager
Compensation and benefits managers evaluate all of the possible options for pay, salaries, and benefits for employees at a company or organization.
For example, a company or organization would typically hire a compensation manager to work with their management or HR department to perform market research regarding compensation for different positions and experience levels. A compensation manager would then also advise management and HR on how much employees should be paid and the kinds of benefits they should receive.
According to payscale, the current median yearly salary for compensation managers is $102,863.
Accountant
Accountants ensure that financial documents are accurate and up-to-date, prepare tax returns and documents, and guide their clients on financial decisions. They may offer suggestions on saving more effectively, reducing their costs, or paying for a new significant purchase.
Accountants are required to record, keep, and analyze financial records for their clients, which can be entire companies, families, or individuals.
It's imperative for accountants to have intense attention to detail and be literate in computer and communication skills. Accountants are needed in virtually every aspect of business and finance, and the average yearly salary for accountants is around $52,286.
Actuary
An actuary is a professional who is an expert in mathematics and statistics, using numbers to evaluate risk and uncertainty for their clients.
Actuaries essentially determine how likely certain financial and economic events are to happen, for example, fires, natural disasters, deaths, injuries, failures of a business or product, and more.
In this position, you will create risk profiles for your clients by using different software and number generators. You will likely then present this information to your clients in a digestible way, like through graphs or charts.
Actuaries make an average yearly salary of around $98,283 in the United States.
Credit Analyst
A credit analyst is a person who views your application when you apply for a loan, determining how likely you are to repay the loan and recommending whether you be approved or denied. Usually, credit analysts are hired by credit card companies, banks, investment companies, and other financial institutions.
Credit analysts also take more comprehensive economic conditions into account, such as things that impact your specific location, industry, and more.
On average, credit analysts make around $74,000 a year in the United States.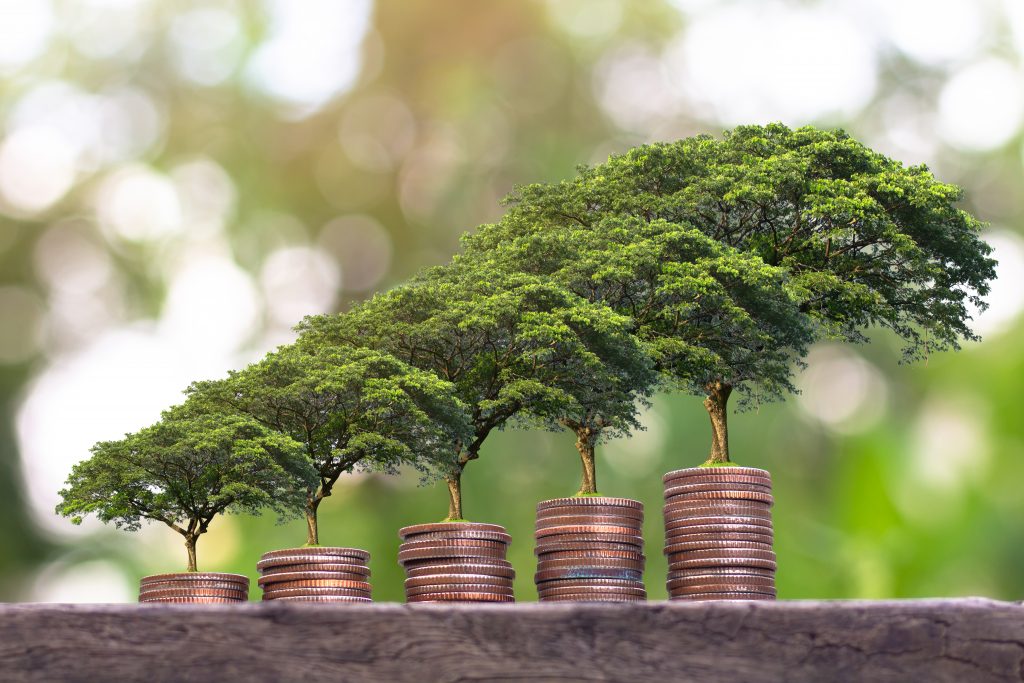 Financial Analyst
A financial analyst is a broad career descriptor encompassing specific roles like securities analyst, research analyst, investment analyst, or more. Generally, though, a financial analyst looks at and evaluates data to identify information that helps businesses make decisions.
Additionally, financial analysts determine the possible outcomes of business decisions, advising their clients on the kinds of financial decisions or investments they should be making to increase profits or achieve other goals.
Financial analysts make between $49,000 and $83,000 annually.
Policy Analyst
Like financial analysts, policy analysts evaluate data to determine what possible decisions should be made and what outcomes these decisions could have. However, in contrast to a financial analyst, policy analysts work for either federal or state governments.
Essentially, policy analysts examine issues that will impact the public and advise lawmakers on different ways they can address these problems. The goal of many of these solutions is affordability, which is why economic knowledge is so crucial for this role. Policy analysts also need powerful writing and interpersonal skills.
The average annual income for a policy analyst is around $60,552 a year in the United States.
Related: What Are the Career Options With a Degree in Political Science?
Lawyer
You may not think of law as being an intrinsically economic-related career path. Still, the reality is that many different types of law, including corporate law, personal injury law, medical malpractice law, and tax law, have a lot to do with economics.
Lawyers gather information, data, and evidence to present and try cases in a court of law. In addition, lawyers represent their clients and are the liaison between a client, judge, and jury.
You will need to pursue additional education to become a lawyer, but many find that the potentially high salary makes this investment worth it.
Lawyers make an average of around $87,104 a year in the United States, but high earners can earn upwards of $150,000 a year.
Related: What Are the Best Majors for Students Planning to Attend Law School?
Management Consultant
Management consultants work with clients to look at different problems that exist within their organization or business, including operational and management issues. Their job then consists of figuring out solutions to these problems that will help their client improve their general performance or boost profits.
Management consultants can be hired by businesses as a whole, but they can also be employed by management teams, executives, or team leaders. In addition, organizations use management consultants to get external advice, which makes them highly sought-after.
Management consultants make an average of around $89,780 a year.
Business Reporter
Being a business reporter is an excellent career for those who want to work in economics and who also have a passion for media and journalism. Business reporting meshes both of these fields, tasking reporters with writing, researching, and broadcasting stories and information relevant to finance and business.
Business reporters break down complex financial issues in a way that the general public can understand, acting as a kind of representative between the business world and the media.
Business reporters typically make between $30,000 and $76,000 a year.
Conclusion
As demonstrated in this article, you can take many different career paths when you have a degree in economics. Our economy spans virtually every industry and aspect of life, so there is no shortage of jobs available that are relevant to what you have studied as an economics student. Having an economics degree will open many doors. But, ultimately, you should choose the position that's right for you.
You might also like: