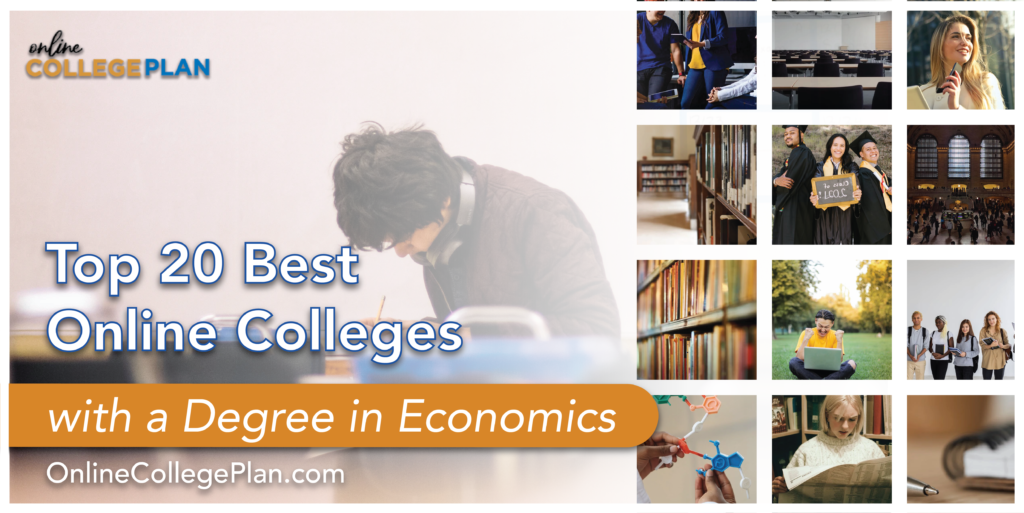 Economics is most often part of the arts and sciences department of American universities because it is a social science. It is primarily concerned with society and how people, communities, companies, and even countries allocate their resources. While on the surface, economics seems like it's all about money, it's much more than that. Education, food, water, environmental policy, health care, and more also apply.
Students who pursue an economics degree will study empirical data—evidence used to dispute or support a claim based on experimentation, analysis, and observation. They will learn to look at how people and organizations use their limited resources and then predict how they (or others like them) will act in the future.
The predictions economists make are then used to make decisions that can affect us on a global, societal, community, and even personal level.
Featured Programs
People who are detail-oriented and enjoy statistics, research, communications, and analysis make good economists. If you are interested in political, social, or economic problems and are undaunted by uncertainty, you may be interested in pursuing a degree in economics.
In this article, we'll explore the top 20 colleges and universities where you can get an online bachelor's degree in economics.
Methodology
We looked at dozens of accredited colleges and universities that offer online bachelor's degrees in economics as per NCES College Navigator. To determine our final list of schools, we examined the percentage of applicants admitted (selectivity rate), graduation rates, student-to-faculty ratios, and undergraduate tuition rates. We then synthesized the collected information to develop our list of the 20 best online schools for economics. In the case of a tie, schools were given a higher ranking if their tuition was lower.
The methodology we used to determine our list of the 20 best online schools for economics is below.
Student to Faculty Ratio
15:1 and under- 3 Points
16:1 to 20:1- 2 Points
More than 20:1- 1 Point
Undergraduate Tuition/Fees
Less than $10,000/year- 3 Points
$10,001-$20,000/year- 2 Points
More than $20,000/year- 1 Point
Applicants Admitted
Less than 50%- 1 Point
More than 50%- 3 Points
Graduation Rate
50% or Greater- 3 Points
25%-49%- 2 Points
Less than 25%- 1 Point
Best Schools for an Online Degree in Economics
20. Limestone University
Gaffney, South Carolina
Undergraduate Tuition/Fees: $26,300
Points: 9
Limestone University offers an online Business Administration-Economics degree program with specialized accreditation via the prestigious Association Council of Business Schools and Programs (ACBSP). The online program has the same curriculum and content as the on-campus version, and all coursework is available through Canvas.
The primary difference between the online program and the on-campus program is that it is asynchronous, so there are no specific class times you need to adhere to. You can complete your coursework in your own time, whenever you like. This makes it an ideal program for busy students who need to schedule coursework around all the other responsibilities in their lives. The course requirements include:
Financial Accounting
Managerial Accounting
Business Communications
Ethical Issues in the Workplace
Business Law I
World Trade and International Business
Business Policy
Introduction to Computer Science
Microeconomics
Macroeconomics
Intermediate Microeconomics Analysis
Intermediate Macroeconomics Analysis
Business Finance
Mathematics for Business and Economics
Elementary Statistics
Principles of Management
Principles of Marketing
The school has partnerships with Technical Colleges throughout South Carolina to transfer credits to fulfill general education requirements. So, although this is a 120-credit hour program that you can complete in four years, you may be able to shorten that time with transfer credits.
19. Ottawa University
Ottawa, Kansas
Undergraduate Tuition/Fees: $10,856
Points: 9
Students at Ottawa University can pursue an online Bachelor of Arts in Business Economics (BBE) degree that will prepare them for working in government or business. The program also services as preparation for those who want to pursue graduate studies in finance, business, economics, or law.
Students can also customize this accelerated economics degree program to suit their goals, skills, and interests by choosing a concentration in finance, human resources, or leadership and management.
Required courses in the program include:
Macroeconomics
Microeconomics
College Algebra, Discrete Mathematics, or Business Mathematics
Intro to Statistics, Business Statistics, or Quantitative Methods in Business
Business Ethics
Money and Banking
Spatial Economics
Entrepreneurial Economics
Investment Finance
Economics of Managerial Decisions
Financing and Investing Activities
Foundations of Finance
Management
While not required, some of the recommended courses include:
Cost Accounting
International Economics
Global Business Perspectives
Intro to Sociology or Cultural Anthropology
Psychology
The University of Ottawa is accredited by the Higher Learning Commission, and the BA in Business Economics is accredited by the prestigious Accreditation Council for Business Schools and Programs (ACBSP).
18. Colorado Christian University
Lakewood, Colorado
Undergraduate Tuition/Fees: $34,750
Points: 10
Colorado Christian University is an interdenominational Christian college founded in 1914. The school is regionally accredited by the Higher Learning Commission. In addition, it has been highly ranked in major publications like US News & World Report, the National Council on Teacher Quality, The Chronicle of Higher Education, the National Council on Teacher Quality, Niche.com, and now—Online College Plan.
The school offers a Bachelor of Science in Economics degree that serves as a foundation to enter many fields, including public administration, management, analytics, healthcare, law, international relations, and more. Plus, this program is excellent preparation for students who want to pursue graduate studies in economics.
A unique feature of the economics program at CCU is that it is taught from a biblical perspective that emphasizes service to disadvantaged individuals. Students will be challenged to understand inequality and poverty in the world and are encouraged to apply critical thinking to the problems of poverty.
This is a 120-credit hour program with core courses in general education, economics foundations, the major itself, and electives. Some of the major and foundations courses include:
Financial Accounting
Calculus
Introduction to Research and Applied Statistics
Business Finance
Introduction to Economics
History of Economic Thought
Healthcare Economics
Principles of Microeconomics
Principles of Macroeconomics
Introduction to Applied Econometrics
Money and Banking
Big Data and Quantitative Analysis
Economic Development
International Political Economy
17. Western Illinois University
Macomb, Illinois
Undergraduate Tuition/Fees: $13,314
Points: 10
At Western Illinois University, students who want to study economics online have two programs to choose from:
Bachelor of Business (BB) in Economics: The BB in Economics is best for students who want to work in business, banking, or financial institutions. It also serves as excellent preparation to pursue a master's in any of those areas.
Bachelor of Arts (BA) in Economics: This program focuses on developing the critical thinking skills recommended for students who want to pursue a career in government, and is the preferred degree to prepare you for graduate studies, especially law school.
Both degrees have been accredited by AACSB International (The Association to Advance Collegiate Schools of Business). They are designed to prepare students for satisfying careers in the private sector, non-profits, or government. You can also pursue a Master of Science in Quantitative Economics along with either of these programs to obtain your bachelor's and your master's degrees in economics in just five years.
There are plenty of ways for WIU students to participate in collegiate competitions, leadership, and teamwork. Plus, the school has an excellent career planning and placement program to assist you with finding a position after graduation. Additionally, students can join the Analytics and Economics Student Association (AESA), which has weekly meetings that provide networking and career preparation opportunities.
16. Washington State University
Pullman, Washington
Undergraduate Tuition/Fees: $12,170
Points: 10
Washington State University offers an online Bachelor of Science in Economic Sciences degree from the acclaimed College of Agricultural, Human, and Natural Resource Sciences. Students who undertake this program will gain high-level skills like advanced data analysis, critical thinking, quantitative methods, communication, and more. These skills were designed to prepare them to earn high salaries in the field of economics.
There are three start dates per year, and the program requires a minimum of 120-semester credits. Forty of those credits need to be earned at the 300 to 400 level from one of four different concentrations—Agribusiness, Management, Marketing and Analytics, and Supply Chain Management. Some of the economic core courses include:
Fundamentals of Microeconomics
Fundamentals of Macroeconomics
Intermediate Microeconomics without Calculus
Intermediate Microeconomic Theory with Calculus
Intermediate Macroeconomic Analysis
Introductory Econometrics
Introduction to Financial Accounting
Money and Banking
Labor Economics
Business Finance Economics
Because WSU has such an active network of faculty, business professionals, and alumni, you can expect to cultivate some excellent personal and career connections at the school.
15. Oregon State University
Corvallis, Oregon
Undergraduate Tuition/Fees: $11,858
Points: 10
Oregon State University's online economics bachelor's degree program is offered through the College of Liberal Arts, which has been previously ranked top in the nation by US News & World Report. Students who pursue the degree can expect to gain analytical and quantitative skills, become logical thinkers, understand what influences human behavior, and more.
Every online student can access all the terrific resources that OSU offers, including free online tutoring, library services, career guidance, and success coaching. Plus, there will be plenty of opportunities to connect with world-class faculty members who are key players in economic research and innovation.
There are four start terms per year, and the program requires 180 credits. The cost is reasonable at $331 per credit. You may be able to transfer certain credits from previous programs, however. If you want to tailor your studies to a particular interest, the program has three specializations: General Economics, Managerial Economics, and Law, Economics and Policy.
14. Colorado State University
Fort Collins, Colorado
Undergraduate Tuition/Fees: $11,814
Points: 10
CSU's online economics degree is a 120-credit program that prepares students to build technical knowledge, think broadly and critically, and analyze complex problems from multiple angles. Since the program's goal is to align your interests and your career goals, a minor is required to complete the bachelor's in economics. Students can choose from the following minors:
Agricultural Business
Anthropology
Business Administration
Gerontology
Global and Environmental Sustainability
Media Studies
Political Science
Sociology
Classes are all taught by the same instructors who teach on campus, and students will earn the same credentials through the school's College of Liberal Arts. However, the online program offers flexibility for busy or working students. The degree goes beyond finance and math, too. Students will also learn why and how the behavior of groups and individuals affects economic systems around the world. Students will work with an advisor to enroll in the courses that will help them meet their educational goals. Some of the courses include:
Principles of Microeconomics
Principles of Macroeconomics
Calculus in Management Sciences
Calculus for Physical Scientists
Introduction to Statistical Methods
Economics of Social Issues
Gender and the Economy
Racial Inequality and Discrimination
Working With Data
Issues in Environmental Economics
Money and Banking
Economics of Public Finance
International Economics
Economic Development
13. California University of Pennsylvania
California, Pennsylvania
Undergraduate Tuition/Fees: $11,108
Points: 10
A business economics degree from California University will give you a solid foundation of business fundamentals along with in-depth courses in economics that allow you to develop specialized expertise. Available on-campus or online, the program is ideal for working students who need a flexible schedule. Available specialized coursework for the business economics major includes:
Micro-and Macro-economic Theory
Econometrics
Behavioral Economics
Game Theory
International Economics
Labor Economics
Health Economics
Public Finance and Other Areas
Students who successfully complete this program will be prepared to bring real-world knowledge to help solve problems within industry, business, public policy, and international affairs.
Students who pursue Business Administration are also required to have a minor, or they may decide to complete dual degrees with a double major. However, choices for minors are not limited to business. You can take anything you want. Some of the most popular options include women's studies, computer information systems, Spanish, communication, statistics, public relations, psychology, Arabic, and more.
California Pennsylvania University's Business Programs are accredited by the Middle States Commission on Higher Education and the Accreditation Council for Business Schools & Programs (ACBSP).
12. Florida International University
Miami, Florida
Undergraduate Tuition/Fees: $6,565
Points: 10
Florida International University Online is a terrific option for students who want to pursue an online bachelor's degree in economics. The program will help students understand economic institutions and the necessary analytical tools to apply their new knowledge to real-world problems.
The BA in Economics is suitable for working in government, business, multinational corporations, or international agencies. It is also excellent preparation for those planning to go to graduate school to study business, law, urban studies, international relations, or economics.
Some of the courses in this program include:
Principles of Macroeconomics
Principles of Microeconomics
Calculus I or Calculus for Business
Introduction to Statistics I or Statistics for Business and Economics
Measurement and Analysis of Econ Activity
Introduction to Econometrics
Topics in Theory
Florida International University has been highly ranked by several publications, including US News & World Report, Hispanic Outlook on Higher Education Magazine. Study.com, and more.
11. University of West Georgia
Carrollton, Georgia
Undergraduate Tuition/Fees: $6,521
Points: 10
The University of West Georgia offers an online Bachelor of Business Administration with a Major in Economics for students interested in careers in government, insurance, banking, marketing, or business. The program equips students with strong communication and analytical skills, plus a broad understanding of how national and international companies operate.
Offered through the Richards College of Business, this is a 120-credit hour program that meets the same high academic standards of excellence as the on-campus version. The school is accredited by the Southern Association of Colleges and Schools Commission on Colleges. This particular program is also accredited internationally by the Association to Advance Collegiate Schools of Business (AACSB).
This program is particularly suited to older students. Those who already have some life experience that is reflected in the curriculum may be eligible for credit for prior learning through departmental exams, CLEP exams, and/or a portfolio assessment.
Typical courses in the BBA program with a major in economics center around economics, management, business, accounting, and marketing.
10. Pennsylvania State University
University Park, Pennsylvania
Undergraduate Tuition/Fees: $18,450
Points: 11
Penn State's World Campus is the school's online version of its numerous colleges around Pennsylvania. It's one of the first colleges in the country to offer online degrees, and they now have over 150 degree and certificate programs that students can complete remotely. Students who want to pursue an economics education at Penn State have two options: A Bachelor of Science or a Bachelor of Arts in Economics.
The Bachelor of Science in Economics program teaches students mathematical theory, analytical skills, computer programming, and research. The primary focus of this program is statistics and mathematics.
The Bachelor of Arts in Economics is more suited for focusing on culture, behavior, foreign languages, and international relations. This program is designed to prepare students for working in global or national organizations.
This 120-credit program has been recognized by US News & World Report as one of the top 10 in the nation. Plus, a Wall Street Journal survey found Penn State to be the number one school for producing the most well-rounded, prepared graduates who were most able to succeed after securing jobs.
All of the courses are taught by instructors from Penn State's College of the Liberal Arts, and students will take the same classes and receive the same diploma as students who attend any of the physical campuses.
9. University of Arizona
Tucson, Arizona
Undergraduate Tuition/Fees: $12,716
Points: 11
The University of Arizona's Global Campus offers over 50 online degree programs accredited by the WASC Senior College and University Commission (WSCUC). Additionally, the business and economics programs are accredited by the International Accreditation Council for Business Education (IACBE)
The school has an online Bachelor of Arts in Business Administration degree with an emphasis on business economics offered through the Forbes School of Business and Technology®. Students in this program will acquire a wide range of business-related skills, including critical thinking, project management, and leadership, that will prepare them for a career in business or a related area of their choice.
The program's foundation consists of courses in core business areas like finance, marketing, entrepreneurship, project management, of core business fields such as entrepreneurship, project management, finance, marketing, logistics management, human resource management, public administration, information systems, and more.
Students who choose the emphasis in business economics will also study:
International Economics
Business Cycles & Growth
Managerial Economics
This is a highly flexible 120-credit program, and students take one asynchronous course at a time. That means you can log in any time you want and complete your coursework—there are no set class times or schedules. Additionally, rather than semesters, classes are offered in continuous five and six-week terms.
8. University of Hawaii at Manoa
Honolulu, Hawaii
Undergraduate Tuition/Fees: $12,186
Points: 11
The College of Social Sciences at the University of Hawaii at Manoa offers students a fully online BA in Economics that is approved by the Western Association of Schools and Colleges (WASC).
The school's mission is to give students a high-quality educational experience that will enable them to understand the economic challenges facing The Nation, Hawaii, and the Asia-Pacific region. Those who complete the program will demonstrate skills in economic literacy, critical thinking, quantitative reasoning, and reporting.
Some of the courses in this program are unique, like The Japanese Economy, The Ocean Economy, and Land and Housing Economics. Other courses include:
Principles of Microeconomics
Principles of Macroeconomics
Energy Economics and Policy
Development Economics
Introduction to Statistics
Games and Economic Behavior
Trade Policy and Globalization
Labor Economics
Environmental Resource Economics
Economic Forecasting
Health Economics
Mathematics for Economics
Support services for online UH students include free online tutoring, career services, the Mānoa career center, and the Mānoa library.
7. Southern New Hampshire University
Manchester, New Hampshire
Undergraduate Tuition/Fees: $9,650
Points: 11
Students who want to earn their Bachelor of Science (BS) in finance will find Southern New Hampshire University an excellent option. The program emphasizes core business skills like entrepreneurial thinking, global orientation, social and personal responsibility, communication, and collaboration.
The program is accredited by The Accreditation Council for Business Schools and Programs (ACBSP). Students enrolled in the online degree in finance use industry-leading (TD Ameritrade) trading simulation software to learn how to advise clients on insurance, securities, real estate, pension plans, investment strategies, taxes, and other financial concerns.
All students participate in a capstone experience that helps tie everything together with case studies and cutting-edge technology that analyzes and synthesizes financial reporting data.
The program consists of 120 credits, and you can transfer up to 90 credits for credit. There is also a concentration available for those who want to become certified financial planners. Students who wish to pursue their finance education beyond the undergraduate level have the option to participate in a BS-to-MS pathway. This accelerated degree program will allow them to apply credits toward a graduate degree, saving time and money.
6. Franklin University
Columbus, Ohio
Undergraduate Tuition/Fees: $9,577
Points: 11
Students interested in online accounting and finance degrees will want to check out the programs offered at Franklin University. The school has several programs to choose from, including Accounting, Business Forensics, Financial Management, Financial Planning, and Forensic Accounting.
For this article, we're focusing on the online BS in Financial Management. This program takes 124 semester hours and is designed to teach students about financial analysis & forecasting, portfolio management, cash management, international finance, and financial risk management. Students will take general education, major area, major foundational, and major elective courses. As an example of what you might study, some of the major elective courses include:
Intermediate Accounting
Cost Management
Tax Practicum
Foundations of Entrepreneurship
Special Topics in Finance
Principles of Financial Planning
Tax Planning
Risk Management & Insurance Planning
Database Fundamentals
Introduction to Analytics
This program is designed for busy, working adults and can typically be completed in under four years. Plus, thanks to a generous transfer program, many students earn their BS in Financial Management even faster.
5. Eastern Oregon University
La Grande, Oregon
Undergraduate Tuition/Fees: $9,405
Points: 11
Students can earn a Bachelor of Science or Bachelor of Arts in Economics online at Eastern Oregon University and have the same professors, opportunities, and content as on-campus students. Students will take core lower-division and upper-division economics courses, plus econometrics capstone courses. Additionally, you can choose your own electives and earn the BS with 12 additional science credits or the BA with a foreign language requirement.
Required courses include:
Microeconomics
Macroeconomics
A Survey Calculus Part I
B Survey Calculus Part II
Intermediate Microeconomics
Intermediate Macroeconomics
History of Economic Thought
Econometrics Capstone I
Econometrics Capstone II
Elementary Statistics, Correlation & Regression, or Social Science Research Methods
Eastern Oregon has an extremely generous transfer policy for this program, and students can apply up to 135 credits from previous college coursework. For those who are interested in an accelerated online economics program, this may be a terrific option.
You will get lots of support as an online EOU student. The school has academic advisors, transcript planners, enrollment counselors, and tuition planners to assist you. Also, around 92 percent of online students qualify for scholarships or financial aid to help offset the cost of their education.
4. University of Central Arkansas
Conway, Arkansas
Undergraduate Tuition/Fees: $9,338
Points: 11
Students at UCA who want an online degree program in economics should consider enrolling in the school's Bachelor of Business Administration in General Business program. While not explicitly focused on Economics, this degree program covers all the major topics typically covered with economics programs, including accounting, economics, finance, management, marketing, management information systems, business communications, and business law.
This is an interdisciplinary program comprising two parts. The first part broadly covers the core topics listed above, while the second part focuses on the general business and requires eight classes of business courses. This is where you can customize your learning track since those classes must include at least one course in any three disciplines from this list:
Accounting
Economics
Finance
Insurance/Risk Management
Management
Marketing
Management Information System
The online program at the University of Central Arkansas is ideal for those with busy lives or full-time work schedules. Courses are accessed through Blackboard, and while there are deadlines, students can complete their studies whenever they like, so it is highly flexible. You can work on your degree 24/7, wherever you have an internet connection.
3. Utah State University
Logan, Utah
Undergraduate Tuition/Fees: $8,764
Points: 11
Utah State University offers both a Bachelor of Science or Bachelor of Arts in Economics online. Both programs are offered through the Jon M. Huntsman School of Business and will give students a solid foundation in economic theory and research experience that will prepare them for various careers or graduate school.
Students can earn the online Bachelor of Science in Economics degree by completing all the course requirements for the major. The Bachelor of Arts in Economics degree requirements are the same, but students must also become proficient in one or more foreign languages. Both programs have five areas of emphasis to choose from:
Economic Theory
Quantitative Economic History
Managerial Economics
Pre Law Economics
International Economics and Trade
The Huntsman School has a strong career development department, and they start cultivating career opportunities for students from the first year of attendance. In addition, students have access to professional career coaches who will help them with networking, job searching, interview preparation, and more.
2. West Texas A&M University
Canyon, Texas
Undergraduate Tuition/Fees: $8,456v
Points: 11
While West Texas A&M offers several options to study economics, those who want to take courses 100 percent online will need to enroll in the BBA Economics Law & Economics Specialization. With this program, you'll gain a foundation of business knowledge by studying human behavior through mathematics, historical analysis, statistics, sociology, and psychology.
Students in the economics programs at the university learn to apply policy analysis based on quantitative and qualitative research and make cost-benefit decisions. They will also use economic models to analyze complex problems. Some of the courses students in the Law & Economics Specialization will take include:
Accounting Communications
Economics of Healthcare Finance
Personal Financial Planning
Investments
Portfolio Management
Organizational Behavior
Consumer Behavior
Intermediate Microeconomic Theory
Intermediate Macroeconomic Theory
Sports Economics and Business
Industrial Organization and Regulation
Law and Economics
Economics of Labor Resources
Environmental & Natural Resource Economics
Economics of Healthcare
Employment Law
Accounting & Financial Services Law
Notably, the business programs (and several others) have been ranked as some of the best in the country by US News & World Report. Offered through the Paul and Virginia Engler College of Business, this program is AACSB accredited, and students who enroll are eligible for several extracurricular activities, including:
The Economics Club
Omicron Delta Epsilon (International Honors Society for Economics students)
Beta Gamma Sigma (International Honors Society for Business students)
Enactus
1. North Carolina A&T State University
Greensboro, North Carolina
Undergraduate Tuition/Fees: $6,657
Points: 11
Our top pick for the best online bachelor's degree program in economics is North Carolina A&T State University. The Bachelor of Science in Economics program at A&T Online provides students with a solid understanding of data analysis, critical and analytical thinking, and empirical and theoretical modeling of markets, firms, and individuals.
One unique aspect of this program is that students can customize it by using up to ten free electives and choosing a concentration to help them meet their personal, academic, and career goals. The program is designed to prepare individuals for careers in government, private business, and non-profit organizations. Plus, it provides a firm foundation for those who are seeking admission to law or graduate school.
Specializations focus on careers like:
Business Reporter
Small Business Owner/Entrepreneur
Economic Consultant
Data Analyst
Market Researcher
International or Government Policy Analyst
Banking or Financial Officer
Credit Analyst
Military Officer
Every degree program has a dedicated coordinator who will assist students in choosing courses and direct them to the resources and services they need for success. The school is accredited by the Southern Association of Colleges and Schools Commission on Colleges. Tuition is just $6,657, making it one of the most affordable online economics degrees on our list.
What Can You Do With an Economics Degree?
No matter what industry you ultimately choose to work in, a degree in economics will boost your employability. This is because the problem-solving, communication, and analytical skills you will learn in an online degree program in economics are in high demand and can transfer to many different fields. Thus, careers for economics majors are highly diverse.
According to Payscale, the average salary for an economist is $78,759, with the lower ten percent of economists making around $48,000 a year and the top ten percent making approximately $135,000 a year. So, the potential for a great-paying career is definitely there.
Below is just a small list of some of the most common roles economists pursue.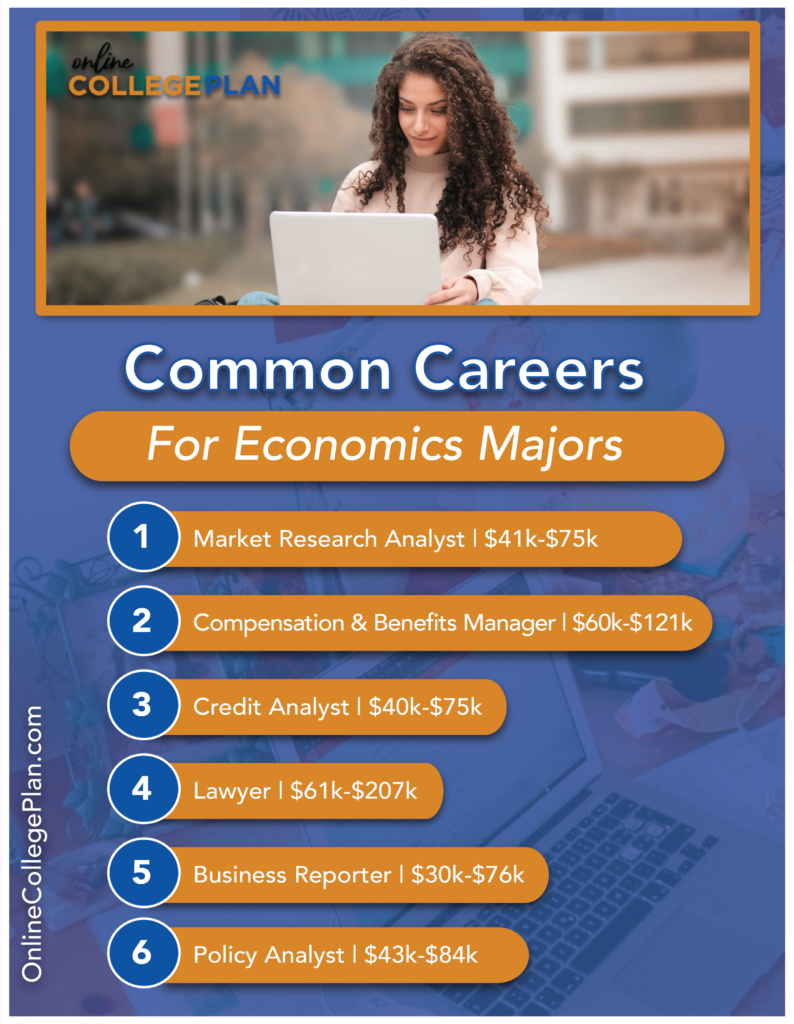 Market Research Analyst
Average Salary Range: $41k – $75k
Market research analysts use their knowledge of business and industry trends to analyze how marketable services or products might be under different economic conditions. They create studies, gather information, and analyze data. Then, they present this information to their clients in an easy-to-understand way.
Compensation and Benefits Manager
Average Salary Range: $60k – $121k
Compensation and benefits managers are good with numbers and analytics. They study trends in the labor market to determine supply and demand for different positions, and they may help establish a competitive pay and benefits structure for a company's employees. They also work closely with human resources.
Credit Analyst
Average Salary Range: $40k – $75k
Credit analysts assess prospective borrowers to determine the risks that could be involved in loaning them funds. They may work with commercial or personal accounts. Then, they summarize their findings in reports and suggest terms and interest rates that correlate with the risk profiles of the potential clients.
Lawyer
Average Salary Range: $61k – $207k
A number of students get an economics degree before going on to law school. Many areas of law involve microeconomic and macroeconomic analysis—something economics majors study at length. Lawyers may be involved in tax law, corporate law, antitrust law, and other areas of litigation that need analytical skills and critical thinking.
Business Reporter
Average Salary Range: $30k – $76k
Economics majors who also enjoy writing often pursue careers as economics or business reporters. They have a natural curiosity and ability to write about business issues in a language that the average person can understand. This makes them excellent candidates for reporting on economic and industry developments, financial markets, companies, trends, and more.
Policy Analyst
Average Salary Range: $43k – $84k
A policy analyst researches and analyzes some of the issues that impact individuals, businesses, and the public and often recommends legislative or governmental intervention to resolve problems. Because of their economic knowledge, they can understand many current issues and how complex problems can be solved with affordable solutions.
You may also like: