What is the Average Construction Management Salary?
Find your degree
Online College Plan is an advertising-supported site. Featured or trusted partner programs and all school search, finder, or match results are for schools that compensate us. This compensation does not influence our school rankings, resource guides, or other editorially-independent information published on this site.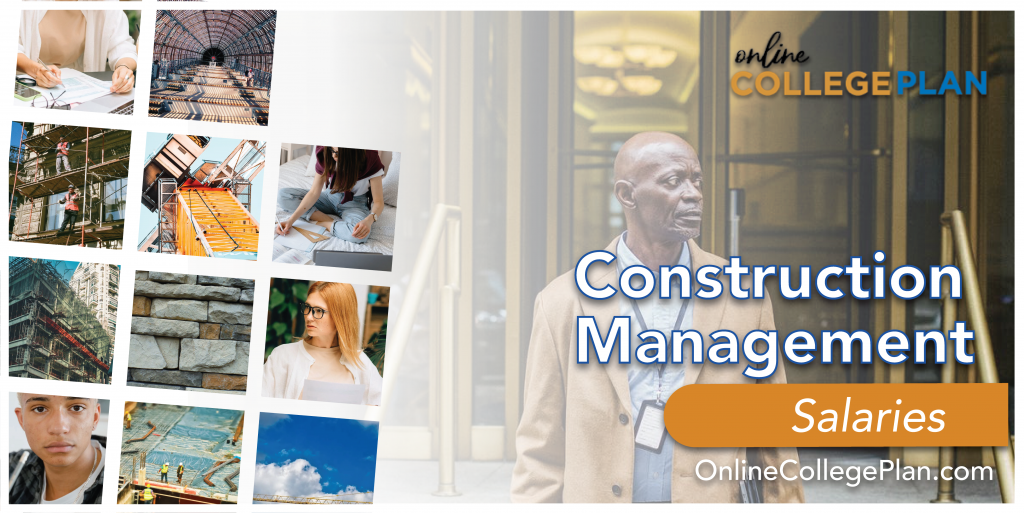 Earning a Construction Management degree can benefit your life in a multitude of ways. Not only are there a multitude of high-paying career choices in this discipline, but there's also plenty of room for entrepreneurs to set up shop and run a profitable business themselves.
Construction is a field that shows no indications of slowing down, thanks to the ever-increasing demand for more sophisticated infrastructures. As a result, the need for qualified individuals in this line of work is great. Those who pursue a degree in Construction Management will enjoy career stability and the chance to increase their earning potential.
In this article, we'll go over the advantages of entering this expanding area and how acquiring an online bachelor's or master's degree in Construction Management can help you take your career to the next level.
Featured Programs
What Does a Construction Manager Do?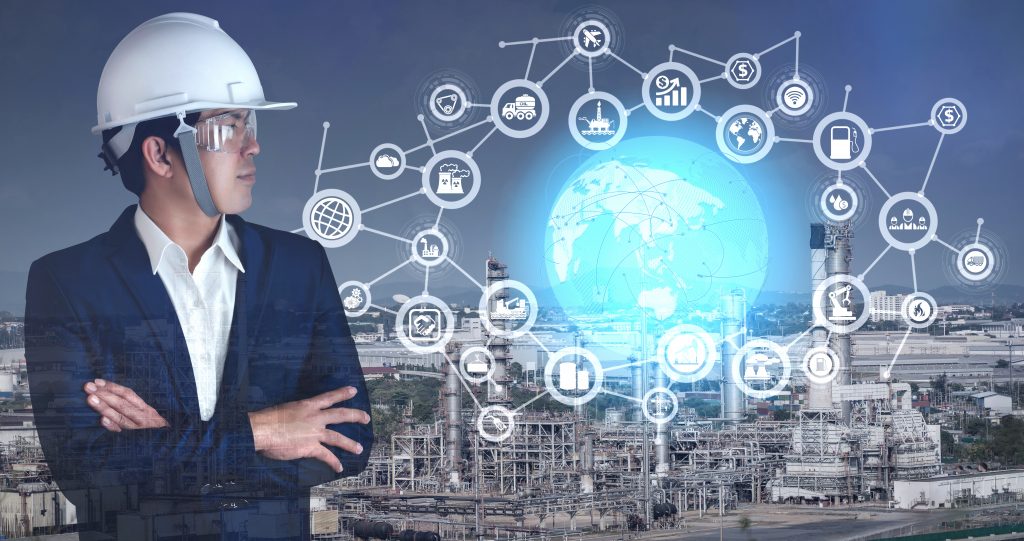 Construction managers are professionals within the construction industry who oversee projects like builds and renovations of all sizes and types. They make sure a project moves forwards, and everything is completed on budget and within a specified time frame. The scope of their services and responsibilities can be quite broad and may include:
Meeting with clients to begin planning or updating them on the status of a project
Interpreting blueprints, plans, and contracts
Projecting the costs and expenses and managing the budget for the project
Communicating with workers and subcontractors regarding the scope of the project
Breaking down larger tasks into smaller ones in chronological order
Understanding and monitoring safety regulations, compliance codes, building permits, and other legal requirements
Hiring, firing, and managing construction crews
Ensuring that workers on a project are safe and protected during the project
Determining the correct construction methods for a particular project
Collaborating with subcontractors, civil engineers, architects, and other specialists within the field.
Preparing work schedules and taking care of payroll
Explaining procedures and best practices to construction workers
Handling any delays or mishaps in order to meet deadlines
How Much Can Someone With a Construction Management Degree Make?
According to the Bureau of Labor Statistics, Construction managers make almost $99,00 a year, and there are currently 478,500 Construction Managers employed full-time in the United States. That number is expected to increase by 8% over the next decade, faster than the national average for other fields. However, as we will discuss, there is a high level of variance among earnings for Construction Managers. Salaries are dependent on several factors, which include:
The Region You Live In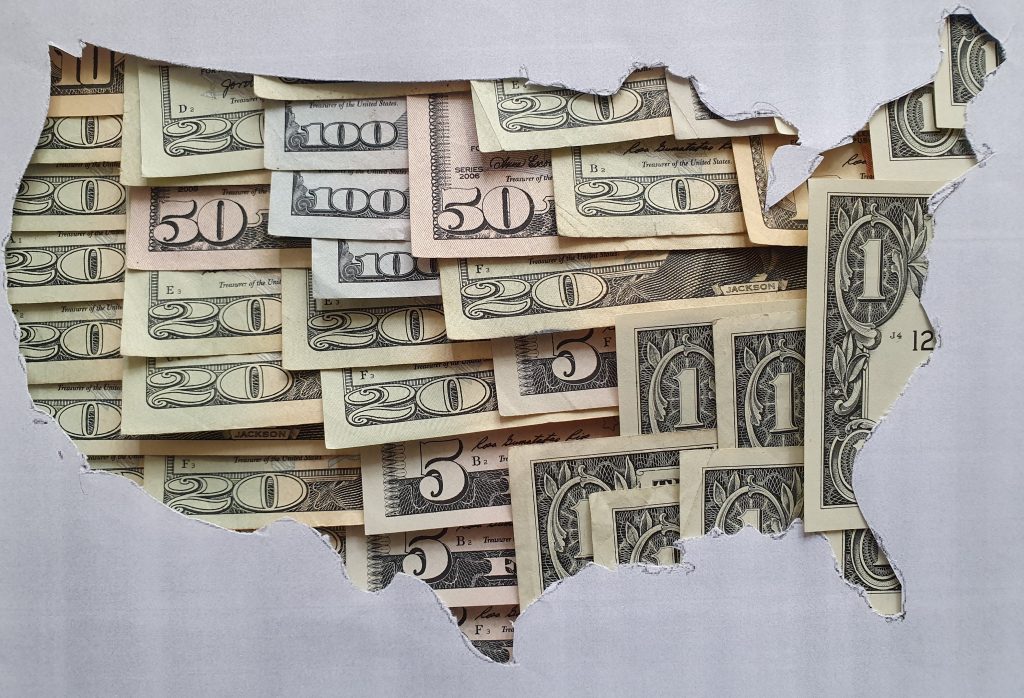 Your salary as a Construction Manager can vary tremendously depending on where you live. For example, when examining figures from Zappia and Glassdoor, the average annual earnings of a Construction Manager in these ten areas of the country fluctuates widely:
Monroe County, Florida: $59,523
Kauai, Hawaii: $141,860
Montezuma County, Colorado: $88,989
Portland, Maine: $63,436
Los Angeles, California: $112,450
Manchester, New Hampshire: $71,793
Louisville, Kentucky: $88,817
New York, New York: $97,135
Washington, DC: $101,485
Nome County, Alaska: $135,569
See also: The Best Online College or University by State and Location
The Location of Your Job Sites
Even within the same area, salaries can be quite different. For example, projects within urban areas generally earn a higher pay grade than those in rural areas.
The Size, Scale, and Complexity of the Jobs That You Are Overseeing
Since each job is unique, the pay can vary considerably depending on the type of project you are tasked with. Generally speaking, there are four different types of construction projects:
Industrial Construction (warehouses, oil refineries, manufacturing facilities)
Infrastructure Construction (bridges, highways, airports)
Residential Construction (houses, condos, apartment complexes)
Commercial Construction (stores, restaurants, office buildings)
The Number of Projects That You Are Managing at Any Given Time
Your income as a Construction Manager will also depend significantly on how many projects you are responsible for at once. Plus, those who are in business for themselves could have dozens of projects going simultaneously, which could mean substantially higher earnings.
Your Experience and Amount of Time in the Field
If you are very young and have little experience, your income will be on the lower end of the scale for a while. Alternatively, seasoned Construction Managers can expect to command a higher salary.
Your Track Record of Successful Project Completion
If you are well-established in the field, you will likely have many successful projects under your belt. As a result, employers may seek you out and offer a higher pay rate based on your good reputation.
Your Level of Education
While not all Construction Managers have a formal education, those that do will have marketable skills that can translate into higher wages. And, of course, the higher your degree level, the more you can expect to make.
For example, those with an Associate Degree in Construction Management will be qualified to work on small job sites, while those with a Bachelor's or Master's degree might work on more complex projects where the pay is higher.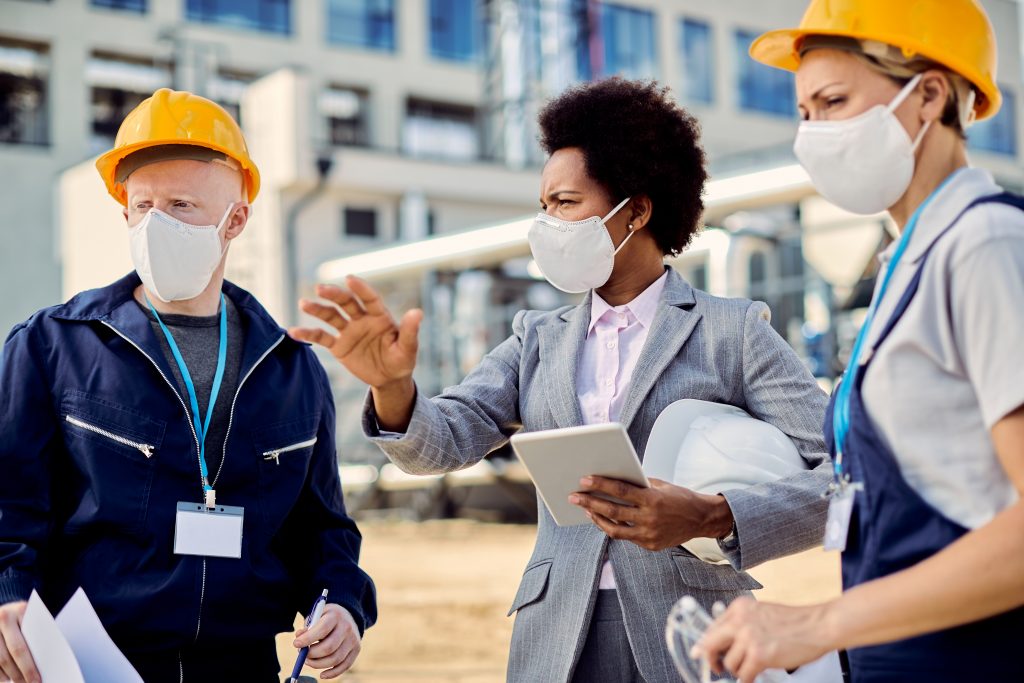 Careers With A Construction Management Degree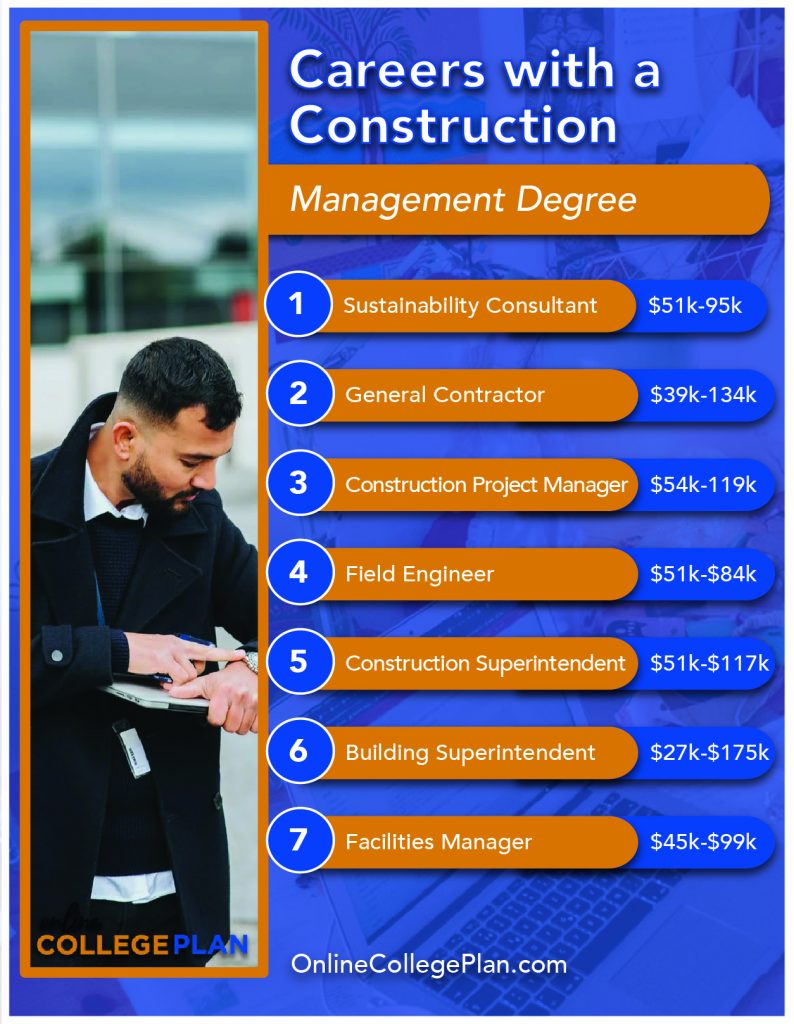 Like most college degree options, a Construction Management degree doesn't just qualify you for one career. In fact, the skills you will learn on this educational path can apply to many different roles, which will also factor in when it comes to your income.
We've already talked about a career as a Construction Manager. Now, let's look at some of the other positions you could pursue with this degree.
Sustainability Consultant
Average Salary Range: $51k – $95k
Environmental professionals who study and provide recommendations about a company's energy consumption are known as sustainability consultants. They may assist in the design of eco-friendly buildings during the construction phase. Their responsibilities may include counseling clients on environmentally sound options, researching construction trends, and examining building materials.
General Contractor
Average Salary Range: $39k – $134k
Experts who supervise a construction crew are known as general contractors. They may work on both residential and commercial construction projects. Their roles vary depending on the project's scope, but typical jobs include ensuring that a structure complies with local safety regulations, contracting subcontractors to accomplish tasks, and overseeing a team of professionals on the job site. They can also file for building permissions and work with the client to develop the project.
Construction Project Manager
Average Salary Range: $54k – $119k
A construction project manager is in charge of all aspects of a construction project, from conception to completion. Their responsibilities include:
Working with clients to establish project deadlines
Maintaining a project budget
Employing team members
Keeping track of progress
They may also generate cost estimates for various aspects of a project, such as marketing and land.
Field Engineer
Average Salary Range: $51k – $84k
A field engineer is a project manager who solves difficulties and evaluates efficiency. Construction is one of the many areas in which they might specialize. Construction field engineers may meet with clients and an engineering team to discuss a project's requirements, create new designs for big projects, and evaluate a project's construction process and systems. They may also evaluate materials and give recommendations for improving efficiency.
Construction Superintendent
Average Salary Range: $51k – $117k
Construction superintendents are in charge of overseeing the day-to-day activities of a construction project. You can often find them supervising construction work on a job site, but they have other tasks too. For example, they may write cost estimates for the project, create work schedules for the crew, and monitor a building project's progress. They may also inspect the building to ensure that it complies with safety regulations.
Building Surveyor
Average Salary Range: $27k – $175k
Building surveyors are interested in designing and constructing structures and enjoy solving problems with them. They provide property and construction advice and suggestions, and detailed studies known as building surveys. Building faults, dilapidation, essential repairs, preventative maintenance issues, structural sustainability, restoration ideas, building regulation law, and other construction-related matters are all recorded and submitted by these professionals. They also work on new building designs of all sizes.
Facilities Manager
Average Salary Range: $45k – $99k
Facilities managers guarantee that an organization's workers have the best possible working environment when carrying out their various duties. They are heavily involved in critical planning and everyday operations related to a facility and its crew. Building and grounds maintenance, security, communications and utilities, cleaning, and other building activities are all part of their job description.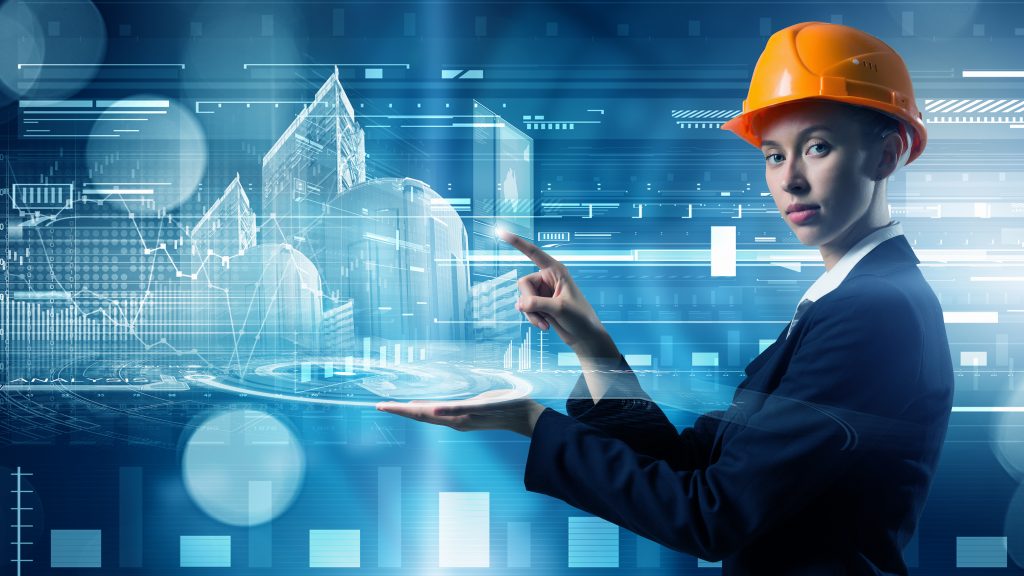 What Education Do I Need To Be a Construction Manager?
If you want to start out as a Construction Manager for smaller projects, sometimes an associate's degree from a community college is sufficient to get your foot in the door and have your start in the industry.
However, in most cases, a Construction Manager typically has a bachelor's degree along with construction experience. Formal education requirements are projected to continue to rise as building becomes a more complex and automated operation. While this article discusses pursuing a Construction Management degree, those majoring in construction science, architecture, or engineering may also land a position as a Construction Manager.
Even after receiving a degree, most Construction Managers will spend several years working under the guidance of a more experienced manager. This provides the employee with valuable on-the-job training and prepares them to supervise projects autonomously.
While it is not necessary to hold an advanced degree to work in Construction Management, it can qualify candidates for senior roles in the industry, including jobs in specialist fields of construction such as LEED certification and sustainability, as well as civil engineering. In addition, graduate degrees in Construction Management can help students obtain superior leadership and management skills that can generate even higher pay rates.
Related: The Ultimate Guide to Online Colleges
Can You Really Get a Construction Management Degree 100% Online?
Yes! Students who want to pursue a career in Construction Management can do so online. Moreover, top-ranking Construction Management degree programs exist at a large number of well-known colleges and universities.
Online bachelor's degree programs are ideal for those who have jobs, families, and other commitments. In addition, many of them are asynchronous, which means you can complete them on your own time and schedule. While you still will need to pass all your exams, turn in your assignments, and meet deadlines, the flexibility offered through these programs is one of the primary reasons students choose them over the on-campus versions.
Additionally, while tuition is often comparable to in-person classes, studying online is usually cheaper than brick-and-mortar programs. For example, you don't need to worry about housing, meal plans, or transportation costs, and in many cases, you can even access your books online at no charge.
When you obtain your degree through an online program, you will receive the same diploma as students on campus do. Moreover, there will usually be no mention that you completed your coursework online. The curriculum for online programs is just as engaging and rigorous as if you were attending in person and is taught by the same esteemed faculty members.
Not only will you receive the identical high-quality education as on-campus students, but you will be entitled to all the same benefits, too. Most online students can visit campus anytime, have 24/7 tech support, access to the library, and can participate in any events, clubs, or activities offered through the school.
See also: Top 20 Online Construction Management Degree Programs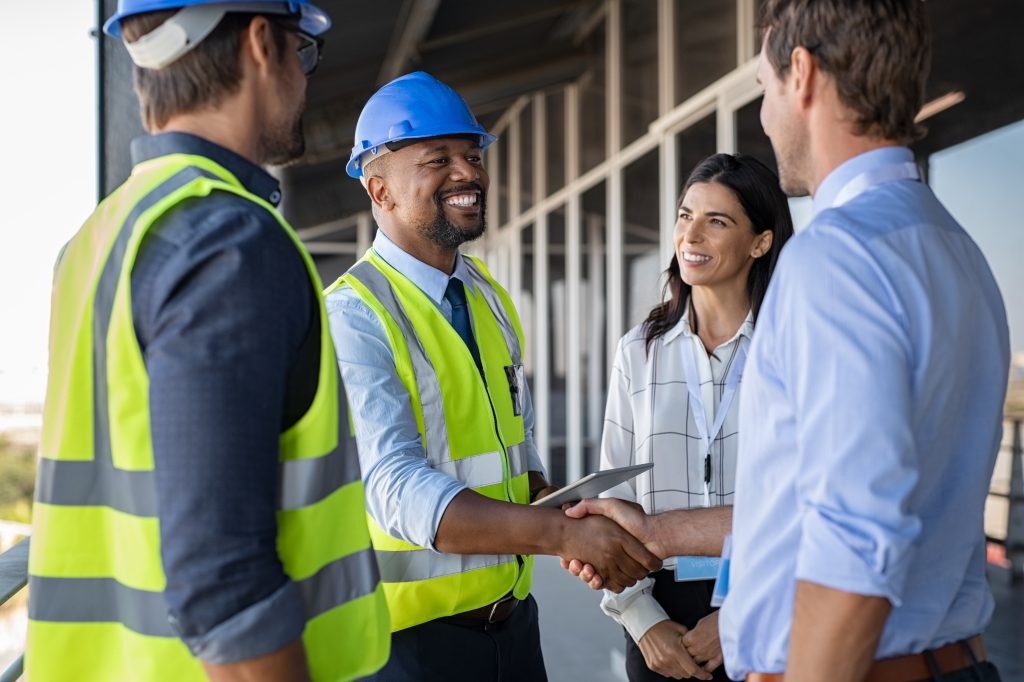 What Skills Will I Learn in a Construction Management Degree Program?
Most online Construction Management degree programs are designed to develop innovative leaders with the education and experience needed to direct and supervise all aspects of construction. As a result, Construction Management students should be aware that their skill set will be highly desired by employers. In addition, many of the practical concepts they learn are transferable to scores of other occupations. Some of those skills include: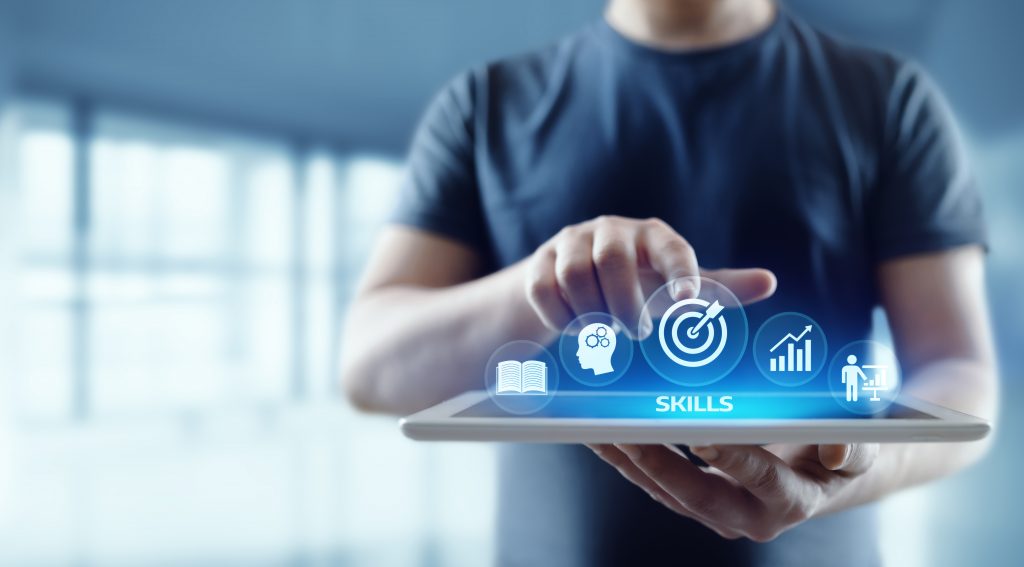 Estimating
Surveying
Designing
Planning
Cost control
Administration
Leadership
Record keeping
Labor relations
Construction law
Communication
Organization
Marketing
Safety
Management
Electric systems
Mechanical systems
Finance
Business
Scheduling
Negotiation
Technology
Closing Thoughts
If you are interested in the management aspect of construction and want to earn an above-average wage in the industry, the best place to start is to apply to a Construction Management program at an accredited college or university. Online Construction Management degrees are designed to allow professionals who are currently working in the field of construction to maintain their employment while working towards a degree that will qualify them for a new career or a promotion.
To start your search for the Construction Management degree program that will allow you to earn your desired salary, check out our list of the Top 20 Online Construction Management Degree Programs. If any of the schools on our list might be the best next step for your career, be sure to follow the links and visit their websites to request more information about their programs. 
Related: