Find your degree
Online College Plan is an advertising-supported site. Featured or trusted partner programs and all school search, finder, or match results are for schools that compensate us. This compensation does not influence our school rankings, resource guides, or other editorially-independent information published on this site.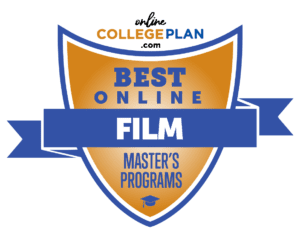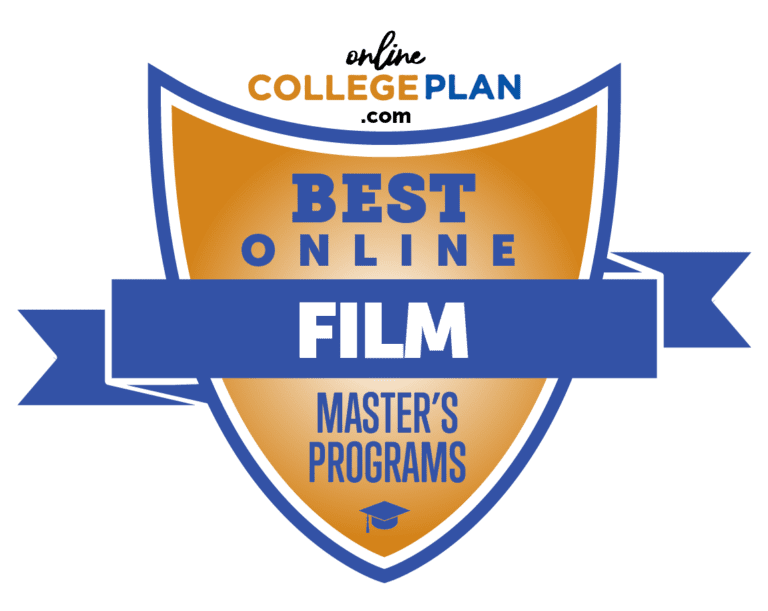 This article ranks the top five best online masters degrees in film. Why become a film student? For many, it is an art and a passion that they want to pursue as a career. There is an idiom that says that if you love your job you will never feel as though you have worked a day in your life. While this may not be true considering the amount of hard work goes into artistic projects such as films, it is certainly worth pursuing your dream job.
Movies are an integral part of a lot of people's lives all over the world. Most people have tons of memories that all center around films; like the first time you went to a theater, the first scary movie you were ever allowed to watch, first dates, time spent with friends and family, and so much more. It is interesting that even though movies are part of the everyday lives of so many people, the world of cinema remains a mystery to the majority of them. The worlds, the characters, and the stories are all so immersive, and they stick with people after they watch a movie, sometimes for the rest of their lives. Films have sparked revolutions, ignited love stories, and encouraged imaginations for decades, and they're not going to stop any time soon.
Movies are perfectly designed to create experiences for the viewer, and that's part of what makes them incredible. What a lot of people don't know is that each of those experiences is expertly crafted by a massive team of people! While the average crew consists of around 600 people, some movies have crews that exceed a couple thousand. As of right now, the largest film crew ever reported was a whopping 3,310 people that were behind the creation of Iron Man 3. Avatar, noted as one of the most stunning films ever made, had a crew of 2,984.
Featured Programs
Cinema is a big world. A Masters in Film can prepare you to join that world. Whether you want to work in writing, directing, producing, editing or something else, a graduate degree in film is the perfect way to make sure that you're prepared for what your career may entail. Many of the individual areas within the film industry, such as production or writing, are growing at an average rate, according to the Bureau of Labor Statistics. What's more, people are consuming more media now than at any other time in history, and there is a constantly growing demand for more.
Film is a rewarding field, and it's growing at a healthy pace. If you want to become part of it, a graduate degree in film or a related field can prepare you to take the next step in your career.

Masters Degrees in Film
Not everyone with a film degree is going to end up on the big screen, but there are plenty of career options for you with this degree. You could see yourself working in a studio, a theater, a university, or even in business. The skills that you learn in this type of program are ones that are widely applicable. Upon graduating, you will be ever more creative, resourceful, and effective in communication than you were when you entered the program, and those types of things are desirable in any career.
A film degree will have a curriculum that combines art and communication and includes critical background information about how the film and television industries work. You will learn about censorship, studio business practices, conducting research, marketing, media distribution, and more. Many degree programs at the masters level allow for more customization than at the undergraduate level as well; so, if you have a bachelor's degree in film studies but are passionate about a career in one specific area like script-writing, or animation, you can choose a program that focuses on that specifically.
There are several different types of degrees to choose from, too. There are Master of Arts, Master of Fine Arts, Master of Humanities, and many others in film and related fields. With more and more schools offering online classes and programs, there are now online masters programs in film and other associated degrees available.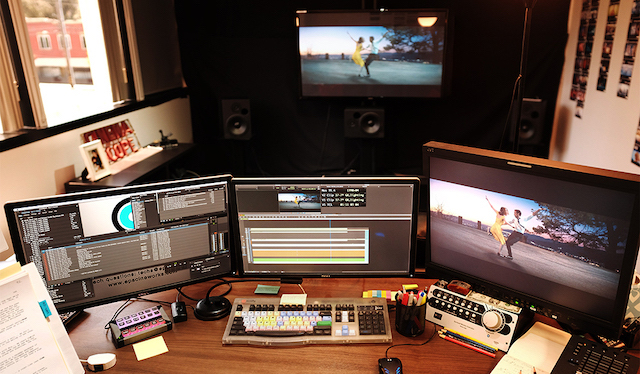 Earning a Masters in Film Online
Online education has been growing exponentially for decades now. There are plenty of reputable schools that offer online degree programs, sometimes more than a hundred programs at a single school. When it comes to a masters in film, you do have a smaller range of schools from which you can choose. Despite that, we still dug deep into your options and determined which schools had the best offerings. You can read about them here in this ranking; each school brings something different to the table.
The benefits of earning your degree online are innumerable. The most prominent feature of most online programs is the ability to complete your coursework asynchronously. You won't have to log in and work at set times; instead, you can complete your classes on your own time and study when it is convenient for you. Even the programs that are synchronous, or happen to involve visits to campus, are designed to fit into the lives of busy adults, whether they have professional obligations, a family to take care of, or both. Online programs also tend to be more affordable, with fewer fees and material costs, and sometimes, in-state tuition rates. You are also eligible for financial aid and scholarships as an online student. In fact, there are special scholarships for online students.
You won't have to move, quit your job, or abandon your other responsibilities or hobbies to earn your degree. Another benefit to choosing an online degree is that you're not limited to watch the schools near you have to offer! Below, you'll find all of the schools that offer online masters degrees in film (or a related area), ranked based on the following methodology.
Methodology
In order to rank the Best Online Masters Degrees in Film, we started by creating a list of schools that met some initial ranking criteria. Each school had to be based in the United States, operate in a not-for-profit manner, hold proper accreditation, and, of course, offer at least one online masters program in film. Fully-online and hybrid programs were both included, as well as related degree programs that weren't specifically in film. (For example, there is a masters degree in screenwriting included in the ranking).
Once we had a list of schools, they were each given a score based on these three factors:
Freshman Retention Rate (⅓ of final score)
Graduation Rate (⅓ of final score)
Affordability (⅓ of final score)
The highest possible score an institution could receive was 300 points. In the ranking, schools are presented in ascending order based on their final score, with the first school receiving the highest score, and so on. It is important to note that no school is ever awarded preferential treatment of any kind and we are confident that anyone could repeat these results using the methodology above.
In addition to the schools' own websites, information for this article was gathered from a number of reputable sources including the National Center for Education Statistics, and U.S. News & World Report. Any cost information used or presented in this article is represented by the Residential Cost of Attendance reported by CollegeData.