Find your degree
Online College Plan is an advertising-supported site. Featured or trusted partner programs and all school search, finder, or match results are for schools that compensate us. This compensation does not influence our school rankings, resource guides, or other editorially-independent information published on this site.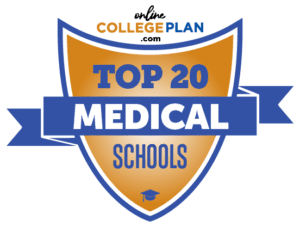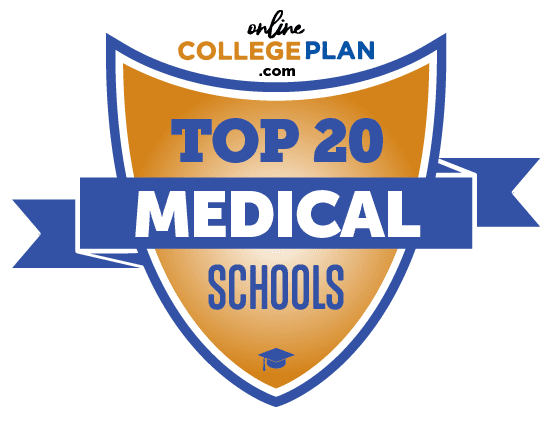 Medical schools are institutions or academic divisions that fall under a larger institution that confers professional degrees for physicians and surgeons. But, there are a lot of steps that lead to getting there. In this article, we try to shed a little light on the process of getting there, and we've ranked the top 20 best medical schools.
Medical School Rankings
Technology has revolutionized the way that students can earn a degree, but there are not many medical schools that have caught up with the times. For that reason, this isn't like our other rankings. Distance education opportunities are few and far between in this area of the healthcare industry because hands-on instruction and in-depth research are essential components of the medical school experience. So, we've taken a different approach. We made sure only to rank those medical schools that accept online credits or degrees.
Online medical school may be a possibility in the future, but for now, all of the medical schools in America do require students to study primarily on campus and at various clinical training sites. Some of the schools on this list have committed themselves to broaden their technological horizons and include online instruction as part of their programs.
In our research, we found that out of over 100 med schools, only 24 of them honor online credits. We're committed to serving distance learners, so we decided to present them and rank your best options for medical school if you earned your undergraduate degree or complete your pre med online. Every institution here honors online education course credits or degrees and offer a rigorous and cutting-edge program of study that will help you to reach your highest aspirations in the medical field.
Medical School Requirements
Medical schools are incredibly competitive, but it may surprise you to know that the requirements are less stringent than many believe. The key to getting into a great med school is making sure that you excel in your undergraduate studies and apply yourself to relevant extracurricular activities and research.
For your undergraduate degree, most students with aspirations to get into medical school choose a pre-medical track, also known as pre med. The truth is that there isn't a true pre-med major, but there are required courses known as prerequisites that you have to complete to be eligible to apply to a med school; most students opt to major in biology, chemistry, physics, or neuroscience, but you can major in whatever you want as long as you complete the necessary courses.
The courses you must take are:
English or Writing
Calculus
Biology
Organic Chemistry
Inorganic Chemistry
Physics
Most students seek out a pre-med advisor when they're working on their bachelor's degree to help them through this process. When it comes time to apply, students need to submit their MCAT scores and put together personal statements, essays, letters of recommendation, and even sit for an interview or several. Because of how long of a process this is combined with the cost of attending med school, picking the right one is extremely important. We've put together this ranking to help you to do so.
Methodology
The first step we took in order to put together this ranking was to create a list of all of the medical schools in America that are duly accredited and cannot be classified as for-profit. All of the schools that don't accept distance-education credits were omitted. The remaining schools were scored based on student satisfaction, affordability, and graduation rate.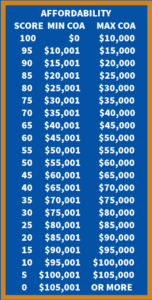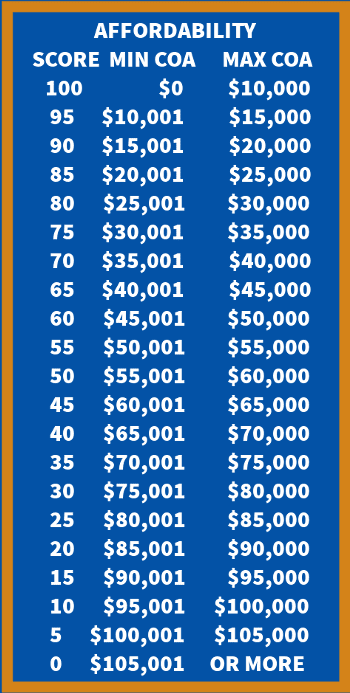 Schools were given a score based on each of these three factors. Those three scores were added together to determine the final score for each school, out of a possible 300 points. Medical schools presented here are the ones that met all of our criteria and received the most points. Due to incomplete data, there may be some schools that do not appear here that otherwise would have. OnlineCollegePlan never awards preferential treatment to any college or university for any reason.
Affordability is based upon the residential cost of attendance at each institution and has been converted into a whole number score as shown on the scale to the right. This conversion is made so that institutions with a lower cost of attendance are able to get a higher ranking score.
Statistics that we used contribute the following percentages to the overall ranking score of the institutions. Percentages have been rounded to the nearest tenth.
Student Satisfaction: 33.3%
Graduation Rate: 33.3%
Affordability: 33.3%
All of the data used in ranking these schools and presented throughout this article was gathered from the website of each institution whenever possible. Additional information was taken from the following sources:
U. S. News & World Report
CollegeData
An additional note we'd like to add is that medical schools are rapidly changing. All of the information in this ranking was accurate at the time of writing. Cost information presented with each school represents the residential cost of attendance. Students are not likely to have to pay that same rate, and you should always speak with the financial aid office at your university to get a more approximate estimate. Med students could also be eligible for several grants, scholarships, and more.