Top 20 Online Nutrition Degree Programs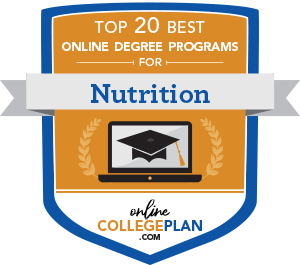 Study nutrition online at an accredited school!
For someone with a passion for food and a desire to inspire that passion in others while helping heal and nourish through nutrition, an online college degree in Nutrition Science is the perfect option. According to the US Bureau of Labor and Statistics, the projected growth rate of the nutrition industry from 2020 to 2030 is 11 percent, which is faster than the average occupation.
Professionals in food, diet, and nutrition work in many environments, from hospitals and schools to private estates and government offices. With a base salary ranging from $32,000 to $81,000 annually, professionals in this field can expect to be paid well for their expertise. However, the best-paying jobs in nutrition typically require an advanced degree.
There are many accredited universities with graduate programs in Nutrition Science programs in the US. But finding a fully online program is a little trickier. We've made the search easier by researching, compiling, and ranking a list of the top 20 schools with online graduate programs in nutrition.
.
Top 20 Online Graduate Nutrition Degree Programs
How to Become a Nutritionist
Most nutritionist careers require college degrees. Nutritionists typically require a minimum bachelor's degree, but more lucrative and rewarding positions require a Master's degree in nutrition or dietetics. These degrees focus on food's relationship with health and wellness, with further expansions at the graduate degree levels. These expansions are occasionally titled registered dietitian programs.
Getting a nutritionist degree from an online college is an excellent option for those who do not wish to relocate, want to pay less in tuition and fees, and would like to complete an online nutrition degree at their own pace. Accredited online nutrition programs meet all educational requirements and prepare students for various career opportunities as nutrition professionals. In most cases, these programs have the same curriculum and faculty, and students are awarded a degree identical to the one they would receive in the on-campus version.
Careers in Nutrition
A career in nutrition will allow the professional to be the guru of good health and an expert on what foods people should eat. The following list highlights some of these careers :
Registered Dietician Technician (DTR)
DTRs aid in the development of food service and nutrition programs. They construct and produce meals under established guidelines. For example, according to the National Center for O*NET Development, DTRs may:
Observe and monitor patient food intake and body weight, and report changes, progress, and dietary problems.
Plan nutritional programs, conduct nutritional assessments of individuals, and evaluate their dietary histories.
Prepare the main meal, follow recipes, and determine group food quantities.
Clinical Dietician
Nutritionists working as Clinical Dieticians oversee quantity food service departments, counsel individuals, or administer nutritional research. They furnish quality nutritional care for patients and must possess some knowledge of the medical industry to provide quality services and accurately handle their patient's dietary requirements.
Community Nutrition Educator
Nutrition Educators and Community Nutrition Educators encourage health in the community by assisting individuals in adopting healthy habits. Serving as an advocate for the health needs of people, Community Nutrition Educators support residents in adequately communicating with healthcare providers or social service agencies. In addition, they act as liaisons to implement programs that increase individual and community health.
Nutritionists in this profession may also collect data to identify community health demands. They can work in colleges, outpatient clinics, hospitals, and other facilities to provide nutrition education and programs.
Online Graduate Nutrition Degree Programs
Online nutrition degree programs are as comprehensive and rigorous as those you would find on campus. Common courses in this field are biochemistry of nutrients, ethnic foods, and human metabolism. When considering an education in nutrition, an online college degree is an excellent option. Our list of the top 20 online graduate Nutritionist degree programs is a great place to start your search.
The Best Online Graduate Nutrition Degree Programs: Methodology
The ranking system we've used to create this list is based on various factors, such as the total cost for the program, how many applicants get admitted, and the student-to-faculty ratio. Online College Plan uses data from the National Center for Education Statistics to determine the best programs. We also obtain information directly from the institutions, US News and World Report, and other sources.
Each part of the criteria represents several points, and we have listed them in ascending order, with the number one school at the bottom of the list. If there was a tie between schools, we gave higher placement to the college with lower total tuition fees.
With the criteria that we're using, here's how we've calculated those points:
Total Tuition
Less than $15,000–3 points
$15,001 to $20,000–2 points
Over $20,001–1 point
Acceptance Rate
Over 50% of applicants accepted–3 points
25% to 50% of applicants accepted–2 points
Less than 25% of applicants accepted–1 point
Student-to-Faculty Ratio
10 to 1 or less–3 points
11 to 15 to 1–2 points
16 or more to 1–1 point
Please note that the listed tuition is based on the average cost per academic year for graduate programs at each university. Costs can vary between programs and will often depend on whether you are a resident, a non-resident, or an online student. You may be able to apply previously earned credits toward your degree, depending on the school or program. Each student's situation may differ. For exact amounts, contact the school directly.
Top 20 Online Graduate Nutrition Degree Programs
20. Adelphi University
Garden City, NY
Adelphi University is a private, nonsectarian university founded in 1863. The oldest institution of higher education in the suburban area of Long Island, it was among the first few universities to receive a charter as a coeducational institution. The motto "the truth shall make us free" perfectly represents the school's mission.
Adelphi's Master of Science in Nutrition Program degree is offered by The College of Nursing and Public Health. The exclusively online program comprises half-semester courses and can be completed in three years or less. This Master's degree includes courses such as Nutrition and Cardiovascular Disease, Nutrition in the Life Cycle, and Recent Advances in Macronutrients. Adelphi University's program webpage reads: "Adelphi's MS in Nutrition is presented in an interactive online learning environment designed to engage students and encourage participation in the key areas of nutrition health practice, both current and emerging."
19. University of Illinois at Urbana-Champaign
Urbana, Illinois
The University of Illinois at Urbana-Champaign is a land grant university founded in 1867. It is a public research university with the highest distinction awarded by the Carnegie Classification of Institutions of Higher Education and one of the largest public universities by enrollment in the nation containing 16 schools and colleges. In addition, U of I at Urbana-Champaign is home to the fastest supercomputer on a university campus.
The College of Agricultural, Consumer, and Environmental Sciences at the school offers a non-thesis, 100% online and asynchronous Master of Science in Food Science degree program. They offer the courses live, requiring students to adhere to a predetermined schedule. Rather than a complete thesis or traditional final exam, students are given an oral examination by three faculty members. The program takes approximately four years to complete.
18. University of Wisconsin – Madison
Madison, Wisconsin
The University of Wisconsin–Madison was founded in 1848 and is accredited by the Higher Learning Commission. It is a public land-grant university and a prolific research institution. The first public university established in Wisconsin, this school is the oldest public university in the state. UW is famous for its Badgers football team and holds an impressive alumni list, including Earth Day's founder, Gaylord Nelson, and architect Frank Lloyd Wright. With its 20 colleges, this university is also Wisconsin's largest.
UW – Madison offers a Master of Science in Clinical Nutrition. It is entirely online, and no campus visits are required. The program can be completed in as little as one year, but students can go at their own pace. UW has this to say about its MS in Clinical Nutrition: "This is advanced learning at its best, and is ideal for people with a strong background in clinical nutrition, confidence working at the graduate level, and a commitment to become a leader in clinical nutrition and dietetics."
17. University of Georgia
Athens, Georgia
The University of Georgia was chartered in 1785, making it the oldest state-chartered university and the first-ever public university in the United States of America. With 18 colleges and schools, this land-and-sea grant university is one of the largest on our list. The university is home to the Peabody Awards and The Georgia Museum of Art. UGA has been one of the nation's top producers of Rhodes Scholars over the past two decades. Besides this, the university has also produced:
25 Rhodes Scholars,
7 Gates Cambridge Scholars,
7 Marshall Scholars,
60 Goldwater Scholars,
21 Truman Scholars,
18 Udall Scholars,
56 Boren Scholars,
143 Fulbright Student Scholars,
5 Schwarzman Scholars, and
3 Mitchell Scholars.
The Master of Science in Foods and Nutrition, Community Nutrition degree program at UGA is offered through the College of Family and Consumer Sciences and is dual accredited. It is available to students in a fully online and asynchronous format. Once students complete this program, they're eligible to become certified Georgia School Nutrition Directors. The program can be completed within two years and includes courses like Research Methods in Agricultural Education and Pharmacotherapy for Disease Management.
"Graduates from this program assume a variety of roles including those of Extension and Outreach professionals, school nutrition directors or coordinators, and other nutrition-related positions in the public and private sector." as stated on the university's website.
16. Canisius College
Buffalo, New York
Canisius College was established in 1870 by the Roman Catholic order, the Society of Jesus, and is one of only 28 Jesuit institutions in America. It is a relatively small college, with a current total enrollment of 3,102. Nevertheless, this private, not-for-profit school consistently ranks top among the regional institutions in the Northeast.
Canisius College's School of Education & Human Services has a fully online nutritionist degree offered through their Master's in Applied Nutrition program. The program has a completion time of one year. In addition, there are two specialty concentrations from which to choose: obesity or eating disorders and Fitness Sports Nutrition. While this program does not yield the Registered Dietician status, graduating students will be qualified for a management or administrative position.
15. University of Rhode Island
Kingston, Rhode Island
The University of Rhode Island began in 1890 on a farm in Kingston, Rhode Island. It is a public land-grant research university accredited by the New England Commission of Higher Education. Previously attended by basketball star Lamar Odom, this school is well known for its diversity and academics.
URI offers an online Master of Science in Dietetics degree. This non-thesis program is 14 months long and includes two track options: a Dietetic Internship Track and a Registered Dietitian Nutritionist Track. According to the school website, the program's goals are to:
Provide graduate-level knowledge in medical nutrition therapy, food service management, and community nutrition for students who are training to become Registered Dietitians.
Introduce the research process that informs the profession of dietetics.
Develop communication skills to allow graduates to provide nutrition information to professionals and the public.
14. State University of New York College at Oneonta
Oneonta, New York
State University of New York College at Oneonta is a liberal arts college initially established in 1889. It is accredited by The Middle States Commission on Higher Education. SUNY-Oneonta's mission states, "We nurture a community where students grow intellectually, thrive socially and live purposefully."
The Online Combined Master's Degree and Dietetic Internship Program is the only one like it. Accepted students will select a Registered Dietitian of their choice in their own community, under whom they will complete their internship while completing their graduate coursework entirely online. The rigorous one-year program results in a Master of Science in Nutrition.
The University advises students to avoid employment due to the dedication required to complete this program successfully. As stated on the SUNY-Oneonta website, "this curriculum has an emphasis in community and a culminating community health intervention project."
13. University of North Dakota
Grand Forks, North Dakota
The University of North Dakota, established in 1883, is the state's oldest and largest university. UND is highly accredited for its online degrees and educates the most significant number of exclusively online students among all nonprofit universities in the region. In addition, the National Science Foundation has rated this school #151 in the nation.
UND's Masters of Science in Nutrition Education and Counseling is offered primarily online in a semester-based and synchronous format. With an estimated completion time of two years, this Master's Degree program can give students the education needed for advanced nutritionist career placement. Courses in this program include Research Methods in Nutrition, Health Policy, Nutrigenomics, and more.
12. University of Alabama
Tuscaloosa, Alabama
The University of Alabama is the oldest and largest public university in Alabama. Founded in 1831 as the state's flagship university, it is a public research university and has the only publicly supported law school in the state. UA affirms that it "will be known as the university of choice for the best and brightest students in Alabama."
The school offers an online Master of Science in Human Nutrition program with three specializations: clinical nutrition, community nutrition, and generalist. According to the AU website: "The [Master of Science in Human Nutrition] program develops research skills, stimulates independent thought and provides up-to-date knowledge in food and nutrition."
You are not required to be a registered dietitian to enter this program, but it does not provide eligibility to sit for the registration examination to become a registered dietitian or provide eligibility to apply for dietetic internships. However, you may take additional online courses to meet the criteria for applying for an internship. Students should speak with their advisors to determine their best options.
11. Colorado State University-Fort Collins
Fort Collins, Colorado
Colorado State University is a land-grant public research university that opened in 1879. Home to a veterinary hospital and the Cooperative Institute for Research in the Atmosphere, this university has nine colleges. Extraordinary alumni include Pulitzer Prize winners, astronauts, and two former governors of Colorado.
CSU's mission statement proclaims its greatness: "Inspired by its land-grant heritage, Colorado State University is committed to excellence, setting the standard for public research universities in teaching, research, service and extension for the benefit of the citizens of Colorado, the United States and the world."
The Master of Science in Food Science and Nutrition at Colorado State is intended for those already certified as Registered Dietitians or those with verification from a didactic program in dietetics. Offered through the Great Plains Interactive Distance Education Alliance, the fully online courses are self-paced. Unique courses in this curriculum include Issues in Dietetic Practice, Nutrigenetics and Advanced Lipid Metabolism, and International Nutrition and World Hunger.
10. Kansas State University
Manhattan, Kansas
Kansas State University is a research, land-grant institution founded in 1863 during the Civil War and the first public higher learning institution in all of Kansas. The school offers both a Master of Science in Dietetics and a Master of Science in Nutrition, Dietetics, and Sensory Sciences. Both programs are taught entirely online. The Master of Science in Dietetics program is reserved only for registered dietitians.
KSU's website says this about the Master of Science in Dietetics courses:
"Students in this program will be able to apply cutting-edge information in food, nutrition, food service management and wellness to enhance dietetics practice; think independently and critically to evaluate and apply new research concepts and theories to advance the profession of dietetics; understand public policy and current systems of health care delivery with particular reference to the role of the dietitian; and advance the profession of dietetics by contributing to evidence-based practice."
The school developed the Master of Science in Nutrition, Dietetics, and Sensory Science degree program so students can customize it to various disciplines within the nutrition field. You can work with your advisor to select coursework that helps you meet your specific career goals.
9. Auburn University
Auburn, Alabama
Auburn University was chartered in 1856 and opened in 1859. It is a public land-grant research university and a charter member of the Southeastern Conference. With 15 schools and colleges, this University is a top-tier Carnegie R1 research university. AU's mission statement states that it is "dedicated to improving the lives of the people of Alabama, the nation, and the world through forward-thinking education, life-enhancing research and scholarship, and selfless service."
AU offers Master's in Nutrition Non-Thesis with Dietetic Internship. The Internship portion is 1200 hours of supervised field experience. This (plus the required coursework) fulfils the experiential requirements to sit for the Registration Examination for Dietitians. Students taking the program remotely will work with the Program Coordinator and/or Director to identify acceptable arrangements of the field sites and preceptors. Distance students have the same exact curriculum as what is taught on campus.
8. University of Kansas
Lawrence, Kansas
The University of Kansas, founded in 1865, is the state's flagship university that prides itself on being a premier research institution. It is a state-sponsored university and the only one in Kansas to hold membership in the Association of American Universities. KSU is home to Allen Fieldhouse, coined as one of the world's greatest basketball arenas. KU's mission—"to lift students and society by educating leaders, building healthy communities and making discoveries that change the world."— promises a fulfilling education.
The University of Kansas, in conjunction with the Great Plains Interactive Distance Education Alliance, offers a Master of Science in Dietetics online degree program. Offering both a thesis and non-thesis option, either program can be completed within two years and at your own pace. The thesis option requires an in-person presentation, while the non-thesis alternative can be completed entirely at a distance. They limit admittance to only credentialed registered dietitians (RD) or registry-eligible individuals having met all requirements of the Accreditation Council for Education in Nutrition and Dietetics (ACEND) for registration.
KSU also offers a Doctorate of Clinical Nutrition for applicants who possess current professional RDN licensure and have completed a master's degree. The school's website claims: "The doctorate in clinical nutrition at the University of Kansas is designed for students currently working in the field of nutrition and dietetics with a registered dietitian credential. This unique program will provide professionals with advanced knowledge of clinical nutrition necessary for today's complex, interdisciplinary health care environment."
7. West Chester University of Pennsylvania
West Chester, Pennsylvania
West Chester University of Pennsylvania was founded in 1871. The largest university in the Pennsylvania State System of Higher Education, this privately owned school is recognized for its formal poetry program. WCUPA is proud to proclaim that Frederick Douglass gave his last public lecture there. Frequently found on the school's website is their motto, "Find Your Element. Feed your mind."
The Master of Science in Community Nutrition at WCUPA is research-focused and available entirely online. However, it is in a structured format where students are divided into cohorts and must adhere to the program schedule directly. This is a non-thesis nutritionist program, concluding with a capstone paper. Included is the benefit of a designated academic advisor and the choice to complete this program alongside a dietetics internship.
The courses are all taught by faculty with doctorate degrees and expertise in public health, policymaking processes, sports nutrition for athletes, or diabetes management. The Master of Science in Community Nutrition degree is also offered as an Accelerated Bachelor of Science degree.
6. University of North Florida
Jacksonville, Florida
The University of North Florida was established in 1972 as a senior college and opened in 1984 to first-year students. It was rated a Top Public University by U.S. News and World Report and prides itself on its diversity of students and colleges. With five colleges and numerous online programs, this school is a top contender in quality education.
UNF offers two great online graduate programs at the Brooks College of Health:
The Doctorate in Clinical Nutrition (DCN) is entirely online and semester-based. The DCN degree makes this the only school on our list offering a doctorate. This program includes a practice residency and requires two-day onsite workshops during the program's first three years. According to The University of Florida's website, "this degree focuses on practice and emphasizes the production of applied scholarship and evidence-based outcomes in practice settings."
The Master of Science in Nutrition and Dietetics, also online, is a non-internship program that concentrates on professional studies in dietetics. Students in this program can either pursue an independent research project as a culminating experience to their master's program or earn six pre-approved credits through independent study courses, field experience, or a series of projects.
5. East Carolina University
Greenville, North Carolina
East Carolina University was founded as a teacher training school. It was initially designated as the East Carolina Teachers Training School when it was chartered in 1907. It is a sea-grant public doctoral research university accredited by the Southern Association of Colleges and Schools Commission on Colleges. The university offers 102 bachelor's, 77 master's, and 16 doctoral degree programs, making it the fourth-largest university in North Carolina.
The College of Allied Health Sciences at Eastern Carolina University offers a fully online graduate nutritionist program, the Master of Science in Nutrition. This program offers a thesis option and a non-thesis option. The thesis option may require some on-campus activities. However, the average student can complete the program in as little as two years.
With courses like Organic Chemistry for the Life Sciences and Nutritional Biochemistry and Metabolism, ECU's Master of Science in Nutrition degree program promises to qualify the graduate for a successful Nutritionist career.
4. North Dakota State University
Fargo, North Dakota
North Dakota State University of Agriculture and Applied Sciences is a land-grant public research university established in 1981. The largest university in North Dakota, this school is accredited by the Higher Learning Association. In addition, NDSU is listed in the National Science Foundation's top 100.
The Master of Science in Dietetics is offered at NDSU through a collaboration with Great Plains Interactive Distance Education Alliance. This degree is offered completely online and allows for 21 credit hours of elective courses, enabling students to customize their program according to their own needs and interests.
"Applicants must possess either the Registered Dietitian Nutritionist (RDN) credential or be Registered Dietitian Nutritionist Eligible (RDNE) to be eligible for admission." is stated on the University's website. This gives the student the skills needed to be successful in advanced dietetics professional careers.
3. Texas Tech University
Lubbock, Texas
Texas Tech University opened in 1925. It is home to a major university, law school, and medical school. Rated Best Online Learning School 2022 by Newsweek, TTU currently carries 80 online learning degrees.
TTU's Master of Science in Nutrition and Dietetics is one of the few such programs in the country that doesn't require applicants to be Registered Dietitians to enroll. Instead, students can complete this non-thesis online nutrition degree program in tandem with a dietetic internship.
In addition, students can choose to include one of the following concentrations: Nutrition and Healthy Weight, Nutrition and Sports, or Nutrition in the Life Cycle. This degree is approved by the Texas Higher Education Coordinating Board (THECB) and has a practice-based focus.
2. University of Nebraska, Lincoln
Lincoln, Nebraska
The University of Nebraska – Lincoln is a land-grant public research university chartered in 1869, making it the first university in the University of Nebraska system. It is the state's oldest university and is divided into eight colleges. Among notable alumni are three Nobel Prize winners and eight Pulitzer Prize winners. UNL is accredited by the Higher Learning Commission.
The Master of Science in Dietetics at The University of Nebraska – Lincoln is provided through the Great Plains Interactive Distance Education Alliance. This nutritionist program is specifically for Registered Dietitians or professionals who have completed the requirements set forth by the Academy of Nutrition and Dietetics and are ready to sit for the national credentialing exam. Sample courses at UNL include Nutrition: A Focus on Life Changes and Applied Medical Nutrition Therapy.
1. University of Arizona
Tucson, Arizona
Our top online graduate school for nutrition programs is the University of Arizona. This school was the first university in the Arizona territory, founded in 1885 before Arizona would become a state. This University has been awarded more grants from NASA than any other in America, and alumnus Lujendra Ojha is credited with discovering liquid on the surface of Mars. The purpose statement: "Working together to expand human potential, explore new horizons and enrich life for all." represents this school well.
This public research university also operates two medical schools. Well known for its wide range of online offerings, UA has been featured as a top online school in publications like U.S. News & World Report, the National Science Foundation, Forbes, and more.
UA offers a fully online Professional Science Master's (PSM) in Applied Nutrition: Nutrition and Wellness program that can be completed in 18 months. Unlike many online master's programs in nutritional science, this PSM has a six-unit graduate-level practicum requirement. Students in the program will work with a partner organization to complete around 270 hours of supervised practice. The practicum serves as the capstone project and is in addition to six coursework units tailored to the student's professional goals.
Related:
Top Culinary Schools with Online Classes (onlinecollegeplan.com)