Are There Any HBCUs in Alabama?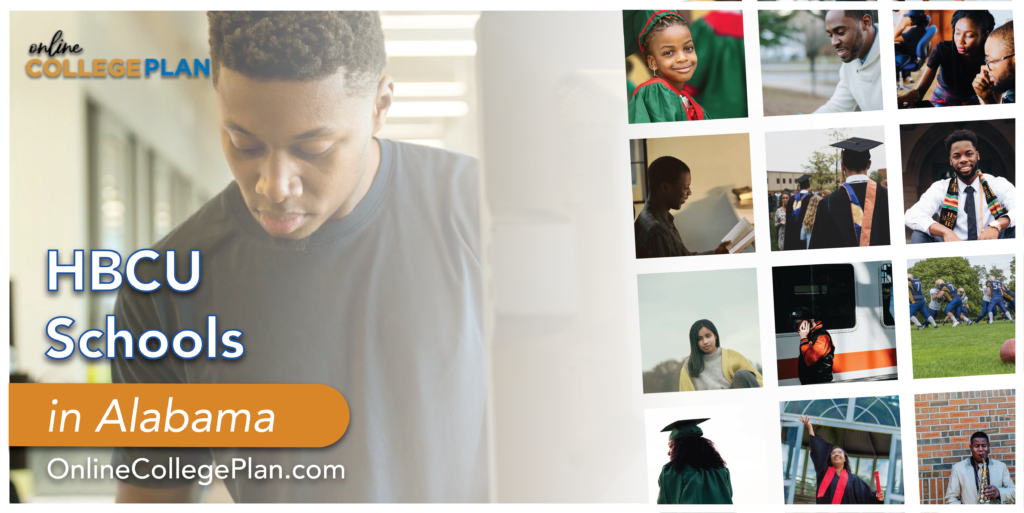 If you are on the hunt for the perfect school for you in Alabama, look no further than this list of HBCUs. A historically black college or university (HBCU) is an institution that, while they accept students of all backgrounds, primarily cater to Black students to ensure they get a high-quality education regardless of race.
If you are from Alabama, you might be looking for a school that's close to home and also within your price range. There are many benefits to attending a college or university in your home state, including the school's affordability and familiarity.
For starters, going to an in-state school will likely cost much less than out-of-state, especially when the school is public. In-state tuition helps keep your education affordable, and private colleges and universities typically cost much more than public ones. Additionally, you can often find scholarships to apply to specific schools within your home state, further reducing the cost of attendance.
Featured Programs
Related: Top 20 Best Online Colleges in Alabama
Staying in your home state for college also helps you stay close to home and allows you to have a new experience without having to adjust to an entirely new place or climate. In addition, if you have close ties with your friends or family, staying in-state for college allows you to visit with them more often.
There are plenty of reasons to attend an HBCU in Alabama, especially if you are from the state, to begin with. Keep reading to hear more about the eight undergraduate HBCUs in Alabama!
What Is An HBCU?
HBCUs are historically black colleges or universities that aim to offer students an opportunity to grow and achieve their dreams regardless of race. HBCUs are extremely common in Alabama, and the state remains one of the most popular places for driven Black students to attend college.
Despite HBCUs only comprising around three percent of the United States' total educational institutions, they account for roughly a quarter of all African Americans graduating with a college degree.
Why Should I Attend An HBCU?
Many Black students have found their homes at HBCUs, and it's no secret why. There are many benefits to attending an HBCU as a Black student, including:
In-state tuition: In-state tuition is much more affordable than out-of-state tuition, although some private colleges and universities do not differentiate between in-state and out-of-state tuition.
Short commute and travel fees: Even if you are taking online classes, it can be helpful to visit campus to meet with professors or take advantage of campus resources and technology.
Quality field study, internship, or employment opportunities: Many colleges and universities are well connected with companies and businesses in their area.
Many of these colleges and universities are run by Black staff and faculty with whom you can find relatability. Many of them will also be able to help you along with your educational or career journey!
HBCUs are some of the preeminent educational institutions in the country and are sure to give you the kind of traditional college experience you want.
Keep in mind that many of these schools offer tours or open houses for prospective students, so be sure to request more information from a school if you like the way it sounds. The college application process is daunting, but hopefully, this list will make it easier when searching for the best HBCU in Alabama.
What HBCUs Exist in Alabama?
There are eight different HBCUs in Alabama, and it is one of the most popular states in the country for students wanting to attend an HBCU. In addition, Alabama is relatively densely populated with HBCUs, making it a popular destination for driven Black students all around the country.
In the next section of this article, we will be detailing all of the essential statistics from all eight undergraduate Alabama HBCUs. Hopefully, if you are pursuing an undergraduate degree, this list of schools will help you narrow down where to tour or apply. We will discuss the most popular programs of study from each school, student life, cost of attendance, your chances of acceptance, the school's graduation and retention rates, and more.
At-a-Glance: HBCUs in Alabama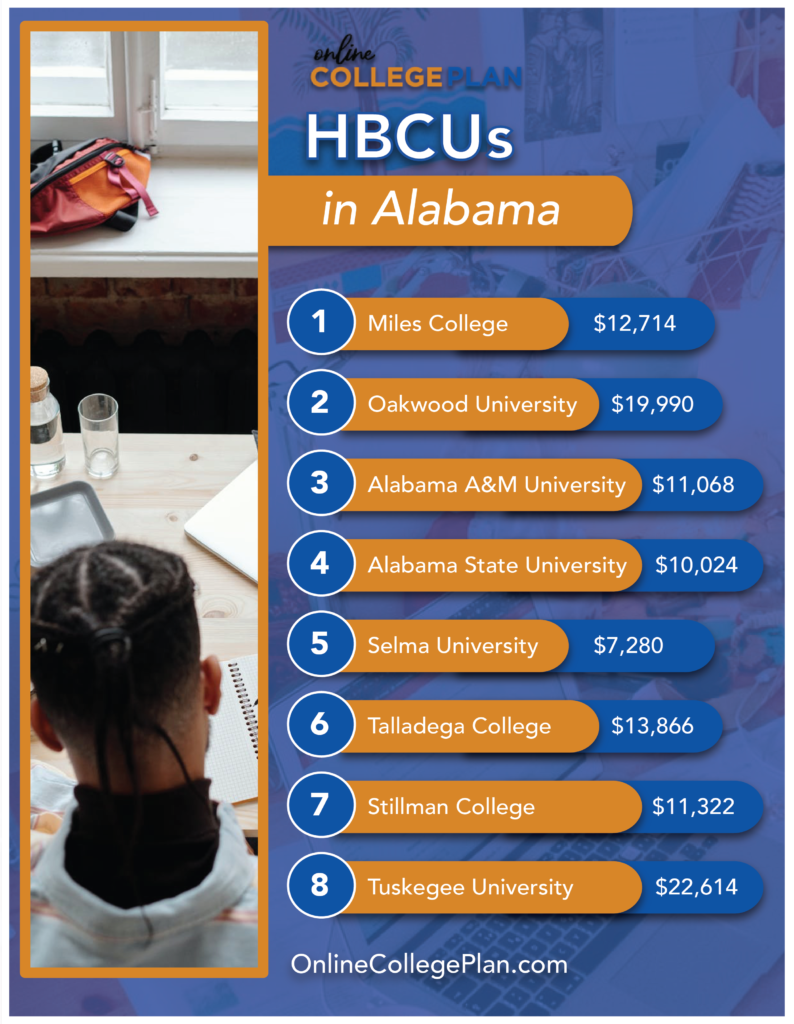 Miles College is located in Fairfield, Alabama, which is just outside the central city of Birmingham. The school is closely affiliated with the Methodist Episcopal Church and has an undergraduate student body of around 1,500. In addition, miles College has the distinguished United Negro College Fund (UNCF) designation, which only 39 HBCUs in the country currently have.
Miles College students pride themselves on being at the forefront of activism and social leadership, led by driven and ambitious Black leaders.
There are five different schools within Miles College:
Business & Accounting
Communications & Education
Humanities
Social & Behavioral Science
Natural Sciences & Mathematics
Some of the most popular majors include Business Administration, English, and Criminal Justice. The average cost of attendance at Miles College is $12,714 a year.
Oakwood University is a religious, private HBCU based in Huntsville, Alabama. The school is affiliated with the Seventh-Day Adventists and is primarily focused on spiritually-centered learning.
There are 58 different majors available at Oakwood University. They are taught through 5 primary schools, including:
School of Arts and Sciences
School of Business and Information Systems
School of Education and Social Sciences
School of Nursing
School of Theology
Oakwood University is top-rated among students who want to become doctors, as they have one of the best programs in the area for pre-med applicants.
The average cost of attending Oakwood University is $19,990 a year. The school has approximately 1,500 students enrolled in their undergraduate student body with an acceptance rate of 89 percent and a graduation rate of 50 percent.
Founded in 1867, Alabama State University, also called Alabama State, is one of the oldest HBCUs in the country. The school is located in Montgomery, Alabama.
Nine former slaves originally founded Alabama State, and the school now focuses on providing the country with some of the most qualified and well-educated Black faculty members and professors. The school has 31 different programs of study that are offered through seven schools, including:
College of Business Administration
College of Education
College of Health Sciences
College of Liberal Arts and Social Sciences
College of Science, Technology, Engineering, and Mathematics
College of Visual & Performing Arts
University College
One of the most notable things about attending Alabama State is the marching band, who have never repeated a half-time show at their home games. Alabama State's acceptance rate is currently around 99 percent, so the school is very easy to get into. The school has a student body of nearly 4,000, and the average cost is $11,068 a year.
You may also like: Alabama State University – Football, HBCU and Notable Alumni
Alabama A&M University, often abbreviated to AAMU, is located in Normal, Alabama, and has a student body of just over 5,000. It's somewhat easy to get into AAMU, as their current acceptance rate sits at about 87 percent.
AAMU is a school where students love to get involved, hosting more than 50 registered student organizations and several different sports teams. Thirty-seven various programs of study are taught through four schools at AAMU, including:
College of Agricultural, Life, and Natural Sciences
College of Engineering, Technology, and Physical Sciences
College of Education, Humanities, and Behavioral Sciences
College of Business and Public Affairs
Some of the most popular majors at AAMU include Urban Planning and Accounting.
The average cost to attend AAMU is around $10,024, but grants and scholarships can further bring this number down. AAMU is a dynamic and forward-thinking institution that would be great for any driven student.
Removed by Editor
Talladega College is Alabama's oldest private HBCU, founded in 1867 and based in the historic town of Talladega, Alabama. The school has an open admissions policy, which means that nearly anyone who would like to attend can.
Since the school is private, it is often considered more expensive, but the average cost to attend Talladega College is around $13,866 a year. They have an undergraduate student body of around 1,200.
You can choose from 17 different majors at Talladega. These majors are offered through four separate schools, including:
Division of Business Administration
Division of Humanities and Fine Arts
Division of Natural Sciences and Mathematics
Eunice Walker Division of Social Sciences and Education
Stillman College is a Presbyterian institution located in Tuscaloosa, Alabama, the same city as the University of Alabama. At Stillman, you have the opportunity of experiencing life in a big college town without the overwhelming big state school experience since the student body comprises only around 900 individuals.
Stillman is relatively difficult to get into, accepting only 56 percent of applicants. To graduate from Stillman, you will need to take at least 12 hours of religious education, so a degree from Stillman college is undoubtedly great for spiritually inclined students.
There are 17 different majors and 13 minors to choose from at Stillman, and these programs are offered through three schools, including:
School of Business
School of Arts and Sciences
School of Education
The average cost of attendance at Stillman is $11,322 a year. Around 22 percent of students who enroll at Stillman end up graduating from the school.
Tuskegee University is one of the most notable schools on this list and is often highly ranked among HBCUs nationally. Tuskegee is the only university in the country to be named a National Historic Site, so there is indeed a lot to learn from attending a higher education institution like Tuskegee. Many famous alumni, such as Lionel Richie, have graduated from the university, which has an undergraduate student body of around 2,500.
There are eight different schools at Tuskegee University, perhaps the most popular and notable being the School of Veterinary Medicine. More than 75 percent of Black veterinarians in the world have graduated from this program. Unfortunately, the average cost of attendance at Tuskegee is $22,614 a year, making it one of the more expensive schools on this list.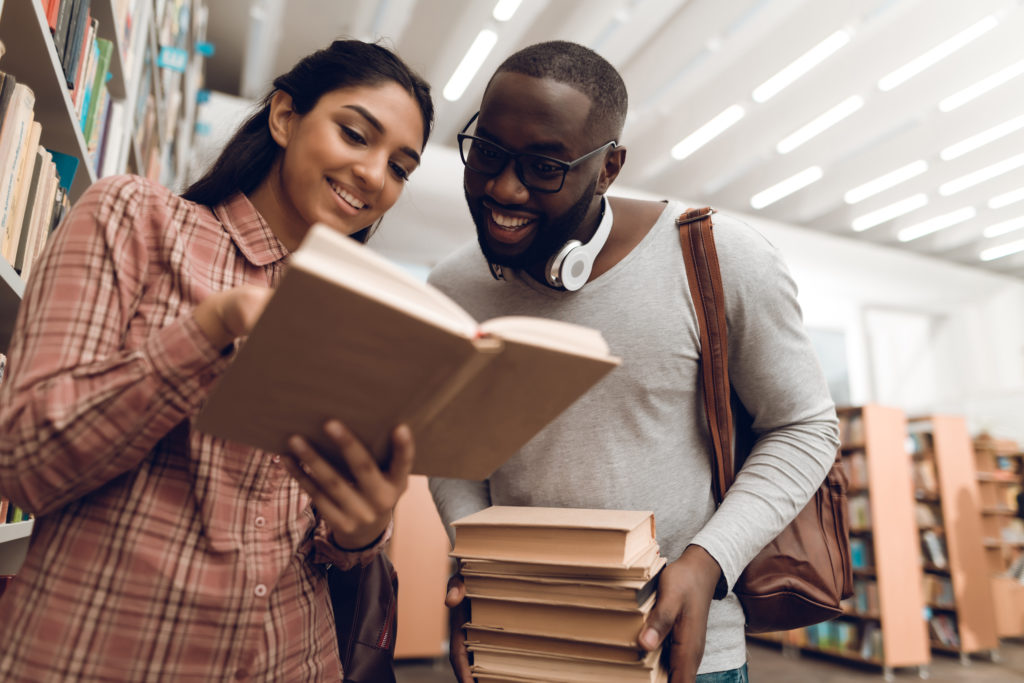 Should I Attend An HBCU?
There are many benefits to Black students attending HBCUs instead of predominantly white institutions (PWIs). It is widely believed that HBCUs have much more supportive campus environments for minority students than PWIs, and Black students are thought to be between six and 16 percent more likely to graduate from an HBCU than a PWI.
In addition, according to many studies, minority students at HBCUs experience more significant connections with faculty, better involvement on campus, and higher levels of engagement in their coursework. HBCUs may also have better on-campus resources than PWIs, as studies have shown that about half of HBCUs hire professional tutors for their writing centers while only about 10 percent of PWIs do.
Since HBCUs are more diverse than PWIs, it is commonly felt that the student body is generally more tolerant, welcoming, and accepting. If you have experienced discrimination or have felt different at your schools in the past, an HBCU could be the perfect place for you to find your home and grow into the best version of yourself. People of varying backgrounds, economic positions, and beliefs attend HBCUs, so you will surely find others who align with your values and interests.
HBCUs are also pretty unique, and most HBCU alumni will tell you that they had a completely unparalleled experience at their school that they would not be able to replicate at a PWI. There are many great reasons to attend an HBCU, and your options are especially varied and diverse in Alabama.
See also:
Do any HBCU colleges offer 100% online degree programs?
What is the Top HBCU Graduate School?
Are There Any HBCU Medical Schools?