15 Best Online Masters in Library Science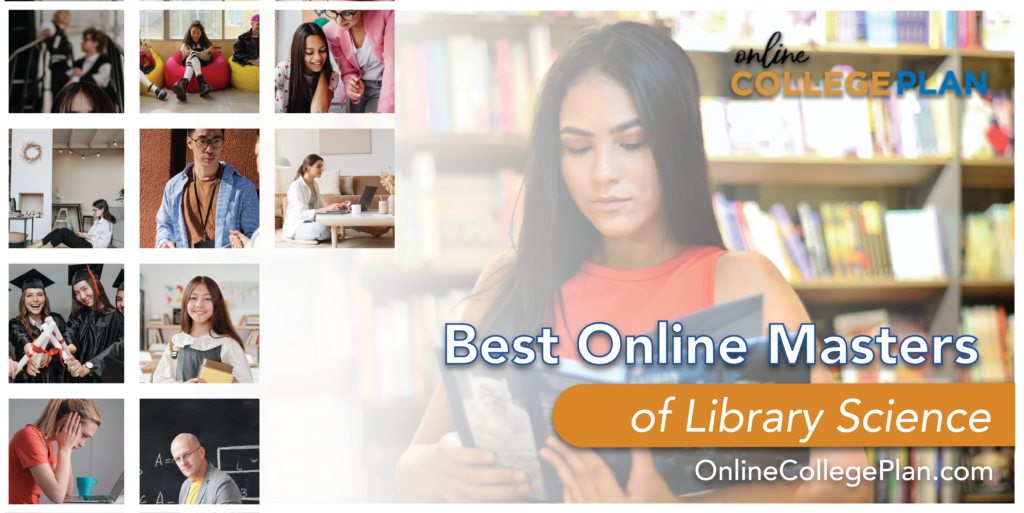 Getting a master's in library science can open up opportunities in the education field and beyond. However, many students can't attend on-campus classes or require scheduling flexibility. If this applies to you, you can still achieve a degree through a remote program. To help you, we're detailing the 15 best colleges and universities that offer online library science master's degrees
See also: Pros and Cons of Online College
You might think of libraries as an old-fashioned concept in the modern world. Think again. The field of library science covers a broad spectrum of skills. It encompasses technology, multimedia, and complex archival procedures.
Featured Programs
In many ways, library science is about education, and a large number of graduates end up working at schools and public libraries. However, an online master's in library science has wider uses as well.
The fundamental discipline of library science involves the storage and dissemination of information. As a result, it touches on many crucial industries outside the world of education. It provides a useful skill set for managing and analyzing data. This makes it extremely helpful in any modern industry.
Meanwhile, the basic tasks learned through a Library Science program can apply in multiple areas. Beyond schools and education, you'll find these professionals engaged in maintaining libraries dedicated to topics like law and medicine.
All of the programs here are accredited by the American Library Association. The list also offers some of the top learning institutions in the country, with all classes available remotely.
Ready to learn more? Here are your top online colleges for a master's degree in library sciences.
Methodology
We crunched the numbers to discover the best online library degrees. We started by narrowing down a list of schools. This is no easy task, since there are more than 5,000 colleges and universities in the U.S. In order to find the best options for an online library science degree, we needed to trim that to a manageable number.
This began with an assessment of the school's overall reputation. We weighed the overall respect the Library Science programs at these institutions received from employers, students, and other colleges.
Related: How do online colleges make sure they have a high student satisfaction rate?
Eventually, we arrived at the 15 universities and colleges that offered the highest-rated courses of study. From there, we gathered data using the National Center for Education Statistics (NCES) College Navigator. Using this information, we ranked the choices based on a few key criteria:
Cost
Admission Rates
Graduation Rates
The cost question is obviously crucial for any incoming student. Education represents an investment. It takes resources to achieve a degree and, hopefully, you'll see a major payoff once you enter the workforce.
The more affordable the college, the easier it is to make that investment. For that reason, we gave preference to institutions that offered a less-expensive option.
Meanwhile, we viewed admission rates as a signifier of the institution's dedication to diversity and commitment to its students. As a result, we weighted our methodology in favor of universities and colleges with higher admission rates.
You could argue that lower admission rates indicate a more exclusive level of education. Maybe. But we believe people thrive better in welcoming and inclusive environments. That philosophy directed our thinking here.
Finally, we looked at graduation rates. If you are paying for an education, you want an institution that will see you through the process. You want a partner.
For us, a high graduation rate pointed to that level of dedication. We gave higher scores to the institutions that more successfully moved students toward their ultimate goals.
To put specific numbers on it, here is how we broke down the scales:
Graduate Tuition/Fees
Less than $10,000/year – 3 Points
$10,001-$20,000/year – 2 Points
More than $20,000/year – 1 Point
Applicants Admitted
Less than 25 percent – 1 Point
25 percent to 50 percent – 2 Points
More than 50 percent – 3 Points
Graduation Rate
50 percent or Greater – 3 Points
25 percent-49 percent – 2 Points
Less than 25 percent – 1 Point
Below Is Our List of the Top 15 Best Online Schools for Library Science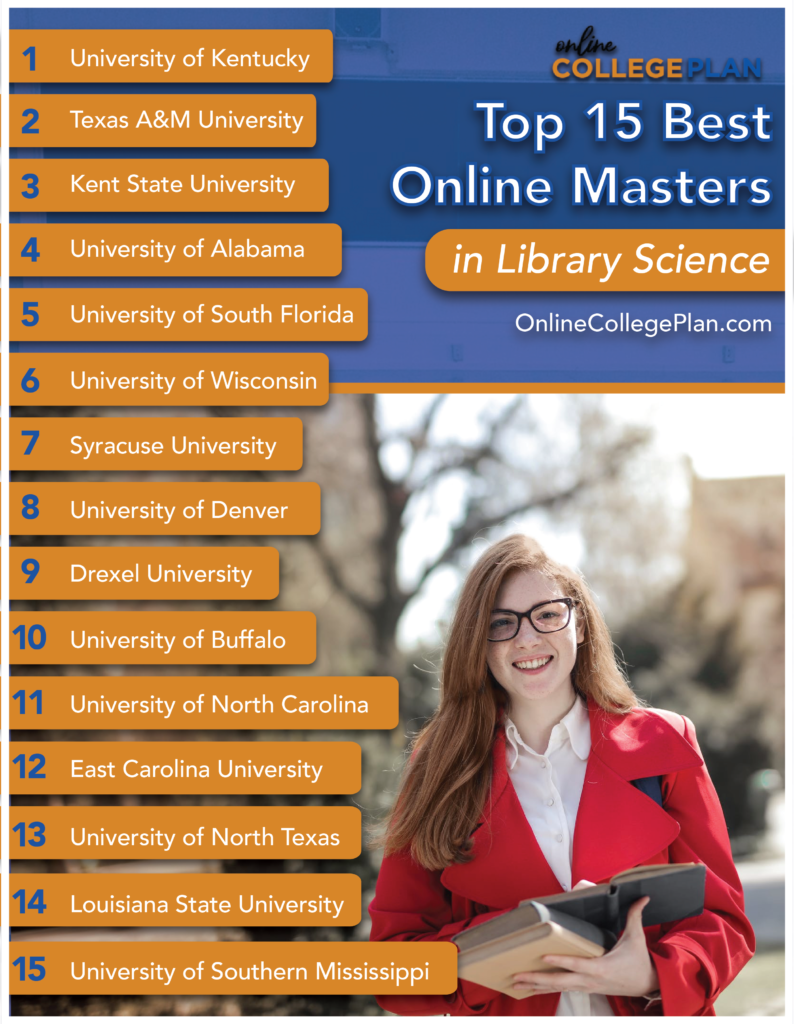 You might also like: Top 100 Best Online Colleges
#15 Syracuse University
Tuition/Fees: $55,926
Points: 6
One of the most expensive schools on this list, Syracuse also loses points for a sub-50 percent admission rate. However, the school's sterling reputation is undeniable and it supports its students with a graduation rate above 80 percent.
With a program dating back to the 1920s, Syracuse offers a comprehensive course of study. This includes an immersion program centered around a multi-day residency workshop.
Related: Best Online Colleges in New York
#14 University of Denver
Tuition: $53,775
Points: 7
Like Syracuse, the University of Denver would rank higher on this list if it wasn't for tuition sticker shock. It stands as one of the more expensive schools on this list.
On other measures, though, it excels. The graduation rate sits above 75 percent, with a solid admission percentage. The online master's program boasts one-to-one faculty mentorship. For aspiring archivists, this department offers a specialty focus on that field.
#13 Texas A&M University-Commerce
Tuition/Fees: $9,820
Points: 7
Texas A&M is one of the more exclusive schools on this list. Less than 50 percent of its applicants receive an acceptance letter. Meanwhile, graduation rates are lower than many of the other institutions here.
So the programs at Texas A&M require the best out of students. Yes, they are challenging. But it still rates among the best Library Sciences programs out there. Plus, low tuition costs make it one of the more affordable options among the top schools.
#12 Drexel University
Tuition/Fees: $56,238
Points: 7
With the main campus located in Philadelphia, PA, Drexel University has an enrollment of nearly 26,000. As a private institution, an education there comes at a hefty price tag. These high costs keep the school from cracking the top 10 on this list.
Still, Drexel has one of the most enviable Library Sciences departments in the country. It ranks among the best of its kind in the U.S. Meanwhile, the school's admission and graduation rates are both high.
#11 University of North Carolina-Chapel Hill
Tuition/Fees: $8,980
Points: 7
If you're familiar with UNC from March Madness, you might not realize that its excellence extends beyond the basketball court. It ranks among the nation's top universities, a fact that's evidenced by its low admission rate (by far the lowest on the list).
However, once you've been accepted to the school, they do everything possible to deliver a top education. Tuition costs are low and the graduation rate tops 90 percent. The Library Science program is one of the top-rated in the field, with accreditation reaching back to the early 1930s.
#10 University of Southern Mississippi
Tuition/Fees: $8,896
Points: 8
The University of Southern Mississippi scores a top-10 appearance thanks to its low cost and sky-high admission rate (the highest among the schools on this list). The school gets dinged for a sub-50 percent graduation rate.
Still, the Library Science program itself provides significant opportunities for personal development. The program offers scholarship opportunities. In addition, students can pursue a dual degree as well, with such concentrations as anthropology, history, and political science.
See also: Top 10 Online Colleges in Mississippi
#9 University of North Texas
Tuition/Fees: $11,090
The University of North Texas is a little pricey compared to some of the other choices here. Also, the graduation rate, while solid, comes in below some of the higher-ranked competition. Still, the school sports an excellent admission rate, and the program itself has an excellent reputation.
In the program, students can choose a general course of study. Or they can opt for one of five areas of specialization:
Archival Studies and Imaging Technology
Information Organization
Law Librarianship and Legal Informatics
Music Librarianship
Youth Librarianship
#8 University of Kentucky
Tuition/Fees: $12,484
Points: 8
One of the key public institutions in Kentucky, UK has a total enrollment of about 30,000 students. Its master's program in Library Science makes this list because of a superb reputation and solid graduation rate. The school as a whole also has one of the highest admission rates among the institutions listed here.
This program offers asynchronous classes and lower tuition rates for online courses. Students can also choose options that include practicums and study abroad opportunities. They can also apply to internship positions in Washington DC, at institutions like the Library of Congress.
Related: The Best Online Colleges in Kentucky
#7 Kent State University
Tuition/Fees: $11,009
Points: 8
This program is on the higher end in terms of price. But the school gets credit for a welcoming admission rate and a solid graduation percentage.
Meanwhile, Kent State presents one of the most highly regarded master's programs in Library and Information Science. Students can even choose a dual degree with an MBA.
The Ohio-based Kent State services nearly 41,000 students and has been in operation for more than 100 years.
#6 Louisiana State University
Tuition/Fees: $11,962
Points: 8
With a history going back to 1931, LSU's Library Science program is one of the most highly respected in the field. While the cost here is higher than some of the other choices on this list, the school gets credit for its strong graduation and admission rates.
Students can opt for one of eight areas of specialization. (However, we should note that a focus area isn't specifically required.) Dual degree programs are also available. The asynchronous program is offered 100 percent online.
#5 University of Buffalo
Tuition/Fees: $10,526
Points: 8
Luckily, with an online degree, you won't have to venture out into those famous Buffalo winters. Meanwhile, you can benefit from one of the top public universities in New York State.
UB also offers rare specialized areas of interest. Students can opt for programs centered on music librarianship and law librarianship. The course of study also includes a potential degree school librarianship.
For this list, UB earns its high rank thanks to reasonable costs (just over the $10,000 mark) and excellent admission and graduation rates.
#4 University of South Florida
Tuition/Fees: $6,410
Score: 8
Looking for a supremely affordable school that also boasts high graduation rates? The University of South Florida fits the bill.
The school represents the lowest-cost choice on this list. While it has a low admission rate, its graduation rate comes in at 75 percent, helping to score it a top-five position on this list.
The program here consists of six core courses, augmented by a series of electives. Students can focus on areas of interest such as public libraries, information science, law librarianship, archiving, and health informatics.
The University of South Florida prides itself on being one of the fastest-rising universities in America. It now ranks among the top 50 public universities in the U.S. The school has nearly 50,000 students.
Related: Are Many Online Colleges Based in Florida?
#3 University of Wisconsin-Madison
Tuition/Fees: $10,742
Points: 8
The University of Wisconsin structures its Master's of Library Science degree around a few core areas:
Librarianship
Data/Information Management and Analytics
Organization of Information
User Experience Design and Information Technologies
Archives in a Digital Age (offered in an on-campus program)
One of the top schools in the midwest, UW has more than 40,000 students. It ranks in the top 10 in producing Fortune 500 CEOs. It also boasts 20 Nobel Prizes awarded to faculty or alumni.
UW has relatively high tuition costs, which keeps it out of the top spots on this list. But general reputation and stellar marks for both admission and graduation rates make it one of the best choices for the Library Sciences discipline.
#2 University of Alabama
Tuition/Fees: $11,620
Points: 8
Yes, the Crimson Tide offers more than just winning football. One of the state's most prestigious institutions (actually, the oldest public college in the state), UA has a wide array of programs for its 33,000 students.
The school earns its high rank here because of reasonable tuition rates and high numbers for both admissions and graduations. In terms of reputation, the Master of Library Science program is regarded as one of the best in the world.
The degree consists of courses focused on digital themes, as well as more traditional work centered on academic, community, and special libraries. The school was one of the first to offer an online program, which operates in a synchronous structure.
#1 East Carolina University
Tuition/Fees: $7,239
Points: 9
East Carolina earns its spot at the top of this list because of its affordability. Overall tuition levels at the school represent one of the lowest figures offered here. The school also gets high marks for its graduation and admission rates.
Looking at the Master of Library Science degree, you can choose among three areas of concentration. The options consist of academic, school, and public libraries. The program itself has a long history, stretching back to the 1930s.
East Carolina says it has designed the program to cater to the needs of non-traditional students. This comes about as a result of a 100 percent online curriculum, complete with asynchronous courses.
See also: The 20 Best Online Colleges in South Carolina
Best Careers with a Degree in Library Science
The obvious career for a Library Science major involves operations within a library. Often, we associate this course of study with school librarians or the top professionals at public libraries.
Beyond these important tasks, the skills learned in a Library Science graduate program have other potential applications as well. The protection and preservation of historical records, the management of museums, and the cultivation of important sources of information. These tasks touch on a wide variety of other specialties, including law, entertainment, and health care.
Here are a few options for specialists in Library Science:
Museum Curator
$44,000-$84,000
The displays you see in a museum take painstaking work to organize. That's the job of a museum curator. They take care of precious objects, like artifacts or artwork. The position also involves contextualizing the collections so that museum guests receive the best possible education and experience the highest possible engagement.
Archivist
$51,000-$101,000
Historical documents need special care. At the same time, researchers require access to these precious materials. It's an archivist's job to make this possible.
An archivist oversees the preservation of materials, while also making those products available to the people who need them. This can include things like documents, maps, photos, and films. With the dawn of the digital age, it also touches on the preservation of computer records.
Information Specialist
$36,000-$78,000
You've heard that the modern world is all about data. Information specialists play into this trend. Their job involves managing data and analyzing the information.
Media Specialist
$57,000-$85,000
When you think of Library Sciences, your mind likely first goes to books. But that's only part of the materials entrusted to these professionals. A media specialist makes this clear.
This area of concentration focuses on audio-visual components. The job involves a certain technical savvy and an understanding of multimedia operations.
Children's Librarian
$27,000-$56,000
The pay here is lower than the other professions we've highlighted. However, people don't tend to become a children's librarian because of the high salary potential. If you love kids and want to make a difference in their lives, this provides an excellent opportunity.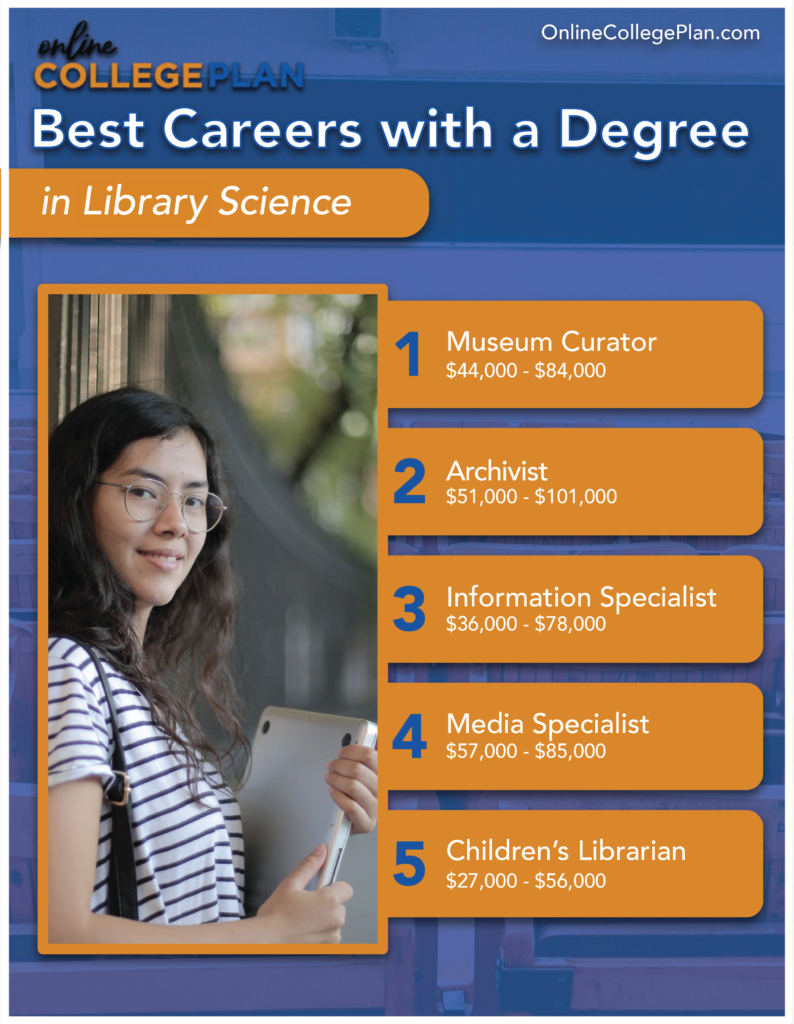 You might also like: