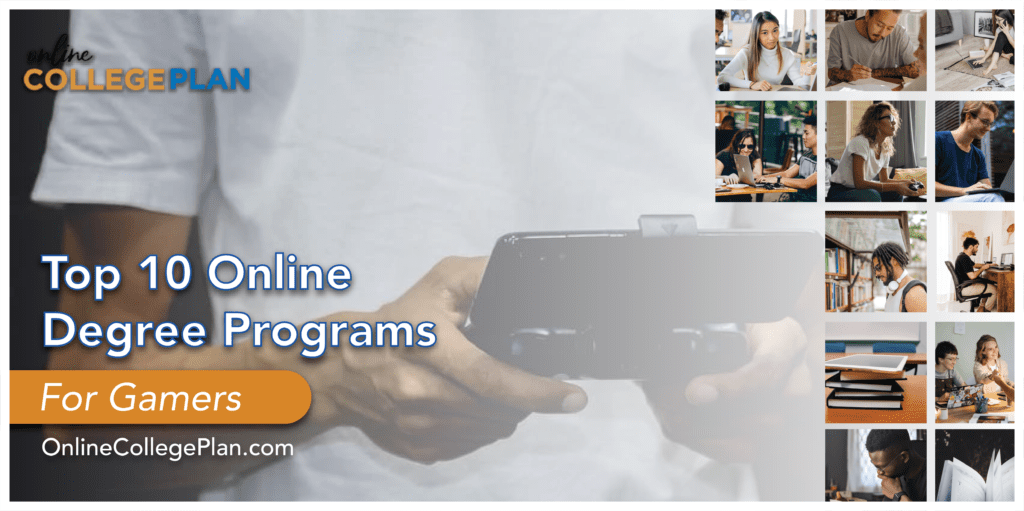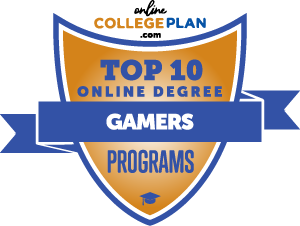 Initially, video games started out as a fun and entertaining way to pass the time with little commercial value. With only a few moving pixels on a screen, it wasn't exactly the most exciting hobby. However, as time went on and technology improved, gaming became more than just a favorite pastime. It is now a lucrative industry worth billions of dollars.
If you're a gamer, it's difficult not to see all the good things the industry has come up with. From action/adventure to puzzles to FPS, there's so much that gaming offers. Even better—you can take your love for video games beyond just playing. You can actually be a part of it too.
No, we're not talking about immersive 3D virtual reality gaming or something like that. Although, those are pretty awesome. We're talking about getting a degree that's specifically designed for gamers.
Featured Programs
Contrary to what some may think, these programs don't turn you into a geek who sits in classrooms full of computers all day. You can learn to do what you truly love without even stepping foot in school. What's more? You'll have yourself a solid list of video game careers to choose from.
In this article, we'll cover the top ten gaming degree programs you can complete online followed by a list of cool career choices. Let's get started.
Methodology
Before going ahead, you should know that this is not a random, unorganized list of online gaming degrees. Instead, we've examined dozens of schools and programs and narrowed down the options to a list of 10 excellent selections. The programs are ranked from the bottom to the top, with the best school taking the #1 position. We've based our ranking on a point system methodology as follows:
Each school offering these online degrees will get points based on the following:
Admission rate
Graduation rate
Tuition cost
In the event of a tie, the program(s) with the lowest tuition rates are given a higher ranking on our list. Here is a full breakdown of our method of allocating points:
Admission Rate
More than 50% – 3 Points
25% to 50% – 2 Points
Less than 25% – 1 Point
Graduation Rate
50% or Greater – 3 Points
25% to 49% – 2 Points
Less than 25% – 1 Point
Tuition Cost
Less than $10,000 per year – 3 Points
$10,001 – $20,000 per year – 2 Points
More than $20,000 per year – 1 Point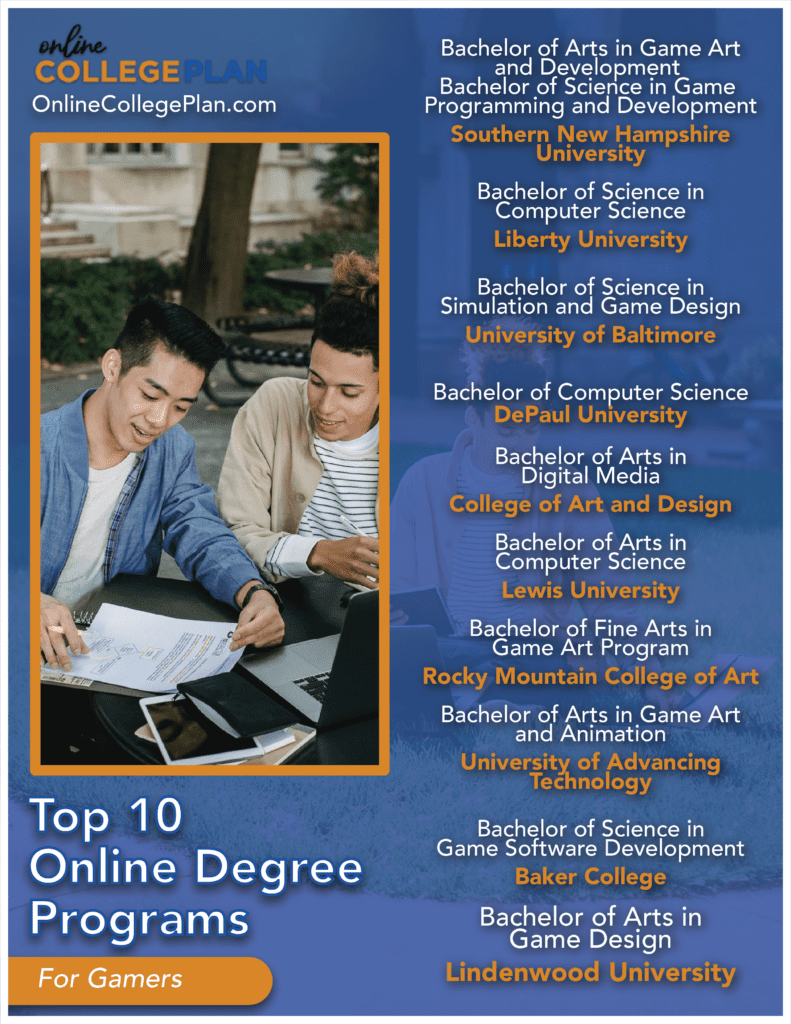 Southern New Hampshire University – Manchester, New Hampshire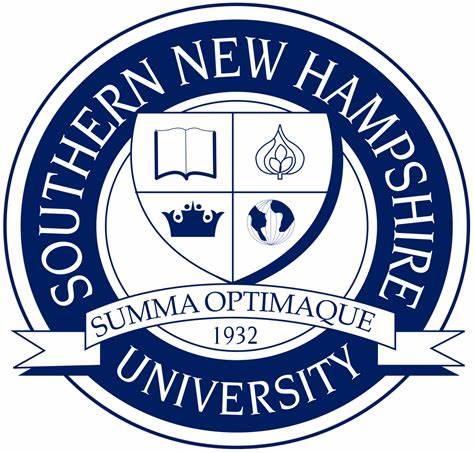 Tuition Cost: $31,136
Points: 6
Founded in 1932 as New Hampshire School of Accounting and Secretarial Science, SNHU begins our list of the best degree programs for gamers. Currently, the University has about 200 programs to cater to a wide range of interests, including two major degree options for enthusiastic gamers.
The first is the Bachelor of Arts in Game Art and Development. The second is the Bachelor of Science in Game Programming and Development. These two programs are designed to meet the needs of both technical and creative students. Each takes four years and requires 120 credits for completion.
The method of teaching is entirely online. Coupled with an asynchronous instruction style, students have optimal flexibility for ease of learning.
Liberty University – Lynchburg, Virginia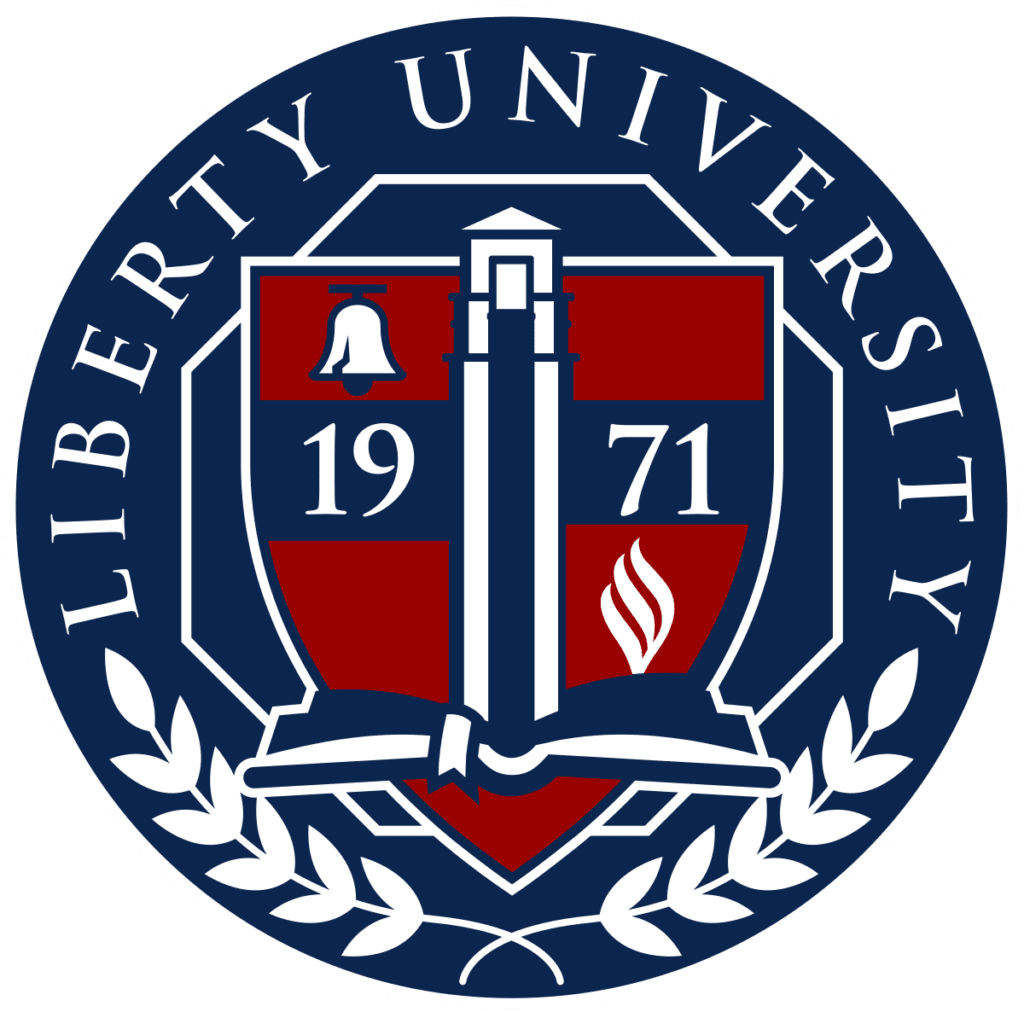 Tuition Cost: $22,747
Points: 6
Liberty University is a Christian university and the biggest non-profit private university in the country. As a university student, you are required to take a few biblical courses here and there, regardless of your degree. This includes three introductory bible courses within your first year.
However, no matter what belief system you subscribe to, don't let it stand between you and the excellent online Bachelor of Science in Computer Science program that the school offers. The part of this online degree program that makes it perfect for gamers is its option to specialize in Gaming and Simulation. If you choose to specialize in this area (and we imagine you will) you'll need the following courses:
2D Game Development
Introduction to Modelling and Simulation
3D Game Development
Collaborative Game Development
In addition to all these, you can finish courses in Foundations of Computer Science and Foundations of Excellence, among others.
University of Baltimore – Baltimore, Maryland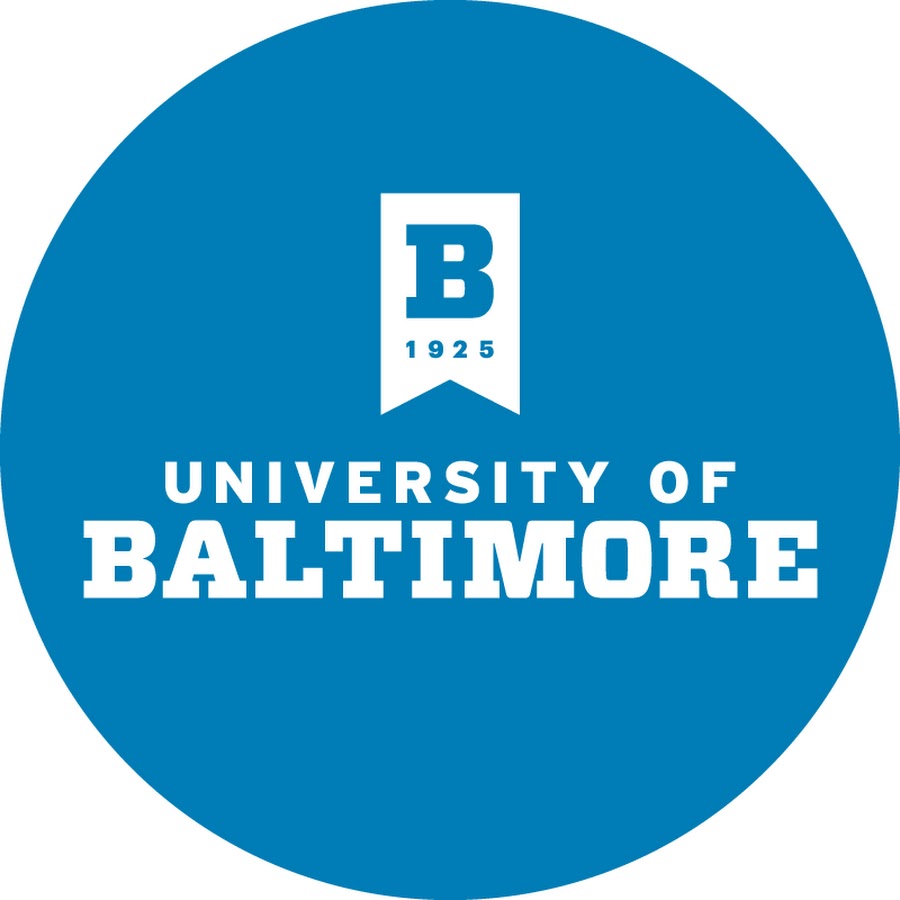 Tuition Cost: $21,456 (Out-of-state)
Points: 6
Located in Maryland, this school first started out as a junior college in 1937. Eventually, it joined the State University System of Maryland. Now, it has about 3000 undergraduates and 1,800 postgraduates.
The school is on our list because it offers a virtual Bachelor of Science program, specifically in the area of Simulation and Game Design. As a student, you'll get to choose where you want to specialize. Doing so will guide the choices of electives you'll get once you're done with your major coursework. Some of the course you'll take during this program include:
Applied Game Design Theory
Usability Design
3D Modelling and Animation
Design of Multiplayer Games
The final stage of this program is a Game Development Project to demonstrate your general and specialized knowledge in your chosen field.
DePaul University – Chicago, Illinois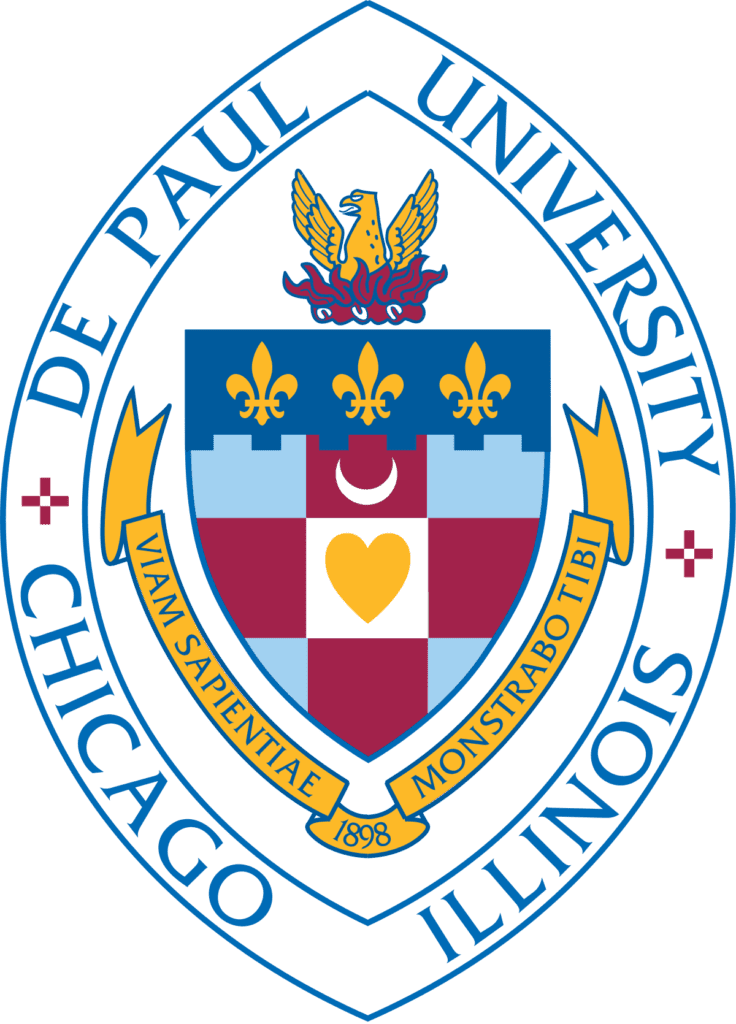 Tuition Cost: $41,202
Points: 7
DePaul University is a private educational institute in Chicago. It has affiliations with the Roman Catholic Church's Vincentian School. They have about 22,700 students in total across their undergraduate and postgraduate programs, with an endowment of about $515,000.
The university has a Computer Science program that they offer within their Bachelor of Science degree. The best part for gamers is that it includes a strong Games Systems concentration. Among others, the school offers such courses as:
Object-Oriented Game Development
Optimized C++
Game Engine Programming II
Applied 3D Geometry
The Computer Science degree comes with two primary capstone courses. You'll take them in your sophomore years and senior years. These two courses will allow you to work collaboratively on major projects. This enables you to gain some experience in the same type of shared work environment you'll have to deal with in the professional world.
Savannah College of Art and Design – Savannah, Georgia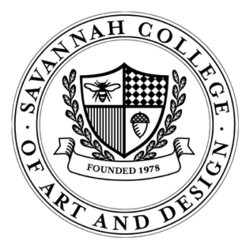 Tuition Cost: $38,075
Points: 7
The Savannah College of Art and Design (SCAD) is a well-renowned art school with two different campuses in Georgia. Outside these, it can also be found in France and Hong Kong. The school has more than 14,000 students and offers up to 40 different undergraduate programs, including a Digital Media Bachelors.
This degree provides two areas of focus in interactive design and game development. If you do choose to attend this school online, you'll need 180 credits to graduate successfully.
Alongside that, you must be able to provide your SAT or ACT scores. If this isn't your first postsecondary education, you'll need to have no less than a 3.0 GPA. If, however, you have below that, you'll need to submit more documents like your portfolio, statement of purpose, resume, etc.
The best part about taking this program at SCAD is that they offer a special professional projects course and placements for internships.
Lewis University – Romeoville, Illinois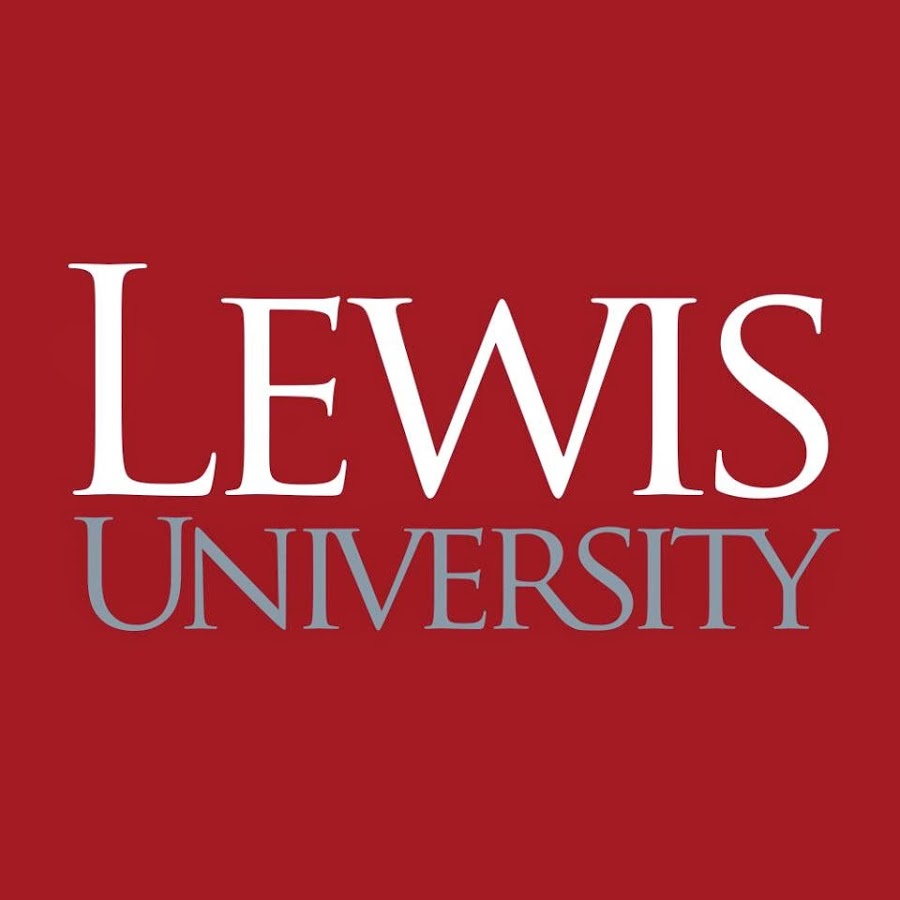 Tuition Cost: $33,430
Points: 7
Officially known as a private university, this school has its affiliations with the Roman Catholic Church's Lasallian School. It was founded in 1932 but wasn't fully recognized as a university until 1973. Now, it has 6,700 students taking a wide variety of courses, including the online Bachelor of Arts degree in computer science.
The degree has a special focus on Game and Simulation Programming. Once you gain admission, you'll get the chance to recreate real-world activities and turn them into high-quality gaming worlds/environments.
Rocky Mountain College of Art and Design – Lakewood, Colorado

Tuition Cost: $19,670
Points: 7
RMCAD is a profit-oriented organization that was founded in 1963. As of 2010, it became affiliated with Full Sail University. In terms of the student population, it only has about 1,000 undergrads. However, it offers an online Bachelor of Fine Arts in Game Art program to those relatively few students.
If you are taking the program to pursue your passion for video games, you'll be taking such courses as:
Level Design
Visual Storytelling
Character Rigging + Animation
Business Ethics + Copyright
While you will need 123 credits for graduation, these credits are reasonably split between art history, general education, and major studio and core electives.
University of Advancing Technology – Tempe, Arizona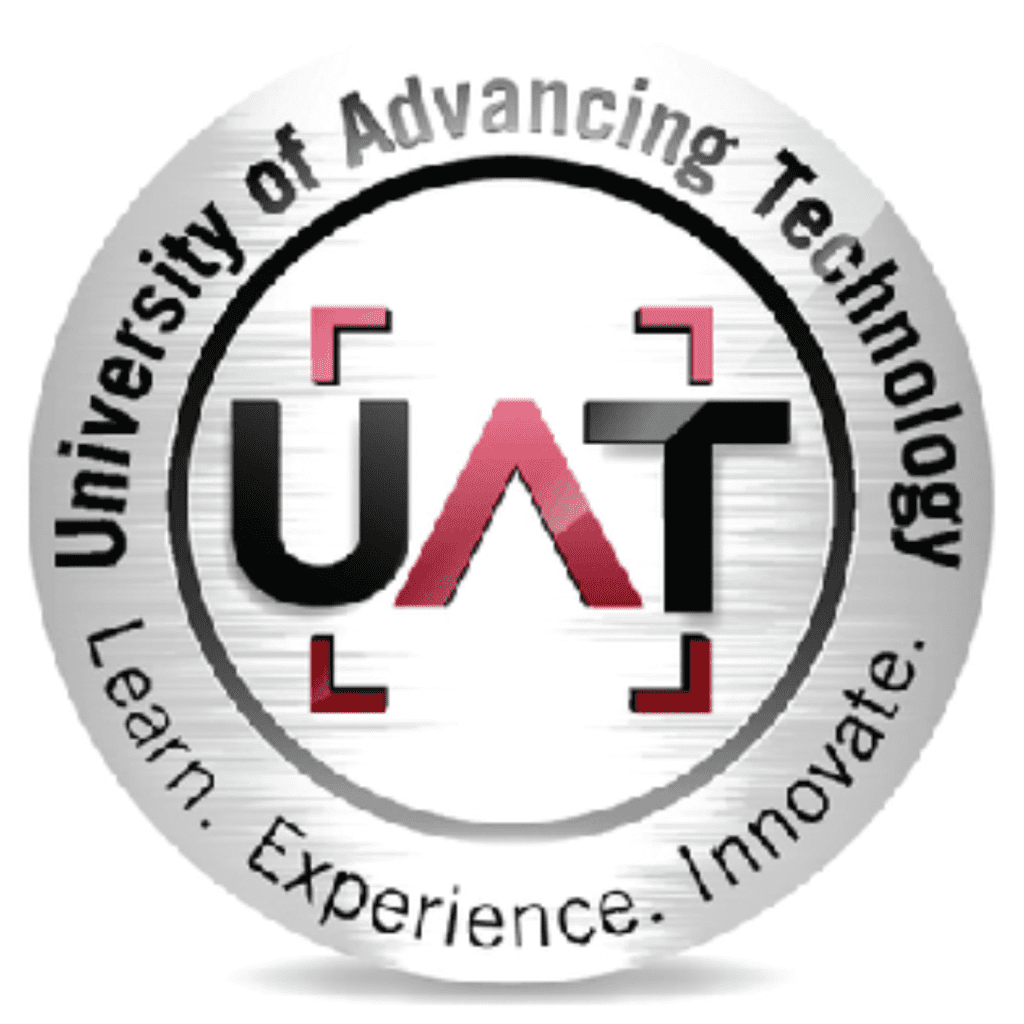 Tuition Cost: $17,322
Points: 7
The University of Advancing Technology in Arizona, or UAT, as it is fondly called, was established in 1983. Despite its fairly young age, the school offers programs for those who are pursuing degrees at the Associate, Bachelor, and Masters levels. With around a thousand students, the school has a fairly small population.
However, they also offer a top-of-the-line Bachelor of Arts in Game Art and Animation program. Getting this degree requires 120 credits, 36 of which are taken up solely by your major coursework. The major courses you'll complete in the process of taking this program are:
Storyboarding
Environmental and FX Animation
Game Art and Animation Fundamentals
Modeling Characters and Vehicles
Alongside the 120 credits, you'll also need to complete a portfolio and an internship if you're to graduate.
Baker College – Flint, Michigan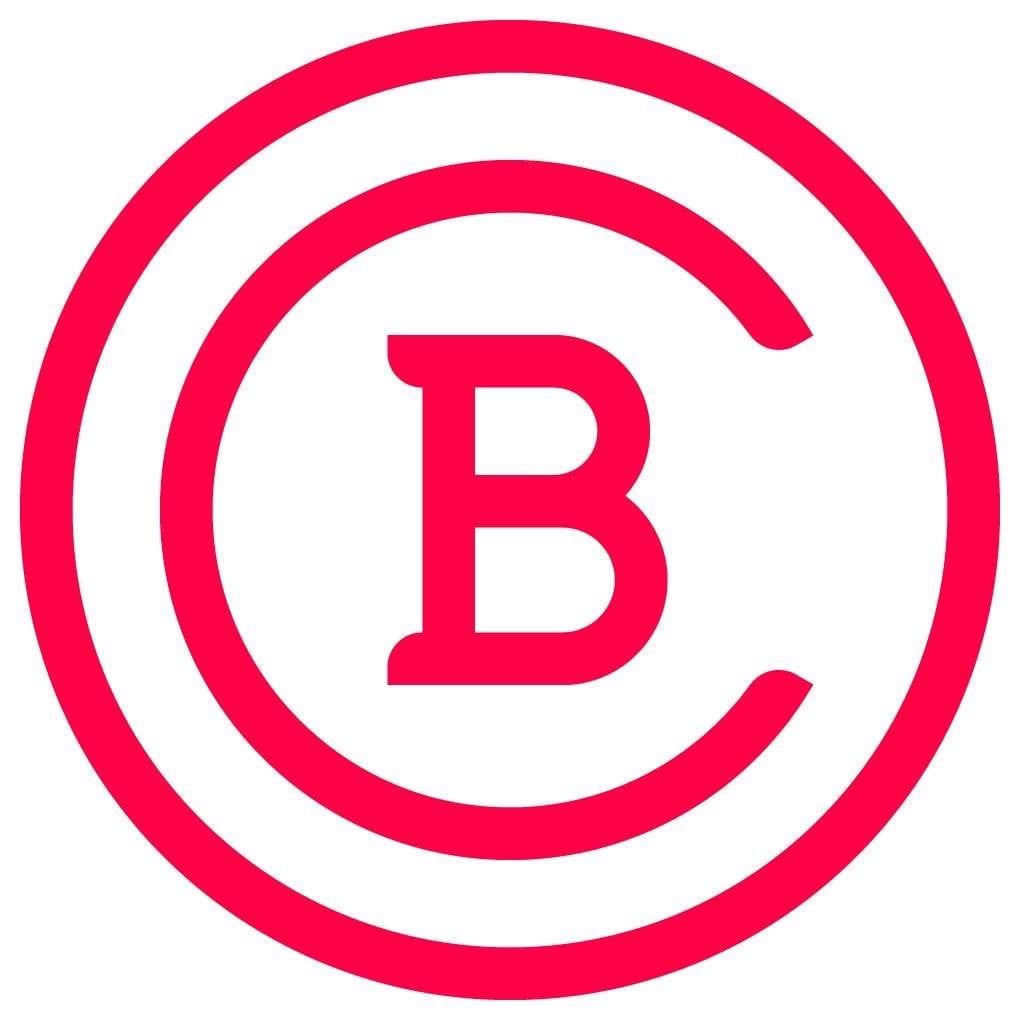 Tuition Cost: $9,920
Points: 7
Our penultimate citadel of learning is a private college in the lower Michigan peninsula. It was established in the year 1911 and initially started out as the Baker Business University. Between that time and now, it has grown to the point where there are 14 physical campuses in Michigan alone, offering multiple degrees and programs offline and online.
One such program is the Bachelor of Science in Game Software Development. This program includes a total of 90 credit hours for your major courses and 120 credits in all. Some of the most important courses you'll be taking are:
Programming for Mobile Devices
Introduction to Computer Applications
Visual BASIC
Systems Development Methods
To graduate from this course, you'll need to go through the full process of game development. This gives you an immersive game programming experience and prepares you for when you begin to design video games professionally.
Lindenwood University – Saint Charles, Missouri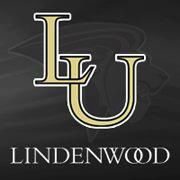 Tuition Cost: $18,100
Points: 8
Established in 1827, Lindenwood is the oldest university on our list. It initially started as a school for girls and has affiliations with the Presbyterian Church. There are about nine different colleges and schools in the network that offer upwards of 120 majors to graduates and undergraduates. In total, there are about 8,700 students.
One of their programs is the Bachelor of Arts in Game Design. This program places a prime focus on honing in on students' game development skills. It achieves this through portfolio and project work assigned to students in their last two years before graduation. The basic courses you'll take include:
3D Animation
Emerging Technologies
Game Development
Concept Design
In the last few semesters, you'll focus on your final game project, and you'll complete an internship in Game Design.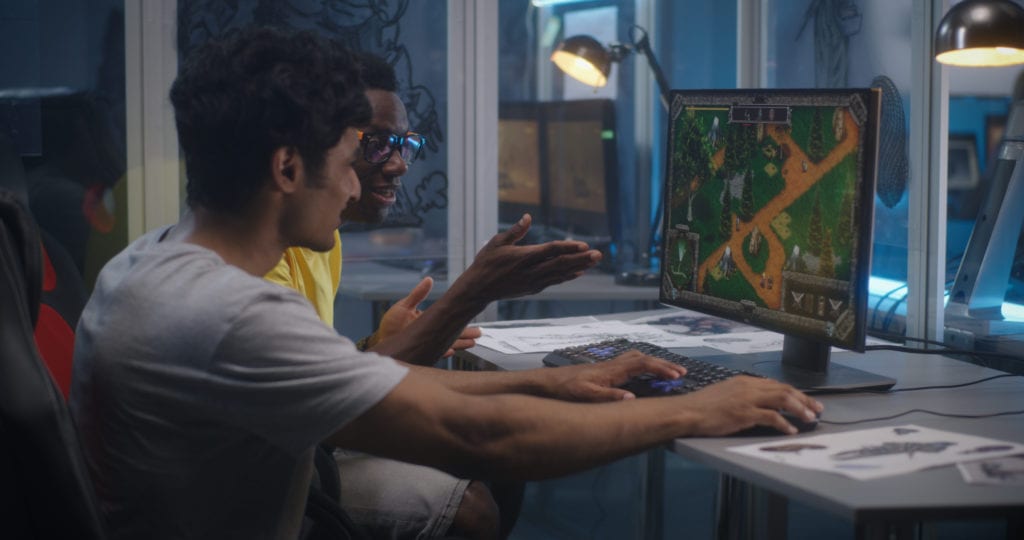 Best Careers for Game Design and Development Majors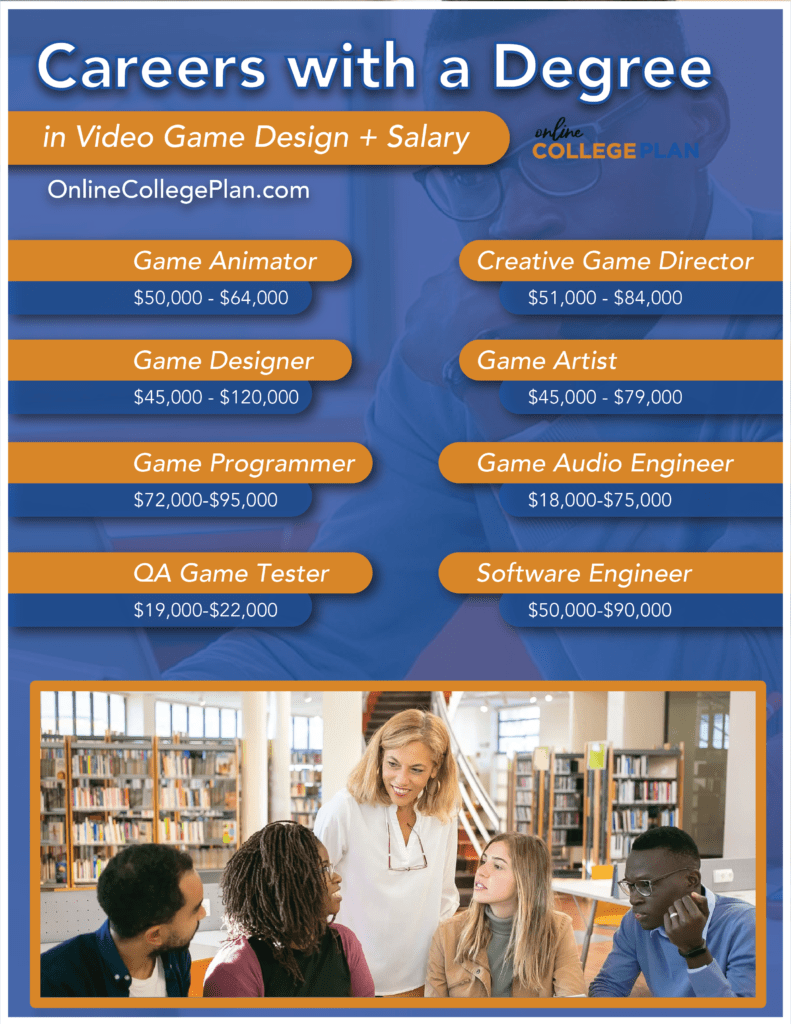 If you will be spending the next few years of your life getting a degree in video games, it's safe to say that you want to make a living with those skills. In that case, you should know that you've chosen one of the best career paths in the 21st Century.
What's more, is that things are bound to get even more pleasant as technology progresses. Plus, there is little doubt that the demand for video games is sure to grow in the coming years. As such, we've listed just a few of the top careers for gaming.
Game Animator
Average Annual Salary: $50,000 – $64,000
Virtually every game production team requires this service. Game animators are required to have in-depth skills in 2D and 3D animations. This is especially so for modern games that require a lot of detail. Essentially, these guys are responsible for bringing your favorite video game characters and locations to life.
Game Designer
Average Annual Salary: $45,000 – $120,000
Game designers are at the foundation of almost every game production team. They're responsible for designing the game itself and bringing concepts to life to make the game playable.
Game Programmer
Average Annual Salary: $72,000 – $95,000
Indeed, the Game Designer does a ton of work to ensure that the game sees the light of day. However, s/he would have worked in vain if there's no game programmer. Why? Well, the game programmer is the one who makes the game happen. The position requires an in-depth knowledge of coding and a robust portfolio.
QA Game Tester
Average Annual Salary: $19,000 – $22,000
If there's so much as a tiny bug in your game, it won't take long before the world notices it. Unfortunately, when they do, they'll either complain bitterly and give you bad reviews, or they'll exploit it and you will lose money somehow. It is the job of the game tester to make sure this doesn't happen.
Creative Game Director
Average Annual Salary: $51,000 – $84,000
This is one of the highest roles in any game production team. Whoever holds this position is responsible for molding the artistic vision of the game.
Game Artist
Average Annual Salary: $45,000 – $79,000
This person works directly under the Creative Game Director. His/her job is to work hand in hand with animators, designers, programmers, etc., to create the game's visual elements.
Game Audio Engineer
Average Annual Salary: $18,000 – $75,000
This person is responsible for everything you hear in your game, from sound effects, to background music, to dialogue.
Software Engineer
Average Annual Salary: $50,000 – $90,000
This career path isn't directly related to gaming. However, with all the tech and coding knowledge that you'll pick up in the process of getting your degree, you'll be more than qualified to get a job in this field. Your primary responsibility is to develop software that helps solve real-life problems.
See Also:
The top 20 Colleges for League of Legends Esports Gamers
What does a career in game programming look like?