eCornell – Cornell University – Ranking and Majors
Find your degree
Online College Plan is an advertising-supported site. Featured or trusted partner programs and all school search, finder, or match results are for schools that compensate us. This compensation does not influence our school rankings, resource guides, or other editorially-independent information published on this site.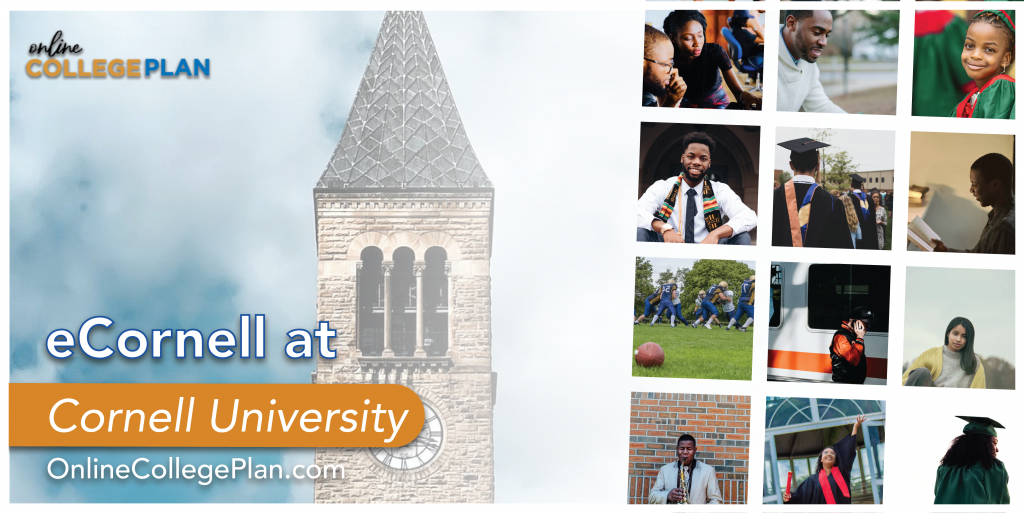 Operated by the Ivy League Cornell University in Ithaca, New York, eCornell University is a distance learning university that offers professional development and certificate programs to a wide variety of organizations and individuals. Cornell University is widely believed to be one of the best and most prestigious secondary educational institutions in the country, which is why their online programs are so amazing as well.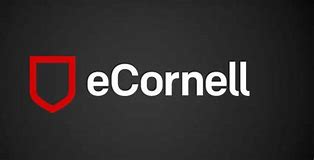 We Ranked Cornell University:
Cornell University is also one of the amazing schools mentioned in our list of Tuition-Free Online Colleges and Online Degree Programs. With courses based in virtual environments, the curriculum is based upon case study assessments throughout each of its programs. Students can participate in programs in Leadership and Management, Marketing, Financial Management, Human Resources, Hospital and Food Service, as well as specialized corporate training programs.
Featured Programs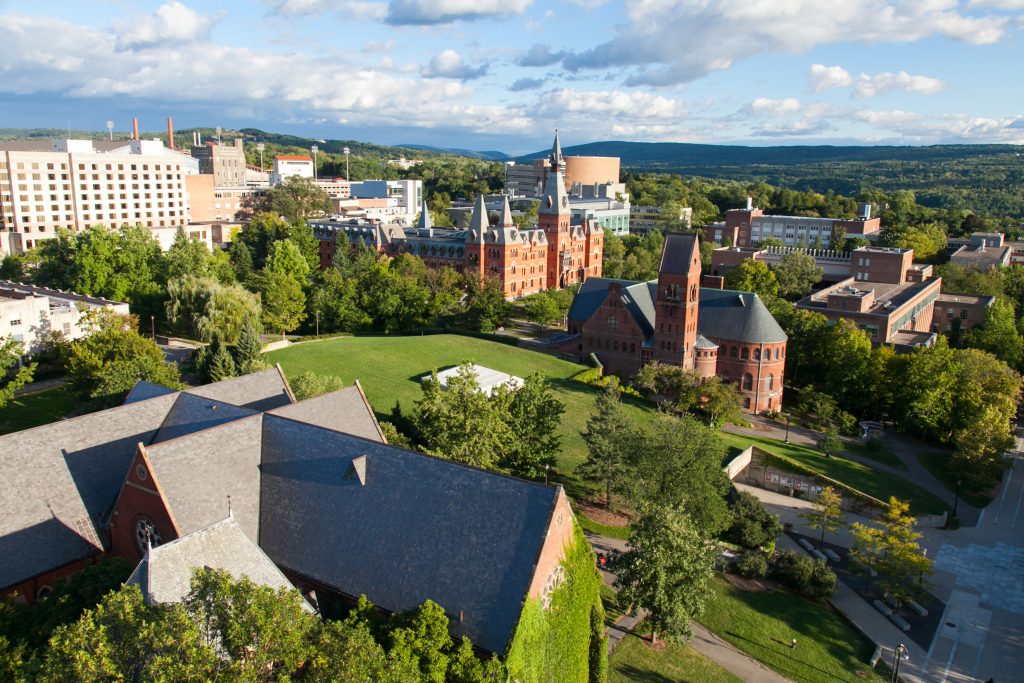 Best known for its Hospitality programs, the University has a well-established reputation among business professionals. eCornell is accredited by the Human Resources Certification Institute, Project Management Institute, Foundation for Care Management, and Commission on Dietetic Registration, and all eCornell courses are eligible for continuing education units from Cornell University. In this article, we will be discussing the benefits of obtaining an online certificate from eCornell as well as some of the most popular and unique certificates they offer entirely online. 
What are the Benefits of an Online Degree?
Perhaps the most noteworthy benefit of obtaining an online degree or certificate is the flexibility it offers to students. If you pursue a traditional in-person degree at a college or university, you don't get to work on your own schedule, nor do you have nearly as much opportunity to pursue other jobs or activities on the side due to a more rigorous course schedule. With an online degree, students have the flexibility of asynchronous coursework that doesn't need to be followed on any particular timeline. If you have a job or you have kids, an online certificate is the perfect way to get educated on your own schedule.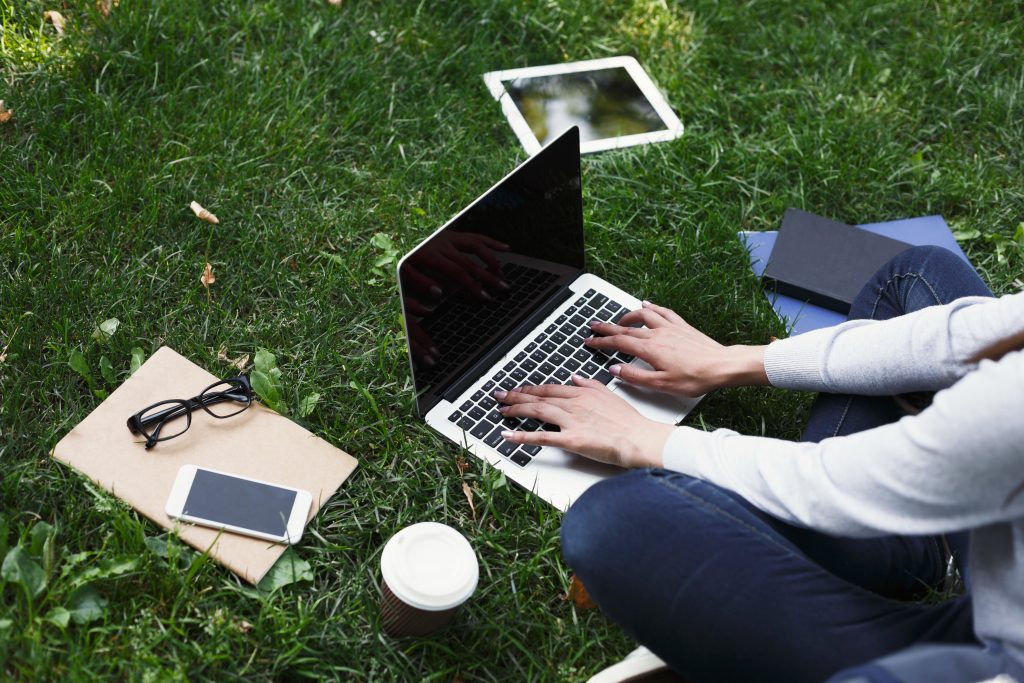 What Fully Online Programs Does eCornell Offer?
eCornell offers more than 160 different online certificate programs in a variety of lengths and subjects. While some certificates are more introductory, others will have you doing a deep dive on your preferred subject. While some of the more popular subjects include technology and hospitality, some of eCornell's more unique certificate programs include subjects like master beekeeping. There is truly something for everyone at eCornell, and being able to put a certificate from an Ivy League university on your resume is certainly something to brag about. If you have been considering pursuing an online certificate or degree program, keep reading to learn about more than a dozen different certificates offered by eCornell.
Marketing
Digital Marketing 360 Certificate
This certificate is designed to help students pivot their focus in the rapidly changing financial world of marketing. This comprehensive certificate is formulated using the problems and hurdles that modern marketers face: including issues with AI, influencer marketing, privacy and security, and more. During the coursework, you will implement solutions to new marketing challenges and learn what it takes to understand the market in today's world. You will also learn how to achieve your marketing goals and how exactly you can measure your success. This 20-course certificate costs $445 a month or $5,530 total.
Integrated Marketing 360 Certificate
Similar to the previously mentioned digital marketing certificate, this integrated marketing certificate is a comprehensive program designed to prepare students for the modern marketing world. This certificate is more focused on branding, brand strategy, and learning how you as a business owner or manager can make your company stand apart from others in an increasingly changing world. A total of 16 courses must be completed if you want to finish this program, but students have the option of taking either marketing strategy or strategic hospitality marketing toward the end of their studies. This certificate costs $500 a month or $5,040 in total.
Social Media Marketing Certificate
This eCornell certificate is focused primarily on perhaps the most useful marketing tool of the current generation: social media. This short certificate takes only 6 courses to complete and focuses on teaching students how to maintain an authentic and impactful presence on social media sites. In order to understand this, students are educated on the importance of reaching the right audience on social media as well as building connections with your customers and the general audience. During your studies, you will look at different social media platforms and explore the opportunities within each of them. This certificate costs $650 a month to complete or $2,520 total.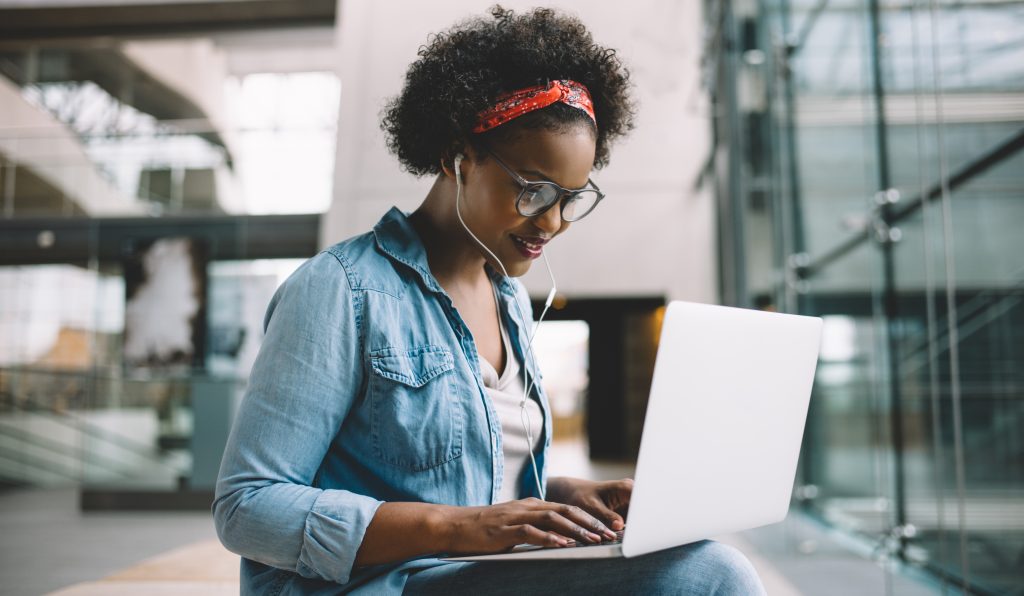 Data Science
Data Science in R Certificate
When thinking about data science, there are several different programming languages that might stand out. However, R is quickly becoming one of the preeminent programming languages for professionals who want to pursue a career in data science. During your coursework in this program, you will use data science principles to collect data and translate that data into information. From there, you will learn how to construct models of that data that can easily be interpreted and understood by a variety of people. Some of the course subjects include understanding data analytics, finding patterns in data, and neural networks and machine learning. This certificate costs $663 a month or $3,430 total.
Machine Learning Certificate
This 7-course certificate program covers one of today's fastest-growing industries and job markets: machine learning. As automation and AI become more prevalent in our modern world, so do the importance of implementing algorithms and machine learning. During this certificate, you will learn how to implement machine learning algorithms by using the programming language of Python, which is one of the most prestigious languages to learn in the modern computing world. You will also learn how to approach computing problems programmatically and construct mental models to display data. This certificate costs $565 a month to complete or $2,520 total.
Python 360 Certificate
As we just mentioned, Python is a notoriously difficult programming language to learn, but perhaps the most skillful one to have under your belt in the modern programming and IT world. This 15-course certificate program gives you an in-depth look at Python as a programming language and teaches you how to code entirely on your own. You will learn how to adapt Python to different applications and challenges as well as learn how it can be applied to modern industries like AI and data science. By the end of the program, you will be able to code, test, analyze, and debug all of your own Python programs and help them run smoothly. This certificate costs $577 a month or $5,530 total to complete.
Business Statistics Certificate
Statistics is one of the most foundational points of understanding within the field of data science, and this 7-course certificate can help you learn how to lead organizations with the power of understanding data by your side. These 7 courses will teach you how to transform raw data into usable tools and manifestations for your team, turning raw data into something you can synthesize and that everyone can understand. Statistics will help you make sense of the data you have, and course subjects include descriptive statistics for business, inferential statistics, and practical applications. This certificate costs $565 a month or $2,520 total to complete.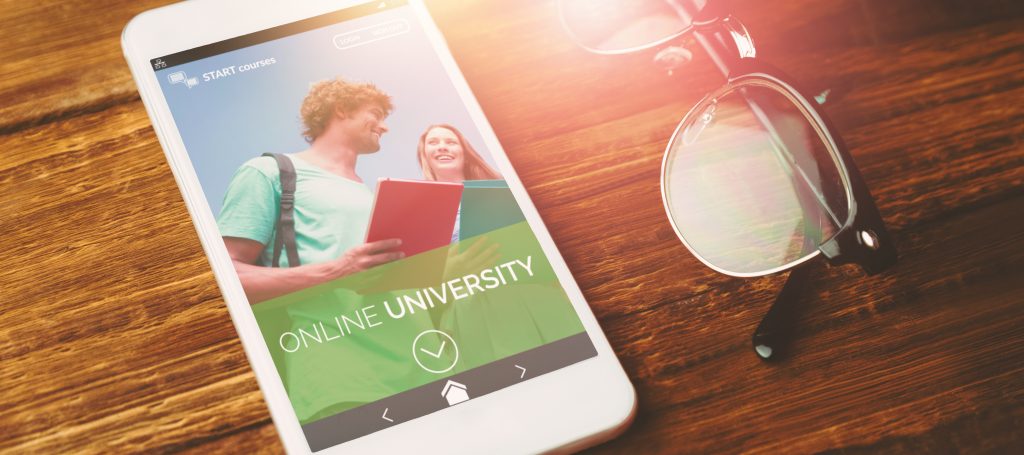 Technology
Product Management 360 Certificate
Product management is one of the most in-demand skills of recent years, and this comprehensive certificate program from Cornell offers students 20 courses that give them a foundational understanding of how product management works. By the end of the courses, you will understand how to create the kinds of products that consumers love to buy and build a career in the field of product management. This certificate is also designed for those who are already employed, meaning you can focus on small areas over longer periods of time to complete them. This certificate costs $445 a month to complete or a total cost of $5,530.
Women in Product Certificate
This 11-course certificate program teaches students about a demographic that is still massively underrepresented in the product management industry: women. This certificate is specifically designed for women who want to have a career in the product management industry, teaching them about the life cycle of a product from its conception to consumer. You will learn how to identify your target audience, conceptualize your product, launch it, and more. You will also learn about the difficulties women face in the workplace and how you can work to change them. This certificate costs $669 a month to complete or a total cost of $4,760.
Business Management in STEM Certificate
Business management is an incredibly broad field of study, but many managers find that as they advance up the ladder of their business, more comprehensive knowledge of business language is necessary. In this certificate program, you will move through 7 different areas of business language (including accounting, finance, sales, marketing, strategy, and more), learning about specific aspects of business management that are important to STEM (science, technology, engineering, math) fields. This certificate is an especially great fit for tech professionals, who will learn about how to apply key business approaches to their companies. This certificate costs $565 a month or a total cost of $2,520 to complete.
Hospitality
Hospitality Management 360 Certificate
The hospitality industry has a lot of different moving pieces, and if you want to manage a hotel, resort, or other hospitality hotspot, you need to understand all of these parts. This comprehensive hospitality management certificate teaches you everything you need to know about how to run your hotel like a well-oiled machine. Some course topics include understanding financial statements, introduction to hotel revenue management, forecasting and availability controls, and building guest loyalty. This certificate costs $489 a month or $5,530 total to complete.
Healthcare
Healthcare Management Certificate
This 7-course certificate teaches students the importance of becoming well-versed in business and management concepts while working in the healthcare industry. If you are a doctor, nurse, or other healthcare professional, these courses are designed to help you manage both the people and programs in your hospital or practice effectively. Some course topics include managing people in a healthcare setting, addressing healthcare economics, and improving healthcare quality. This certificate costs $679 a month or $3,080 total to complete.
Beekeeping
Master Beekeeping Certificate
If you are a hobby beekeeper, this certificate program teaches you how to bring yourself up to the professional level. Additionally, this coursework gives you all the information you need to pass the oral, field, and written Cornell Master Beekeeping exams. During these courses, you will learn how to keep bee colonies healthy and protected over periods of several years while also expanding your knowledge on bee products and services. You'll learn about honey bee evolution and behavior as well as how to eliminate pests. This certificate costs $899 to complete. Also, it should be noted that 3 years of experience are required to enter this master's program.
Should I Pursue A Digital Certificate from eCornell?
There are many more digital certificate programs offered by Cornell than the ones mentioned on the list above. In fact, there are more than 100 more! While these digital certificates are far from free, if you do have the funds to be able to pursue one, you absolutely should. Having an Ivy League certificate on your resume or job application is definitely something to brag about, and it can be a great way to give yourself an edge over other job applicants or stand out to an employer. No matter what your interests or goals for the future are, there is probably a certificate that interests you at eCornell. Give your goals a chance and take a new step to succeed in the future!
Related Articles:
Top 20 Online Colleges for Chemical Engineering