Top 20 Best Online Colleges Near NYC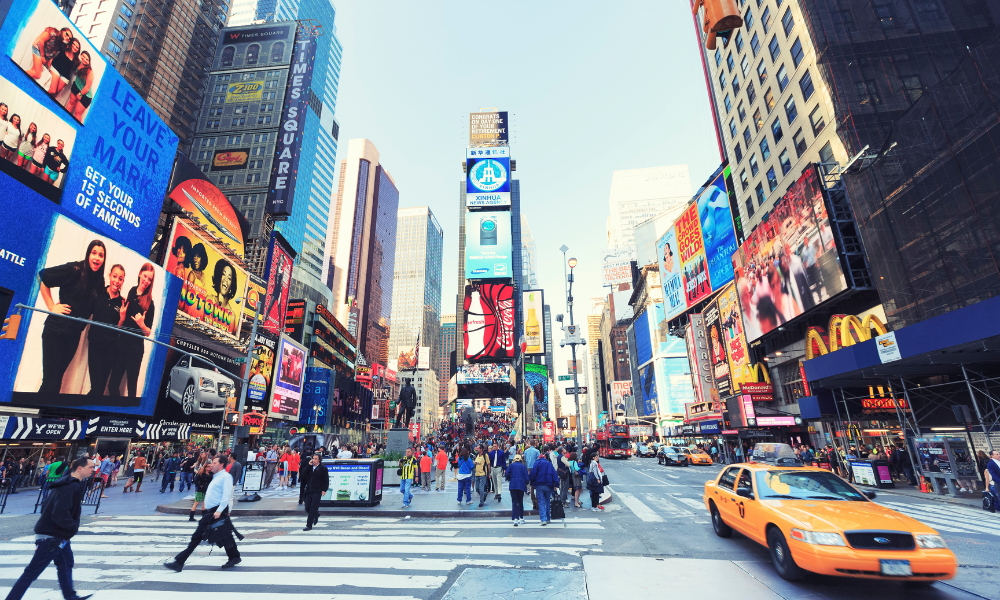 Find your degree
Online College Plan is an advertising-supported site. Featured or trusted partner programs and all school search, finder, or match results are for schools that compensate us. This compensation does not influence our school rankings, resource guides, or other editorially-independent information published on this site.
Continuing our series of best online college by state rankings, we have examined all online colleges near NYC and chosen to showcase the top 20 schools, based on the methodology stated below.
One of the biggest and most populated cities on the East Coast of the United States is New York City. It's has been a home for big business and head offices of a large number of corporations in a variety of industries for years. When the general public thinks of New York, the images of skyscrapers, particularly the Empire State Building and Trump Tower, The World Trade Center, Wall Street, Ellis Island and the Statue of Liberty, The Macy's Thanksgiving Day Parade, traffic jams, taxis, as well as heavy pedestrian traffic.
Amidst all this big business are some of the best colleges (and best online colleges) our nation has to offer. This college ranking showcases the cream of the crop when it comes to higher education offering online courses within a 100-mile radius of New York City. After all, with all the research facilities and businesses, large and small, in NYC and surrounding areas, there need to be well-educated people to operate them.
Featured Programs
Methodology
Using sources such as CollegeData, the National Center for Education Statistics, and Niche, as well as the schools' websites, each school was evaluated to find out if online classes were offered for credit. The schools were then organized by adding together the percentage numbers for freshman satisfaction and graduation rates. Added to these numbers were a numerical equivalent of the academic and overall grades provided by niche, with A+ being 100, A being 90 and such. In order to give a higher rating to schools which are more affordable, the (residential) cost of attendance was rounded to the nearest thousands place, then subtracted from the total of the other numbers to give a final ranking score.
Example: 85 (percent freshman satisfaction) + 68 (graduation percent) + 60 (B Academic Grade) + 80 (A- Overall Grade) = 293
293 (total from above) – 38 ($37,570 cost of attendance) = 255 (final score for ranking)
Schools with inadequate data or provided only open courses which were not for credit were excluded from the ranking. Military academies were also excluded due to not all students being enlisted, therefore excluding them for eligibility to attend. We thank our Federal government and military for providing our enlisted men and women with high-quality facilities in order to gain the education not only to serve our country, but to advance within the civilian workplace after service. If you are a veteran, feel free to check out, "Top 20 Best 4-Year Colleges for Veterans".
We also consulted our own ranking of the top 100 best online colleges when ranking these online colleges and universities.
20. University of the Sciences
Located just under 100 miles away from New York City is University of the Sciences in the historic city of Philadelphia, Pennsylvania. The university was founded in 1821 as Philadelphia College of Pharmacy, the first college of pharmacy in all of North America. USciences motto is "Nosse haec omnia salus est" which translates to "To Know All This is Health" and from researching and studying diseases and cures on a molecular level, to treating patients and improving lives, the university is about moving life forward. Faculty, students, and alumni of USciences share a passion for exploration and discovery in pharmacy, science, and healthcare as well as the business, governmental and administrative professions which go hand-in-hand with them.
Some of the most notable alumni include founders of companies which have become part of top pharmaceutical companies, such as John Wyeth (1854) and William R. Warner (1856) both of whom founded separate companies which are now part of Pfizer, Inc; Sir Henry S. Wellcome (1874) and Silas M. Burroughs (1877) founded Burroughs Wellcome and Company in England, which has now become a part of GlaxoSmithKline; Josiah K. Lilly (1882) and his son, Dr. Eli Lilly (1907) founded Eli Lilly and Company; and Gerald F. Rorer (1931), who was the founder of Rorer Pharmaceuticals, now Sanofi. Of course not all alumni have gone on to be successful in the pharmaceutical area, others have made significant contributions in other fields from pioneering the use of X-rays, credited to Martin Wilbert (1890); to motor oil additives by Vincent J. Cease (1956); to rechargeable batteries by Paul J. Nigrey (1970). More recently, ultrasound gels, time release formula used in many OTC medicines, a machine which allows patients to regain a full range of motion after knee injuries, among other fascinating and groundbreaking contributions can be credited to those who studied at USciences. Other well-known products in a variety of fields which have been developed by USciences alumni include: Hires® root beer extract, gas discharge laser development, photocopy toner and electrographic inks, polyurethanes, and water repellent treatments.
University of the Sciences is comprised of four colleges to serve its students: Philadelphia College of Pharmacy, Samson College of Health Sciences, Misher College of Arts and Sciences, and Mayes College of Healthcare Business and Policy. Students are offered a variety of 19 different bachelor's degree programs, 15 master's degree programs, and 8 PhD programs. In addition, students have the options of 3 different professional programs and 8 certificate programs. USciences is not one to fall behind in technology and offers online selections for students which include an online MBA in Pharmaceutical and Healthcare Business, a master's degree in Biomedical Writing, and a Doctor of Occupational Therapy degree.
Attending University of the Sciences clearly has its rewards. In addition to having a thriving network of alumni in many areas, the university has been preparing students for health professions which rank among the top 25 best healthcare jobs in the country. Moreover, 96% of graduates are employed or accepted into an advanced degree program within six months. Not only is the graduation rate at USciences 10 to 15 points above the national average, but nearly 98% of students have remained in good standing with student loans, whereas the national average is only 88%. Perhaps this is partly due to a greater income. The U.S. Department of Education's College Scorecard ranked USciences Number 7 in the nation for highest earnings among graduates with an average income 10 years after enrollment of $95,800.
USciences's Website – https://www.usciences.edu/
Facebook – https://www.facebook.com/USciences/
Twitter – https://twitter.com/USciences
19. Manhattan College
Manhattan College is located in the Riverdale section of the Bronx, one of the five boroughs which make up New York City. This private school was originally founded in 1853 by the De La Salle Christian Brothers as a day school by the name of Academy of the Holy Infancy. In 1863 the school was officially chartered by the state and changed names to Manhattan College, to reflect its location in the Manhattanville part of Harlem. It outgrew the facilities of the Manhattanville campus and relocated to its current location in the Bronx in 1922. Among the alumni that Manhattan College has produced are Rudy Giuliani, the 107th Mayor of New York City and Raymond W. Kelly, the New York City Police Commissioner.
Today the school serves nearly 4,000 full-time students, both undergraduate and graduates. Manhattan College offers students about 50 different majors to choose from. The most popular choices from each school are Civil Engineering, Communication, Finance, Childhood Education, and Biology. Manhattan also offers Pre-professional programs such as Pre-Law, Pre-Medical, Pre-Dental, Pre-Physical Therapy, and Pre-Veterinary. In addition to other graduate programs, there are accelerated master's programs in Business, Education, Engineering, and Science.
When it comes to online programs, Manhattan College has a variety of graduate programs designed by experts in their respective fields and are up to date with modern trends and practices. Faculty members, which are highly sought-after in the business world, use their real-world experience and insights in order to share their knowledge with students throughout their online program. Manhattan College's online programs also incorporate experiential learning, allowing students to engage in hands-on activities which help build valuable, career experience. Students also have access to technical support 24/7 when obtaining their online degree from Manhattan. Students also typically enjoy higher earnings than their peers when they choose to earn their degree from Manhattan College. Graduates consistently see higher returns on their educational investments.
Manhattan College's Website – https://manhattan.edu/
Facebook – https://www.facebook.com/ManhattanCollegeEdu
Twitter – https://twitter.com/ManhattanEdu/
18. Quinnipiac University
Quinnipiac University's oldest campus, Mount Carmel Campus, as well as the York Hill Campus, are both in Hamden, Connecticut, approximately 85 miles from New York City. There is also a North Haven Campus which is just north of New Haven and less than 90 miles from NYC. The school was originally located in New haven and was the Connecticut College of Commerce. The school was founded by Samuel Tator, Philip Troup, Wight Bakke, and Robert R. Chamberlain in 1929. The first year had a student body of 200 and the initial graduating class was only 8 students. The name changed in 1935 to Junior College of Commerce, as at the time the school was only granting associate's degrees. In 1951, when the school began granting bachelor's degrees, the school renamed itself Quinnipiac College in honor of the Native Americans who once inhabited Greater New Haven. Before long, the school had outgrown its campus and moved to the Mount Carmel section of Hamden in 1966. The current campus is at the foot of Sleeping Giant Park. In the mid 90's the college underwent some major growth in size and course offerings, and in 2000, the college changed its name to Quinnipiac University.
Quinnipiac University has grown to be able to offer its students well over 50 undergraduate majors and 20 graduate programs, as well as a Juris Doctor program. U.S. News & World Report has ranked Quinnipiac's physician assistant (PA) program 5th best in the nation. Because Quinnipiac University understands that working adults often want to increase their knowledge to advance further in their field or even just to stay current with new trends, and sometimes the easiest solution is to take courses online. Undergraduate programs offered are Bachelor of Business Administration, Bachelor of Science in Health Science Studies, and Bachelor of Science in Nursing (RN to BSN). There are 8 different master's level programs including, but not limited to: Master of Business Administration, Master of Science in Public Relations, Master of Science in Special Education, and Master of Science in Nursing in Operational Leadership. There are also three doctoral programs offered online at Quinnipiac as well as 4 certificate programs.
Quinnipiac University's Website – https://www.qu.edu/
Facebook – https://www.facebook.com/QuinnipiacUniversity
Twitter – https://twitter.com/quinnipiacu
17. Marist College
Located around 85 miles from New York City in Poughkeepsie, New York is where you will find Marist College overlooking the Hudson River on its east banks. The school was founded by the Marist Brothers in 1905. The Marist Brothers are a Catholic religious institute of Brothers who founded the college in order to help prepare brothers to become educators. In 1929 the school had expanded and was accredited by the state of New York to offer degrees in the arts and sciences. Today the school not only offers a comprehensive liberal arts education but the U.S. News & World Report and Princeton Review both consistently rank Marist College as one of "America's Best Colleges" and "America's top regional colleges (North)".
Marist College offers its more than 7,000 students over 56 degree programs, both graduate and undergraduate, as well as 21 certificate programs. The college offers online learning as well, using the iLearn collaborative learning environment as their platform for course delivery. The system has a range of communication and management tools in order to streamline the process for students, making it easy to access and interact with project materials, professors, and other students. Undergraduates are offered online degree completion programs for both BA and BS. There are also accelerated courses available online. The following Master programs are offered online at Marist College: Master of Arts in Integrated Marketing Communication, Master of Arts in Communication, Master of Arts in Educational Psychology-Hybrid, Master of Science in Information Systems, Master of Business Administration, Master of Public Administration. There are also two graduate certificates available in Information Systems and in Business Analytics.
Marist College's Website – https://www.marist.edu/
Facebook – https://www.facebook.com/marist
Twitter – https://twitter.com/marist
16. Ramapo College of New Jersey
Mahwah, New Jersey is around 35 miles from New York City and home to Ramapo College of New Jersey. Ramapo College was established in 1969, however, the location for the college had not yet been chosen. After much debate at many board meetings, it was finally decided that Mahwah would be the location for the new college, even though it was a bit further to the North than they had originally intended. The location of the Birch Estate was close to routes 17 and 287 and was extremely attractive with mountains in the background. In November of 1972, the Birch property was purchased for the college. While many of the buildings in the college are modern, the president's house is a small 18th-century Dutch colonial home which once belonged to a pioneer settler on the property. Also, what was once the Birch Mansion is now used as the administration building for Ramapo College.
Today, Ramapo College serves over 6,000 students and offers more than 40 undergraduate majors, concentrations, minors and graduate programs. Areas of study include the arts, business, social sciences and the sciences. There are also professional studies which include teacher certification at elementary and secondary levels, nursing and social work. There are 7 master's level programs available. For online course delivery, Ramapo College uses Moodle for their online learning management system. There are a large number of courses made available online for students. Students taking online courses at Ramapo College should be prepared for the same rigorous and rewarding coursework as face-to-face students receive.
Ramapo's Website – https://www.ramapo.edu/
Facebook – https://www.facebook.com/RamapoCollege
Twitter – https://twitter.com/ramapocollegenj
15. Baruch College
While the official name is, Bernard M. Baruch College of the City University of New York, most refer to the school simply as Baruch College. It is located in the Gramercy Park section of New York City's Manhattan borough. The school was named for Bernard M. Baruch, financier and statesman. Although the City College School of Business and Civic Administration, which later became Baruch College, was founded in 191, the roots of the school go back to 1847 and the founding of the Free Academy which became CCNY (City College of New York). It was in 1928 that the first cornerstone was laid for the building where the college would be. Upon opening it was an all male college, but this soon changed in the 1930s and women were allowed into the School of Business. In 1953 the school renamed itself Baruch School of Business, but by 1968 when the New York State Education Law established the City University of New York (CUNY) system, the school became known as Baruch College, an independent senior college in the CUNY system.
Baruch College is organized into three different academic schools. The Zicklin School of Business, named for Larry Zicklin who gifted the Zicklin School of Business with an $18 million contribution in 1997. This school grants a BBA in 19 different business related areas, an MBA in 14 areas, and an MS in 8 business related programs. There is also the Weissman School of Arts and Sciences which grants a BA in over 26 different areas, and several master's degrees. The Austin W. Marxe School of Public and International Affairs offers a BS in Public Affairs and Masters of Public Administration programs are available in 5 related areas of study. There is also an MS in Education in Higher Education Administration. There are several doctoral programs made available through the CUNY Graduate Center as well. While online courses are offered, a specific course list was not made available as yet. Students interested in online studies should inquire at Baruch College.
Baruch College's Website – https://www.baruch.cuny.edu/
Facebook – https://www.facebook.com/baruchcollege
Twitter – https://twitter.com/baruchcollege
14. Monroe College
Monroe College, named after the fifth former United States President, James Monroe, is located in the Bronx borough of New York City. The college was founded by Mildred King in 1933 as the women's business school, Monroe School of Business. By 1972 the school had transitioned into an accredited junior college and was then renamed Monroe Business Institute. In 1977 the school relocated from the original site in the West Farms neighborhood to the Fordham Road Area. It was in 1990 that the school was accredited by the Middle States Commission on Higher Education and changed its name to Monroe College.
Today, the school serves nearly 7,000 students, offering associate's, bachelor's and master's degrees. Undergraduates are able to choose from programs in the following subjects: Business and Accounting, Education, Allied Health, Nursing, Hospitality, Culinary, Criminal Justice, and Information Technology. King Graduate School offers master's programs in Accounting, Computer Science, Public Health, Hospitality, Criminal Justice and Business Administration (MBA). Online courses have been available through Monroe College since 2005. Students who are undergraduates can choose between 6 different associate's degrees and 7 bachelor's. Master's degrees available through online programs at Monroe are in Business Administration (MBA), Criminal Justice, Hospitality Management, and Public Health.
Monroe College's Website – https://www.monroecollege.edu/
Facebook – https://www.facebook.com/monroecollege
Twitter – https://twitter.com/monroe_college
13. State University of New York at New Paltz
New Paltz, New York is 85 miles away from New York City and is home to the State University of New York at New Paltz, also known as SUNY New Paltz or simply New Paltz. In 1884 after a decimating fire, the land of what was formerly New Paltz Classical School was offered to the state of New York in order to establish a normal school. The next year New Paltz Normal and Training School was established. In 1938 it was renamed the State Teachers College at New Paltz and began to award bachelor's degrees. The initial graduating class was in 1942 and consisted of 112 students. Five years later the school added its first graduate program and soon after it became one of 30 colleges in the State University of New York when the system was established in 1948. Over the years the college continued to grow in both enrollment and courses offered and it would undergo name changes until finally arriving at its current name.
Today, the school has around 8,000 students and has received the highest volume of student applications most often of all of the SUNY colleges in recent years. As a result, most applicants who were accepted in recent years have had SAT scores of 1190 and high school GPA of 92 or better. New Paltz offers more than 50 majors for undergraduate students to choose from, and the Graduate School has just as many programs for graduates. Online courses are offered to students through the Extension program, which also has evening and weekend courses in order for working adults to be able to attend and still keep their jobs. There is a wide variety of courses online which are offered each spring, summer, and fall.
SUNY New Paltz's Website – https://www.newpaltz.edu/
Facebook – https://www.facebook.com/newpaltz
Twitter – https://twitter.com/newpaltz
12. Temple University
97 miles away from New York City in Philadelphia, Pennsylvania is where Temple University is located. Temple University was founded in 1884 by a Yale-educated Boston lawyer, orator, ordained Baptist minister, and Civil War (Union) veteran Russell Conwell. While Conwell had come to Pennsylvania in order to perform ministry duties, he found himself conducting night classes for working-class citizens in the basement of the Baptist Temple, which is where the name of the university originated. "The Temple College of Philadelphia" was granted its charter by Philadelphia in 1888 and had grown to 600 students at that time. In 1907 Temple College revised its status and officially became a university as it would enhance the reputation, programs, enrollment, and financial support.
Today, Temple University serves close to 40,000 students of both undergraduate and graduate status. The university is divided into 17 different schools and colleges which allow for an extremely diverse selection of majors and programs for all students. The Fox School of Business is one that consistently ranks highly among its peers and offers the #1 online MBA program in the nation according to U.S. News & World Report and has done so for three years in a row. A BBA is also offered online for undergraduates. Other online graduate programs include Master of Science in Digital Marketing, Master of Social Work (MSW), Master of Public Health (MPH) in Social and Behavioral Sciences, and several others. There are three doctorate programs available online as well as certificate programs and non-credit courses.
Temple University's Website – https://www.temple.edu/
Facebook – https://www.facebook.com/templeu
Twitter – https://twitter.com/templeuniv
11. Fordham University
Fordham University is a private research university which was founded by the Bishop of New York, John Hughes, in 1841. The school was initially known as St. John's College and was built on 100 acres of land in the Rose Hill section of the Bronx borough of New York. The school began as a diocese institution and the first president was also the first Catholic cardinal in the United States, John McCloskey. Later, the school became under the care of the Society of Jesus and is still Jesuit-affiliated. Although the school has been independent of the Church since 1969, every president since 1846 has been a Jesuit priest. Fordham University is the oldest Catholic institution of higher education in the northeastern part of the country as well as the third oldest in the state.
Today, Fordham serves around 15,300 students across its three campuses which are all located in Southern New York. The Rose Hill campus is located in the Bronx and is the oldest of the three. There is also the Lincoln Center campus, which is in the Manhattan borough of NYC and the Westchester campus which is in West Harrison, New York. The university has four undergraduate colleges and six postgraduate colleges in order to offer students a wide variety of bachelor degrees, including Bachelor of Fine Arts degrees, as well as master's and doctoral degrees. Fordham also has online programs for graduates which include 3 different Advanced Certificate Programs as well as an MA Religious Education: Youth and Young Adult Ministry, MA Pastoral Studies, MA Pastoral Care, MA Christian Spirituality, and the Hybrid program, Doctor of Ministry (DMIN).
Fordham University's Website – https://www.fordham.edu/
Facebook – https://www.facebook.com/FordhamUniversity
Twitter – https://twitter.com/fordhamnotes
10. Yeshiva University
The main campus of Yeshiva University is located in the Manhattan borough of New York City. The school is a private research university which was founded in 1886, which credits the school as being the oldest institution of higher learning in the country which combines Jewish scholarship with liberal arts, sciences, medicine, law, business, social work, psychology, as well as Jewish studies and education. The school has continued growth over the years and has a total of four campuses across New York. Last year, the university disclosed plans to cede nearly half of its $1 billion endowment to the Albert Einstein College of Medicine which is entering a separate joint venture with the Montefiore Health System.
Yeshiva University enrolls around 10,000 students with approximately two-thirds being undergraduate students. Although most of the students who attend are of the Jewish faith, there are many students, particularly those attending the School of Law and School of Business, which are not Jewish. The undergraduate schools of Yeshiva College, Stern College for Women, and Syms School of Business all offer a dual curriculum which combines the study of the Torah with academic education. Yeshiva also offers asynchronous online courses for students which use the Canvas application for course delivery. Students choosing to take online courses must be self-motivated and able to complete their lessons and postings on time each week. There are very few, if any, virtual class meetings which means that the majority of the success of the course lies with the student.
Yeshiva University's Website – https://www.yu.edu/
Facebook – https://www.facebook.com/YeshivaUniversity/
Twitter – https://twitter.com/yunews
9. Stony Brook University
58 miles from New York City in Stony Brook, New York is the State University of New York at Stony Brook, also known as Stony Brook University or SUNY Stony Brook. This public university was founded in Oyster Bay in 1957 and was originally named State University College on Long Island. It soon outgrew the campus there and moved to Stony Brook in 1962. Its current campus has grown to 1.454 acres and contains over 200 major buildings of which the combined area is over 11 million square feet. It's no surprise, then, that Stony Brook University is the largest single-site employer on Long Island with over 14,500 employees and more than 2,400 faculty members. Today, the current enrollment is over 25,500 students and ranks among the top 100 universities in the nation.
Stony Brook University is a center of academic excellence and is recognized as a research institution which is helping to change the world for the better. Stony Brook has a lot to offer students of all interests with more than 200 undergraduate programs available. Graduate students have 140 programs to choose from at Stony Brook. No matter the program, students can be assured they will be receiving a quality education with the support and any help they may need in order to be successful. Online graduate courses are also offered at Stony Brook through the School of Professional Development. Stony Brook uses the Blackboard system for online program delivery. Students who choose to study online are able to earn the following: Master of Arts in Higher Education Administration, Master of Arts in Liberal Studies, Master of Science in Human Resource Management, Post-Master's Advanced Graduate Certificate in Educational Leadership, Advanced Graduate Certificate in Coaching, or an Advanced Graduate Certificate in Higher Education Administration. There are also other select online courses available at Stony Brook, such as during their Winter and Summer Sessions.
Stony Brook's Website – https://www.stonybrook.edu/
Facebook – https://www.facebook.com/stonybrooku
Twitter – https://twitter.com/stonybrooku
8. Muhlenberg College
Allentown, Pennsylvania, home to Muhlenberg College is just over 90 miles from New York City. The school was established by the Reformed Lutheran minister Reverend Samuel K. Brobst in 1848 under the name of Allentown Seminary. Over the course of time, the name has changed several times, from the Allentown Collegiate and Military Institute to the Allentown Collegiate Institute, before becoming Muhlenberg College, named after the patriarch of the Lutheran Church in America, Henry Melchior Muhlenberg. Today, the private liberal arts college serves around 2,225 students.
The faculty at Muhlenberg College pushes students to strive for the absolute best and reach above and beyond to attain goals and overcome boundaries which had once seemed impossible. Curiosity and creativity are encouraged and rewarded as students work their way toward earning their degree. There are more than 40 majors offered at Muhlenberg from humanities, fine arts, social and natural sciences. Students may also find themselves preparing for more advanced studies ahead such as pre-medicine, pre-law, and pre-theological studies. Online courses are also available through Muhlenberg and availability may vary semester to semester.
Muhlenberg College's Website – https://www.muhlenberg.edu/
Facebook – https://www.facebook.com/MuhlenbergCollege
Twitter – https://twitter.com/muhlenberg
7. New York University
New York University is located in the Greenwich Village neighborhood of the Manhattan borough of New York City and has been a part of the city since as early as 1831. The private research university was founded by Albert Gallatin, who had served as secretary of the treasury under President Thomas Jefferson. It was his goal to provide a facility for higher education which was open to everyone, regardless of national origin, religion, or social background. Since its beginnings with a student body of 158, the school has grown and is considered by many to be one of the most influential research universities in the world.
The school has among its faculty and alumni 37 Nobel Laureates and more than 30 each of Pulitzer Prize winners and Academy Award winners. Alumni include royalty, heads of state, Olympic medalists, CEOs of Fortune 500 companies, astronauts, and media figures. The Princeton Review has recognized that students and parents alike consistently consider NYU to be a "Top Dream College".
Today, nearly 40,000 students attend New York University. There are 14 different schools and colleges at six different locations in Manhattan in order to serve students with a large variety of majors to choose from. NYU not only has study abroad options in more than 20 countries, but it also has online courses for students as well. Currently available for undergraduates who qualify are a Bachelor of Arts in Social Sciences with a concentration in Organizational Behavior and Change, a Bachelor of Science in Leadership and Management Studies with a concentration in International Business, Human Resource Management, or Organizational Management and Development. Graduate programs online include the following Master of Science Degrees: Human Resource Management and Development, Management and Systems (STEM), Professional Writing, and Translation. Students who study at NYU, whether on-campus or online receive an enriching and rewarding education with a degree which is regarded highly among employers.
NYU's Website – https://www.nyu.edu/
Facebook – https://www.facebook.com/NYU
Twitter – https://twitter.com/nyuniversity
6. The Jewish Theological Seminary
The Jewish Theological Seminary is located in the Manhattan borough of New York City. The school was founded in 1887 with a mission to preserve the knowledge and practice of historic Judaism. The creation was possible thanks to the efforts of two distinguished Rabbis, one who served as the first president of the new institution, Dr. Sabato Morais, and the other being Dr. H. Pereira Mendes. Also, a group of lay leaders from Sephardic congregations in nearby Philadelphia as well as New York contributed their help in founding the school. The inaugural class had 10 students and was held in the vestry of the Spanish-Portuguese Synagogue. The school was all male until the JTS faculty voted in favor of ordaining women as rabbis and cantors in 1983. The initial class of female rabbis was admitted in 1984. The first female rabbi to graduate from JTS was also the first female Conservative Jewish rabbi in the world. This was in 1985 and it was Amy Eilberg.The first two women were ordained as cantors by JTS in 1987 were also the first female Conservative Jewish cantors in the world.
The Jewish Theological Seminary is organized into five schools: Albert A. List College of Jewish Studies; Gershon Kekst Graduate School; the William Davidson Graduate School of Jewish Education; the H. L. Miller Cantorial School and College of Jewish Music; and The Rabbinical School. Students, both undergraduates and graduates are offered a variety of concentrations for study, such as Bible, Midrash, Jewish Literature, Jewish Education, Jewish History, and Jewish Women's Studies to name a few. JTS has also provided for-credit online courses for students since as early as 1996. The Blackboard platform is used as the preferred method of course delivery at JTS, allowing students to interact with instructors and fellow students which enables collaboration for group projects. Students who take advantage of online courses should expect the same rigorous standards as those who attend the campus in person.
The Jewish Theological Seminary's Website – https://www.jtsa.edu/
Facebook – https://www.facebook.com/JewishTheologicalSeminary/
Twitter – https://twitter.com/jtsvoice
5. Rutgers, The State University of New Jersey
Rutgers, The State University of New Jersey's Flagship campus in New Brunswick is less than 40 miles from New York City. Rutgers campuses in Camden and Newark, New Jersey are just under 100 and 15 miles from NYC respectively. The school was founded ten years before the American Revolutionary War in 1766 and was chartered as Queen's College, making it one of the 9 colonial colleges in the United States. In 1825, the college changed names to Rutgers College in honor of the Revolutionary War colonel and school benefactor, Henry Rutgers. While the school had been operating as a private research college, in 1864 it became the sole land-grant university of the state of New Jersey. In 1924, Rutgers gained university status and became fully coeducational in 1972. Today, Rutgers is the largest institution of higher learning in New Jersey.
Rutgers University-New Brunswick has a 2,688-acre campus, on which there is a multitude of academic departments, research centers, health care facilities as well as performance venues. The university contains 18 schools and colleges in every field in order to serve its more than 40,000 students, both full- and part-time. Rutgers offers thousands of courses and hundreds of majors for undergraduates and graduate programs. When it comes to innovation and current trends in education, Rutgers is on top of things with online programs. There are 15 different online programs available for students, including popular degrees such as BSN, MBA, Master of Social Work in Clinical Social Work, and Master of Arts in Liberal Studies.
Rutgers University has been educating students for more than 250 years and has had more than 450,000 graduates from all 50 of the United States and over 120 foreign countries. Over the years there have been a large number of notable alumni, including the lovable cartoon character, Quincy Magoo. Paul Robeson, singer, athlete, attorney, and Civil Rights activist; Simeon De Witt, Surveyor-General for the Continental Army during the American Revolution; James Schureman who served in the Continental Congress and later as a United States Senator are among the list of alumni. There have also been seven graduates to become New Jersey's governor, two more served as president of Rutgers, and alumni Garret A. Hobart served as Vice President of the United States. The list continues with many other alumni who have held honorable positions in the U.S. Government or gone on to become highly successful in business or in their chosen field.
Rutgers' Website – https://www.rutgers.edu/
Facebook – https://www.facebook.com/RutgersU
Twitter – https://twitter.com/RutgersU
4. Lehigh University
Lehigh University located in Bethlehem, Pennsylvania is just over 80 miles from New York City. This private research university was established by Asa Packer in 1865. The school began with 39 male students and over the years has grown in both student body as well as adding and including many areas of study. Today the school serves nearly 7,000 students and is coeducational. There are three contiguous campuses on and around South Mountain which are: the Asa Packer Campus, which is the original and main campus; the Mountaintop Campus which sits atop the mountain as the name would suggest which has an intramural sports field and Iacocca Hall, named for alumni Lee Iacocca; and the Murray H. Goodman Campus which is located to the south featuring a 16,000-seat stadium and other sports facilities. Some consider Lehigh one of the 24 Hidden Ivies in the Northeastern U.S. Another notable alumni is Roger Penske, the entrepreneur and founder of Team Penske of auto racing and the Penske Corporation. Other graduates have invented some highly useful items such as the escalator, the locks and lockgates of the Panama Canal, and founded the Packard Motor Car Company.
Lehigh University has four colleges to serve students: the College of Arts and Sciences, the College of Business and Economics, the P.C. Rossin College of Engineering and Applied Science, and the College of Education. Altogether, the university offers a wide variety of, master's degrees, and Ph D.'s. However, nearly 40% of students choose to earn degrees which offered by the College of Arts and Sciences, making it the largest of the four colleges. Lehigh also offers several online master's degrees and certificates in areas of study such as Engineering, Molecular Biology, and Business Administration.
Lehigh University's Website – https://www1.lehigh.edu/
Facebook – https://www.facebook.com/lehighu
Twitter – https://twitter.com/lehighu
3. The College of New Jersey
The city of New York is about 62 miles from Ewing, New Jersey, home to The College of New Jersey (TCNJ). This public, coeducational university was established as New Jersey State Normal School in 1855 by an act of New Jersey Legislature which made it the fifth normal school in the country and the first in its state. The school was initially in Trenton but purchased land for a new campus to accommodate its growth in the nearby township of Ewing in 1928. Overall the school has grown and the name has changed a number of times over the years and in 1996 settled upon the current name of The College of New Jersey.
TCNJ has produced a number of notable alumni over the years including the governor of New Jersey from 1990 to 1994, Jim Florio; U.S. Congressman, Chris Smith who represents New Jersey's 4th congressional district; and the ambassador to the Republic of Slovenia, Joseph A. Mussomeli. Also, the renowned children's author, Holly Black and the comedians, writers, and producers, The Lucas Bros are just a few among the highly successful graduates from TCNJ.
The College of New Jersey is composed of seven schools to serve its students, which are: the Arts and Communication; Business; Humanities & Social Sciences; Nursing, Health, and Exercise Science; Education; Science; and Engineering. There are more than 40 degrees available for undergraduates to choose from and more than 30 programs for graduate students. In keeping up with technology and trends in education, TCNJ offers both blended and fully online courses for students in both summer and winter sessions.
The College of New Jersey's Website – https://tcnj.pages.tcnj.edu/
Facebook – https://www.facebook.com/tcnjlions
Twitter – https://twitter.com/tcnj
2. University of Pennsylvania
About 97 miles southwest from the Big Apple lies Philadelphia, Pennsylvania and the University of Pennsylvania. Benjamin Franklin was the primary founder and the head of the board of trustees for the school which began as a three school system including College of Philadelphia, chartered between 1751 and 1755. The school is one of the original 9 colonial colleges and considers itself to be the fourth oldest institution in the country. In 1791, the schools, which had been considered all part of one institution, merged with the University of the State of Pennsylvania in order to become the University of Pennsylvania. This Ivy League school was the first institution to have a medical school which in turn made it the first to offer both graduate and undergraduate studies. UPenn is also the first institution in the country to take the name of University.
While Ivy League is technically a reference to collegiate athletics, to many people it has also come to mean a superior educational experience. In fact, Penn has had many distinguished alumni over the course of its history including 8 signers of the Declaration of Independence and 12 who signed the United States Constitution. There have been 2 U.S. Presidents among the 14 heads of state which graduated from Penn as well as 42 United States Governors, 33 Senators, 158 members of the House of Representatives, and 25 billionaires. 30 Nobel laureates have been affiliated with Penn as well. In addition to their amazing traditional courses, Penn offers students online courses from several of their schools, such as Wharton, The Perelman School of Medicine, The School of Nursing, The School of Dental Medicine, as well as Arts & Sciences and more. Students taking online courses should expect the same rigorous and rewarding coursework as those who attend traditional classes.
UPenn's Website – https://www.upenn.edu/
Facebook – https://www.facebook.com/UnivPennsylvania
Twitter – https://twitter.com/Penn
1. Columbia University
Located in Upper Manhattan part of New York, Columbia University is a private institution and one of the 8 Ivy League institutions across 7 of our New England states. It is the oldest college in New York state and was the 5th institution chartered in the entire country. It was established in 1754 under the name of King's College as it was by royal charter of King George II of Great Britain. In 1770, it earned the distinction of being the first institution of higher learning in America to grant the M. D. degree. It is only one of nine colonial colleges established prior to the signing of the Declaration of Independence. In 1784, the college became renamed Columbia College and had become a state institution after the American Revolutionary War. However, shortly thereafter in 1787, a charter placed the school under the care of private trustees and it was renamed Columbia University. It was in 1896 that the school moved its campus from Madison Avenue, which had been home to it since 1857, to its current location in Morningside Heights.
Although the term Ivy League is technically a reference to the athletic conference to which the schools belong, it has connotations of excellence in academia as well. It is no surprise that 100 Nobel laureates are associated with Columbia University which include students, researchers, faculty, and staff. The university has also graduated three United States Presidents and 9 U.S. Supreme Court Justices among a myriad of other notable alumni.
Columbia University is organized into 20 different schools and colleges to serve its students: Columbia College, the School of General Studies, the School of Engineering and Applied Science, Columbia College of Physicians and Surgeons, Columbia Business School, and Columbia Law School to name a few. While Columbia is well known for its high-quality programs on campus, the university has now extended its excellence into a small number of online programs. Programs which are available in either hybrid or online versions include:
Master of Science & Certification Programs from the School of Professional Studies; Master of Science & Certification Programs & the Columbia Video Network from The Fu Foundation School of Engineering & Applied Science; Master's of Social Work from the School of Social Work; Certificate Program in Conservation & Environmental Sustainability from the Earth Institute and the Earth Institute Center for Environmental Sustainability; and lastly the Certificate of Achievement in Health Information Technology from the Columbia University Medical Center.
Columbia's Website – https://www.columbia.edu/
Facebook – https://www.facebook.com/columbia
Twitter – https://twitter.com/columbia