Augsburg College – Admissions, Athletics and Notable Alumni
Find your degree
Online College Plan is an advertising-supported site. Featured or trusted partner programs and all school search, finder, or match results are for schools that compensate us. This compensation does not influence our school rankings, resource guides, or other editorially-independent information published on this site.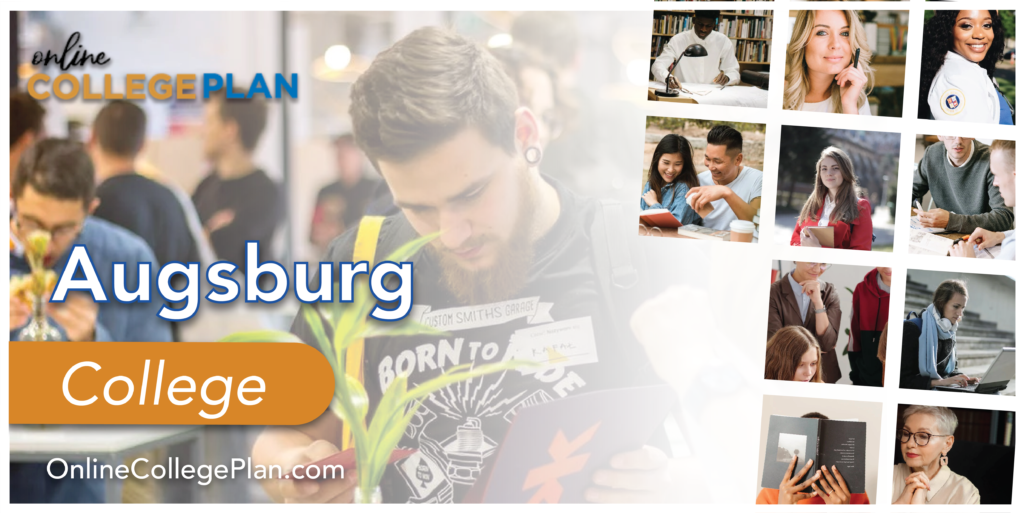 Augsburg College History


In 1869, Augsburg College became the first Norweigan Lutheran Seminary established in the United States in the town of Marshall, Wisconsin. In 1872 the school moved to Minneapolis, however, the first graduation was not held until 1879. It wasn't until some time later, around 1911 under the president of George Sverdrup, Jr. that the school began to broaden its academics toward more than ministry alone. Eleven years later, in 1922, the school began to admit women under the leadership of Gerda Mortensen, Dean of Women. It was after World War II when the college had become larger than the seminary and further expansion awaited the school. By 1954 the college had established itself and expanded into an accredited liberal arts college. 1963 is when the seminary moved to St.Paul after the merging of the Lutheran Free Church and the American Lutheran Church, leaving just Augsburg College in Minnesota.
In more modern times, AC has grown and expanded a great deal. Augsburg added the Music Hall, Mortensen Hall, Urness Hall, the Christensen Center, Ice Arena, and Murphy Place while Oscar A. Anderson presided over the school, which was 1963 to 1980. He was also known for reaching out to non-traditional students to ensure everyone had an equal opportunity to get their education. His presidency was followed by Dr. Charles S. Anderson until 1997. During his leadership, he not only focused on expanding the academics of the college, including adding two graduate programs, but he also helped expand the school physically as well. The Foss Center for Worship, Drama, and Communication; the Oscar Anderson Residence Hall; and the James G. Lindell Family Library were erected under his leadership.
Dr. William V. Frame became president in 1997 and is credited with helping to hone the values and identity of the school as being one from the city that excels in education grounded in vocational calling as well as teaching students how to be productive citizens through the combination of theoretical learning and practical experience. In 2006, Dr. Paul C. Pribbenow became the president of Augsburg College and is credited by articulating the vision for the school, "We believe We are Called to Serve Our Neighbor" which also reinforces some of the core values which the school upholds.
Featured Programs
The City of Minneapolis, Minnesota
When visiting or going to school in Minneapolis, there is not a shortage of things to do or see. Naturally, as a big city, it has an abundance of terrific restaurants, grill & bars, and plenty of places to shop. There are also local breweries which offer tours to the public and the Minneapolis Skyway System is a unique must-see.
Nature lovers will adore Minneapolis with the number of parks and lakes in the area, such as Minnehaha Park, Chain of Lakes, Lake Harriet, Lake Calhoun, and Lake of the Isles to name a few. Also visiting the Minneapolis Sculpture Garden would be a great way to segway between nature and visiting the Minneapolis Institute of Art, Weisman Art Museum, or the Museum of Russian Art.
Some of the other must-see places to visit in Minneapolis are the Basilica of St. Mary and the American Swedish Institute. Nearby in Chanhassen, Paisley Park, the estate and production complex of the late music legend, Prince, is now offering tours to the public.
Facts about Augsburg College
Augsburg College housed the Nobel Peace Prize Forum in 2012 and 2013.
The college is named after the Augsburg Confession, a confession of faith which was presented by Lutherans in 1530.
Augsburg is considered to be a Military Friendly college.
Augsburg Academics
Undergraduates interested in what majors Augsburg has to offer should be pleased by the expansive selection available:
American Indian Studies
Art
Biology
Chemistry
Communication Studies
Economics
Education
English
Environmental Studies
Film
Gender, Sexuality, and Women's Studies
Health, Physical Education, and Exercise Science
History
Honors Program
Languages and Cross-Cultural Studies
Mathematics
Medieval Studies
Music
Philosophy
Physics
Pre-Professional Programs: Pre-Law, Pre-Pharmacy, Pre-Seminary
Psychology
Religion
Social Work
Sociology
Theater
Urban Studies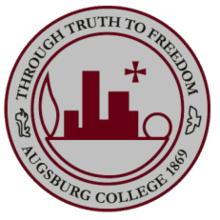 Accreditation: Augsburg College is accredited by The Higher Learning Commission of the North Central Association of Colleges and Schools. Augsburg also is further accredited by the following:
The Council for the Accreditation of Educator Preparation (CAEP)
Accreditation Review Commission on Education for the Physician Assistant (ARC-PA)
Commission on Collegiate Nursing Education (CCNE) (Bachelor's, Master's, and DNP degrees)
Council on Social Work Education (CSWE) (bachelor's and master's degrees)
Augsburg College Notable Alumni: Nobel Prize winner Peter Agre, M.D., college basketball coach Lute Olsen and Dave Stevens, an athlete born without legs who played college football.
Augsburg College Values, Expectations, and Beliefs:
Getting an education at Augsburg College should be preparation for service in both the community as well as the church.
Education should be practical and have a solid liberal arts core in order for graduates to become innovative, successful, and productive citizens.
Minneapolis itself is a bold learning experience with diversity and excitement with unique and sometimes delightful life challenges for the students at Augsburg.
Motto: Education For Service
Mission: "Augsburg College educates students to be informed citizens, thoughtful stewards, critical thinkers, and responsible leaders. The Augsburg experience is supported by an engaged community that is committed to intentional diversity in its life and work. An Augsburg education is defined by excellence in the liberal arts and professional studies, guided by the faith and values of the Lutheran Church, and shaped by its urban and global settings."

Nickname: Auggies
Mascot: Eagle
School Colors: Gray and Maroon
For more information about Augsburg College or to connect with them:
Website: https://www.augsburg.edu/
Facebook: https://www.facebook.com/augsburgcollege
Twitter: https://twitter.com/augsburgcollege
Related Rankings: