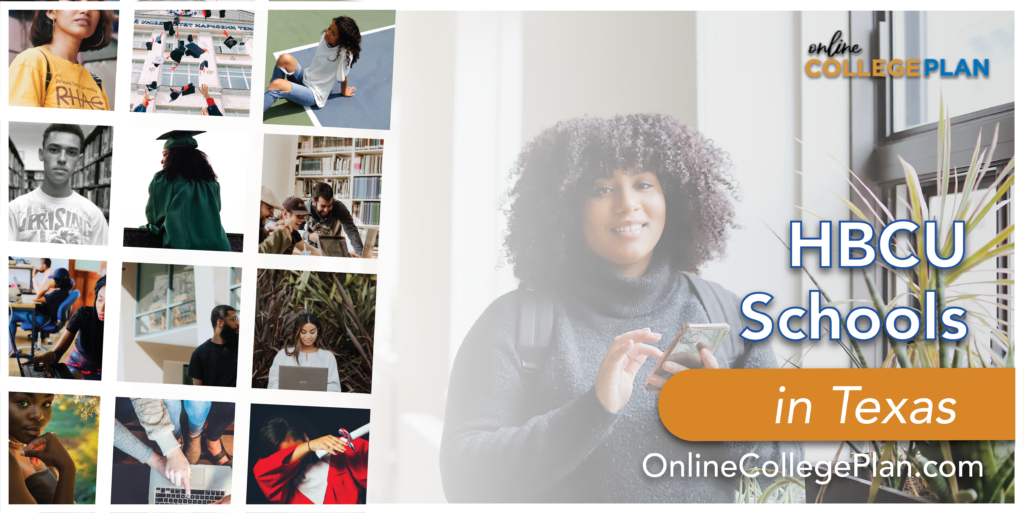 There are nine different HBCU colleges in Texas. After the American Civil War, the Freedmen's Bureau began implementing educational opportunities for the newly freed slaves. And it was around then that many HBCUs were founded in the southern states, providing African Americans with accredited higher education experiences for over a century. The Black colleges were even designated to provide elementary and high school education at the time. And although this was phased out by the mid-1920s, the HBCUs lived on. If you live in Texas, there many advantages to attending a college or university within the state, including:
In-state tuition: In-state tuition is much more affordable than out-of-state tuition, although some private colleges and universities do not differentiate between in-state and out-of-state tuition.
Short commute and travel fees: Even if you are taking online classes, it can be helpful to visit campus to meet with professors or take advantage of campus resources and technology.
Quality field study, internship, or employment opportunities: Many colleges and universities are well connected with companies and businesses in their area.
At-a-Glance: HBCUs in Texas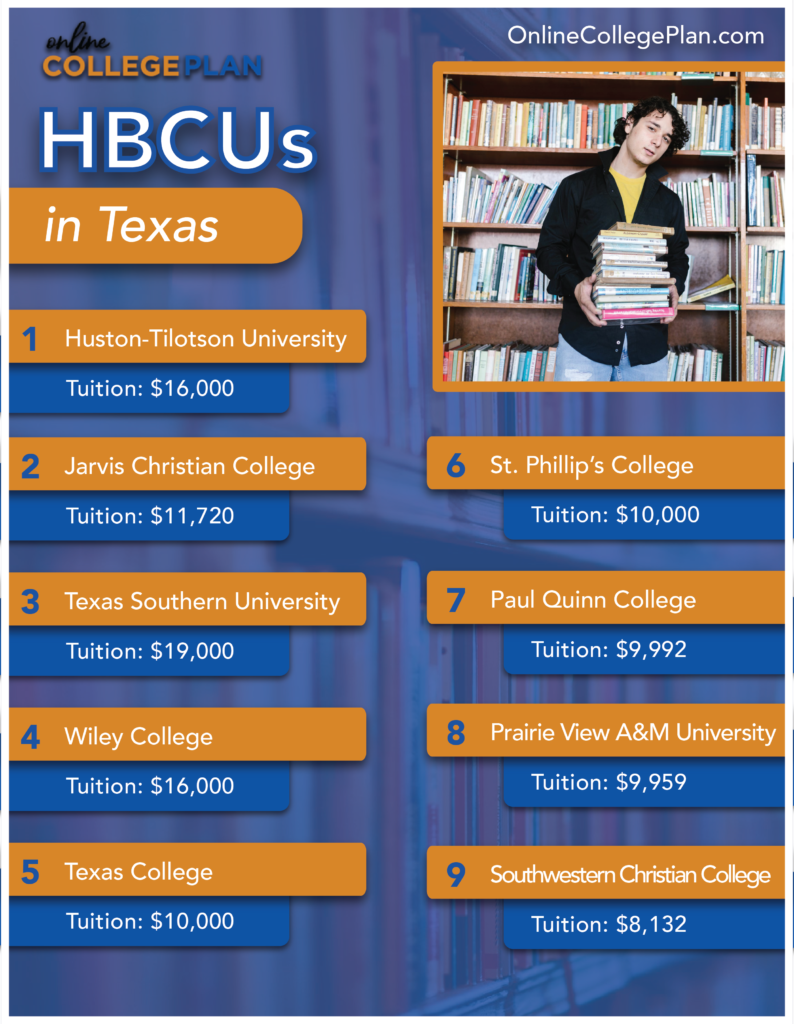 A Word About Online College Programs
If you are only looking within the state of Texas, you should consider the options available at a few of the best HBCUs in Texas we've listed here.
What Is An HBCU?
An HBCU is a historically black college or university established to help African American students achieve a high-quality secondary education. In addition, HBCUs aim to offer students an opportunity to grow and achieve their dreams regardless of race.
HBCUs exist all around the country, but around ten percent of the HBCUs in the United States are in Texas. States like Alabama and Georgia are a couple of other states where HBCUs are relatively common. HBCUs only comprise around three percent of the United States' total educational institutions but make up more than 25 percent of all African American students graduating with a college degree. While the vast majority of HBCU students are African Americans. However, enrollment is not limited to African Americans. Students of any race can attend, as long as they meet the requirements for admission and are accepted.
What Are The Nine Different Texas HBCU Schools?
There are nine HBCU schools in Texas, and each of them has its own qualities, programs, student body, and sports teams. Within one of these nine universities, you will undoubtedly find a place that fits you perfectly. In the next section, we will be talking about each Texas HBCU individually and letting you know about some of the unique and exciting facts about them. If you have further questions about any of the Texas HBCU universities on this list, be sure to contact them individually and make an appointment with an admissions counselor.
Founded in 1875 in Austin, Texas, Huston-Tillotson University is a private HBCU that provides an intimate educational experience with a student to faculty ratio of 14 to 1 and a total enrollment of just over 1,100.
The average cost of attendance after financial aid is just over $16,000 a year, which is affordable for many families. In addition, Huston-Tillotson is renowned for its music and education departments and accepts most students, on average, with a GPA of 3.07 or higher.
Some of the unique majors at Huston-Tillotson include Educational Leadership, African American Studies, Religious Studies, and Environmental Studies.
Located in Hawkins, Texas, Jarvis Christian College provides educational quality at an affordable tuition rate of $11,720 per year. However, a full 99 percent of students receive financial aid, so most get a break on tuition rates. As a result, they are often considered one of the most affordable and competitive colleges in Texas, and not only within the sphere of HBCUs.
Jarvis Christian College is known for its teacher certifications and its Bachelor of Business Administration program, which features concentrations in accounting and cybersecurity.
Jarvis Christian College is currently waiving their ACT and SAT requirements for applicants throughout the COVID-19 pandemic. This may be a relief for African Americans who have struggled with their test scores in the past. JCC also offers prospective students the opportunity to schedule a virtual appointment with an admissions advisor, an excellent idea for those looking to attend.
Texas Southern University (TSU) is one of the biggest and most widely-known Texas HBCUs, with over 10,000 students and more than 100 academic programs and degrees. After financial aid, the average cost for a TSU student is just over $19,000 a year, which makes it one of the more expensive schools on this list. According to the United Negro College Fund, TSU generates $530 million in economic impact on the regional economy.
To get into Texas Southern University, you'll likely need a GPA of 2.5 or above, an ACT score of 17 or above, and a minimum SAT score of 900. TSU has an impressive student to faculty ratio of 15:1, so each student is assured of individual attention.
Students at TSU are renowned for having an incredibly vibrant social life, with parties and student-centered events going on pretty much every night of the week.
Texas Southern has a student population of around 60 percent women and 40 percent men, with 80 percent of their total student body being Black. Nearly 85 percent of TSU students are from Texas, but many others choose to come from around the country. Some of the most popular majors at TSU include biology, business, law, and psychology.
Wiley College is a private HBCU located in Marshall, Texas. Founded in 1873, the college has a religious affiliation with the Methodist Episcopal Church. Wiley College is one of the oldest HBCUs to the west of the Mississippi River and has an average cost after financial aid of about $16,000 a year. The college aims to serve not just black students, but students from a variety of different cultural and economic backgrounds without limiting their dreams or education.
Currently, the college is split up into four different divisions:
Sciences
Education
Business and Technology
Social Sciences and Humanities
Another non-degree-granting division handles the college's general education requirements. Some of the most popular majors at Wiley College include Criminal Justice, Mass Communications, Business Administration, and Biology.
Texas College, located in Tyler, Texas, is an HBCU founded in 1894 by a group of ministers. Similar to Wiley, Texas College is also closely affiliated with the Methodist Episcopal Church. The college aims to provide an environment for not only educational development but also social and cultural development. Some of the core values of the school include academic excellence, integrity, social responsibility, and tolerance.
Texas College offers a 1:25 ratio of faculty to students with 12 degree programs in four divisions, including:
Business and Social Sciences
General Studies and Humanities
Education
Natural and Computational Science
The college also offers intercollegiate competitive sports teams for football, baseball, basketball, soccer, volleyball, and more. So if you're looking for a small school with a very tight-knit community and a lot of opportunity for growth, Texas College might be a great choice for you.
St. Philip's College is a historically Black community college located in San Antonio, Texas. Founded in 1898, this school is part of the Alamo Colleges District and has a student body of more than 11,000 who are pursuing more than 70 different degree programs.
After financial aid, the average cost for students to attend the university is just over $4,000 a year. St. Philips is one of the most affordable colleges on this list, so this could be an excellent option for those looking to come out of school with very little or no debt.
Currently, the college is teaching both face-to-face courses in San Antonio as well as hybrid ones during the pandemic. Some of the unique majors that students can pursue while at St. Philip's College include Health Information Technology, Advanced Manufacturing Technology, Hotel Management, and Baking and Pastry Arts. Most students attending St. Philip's College have a GPA of 2.0 and above, and there are many student apartments in the area to serve your housing needs despite St. Philip's not having dorms of their own.
Founded in 1872, Paul Quinn College is a private HBCU located just outside of Dallas, Texas. The school is one of the smallest HBCUs in the country, with an enrollment of only 450 students. The college is the oldest HBCU to the west of the Mississippi River and was the first Urban Work college in the nation. PQC is closely affiliated with the African Methodist Church, making it a tightly-knit community of students and faculty.
As one of the top Historically Black Colleges and Universities in the nation, Paul Quinn College aims to shake up the normal boundaries of college tuition. The school believes that you should not need to take on additional financial burdens just to get an education.
Since the school is based in the Dallas metropolitan area, there are many opportunities for connections and jobs with Fortune 500 companies nearby. In addition, Paul Quinn College focuses on experimental and faith-based education, so if this interests you, you should definitely apply.
Founded in 1876, Prairie View A&M University is an of the most well-known Historically Black Colleges and Universities in the U.S. The University offers over 50 baccalaureate degrees, 37 master's degrees, and four doctoral degrees. The university is located in Prairie View, Texas, and offers competitive tuition rates for in-state students who pay $11,299, compared to out-of-state students who paid $26,874.
Prairie View prides itself on being a place that students can go to be fully, one-hundred-percent themselves. In addition, Prairie View is the second oldest higher education institution in Texas, meaning they have long-standing traditions that go back for decades and even centuries.
The current student body of the university exceeds 8,000, and while many are from Texas, students come to attend Prairie View from all around the country. Nearly 6,000 degrees have been awarded from the university over the past five years!
Located in Terrell, Texas, Southwestern Christian College was founded in 1948 and is one of the best private Historically Black Colleges and Universities in Texas. The college offers associate's and bachelor's degrees that primarily aim to prepare students for full-time ministry.
Despite being one of the "younger" schools on this list, an annual enrollment of about 400 students makes their home at Southwestern Christian College every year. Perhaps the college's most popular degree program is their Bachelor of Science in Religious Studies, a degree that prepares students for various careers working in the church.
The college also prides itself on having a thriving acapella chorus and several athletics teams for students to enrich their on-campus lives. If you have been hunting for a tight-knit, small school environment that will prepare you for a religious career upon graduation, look no further than Southwestern Christian College.
Should I Go To An HBCU?
If you are a Black student looking to get a high-quality education in Texas, you should feel confident searching for your home at one of these Historically Black Colleges and Universities. Since many of these colleges and universities are run by faculty who also support the mission of HBCUs, you will likely find relatability with them, and they can help you along your educational journey. History Black Colleges in Texas are some of the preeminent educational institutions in the country and are an incredible place to make connections, find job opportunities, and meet friends.
Many of these schools also have events like open houses for prospective students, so if you are interested in any of the schools on the list above, don't forget to sign up for their email lists or request more information from them.
Deciding on a school can be pretty challenging, and the college application process is undoubtedly daunting. When searching for an HBCU in Texas, hopefully, this list can help you to narrow down which schools are worth checking out in the Lone Star State.
Related Articles:
Are There Any HBCUs in Alabama?
Do any HBCU Colleges Offer 100% Online Degree Programs?
What is the Top HBCU Graduate School?
This concludes our article on the top HBCU Colleges Texas
Be sure to also check out our ratings of the top Texas colleges.