Best Online Colleges for Military Veterans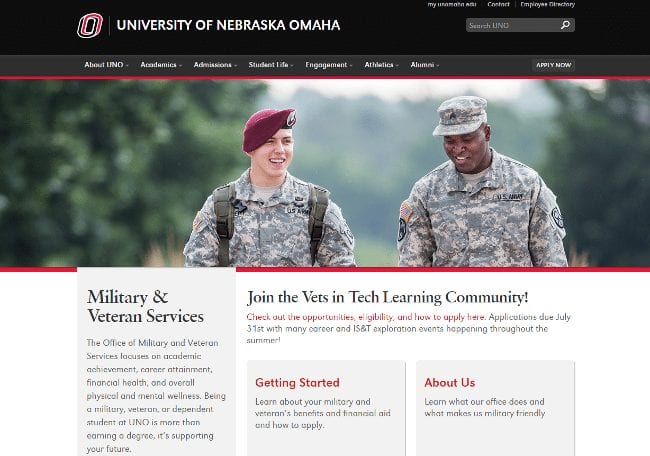 Find your degree
Online College Plan is an advertising-supported site. Featured or trusted partner programs and all school search, finder, or match results are for schools that compensate us. This compensation does not influence our school rankings, resource guides, or other editorially-independent information published on this site.
One of the toughest jobs in America is serving in the military. When it comes time to get a college education, it is essential to know which are the best online colleges for military veterans.
This ranking helps military veterans find the top military friendly online colleges that excel at helping veterans from enrollment to understanding their entitled educational benefits like the G.I. Bill. Most of the schools on this list support veterans with 8 Keys for Success. With very few exceptions, these institutions also participate in the VA Principles of Excellence program and have signed and comply with the DoD's Memorandum of Understanding. These schools are outstanding when it comes to supporting America's veterans, helping them to achieve academic success and join the nation's workforce.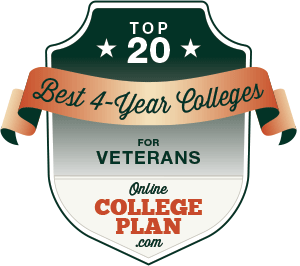 Best Online Colleges for Military Methodology
Utilizing data and research from multiple sources, such as National Center for Education Statistics, Military Times, and Military.com, we have compiled this top 19 ranking for U.S. Veterans. Many factors came into play to determine what schools were best, and in some cases when data was not present, a lower ranking may have resulted. Some schools which did not offer adequate online undergraduate courses were eliminated from our ranking. All schools are accredited 4-year colleges and offer excellent choices for veterans, military, and non-military students. The statistics factored and the percentage of total score they represent are as follows:
Faculty to Student Ratio: 13.75%
Staff Support 11%
Academic Support 11%
Course Completion 13.76%
Retention of Military Students 13.76%
Graduation of Military Students 13.76%
Percent Employed after 6 Years 13.76%
Salary after 6 Years (rounded to nearest 1000) 9.22%
PENALTY -50 (6.88%) for not having/supporting 8 Keys for Success
PENALTY -50 (6.88%) for not having/supporting Principles of Excellence
PENALTY -50 (6.88%) for not having/supporting DoD Memorandum of Understanding
Bonus +50 (6.88%) for ranking in a top 5 at Military Times
Best 4-Year Colleges for Military Veterans
Armstrong State University
Savannah, Georgia
Armstrong State University has been a vital part of Savannah, Georgia since 1935. In addition to the main campus, Armstrong State also has an Arboretum and Armstrong Center, a versatile facility used for special events held by the University and is a popular place for wedding rentals. Liberty Center is an educational center to serve Liberty County and Fort Stewart, as a thank you for active duty military, all fees are waived by Armstrong.
The Armstrong State University military hub online has a wealth of information for both currently enrolled veterans and those who are are looking for a school to attend. The Veteran Affairs Office located at Armstrong displays their contact information prominently on the web page for any veterans who may require it. There are a large number of online resources available for veterans to check out and get informed if there is something they are not familiar with. Staff at Armstrong State University are available to answer questions for vets who may feel a bit overwhelmed with the application, registration, enrollment and certification processes. Not to mention dealing with scholarships, financial aid, and educational benefits that many veterans are entitled to; it's more than enough to overwhelm anyone. It is good to know that there is help available from staff members who know what they're doing and exactly how the process works.
South Dakota State University
Brookings, South Dakota
Founded in 1881 as Dakota Agricultural College, South Dakota State University in Brookings has been through many changes over the years. However, one thing has been consistent throughout the years, which is its dedication to giving students the best education and an excellent college experience. The University houses six colleges dedicated to different subjects as well as a graduate school. SDSU offers 175 fields of study and has an online program that has been recognized in the past for its size and quality.
South Dakota State University welcomes veteran students and offers a large number of resources including a well staffed Veterans Office who are well versed in helping veterans make the most out of their benefits, apply for scholarships and student aid, help with registration and enrollment processes and the certification process. SDSU also provides veterans with a Veterans Resource Center that is a place for veterans to be around others with military backgrounds and even has a lounging area with a large screen television for veterans to enjoy. For more information about benefits and services for veterans, please feel free to contact South Dakota State University.
Southern New Hampshire University
Manchester, New Hampshire
In 1963, Manchester became home to Southern New Hampshire University which awarded its first associate degrees later that year. The now over 300 acre campus services more than 3,000 students on campus each year, and 60,000 online students. It is no secret that SNHU has some of the best online programs available in higher education as well as an enormous variety of classes from which to choose.
Southern New Hampshire University makes sure that Military as well as Veterans know that they are welcome. For those veteran students applying on campus, staff at SNHU is available to help guide you through the process and answer any questions you might have about the school or education benefits which you are entitled to. Staff members can also assist veterans in obtaining credits for any qualifying military training and education received while on active duty. Southern New Hampshire University wants to see veterans succeed and offers an environment where they are able to connect with peers in between class and study times. The SNHU website offers very detailed information on the enrollment process as well as other resources and contacts for veterans who are interested in attending there.
University of Maine at Augusta
Augusta, Maine
Established in 1965, the University of Maine at Augusta has a history of excelling in educating students, beginning as a facility for associate's degrees and growing into the university it is today. In addition to the main campus, it also has a campus to serve students in Bangor, University College of Bangor, as well as eight other University College sites and 56 receiving sites across the state. UMA offers students a number of options when it comes to degrees and certificates. There are 17 bachelor's degree programs with many choices in concentrations or specializations therein. There are also 11 programs for associate's degrees and 13 offerings for those seeking certificate programs.
The staff at University of Maine at Augusta are accustomed to the needs of adult students as a large majority of their students are adult learners. They also are pleased to welcome veterans into the school and offer a number of services designed to help them adjust to life in school and outside of the military. Veterans Services has a comprehensive and detailed checklist to help guide veterans when it comes to time to take the steps for enrollment. There are links to other organizations involved in order to streamline the process for veterans. However, help is also readily available for veterans who still have questions or are confused about what to do.
Lewis University
Romeoville, Illinois
In 1932, Lewis University was founded under the name of Holy Name Technical School and was a school for boys and began with 15 students. Today Lewis University is a coed Catholic university that welcomes students of all ages in their quest for higher education and truth. Lewis University serves about 6,700 students both graduate and undergraduate. Undergraduate students have a choice of 80 different degrees, meanwhile graduate students have 35 options for their master's degree and 2 different doctoral programs. Lewis University also offers a degree and certificate programs online for graduate students who likely are already working in their field and may require the flexibility of taking classes from a distance.
There is no application fee for veterans and other military service members at Lewis University, one small way the university can thank veterans for their sacrifices and hard work protecting our country. There is a large number of resources available on the website at Lewis University including a checklist for military and veterans who wish to enroll, a list of frequently asked questions and answers about benefits, information on how military training and education can translate into school credits with prior learning assessment, and many other useful links to resources both on and off-campus. Veterans interested in learning more can visit the website and contact Lewis University.
Excelsior College
Albany, New York
With more than 40 years of experience behind it, Excelsior College strives to be a leading model for universities of the 21st century. The staff and faculty at Excelsior constantly work to improve and innovate, bringing the best courses and degree programs to students of all ages. EC also strives to provide a focus on adult learners who they feel have been underrepresented in the past. Flexible, online courses help students to work at pace that they can handle while staying motivated and focused on their academic goals.
Excelsior College offers veterans online support in the form of social media groups designed to help veterans be able to socialize with their peers in college and support each other. They also offer an online Veterans Center for more information about the GI Bill, the mentoring program offered for veterans at Excelsior, and resources to help veterans transition into college life and the workforce. As far as the enrollment process, Excelsior has a detailed step by step instruction on their website and offers contact information for any veterans who may require help or have any questions that are not answered through online resources readily available for veterans who wish to attend.
Colorado State University
Fort Collins, Colorado
Colorado State University was founded in 1870 as a land grant institution, which makes the university older than the state of Colorado by about six years. From its beginnings, Colorado State has expanded to be large enough for its nearly 32,000 students. There are more than 150 graduate and undergraduate programs of study available to satisfy the needs of its students. CSU also offers a number of undergraduate, graduate, and certificate programs online for students who may require a more flexible schedule.
CSU is well experienced at fulfilling the needs of veterans and military service members who apply to their university. There are more than 1,550 students currently enrolled at Colorado State University using veteran or military benefits. It is easy to see that veterans who choose to become students at this university will have the support and camaraderie of others who are also making the transition from military life to college life and ultimately on to the workforce. There are two student organizations for veterans on campus.Staff and Faculty at Colorado State are happy to help veterans through the application and enrollment process, as well as academic and career advising. Veterans interested in attending CSU are welcome to check out the resources available through their website as well as contacting the university.
Pennsylvania State University – World Campus
University Park, Pennsylvania
Pennsylvania State University is one of the few universities in the United States that is not only Land Grant, but also Sea-Grant, Sun-Grant, and Space-Grant. Penn State is considered a Flagship University due to it being one of the largest public research universities in the United States. Degrees from Penn State are often regarded on the same level of quality and prestige as those obtained through private Ivy League schools. As with many large universities, there is a very diverse range of choices of programs available in a wide array of majors and minors. Penn State offers such a large number of courses online, that Penn State – World Campus is considered school even though the degrees earned online are the same as those earned on campus.
Penn State is a proud supporter of our nation's military and veterans, and welcomes them both on campus as well as at Penn State – World Campus. As a small thank you for their service, military and veteran undergraduate students have their application fees waived. There are plenty of online resources for veterans concerning benefits, scholarships, grants, and opportunities to turn military experiences into school credits. Veterans interested in attending Penn State – World Campus are urged to check out online resources and contact the school for more information.
Liberty University
Lynchburg, Virginia
School Profile
Liberty University in Lynchburg is the largest university in Virginia and the largest private, non-profit university in the United States. Worldwide you will find no other Christian university that is larger. As is common with large universities, the educational offerings are enormous as well. Serving more than 15,000 residential students and more than 94,000 online students, Liberty University has well over 500 different programs of study for students to explore and find the exact fit for their career plan.
More than 30,000 students at Liberty University are veterans or military students. On the Liberty University website, veterans are able to find a large number of links to information, services offered, and other programs broken down into convenient categories, such as Financial, Academic, Military Community and Resources. Veterans are encouraged to take advantage of valuable resources available to them through Liberty University, such as the VetSuccess on Campus and Career Center. Those interested in enrolling can find out more online through the LU website or can contact the school for more information.
Bellevue University
Bellevue, Nebraska
Since Bellevue University in Nebraska was established in 1966, it has not slowed its growth academically or physically. Now with a dozen different learning sites, including the main campus, across three states in the Midwest, Bellevue University pushes forward to bring higher education and high learning standards to its students. BU also also offers a large number of online programs which allows them to educate students across the U.S. and worldwide. Whether an undergraduate or graduate student, Bellevue University has a lot to offer academically.
Bellevue University offers its veteran students a number of benefits such as degree acceleration with six week courses and an opportunity for past military education and training to turn into credits toward your degree to name a few of the benefits. The Military Veterans Service Center at BU offers housing assistance, career counseling and mentoring, a conference room, and offers veterans a place to lounge or study. The Vet Services professionals at Bellevue University are available to help veterans through the registration and enrollment process to be sure that they are getting all the benefits and financial assistance that they deserve. While the website offers a lot of useful information and resources for veterans, contacting the experts and Bellevue University can answer any remaining questions.
American Military University (APUS)
Charles Town, West Virginia
The American Military University is part of the American Public University System (APUS) and is designed specifically for use by veteran and military students. APUS, and AMU are both completely online, with the main headquarters for APUS in Charles Town, WV.
Since the American Military University is designed with military and veterans in mind, it is no surprise that the support and resources available online at the AMU website are not only plentiful, but easy to navigate. There are resources for financial aid, benefits, scholarships, career services, and student organizations like the Student Veterans of America. As for courses available, students should not be disappointed with their selection of online programs through the APUS.
Rutgers, The State University of New Jersey
New Brunswick, New Jersey
This year marks the 250th anniversary of the establishment of Rutgers, The State University of New Jersey, the eighth oldest institute of higher learning in the nation. Rutgers now offers three campuses in New Brunswick, Newark and Camden and has a Biomedical and Health Sciences building in addition to the New Brunswick campus. Online courses are also available through Rutgers. There are more than 300 degree and certificate programs across 31 schools and colleges available so that students are able to find the right course to suit their personal education needs. Rutgers provides services for about 6,700 students and roughly 60% of them are undergraduates. Nearly 1000 of them are veterans or military service members.
The Office of Veteran and Military Programs and Services at Rutgers offers a wealth of information online from prospective students. With a long history of supporting veterans, military members, and their families, it is no surprise that they are able to offer a comprehensive, informative, web page designed to be easy to navigate and find what is needed, including plenty of contact information for veterans interested in attending Rutgers.
ECPI University
Virginia Beach, Virginia
The East Coast Polytechnic Institute is most commonly known as ECPI University or simply ECPI for short. It was founded in Norfolk, Virginia in 1966 and now has locations across Virginia, North Carolina, South Carolina, Texas, and Florida as well as offering online courses. There are 5 colleges for students to select courses or programs from excluding online; Health Science, Nursing, Technology, Business & Criminal Justice, and Culinary Arts. ECPI is known for its hands-on and interactive style of teaching students, making them assets in the workforce.
ECPI welcomes veterans and even participates in several scholarship options for those who have served our country. Staff at ECPI are eager to help veterans with understanding benefits, applying for financial aid and scholarships, and walking them through the registration, enrollment, and certification processes. While some physical benefits for veterans may vary throughout locations, the support for our former enlisted men and women is strong at each. ECPI also participates in VetSuccess on Campus, a program that partners with the VA and assists veterans with the transition from being in the military to becoming a student and ultimately a member of the nation's workforce.
Stockton University
Galloway, New Jersey
Founded in 1969, Stockton University in Galloway, NJ has been making a name for itself in many areas of higher education. Stockton has been recognized for being a terrific school for our nation's veterans, and U.S. News & World Report, the Wall Street Journal and Forbes have rated Stockton as one of the nation's top regional universities. With over 40 degree programs available for students as well as online courses and seven schools of study from which to choose, Stockton's academic offerings and small class sizes are a great fit for students.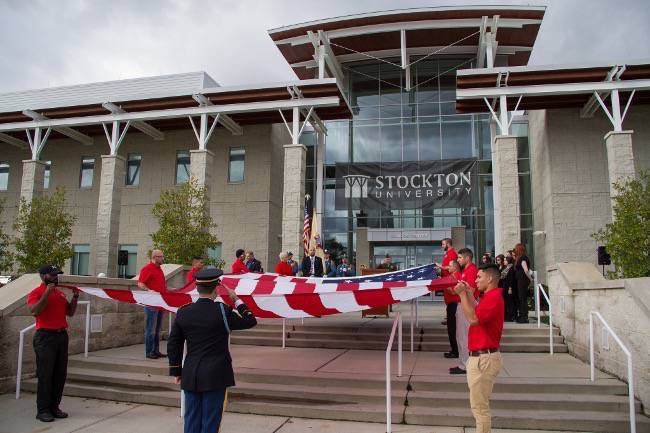 Stockton University offers veterans comprehensive assistance when it comes to registration, enrollment, and the certification process. The university also provides an online veteran's checklist for enrollment to take them step by step. Stockton also offers veterans support in the form of the Veterans Lounge and the Student Veterans Organization, allowing veterans to socialize with peers who are also making the transition from military life to joining the workforce. A comprehensive list of FAQs with answers readily available for veterans interested in applying is available on Stockton.edu.
Eastern Kentucky University
Richmond, Kentucky
Eastern Kentucky University in Richmond has been serving students since as early as 1906 when it came into existence under the name of Eastern Kentucky Normal School. Since then it has gone through several changes and grown into a university serving more than 16,000 students. Undergraduate and graduates have a wide selection of degree programs to select from in order to meet their academic goals and follow their chosen career path. There is also a growing number of degree programs available online at EKU, which is often recognized as one of the top online schools. For a more in depth and detailed description, visit the school profile for Eastern Kentucky University.
In fact, EKU has been recognized by U.S. News & World Report as the #1 university offering online graduate programs for vets. In addition, it has been awarded top ranking by Military Times Edge Magazine two out of the past three years as the best college for veterans. G.I.Jobs Magazine and U.S. Veterans Magazine both have named Eastern one of the most military friendly institutions in America. 1,200 Vets and their families are currently enrolled at Eastern.
Veterans are not charged admission fees at Eastern Kentucky University and in-state tuition is charged for for all veterans nationwide regardless of where they officially call their home. Veterans are given priority registration and there is a veterans orientation course available to help with adjusting to college life after the military. EKU also ensures that its veterans receive the maximum number of credits for their military experience which helps them get their degree faster. There is also a Vet-2-Vet sponsorship program, an active Vets Club, and other recreational and extracurricular activities and more. Check out the EKU website for more information or veterans interested in enrolling should contact the school to find out more.
University of Kansas
Lawrence, Kansas
University of Kansas in Lawrence was established in 1864 and has since grown to be be a major public research institution and teaching facility. More than 28,000 students attend the five campuses of KU. The university offers students their pick of more than 370 programs held in their 13 schools, including the only schools of pharmacy and medicine in the state. KU also offers a large number of courses online and several programs and certificates for both graduates and undergraduates.
Veterans are more than welcome to attend the University of Kansas who is excited about their brand new Student Veteran Center which is scheduled to open in early 2017 at Summerfield Hall. The Student Veteran Center is there to provide assistance to veterans from the application process and offers to serve as a liaison to the VA in order to make sure that veterans receive the proper benefits they are entitled to. The enrollment process can be confusing for first time college students and it is certainly no easier for veterans. KU now offers a two credit-hour course UNIV 101 for Veterans which was created in order to help them to adjust from military life to college life, which is one of the major goals of the Student Veteran Center. The University of Kansas wants to see veterans who enroll become strong, healthy, and educated and ready to transition again upon graduation, this time into the workforce. For more information, veterans are welcome to check out the website for KU or contact the school to answer any questions.
University of South Florida
Tampa, Florida
Since it was founded in 1956, the University of South Florida in Tampa has been dedicated to higher education and providing quality courses and programs for its students. USF serves 48,000 students each year through its three locations and has been recognized at one of the top research universities in the nation for research spending. When it comes to course selection, it can be overwhelming with so many choices available at USF and they even offer some programs online for students who require the flexibility of distance learning.
Veterans are certainly welcome at the University of South Florida, which is a VetSuccess on Campus school. The VSOC program works with the VA in order to provide career counseling and Vet-2-Vet sponsoring among other things which help ensure the success of veteran students. Transitioning from military life to college life and on to the workforce can be difficult and professionals at USF are there for vets and ready to assist whenever needed. The Office of Veteran Success is ready and willing to assist veterans with navigating a rather complicated enrollment, registration, and certification process. They are experts at helping students with their educational benefits, applying for financial aid, and applying for scholarships. There are more resources available online at the school website or veterans are welcome to contact USF directly to have any questions answered about applying.
University of Nebraska Omaha
Omaha, Nebraska
The University of Nebraska Omaha has been a part of Omaha for more than 100 years and is known throughout the community for its excellence in education. UNO has more than 15,000 students enrolled each year ready to fulfill their academic dreams. The wide variety of programs available at the University of Nebraska Omaha ensures that students are able to find just what they are looking for. For students who may not be able to make it on-campus or just want the flexibility of distance education, there are online programs, both graduate and undergraduate, available at UNO. Something for everyone.
Everyone includes our nation's veterans which University of Nebraska Omaha is honored to provide services for. UNO offers veterans a wide variety of services and resources in order to help assure their success as a student and later as a member of the workforce. Academic and career counseling are available as is a counseling center. At UNO, it isn't only about education, but about veterans futures which includes their wellbeing. There is expert help with scholarships and financial aid available as well as assistance with the enrollment process from staff members who assist hundreds of veterans each year. Veterans interested in enrolling in the University of Nebraska Omaha, which made the Military Times #1 spot two consecutive years, should check out other resources on their website or contact the school for more information.
D'Youville College
Buffalo, New York
Buffalo, New York is home to D'Youville College, which is one of the smaller 4 year colleges to make the ranking. There are multiple degree choices for both graduates and undergraduates at D'Youville. Business; Education; Nursing, Health, Wellness; Natural Science;, and Liberal Arts are majors offered for undergraduates, with select programs offered online. While the variety may match the size of the college, it ensures that at D'Youville, students are getting a high quality education from experts in their field. There are only just over 3,000 students enrolled each year at DC, however more than two hundred of them are veterans or military service members, which is a large percentage of the student population if you consider some of the other colleges. This means they must be doing something right at D'Youville College. There are a large number of resources available online at the college website that veterans should check out. Some benefits are tuition waiver grants, Tuition Benefits, the Yellow Ribbon Program, Full Service Veterans Office, a Veterans Lounge, Counseling and Guidance. Veterans should contact D'Youville College with any questions they may have prior to starting the enrollment process.