What Jobs Can I Qualify For With A Masters In Nursing Education?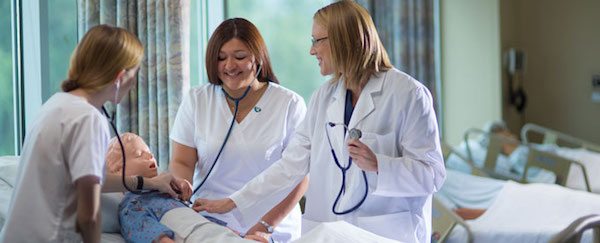 Find your degree
Online College Plan is an advertising-supported site. Featured or trusted partner programs and all school search, finder, or match results are for schools that compensate us. This compensation does not influence our school rankings, resource guides, or other editorially-independent information published on this site.
Nurses are one of the most in-demand jobs in the country and can fill hundreds of different roles beyond the typical one that comes to mind in a hospital or doctor's office. Nurses can work in government agencies, schools, and even on cruise lines; even in the hospital setting, there is a broad range of jobs that need to be filled. Nurses also earn some of the highest salaries and those who hold a degree at the masters level see an average salary of $86,000. A Master's in Nursing Education can qualify you to work as a Nurse Practitioner, a Nursing Director, Community Health Educator, and more.
A Masters in Nursing Education degree is one that equips graduates with the skills and credentials they need to teach other nurses. Courses will explore subjects like teaching theory, and curriculum development as well as covering more traditional clinical topics like epidemiology, biostatistics, health policy and ethics, as well as advanced pathophysiology. Degree programs that culminate in an MSN-ED are designed to cover a broad range of topics in an in-depth way so that those nurses are not only extremely well-versed in their clinical knowledge, but also have the skills to lead and teach effectively. Because of the expansive curriculum, this is truly a versatile degree. One of the more popular positions for those who pursue this degree is that of a nurse educator. Nurse educators that work in an academic setting would be responsible for designing and implementing course curriculum, assessing learning through assessments, documenting educational outcomes of their students, and of course, providing instruction as well as coaching/mentoring students.
Nurse educators that work in a hospital setting would play a similar role as well. Instead of teaching students that were on their way to becoming nurses, they would teach and train nurses of the hospital that they worked at. Additional responsibilities include providing ongoing support and educational opportunities to patient care teams, performing evaluations on the nursing staff, and promoting ongoing professional development. If you would like to be more directly involved in the lives of patients, nurse practitioners develop and document individual plans of care for patients, and educate patients about their diagnosis and its long-term implications. Nurse practitioners have the ability to work in private practice as well because they're qualified to perform and interpret a myriad of diagnostic tests and prescribe medication.
Featured Programs
Outside of the hospital setting, MSN-ED graduates could work as community health educators. While this position is still available at hospitals and doctor's offices, community health educators can work for government organizations, nonprofits, and colleges. Typically, their work centers around a certain population or health issue. Some responsibilities associated with this job are advocating for local health needs, providing informal counseling and support, teaching certain groups or individuals about their health condition and developing strategies to promote their wellbeing, and helping clients to increase access to health resources. The scope of a Master's in Nursing Education is a broad one and it qualifies you for work in clinical, social, and academic settings.
See Also: