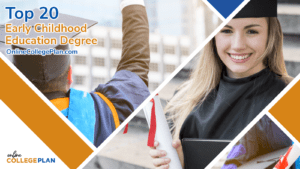 The job outlook for early childhood education professionals is expected to grow by 7% from 2018 to 2028 according to the U.S. Bureau of Labor Statistics. With a continued focus on the importance of early childhood education, parents look for programs and providers with knowledge and skills that will make a positive and lasting impact on their children.
Who Are Early Childhood Educators?
Early childhood education professionals care for children birth through age eight. They work in a variety of settings including child care centers, schools, and in-home daycares. They are actively engaged in professional development to stay on top of trends and best practices in their field.
Featured Programs
What Does a Bachelor's Degree Mean for Early Childhood Educators?
Early childhood education professionals should have, at a minimum, an associate's degree. Earning a bachelor's degree in ECE opens doors to a variety of leadership opportunities in the field. Bachelor's level ECE practitioners may be lead teachers in a preschool setting, serve as a childcare center director, or become an elementary school teacher. Not all programs lead to licensure, so it is important to choose a program that closely aligns with your career goals.
What Are the Best Online Bachelors in Early Childhood Education?
Online College Plan uses data from the National Center for Education Statistics to determine the best programs. We factor in academic reputation, affordability, and student satisfaction.