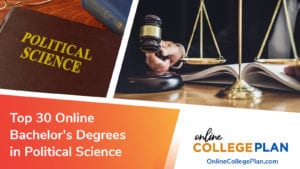 The job outlook for political scientists is expected to grow by 5% from 2018 to 2028 according to the U.S. Bureau of Labor Statistics. Political science majors enjoy a wealth of employment opportunities after earning their degree including working as political consultants, policy analysts, or in public relations. A bachelor's degree in political science is also a great choice for students planning to pursue a law degree or another related advanced area of study.
Who Are Political Scientists?
Political scientists study the creation, development and ongoing operation of different political systems throughout the world. They usually work in an office setting, researching political trends and policies. Some political scientists conduct research in their area of expertise and publish their findings and present at conferences.
Featured Programs
What Does a Bachelor's Degree Mean for Political Scientists?
While the standard level of education for a political scientist is a master's degree, a bachelor's degree can help pave the way for a career in politics, government, or even law. Political science majors develop strong critical thinking skills as well as analytics skills that are especially important for graduate school or in the workplace.
What Are the Best Online Bachelors in Political Science?
Online College Plan uses data from the National Center for Education Statistics to determine the best programs. We factor in academic reputation, affordability, and student satisfaction.