Find your degree
Online College Plan is an advertising-supported site. Featured or trusted partner programs and all school search, finder, or match results are for schools that compensate us. This compensation does not influence our school rankings, resource guides, or other editorially-independent information published on this site.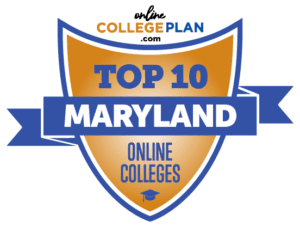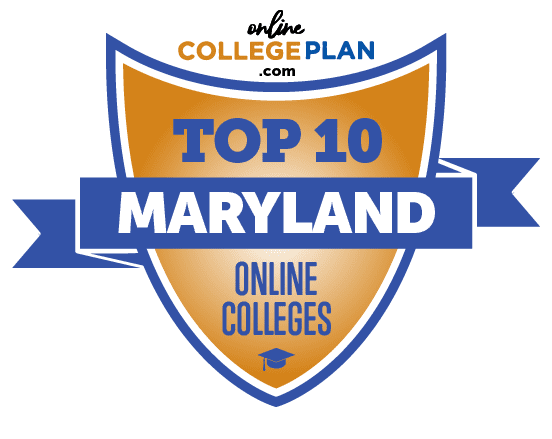 Maryland was one of the original 13 colonies in America and is a Mid-Atlantic state. With more than half of the counties in the state being on the Chesapeake Bay, it boasts 4,000 miles of shoreline. The Chesapeake Bay area is well known for its seafood cuisine. In fact, one of the nicknames for Maryland is the Chesapeake Bay State. Other nicknames for Maryland include The Old Line State, The Free State, Little America, and America in Miniature.
While Annapolis is the capital city of Maryland, Baltimore is the largest city within the state. Fort McHenry was the birthplace of the U.S. national anthem and rests at the mouth of Baltimore's Inner Harbor. Due to the unique shape of the state, it borders Pennsylvania to its North and Delaware to its East. To the South is Virginia and our nation's capital, Washington, DC. West Virginia also borders Maryland on the Southwestern portion of the state.
Maryland offers a large number of historic tourist attractions. In addition to the aforementioned Fort McHenry, places to visit include the State House in Annapolis, Clara Barton's home, Frederick Douglass' home, Colonial Maryland in St. Mary's City, B&O Railroad Museum, the Bucktown Village Store, Dorchester County, and many more. Amid the parks, museums, zoos, and other attractions in Maryland, some of the must-sees include the National Aquarium, Ocean City, and the Maryland Science Center.
Featured Programs
Higher education in Maryland is impressive with more than 57 colleges and universities within the state. The University System of Maryland itself has 12 individual institutions, 11 which are degree-granting campuses and one is a research facility. The state boasts over 150 private career schools and 16 community colleges. The Maryland Higher Education Commision states that "one-third of its residents 25 and older have a bachelor's degree or higher, which is the 4th highest percentage among all states".
OnlineCollegePlan is proud to share its ranking of the Top 10 Best Online Colleges in Maryland. This ranking is for 4-year institutions and below you can find our detailed methodology.
Methodology
Sources used for this ranking are:


CollegeData
individual school websites
First and foremost for this ranking, the presence of online programs or courses is a necessity. In some cases, there may be minimal participation required on campus. This can be an excellent reason to choose a local school, even for online programs. Schools were ranked by adding together the percentage numbers for freshman satisfaction and graduation rates. Then, a numerical equivalent of the overall grade provided by Niche, with A+ being 100, A being 95, and so on in this manner, was added to these numbers.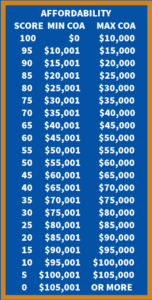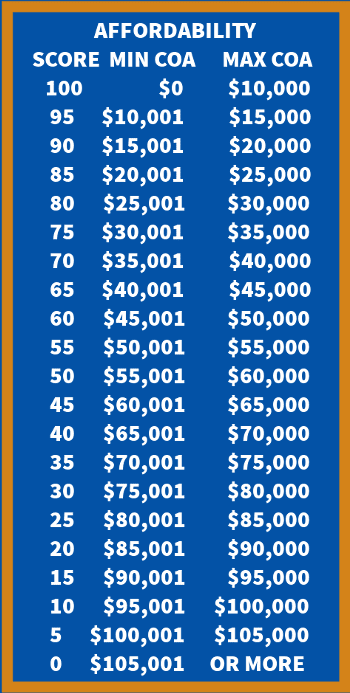 With affordability being an important factor as well, the (residential) cost of attendance has been converted in accordance with our affordability scale (to the right) and added to the previous numbers resulting in the final ranking score. Many colleges cost more for non-residential students to attend which can be another excellent reason to choose a local school for online studies.
Example: 87 (percent freshman satisfaction) + 52 (graduation percent) + 80 (A- Overall Grade) + 40 (affordability score) = 259 (final score for ranking)
Note: None of the institutions in this ranking or any of OnlineCollegePlan's rankings have received preferential treatment, nor have we been requested to do so. Our methodology is fully disclosed so that anyone is able to arrive at the same ranking using the formula as explained. Also, no schools in this ranking are for-profit schools. Some schools may have been excluded due to incomplete data.
Students may also be interested in, "Top 100 Best Online Colleges" which covers the overall best institutions in the United States. Curious about the best schools by location? We've got you covered. The Ultimate Guide to Online Colleges may also be helpful.
Array
Array