How can online colleges with career services help me?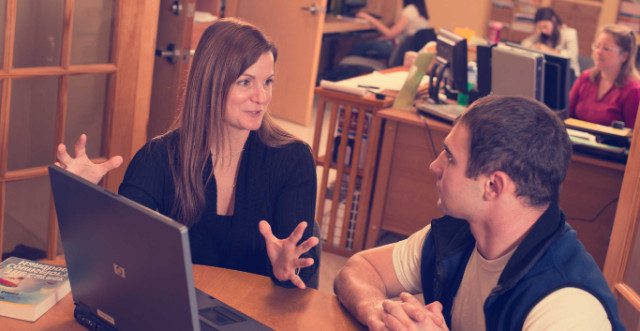 Find your degree
Online College Plan is an advertising-supported site. Featured or trusted partner programs and all school search, finder, or match results are for schools that compensate us. This compensation does not influence our school rankings, resource guides, or other editorially-independent information published on this site.
Online colleges that offer career services to students are extremely beneficial for any student. These career services can help you through every step of the way as you start to embark on your career path, or even with continuing your education. They can help with graduate school selection and preparation, preparing for a job interview, writing a resume or the elusive Cover Letter, and many schools also provide a database to students called a Career Management System. The career services a school provides can help you, your key to success is maximizing what you get out of these types of programs.
There are a lot of colleges with career services, whether they are online or otherwise. The benefit of the career services from an online college is that it is likely they will have more reach than that of a traditional college because they have the understanding that many of their students are not living in the same place where the school is headquartered. One way these services will help you is on your path to graduate school. Sometimes a student decides that they will have better career options if they pursue a graduate degree as opposed to just an undergraduate degree. Where career services come in is that they will help you decide if and how a graduate degree will benefit you in reaching your professional goals. They will help you select the best option based on your performance in college and what you are qualified for, as well as discerning which one is going to benefit you the most when you are ready to embark on your career. Many of these online colleges with career services also have what is called a Career Management System, which is a database for students to use to find internships or job openings in their chosen field. It is also sometimes called a job portal, and provides information on potential jobs as well as workshops students can register for, and you can also make appointments with advisors through this system. The best way to ensure that these services can help you is to do everything you can to make the most of it. First and foremost, you need to make sure you understand the resources available to you. Ask questions and do in-depth research into your online college and the career services that they provide to students. Secondly, you can use career services to keep track of different career fairs, whether this is trying to line something up for you after you have completed school, or doing related part-time work while you are still pursuing your degree. A lot of career services will create groups for students to partake in where they can learn more about careers in their field and be networking while working on a degree. This is a great opportunity for the distance learning student because you will have a harder time networking since you're not on a campus seeing people all the time. The primary way to make sure you are getting the most out of these services is to take advantage of them.