Napa Valley College – Nursing, Classes and Accreditation
Find your degree
Online College Plan is an advertising-supported site. Featured or trusted partner programs and all school search, finder, or match results are for schools that compensate us. This compensation does not influence our school rankings, resource guides, or other editorially-independent information published on this site.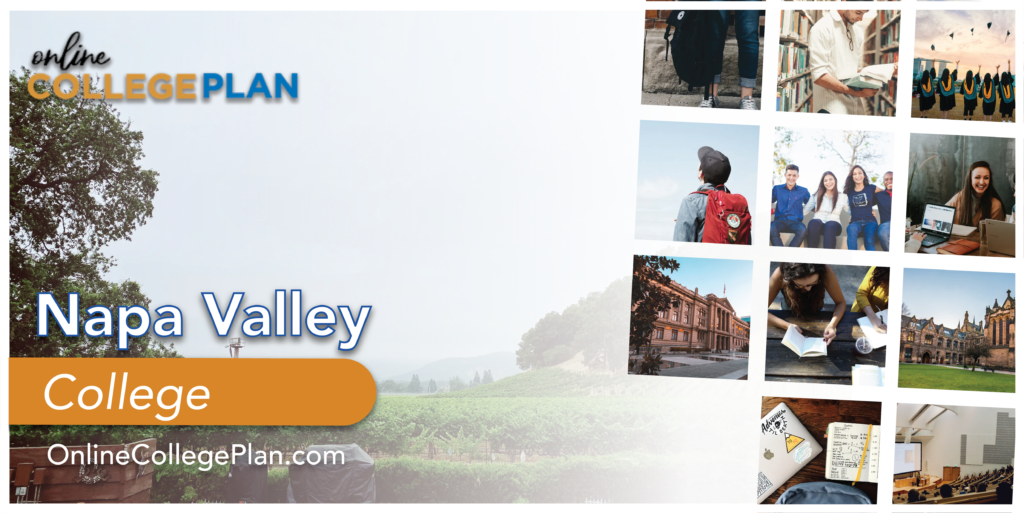 A Brief History of Napa Valley College
Napa Valley College in Napa, California began operation in 1942 with 16 students, one year after the citizens of Napa passed a bond initiative. First known as Napa Junior College, the school was part of the Napa Union High School District, it was no surprise when 1948-1949 a new college was built next to the high school.


In 1962 the community, continuing support for the school, passed a bond issue to purchase land which had once belonged to Napa State Hospital in order to build a new college campus. With a new location and enrollment of more than 1700, the new name of Napa College was adopted. It wasn't until 1982 that the name changed once again to Napa Valley College. In 1994, the Upper Valley Campus was opened in St. Helena offering students of the upper valley more convenient educational opportunities. Napa Valley College nursing programs are extremely popular.
Welcome to Napa, California
Napa Valley is known far and wide for the fruits of its labor – wine. Visiting Napa, California it is not difficult to find a vineyard or winery. In fact, most of the top tourist attractions for Napa are either vineyards, wineries, or wine tasting. It's no surprise that Napa Valley College offers programs in viticulture and winery technology in multiple concentrations.
While many visitors are wowed by the wine, there are other things to do and see in Napa, such as visiting art museums, the petrified forest, hot air balloon rides, or relaxing at one of the highly rated spas. There are also plenty of places for shopping and dining in Napa.
Academics at Napa Valley College
At Napa, students are offered many choices when it comes to areas of study. Students are able to obtain either Associate Degrees for Transfer, Associate in Arts Degrees, or Associate in Science Degrees. Areas of study include Business Administration with multiple concentrations, Nursing, Child and Family Studies, Respiratory Care, Psychology, Mathematics, and Spanish to name only a few.
As is obvious from the abbreviated list above, academics at Napa Valley College are diverse and alongside on-campus classes, the school also offers students hybrid courses as well as online classes. NVC understands that there are several reasons and circumstances which make taking online courses much easier for students trying to obtain their degree. Currently, more than 100 classes are offered online through NVC.
Accreditation: Accrediting Commission for Community and Junior Colleges (ACCJC), Western Association of Schools and Colleges (WASC)
Core Values: Napa Valley College embraces and encourages the following values in students, faculty, and everyday life.
student success
honesty
creativity
integrity
adaptability
inclusivity
responsibility
openness to new ideas
respect for others
health and wellness
Mission: "Napa Valley College prepares students for evolving roles in a diverse, dynamic, and interdependent world. The college is an accredited open-access, degree- and certificate-granting institution that is committed to student achievement through high-quality programs and services that are continuously evaluated and improved. The college serves students and the community in the following areas: transfer courses, career-technical education and training, basic skills, and self-supporting contract education and community education classes."
Graduates with a degree from Napa Valley College should demonstrate the following qualities:
Communication & Collaboration
Critical Thinking & Information Competency
Global Awareness & Civic Responsibility
Personal Responsibility
Mascot/Athletic Nickname: Storm
School Colors: Green and Gold
To find out more about Napa Valley College or connect with them:
Website: https://www.napavalley.edu/
Facebook: https://www.facebook.com/nvcollege
Twitter: https://twitter.com/nvcollege
Related Articles:
Top 20 Best Online Colleges in California
What is the Difference Between an Online Certification Program and an Online Degree?