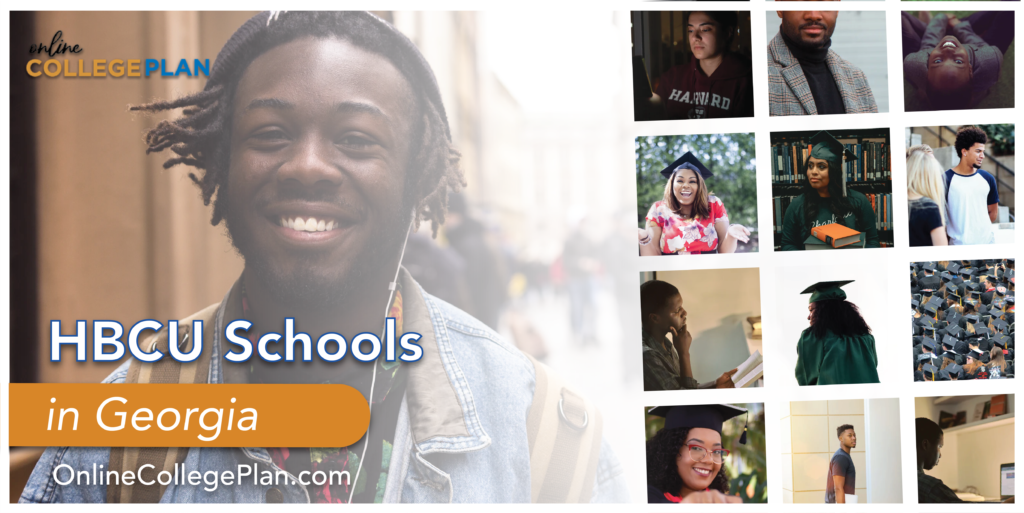 There are hundreds of secondary educational institutions in Georgia, but not all are HBCUs (Historically Black Colleges and Universities). Prospective students looking for an HBCU in Georgia will be pleased to know that there are many options to choose from. In fact, there are currently ten HBCUs located in the state of Georgia.
Many of the HBCUs in Georgia are excellent schools that are highly regarded both across the United States and internationally. Some have even made our ranking of the Top 20 Best Historically Black HBCU Colleges with Online Programs.
Featured Programs
Regardless of whether or not you are taking online classes, attending an HBCU within your state of residence has numerous advantages, including:
Affordability: Many public state schools offer great tuition rates for in-state students, regardless of whether they attend campus or not.
Accessibility: Being able to travel to your campus easily will allow you to meet with other students and professors. Plus, you can use campus technology, equipment, and resources.
Opportunity: Since colleges and universities have working relationships with local companies and employers, it gives students more opportunities for high-quality internships and job placement.
Many HBCUs were started in southern American states after the Civil War in order to provide black students with quality educational opportunities without discrimination. As a result, many HBCUs in Georgia are well known to their local communities, giving graduates stable and lucrative employment opportunities after graduating. In this article, we will be discussing what an HBCU is, why you should attend one, and providing you with some helpful information on the HBCUs in Georgia.
See also: Do any HBCU colleges offer 100% online degree programs?
What Is An HBCU?
An HBCU is a historically black college or university. These universities were initially established to help African American students achieve a high-quality secondary education. HBCUs do admit students of all races, but they cater primarily to Black American students.
HBCUs exist all around the country, but many HBCUs exist in southern states like Georgia. HBCUs only comprise around three percent of the United States' total educational institutions but make up more than 25 percent of all African-American students who graduate with a college degree.
In the next section, we're going to discuss the benefits of all ten of the HBCUs in Georgia, going through the reasons why you might want to consider them as your home for some of the best four years of your life.
Hopefully, if you are in the process of choosing a college, this list will help you narrow down some of your top choices for an HBCU.
At-a-Glance: HBCUs in Georgia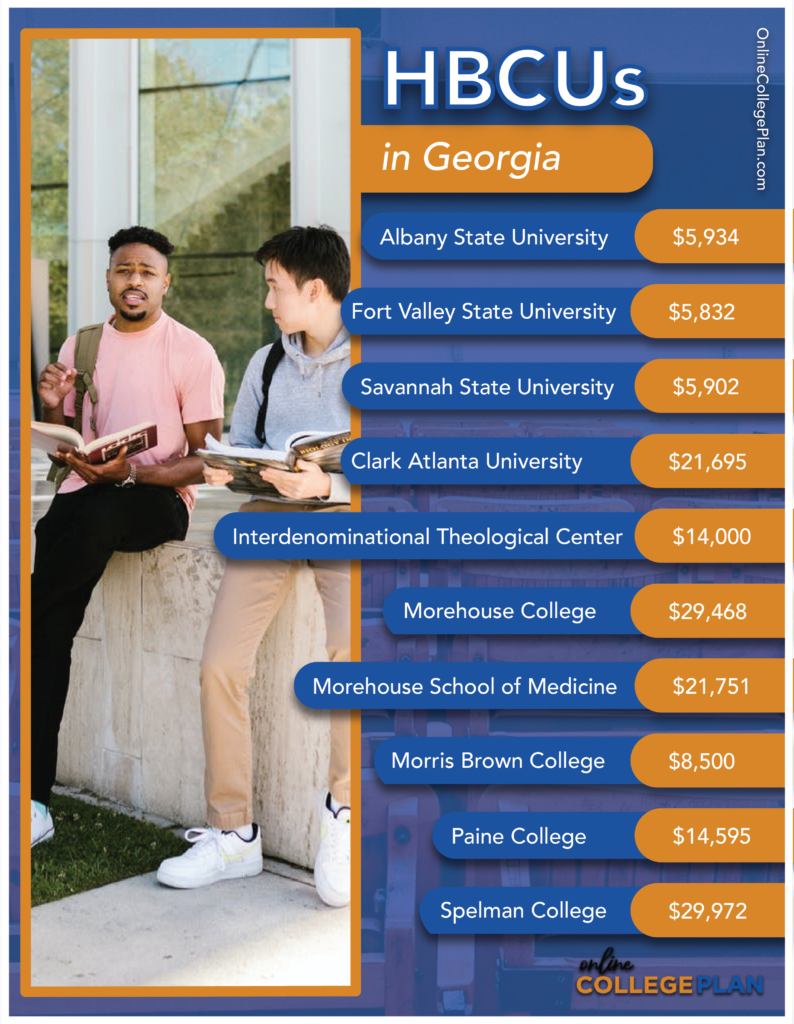 Appearing on our ranking list of the Top 20 Best Historically Black HBCU Colleges with Online Programs, Albany State University offers the best online catalog among HBCUs in the state of Georgia. Tuition for in-state students came out to $5,934 for the 2020-21 school year. ASU is a relatively small school (although not even close to the smallest on this list) with a student body population of just over 4,000.
The current acceptance rate of ASU is around 73 percent.
Around a quarter of the enrolled students at Albany State graduate from there, earning an average annual starting salary of around $24,000. Some of the most popular majors at ASU include Nursing, Business, and Liberal Arts.
Founded in 1895, Fort Valley State is a public HBCU that offers a wide range of over 50 bachelor's degrees, plus master's degrees in education and counseling. The school is located in the Macon area of Georgia, with a relatively small student population of just over 2,000.
It is a bit challenging to get into Fort Valley State, as their acceptance rate is just 72 percent. However, tuition for in-state students came out to an affordable rate of $5,832 for the 2020-21 school year. So, if you're looking for an affordable HBCU in Georgia, it's worth applying.
The school has an athletic accreditation of NCAA Division 2, and they have a variety of sports teams at the university, including football. In addition, Fort Valley State has some of the best student dormitories in the country, and they have been rated #65 out of 1,392 schools on Niche. Some of the most popular majors that students pursue at Fort Valley State include Criminal Justice, Family Studies, Psychology, and Consumer Sciences.
Founded in 1890, Savannah State University is the oldest public HBCU in the state of Georgia. The university is most well known for its prestigious science and engineering degrees, though they offer a number of other degrees across various disciplines.
Tuition for in-state students came out to $5,902 for the 2020-21 school year. Since it is considered such a prestigious school, Savannah State is not nearly as easy to get into as some of the other schools on this list. Their acceptance rate is only 46 percent, meaning you will need to be among some of the best-performing students in the country to attend.
Student life at Savannah State is extremely lively outside of the classroom, and it has previously been rated #70 out of 1,612 for top party schools in the country. Savannah State is also well known for its Greek Life, with Niche giving them a ranking of #74 out of 824 for its fraternities and sororities. Some of the most popular majors at Savannah State include Journalism, Biology, and Liberal Arts.
Formed in 1988 with the consolidation of Clark College and Atlanta University (both of which were founded in the 1860s), Clark Atlanta University is a private HBCU that offers over 40 degrees at the bachelor's, master's, and doctoral levels. Tuition came out to $21,695 for the 2020-21 school year.
CAU is great for those who want to be close to Atlanta or have connections in the city, as the university is right in the heart of downtown. Clark Atlanta has a student body of just over 3,000, making it a small yet tight-knit student community. The admission rate of CAU is 52 percent, making it a bit more competitive than some of the other schools on this list.
Around 42 percent of students who attend CAU graduate from the school, earning an average starting salary of almost $27,000. Some of the most popular majors at CAU include Criminal Justice, Radio and Television, and Business.
The Interdenominational Theological Center is a graduate HBCU located within Clark Atlanta University in Atlanta, Georgia. Since the center is situated in CAU, you have the added benefit of getting your master's degree in the heart of the city. Tuition for the 2020-21 school year at the school was $14,000.
Just under 300 graduate students are enrolled at the theological center, making it incredibly competitive and tight-knit. There are only a few programs of study at the Interdenominational Theological Center. Some of the most popular ones are Theological Center & Divinity and Pre-Theology & Religious Vocations.
Founded in 1867, Morehouse College is a private, all-male HBCU located in Atlanta. It was the alma mater of Dr. Martin Luther King Jr. The college is well renowned for its academic quality, as it is one of two HBCUs to produce Rhodes scholars.
Tuition came out to $29,468 for the 2020-21 school year, though 93 percent of students received some form of financial aid. In addition, the Morehouse College acceptance rate is around 77 percent, making it moderately easy for students to get in. The student body is just over 2,000.
Student life outside the classroom is rumored to be quite spirited, with Niche rating the school #57 out of 1,612 schools for parties. Fifty-four percent of students who attend Morehouse go on to graduate from there, earning an average starting salary of just over $30,000 a year. Some of the most popular majors at Morehouse College include Biology, Business, and Political Science.
You may also like: What is the Top HBCU Graduate School?
The Morehouse School of Medicine is a graduate HBCU within Morehouse College that focuses explicitly on medical studies. Since it is a graduate school, the student body is pretty small, and only around 550 students are admitted each year.
There are six different graduate programs offered at the Morehouse School of Medicine, but the most popular ones include Public Health and Medical Science. The MSM, as it is commonly abbreviated, employs 250 faculty and staff members, and the ratio of students to faculty is nearly 2:1.
Many of the nearly 1,400 alumni of MSM choose to serve underprivileged communities using their medical degree knowledge. In addition, many alumni are distinguished leaders who have been recognized in Georgia as well as internationally.
Morris Brown College, located in Atlanta, is one of the smallest schools on the list, with under 300 students in the total enrolled student body. Morris Brown is a closely connected community with several unique majors, including Global Management, Applied Leadership ESports, and Organizational Management.
More than half of its enrolled student body is from Georgia, but students come from all over the country to experience the small class sizes and southern HBCU life. Morris Brown's retention rate hovers between 50 and 70 percent, so it seems the students who choose to attend MBC really enjoy their time there. In addition, MBC's tuition is $4,250 per semester before financial aid, so the school is relatively affordable to attend for most students.
Paine College is a private HBCU located in Augusta, Georgia. The college is closely affiliated with both the United Methodist Church and Christian Methodist Episcopal Church.
The average cost of attendance after financial aid is around $14,595 a year, and the school has an acceptance rate of around 75 percent. However, less than 20 percent of the students who attend Paine College end up graduating from there.
Some of the values of Paine College include academic excellence, social responsibility, spirituality, and personal development. Some of the most popular programs of study at Paine College include sociology, criminology, and social psychology.
Spelman College, located in Atlanta, Georgia, is not only an HBCU but also a historically women's only college. Spelman College is an exceptional university to attend as a Black woman because of its outstanding programs and incredibly high graduation rate.
About 75 percent of students who attend Spelman end up graduating from the school, and the college has an average tuition rate of $29,972.
You'll need to be above average when it comes to grades to attend Spelman College, as students who are accepted have an average GPA of around 3.76. Spelman prides itself on being a school designed for driven young women, and the student body and alumni certainly reflect this.
Should I Go To An HBCU in Georgia?
HBCUs are an excellent opportunity for driven, ambitious Black American students to receive a high-quality secondary education. Many HBCUs employ Black faculty and staff, so you will likely find relatable and strong connections with your professors and advisors when attending an HBCU. HBCUs, especially in Georgia, are some of the preeminent educational institutions in the country and are an incredible place to start your journey in secondary education. Getting a degree from an HBCU can also be a fantastic opportunity to make friends and find job opportunities.
Be sure to request information or provide your name and email to any of the schools' websites on this list that you find appealing. Deciding on a school can be challenging, and the college application process is certainly daunting. However, searching specifically for HBCUs can help this decision, and all of the schools on this list would be excellent choices.
If any of these schools sound like the best choice for your degree, be sure to request more information at their website.
Related:
Where can I find an HBCU in Maryland?
Can I attend a HBCU in Virginia and take some of my courses online?
Which HBCU in NC have online degree options?