What Is a Capstone Project?
Find your degree
Online College Plan is an advertising-supported site. Featured or trusted partner programs and all school search, finder, or match results are for schools that compensate us. This compensation does not influence our school rankings, resource guides, or other editorially-independent information published on this site.
At the end of many educational experiences, students may complete a capstone project. But what does that actually mean? Depending on the school and field of study, this project represents a final intellectual experience that demonstrates your academic proficiency. Sounds a little intimidating, right? But it's not! In this post, we will discuss what exactly a capstone project entails and what you can expect if you are required to complete one.
Though some high school students may complete a capstone project, it's usually geared toward college students. From massive public universities to small private institutions and even online colleges, postsecondary education institutions increasingly embrace capstone projects as a way for students to display their proficiency before graduation.
Understanding the finer points of capstone projects and what to expect could help you start this incredible academic experience on the right foot.
Why Capstone Projects Matter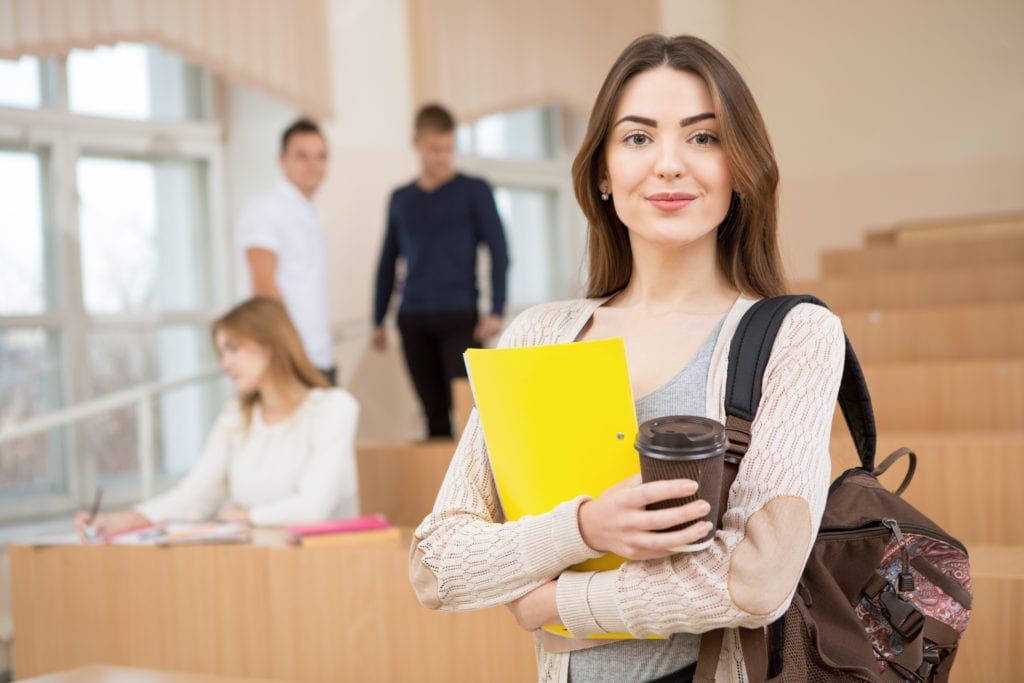 Capstone projects provide students with the opportunity to experience real-world issues in their chosen field and demonstrate workforce readiness. A college graduate can share their capstone with potential employers to demonstrate their knowledge and abilities.
In some fields, the senior project means developing a new technology, but in others, it could entail proposing potential solutions to problems. Regardless of the academic field, a capstone project is a way for students to challenge themselves, practice critical thinking skills, and apply everything they learned to an actual issue in their world.
Capstone Projects and Online College
With the rise in popularity of online colleges, especially for professionals seeking advanced degrees, capstone projects are becoming even more prevalent.
Capstone projects in these programs give online college students the opportunity to incorporate their academics with real-world experience to round out their degrees. It's a powerful way to enhance the educational experience within the flexibility of an online program.
See also: Online College Student Success Formula
Capstone Project vs. Senior Thesis
A capstone project is similar to a senior thesis but not the same. Both are valuable parts of any educational experience, but it's essential to understand the difference between them, especially since there could be some overlap.
Capstone projects, also known as culminating projects or senior exhibitions, aim to accomplish more than a traditional thesis. Students must integrate more skills to solve a problem put forth by a project committee or a client. The capstone project should address the intellectual community and the public, though this can be present in various ways.
On the other hand, a thesis is an academic paper meant for other intellectuals within the field. That said, it is possible to have a thesis as part of your capstone project.
You might also like: How to Plan Your Senior Thesis
What Does a Capstone Project Include?
Since it's a comprehensive demonstration and conclusion to a student's academic journey, a capstone can involve several components. Not every capstone features the same elements or pathway, but there are some commonalities.
Typical Steps to a Capstone Project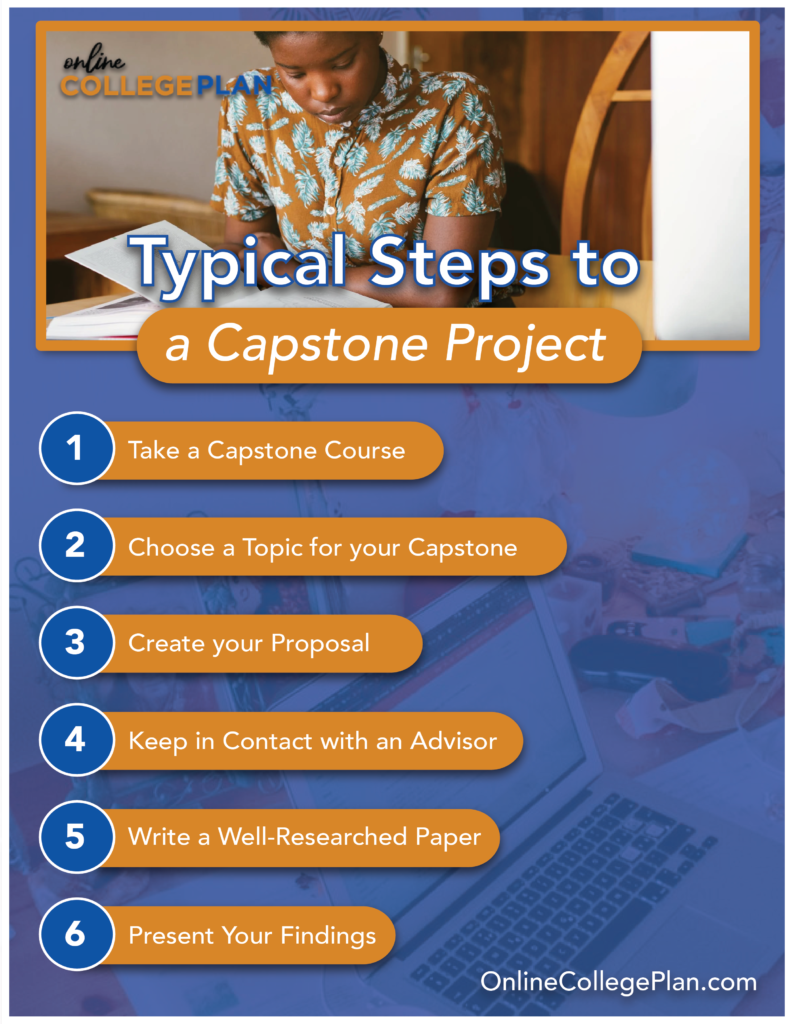 The Capstone Course
Depending on your major and school, you may have one general capstone course or a selection of courses. Some programs feature three separate classes within a major so that students can narrow their focus. Additionally, some capstones may require students to attend a seminar or work in groups as part of the experience.
Choose Your Topic
Generally, your topic should involve something related to your field of study. It may be a problem presented by a business or potential client, or it could be a broader issue.
The topic should interest you and create a space to exercise critical thinking and planning skills while maintaining established deadlines. For example, a nursing student may attempt to improve a specific diagnostic test, or somebody in information technology may create new software to enhance existing voice recognition programming.
The Proposal
Before beginning a capstone course, students must outline a detailed proposal in the form of an academic paper. It must provide a broad overview of what the student intends to research. For example, a typical proposal includes:
Introduction to the chosen topic
Theories and hypothesis
Literature review
The chosen methodology
Alternatives and issues that could impact the project
It's important to note that even if ten students enroll in a capstone course, each project would be unique and reflect individual approaches, skills, and interests.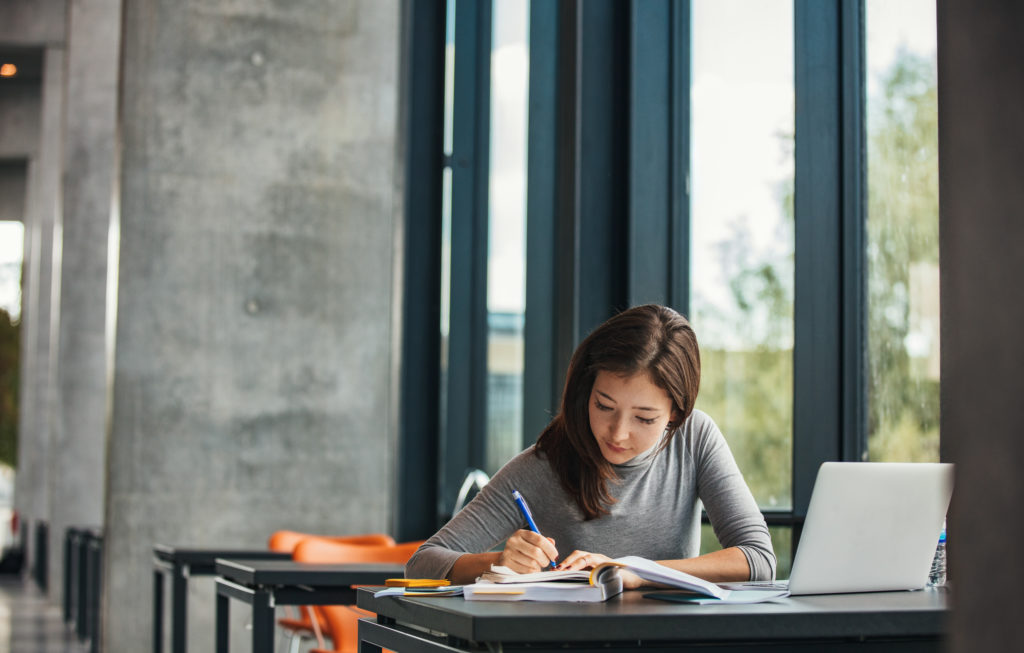 An Advisor
Students must maintain regular contact with an advisor throughout the capstone process. Advisors can provide invaluable support and guidance to ensure a project fulfills all requirements and adheres to established timelines. Generally, students work one-on-one with their capstone advisor to foster a robust and open relationship.
Academic Research and Paper
While an advisor can provide guidance and support, students need to handle research independently. Thorough research should involve books, papers, and other studies to give a comprehensive groundwork for the project.
Though a capstone proposal can serve as a baseline for the final paper, it's merely a starting point. The final capstone paper should incorporate elements from the proposal and include the research, independent experimentation, results, and conclusions. For some students, the academic paper may be a traditional thesis.
The Presentation
Part of the capstone experience involves a presentation where students deliver their findings or final project to a panel. It's an excellent way to practice public speaking skills and share findings with the academic community.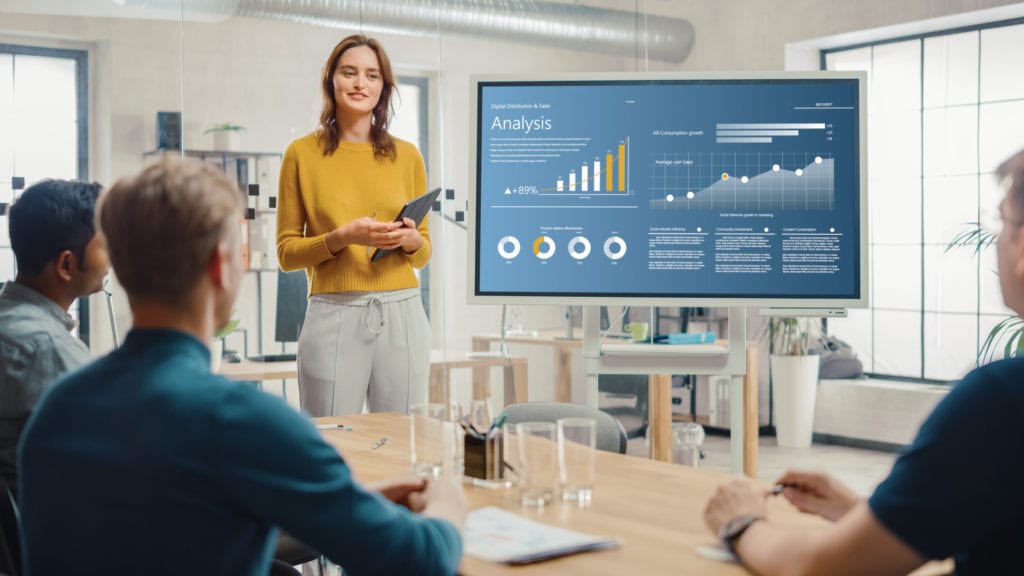 When Do You Complete a Capstone Project?
Capstone projects reflect a final academic experience before graduation. Middle school and high school students can complete lighter versions to introduce the concepts. But in general, college seniors and graduate students generally complete capstones.
Typically, college and graduate students begin capstone projects prior to their final academic school year. It may be a required course for graduation or to receive a special diploma or academic honors.
It's important to note that a capstone project generally involves registering for a particular class or series of courses. However, some institutions allow students to complete independent research studies and capstones.
How Do Capstone Projects Differ Between Majors and Degrees?
Since capstones demonstrate a student's mastery of their field of study, it makes sense that different majors and degrees have unique requirements and standards. A music major's senior project won't look anything like a pre-med student's project because they have entirely different skill sets and interests.
Capstone projects also differ between degrees. Expectations for an undergraduate student could look starkly different from those for a graduate student.
Prerequisites
Most capstones have prerequisites to complete before enrolling in the courses or finding an advisor. You may need to complete a full series of classes or a handful of preparatory coursework. Some majors may require external experiences, like participation in a research study or internship.
The Final Project
Depending on the school and major, students may have the option to choose a special arrangement for their capstone. Though students can share their work in unique ways, most capstones still involve a primary academic paper documenting the entire process.
Types of Capstone Projects
Senior Thesis
Live Performance
Portfolio or Exhibit
Physical Product
Senior Thesis
Perhaps the most traditional route is a senior thesis paper. Again, some schools use the terms interchangeably, but as noted above, a thesis can be one component of a capstone, but a capstone involves more than an academic paper.
Live Performances
Performers, like musicians, dancers, and actors, may prefer to demonstrate their skills through a live performance. A pianist may write a piece of music, or a dancer may choreograph a dance to perform for an audience. It could be a solo performance or part of an exhibition with peers also completing capstones.
Portfolio or Exhibit
Like performers, other creative artists may choose to display their skills with a portfolio. Writers, sculptors, and painters may devote time and research to their craft to find their voice and then prepare a portfolio showcasing their best pieces.
Physical Products
There is something to be said for a physical representation of a student's academic skills. Building a custom website or creating a prototype could be the best way to showcase their ability and solve a problem.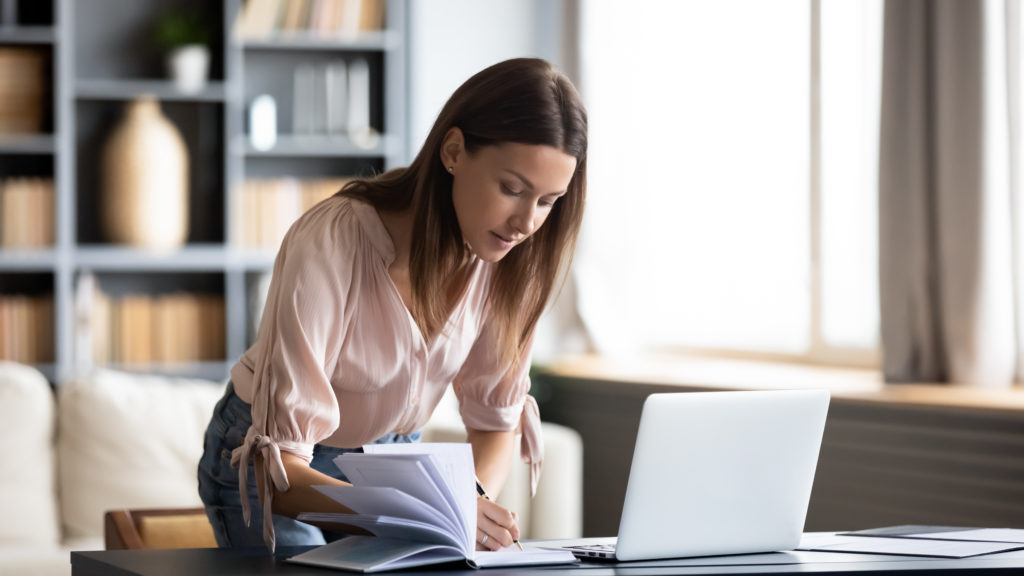 How Long Does a Capstone Project Take to Complete?
The short answer is that capstone projects vary in duration. Younger students may devote several weeks up to a semester to their capstone projects. College students can spend half a year or more on their senior project. Some schools require students to complete year-long capstones.
How Can a Student Prepare for Their Capstone Project?
Like most college coursework, capstone projects require prerequisites and intense preparation. Part of a capstone involves planning, which may start as early as the first year to ensure a solid foundation by the time senior year rolls around.
Meeting Prerequisites
As mentioned previously, prerequisites vary between programs. It's important to know if your major or degree requires a capstone experience for graduation. If so, it's a good idea to create a checklist with the requirements to ensure you meet them. You don't want to find out as a college senior that you lack the required courses to take your capstone!
Obviously, a capstone requires significant coursework in the field. A psychology major probably wouldn't complete a capstone in civil engineering just because they took one class in that area. However, that doesn't mean that they only need psychology courses. Students may need to take research or statistics classes to prepare for a research-based capstone.
Planning the Project
Capstone projects involve long-term commitments, and it's not something to do over a weekend. Even for the procrastinators out there, a capstone project requires setting deadlines and meeting them.
It's a good idea to start planning the summer before your capstone course, even if it's a rough outline or schedule for what you need to accomplish each month. Planning ahead keeps your project on track and ensures that you can graduate on time!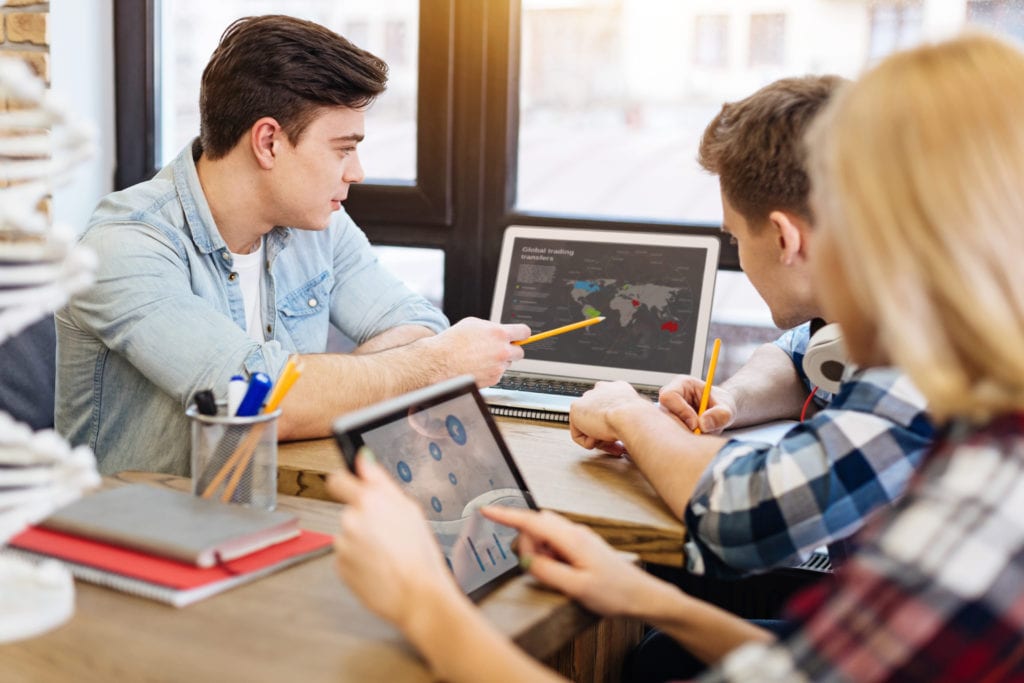 Helpful Tips for a Successful Capstone Project
Capstone projects represent everything a student learns and experiences throughout their education. It's a way to demonstrate knowledge and skill in a field of study, but it's also a chance to explore and potentially solve a real-world issue. Before embarking on the capstone journey for yourself, it may help to have some tips and tricks to help you succeed.
Create a Challenge
As many successful people can tell you, it's wise to keep learning new things. While a capstone should demonstrate your knowledge in the field, it should also challenge you and push you to think outside the box.
Capstones open doors to explore new facets of your field, solve problems, and introduce something different into the world. As you consider potential projects, make a list of questions about what could be learned, changed, or advanced in your field.
The Power of Passion
Who wants to spend ten weeks, six months, or a year on something that bores them to tears? Make sure you feel true passion for your project before submitting a proposal. Even the alternate ideas should interest you enough to pursue them long-term.
Connect with Your Advisor
Your advisor is a critical part of your capstone experience, so it's vital to form a genuine connection. Make regular contact to brainstorm ideas, receive feedback on your progress, and work through problems. They can be an extra set of eyes on your final paper, methodologies, and even a sounding board for your presentation.
Keep in mind that video conferences, phone calls, and even emails are excellent ways to keep in touch. Your advisor is there to mentor you throughout the capstone process and ensure a successful result.
Be Creative
No matter what the field of study, creativity counts. Thinking outside the box says a lot about you as a person. Creating a unique capstone project is a great way to stand out from the rest of your class and make a name in the field.
See Also: Online College Resources
Completing Your Educational Experience with a Capstone Project
No matter where you graduate from, capstone projects mark the end of a college journey. It's the perfect opportunity to integrate everything you learned with real-life issues to showcase your complete skill set.
Though often viewed as research projects, capstones entail much more and provide an opportunity to delve deeper into your chosen field. While it's not always a required course, it's in your best interest to take advantage of such an incredible opportunity to showcase your talents and abilities to future employers. You never know what doors the project could open!