Top 20 Best 2-Year Colleges for Veterans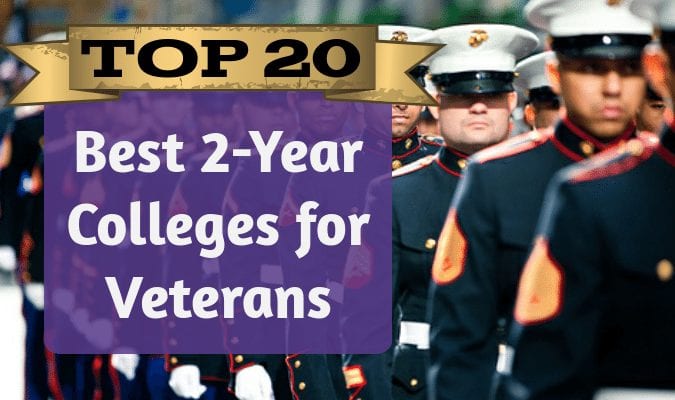 Find your degree
Online College Plan is an advertising-supported site. Featured or trusted partner programs and all school search, finder, or match results are for schools that compensate us. This compensation does not influence our school rankings, resource guides, or other editorially-independent information published on this site.
Serving in the United States Military is not for everyone, and those who do enlist have some of the toughest jobs in America. When it comes to getting an education to join the civilian workforce, it is important that veterans know that they are welcome in the classrooms.
This ranking helps veterans find colleges that excel at making veterans feel at home and offer services to aid in enrollment and understanding tuition waivers or other reductions as well as financial entitlements such as the G.I. Bill.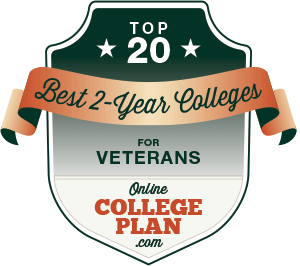 Methodology
Utilizing data and research from multiple sources, such as National Center for Education Statistics, Military Times, and Military.com, we have compiled this top 20 ranking for U.S. Veterans. Many factors came into play to determine what schools were best, and in some cases when data was not present, a lower ranking may have resulted. All schools are accredited public 2-year colleges and are excellent choices for veterans, military, and non-military students. The statistics factored and the percentage of total score they represent are as follows:
Featured Programs
Faculty to Student Ratio: 13.75%
Staff Support 11%
Academic Support 11%
Course Completion 13.76%
Retention of Military Students 13.76%
Graduation of Military Students 13.76%
Percent Employed after 6 Years 13.76%
Salary after 6 Years (rounded to nearest 1000) 9.22%
PENALTY -50 (6.88%) for not having/supporting 8 Keys for Success
PENALTY -50 (6.88%) for not having/supporting Principles of Excellence
PENALTY -50 (6.88%) for not having/supporting DoD Memorandum of Understanding
Bonus +50 (6.88%) for ranking in a top 5 at Military Times
Top 20 2-Year Colleges for Veterans
1. Central Community College in Nebraska
Grand Island, Nebraska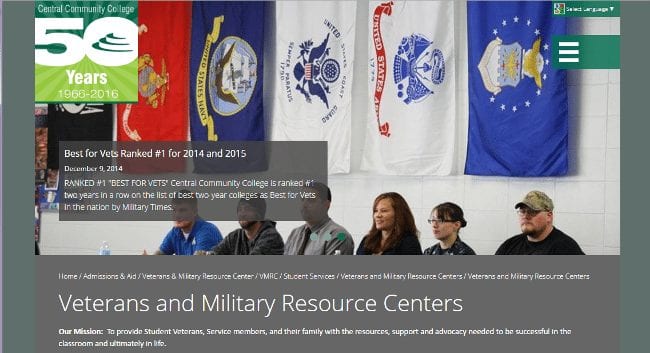 The Veterans and Military Resource Centers at Central Community College welcome veterans and offer them any assistance needed while they are attending Central. The college wants to be certain that veterans know that the school is there for their success. Transitioning from the military life into school life can be difficult, not only is there always someone to talk to at the college, but there is the Student Veterans Association Organization where veterans who are students can come together. The Veterans and Military Resource Center is another place where those from military backgrounds are able to come together to study and support each other. More resources are available online at the website for Central Community College, also contact information for veterans who are interested in making Central Community College their school.Central Community College is located in Grand Island, Nebraska and has been offering students excellence in education for nearly 45 years. It currently offers 33 programs across 3 campuses and 3 other learning centers. Online offerings at Central Community College are diverse as students are able to earn degrees, diplomas, or certificates online. There are also university transfer programs available to online students.
2. Perimeter College at Georgia State University
Decatur, Georgia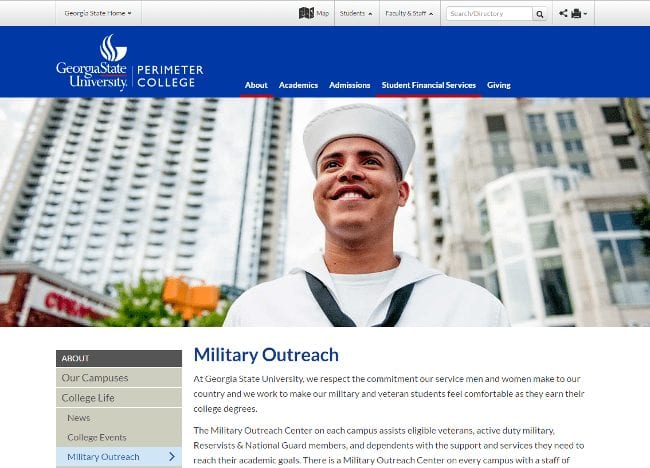 Veterans are always welcome at Perimeter College at Georgia State University. Staff experts are available to see to veterans individual needs and help them with not only benefits, testing, and enrollment, but should they require additional help outside of the college for disability or health issues, the college is prepared to help. Perimeter College at Georgia State University strives to keep a military-inclusive campus and a comfortable place for all students. Feel free to check out the Perimeter College website for more details, resources, and contact information.While Perimeter College at Georgia State University in Decatur has joined the Georgia State University System, it is still a 2-year college but now with some benefits of the university as well. There are a large number of program choices now available to students through traditional courses, and Perimeter College has the largest selection of online courses in the GSU System with 18 different pathways for students to choose.
3. Inver Hills Community College
Inver Grove Heights, Minnesota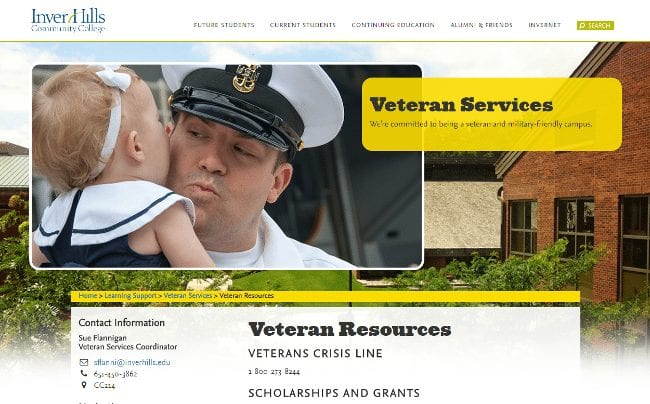 Veteran Services at Inver Hills Community College begin with the first trip the website where a wealth of information and resources await veterans. Veterans who choose to attend Inver Hills will become acquainted with the John H. Thill Veteran Resource Center where students will find help with everything from benefits to career and employment services. They also maintain the Veterans Lounge which is free to use. There is even the IHCC newsletter which has a section in it just for veterans. Those who choose Inver Hills Community College for their educational needs are glad they did. Founded in 1970 in Inver Grove Heights, Minnesota, Inver Hills Community College still has many of the same goals with which it began; to help enrich the community through education and turning out smart, capable students into the workforce. Today students can choose from 40 different degree options as well as complete courses online.
4. Middlesex County College
Edison, New Jersey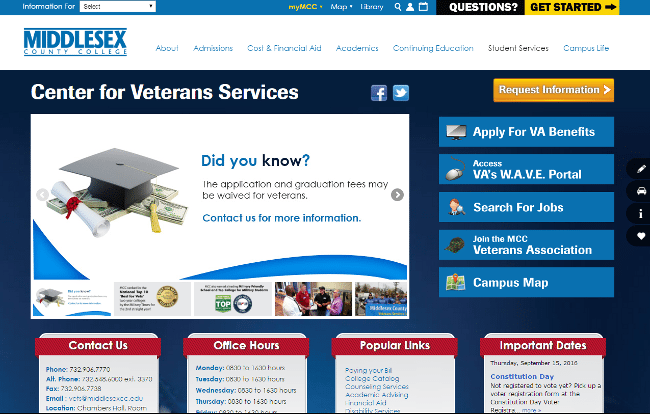 The Center for Veterans Services at Middlesex County College excels and helping veterans transition into students and on into the workforce. There are many services offered for veterans at MCC, starting with helping with benefits, financial aid, tuition as well as registration and enrollment. Special care is taken to be sure that veterans are able to find the courses they need to take in order to get to the career path of their choosing. Veterans are also encouraged to join Middlesex County College's Veterans Association. The website has loads of useful information for veterans who may be interested in attending as well as contact information for the Center for Veterans Services.Middlesex County College in Edison, NJ has been known for quality education since 1964. While enrollment was not nearly the 12,000 students that it serves today. Students looking for education or technical training to join the workforce or continue on with their educational careers can both find satisfaction at Middlesex County College. Busy students who require more flexibility may be able to find exactly what they are looking for with online classes through the college.
5. Clackamas Community College
Oregon City, Oregon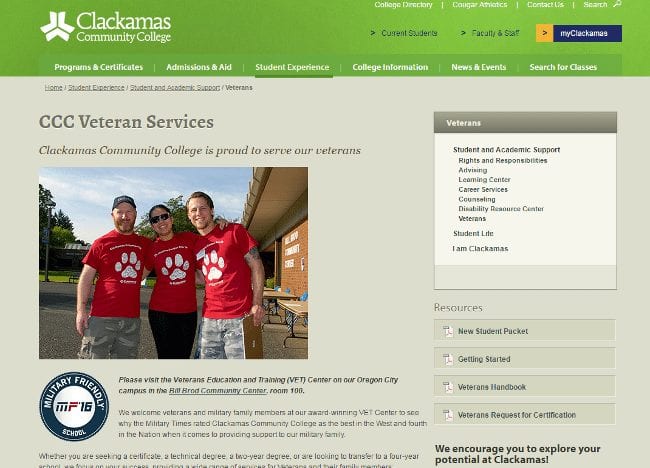 Veterans who choose to attend Clackamas Community College will know as soon as they contact the college, that it stands behind them 100% and will provide them with support their entire college career there. Services range from helping veterans with their benefits, financial aid, scholarships, registration and enrollment, and VA certification to helping students choose the right courses or programs which will ultimately lead them to the career they wish to have. There are several downloadable PDF resources available through the website at Clackamas designed to help veterans who are new to college to get more informed and familiar with the process. Contact information for the Veteran Education and Training Center is also available online.Oregon City, Oregon is where you'll find Clackamas Community College. Since it was established in 1966 the school has grown to accommodate 38,000 students. Whether students are seeking a traditional education, online, or hybrid education, Clackamas has got it covered with a multitude of courses and programs to choose from.
6. Central Texas College
Killeen, Texas
Central Texas College is only one of two schools in this ranking to participate in the VA's Yellow Ribbon Program. CTC wants to be sure that it is able to give back to veterans and make sure that they are able to achieve their academic goals without the financial burden. In addition, the college wants to be sure that veterans get any and all school credits due to them from their experience in the military. Credits earned at CTC are guaranteed to be transferable toward a bachelor degree at one of the many partner 4 year institutions. There is a Student Veterans Organization on campus in order to connect with other students from a military background. Also the VetSuccess Center on campus is there to offer aid and support for veterans. The website for Central Texas College offers valuable resources and contact information for veterans who wish to become students. Central Texas College in Killeen, Texas is dedicated to providing its students with excellent education at affordable prices. Not only does it offer a wide variety of traditional face-to-face programs for students, but the online educational offerings are excellent as well. Whether it is a continuing education course, a certificate program, an associate's degree or university transfer, students can be sure that the education they receive at CTC is of a high quality.
7. Shoreline Community College
Shoreline, Washington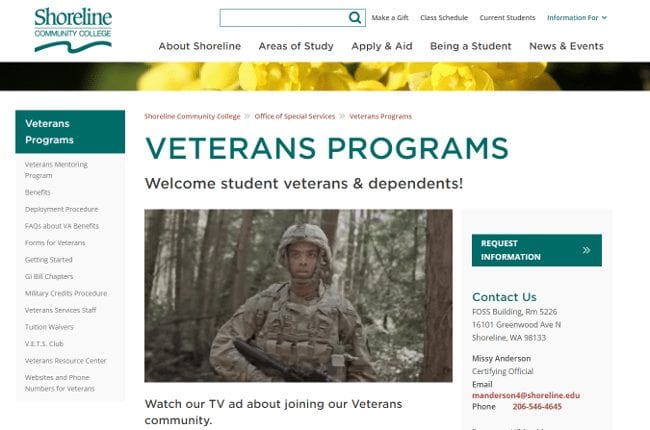 There is a marvelous area of services and programs available for veterans at Shoreline Community College. Contact information for the Veterans Advisor and Certifying Official for SCC are readily available and easy to locate on the website, which is a must see. There is a lot of information and links to resources for veterans who may have a lot of questions or be interested to know what the school has to offer for them. Dedicated to making veterans feel at home at Shoreline Community College there is a V.E.T.S. club that veterans can join. They also have access to the Veterans Resource Center facility, and there is a one-on-one corporate mentoring program that is available to veterans among many other accommodations.Shoreline Community College located in Shoreline, Washington has been around since 1964. There are more than 100 total programs available for students to choose from, whether they are intending to join the workforce straightaway or if their intention is to continue their education at a 4-year facility. For those who require a bit more flexibility in their schedule than traditional college allows, there are more than 25 degree and certificate programs available online through Shoreline Community College.
8. Monroe Community College
Rochester, New York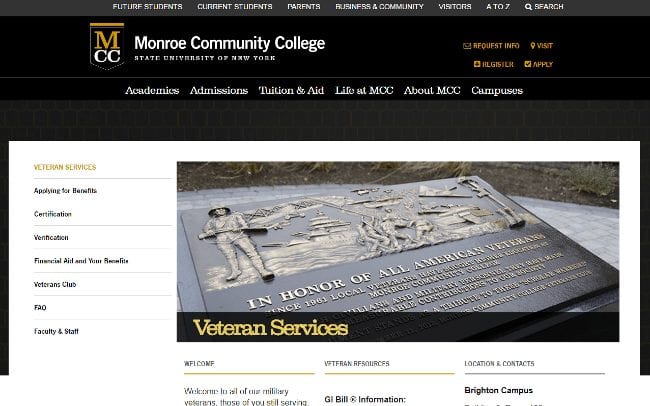 Monroe Community College welcomes our nation's veterans to come learn with them. The Veterans Services Office generally accepts any walk-ins, but veterans are also welcome to call and schedule an appointment to talk with them in order to ensure that they are able to be given the time they deserve. Veteran Services are able to help figure out which benefits they are entitled to and financial aid as well as other parts of the enrollment process. Veteran services also help students with VA certification after registration. They are with veterans every step of the way. There are a number of other resources and links for veterans on the website, which visiting is recommended for any interested veterans.Monroe Community College in Rochester, NY was established in 1961 and in the same year became a member of the State University of New York (SUNY) System. MCC strives to keep costs low for students while delivering an educational growing experience which will go on to enrich their lives whether they are headed to the workforce or on to a 4-year college. Monroe offers a wide variety of programs and courses on campus as well as degree and certificate programs online with more than 200 courses available through Open SUNY.
9. Pierce College
Lakewood, Washington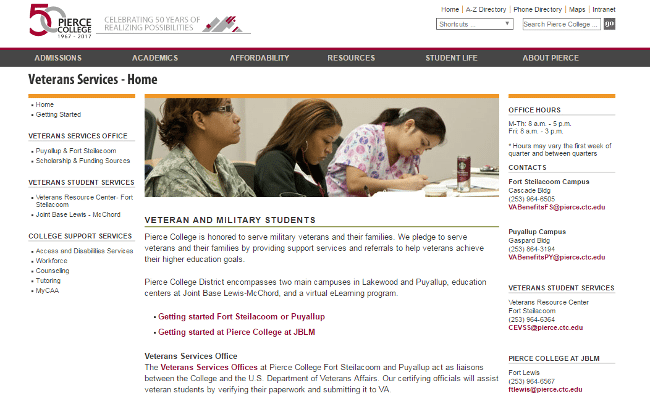 Military services at Pierce College are without a doubt very good considering there are two learning centers on Joint Base Lewis-McChord (JBLM). Veteran services for Pierce College are equally as good. Contacts for any of the four locations are readily available from the veterans page online. The Veteran Service Offices at either of the two main campuses are more than pleased to help veteran students with any and all of the paperwork involved with benefits, financial aid, registration, certification, and enrollment. There is also a Veterans Resource Center at the Fort Steilacoom campus which offers comprehensive support for veterans as well as giving them quiet study time when needed and is sometimes a good place to connect with other veterans.Pierce College Fort Steilacoom is located in Lakewood, Washington and has another campus in Puyallup. Pierce College also offers two off-campus learning centers Fort Lewis Education Center and McChord Education Center which help military students and families gain the education they deserve while on active duty. Pierce offers a large number of programs for university transfer, associate's degrees, and certificates as traditional college courses. In addition to these, Pierce College also has a wide variety of eLearning options; online, hybrid, flexible schedule, web enhanced, informational classes. Some online courses have proctoring for assessments which are disclosed well in advance.
10. Pasadena City College
Pasadena, California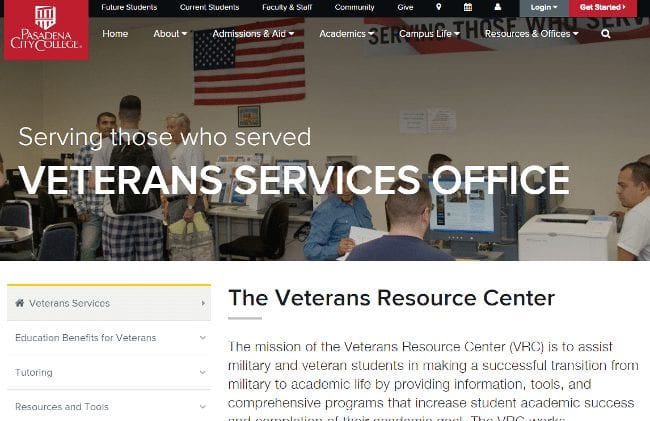 The Veterans Resource Center at Pasadena City College is well equipped to help veterans transition from military life to becoming a student and achieving academic success. Staff at the resource center are ready willing and able to help new students discover how to use their benefits and how to navigate the college itself once enrolled. Veterans are eligible for free tutoring and PCC offers a mentoring program. There are computer study stations available, and programs and activities specifically for women veterans. There is a wide variety of other services available through the Veterans Resource Center. There is a large number of resources for veterans available online at the Pasadena City College website that are certainly worth checking out.Pasadena City College in Pasadena, California was established in 1924 and has underwent many changes since the first 267 students enrolled. Today, 26,000 students enroll whether they are looking for a university transfer program, an associate's degree, certificate program or simply taking a class for personal enrichment. PCC offers more than 117 associate's degree programs in 60 areas of study as well as 70 certificates in 37 subjects. They also offer 39 non-credit certificate programs in 30 areas. There are also hundreds of courses available online using CANVAS.
11. Northern Essex Community College
Haverhill, Massachusetts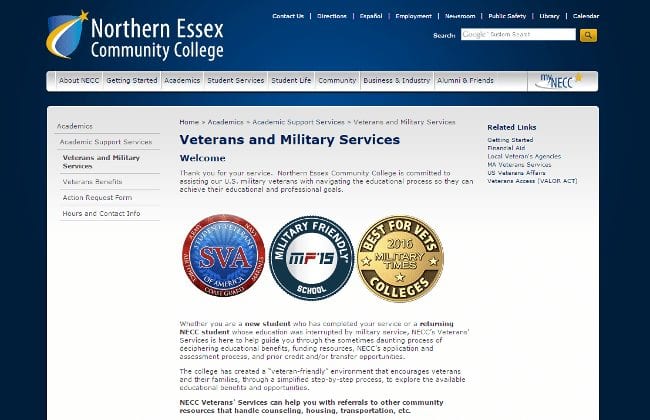 Northern Essex Community College is happy to give back to veterans and their families by offering a veteran and military friendly college experience for them. Staff members, such as Jeff Williams, the Veterans' Services Coordinator at NECC are there to help veterans with some of the more challenging and confusing details of the enrollment process, such as sorting out benefits, funding resources, and financial aid opportunities. They can also help with prior or transfer credits as well as the application and assessment processes. It is important to the college that veterans feel more than welcome and at home at Northern Essex during their college career. A wide number of information and resources are available on the school website as well as contact information for veterans.Haverhill, Massachusetts is where you will find Northern Essex Community College. NECC is dedicated to helping students achieve their academic goals and providing a high quality education while keeping student costs at a minimum. They offer university transfer programs, associate's degree and certificate programs for their students. In addition, they offer multiple online degree and certificate programs for students who require the flexibility of distance education.
12. Coastline Community College
Fountain Valley, California
Veterans Assistance at Coastline Community College is clearly excellent. Not only will they help veteran students with financial aid, benefits, and certification for enrollment, but they also offer priority registration for veterans who enroll within 4 years of being discharged and are allowed priority registration for two years. CCC also offers a veteran tutoring service at the Veterans Center for those who need it. Prior experience in the military may also earn up to 40 units of credit as per the American Council on Education. These credits may be posted to transcripts after completing 12 units at Coastline, and are determined by evaluating military transcripts. There are many useful resources and resource links available on the Coastline website, as well as contact information if prospective veteran students have any questions.Coastline Community College has three mini-campuses in Garden Grove, Newport Beach, and Le-Jao in Orange County near Fountain Valley, California, home to College Center, the administration building which also is home for the bookstore and distance education. Coastline offers a wide variety of courses and programs for students to choose from. There is a large array of online programs offered at Coastline Community College and many students are happy to take advantage of the flexibility that distance education offers, including a large number of military students. The military programs offered at CCC are designed for the on the go lifestyle of active military students, and the results are clear with more than 15,000 enrolled. Coastline Community College also has 18 Military Site Advisors across the nation stationed at or near more than 52 military installations in order to provide services to military students.
13. Pikes Peak Community College
Colorado Springs, Colorado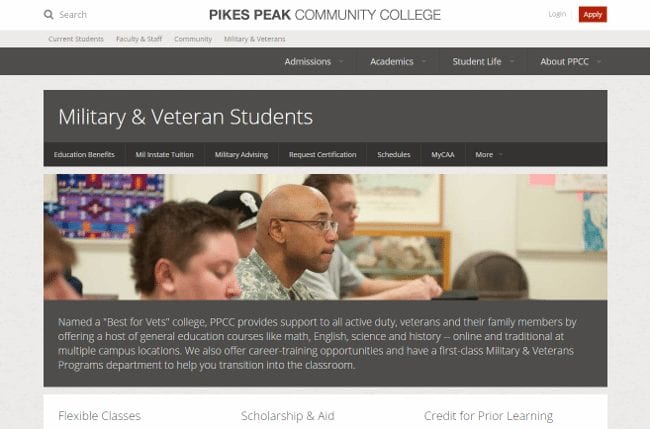 While there are the two aforementioned military education centers which are part of Pikes Peak Community College, that is far from all that the college has to offer military and veterans. There are military offices located at the Centennial Campus as well as at each of the military education centers. Counselors and advisers are on staff to help military and veterans with understanding benefits they are entitled to, financial aid, scholarships, as well as getting veterans credit for prior learning experience and finding an academic degree plan to follow. Other contact and resource information is available online at Pikes Peak Community College website.Colorado Springs, Colorado is home to Pikes Peak Community College, first established in 1968 as El Paso County Community College. It now has 3 campuses, 2 learning centers, and 2 military education centers which serve a diverse student body of over 20,000 students seeking university transfer courses, associate's degrees, certificates, or continuing education. PPCC also offers online courses and partners with Colorado Community Colleges Online to offer a wider range and more availability in courses.
14. Collin College
McKinney, Texas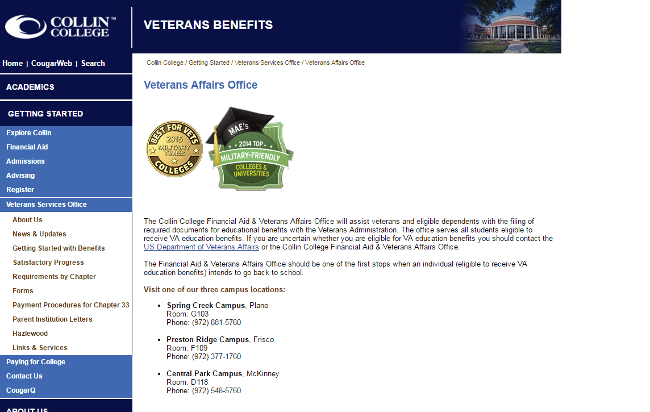 Collin College in McKinney, Texas is one of the newer schools in this ranking, but it is by no means the smallest, with having 3 total campuses and 4 additional learning centers serving more than 53,000 students each year. Collin College offers more than 100 programs and certificates for students to choose from in an array of disciplines. Collin College also offers a variety of online courses through eCollin using CANVAS.
Veteran Service Offices are located at the three main campuses, contact information for each is easily found via their website. There is also an option for identifying and emailing your certifying official. The Financial Aid/Veterans Affair office at Collin is not a division of the United States Department of Veteran Affairs but does serve as a liaison to the VA although there is no official VA officer on campus. Collin College Veterans Affair staff is more than happy to assist students with benefits and financial aid as well as certify student enrollment to the VA. They also will help monitor student degree plans and academic success. There is an abundance of information and useful resources available online for veterans interested in enrolling in Collin College on the website.
15. Massachusetts Bay Community College
Wellesley Hills, Massachusetts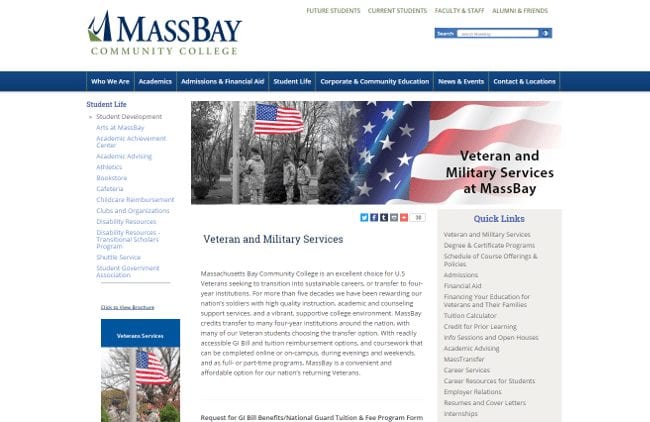 Since 1961 the town of Wellesley Hills has been home to Massachusetts Bay Community College, affectionately known as MassBay. For more than 50 years MassBay has been dedicated to excellence in higher education as well as enriching the lives of people and the community. It is an open-access institution and serves more than 5,300 students. With more than a dozen associate's degree programs and an equal number of certificate programs, not to mention nearly the same number of options available for online and hybrid programs, MassBay's academic offerings are far from sparse.
Veterans are not just welcome at MassBay, but made to feel at home while they are earning their degrees, transfer degrees, or certificates. The Veteran Affairs Coordinator located in the Office of Student Development is more than happy to answer any questions and provide any needed information for veterans on eligibility or requirements for benefits or tuition waivers and the application process. There are fully licensed professional counselors at MassBay to help veteran students with the adjustment process as well as career counseling to be sure that students are experiencing the education they deserve. There is a wide variety of useful information and resource links available on the website. There is school contact information as well as veteran success stories online as well.
16. Mount Wachusett Community College
Gardner, Massachusetts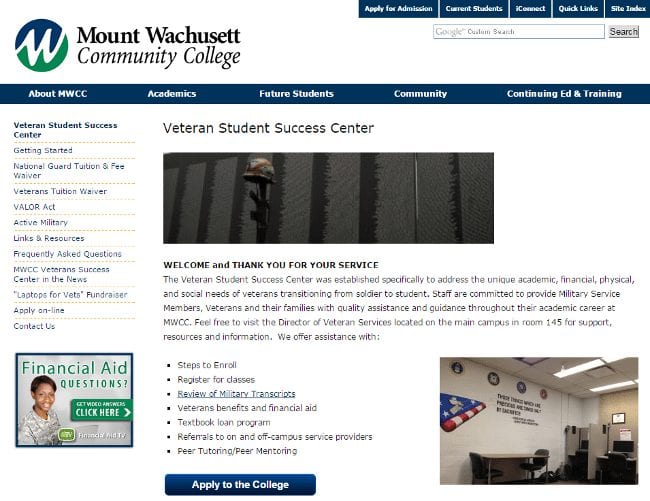 The Veteran Student Success Center at Mount Wachusett Community College is in place to welcome veterans and offer them support and guidance through their academic careers. They are happy to assist veterans with the enrollment process, class registration, as well as understanding benefits and financial aid if needed. They also offer the loan of textbooks and a tutoring/mentoring program. Should veterans be in need of other services, the Veteran Student Success Center is happy to refer students to both on and off-campus service providers. Contact information, resource links, and other useful information for veterans, military members, and their families is readily available online through the MWCC website.Gardner, Massachusetts has been home to Mount Wachusett Community College since 1963, and has grown to include three other campuses in Leominster, Devens, and Fitchburg. MWCC serves 29 cities and towns and more than 10,000 students. The college offers over 70 degree and certificate programs and a wide variety of courses are available online for distance learning.
17. Southwest Virginia Community College
Cedar Bluff, Virginia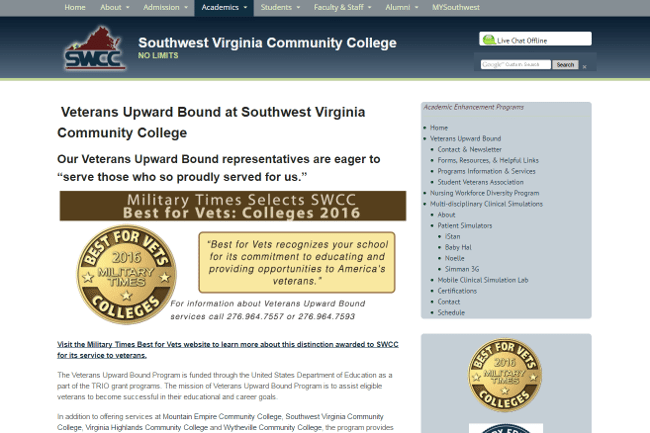 Veterans are welcome and supported at Southwest Virginia Community College. Hands-on advisers are available to help with any questions or problems that need a solution. Donna Price, the Veterans Certifying Official at SWCC is ready and willing to help with some of the more daunting paperwork involved with certification and enrollment. The college also participates in the Veterans Upward Bound program, a federally funded TRIO program. There is a Student Veterans Association as a way to connect with others with similar backgrounds, role models, collaborators, and friends. It is active with fundraisers, field trips, and other outings. A number of resources and contact information is available online for any veterans who may want to become students at SVCC.Serving residents in Buchanan, Russell, Tazewell, and part of Dickenson counties in Virginia, Southwest Virginia Community College in Cedar Bluff has been dedicated to student learning and success since their first year of enrollment in 1968. With nearly 100 different academic programs with more than 20% available through distance education, SVCC strives for variety, accessibility, and excellence for its students.
18. Western Nebraska Community College
Scottsbluff, Nebraska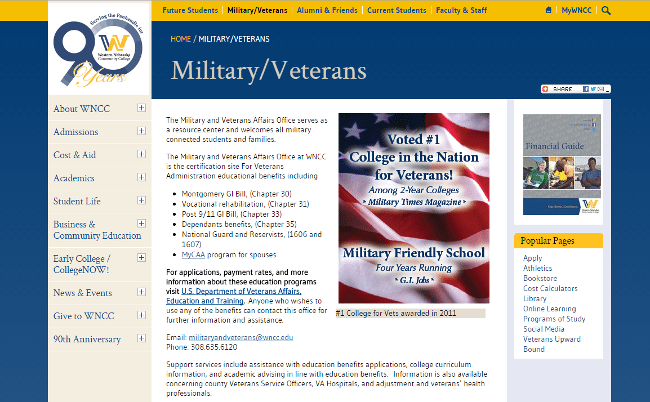 The Office of Military and Veteran Affairs at WNCC is pleased to welcome any military-connected students and families and is the VA certification site for the college. Support services provide assistance with not only college curriculum and academic advising along with benefits applications. The office also supports the Student Veterans Organization and works hand in hand with TRIO Veterans Upward Bound Program. Many frequently asked questions are answered on the website and Western Nebraska Community College provides several resource links for veterans, military, and their families as well. Contact information is readily available on their website, so that any veteran or military students who have questions are able to speak to qualified professionals prior to enrollment.Western Nebraska Community College in Scottsbluff offers students many of the larger college features even though it's a small town college. Currently there are two other campuses to choose from, Alliance and Sidney, outside of the Scottsbluff main campus and has a 15:1 faculty to student ratio.
19. Salt Lake Community College
Salt Lake, Utah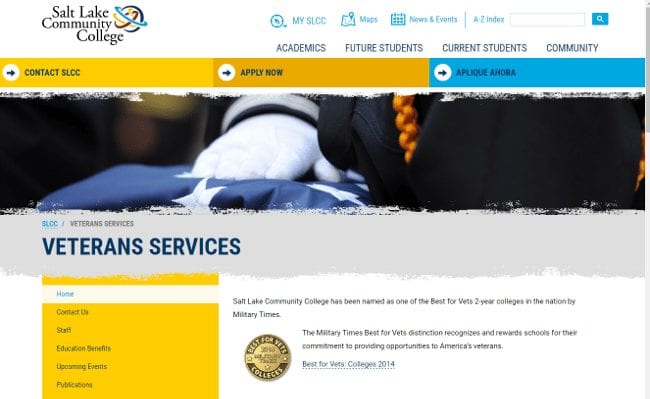 Salt Lake Community College has a VA VetSuccess on Campus program in place to help its students who are veterans. VetSuccess offers services such as academic and adjustment counseling, assistance for disabled vets and referrals for medical and mental health services. They can provide information about housing opportunities which may be available and assist in job placement. There are a number of resources available online through the Salt Lake Community College website from information on educational benefits, scholarships, financial aid, and links to other resources for veterans. Also, contact information for veteran services is available for those who wish to contact the school directly.
Utah's largest college is Salt Lake Community College, serving a diverse 60,000 students across 10 campuses and online. SLCC offers students more than 120 areas of study, which means there is virtually something for everyone whether they intend to transfer to a 4-year college, or if they are seeking training to enter the workforce immediately, or if they are taking a course simply for the enjoyment and personal enrichment.
20. San Jacinto College
Pasadena, Texas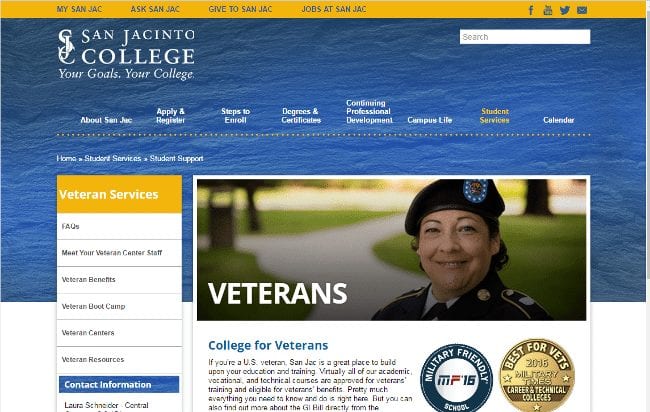 Each of the three campuses has a Center of Excellence for Veteran Success and contact information is readily available for military students in order to help them with enrollment and tuition. There are also resources available online to help answer some important questions, such as "Can I apply for financial aid and use VA benefits?" The website also has "Veteran Boot Camp" which walks veterans through 7 steps of orientation online. Veterans do not have to reapply for benefits unless they have missed more than two consecutive long semesters, however, they must request certification each semester. The San Jacinto Community College District is the official name for SJC in Pasadena, Texas. It serves approximately 30,000 students between three campuses and 12 other learning centers in the greater Houston area. Nearly 900 of those students are veterans or active military each year, and it's clear that they are welcome at San Jacinto College.