Find your degree
Online College Plan is an advertising-supported site. Featured or trusted partner programs and all school search, finder, or match results are for schools that compensate us. This compensation does not influence our school rankings, resource guides, or other editorially-independent information published on this site.
This article is the first in a series titled "The Ultimate College Prep Timeline: Getting Ready Month by Month." Each month, Online College Plan will present a new post to help high school students successfully map their college journey.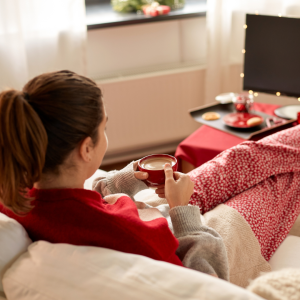 The holiday season is quickly approaching. And high school students nationwide are preparing to take a breather from their studies. If you're a student looking to gain an edge in the competitive world of college admissions, winter break can be the perfect time to give back to your community while building valuable skills.
Explore various volunteer activities designed specifically for high school students like yourself in this article. Discover how engaging in these experiences can not only improve your chances of gaining admission to top-tier colleges but also potentially secure attractive scholarships!
Curious? The best is yet to come – keep reading!
Discover the power of holiday volunteering in high school! Our latest article explores how giving back during the festive season can make your college applications stand out! Learn why community service matters and how to maximize your volunteering experience. #collegeapplications #holidayvolunteering #collegesuccess #highschoolvolunteers #communityservice #givingback #volunteeringmatters
Why Does the Holiday Season Stand Out for High School Volunteers?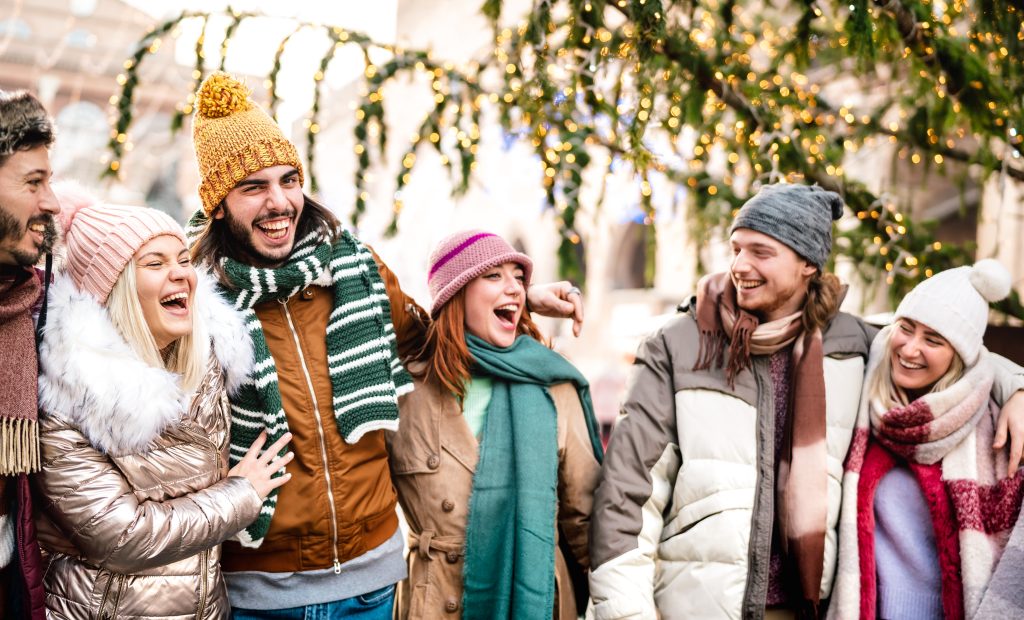 Let's clarify from the start: There is no specific right or wrong time to begin volunteering. But if you are just getting started, the holidays are an ideal time to break into community service. Many organizations and charities spearhead volunteer opportunities during this time. And that makes it easier for high school students to find meaningful ways to help their communities.
For example, participants can serve meals at homeless shelters, help with toy drives, or visit elderly homes to spread holiday cheer. We'll talk more about how to find such activities shortly. But the bottom line is this: When the holidays roll around, students have a wider range of community service opportunities to choose from.
"Winter break is ideal for high school students to volunteer because they have a lot of free time, allowing them to commit without the demands of schoolwork. Many organizations also have specific volunteer activities during this season, such as food drives, holiday events for children and seniors, and toy drives. Winter breaks also coincide with community events and initiatives, such as homeless shelter assistance, community cleanup, and youth sports programs, which provide opportunities for students to participate in local projects and network with other members of the community that can be beneficial for their future careers."

-Allen Koh, Founder and CEO of Cardinal Education
"Having worked with high school students as a career guidance advisor for 15 years, I have always advocated for volunteering during the holidays. It's a perfect opportunity to start filling your resume with high-quality, relevant work experience while you have a break from academic commitments.

When looking to apply for competitive further education places or to land that first professional position, you need to get ahead of the game and make sure you maximize every opportunity. Volunteering gives you a lot: real-world experience, networking potential, and, most importantly, a chance to make a meaningful impact in your community."

-Katharine Gallagher, Former Guidance Counselor, Thought Leader, Founder of KatharineGallagher.com
How Important Is Community Service to the College Admissions Process?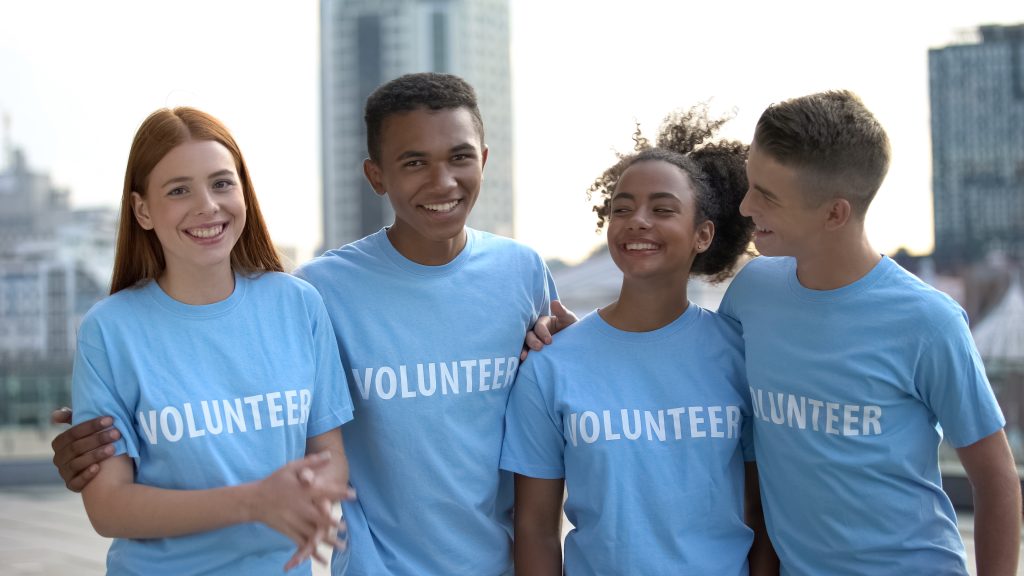 Students (and parents) often ask, "Does community service truly matter when it comes to college admissions?" Consider this: A survey of 264 admissions office professionals conducted before the pandemic found that nearly 60% of admissions officers confirmed that "a student's community service experience has a positive impact on his or her acceptance to our higher education institution."
Additionally, over 50% of those surveyed confirmed that volunteer work can be a deciding choice among students who were equally qualified academically.
But Things Have Changed…
It is essential to remember that the admissions process has changed in many notable ways since the pandemic. For example,
Standardized testing has traditionally been a major deciding factor for college admissions. However, the pandemic forced the cancellation of many SAT and ACT testing events. This left college-bound students with fewer ways to highlight their academic achievements. As a result, colleges started exploring alternative ways to assess whether students were a "good fit," and many schools chose to adopt test-optional policies.
So, how does this tie in with volunteering? College Admissions Counselor Jason Stern explains:
"With so many colleges no longer requiring standardized test scores, there's now a concerted effort to replace the SAT/ACT with some additional metric that fits the altruistic goals emphasized by colleges — volunteerism checks all the boxes.

More so than ever, colleges are placing increased weight on volunteerism, so it makes a lot of sense for high school students to rack up their volunteer hours whenever they can find the time. Winter break is an excellent time to bank those volunteer hours because high school breaks aren't long enough to warrant getting a job but are long enough to fulfill volunteer requirements for the National Honor Society or just to beef up a college application.

If a student isn't going on vacation, volunteering will be the best use of their free time over break in terms of raising their college profile."

Do High School Students Get the Importance of Volunteering?
Do high schoolers perceive community service as a meaningful route to gaining acceptance into college? We engaged with several high school students on social media platforms to discuss the impact of volunteering on their college admission prospects. Specifically, we inquired about their views on whether community service would enhance their chances of being admitted to their preferred colleges. The responses we received were unexpected.
None of the students we conversed with believed that community service would significantly influence their college admissions. Their remarks included statements such as, "Unless you're applying to an extremely competitive institution, I doubt they would consider your volunteer work," and "Admissions primarily focus on coursework, GPA, and written submissions." None of the students we interviewed were actively involved in community service.
This stark contrast to the insights shared by admissions professionals was not only surprising but also disheartening. Are today's students truly of the opinion that community service holds no value?
What Do Current College Students and College Grads Have to Say About Volunteering?

On the other end of the spectrum, we connected with current and former college students. Many that we spoke with regretted not putting more effort into volunteering. Most didn't realize the importance of it until they were well into the application process. We spoke with Abigail Wright, a recent graduate of Florida State University: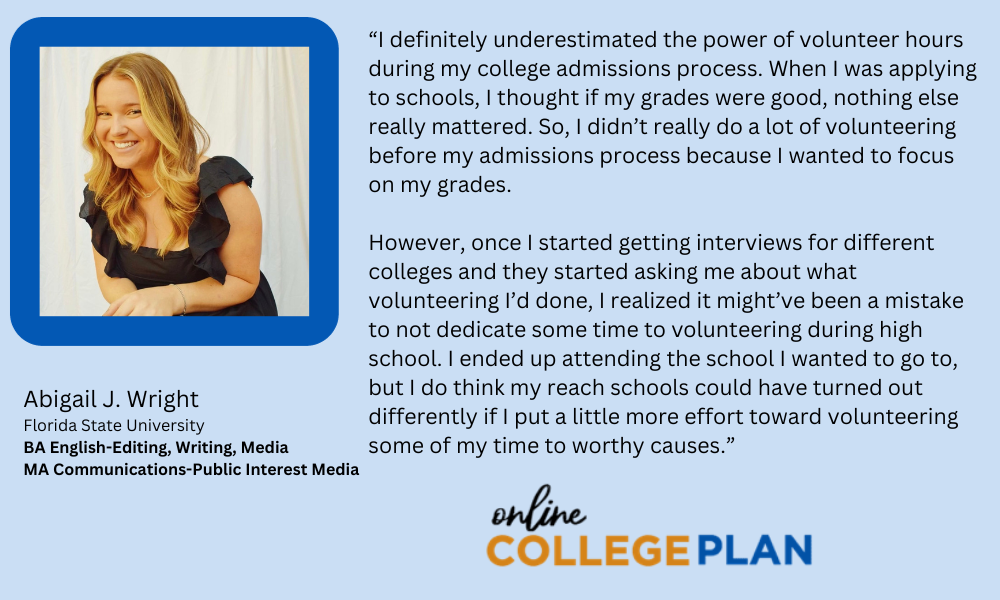 Other current and former college students we spoke with had similar responses. The general theme was that they only realized community service could have benefited them after they started the college application process.
As perplexing as this is, we've concluded it represents a unique opportunity for many college-bound students! High school students' participation in outreach within their communities appears to be in a minority. As a result, volunteering work has a strong potential to distinguish them from other applicants. Colleges are looking for students who will contribute to their campus communities. Volunteering in high school demonstrates you are a caring and compassionate individual willing to go above and beyond what is expected of you. And if you're concerned about your grades not meeting the mark, volunteering could potentially be the determining factor in gaining admission to your dream school!
Volunteering Can Be a Huge Game Changer!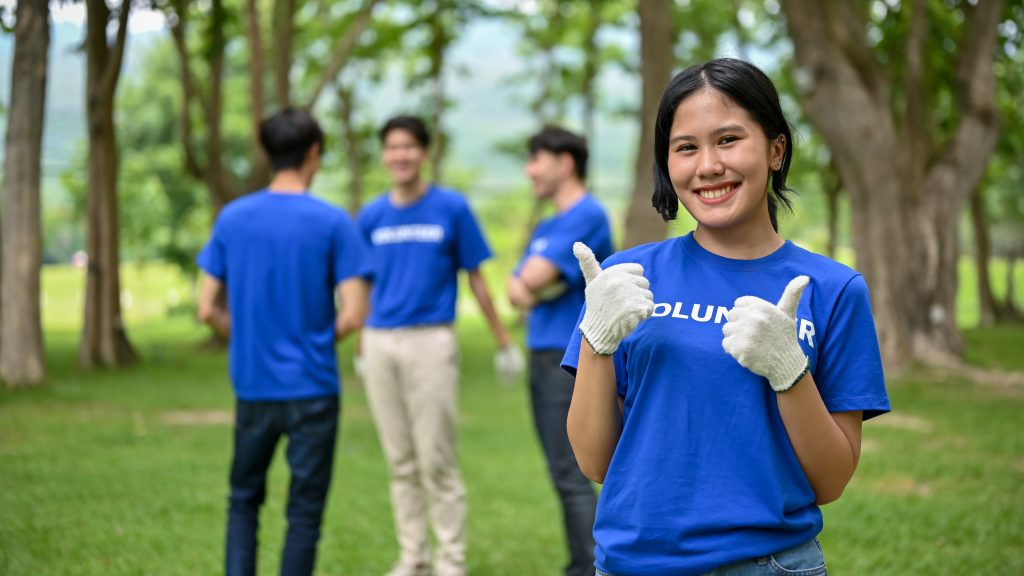 There are many factors that admissions officers look at now when it comes to college applications. As always, academic performance is essential, but there are other considerations too. And one of them is community service. Universities and colleges are increasingly seeking out applicants who have shown commitment to their communities and demonstrated leadership skills through volunteering.
Our admissions experts were quite definitive when it came to volunteer work. Not a single professional we spoke with thought that community service didn't matter.
Volunteering plays a significant role in the college admissions process. It's not just about adding an activity to your list but demonstrating your commitment to making a difference in your community. This community service showcases your character, highlighting attributes such as empathy, leadership, and initiative, which prestigious colleges highly value.

I have witnessed numerous cases where a student's volunteer experience significantly swayed their admissions decision. One instance that stands out is a student who created a coding boot camp for underprivileged kids in their community. They didn't just log hours; they crafted a curriculum, sourced resources, and taught classes, showing initiative, dedication, and impactful leadership. Their passion for both technology and social justice came through distinctly in their application, making them a memorable and standout candidate. This example underscores the transformative power of volunteering when pursued with genuine interest and commitment.

-Eric Eng, Founder and CEO of AdmissionSight
Putting Your Passions to Work: Aligning Volunteering with Your Interests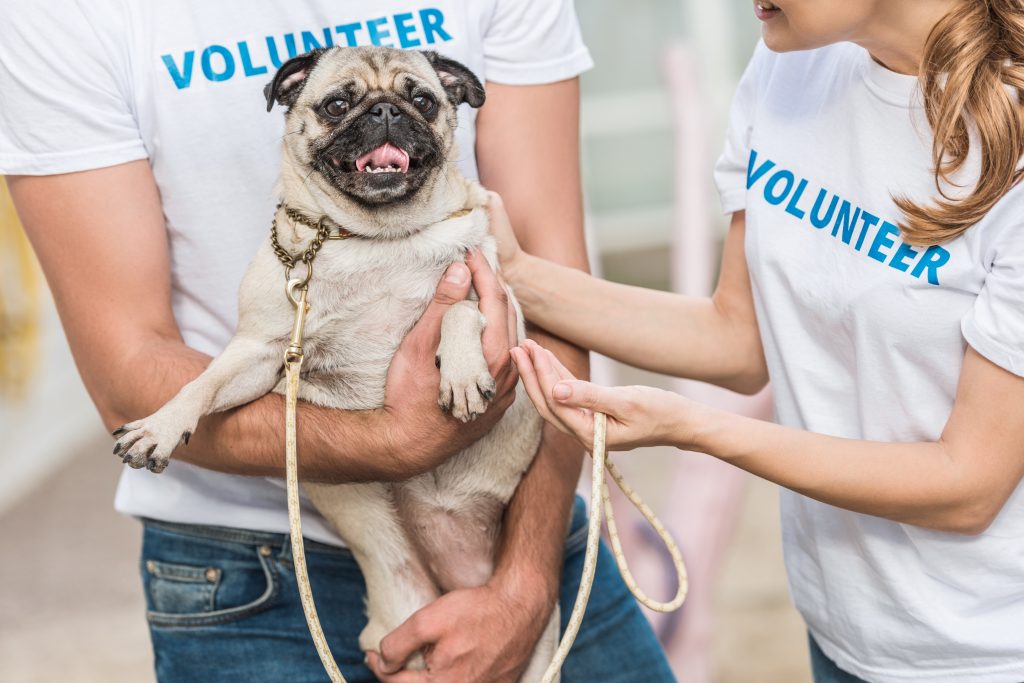 When choosing a volunteer activity over winter break, high school students should strongly consider connecting their passions and interests with the service they choose to do. By doing so, not only will you enjoy the experience, but you will also make a meaningful difference in the community.
Finding a cause that truly resonates with your interests is crucial for fostering a passionate approach to volunteerism.
But how do you identify your interests? Start by creating a list of hobbies, values, and the social issues you care about the most. This can help you narrow down a volunteer opportunity that aligns closely with your personality and core beliefs.
Then, look into joining a local organization dedicated to a specific cause you are passionate about. By working with like-minded people, you'll find motivation and support.
Try to combine your interests with community needs. For example, if you enjoy art, you could volunteer at a community center to teach an arts and crafts class to children in need. If you are passionate about the environment, you could organize a local park cleanup or find a way to raise money for an environmental nonprofit.
Volunteering is a fantastic way for students to enhance both their personal and professional growth. It provides them with valuable real-world work experience and helps them develop transferable hard and soft skills. It also allows them to explore their passions, learn more about themselves, and experience if a particular career choice is truly for them.

Additionally, volunteering can serve as a great conversation starter when applying for jobs or further education. It showcases a student's independence, adaptability, and worldly experience while also displaying their passion and commitment to personal growth in their chosen field.

-Emily Maguire, Managing Director and Career Consultant at Reflections Career Coaching


Does Mandatory Community Service Count?
At many high schools in the US, community service work is a mandatory requirement for graduation. In theory, this is an excellent practice. But does it make a difference on college applications? Do students who have completed mandatory volunteering get taken as seriously as those who chose community service of their own accord? We weighed in with Therese Edwards, Founder and CEO of Teshley Solutions LLC, to shed some light on this topic. She says,
"Volunteer hours are essential to a college application, but not all hours are treated equally. College admissions officers know that volunteer hours are a graduation requirement for many school districts. They examine not only the quantity of hours but also the quality and focus of the hours. Dabbling in a few different areas can be positive by demonstrating inquisitiveness, but excessive switches may have a negative impact. If a student has amassed a thousand volunteer hours in ten different unrelated fields, those hours may be viewed as pointless padding or indecisiveness."
However, Edwards goes on to say:
"If a student is a volunteer EMT and also puts in hours at the local hospital, there is the appearance of focus and a desire to learn multiple aspects of healthcare. Students applying to college should plan their volunteering with the same attention to detail applied to their academic choices."
Edward's comments highlight an important point. The quality and quantity of your volunteer work is pivotal to your overall experience.
Consistency Is Key When It Comes to Community Service
When we started talking to admissions experts about the impact of volunteering on college apps, we noticed a common theme: Consistency. Nearly all the professionals we spoke with highlighted the importance of choosing and sticking with one or two activities. Random volunteering here and there will undoubtedly enrich your life, but it carries a different weight than sustained effort. In other words, a long-term approach demonstrates commitment. For example,
Mateusz Kostrz stated, "It is important to remember that any volunteering is good, provided it was done for an extended period of time (at least 2-3 months). I believe there is no point in debating which volunteering job is more socially desired, so doing anything meaningful is already great, but doing it once, on some random Tuesday afternoon, is definitely not enough."
Eric Eng told us, "In evaluating a student's volunteer experience, I value depth and commitment over breadth. Engaging deeply in one or two causes demonstrates dedication and the ability to make a meaningful impact. Authenticity is key; it's clear when students volunteer for appearance rather than passion. A unique perspective also stands out – perhaps a student was able to apply a specific skill or interest to their volunteer work, or maybe the experience challenged their views in some way."

I Want To Start Volunteering to Enhance My College Applications. How Do I Get Started?
Now that we've emphasized the significance of showcasing community service on your college application, if you haven't engaged in any volunteering yet, where should you begin? Let's take a look at some simple steps.
1. Start where you are
Whether you are a high school freshman or halfway through your senior year, you can start now!. The earlier, the better, of course, but even those who are in their senior year of high school can still beef up their apps with volunteer work.
At Online College Plan, we also work hard to provide information for adult learners. So, for those planning on returning to college, remember this: no matter how old you are or the degree you are pursuing, there are no age limits on volunteering.
2. Identify your interests
Take some time to think about and write down what causes or issues you are passionate about. And don't worry if you draw a blank. Many students have no idea what they like or would be interested in. One helpful tip is to ask your closest friends and family members what they think. Often, people know us better than we know ourselves.
3. Research volunteer organizations
Once you determine the type of volunteer jobs you seek, search local groups first. Look for charities or community groups that match your interests. Check with your school's guidance office for recommendations if you feel stuck. You can also find helpful resources at the end of this article.
4. Reach out to the organization
Contact the organization you are interested in and inquire about volunteer opportunities. Explain your interest in volunteering and ask about their needs and requirements. Schedule a meeting. Many organizations require volunteers to attend an orientation or training session before they can start. This is also an excellent opportunity to learn more about the organization and its mission. This way, you can decide if it is truly something you want to do.
5. Once you find your match, commit to regular volunteering
Show up at any required meetings early. Ask if there is anything you can do to help the administrators prepare. For example, they may need someone to make coffee, provide snacks, or set up chairs. Be willing to do any small or menial job, and you'll find that you'll be asked to take on more responsibility over time. Be ready to take on leadership roles within the organization. Leadership is key since admissions officers look for students who are fearless in taking charge.
6. Be consistent with your efforts
High school is a busy time. Nobody expects you to work 40 hours a week at your volunteer job. The critical thing admissions officers seek is sustained and meaningful involvement. So, it's crucial to commit to a regular schedule of volunteering. Depending on your availability, this could be a few hours a week or a few hours a month.
7. Track your hours
Not all high schools have a system for tracking volunteer hours. In many cases, you are going to need to do this yourself. Document the amount of time you spend volunteering. Make notes of what you did. This will help you accurately report your volunteer work on your college applications. If you're looking for a more tech-savvy way to track your volunteer hours, consider apps like x2VOL. These can help you keep a comprehensive record of their work in the community.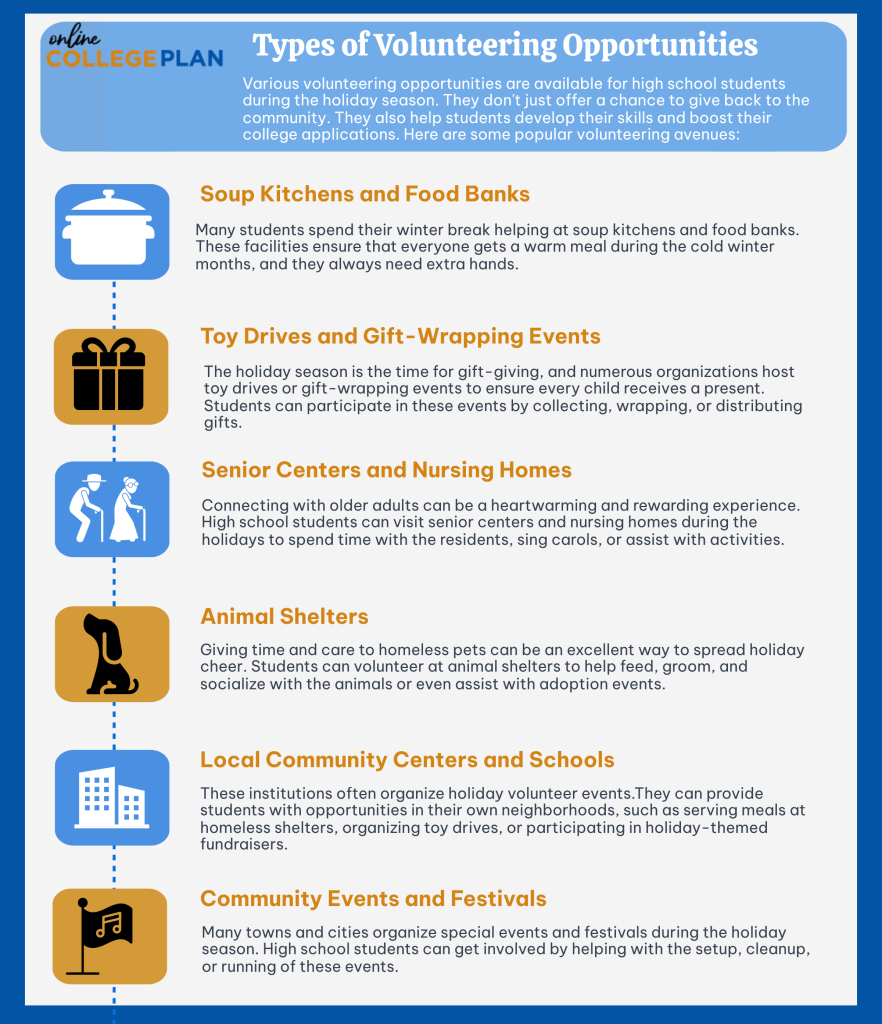 Incorporating Volunteer Experiences into College Applications
The next step is showcasing the tangible skills gained through volunteering – communication, teamwork, and problem-solving are just a few examples. Colleges love seeing evidence of these transferable abilities because they're crucial no matter what degree program you pursue.
Telling Your Story Through Volunteer Work
Your story matters! Weave together narratives around transformative moments experienced while volunteering. Maybe a conversation with an elderly person at a nursing home sparked your interest in gerontology or an encounter while tutoring kids made you consider education as a major.
Colleges seek individuals who are not only academically accomplished but also capable of making a meaningful contribution to their community. Your volunteer experiences demonstrate why you would be an asset on campus.

Your Admissions Essay: Showcasing your Volunteer Experience
So, you've done some volunteering but now what? How will you present your volunteer experience to college admissions officers? The answer lies primarily in your essay. Highlighting your volunteering experience in your college essay can provide a more holistic view of who you are as a person. It shows what you can bring to a college community. Colleges are seeking students who are a "good fit" within the community and culture of the institution.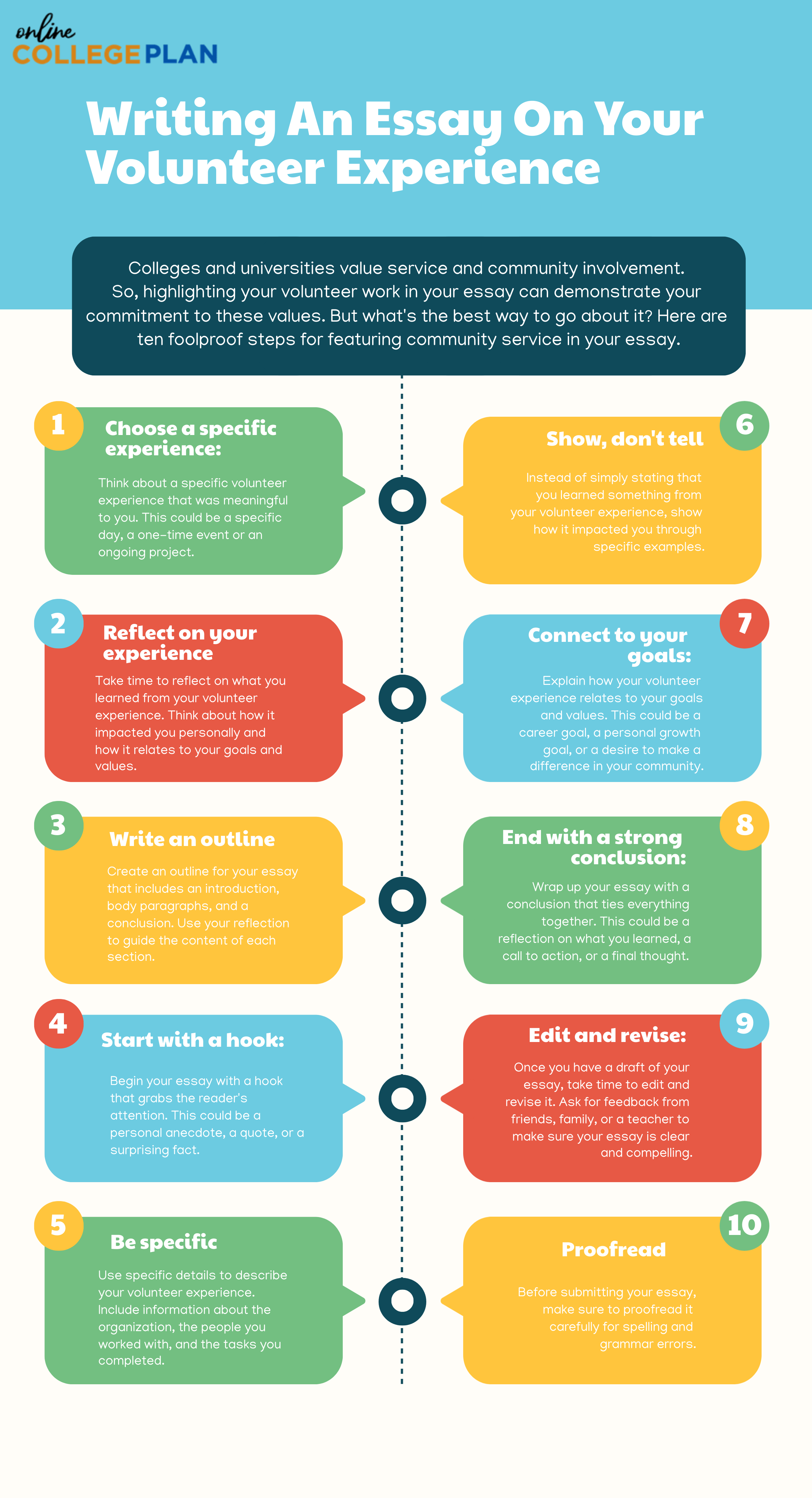 Scholarships for Student Volunteers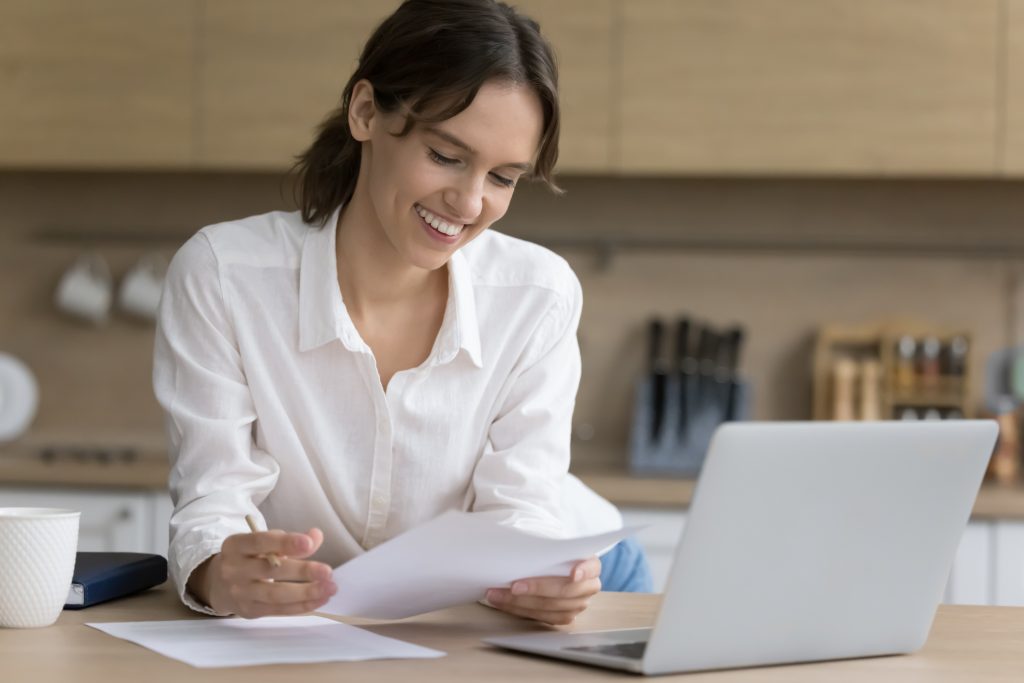 Volunteering can pay off, literally. Many organizations recognize the value of service and offer scholarships to high school students who give their time. These awards are a great way to fund your college education.
For example, the Daily Point of Light Award honors individuals making a difference through volunteering. Winners may also receive additional scholarship opportunities from sponsors affiliated with this award.
Another is the Prudential Spirit of Community Awards. This program celebrates young people across America who have made meaningful contributions to their communities through volunteer services.
Finding Community Service Scholarships
Finding scholarships tailored towards volunteers requires some digging, but it's worth it. You should also consider what kind of service you've done when applying. That's because different scholarships focus on diverse areas such as environmental conservation, social justice work, or community service that is more broadly defined. For more information on scholarship opportunities, check out our guide to scholarships.
Making Your Scholarship Applications Stand Out
To increase your chances at these competitive awards, make sure you tell your story well in the scholarship application essays. Describe how volunteering has impacted you personally and professionally. What skills did you gain? What experiences stood out?
A strong recommendation letter from the organization where you volunteered can also be a powerful addition to your application. Bear in mind that these scholarships reward service and help universities see who you are beyond grades and test scores. So give it your all.
Catch the spirit of giving back. Scholarships for high school volunteers are real, and they can fund your college dreams. Dig in, apply smartly & let your service shine. #Scholarship success #VolunteerForCollege #ScholarshipOpportunities
Other Resources for Finding Volunteer Opportunities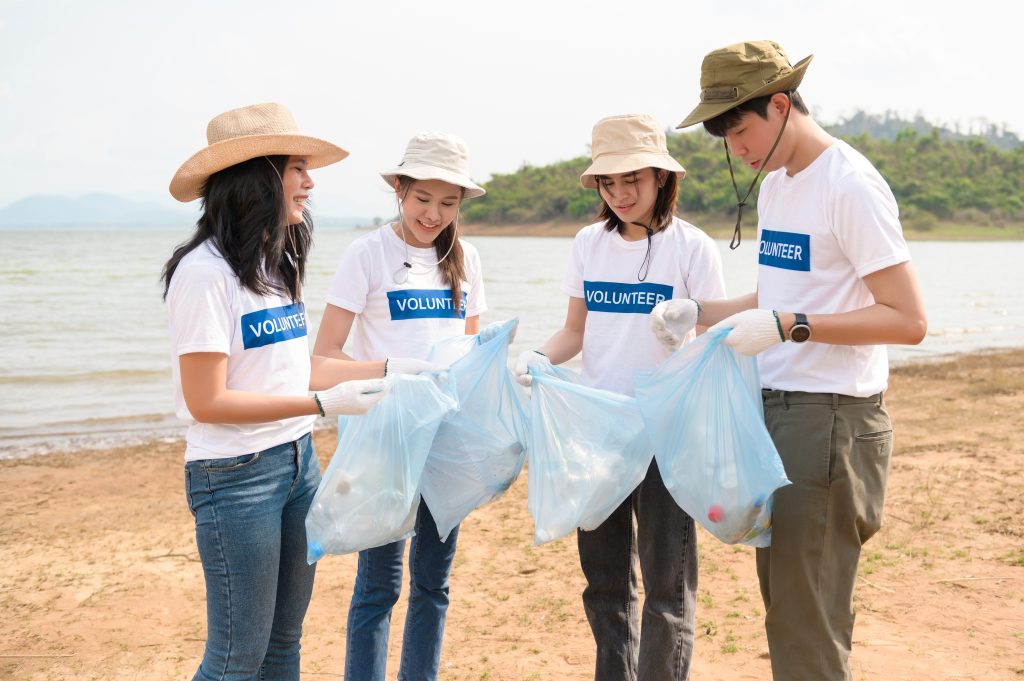 No matter where you live, there will be opportunities for community service. A quick Google search for volunteer opportunities near you should reveal a wealth of resources. However, If you want specific ideas on getting started, we recommend researching the following organizations:
Habitat for Humanity: Habitat for Humanity is a nonprofit organization that builds affordable housing for families in need. They offer volunteer opportunities for people of all ages, including high school students. Their work includes construction, fundraising, and advocacy.
American Red Cross: The American Red Cross is an organization that provides disaster relief, health and safety training, and blood donations. They offer many volunteer opportunities, including blood drives, disaster response, and youth programs.
Boys and Girls Clubs of America: The Boys and Girls Clubs of America is a youth development organization that provides after-school programs and activities for children and teens. They offer a variety of volunteer opportunities for high school students, including tutoring, mentoring, and coaching.
Big Brothers Big Sisters: Big Brothers Big Sisters is a mentoring organization that matches adult volunteers with children and teens needing positive role models. They offer several volunteer options for high school students, including mentoring and tutoring.
National Park Service: The National Park Service is a federal agency that manages national parks and historic sites. They offer many community service opportunities, including trail maintenance, visitor services, and environmental education.
Feeding America: Feeding America is a nonprofit organization that works to end hunger in the United States. They offer a variety of volunteer opportunities for high school students, including food bank distribution, fundraising, and advocacy.
United Way: United Way is a nonprofit organization that works to improve education, financial stability, and health in communities across the United States. They offer a vast range of community service opportunities for high school students.
National Wildlife Federation: The National Wildlife Federation is a conservation organization that works to protect wildlife and continue their habitats. They offer many volunteer opportunities for people of all ages, including wildlife monitoring, habitat restoration, and environmental education.
Special Olympics: Special Olympics is a nonprofit organization that provides sports training and competition for people with intellectual disabilities. They offer volunteer opportunities like coaching, event planning, and fundraising.
National Honor Society: The National Honor Society is an organization that recognizes and encourages academic achievement, leadership, and community service among high school students. They offer a variety of volunteer opportunities for members, including tutoring, mentoring, and community service projects.
These organizations provide a range of opportunities for high school students to gain volunteer experience and make a positive impact in their communities.

Wrapping Things Up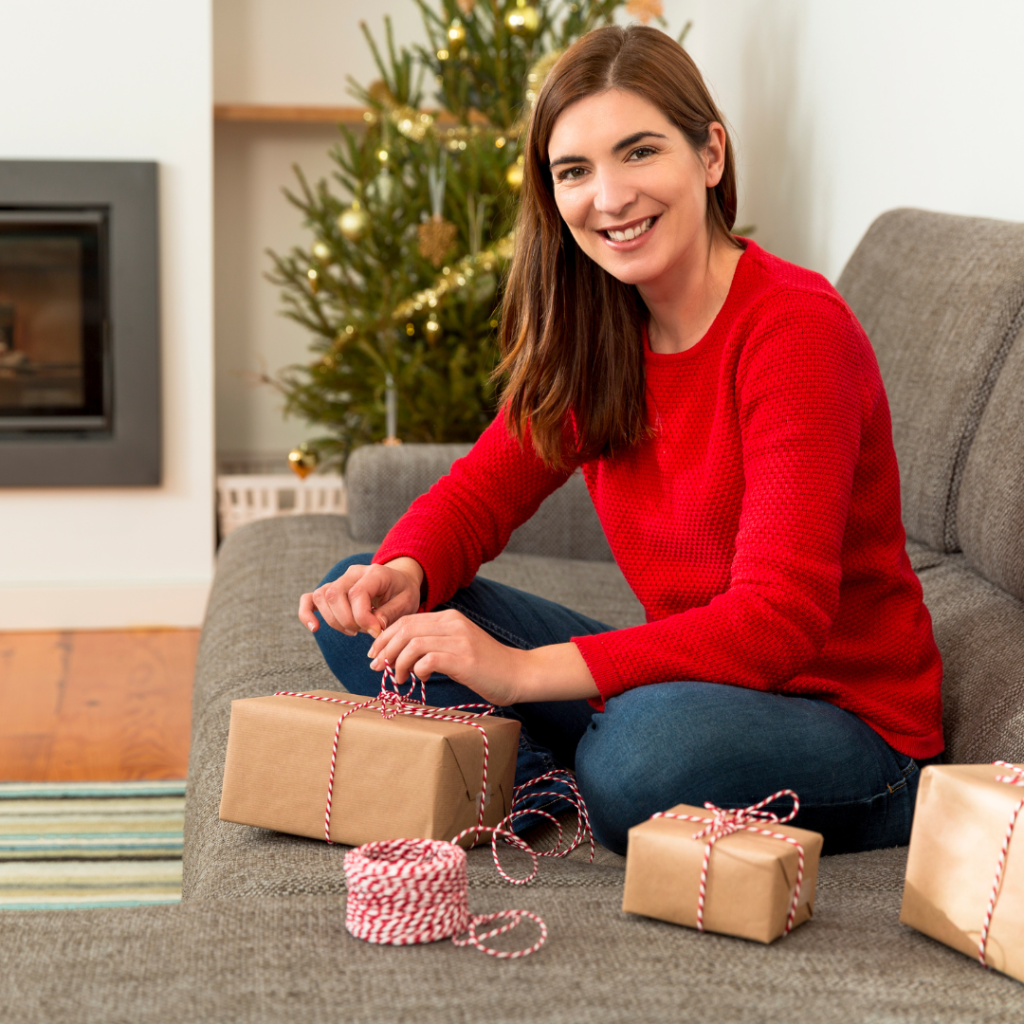 High school students have a lot on their plates, but engaging in holiday volunteering can provide numerous benefits beyond simply feeling good about helping others. Volunteering fosters a sense of community and equips students with valuable skills and experience. It allows people of all ages to get out of their comfort zones, face new challenges, and build confidence in their abilities.
So, now you've uncovered the power of holiday volunteering. You're ready to step up and make a difference.
But the magic doesn't stop here. By incorporating these experiences into your applications and essays, colleges will see more than just grades; they'll see character!
Your journey starts today – Happy Volunteering!
We would love to hear more from students weighing in on this topic. Let us know your thoughts in the comments below!